Are you expecting a baby boy and are looking for some Irish boys names beginning with A to give you some ideas? This list of the top Irish names for boys beginning with A is the perfect place to start your search.
A Guide to Irish boys names beginning with A
With popular Irish boys names Aidan and Ardal included, and some more unique names, you'll love this list of Irish names starting with A for boys to help give you ideas. Or to simply find out what a name you've heard means!
Aidan
Coming from the Irish word aedan meaning "fire", Aidan and its different forms of Aodhan, Aiden, and rarely, Ayden mean "little fire". Pronounced Aid-en, this is a popular Irish name for boys beginning with A. Some forms can be pronounced Aid-on depending on whether there is the last O instead of the last A, or the part of the Emerald Isle the person is from. The name became popular when a monk, St Aidan of Iona took the name in the 7th century. St Aidan founded the famous monastery on the island of Lindisfarne which he used as a base to evangelise the North of England.
Alain
With other versions such as Alan, Allen and Allan, this name is prevalent in Ireland, Scotland and Wales and was used as both a first name and surname. Coming from the Gaelic word ailin, which means "harmony" or the Celtic word aluinn meaning "handsome", this name was popular in the mid-20th century but is less so today. It is typically pronounced as Al-an, Al-in or Al-un
Ailbhe
Pronounced Al-veh or Al-vy, this is a unisex name, also one of the Irish girls names beginning with A and comes from the albho and it means "white, noble or bright". Irish legends tell of twelve warriors of the Fianna bearing this name.
Ardál
Pronounced Ard-dahl, this old Irish name means "fierce as a bear". It can also mean "high valor". It is not often heard but of all the Irish male names beginning with A, it is one of the most popular. It can also be written as Ardghal.
Aodh
With versions including Aedh and Aed, this Irish name starting with A for boys is pronounced Ee or Ai (like the A in gate). It means "feiry or flame" and was once a popular name in Ireland, although is much rarer today. In early Ireland, it was the name of many saints and it was anglicised to Hugh. In Irish mythology, Aodh was the god of the underworld and prince of a supernatural race of fairy folk called the Daoine Sidhe, roughly meaning "people of the mounds".
Ailbe
Traditionally given to boys, this is an Irish name starting with A that is sometimes unisex. Pronounced All-bay, it comes from an old Irish word albho meaning "white" but can also mean "intelligent or noble". In the 6th century St Ailbe was associated with a monastery in County Tipperary at Emly. The local people asked him to bless a river that had no fish. From that day the river was filled in abundance with fish and no less than five churches were built in his honour at the best fishing spots along the river. The English version of this Irish name for a boy is Alby (Al-by).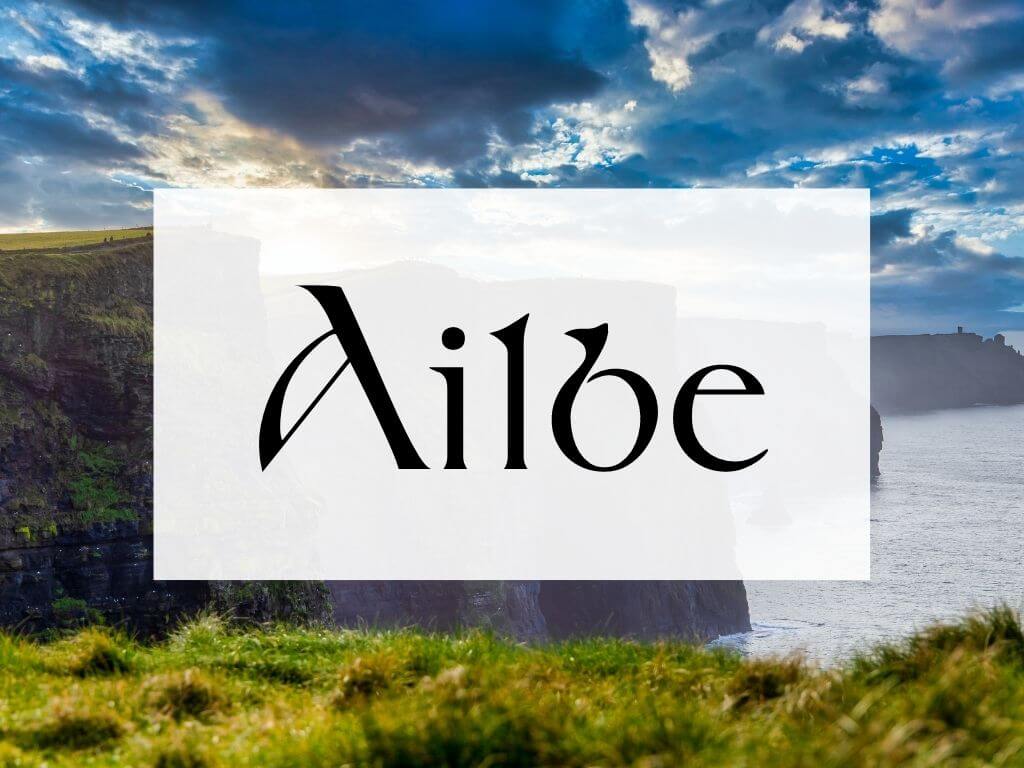 Aengus
Written as Angus outside of Ireland and with another form, Aongus, this Irish boys names beginning with A comes from two Irish words, aon meaning "excellent" and gus meaning "strength or vigor". Aengus is pronounced Eng-iss. In Irish mythology, Aengus was the god of love and youth whose words were as sweet as honey is to the bees. He fell deeply in love with a beautiful girl he saw in a dream, and he passed many trials including turning himself into a swan in order to win her love. Aengus' search was immortalised in WB Yeats' poem "The Song of Wandering Aengus".
Ailill
In Irish mythology and legends, ten warriors of the Fianna bore this name. Coming from the Irish word ailleacht meaning "beauty", Ailill Mote was an early Irish king and husband of Queen Maebh. His argument with her over who had the greater herd of cattle led to The Cattle Raid of Cooley, one of the greatest epic tales in Irish mythology. Pronounced All-yill or Ail-eel, it was once a very common Irish boys name but is rare these days.
Alasdair
This name is Greek, Scottish and Irish and stems from the name Alexander. It was introduced to the north of Ireland by the Scots and was a favourite among the MacDonnells and MacDowells. It means "one who repels men" and has other forms including Alastair, Alister and Alaster. Due to its meaning, it was the name given to warriors who could ward off their enemy in the heat of battle. It is pronounced as Al-is-dare or Al-is-der, while the version with a T substitutes the D for a T.
Final thoughts on Irish boy's names beginning with A
This list is by no means exhaustive but includes some of the most popular and more commonly used and heard Irish boys names beginning with A.
Find more Irish names here: