If you are planning to visit Dublin, the capital of Ireland, then you might need some help deciding which of the Dublin sights to see. As a capital city, there is a wealth of things to do, see and eat and deciding exactly what to do in Dublin can be hard. To make your life easier, I am giving you a perfect 3-days in Dublin itinerary to help make your trip amazing and take the burden of planning your time in the city off your hands.
While I am giving you an example of how to spend 3 days in Dublin, you can obviously tailor this itinerary to suit your time in the city and it can be added to or reduced to suit your own needs and interests. This 3-day Dublin itinerary can also be added to the start or end of a larger itinerary to create an amazing trip to Ireland. Alternatively, you could add some easy day trips from Dublin if you prefer to base yourself solely in the city but still explore more of the beautiful Emerald Isle.
*This post contains affiliate links, which may include Amazon affiliate links. To read more about affiliate links, please visit my Disclosure Policy page.
How to Spend 3 Days in Dublin – Discover Dublin, Ireland
If you think you can see Dublin in a day and visit the best things to do in Dublin during that short period, you are sorely mistaken. To truly discover Dublin and get the best from your time in the Irish capital, you will need at least 48 hours in Dublin, ideally more. The itinerary detailed below will give you ideas on what to see in Dublin in 3 days, but as mentioned already, you can personalise it.
Before we get into the details, I thought it would be helpful to share some essential planning tips with information on how to get to Dublin and also getting around once you are there. I'll also give you a few ideas on where to stay in the city and a few items I think you need to pack for a trip to Dublin.
How to get to Dublin
There are two main ways to reach Dublin, by air or by sea. Dublin Airport is an international airport that has expanded over the last ten years and welcomes flights from across the globe. You can also reach Dublin by flying into one of the other airports in the country including Belfast, in Northern Ireland), and Knock, Cork and Shannon in the Republic, and driving to the capital.
I recommend checking for flights on Skyscanner.
Dublin is also served by two ferry terminals, one in Dublin Port and one in Dun Laoghaire. The two main ferry companies which arrive into these harbours are Stena Line and Irish Ferries. Arrivals from Liverpool are via the P&O company while you can arrive from the Isle of Man via the Steam Packet company. There are also several sailings a week from Dublin Port to/from Cherbourg, France.
How to get around Dublin
To get from Dublin Airport to Dublin City Centre, there are a few options. You can take one of four Dublin Bus/GoAhead public buses into the city. While these are the cheapest options, be aware they service many stops and will take longer than the next bus option. To find out which public transport buses go to the city centre from the airport, click here.
There are two other main bus services from Dublin Airport to the city centre and they are Aircoach and Airlink. These are express buses into Dublin city centre, and while they can cost more than general public transport buses, they arrive in the city faster. The Airlink is also covered by the Dublin Transport Card – Visitors Leap Card. Find more information about that here.
Once you arrive at Dublin City Centre it is very easy to get around. Dublin is served by taxis, Ubers, trams, trains and buses as well as a few Dublin sightseeing buses which are a great way to see the city and get to the main tourist attractions. The Dublin Pass combines transport for one day with entry into many attractions in the city.
Much of the centre of Dublin is walkable and there are bikes for hire around the city. I do not recommend driving around Dublin as there are many one-way streets, and traffic at rush hour and at the weekends can get very busy. Buses and taxis can use dedicated lanes which makes public transport my first choice for navigating into and then around Dublin city centre.
If you are venturing outside of Dublin during your visit to Ireland and need a car, I recommend picking one up at the airport and leaving it at your hotel until you are ready to depart Dublin. For car hire, check and compare prices at Rentalcars.com.
Best time to visit Dublin
In my opinion, there is no bad time to visit Dublin. Winter can be wet and dreary but then so can be days in Spring, Summer and Autumn. There are more daylight hours in Summer and the chance of warmer weather but that does not mean you can leave your raincoat at home. Always go prepared for rain when visiting any part of Ireland.
Winter can be cold, as well as wet, so warm layers and waterproofs are a must for visiting during this time of year. That said, winter can also be a quieter time in the city, but you have to balance the quiet with the fact it will be starting to get dark shortly after 4pm.
Dublin comes alive on the 17th of March for St. Patrick's Day with a festival leading up to the parade through the city on the 17th. From late February to late March, the city also plays host to matches for the Six Nations Rugby Championship.
No matter what time of year you visit Dublin, you are sure to enjoy yourself, so long as you go prepared!
Where to stay in Dublin for 3 days
There is a huge abundance of accommodation options in Dublin city centre and further afield. There are plenty of AirBnB's, hostels, family-friendly hotels and even 5-stars hotels in Dublin. There is something to suit everyone's budget.
The cheapest hotel options are located outside of the city centre, but the city will be accessible from these via public transport. There are lots of hostel options in the city centre. Click here to check out the hostel options in Dublin.
If you choose to stay in the city centre then I would recommend choosing a hotel on the south side of the city which is the Dublin 2 postcode or on the north side in the Dublin 1 postcode, around the IFSC area of Dublin, or in the Dublin 7 postcode near Smithfield. My recommendation for places to stay include hotels, hostels and AirBnB's located in or near Temple Bar, the IFSC, Smithfield, Merrion Square, Christchurch, St Stephens Green and Trinity College. To find the best range of hotels and other accommodation choices in the city, we recommend using booking.com. Click here to start your search.
If you would like more advice, please join my Ireland Travel Planning Facebook Group where both I and members of the group will be very glad to help you decide on where to stay in Dublin for 3 days.
Other tips for planning three days in Dublin
Visas – Before you arrive in Dublin, ensure you check for any visa requirements you may need and whether you require your passports to be valid for more than six months from the date of your visit.
Tickets – Ensure that you pre-book your tickets for attractions and excursions ahead of your arrival to avoid disappointment.
Prepare for the rain – As already mentioned, remember to bring waterproofs, raincoats and a waterproof day bag. Best to be prepared when visiting Dublin.
Electronics – Dublin electricity is 220v and uses three-pin plugs like the United Kingdom. So, if you are arriving from outside the UK, ensure you have a voltage converter if your electronics do not support this voltage and also remember your travel adapters.
Money – Ireland is part of the Eurozone, so euros are what you will need. There are lots of ATM's around the city and banks are open on weekdays where you can do money exchange. The General Post Office on O'Connell Street also offers money exchange and is open Monday to Saturday.
Credit cards and debit cards are widely accepted across the city, just ensure you tell your bank before arriving in Dublin to ensure no stop is put on your card when trying to pay for something. And be warned that while it is accepted in some places, not all places will accept American Express. It is best to check before you sit down for a meal or drink or before trying to pay for tickets/entry to places in case you need to visit an ATM.
Internet access – Many hotels offer free WiFI either as standard across the hotel or in the lobby with access payable in rooms. Many cafes also have WiFi available for customers, although I wouldn't recommend doing anything like banking in these establishments as you cannot guarantee a secure network.
Safety – Dublin is a very safe city but as with all cities, you need to keep aware, especially in busy areas like Temple Bar. Keep valuables locked in your hotel room and use a theft-safe bag such as the PacSafe Cross-body bag when sightseeing to keep cameras, phones and wallets safe.
Personally, I would avoid areas such as north of Parnell Square, the areas between O'Connell Street and Connelly Station, east of Tara Street Station, west of Christchurch and west of Jervis Street late at night in Dublin City Centre. If you need to pass through them, I recommend getting a taxi. As a native Dubliner, even I avoid these areas of Dublin at night unless I am in the company of many family and friends.
3 Day Dublin Itinerary – The best way to spend 3 days in Dublin, Ireland
Dublin attractions, museums, and things to do in the city are plentiful and to try and do and see it all would be impossible whether you've got one, two days or three days in Dublin. The itinerary set out below is one in which you will visit the must-see Dublin attractions, get a taste for the city and enjoy discovering Dublin both on foot and by bus.
If you only have two days in Dublin, you can personalise this itinerary by removing one of the days or cherry-picking what morning and afternoon activities you do from what I have suggested. You can also decide at any time to not do some of the things set out, particularly if you want to spend more time at one attraction or if you are feeling tired towards the end of one of the days.
Restaurants suggested are just those, suggestions, and you can decide to choose from any of the hundreds of cafes, bars and restaurants to eat in for lunch and dinner.
I have also not concentrated on one area of the city, instead, I'm giving you a taste for different areas. Each day is accompanied by a map with the attractions to be visited clearly marked.
1 Day in Dublin
Day one in Dublin is all about getting your bearings, immersing yourself in history and enjoying some retail therapy too.
Dublin Sightseeing Bus
During day 1 in Dublin, after breakfast in your accommodation, I suggest taking one of the Hop On Hop Off buses to get your bearings. There are several Dublin sightseeing buses to choose from and the Dublin Pass gives you one day's access to one.
The sightseeing tour buses include the City Sightseeing Bus, the Big Bus Tours (24 hours for this operator is included in the Dublin Pass) and the DoDublin Bus Tour. These are a great way to get around the city easily, allowing you to "hop off" at any of the major attractions along the route and then "hop on" ready to move on to your next destination. Most of them start/end on O'Connell Street. You get an audio-guided tour of Dublin as well. A trip on one of the HOHO buses can also help you decide which places to visit in Dublin if you chose not to follow this itinerary in full.
For your 3 days in Dublin, we suggest you consider getting the Dublin Pass for 3 days and supplementing it with a one-day pass on any of the tour buses for Day 3 of this Dublin Itinerary. However, if you feel comfortable navigating your way around on public transport, the Visitor's Leap Card will work out cheaper.
Trinity College
You can either stay on your HOHO sightseeing tour bus, or you could hop off at Trinity College as your first stop. Trinity College is considered THE most prestigious university in Ireland and also holds the honour of being the oldest university on the Emerald Isle.
Officially known as the College of the Holy and Undivided Trinity of Queen Elizabeth near Dublin, Trinity College was established in 1592 by Queen Elizabeth I. Trinity College has some amazing architecture on its ground but most visitors come to view the Long Room of the Old Library. This magnificent room stretches 65 metres in length and holds some near 200,000 of the Library's oldest books including the most famous of manuscripts, the Book of Kells, one of the top things to do in Dublin.
Visitors can only access the Long Room and view the Book of Kells with a ticket, which can be bought from here.
If you are not availing of a Dublin Pass, then this ticket combines the Book of Kells with a fast-track entry ticket to Dublin Castle during a 2.5-hour guided walking tour. Be aware that you will need to rejig some of this itinerary if joining this guided tour as the visit to Dublin castle immediately follows your visit to the Book of Kells.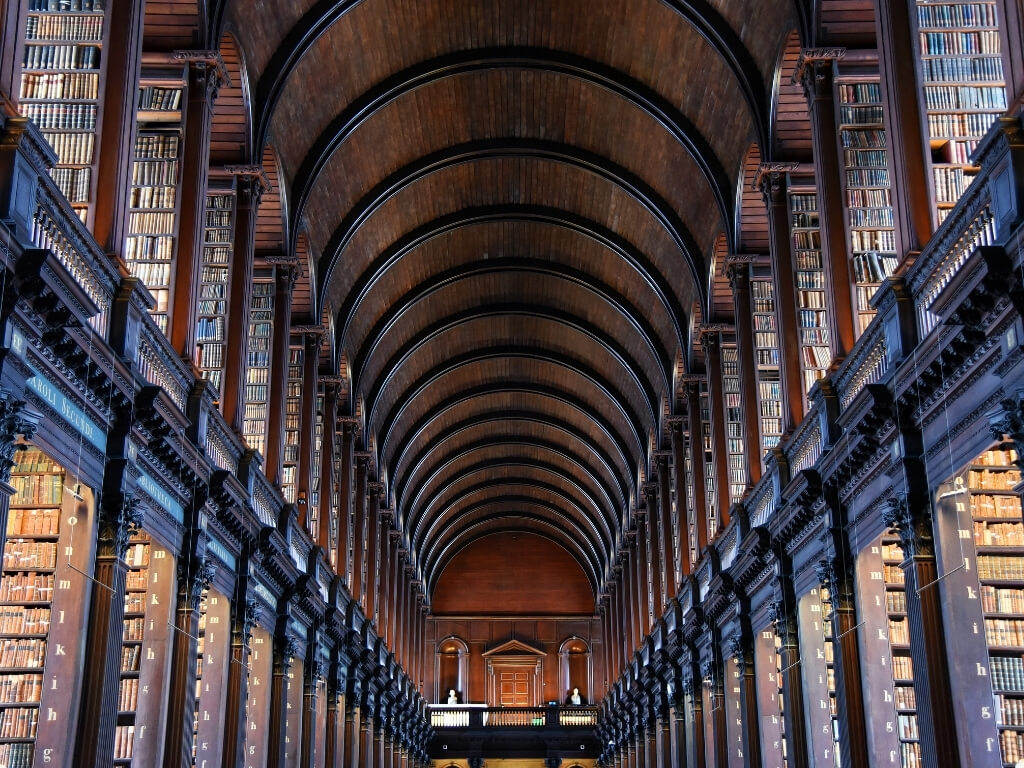 National Museums and National Gallery of Ireland
After finishing up at Trinity College, just back onto your sightseeing bus and continue on to Merrion Square where you should alight to visit the Natural History Museum of Ireland and the National Gallery of Ireland.
The Natural History Museum houses specimens from both Ireland and around the world. On the ground floor, you will find specimens from Ireland, including Giant Deer which are now extinct. The first floor is home to specimens from around the world including lions, monkeys and an Asian elephant. This museum is free to enter but does rely on donations.
Next door to the Natural History Museum is the National Gallery of Ireland. With over 16,000 pieces of artwork in the rich collection, visitors can enjoy seeing art by famous painters including Picasso, Monet and Caravaggio. There are also sculptures, prints, photography and drawings on display. Entry to the National Gallery of Ireland is also free.
After finishing with art, walk the short 8 minutes walk to Kildare Street so that you can visit the National Museum of Ireland. This is a great place to get an insight into the rich history of Ireland. From prehistoric times, through the Viking era and Medieval Ireland, exhibits span the ages of Ireland. Again, this museum is free to enter for visitors.
Visit Molly Malone
After visiting the National Museum of Ireland on Kildare Street, you can walk the short 8-minute walk to Suffolk Street to say hello to Molly Malone, a unique thing to see in Dublin.
This bronze statue of the fictional fishmonger, who has a song by the same name, was originally located at the Trinity College end of Grafton Street but was moved to Suffolk Street in 2014. She is quite a famous character in Dublin and no visit would be complete without saying hello to her, even if you are only spending one day in Dublin!
Little Museum of Dublin, St Stephen's Green and Grafton Street
After saying hello to Molly Malone, wander up Grafton Street and head to the Little Museum of Dublin which is located on St Stephen's Green near the top of Dawson Street.
This people's museum of Dublin is housed in a Georgian House and it chronicles the history of the city in the 20th century. Museums exhibitions include the 1916 Rising, US President JFK's visit to Dublin and other political and social landmarks in the city's history.
The Little Museum of Dublin also conducts a 1-hour walking tour of St Stephen's Green at 3.30pm in which you can learn about the key role it has played in Ireland's history.
Buy your tickets here for the walking tour and get your all-day access to the museum here.
After your tour of St Stephen's Green, why not wander down Grafton Street and browse the shops. Even if you are not looking for some retail therapy, it is still a great street for a stroll. If you are visiting in December, make sure to see the Christmas windows in Brown Thomas, a tradition that has been going since Brown Thomas took over from Switzers.
Eat & Drinks
For lunch, we suggest going to Fallon & Byrne on Exchequer Street. Fallon & Byrne has an amazing food hall with fresh fruit and vegetables, artisan foods, meat/fish counters and sinful cakes – their words, not mine! Their restaurant is open 7-days a week for lunch and dinner. Check out reviews here on Tripadvisor!
For dinner, we suggest eating in the Green Hen, also on Exchequer Street. This restaurant offers classic French-style bistro dishes in a relaxed atmosphere. Note that this restaurant does not cater for under 12's after 5pm.
And finally, end your first day in Dublin with drinks in the Hairy Lemon pub on Stephen Street Lower or in O'Brien's Bar in the Mercantile Hotel on Dame Street.
2 Days in Dublin
Start your perfect day in Dublin with a hearty full Irish breakfast in Ann's Bakery on Mary Street (adjacent to Henry Street) or in Keogh's Café on Trinity Street, not far from the Molly Malone statue.
Dublin Castle and the Chester Beatty Library
If you are in Ann's Bakery, cross the Liffey over the Ha'Penny Bridge and head to Dublin Castle, a journey that will take around 12-15 minutes on foot. If you are in Keogh's Café you need to make your way onto Dame Street and walk west for 7 minutes.
Dublin Castle is a large government complex and also an important tourist attraction. Visitors can join tours of the State Apartments (guided and self-guided), see the Medieval Tower and the Chapel Royal. Self-guided entry is included in the Dublin Pass. After enjoying the State Apartments with their elaborate antique furniture, paintings and decorations, take a walk in the subterranean chamber beneath the castle where you can see parts of the medieval castle structure along with the remains of some of the Viking original defences of Dublin. Afterwards, visit the Garda Museum or wander around the castle gardens.
Before leaving Dublin Castle, visit the Chester Beatty Library, one of the best free things to do in Dublin. This museum and library house the collections from mining magnate, Sir Alfred Chester Beatty. View manuscripts, sculptures, prints, books and decorative art from the Persian, Islamic, East Asian and Western Collections. The Chester Beatty Library has been described by Lonely Planet as
not just the best museum in Ireland but one of the best in Europe
and is one of the Dublin top attractions not-to-be-missed.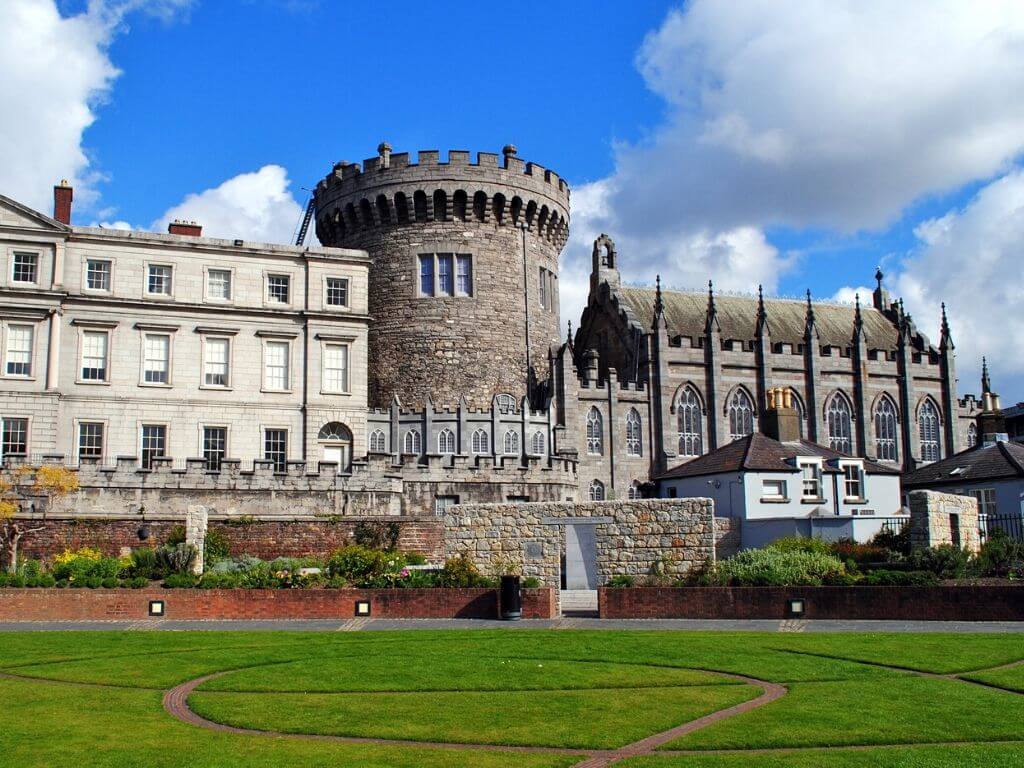 Dublinia and Christ Church Cathedral
Included in Dublin Pass is entry to both Dublinia and Christ Church, conveniently located beside one another.
After Dublin Castle, walk the few minutes and start with Dublinia, a great museum which spans the history of Dublin from the Vikings, through Medieval times to the modern-day. See inside a Viking house, discover the sights and smells of medieval Dublin and ask questions of the character actors to learn more about the capital. This is a great place to visit with kids and is often top of the list for family days out in Dublin.
Before leaving Dublinia climb the steps of St Michel's Tower, 96 of them, to take in the views across the city. Then cross the bridge that sits over Winetavern Street to visit Christ Church Cathedral.
This beautiful cathedral is the oldest building in Dublin, having been founded in 1030. Located in the heart of medieval Dublin, Christ Church boasts the largest crypt in Ireland and is a fascinating part of the cathedral to visit. Make sure to see the 'cat and the rat'. There are treasures and relics to view and it is one of the top Dublin attractions to visit.
St Patrick's Cathedral
A short 7-minute walk from Christ Church is St Patrick's Cathedral. This cathedral was founded in 1191 and has a 43-metre spire, making it one of the tallest churches in Ireland. Both St Patrick's and Christ Church belong to the Church of Ireland (Protestant), with St Patrick's designated as the national cathedral of the Church of Ireland, while Christ Church is the local cathedral of the Diocese of Dublin and Glendalough.
Visitor's to St Patrick's come to view the architecture inside as well as relics and other treasures, including a bust of Jonathan Swift, author of Gulliver's Travels. Guided tours are available or there is an app for doing a self-guided tour. Book your entry here.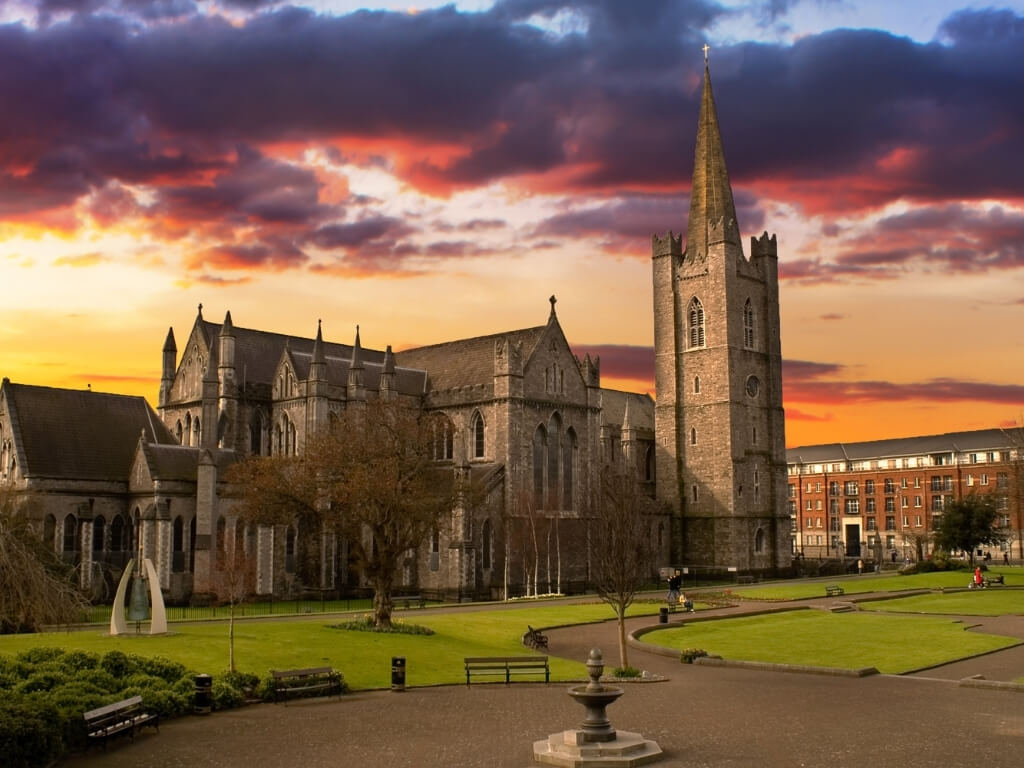 GPO, Witness History Visitor's Centre
Leave St Patrick's Cathedral and wander down Dame Street, crossing the Liffey and head for O'Connell Street where your destination will be the GPO, General Post Office. Here you will be visiting the GPO Witness History and learning about the 1916 Easter Rising, with the GPO being the headquarters of those who took part.
The GPO is one of the oldest operating postal headquarters in the world and is one of Dublin's most important historical buildings, although the façade is the only remaining part of the original building, the rest was destroyed in a fire during the Rising.
In the Witness History Exhibition, you can learn about the 1916 Rising and the emergence of modern Irish history, and you can see one of the last remaining copies of the 1916 Proclamation, one of the most important historical documents in Ireland. The GPO Witness History gives visitors a chance to learn about the history of modern Ireland and the fight for independence from centuries of British rule. Entry to this must-visit Dublin attraction is included with the Dublin Pass.
Hugh Lane Gallery and Dublin Writer's Museum
After the GPO, head north along O'Connell Street and to Parnell Square where you can visit the Hugh Lane Gallery, a modern art gallery founded by Sir Hugh lane in 1908. Exhibitions focus on modern and contemporary art and visitors can also visit the Francis Bacon Studio. Admission is free.
Next door to the Hugh Lane Gallery is the Dublin Writer's Museum. Opened in 1991, this museum celebrates the literary history of Ireland. Writers who feature in the museum include William Butler Yeats, James Joyce, Jonathan Swift, Bram Stoker and more. There are also memorabilia and portraits of Irish writers.
Eat & Drinks
For lunch today, we recommend either visiting Leo Burdock's on Werburgh Street, for the best fish and chips in Ireland. This has only takeaway service, but you could take your 'chipper' to St Patrick's gardens for a picnic if the weather is nice. Alternatively, there is a Leo Burdocks on Crown Alley in Temple Bar that has seating inside.
Another nice spot for lunch would be the Silk Road Kitchen Café in the Chester Beatty Library at Dublin Castle. You'll find healthy, home-cooked meals based on Middle Eastern and Mediterranean cuisine.
As you will be ending your day on Parnell Square, we recommend dinner in Chapter One, in the basement of the Dublin Writer's Museum. This One Star Michel Restaurant offers fine dining at a reasonable price.
Finish off day two in Dublin with drinks in The Cobblestone on King Street North, The Church at the junction of Mary Street and Jervis Street, or The Temple Bar near the Ha'Penny Bridge (this gets busy at weekends).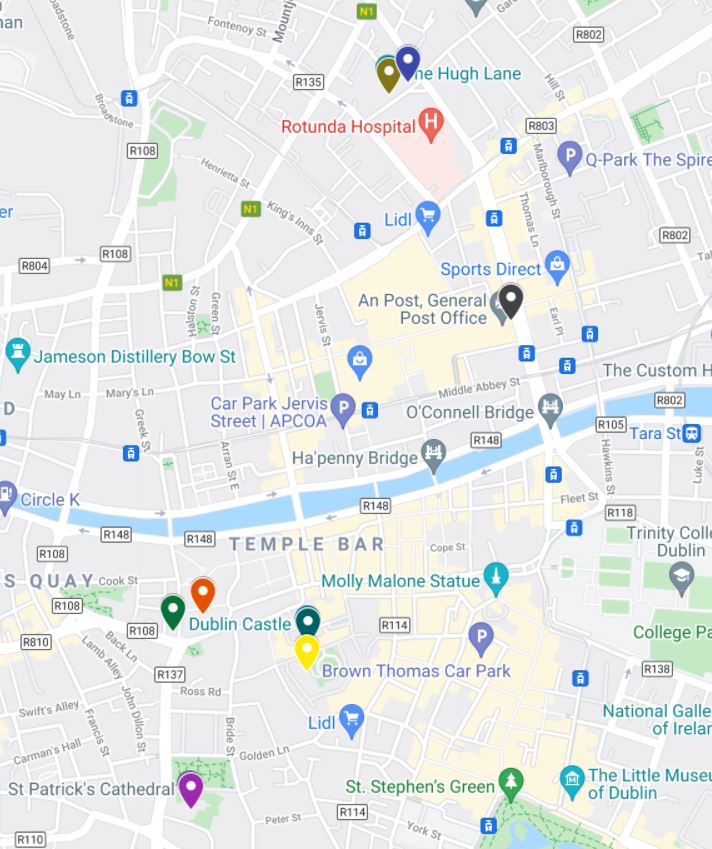 3 Days in Dublin
To get to the various Dublin tourist attractions on today's itinerary you are going to need transport unless you like walking a lot! They are spaced quite far apart across the city. If you opt for the 3-day Dublin Pass you could save your 24-hour sightseeing bus access for this day or book a 1-day pass for any of the other sightseeing buses suggested on day 1. Grab your bus at O'Connell Street or the nearest stop to your accommodation.
Kilmainham Gaol
First up today is a visit to another historical building in Dublin, Kilmainham Gaol, one of the best things to do in Dublin. This former prison is now a museum and gives visitors an insight into the struggle for Irish independence based on the incarceration of Irish nationalist leaders at this historical site.
One of Dublin's most popular tourist sites, entry to Kilmainham Gaol is with a guided tour which must be pre-booked to avoid disappointment. During the tour, you will be guided around this huge building, shown the cells of previous inmates and other places of importance (I won't spoil it for you). The tour lasts between 60-90 minutes and it is advisable to wear warm clothes, especially in winter as the Gaol is rather cold inside.
Prebook your Kilmainham Gaol tickets here.
Irish Museum of Modern Art (IMMA)
Since you will be in the area, we recommend walking from Kilmainham Gaol to the Royal Hospital Kilmainham, a journey of just over 1km or 15 minutes, where the Irish Museum of Modern Art is located. Presenting a wide collection of modern and contemporary art, the IMMA was established in 1990 after art collector Gordon Lambert told the then Taoiseach Charles Haughey that if the state established a gallery, he would donate his collection.
The IMMA now holds over 3500 works by both Irish and international artists including Abramovic, Bourgeois and LeWitt. Entry to this Dublin attraction is included in the Dublin Pass (but must be reserved before visiting). Alternatively, book your tickets here.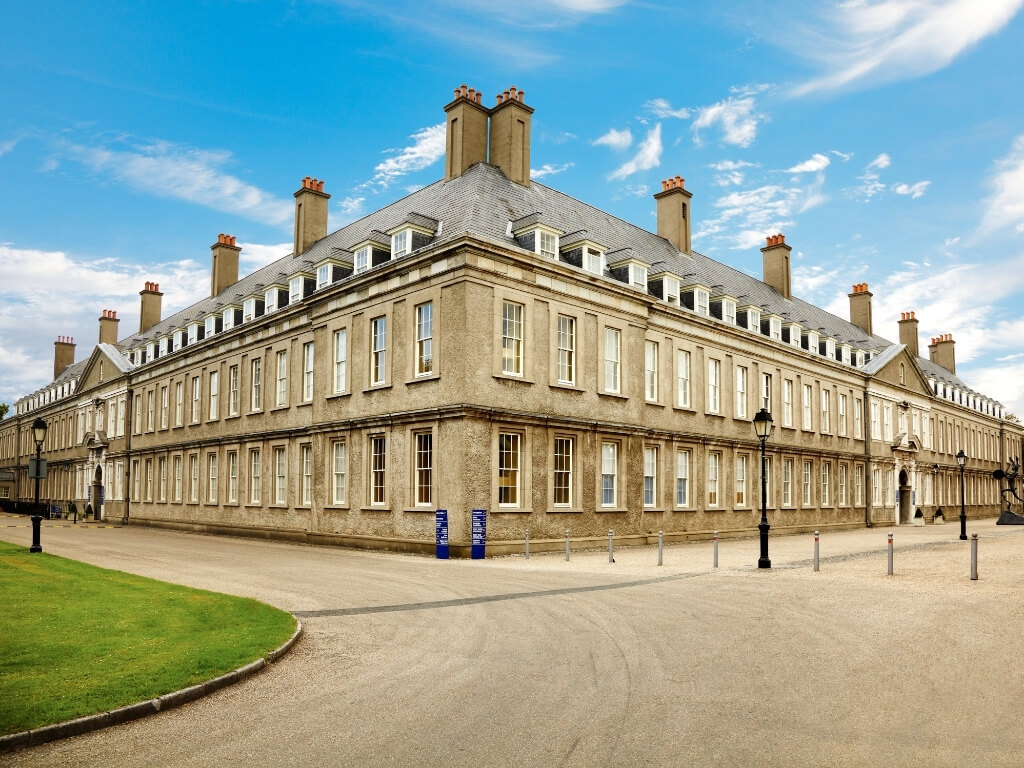 Guinness Storehouse
After leaving Kilmainham, head to St James' Street where you can visit the Guinness Brewery and, through seven storeys centred around an atrium, learn how the world-famous drink is made. Guinness has been brewed at St James Gate Brewery since 1759 and your self-guided tour will teach you about the founder of Guinness, Arthur Guinness, and tell you how the perfect pint is both brewed and poured.
After learning everything there is to know about Guinness and the perfect pint, enjoy sampling the famous black drink in the Gravity Bar with 360-degree views across Dublin City. Entry to the Guinness Brewery, with fast-track, is included with the Dublin Pass. If you are not getting a Dublin Pass, ensure you pre-book your tickets ahead of visiting as this is one of the top things to do in Dublin and often gets very busy. See the latest prices and book your tickets here.
EPIC, the Irish Emigration Museum and Jeanie Johnston Tallship.
Leave Guinness and take the Hop On Hop Off bus to EPIC, the Irish Emigration Museum. Located in Dublin's docklands, the EPIC museum is dedicated to the history and stories of the Irish who emigrated. A fully digital museum, exhibitions help visitors learn about why the Irish emigrated and more about Irish history and culture across the world. You can even discover some interesting facts about what it means to say, "I'm Irish" and how far the Irish have reached across the globe. Entry to EPIC is included in the Dublin Pass. For those opting not to buy a Dublin Pass, pre-book your tickets here.
When you are finished at EPIC, continue your historical learning at the Jeanie Johnston Tallship, also located in the docklands just a 2-minute walk from EPIC. This replica famine ship gives visitors an insight into what life was like for those fleeing Ireland during the Famine. The 5-minute informative tour shows what life was like onboard for both the crew and the passengers during their perilous journey across the Atlantic. Entry to this ship is included in the Dublin Pass or you can pre-book your tickets here.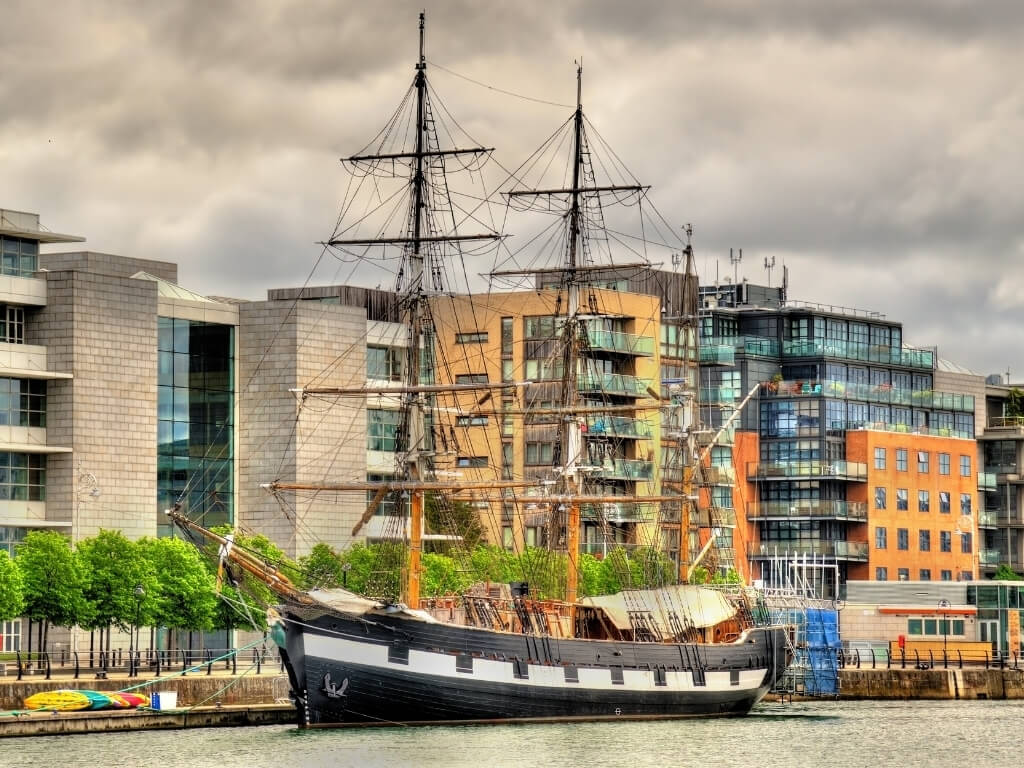 Eat & Drinks
For lunch, we recommend booking a table at the 1837 Bar & Brasserie at the Guinness Brewery, which you can eat at either before or after your visit and tour of the brewery itself. This restaurant serves great Irish cuisine from an a la carte menu. If you just want something light, then Arthur's Bar is where you will want to head for smaller meals and snacks. find more information about these eateries here.
Complete day with dinner in the Ely Bar & Grill near the Jeanie Johnston and EPIC Museum. This wine bar has a lovely restaurant serving flame-grilled steaks, fresh Irish seafood and vegetables of the day among other things.
End your time in Dublin with cocktails at the rooftop bar in the Marker Hotel, located on the southside of the Liffey just a 15-minute walk from the Ely Bar & Grill. Note that the rooftop bar is open to non-guests at weekends only.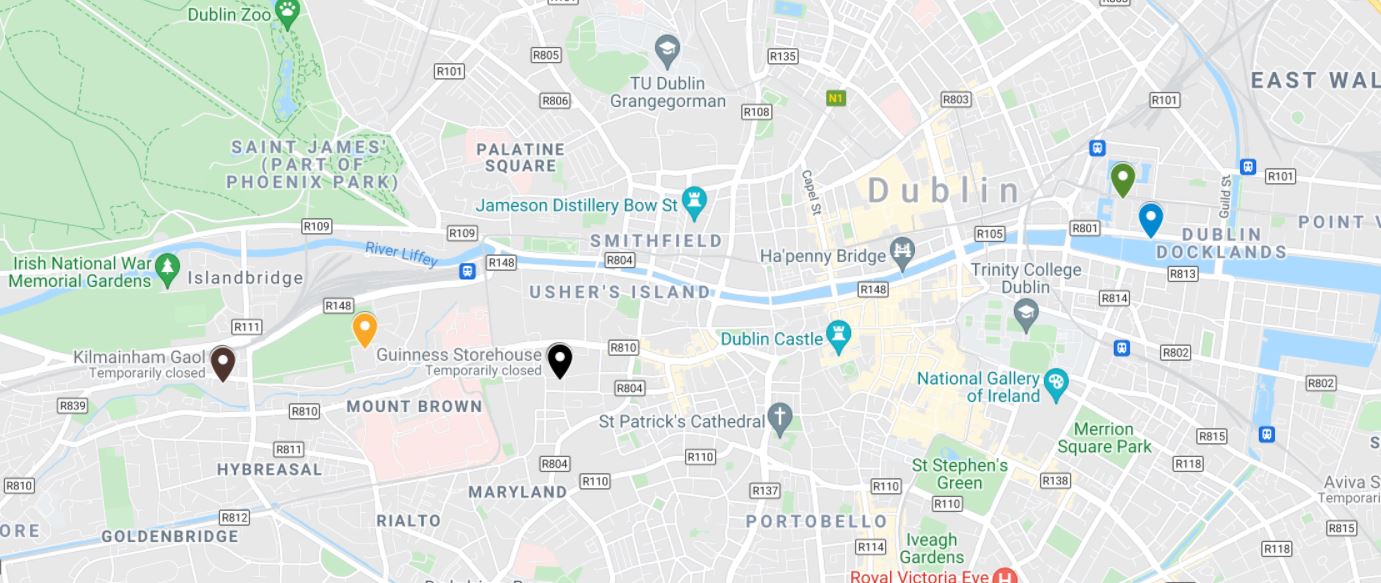 Other tips for visiting Dublin
This 3 days in Dublin itinerary is a great starting place for those wanting to visit Dublin. As I have mentioned already, you can tailor this itinerary to suit your needs. Whether you are looking for a weekend in Dublin itinerary or a mid-week one, this itinerary gives you a starting point and an idea of what you can cover during 3 days in the city. It includes all the top Dublin sights and attractions.
If you would like a more guided approach, then these walking tours may be preferable and will ensure you see and do everything a visitor should when visiting Dublin.
Jameson Distillery Tour (45 mins) – Visit the Bow Street distillery, the original home of Jameson whiskey. Learn the story of John Jameson, how whiskey is made and then enjoy a tasting session. Book this tour here.
Dublin Dark Side Walking Tour (2.5 hrs) – This walking tour gives visitors a chance to hear spooky tales and whisperings from ancient tombs and sites including Dublin Castle, St Patrick's Cathedral and the Olympia Theatre. Book this tour here.
Dublin Haunted City Tour (1.5 hrs) – Stroll the city, solving a series of riddles to unlock the secrets of Dublin's scary past. This tour is self-guided through a phone app. Find out more and book this here.
Guided Walking Tour of Dublin (1 hr and 45 mins) – See all the most important sites and landmarks on this sightseeing walking tour including the GPO, Trinity College and Christchurch Cathedral. Book this guided tour here.
Bike Tour of Dublin (2.5 hrs) – Explore Dublin on a bike during this guided tour of the city. Cycle past College Green, the Guinness Brewery, St Patrick's Cathedral and on to Temple Bar and Parnell Square. Find out more about this guided bike tour of Dublin and book tickets here.
Dublin Pub Crawl (5 hrs) – Enjoy a proper Dublin pub crawl visiting 6 pubs, live music venues and clubs over 5 hours. Not for the faint-hearted or teetotalers. Book this night tour here.
Dublin Food Tour (3.5 hrs) – Visit various food establishments on both sides of the Liffey including cafes, restaurants, and food shops. If you love food, this is the tour for you. Book the Dublin Food Tour here.
I have mentioned the Dublin Pass throughout this post and that is for a very good reason. It is probably the best way to enjoy Dublin while also saving money. Dublin can be an expensive city to visit and sightsee in, but the Dublin Pass can help you with that. Here's how.
Cost of tickets for each attraction:
Guinness Brewery €26 (with fast-track)
Hop On Hop Off Bus €24
EPIC, Irish Emigration Museum €16.50 (with fast-track)
Christ Church Cathedral €8
Jeanie Johnston €11
Dublin Castle €8
Dublinia €12 (with fast-track)
GPO Witness History €14
Little Museum of Dublin €10
Total Normal Cost = €129.50
3-day Dublin Pass €109 (sometimes discounted to €99)
Savings of between 20 and 30 euro can be made when using the Dublin Pass. So, if you are wondering how to save money in Dublin, we highly recommend you consider using the Dublin Pass.
This Dublin trip itinerary gives you a comprehensive guide to spending three days in the Irish capital and ideas for what to see and do while in the city. Note that this itinerary does not allow for day trips from Dublin but could be expanded to allow for a few days of taking day tours outside of the city. It can also be added to a longer Ireland itinerary (at the start or end) to make your visit to the Emerald Isle simply perfect.
Have you been to Dublin yet? Are you planning a trip? Remember to join our Facebook group to get lots more ideas and help with planning your special trip to Ireland.
Related Posts