Despite being from Ireland, whenever I go back to visit family and explore more of the Emerald Isle, I always pick up a souvenir as a memento of our trip. Whether it is just a few postcards from the places we visit or a trinket or two from Dublin Airport, I always get a souvenir from Ireland. But, if you are wondering what to buy in Ireland on your next trip, I've put together a list of some of the best souvenirs from Ireland so you know what to look out for.
*This post contains affiliate links, which may include Amazon affiliate links. To read more about affiliate links, please visit my Disclosure Policy page.
Best Souvenirs from Ireland
In this post, you are going to discover some of the best souvenirs from Ireland so you know exactly what to buy in Ireland on your next trip. Whether you are looking for something to wear, something for your home or something edible to keep your trip going even after you have returned home, you'll love these ideas.
I've found some Ireland souvenirs online that you can buy right now if you aren't going to Ireland any time soon and are in need of an Irish item or two to keep the spirit alive at home! Watch out for them.
13 Best Ireland souvenirs
Aran Jumper
When it comes to souvenirs of Ireland, none is more iconic than the traditional Aran jumper or cardigan. This style of jumper's name (jersey or pullover are other terms for this clothing garment) comes from the Aran Islands off the West Coast of Ireland. It is made from thick, off-white wool with cable patterns in the body and sleeves.
Originally Aran jumpers were made from unscoured wool that retailed its natural oils which gave it water resistance, meaning they could even be worn outdoors in the worst of the Irish weather, a must for the fishing and farming communities.
The undyed cream-coloured báinín (pronounced bawn-neen) wool is yarn produced from sheep's wool. Aran knitting is believed to have originated in the late 19th century and may have roots tied to Guernsey jumpers which have similar patterns, usually on the yoke.
There are also some myths attached to the patterns in Aran jumpers. Each fisherman's family had a unique stitch or pattern associated with the family name so if a fisherman was lost at sea, he could be identified by the pattern on his jumper.
Different stitches have different meanings or importance associated with them.
Basket – Represented the fisherman's basket and his hopes of filling it with his catches.
Tree of Life/Trinity – This is said to promise long life and strong children.
Trellis – Symbolic of the landscape of Ireland and its fenced-in fields.
Blackberry – Symbolic of the rich abundance of nature.
Honeycomb – A reminder of the bee who works hard and is rewarded for its labour.
Irish Moss – This is often used as a diamond filler and suggested a respectable harvest. It symbolises the carrageen moss seaweed found along the Irish coastline, often used as a fertiliser and food.
Diamond – Symbolises the shapes of the mesh in fishing nets and stands for success and wealth.
Cable – The most frequently found pattern on Aran jumpers is the cable stitch. A plain cable represents the fisherman's ropes promising good luck and safety at sea. And a plated stitch represents daily life and hard work intertwined.
Zig Zag – Represents the ups and downs of married life.
Whether you want to find a stitch that has a meaning, or you simply like the appearance of an Aran jumper, ensure you buy one that you will love.
Be prepared for high prices too, especially if the jumper is 100% handmade or made by a hand loom. Machine-knitted Aran jumpers will not be as expensive but their quality may be less than handmade or hand loom knitted jumpers.
And remember, as with everything, if the prices seems too good to be true, then it probably is and the jumper may not in fact be a genuine Aran jumper or has been machine made from lesser quality yarn.
Buy your Aran jumper on Amazon HERE.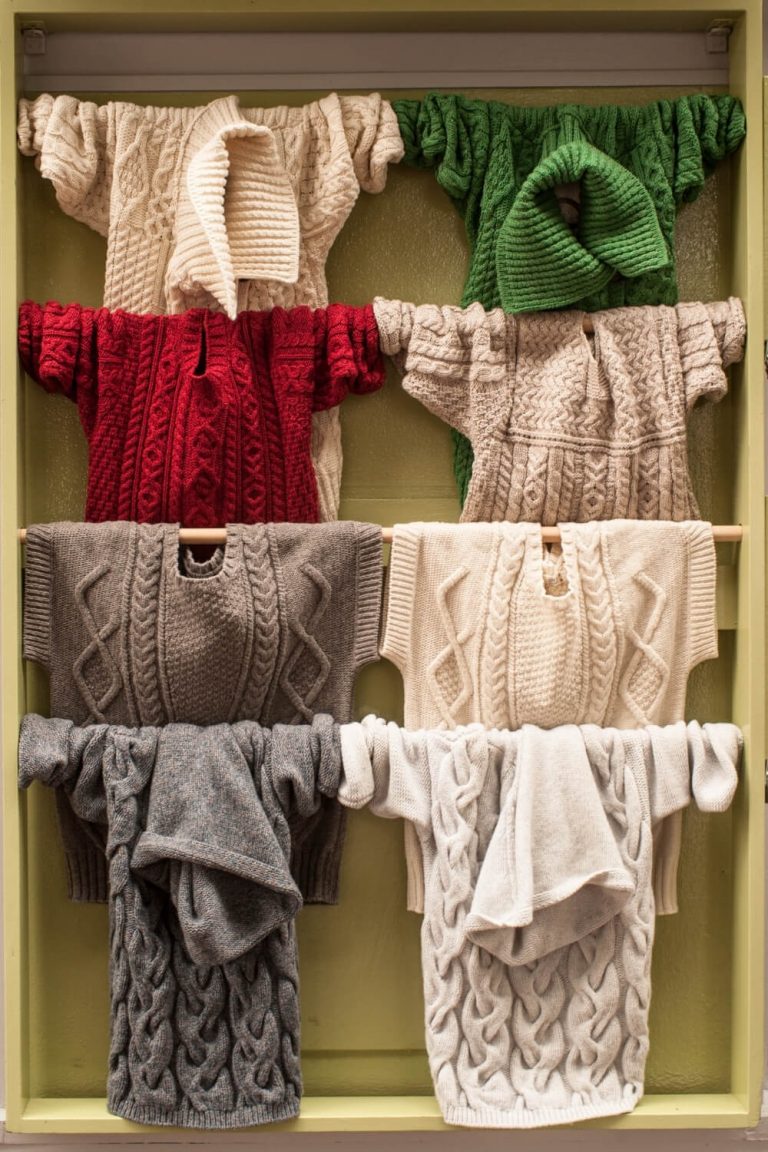 Wool Blankets and Throws
Next on your list of the best gifts to buy in Ireland should be wool blankets and throws. These come in all shapes and sizes, but the best ones are made from wool, be it merino wool, lambswool or cashmere. There are even Aran throws and blankets that will keep you nice and toasty on a cold winter's day.
Most will be of a plain or checked design and come in a range of colours. These can be a beautiful gift to give someone from Ireland. And as with Aran jumpers, quality will come with a price tag but will be worth it as it will last longer than cheaper imitations.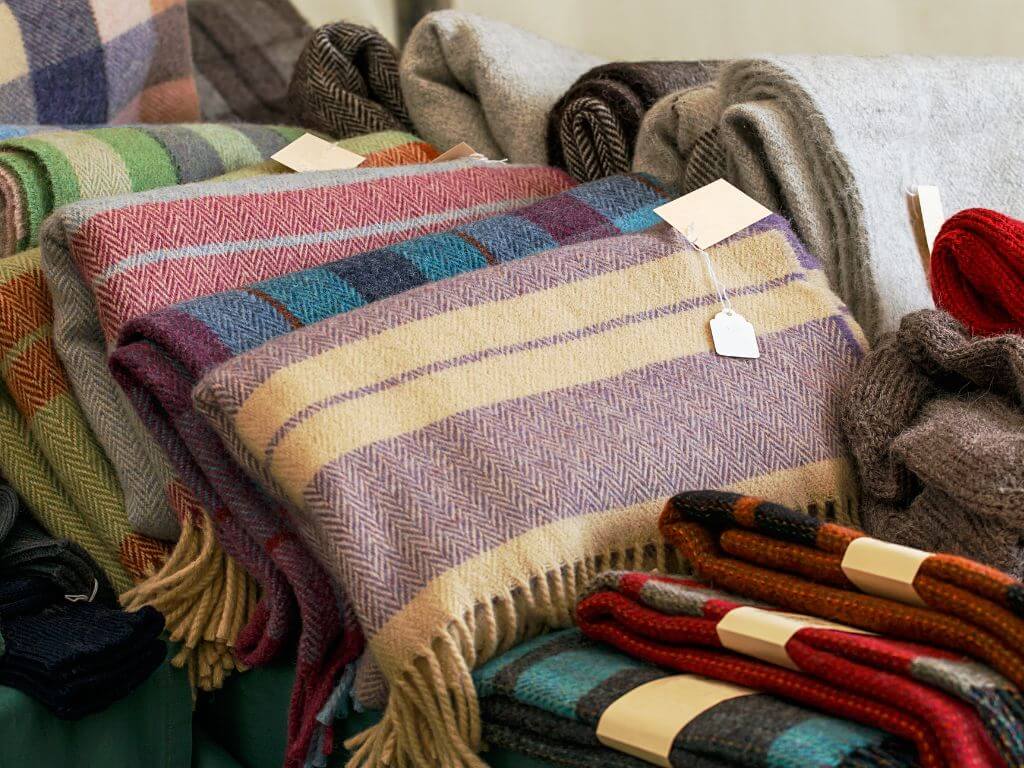 Some of the best Irish blankets and throws come from the Avoca range, but there is also a great range available through Amazon. This dark red, checked wool blanket reminds me of home thanks to its dark green colours, while this wool Aran blanket will certainly keep the chills away.
Shop the entire range of Irish wool blankets HERE on Amazon.
Claddagh Ring
One of the most unique souvenirs from Ireland is a Claddagh ring. This traditional Irish ring represents love, loyalty and friendship, through the heart, crown and hands respectively. The design and customs associated with it originate from the small fishing village in Galway of the same name.
The design was first produced in the 17th century and can be found in rings, bracelets and also necklaces. The rings can be used as friendship rings, or as engagement and wedding rings. The way in which it is worn by the bearer shows the relationship status of the bearer.
On the right hand with the heart pointing out to the fingertips denotes the person is single and might be looking for love.
On the right hand with the heart pointing towards the wrist denotes the person is in a relationship.
On the left hand with the heart pointing towards the fingertips denotes the person is engaged.
On the left hand with the heart pointing towards the wrist denotes the person is married.
The most iconic place to buy your Claddagh ring in Ireland is Thomas Dillions in Galway which has been making Claddagh rings since 1750.
If you cannot wait until you visit Ireland to get one, you can order online from Thomas Dillions.
Amazon also has a range of Claddagh-style rings. Click here to see more.
Irish Whiskey and Gin
If you are going to visit Ireland, you might pay a visit to one of the Irish whiskey distilleries dotted around the country. There are also some gin distilleries worth visiting as well. And if you are going to visit one, you will probably enjoy a tasting session at the end of the tour. You may end up purchasing something there, or you could wait until you get to the airport to avail yourself of duty-free shopping.
Some of the best whiskeys from the Republic of Ireland include Jameson, Teeling and Paddy, while some of the top souvenirs from Northern Ireland are whiskeys from the famous Bushmills. Look out for limited edition, 15+ years aged whiskey and gift sets which include smaller bottles of a few varieties from a particular brand or distillery.
Galway or Waterford Crystal
One of the best places to visit in Ireland is Waterford City and you cannot visit the city without going to the headquarters of Waterford Crystal to see how the famous glass is made. Although not all Waterford Crystal is made in Ireland, the tour gives an insight into the history of the crystal works and how pieces are made.
Waterford Crystal is one of the top souvenirs from Ireland and in our family is a traditional wedding gift we give to a newly married couple who already own their own house and don't provide a gift list. It doesn't come cheap but that is to be expected for such a long-standing, prestigious brand. Items available include crystal glasses, clocks, picture frames, vases, decanters and more.
Amazon has a comprehensive range of Waterford Crystal HERE.
See the range of Galway Crystal HERE.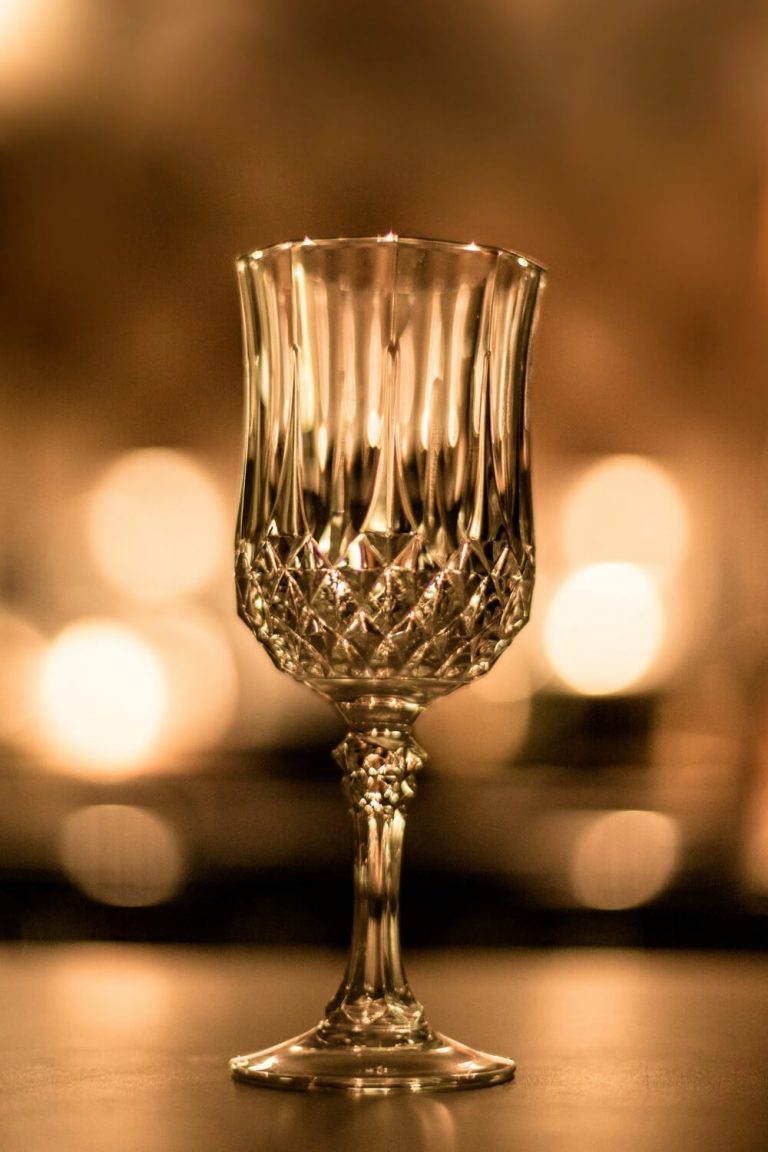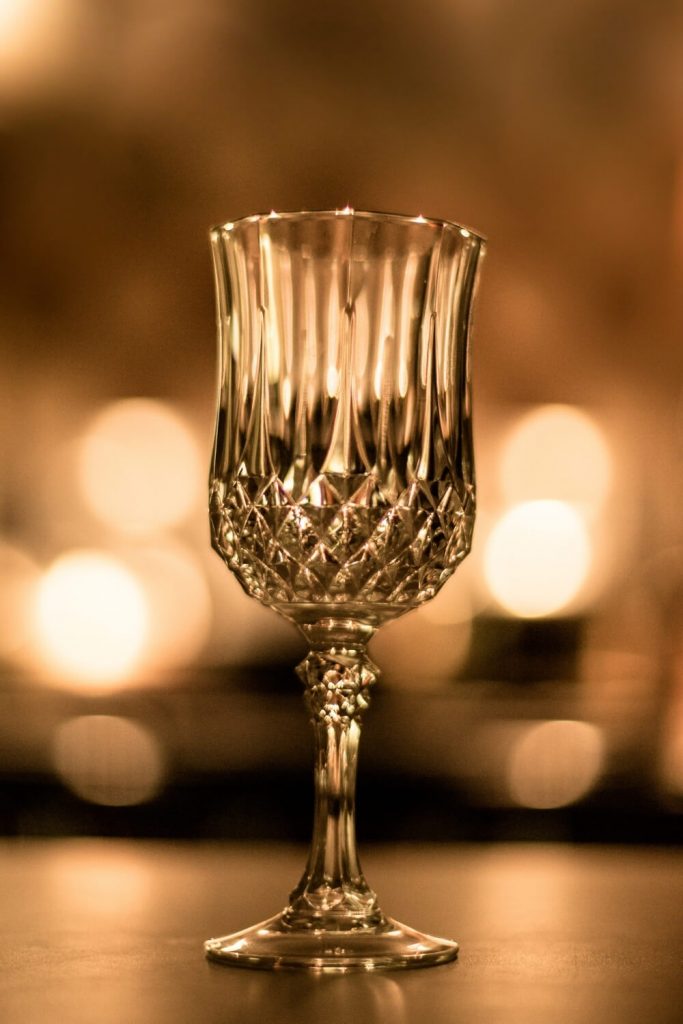 Irish Bog Oak
One of the best souvenirs to buy in Ireland is genuine Irish Bog Oak.
Bog Oak is a natural material formed from trees thousands of years ago in the boglands of Ireland. Trees became engulfed by bog and were preserved due to the low oxygen atmosphere of the peat. This preserved material is recovered and dried for two years before undergoing carving and polishing to produce some amazing pieces, of which we currently own two.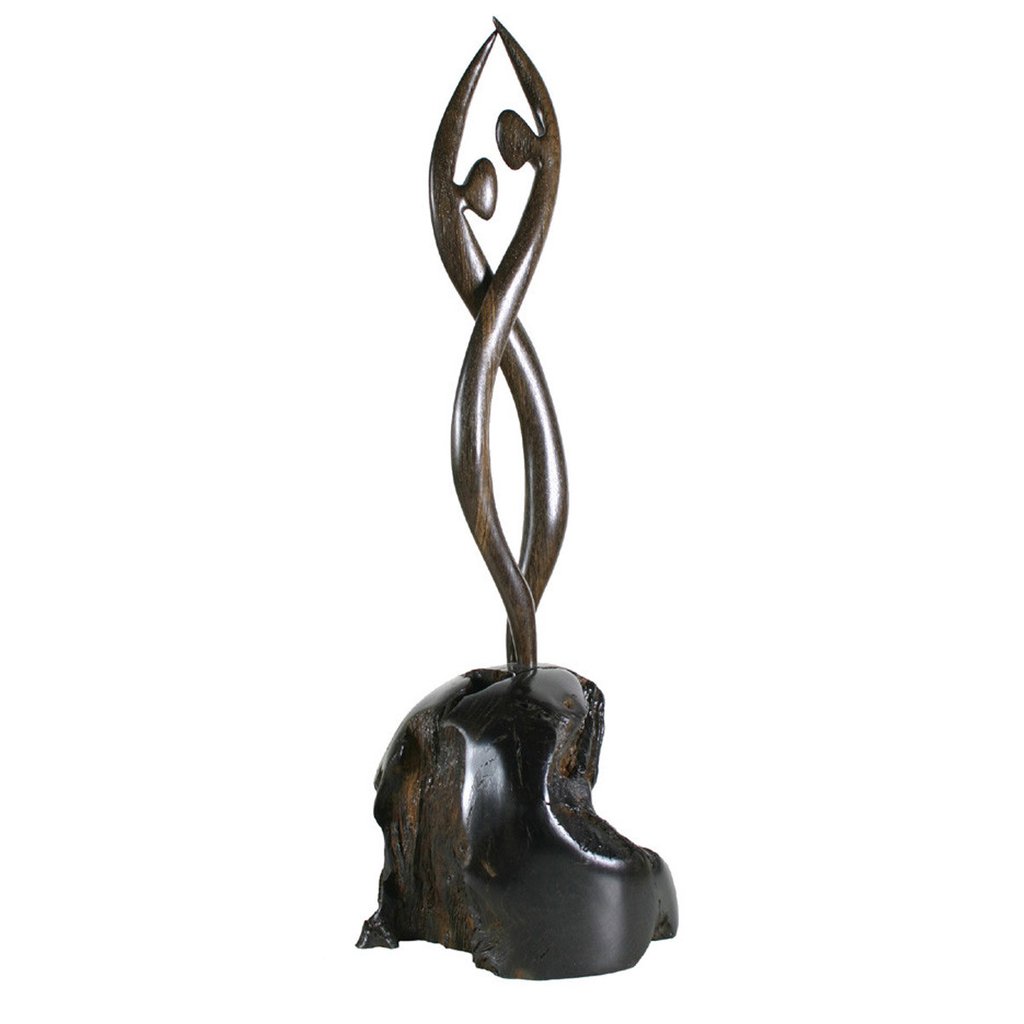 These carvings and sculptures come certified with the estimated age of the Bog Oak, typically dating back thousands of years. These pieces are stunning and also make great wedding presents.
My go-to place for Bog Oak pieces is the Celtic Roots Studio. This is a small, family-run business located in County Westmeath that has a collection readily available online for purchase and can make bespoke pieces. You will not go wrong with a Celtic Roots Bog Oak piece on your mantelpiece.
Irish Linen and Lace
One of the things you can only buy in Ireland if you want the best quality of it is Irish Linen. Irish linen products are made from cloth woven from flax fibre, which was grown in Ireland for many years before advanced agricultural methods and more favourable climates saw its cultivation move to Northern Europe.
Irish linen products include tea towels, table cloths, handkerchiefs and other products and are a beautiful gift to bring back from Ireland. This, yet again, is another great wedding gift idea if you are looking to give a newlywed couple something from Ireland.
If you would like to check out one of the best places for Irish Linen, consult the Thomas Ferguson Irish Linen company online, which has been operating and producing Irish linen for over 150 years.
Newbridge Silverware
One of my favourite types of souvenirs in Ireland is Newbridge Silverware. Established over 80 years ago, Newbridge Silverware produces silver jewellery, homeware and tableware at their manufacturing facility in Newbridge, County Kildare.
There is also a visitor centre at the facility where visitors can take a tour to learn about the skills required to produces beautiful pieces and collections. There is also a museum that has collections including fashion collections and artefacts belonging to fashion icons such as Princess Diana, Audrey Hepburn and Marilyn Monroe.
Whether you choose a set of steak knives, a piece of jewellery or something else, this is a piece of Ireland that you will love.
A tradition in our house, which my mother started and that is now continued by one of my sisters, is that our son receives a new Newbridge Silverware Christmas decoration each year. These are beautiful reminders each year of Christmases past when we put our tree up every year.
See some Newbridge Silverware products HERE on Amazon.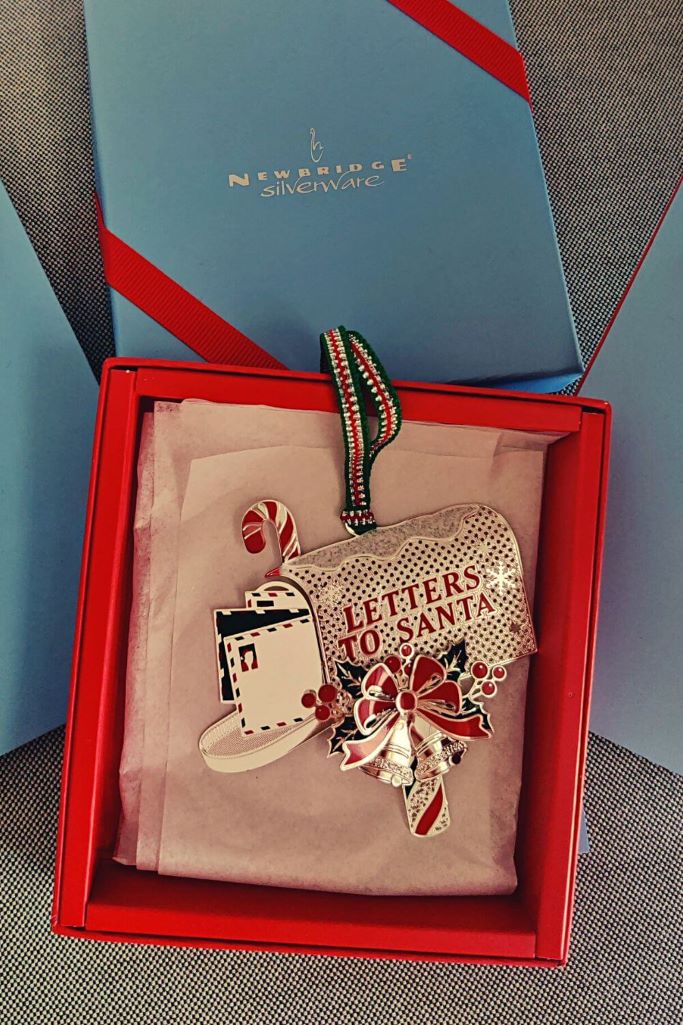 Donegal Tweed
Another great souvenir from Ireland that is quite unique is Donegal Tweed. Originally handwoven but now machine woven, Donegal Tweed can be found in caps, hats, suits and other products. Magee is one of the producers of the finest Donegal Tweed, founded over 150 years, and their clothing is worn by the current President of Ireland, Michael D Higgins.
Connemara Marble
One of the best souvenirs Ireland has to offer for the home is Connemara Marble. This green, rare Irish marble is found only in the Connemara region of Ireland. It is used in decorations and as a gemstone due to its distinct green colouration.
Genuine Connemara Marble pieces come with a certificate of authenticity and products include coasters, jewellery featuring gems from Connemara Marble and religious gifts, to name but a few. There is a range of Connemara Marble souvenirs available on Amazon here.
Irish Pottery and Ceramics
Another lovely souvenir from Ireland to get is some Irish pottery or ceramics. Whether you want a fancy teapot, or simply a mug or two, some Irish pottery or ceramics will be a lovely addition to any home.
One of the most famous Irish pottery brands is Belleek. Established more than 160 years ago in County Fermanagh, Belleek produce the finest china and pottery including tableware, homeware and other gifts. Each piece is handmade and handcrafted with skill and craftsmanship handed down through generations.
Belleek Pottery also has a visitor centre which runs tours of the facility.
If you'd like to purchase some Belleek Pottery online, check out the range on Amazon here.
Bodhráns and Irish Whistles
A unique Irish souvenir to buy on your visit to Ireland is a traditional bodhrán. A bodhrán is a traditional Irish Celtic frame drum that is beaten either with the hand or a tipper, originally a double-ended knuckle bone but now fashioned from wood, typically ash, holly or hickory wood. These are fun souvenirs to bring back from Ireland.
Similarly, an Irish whistle, also known as a tin whistle, is another fun musical instrument souvenir to buy in Ireland.
Inis Fragrance Products
Inis products are also known as Inis the Energy of the Sea and are a signature scent of Ireland. Operating from County Wicklow for more than 30 years now, you cannot stroll through the duty-free shops in Dublin Airport without seeing Inis products on the shelves.
The Inis fragrance is a unisex scent that
captures the feeling of a perfect sunny day by the sea

Inis website
Other Inis products include body moisturisers, hand care, bath & shower products and more. See the full range here.
If you prefer to shop via Amazon, then Inis have a storefront there. Click here to via the available products.
Food souvenirs from Ireland
One thing I always do when I go home to see the family is stock up on my favourite food souvenirs from Ireland.
Ok, some of my choices may not be for everyone but there are certain things only found in Ireland that I simply must have in my bags when returning to Portugal. I have been known to travel with an empty hold bag just so I can fill it with my food favourites. The night before my flight I pop to the supermarkets and stock up. And it is always a struggle to fit it all in.
The following foods from Ireland are just some items I bring back with me after every trip.
Irish tea – I have been living away from Ireland for over 15 years now and in all that time I have only drunk Irish tea, thanks to stocking up when back in Ireland, or more recently to what is known in our family as "care packages". Our house is a Lyons tea house. Some households prefer Barrys, and Bewleys makes a lovely cup of tea, but for us, it has to be Lyons.
Soda Bread – There is nothing like the taste of real Irish butter spread thickly on a slice of Irish soda bread and I always bring back a loaf or two to enjoy with my family after a trip to Ireland. Whether it is my personal favourite, McCambridge, or good old Brennan's, nothing beats Irish soda bread.
Butlers Chocolate – We are lucky that we can get Cadbury's chocolate near us in Portugal but one chocolate I tend to purchase in Dublin Airport before I depart Ireland is Butlers Chocolate. Whether it is a few bars or a tray of chocolates, some item from Butlers makes its way into my shopping.
Mikado and Kimberley biscuits – My all-time favourite biscuit is Mikado Biscuits. Also called Jam Mallows, these are a soft biscuit base with two lengths of pink mallow and jam running down the centre, topped with sprinkles of coconut.
Meanwhile, my husband's favourites are Kimberley Biscuits. These consist of two soft gingery round biscuits sandwiching a soft mallow centre. There are also chocolate-covered varieties of this with both the traditional soft mallow centre and one with salted caramel included on the mallow. Both are best served with a cup of Irish tea.
Crisps (potato chips) – The majority of the food items I buy in Ireland to bring back with me are crisps or potato chips. They are varieties only available in Ireland and include (but are not limited to):
Tayto Cheese & Onion
Hunky Dorys (all flavours)
Meanies
Chipsticks
Rancheros
Tayto Snax
And I will also try to squeeze in a few 6-packs of Manhattan Popcorn, THE best popcorn on the planet.
Ballymaloe Relish – A condiment that often makes its way into my luggage is Ballymaloe Relish. Made by the Ballymaloe Foods Business in County Cork, this relish is delicious with burgers, steaks, chips and barbeque foods. I try to remember to pop a bottle or two into my shopping the night before I leave Ireland.
You can shop for most of these Irish food items on the Food Ireland website. Click here to head there now!
In addition to this, I usually pop into Wrights of Howth in Dublin airport and buy some packs of Irish breakfast ingredients including sausages, bacon, and black and white pudding and a side of Irish Smoked Salmon. It's not a cheap visit but so worth it when we team our full Irish breakfast with a cup of Lyons tea and a few slices of soda bread. Yum.
Fun souvenirs to buy in Ireland
If you are looking for some fun souvenirs to buy in Ireland, then here are a few ideas.
Guinness memorabilia – Guinness is a name long associated with Ireland and among Guinness souvenirs, you will find coasters, bottle openers, hats, mugs, sweaters and more.
Leprechaun souvenirs – I dare you to go to Ireland and not come away with at least one leprechaun-themed souvenir. From soft, leprechaun toys to tea towels, notebooks and more, there are always some leprechaun souvenirs to buy in Ireland.
Postcards – If you love postcards, then make sure to pick up some while you travel around Ireland. These can be bought in souvenir shops and most post offices (An Post) will have them as well.
Irish Fairy Door – A fun and unique souvenir to bring home from Ireland, especially if you have kids is an Irish Fairy Door. These fun little doors can be placed on any wall in your home, or in your garden, to allow an Irish fairy to come live in your home. As well as doors there are lots of accessories you can buy alongside your fairy door. Be warned, you might go a little mad.
We've had an Irish Fairy Door since our son was two years old and the magic of having one is just priceless.
View the range of Irish Fairy Door Company products HERE on Amazon.
Wacky Woolies – This Irish brand of souvenirs is a fun brand that is easily identified thanks to the brightly coloured sheep that depict items in the range. Everything from tea towels, to mugs, notebooks, drinks bottles, travel pillows and more. We own a few Wacky Woolies items as I've picked up a few things both in Dublin Airport and on ferries from Wales to Ireland.
Surprisingly, you also purchase Wacky Woolies souvenirs on Amazon. Click here to browse the range.
If you are after souvenirs from Dublin, Ireland the best place to visit is one of the Carrolls Irish Gift stores. If I am in Dublin City Centre I will pop into the store on Henry Street or Westmoreland Street for a browse. It is not often I come away empty-handed!
Tips for buying the best souvenirs Ireland has to offer
Here are a few tips to help you make the right choices when buying your souvenirs in Ireland.
Where to buy your souvenirs – The best place to buy souvenirs in Ireland of a particular type is the main outlets associated with the brand. Think the Newbridge factory in Kildare, Claddagh rings from Thomas Dillions in Galway or Donegal Tweed from Magee's. If there are official stores in shopping centres and malls under the brand name or section within department stores, then you are sure you are getting the genuine article.
Ship fragile items home – If you are buying fragile souvenirs, then consider shipping the item home rather than chancing it in your luggage. Large items may incur excess baggage weight and you really don't want to get home and find your expensive Waterford Crystal glasses have shattered thanks to careless baggage handlers. So, consider shipping fragile items home.
Plan your purchases – Plan your purchases before you go and try and allow a budget. That way you will stick to a few items and won't come home to any nasty credit card bills. Decide what you would really like to buy on your trip, where to buy it, and set an upper limit. Allow a bit extra for unplanned, absolute must-haves but try not to go mad, as hard as it may be.
Allow room (and weight) in your luggage – You should allow both room and weight in your luggage for any souvenirs you plan to buy during your visit to Ireland. Leave plenty of room if you are planning to buy Aran jumpers or wool blankets as they will take up quite a bit of space.
Quality is worth paying for – When planning your souvenir purchases, make sure you are prepared to pay for quality. Cheap will not always pay off in the long run and if you want genuine, Irish, handmade souvenirs, they will come with a price tag that reflects these qualities. By all means add a few cheap, fun souvenirs to your shopping list. But for items you want to have for many years, be prepared to pay for them.
Check import and duty regulations – Make sure to check the import and duty regulations for anything you want to bring home BEFORE you purchase it. You cannot bring certain items into certain countries and it is best to check before you make any purchases. Check the TSA regulations for what you can bring back to the US HERE.
Remember to avail of Duty-free shopping – Remember to claim your VAT back at the refund counter in the airport before your return flight home. Tax-free applies to purchases over €75 and can be applied for at the airport with your receipts. Find more information here. You can also get a Fexco Horizon Card which can help make your refund claim at the airport quicker. Find information about this card here.
For this and more tips for visiting Ireland, read this post.
I hope you now have some idea of what souvenirs to buy in Ireland when you visit. There are some things you can only buy in Ireland and others that are available from the brand's online store or Amazon. This is handy if you aren't visiting Ireland soon but would love to add a bit of Ireland to your home.
Travel Around Ireland is a participant in the Amazon Services LLC Associates Program, an affiliate advertising program designed to provide a means for sites to earn advertising fees by advertising and linking to amazon.com, amazon.co.uk, amazon.ca. Amazon and the Amazon logo are trademarks of Amazon.com, Inc. or its affiliates. To learn more about affiliate links, read my Disclosure Policy here.
Related Posts