Are you expecting a baby boy and are looking for some Irish boys names beginning with C to give you some ideas? This list of the top Irish names for boys beginning with C is the perfect place to start your search.
A Guide to Irish boys names beginning with C
With popular Irish boys names Ciaran and Cillian included, and some more unique names, you'll love this list of Irish names starting with C for boys to help give you ideas. Or to simply find out what a name you've heard means!
Ciarán
Coming from the Irish word ciar meaning "dark", the Irish boys name Ciarán means "dark little one". Pronounced Keer-awn, it has another form of Kieran, pronounced the same way or like Keer-in. This is one of the classic Irish boy names thanks to the fact that at least 26 saints have had the same name. The most notable was St Ciaran of Clonmacnoise in County Offaly who lived during the 6th century. The son of a carpenter he is credited with establishing Clonmacnoise, one of the greatest spiritual and learning centres that thrived until the 16th century.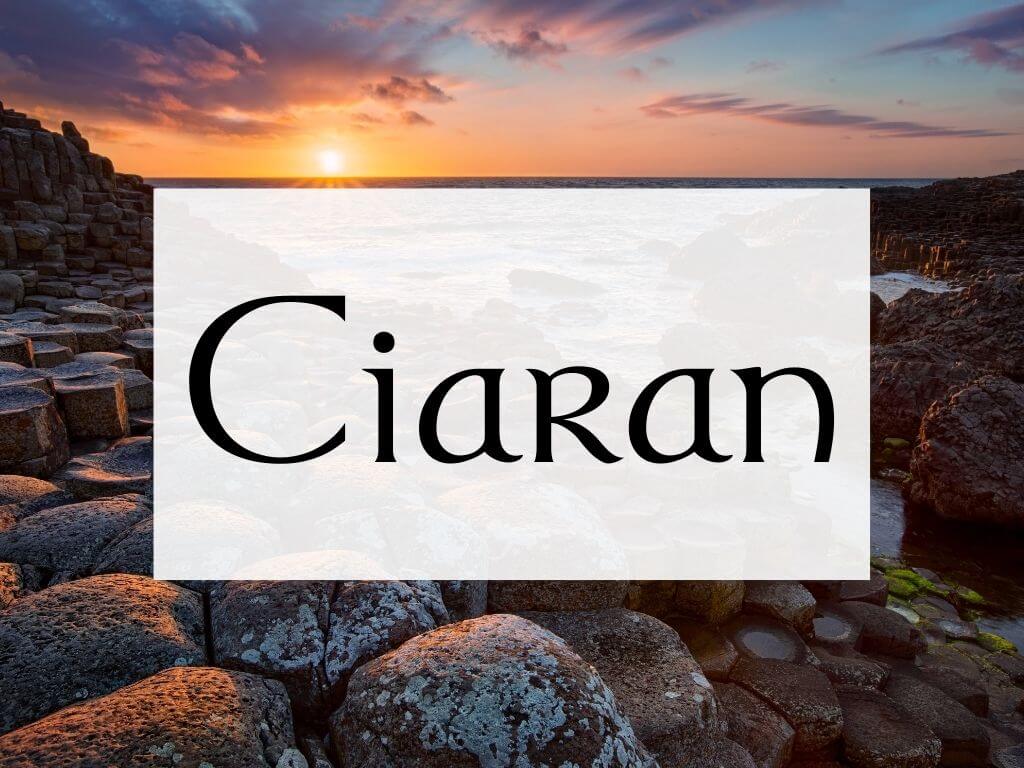 Cillian
One of the top Irish names for boys is Cillian. Coming from the Irish word cille meaning "associated with the church", this Irish boys name has a long history. St Cillian left Ireland in the mid-7th century to carry out missionary work in Germany where he became the Bishop of Wurzburg after converting the local duke to Christianity. He was later killed by the duke when he invalidated the duke's marriage to his brother's widow. Pronounced Kill-ee-un or Kill-ee-an, it has other forms such as Killian, Keelan and Cillín. It means "of the church" and also "war strife". In recent years this has been in the top 10 Irish names for boys.
Colm
Colm is the Gaelic form of the Latin word columba meaning "dove" and this Irish boys name beginning with C is a popular one among Irish saints. It is pronounced Col-um, the version Calum is popular outside of Ireland alongside Colom. One of the most famous saints bearing the name is St Columba of Iona or Colmcille, with Colmcille coming from colm meaning dove and cille meaning church, meaning Colmcille is "dove of the church". St Columba was a prince of the great O'Neill clan who became a scholar and poet. It is he and his monks who created the Book of Kells, one of the greatest books in Christianity which can be viewed in Trinity College in Dublin during, perhaps, a three-day visit to Dublin. As well as being exiled to the island of Iona where the Book of Kells was created, he is credited with founding 27 monasteries and 40 churches in Ireland during his lifetime in the 6th century.
Cuán
One of the least frequently heard Irish boys names beginning with C is Cuán meaning "little wolf or hound" as it is derived from the word cú meaning "wolf hound". There are a few ways to pronounce it depending on what part of the country you are from. Coo-awn, Coo-in, Coo-n or Coo-wan are some ways. It is also sometimes written in the format Cuain.
Cormac
Pronounced Cor-mack, this has other forms such as Cormack and more commonly Cormick. From the old Irish corbmac meaning "son of the charioteer" it can also mean "raven". Cormac MacAirt was probably one of the most famous ancient high kings of Ireland, so the name has a long history. He was the ruler of tara (the seat of the high kings of Ireland) for over forty years and was said to rule with wisdom, truth and generosity. Legends say he has a golden cup, given to him by the sea-god Manannan Mac Lir. If three lies were ever spoken over it, it would break in three, while three truths would make it whole again. It is said Cormac used the cup during his kingship to discover truths and lies of his subjects. But, the cup disappeared upon his death.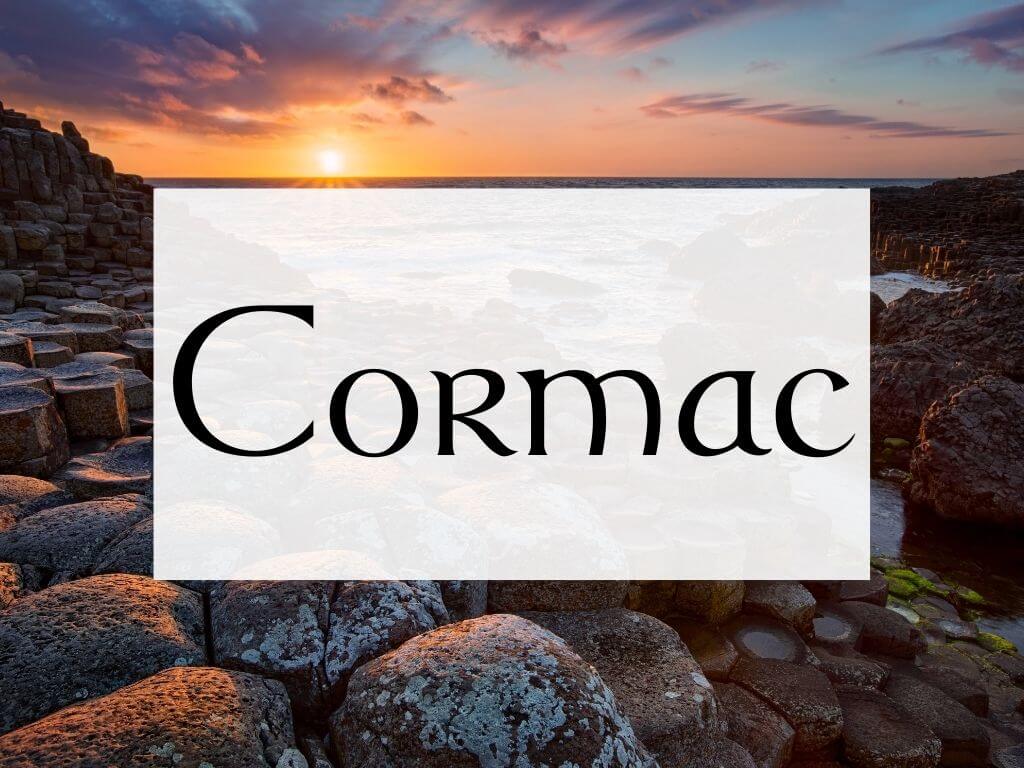 Cathal
Coming from the Irish words cath meaning "battle and all meaning "mighty", this Irish boys name starting with C means "a great warrior". This name was popular in the Middle Ages in Ireland but has seen a resurgence in its popularity in Ireland again. Pronounced Ka-hal, it can also have the form of Cahal.
Cian
Pronounced Kee-an, or Kee-in, this is a traditional Gaelic boys name beginning with C. Found in several Irish myths and legends, including the son-in-law of Brian Boru, the last high king of Munster killed at the Battle of Clontarf. It is quite a common Irish boys name and means "ancient or enduring" coming from the Irish word cian which means ancient. The English version is Kian.
Caolan
If it is unusual Irish boys names beginning with C you are looking for, then Caolan is one. Also one of the more difficult Irish boys names to pronounced for non-native, Caolan comes from the Irish word caol meaning "slender", although the name can also mean "fair, white or pure". Varieties of Caolin include Caolinn, Caelan, and it is an old Irish name pronounced Kee-lin, Kay-lun or Kale-un.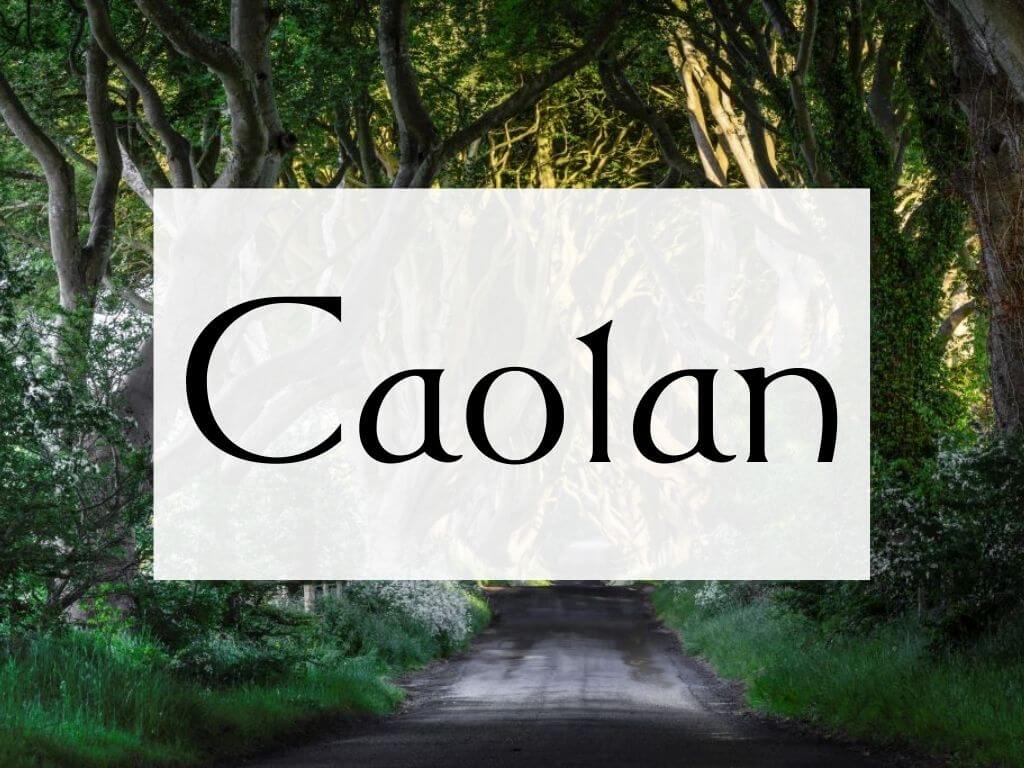 Conor
One of the most popular Irish names for boys is Conor, also one of the top Irish names for boys beginning with C. Coming from Conchobhar, Conchobhar MacNessa was one of the most famous kings of Ulster. It is pronounced Con-r, and has another form often used, Connor. Conchobhar was the uncle of Cuchulainn, and name means "lover of hounds".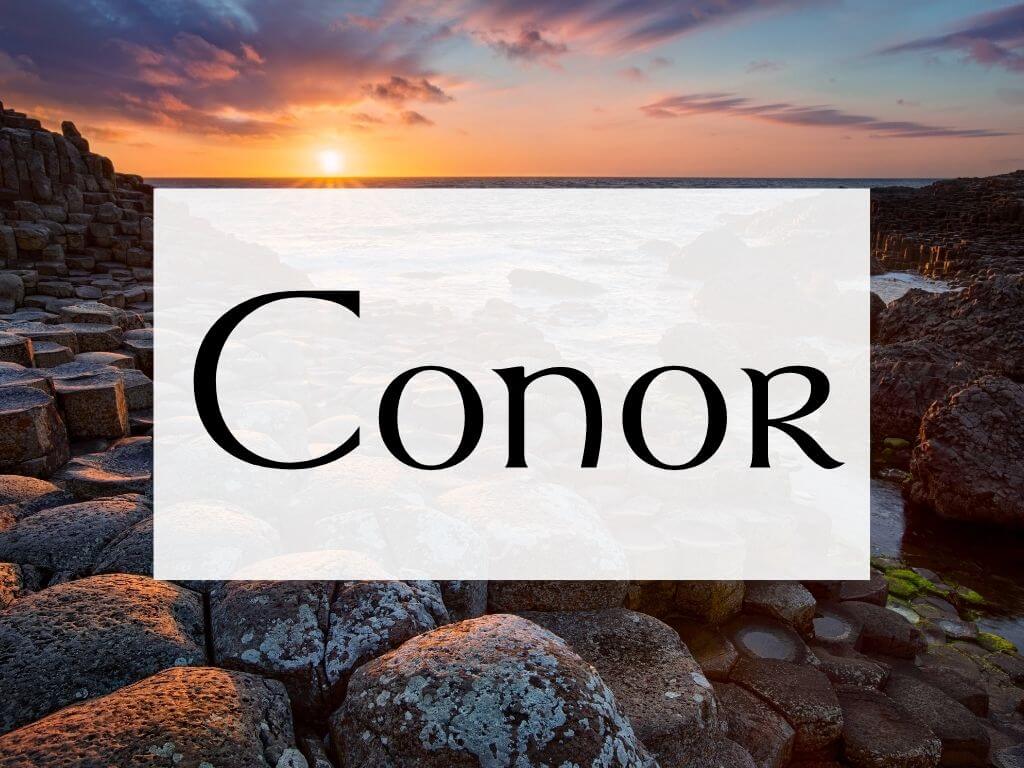 Caoimhín
Caoimhín, pronounced Kee-veen, Kwe-veen or Kiv-een is the Irish form of Kevin and can also be written as Caoimhghin. The name means "beautiful, handsome or kind". One of the most famous Kevin's in Ireland was St Kevin who established the monastic site at Glendalough in the 7th century.
Cónán
Meaning "little warrior" or "hound" as it comes from the word con meaning "hound or wolf", this Irish name for boys starting with C is not a hugely popular one. Pronounced Cone-awn or Ku-nawn, it was common in early Ireland and was also the name of two warriors of Fianna, one being Cónán Maol (Bald Conan) who was an ally of Fionn MacCumhail.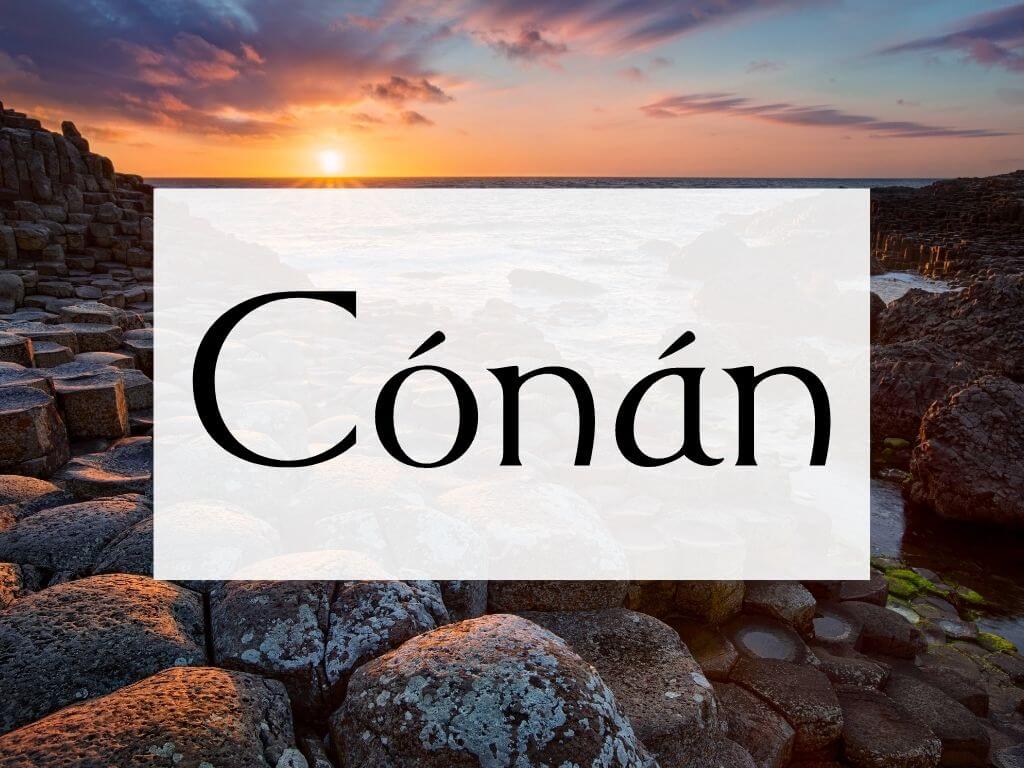 Final thoughts on Irish boy's names beginning with C
This list is by no means exhaustive but includes some of the most popular and more commonly used and heard Irish boys names beginning with C.
Discover more Irish names here: