Wondering what are the best things to do in Offaly, Ireland?
County Offaly is a small county in the centre of Ireland and isn't a county that often makes it onto tourist itineraries. However, for a small county, visitors may be pleasantly surprised if they make a stop in this part of the Emerald Isle. Discover all the best things to do in Offaly, Ireland here to help you plan a night or two in this beautiful part of Ireland.
*This post contains affiliate links, which may include Amazon affiliate links. To read more about affiliate links, please visit my Disclosure Policy page.
As with much of Ireland, County Offaly is a lovely part of the Emerald Isle, but it often gets overlooked by those travelling west to the likes of County Clare or Galway. For those that take the time to spend a night or two in this small county of Ireland, disappointment will not be met. From the River Shannon to the Slieve Bloom Mountains and plenty of castles and historic sites to visit, there are plenty of things to do in Offaly, a county of Ireland steeped in as much history as the next.
Best things to do in Offaly, Ireland
Discover some of the best things to do and the best places to visit in Offaly with this list. From historical sites and castles to the beauty of nature, County Offaly packs a punch for a small county in the middle of the Emerald Isle. With this list of the best Offaly attractions, you'll soon be considering a stop there.
Birr Castle
Like many counties in Ireland, there are plenty of castles in Offaly, and one of the best to visit is Birr Castle, in the town of the same name. This private home has many attractions that visitors can easily spend half a day exploring the demesne.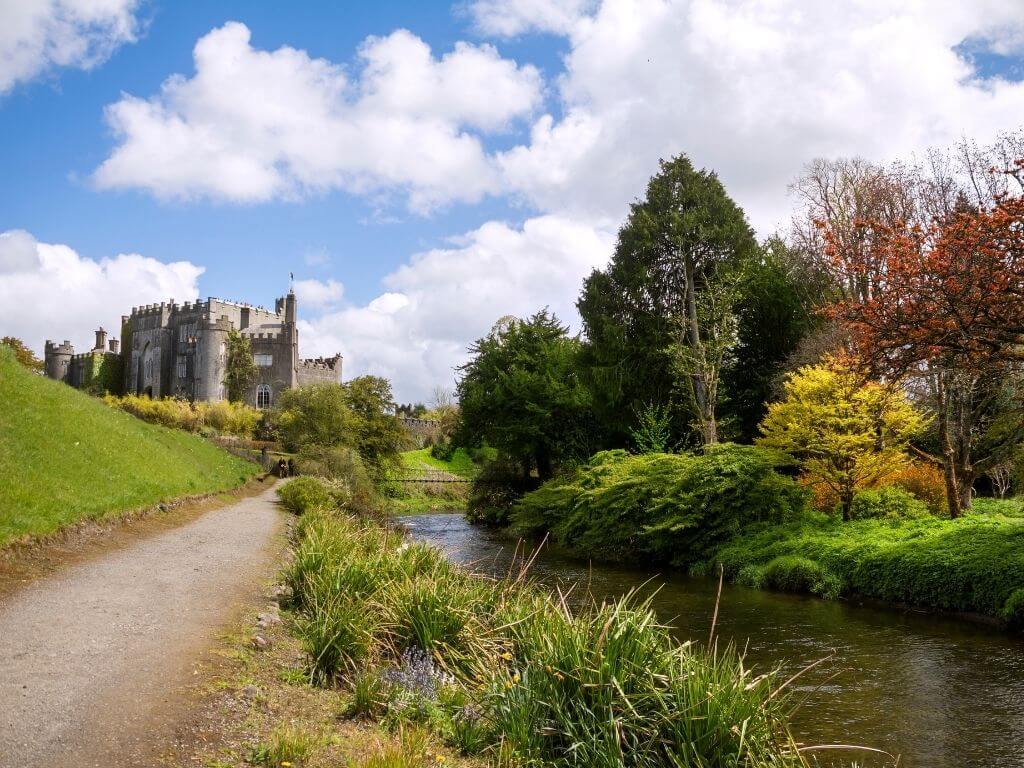 Birr Castle is the seat of the Rosse family and dates from 1620. The castle itself is a private home but is open to visitors during the months of May to August for guided tours of the main living quarters (this must be pre-booked). During other times of the year, the castle is closed to the public.
However, there is plenty to see and do at Birr Castle besides going inside the castle. The gardens are open throughout the year and are among some of the most beautiful in Ireland. 50-hectares of grounds have been landscaped and are set around a large artificial lake. The gardens have over 1000 species of plants and also include the world's tallest box hedges.
As well as the gardens, there is a science centre in which the scientific history and efforts of the Parsons clan (owners of Birr Castle) are displayed, a large telescope called the Leviathan of Parsonstown, and there is a large children's adventure playground making a visit to Birr Castle one of the best things to do in Offaly for families.
There are other castles in Offaly besides Birr Castle to visit including:
Charleville Castle – A Gothic-style castle dating from the late 18th-century, Charleville is one of the finest of its type in Ireland and admission is by 45-minute guided tours only.
Kinnitty Castle – A 19th-century neo-Gothic mansion house that is now a hotel, Kinnitty Castle is surrounded by a vast 650-acre estate where you can enjoy walks.
Clonony Castle – Built at the turn of the 16th-century, Clonony Castle is a medieval Tudor tower house that was the place where the sisters of Anne Boleyn (second wife of King Henry VIII) lived and were buried.
Leap Castle – see below.
Lough Boora Sculpture Park
A great place to visit for the best things to see in Offaly is the Lough Boora Sculpture Park. Also known as the Sculpture in Parklands, the sculpture park is a 50-acre area of land in which a sculpture park has been founded by sculptor Kevin O'Dwyer.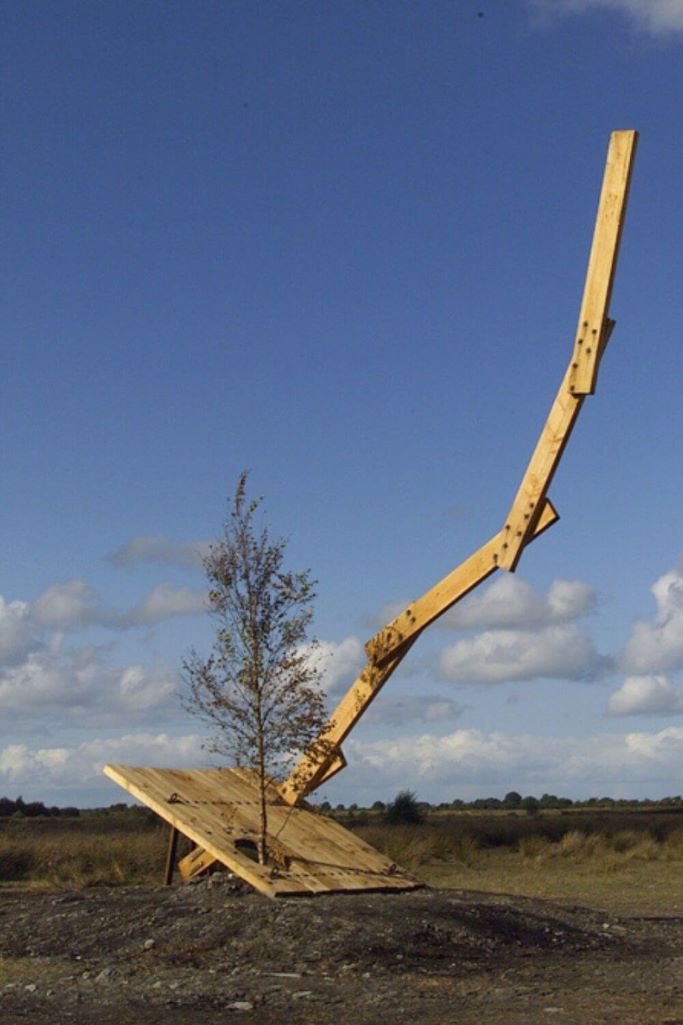 This environmental park is located at Lough Boora, is open throughout the year, and is one of the best free Offaly attractions to visit.
Artists have created large-scale sculptures of all sorts in this area, starting with seven Irish and international artists, and has grown to include 20 site-specific sculptures. The sculptures are land and environmental sculptures
inspired by the rich natural and industrial legacy of the boglands.
All manner of materials has been used to create the sculptures including rail lines, timber, and stone. Over time the colour and surface of each can change thanks to weathering.
The park is wheelchair accessible, and part of the Offaly Way (see further down) passes through the park. If you are looking for something unique to visit in Offaly, then make sure to add the Lough Boora Sculpture Park to your itinerary.
Lough Boora Bog Nature Reserve
If you love nature, then you won't be disappointed with a visit to the Boora Bog Nature Reserve run by the Irish Wildlife Trust.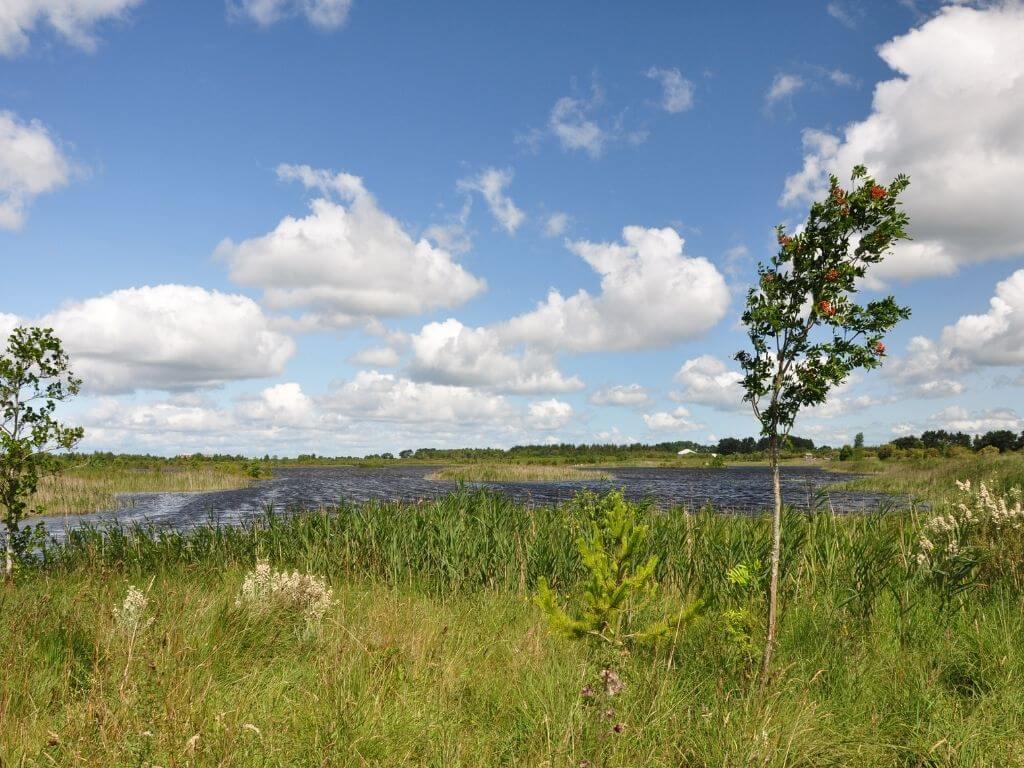 Situated on the site of an ancient lake and whose smaller lake was drained in the 1950s by Bord na Mona but never put into use as a source of peat (fuel), the Irish Wildlife Trust bought the area and created a nature reserve to protect the 50 hectares and the wildlife living there.
Nature has reclaimed the area for itself, and visitors may be lucky to spot grey partridge whose have made it a stronghold, as well as other species of bird, deer, wild goats, badgers, hares, and even bats.
There are several trails along which visitors can travel through the area to enjoy the beauty of nature and wildlife.
Clonmacnoise
Standing in a remote spot close to the River Shannon in County Offaly is Clonmacnoise, one of the top places to see in Offaly.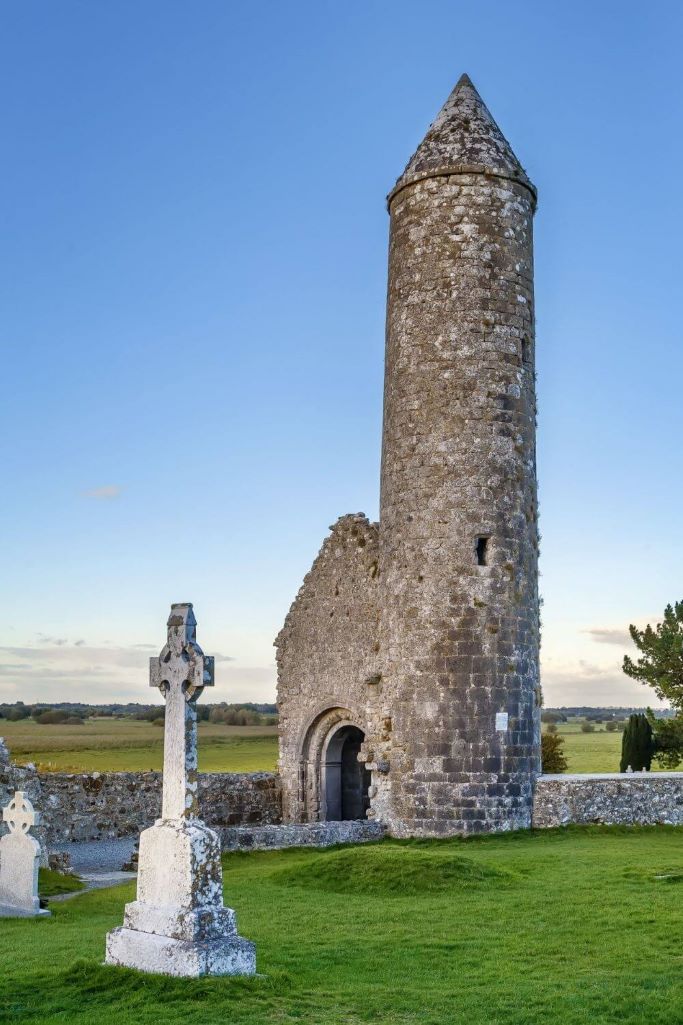 Clonmacnoise is a medieval monastery that was founded in the mid-6th century by Saint Ciarán. This monastic site lay on important medieval crossroads linking many parts of Ireland. It thrived between the 7th and 12th centuries and was known for its scholarships and trade, making it one of the most important centres of study in Europe at the time. Many of the kings of Tara and Connaught are buried there.
It was often plundered by the Vikings and Anglo-Normans and was eventually devasted by the English in the mid-16th century during the Reformation of Ireland.
Today Clonmacnoise is an important historical site that lies within Ireland's Ancient East. The site contains a cathedral, a group of stone churches, and three High Crosses, Celtic symbols synonymous with Ancient Ireland. There are also two Round Towers at Clonmacnoise. The cathedral has intricate 15th-century carvings of St Francis, St Patrick and St Domonic above an archway now called the Whispering Arch due to its acoustics in which even a whisper is carried from one side of the door to the other.
There is a visitor centre where early grave slabs and crosses are on display. Visitors can also enjoy audio-visual exhibitions about the site and its history. Clonmacnoise is one of the best Offaly tourist attractions and is a must when in this part of the county.
Slieve Bloom Mountains
Another great place to be at one with nature is the Slieve Bloom Mountains which form much of the western/eastern border between Offaly and County Laois.
The mountains are a peaceful retreat and are among the least explored in Ireland by locals and visitors alike. The mountains are dotted with quaint villages, and they are also one of the oldest mountains in Europe along with the Massif Central in France.
Visitors to the mountains can enjoy biking, hiking, horse riding, and more along some quiet and beautifully peaceful trails. If you get a chance visit Fanning Pass where you can stand in two counties at once (see pictured).
Those with a high fitness level can tackle the 77-km Slieve Bloom Way circular trail which takes you through deep wooden glens, open vistas, and more. Kinnitty is a popular starting point in County Offaly for exploring the Slieve Bloom Mountains.
Durrow Abbey
If you are looking for other historical places to go in Offaly, then add Durrow Abbey to your list. Close to the county town and one of the best Tullamore things to do, Durrow Abbey was founded by St Colmcille, an Irish abbot, in the 580s.
This historic site is located just 5 miles from Tullamore and is an early medieval monastic site where you will find five early Christian grave slabs, fine examples of mid-ninth century High crosses, and other archaeological features. Although little remains of Durrow Abbey itself, it is famous for having produced the Book of Durrow, a 7th-century text which is now at Trinity College in Dublin.
The site is now home to Durrow Abbey House, an early 20th-century building and a late-18th/early-19th century church. Adjacent to the historic site is an old woodland estate managed by Coillte.
Leap Castle
Located in the village of Coolderry, 6km north of Roscrea and 10km south of Kinnitty is one of the most haunted castles in Ireland, Leap Castle.
A stone castle dating from the mid-13th century, Leap Castle was built by the Bannon clan who were secondary chieftains under the rule of the O'Carroll clan. The castle was once ruined after the Irish Civil War in 1922, after which it required restoration, done by an Australian historian. The castle is now privately owned by a musician who can arrange private tours by prior arrangement (click here for information).
Leap Castle is said to have many ghosts haunting its halls and rooms. It is said a Red Lady roams the halls holding a dagger, while two little girls called Emily and Charlotte are reported to run up and down the spiral staircase. These and other ghosts have been reported seen and/or heard in the castle and it has been featured on many paranormal investigation TV shows including Most Haunted.
Do you dare to visit one of Ireland's most haunted castles?
Clara Bog Nature Reserve
One of the largest intact raised bogs remaining in Ireland is Clara Bog. This state-owned and managed bog is now a nature reserve and is a great place for some nature walks in Offaly.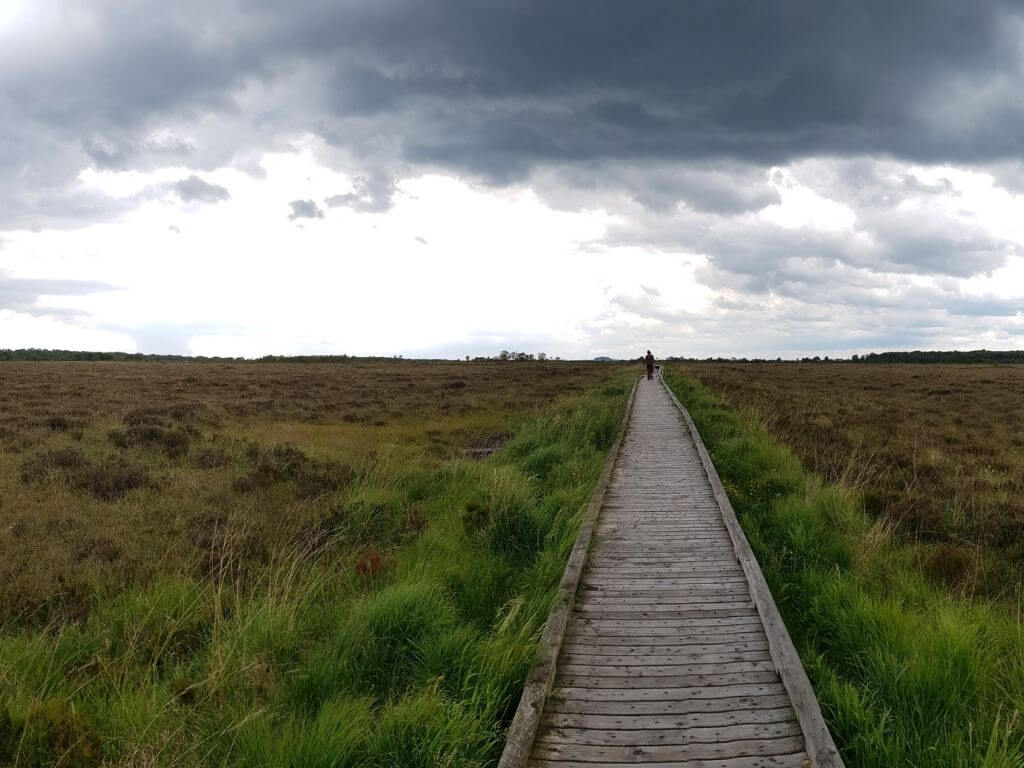 Covering an area of approximately 460 hectares, Clara Bog was drained as a potential peat bog in the 1980s but opposition by members of the public including naturalist David Bellamy ensured it never became a peat-producing bog.
Instead, Clara Bog became a protected nature reserve and centre for study. The site includes a visitor centre where you can learn about bogs, a library, and a small museum, and visitors can enjoy the bog from boardwalks. The visitor centre is open seasonally (check ahead of your visit), but members of the public can enjoy a 1km looped boardwalk walk at Clara Bog at all times of the year.
Enjoy a peaceful walk in nature while trying to spot the varied wildlife that have made this nature reserve their home.
Tullamore Dew Visitor Centre
The County town of Offaly is Tullamore, and one of the best things to do in Tullamore, Ireland is to pay a visit to the Visitor Centre dedicated to the town's most famous export, Tullamore Dew Whiskey.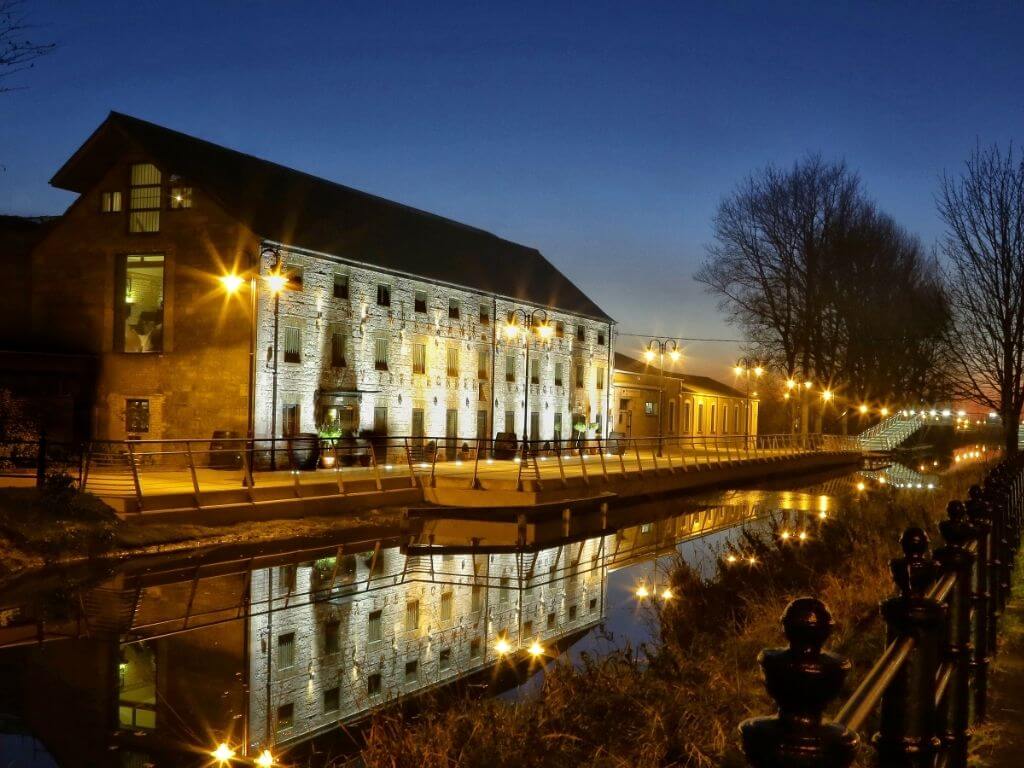 Located at the Tullamore Dew Whiskey distillery, one of the best Irish whiskey distilleries to visit, the Visitor Centre gives members of the public a chance to learn about the famous whiskey and the process behind its creation. Visitors can learn about how Irish whiskey is made and matured as well as get an introduction to the history of the Tullamore Dew brand.
Guided tours take place over a 105-minute "behind-the-scenes" tour of the state-of-the-art working distillery, and visitors can see the Still House, blending lab, and enjoy a tasting session of three expressions of Tullamore Dew. You can even create your own unique blend of Tullamore Dew to take home with you (for an extra fee).
Note that this is an over-18s experience only and it is recommended that you pre-book your tickets to avoid disappointment, particularly during peak visiting times.
Offaly Way
If you are looking for activities in Offaly that will get you outdoors and moving then why not consider doing all or part of the Offaly Way.
The Offaly Way is a long-distance trail over 37km (23 miles) that begins in Cadamstown and ends at Lemanaghan. It can be completed within 2 days and is well way-marked.
The trail is also a link between the Slieve Bloom Way and Grand Canal Way, and it crosses the Boora Bog (mentioned above). Those who decide to enjoy the Offaly Way will be rewarded with walks along riverbanks, through woodland areas, and past other scenic and historic sites.
If you are visiting Offaly and looking for outdoor things to do, then why not consider spending time along the Offaly Way.
River Shannon Cruise
With the River Shannon acting as the border between County Offaly and neighbouring Galway and Roscommon, it is hardly surprising that one of the best things to do in Offaly is to enjoy the river and all the activities it offers.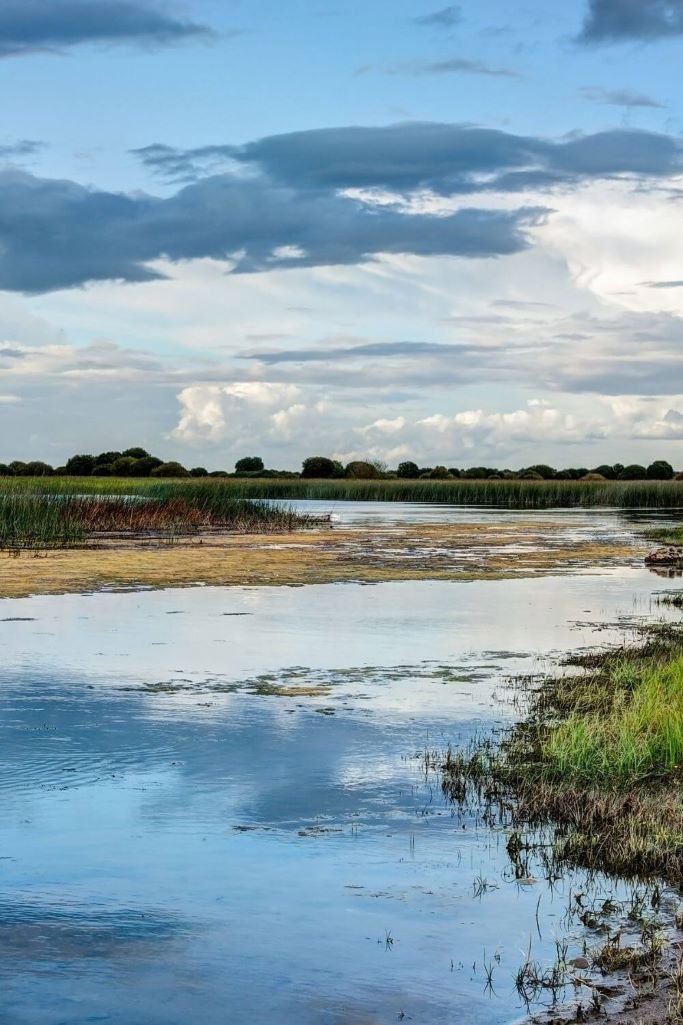 Shannonbridge lies on the River Shannon, almost at the point where Offaly, Galway, and Roscommon meet on the river. This picturesque village gets its name from the narrow 16-span, 18th-century bridge that crosses the river and it is a great place to enjoy on a Shannon River cruise.
You can also enjoy River Shannon cruises from Banagher.
Heading north you can visit Clonmacnoise, or south and you can visit Portumna in County Galway.
Moneygall
A small village on the borders of Offaly and Tipperary is Moneygall. A quiet village with a population of less than 350m this unassuming village has an interesting link to US President Barack Obama.
Barack Obama's maternal great-great-great-grandfather, Falmouth Kearney hailed from the village and in 2011 the US President visited the village.
Falmouth emigrated to America in 1850 to New York City and eventually settled in Indiana and then Ohio. The President and his wife, Michelle, paid a visit to Moneygall as part of their Ireland visit. In tribute, Barack Obama Plaza stands just outside the village where there is a visitor centre and statues of the President and First Lady. If you happen to be passing by on the M7 motorway, why not make a quick stop at this unusual Offaly attraction.
Where to stay in Offaly, Ireland
Luxury hotels in Offaly
Kinnitty Castle Hotel
If you are looking to stay in one of the luxury hotels in Offaly, then consider booking into Kinnitty Castle Hotel. This 4-star luxury hotel is set on 650 acres of parkland and forests and is a short 20-minute drive to Birr. With individually decorated rooms, a fine dining restaurant, and more, this is a bit of luxury in County Offaly. Click here for the latest prices and availability.
Bridge House Hotel, Leisure Club and Spa
Located in the county town of Tullamore, this 4-star luxury hotel is a great place to base yourself for exploring County Offaly. With on-site restaurants and bars, a spa, a leisure club with a swimming pool, and more, this hotel is ideal if you want to be in easy reach of some of the best Offaly things to do. Click here for more information and to see the latest prices.
Budget-friendly accommodation in Offaly
There are very few budget-friendly hotels in County Offaly. If you are looking for budget-friendly accommodation, we suggest you check into a traditional B&B. Click here to start your search.
Alternatively, you could base yourself in Athlone in County Westmeath and travel into County Offaly. Athlone, the county town of Westmeath is conveniently located just across the northwest border with Offaly. Click here to start your search for budget-friendly hotels in Athlone.
Things to know about County Offaly, Ireland
If you've never visited Ireland or ventured to this part of the Emerald Isle, this section is dedicated to sharing some more information about County Offaly, Ireland.
Where is County Offaly? – Offaly is located in the Eastern and Midlands region of Ireland. It is part of the Republic of Ireland and is landlocked, bordered by Galway, Roscommon, Tipperary, Laois, Westmeath, Kildare, and Meath.
County Offaly facts:
Offaly was named after an ancient Irish kingdom, Uí Failghe, coming from descendants of Failghe.
The county covers 2001 square kilometres (773 square miles) and the population of Offaly is just less than 78,000.
It is one of the twenty-six counties of the Republic of Ireland.
Offaly is the 18th smallest county of Ireland (all 32 counties) by size and the 24th smallest by population.
While the Midlands of Ireland is a mostly flat region, the eastern border of Offaly with Laois is largely formed by the Slieve Bloom Mountains.
Ireland's longest river, the Shannon forms the border of Offaly with both Roscommon and Galway. Other rivers flowing through the county include Camcor, Little Brosna, the Silver River, and the Grand Canal.
County Offaly has many small lakes including Lough Boora already mentioned. And it is well-known for its bogs.
Notable towns in Offaly – Tullamore (the county town), Birr, Clara, Clonmacnoise, Kinnitty, and Portarlington.
Weather in Offaly – Like much of Ireland, Offaly experiences wet, mild winters with temperature lows of 8C in the day and 2C at night, and short dark days. Summer brings drier, brighter weather with temperature highs of 20C during the day and 11C at night, accompanied by longer days. As with all of Ireland, rain is common throughout the year, so don't go without a raincoat, even in summer. To find out more about the weather in Ireland and the best time of year to visit Ireland, read this post.
Famous people from Offaly – A few famous people hail from County Offaly including Shane Lowry (golfer), and Brian Cowen (politician).
Final thoughts on the best things to do in County Offaly
So, although you may have thought there were not many things to do in Offaly, Ireland, I hope this post has changed your mind. Whether you are only visiting for a day or planning to stop for a few on your way west/east or north/south, you are sure to find plenty of things to keep you occupied in this small but beautiful part of the Emerald Isle.
More about visiting Ireland, Offaly and its neighbouring counties: