Are you looking for the best Christmas markets in Ireland? Then you are in the right place.
Christmas markets are hugely popular on the continent but are gaining in popularity in Ireland as well. Cute little huts selling crafts, Christmas decorations, mulled wine, and more.
And they can be one of the best ways to get into the festive spirit.
Use my helpful guide to visit the best Christmas markets on the Emerald Isle including
Winterval in Waterford
Kilkenny Christmas market
Belfast Christmas market
Originally published October 2021. Updated in November 2023. Some venues are yet to confirm whether their Christmas market is going ahead this year and some are finalising details.
Best Christmas markets in Ireland
The sights and smells of a Christmas market are becoming a festive tradition the world over and as mentioned, they are becoming ever more popular on the Emerald Isle.
In this post, I am sharing with you some of the best Christmas markets Ireland has to offer, both in the Republic and Northern Ireland.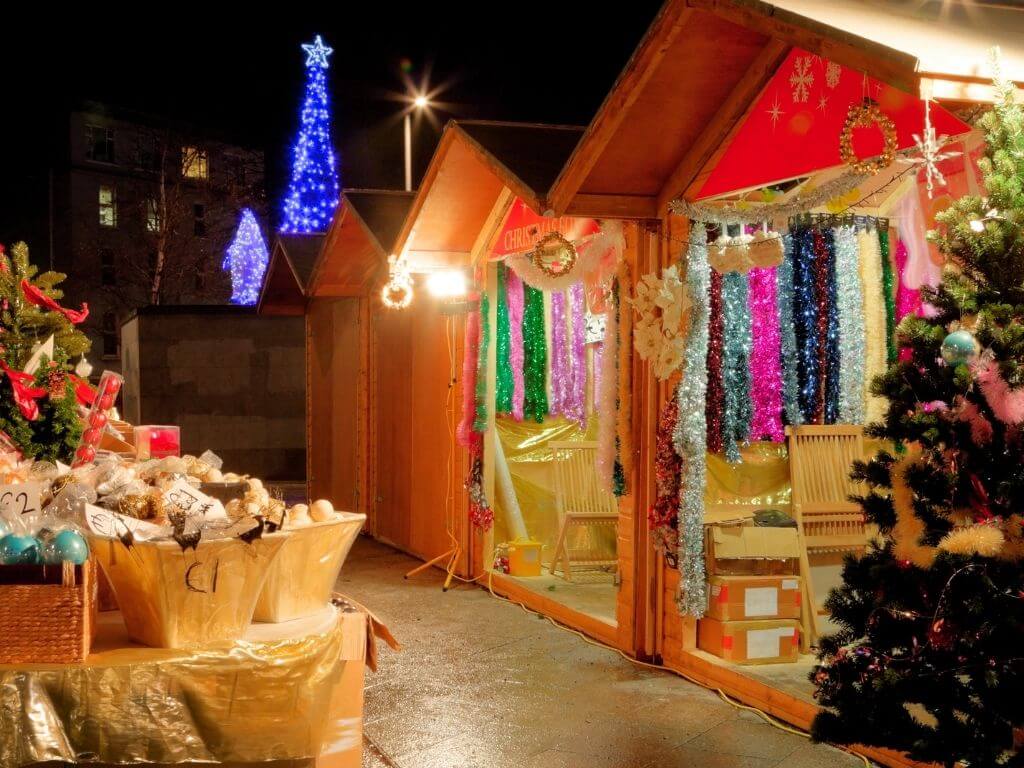 Best Irish Christmas markets, Republic of Ireland
If you are based in the southern half of Ireland and have been wondering "are there any Christmas markets near me", then this section is for you.
You'll find a guide to the best Christmas markets taking place in the Republic of Ireland this festive season.
Winterval, Waterford
Address: Various locations in Waterford City
Dates: Nov 17th to Dec 23rd
Winterval, possibly one of the best Christmas markets in the world, is taking place in Waterford City, Ireland's Oldest City, and is celebrating 11 years in 2023.
With a packed program of events for all ages, Winterval is one of the biggest Christmas markets in December in Ireland.
Be a part of our journey through a world of Christmas celebration, magical experiences, festive family attractions, seasonal surprises…

Winterval
Visitors to Winterval can expect festive city quarters, live performances, plenty of family attractions, seasonal surprises, and of course, Christmas markets. There will be Christmas light displays, Santa grottos, and more for families.
City quarters will include
Winterval Christmas Market (Georges Street, Gladstone Street and O'Connell Street)
Santa's Central Station (City Centre)
Winterval on Ice (The Quay)
Glow (New Street Gardens)
Elves Workshop (George's Court Shopping Centre)
Waterford Eye (Waterford Quay).
There will be both free and ticketed events, details of which can be found on the website by clicking here.
There will be a party atmosphere this year as it is the 10th year of Winterval and it promises to be the biggest and best yet. For a truly unforgettable Christmas event, head to Waterford this festive season.
For more information, CLICK HERE.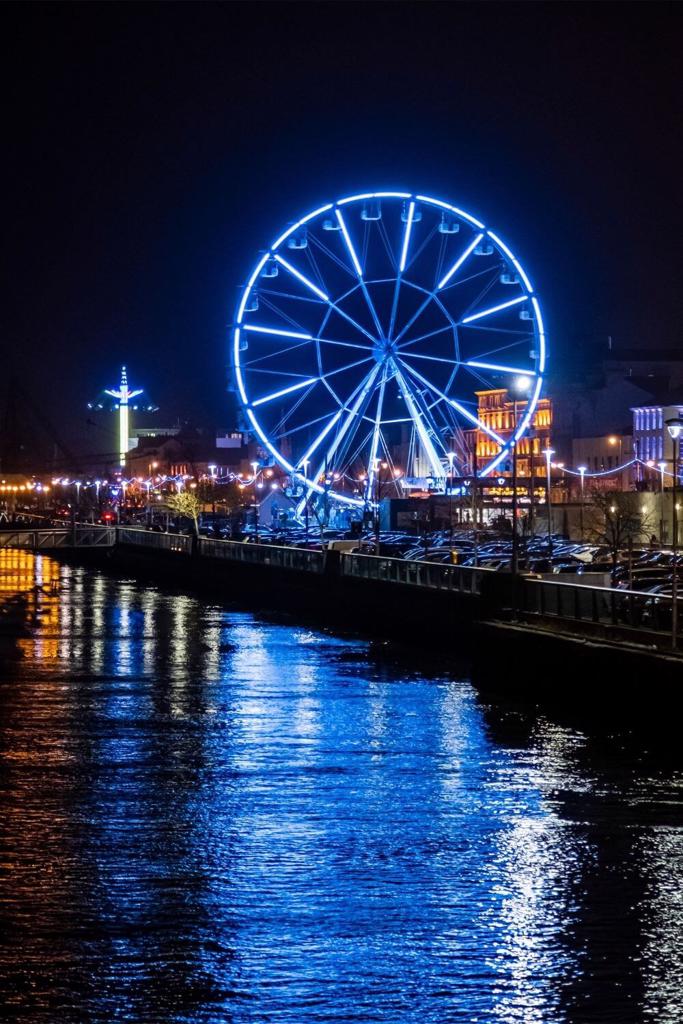 Kilkenny Christmas Markets, Kilkenny
Address: The Parade, Kilkenny City
Dates: Every weekend in December and Christmas week between 25th November and 23rd December.
The Kilkenny Christmas market returns as part of Yulefest Kilkenny and takes place over weekends and Christmas week in December.
Local artisans and craftspeople will be showcasing their products, and there will be entertainment in the form of live music, food stalls and more. Enjoy a truly festive experience as you stock up on those all important gifts.
For more information, CLICK HERE.
Mistletown Christmas Festival, Dublin (Not running in 2023)
Address: City Fruit and Veg Market, St Michan's St, Smithfield, Dublin 7
Dates: 4th to 23rd Dec (2021 dates)
The Mistletown Christmas Festival returned to Dublin in 2021 and was a free Dublin Christmas market. The city's fruit and veg market was transformed into a magical Christmas experience with an artisan food village, craft market, vintage carnival, and entertainment.
The artisan food village was serving festive treats including bratwursts, crepes, mince pies and more. In the craft market, you could find stalls selling handmade Christmas gifts, jewellery, toys, and more.
If you were looking for Christmas markets for kids in Ireland, then the vintage carnival at Mistletown was for them, with its carousel, helter-skelter, and fairground games. There was also a bar for hot and cold drinks that could be enjoyed with the entertainment which included bands, choirs, school performances, and more.
So, if you were looking for one of the top Christmas markets Dublin had to offer in 2021, then Mistletown was the place to be. Unfortunately, they have announced that it is not running again in 2023 and are hoping to be back in 2024.
For more information, CLICK HERE.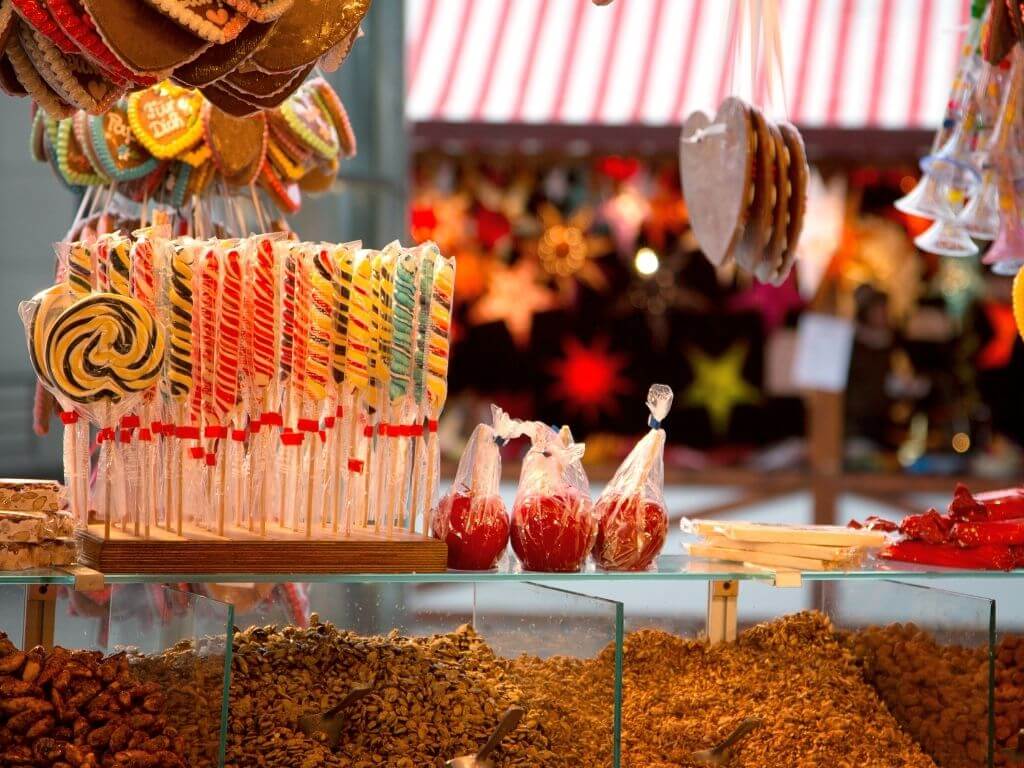 Tuam Christmas Craft Fairs, Galway
Address: Little Mill – King Rory O'Connor Park off Shop Street, Townparks (4th Division), Tuam, Co. Galway
Dates: 25th Nov
The Tuam Christmas Craft Fairs returns this year, showcasing a range of crafts and talented makers. Items for sale will include candles, ceramics, paintings, handmade cards, and much more. This is a great little market to grab some handmade gifts for a loved one if you are looking for Christmas markets in Galway.
For more information, CLICK HERE.
Castletown House and Parklands, Kildare TBC
Address: Celbridge, Co. Kildare, W23 V9H3
Dates: 2023 to be confirmed
Castletown House and Parklands are holding their Christmas market this year on the 4th December. Taking place in the stable courtyard, come and discover what treats you can buy from the different sellers.
For more information, click here.
Wicklow Christmas Market, Wicklow
Address: Leitrim Pl, The Murrough, Corporation Land (1st Division), Wicklow
Dates: Nov 18th to Dec 17th
The Wicklow Christmas Market is back and promises to be bigger and better than ever.
It's time to hang up your stockings, adorn the tree with sparkling tinsel, and enjoy some mulled wine  beneath the mistletoe…
Entry to the Christmas market is free, allowing visitors to browse the craft stalls, food stalls and more.
There will be ice skating available, as well as a Santa train for the younger members of the family, where kids can meet Mrs Claus and Santa, and receive a gift from Santa after having a chat. These two events are ticketed events, and you must pre-book to avoid disappointment.
If you are looking for special gifts this year, you'll find lots of ideas with handcrafted ornaments and gifts, toys, homemade chutneys, and jams for sale in the stalls.
Entertainment isn't limited to ice skating and Santa train. There will be live performances, carnival rides, games, alpacas, and more to ensure everyone has an amazing time at the Wicklow Christmas market.
For more information and to book your Ice-skating and Santa Train tickets, CLICK HERE.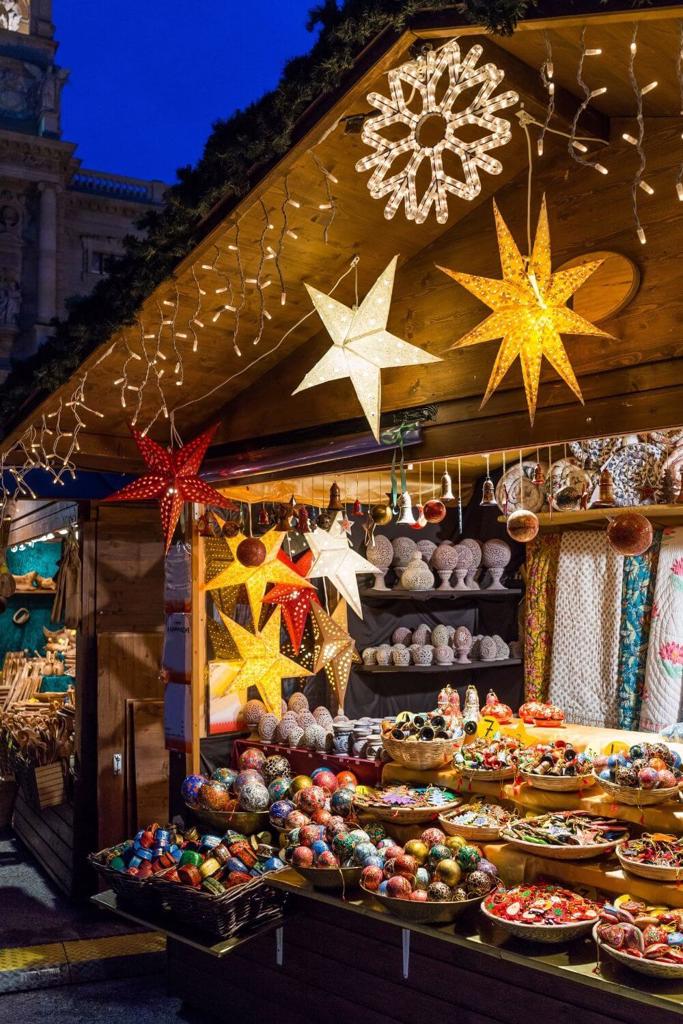 Galway Christmas Market, Galway
Address: Eyre Square, Galway
Dates: 10th Nov to 7th Jan
Now in its thirteenth year, the Galway Christmas Market is taking place this festive season in Eyre Square in Galway City as usual.
As well as Christmas market stalls which will include festive food, drinks, crafts and more, the carnival feel to the Christmas market will also return.
Visitors can expect to see, and enjoy, the 32m Big Wheel, amusement rides, live music performances, puppet shows, and storytelling for kids, as well as Santa's Grotto and a Santa Express Train ride.
Food stalls will include continental stalls serving the likes of bratwursts, French pastries, and pretzels. There will be plenty of stalls selling gifts, so you won't be short of ideas either.
The Galway Christmas market will also have an enchanted garden light display for everyone to enjoy which will make a great backdrop for some amazing festive family photos.
For more information, CLICK HERE.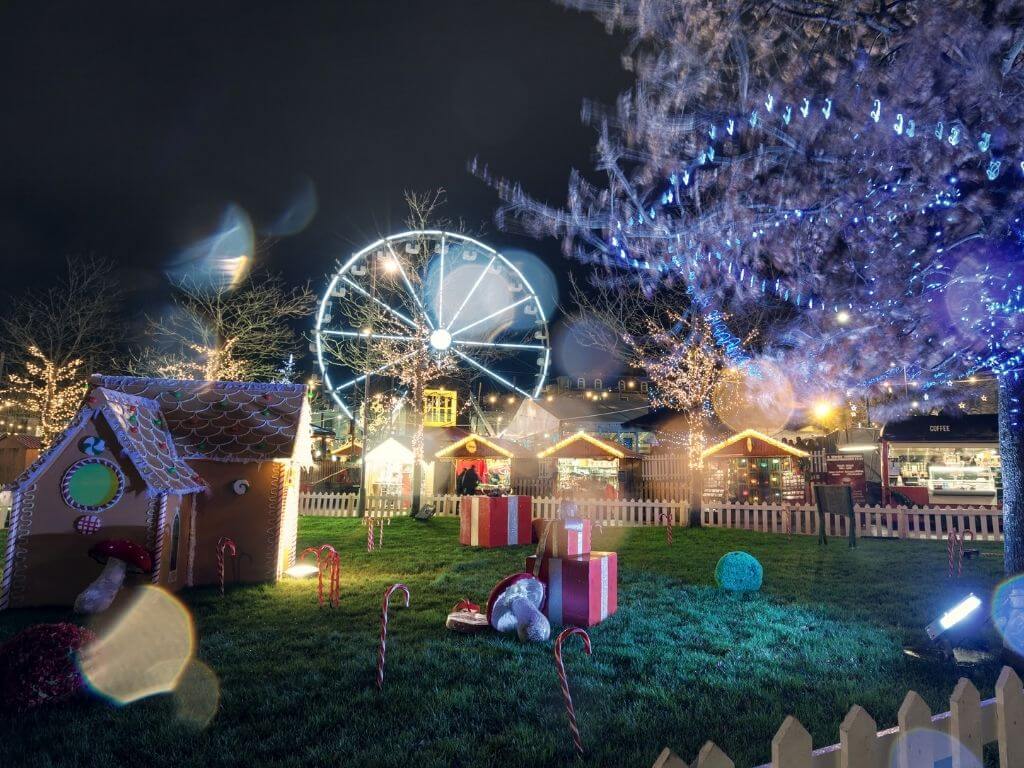 Strokestown, Roscommon
Address: Strokestown, Co. Roscommon
Dates: 16th December
Strokestown is holding a Christmas market this year in the fabulous setting of Bawn Street. Featuring wooden chalets, street entertainment, creative crafts, festive food, and lots of Christmas cheer, this is a Christmas market in Ireland not to be missed.
For further information, keep an eye on their Facebook page.
Lisnavagh Christmas Market, Carlow
Address: Lisnavagh, Rathvilly, Co. Carlow
Dates: Saturday 2nd and Sunday 3rd December
The Lisnavagh Christmas market returns this year and will take place over one weekend at the beginning of December in the Garden Wing.
There will be plenty of special gifts to choose from, historical house talks, and lots of family entertainment.
For more information, keep an eye on their Facebook page for additional, up-to-date information.
Pop UP Christmas Market, Dublin
Address: Royal Marine Hotel, Marine Rd, Dún Laoghaire, Dublin, A96 K063
Dates: Sunday 10th December
A huge Pop-Up Christmas Market is taking place at the Royal Marine Hotel this December.
58 Irish brands and businesses are coming together to showcase gifts including fashion, home decorations, beauty, and lots more.
There will also be festive-themed workshops including wreath making, decorations, and wrapping to help everyone create a truly festive spirit at home.
The event is free to attend and there is free parking in Dun Laoghaire on Sundays.
For more information or to book a ticket, visit their Instagram page.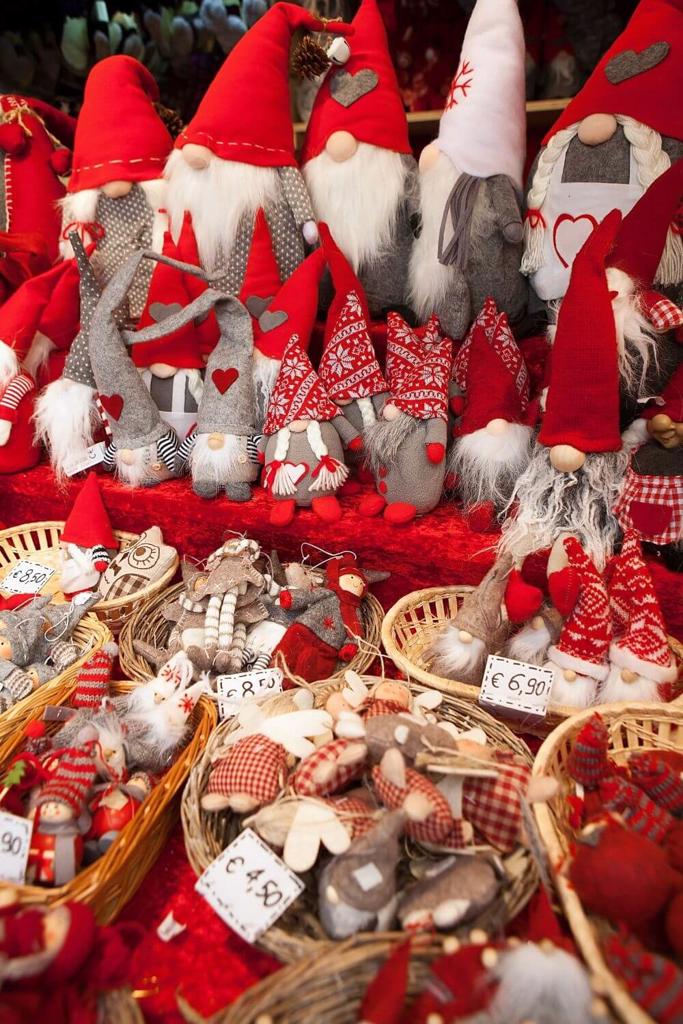 Christmas at the Milk Market, Limerick
Address: The Milk Market, Limerick
Dates: Sunday 3rd Dec
Christmas at the Milk Market is taking place this December in Limerick, with over 30 stalls taking part featuring lots of local art. Events include
For more information, CLICK HERE.
Clonkill Christmas Market, Mullingar
Address: Loughegar, Mullingar, Co. Westmeath, N91HX78
Dates: 19th Nov
The Clonkill Christmas market is back for this year with plenty of stalls including food, crafts, and more. Visitors will be able to browse the stalls and pick up handcrafted gifts, food, and drink and enjoy some entertainment as well.
For more information, CLICK HERE.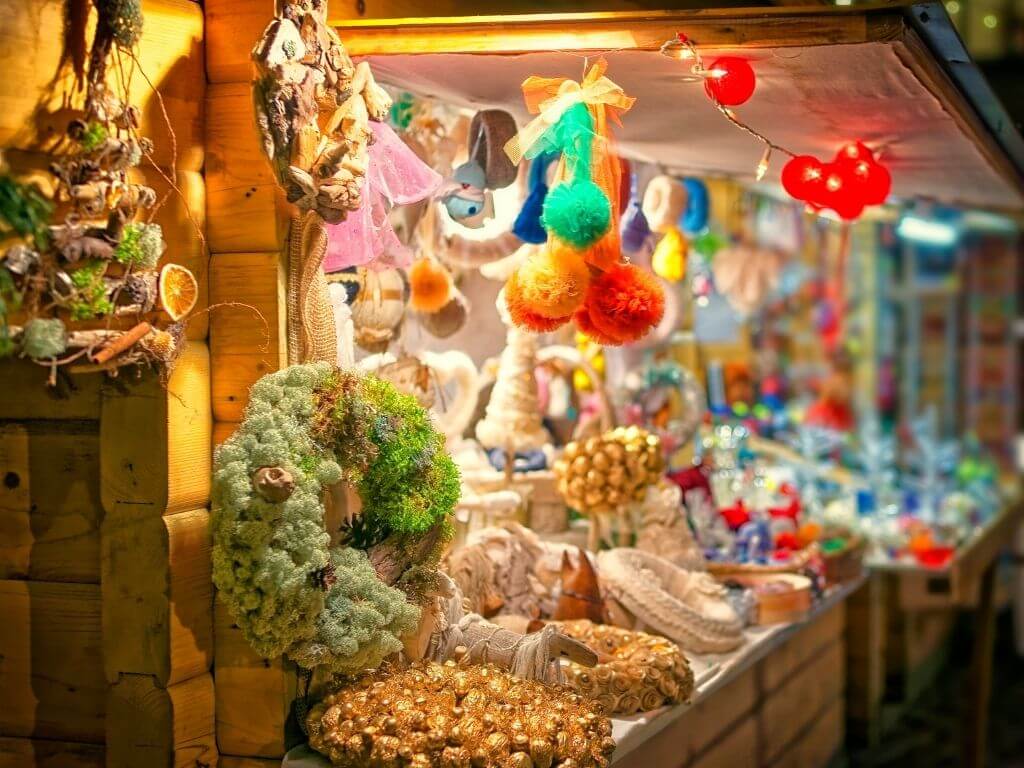 Best Christmas markets, Northern Ireland
Are you based in Northern Ireland and have been asking yourself "what are the best Christmas markets near me?", then this section will help answer your question. One, in particular, could be considered one of the best Christmas markets in the UK.
Belfast Christmas Market, Belfast
Address: Belfast City Hall, Donegall Square, Belfast, Co. Antrim, BT1 5GS (UK)
Dates: 18th Nov to 22nd Dec
If you are in Northern Ireland and looking for a great Christmas market, Belfast is where it is at. As one of the most popular Christmas markets in the UK, the Belfast Christmas market is a large Christmas event that is suitable for all ages.
Centred around City Hall, visitors can enjoy market stalls selling everything from mulled wine to festive treats, and handcrafts gifts. There are also fairground rides and amusements, Santa's Grotto, and more to entertain families, couples, and visitors of all ages to the Christmas market.
For more information, CLICK HERE.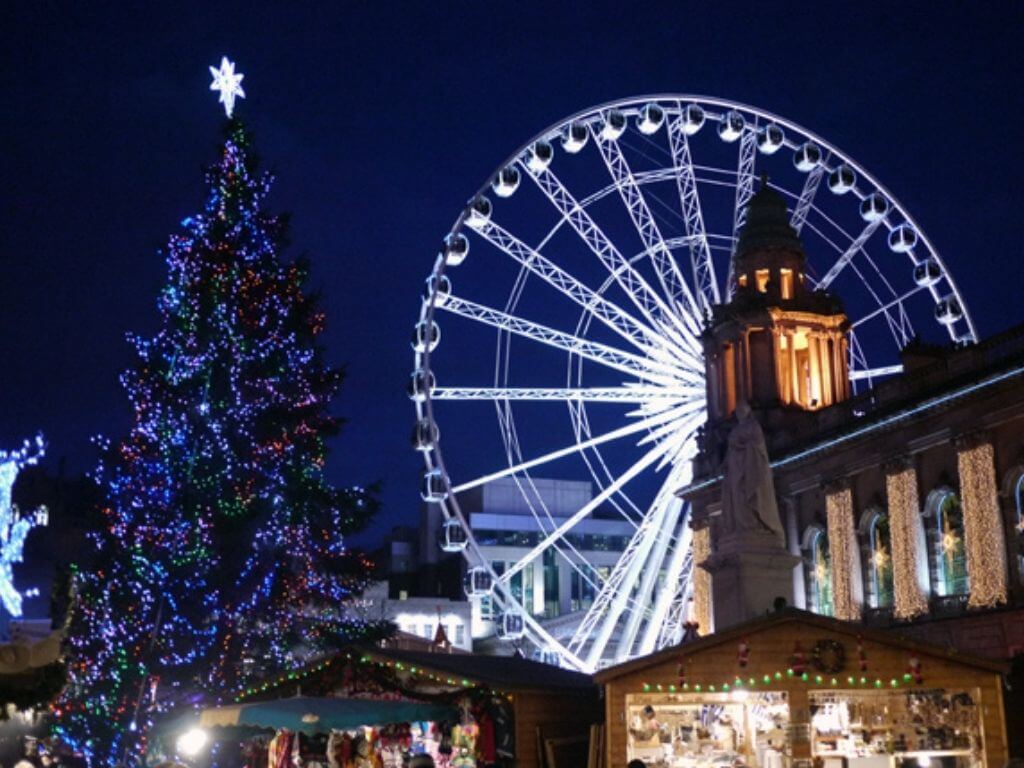 Final thoughts
Whether you are looking for the best Christmas markets in the Republic of Ireland or Northern Ireland, these are the best ones confirmed as running for this year.
If you know of any other Christmas markets taking place that haven't made the list yet, please let us know so we can add them to the list.
Read more about Christmas in Ireland: