Christmas is a magical time of year and a great thing to get the family out and about during the festive season are Christmas light displays. If you are based on the Emerald Isle or will be visiting during the festive season, then here is a handy list of the best places to see Christmas light displays in Ireland.
Post updated in November 2022. Some venues are yet to confirm whether their event is returning for this year. For some others, tickets are already on sale and in some cases, selling fast.
Whether you are based in Northern Ireland or the Republic, if you have been wondering are there Christmas light displays near me, then this post is sure to help answer that question. These are among the best festive light displays across the Emerald Isle. It is broken down into counties for easy navigation too.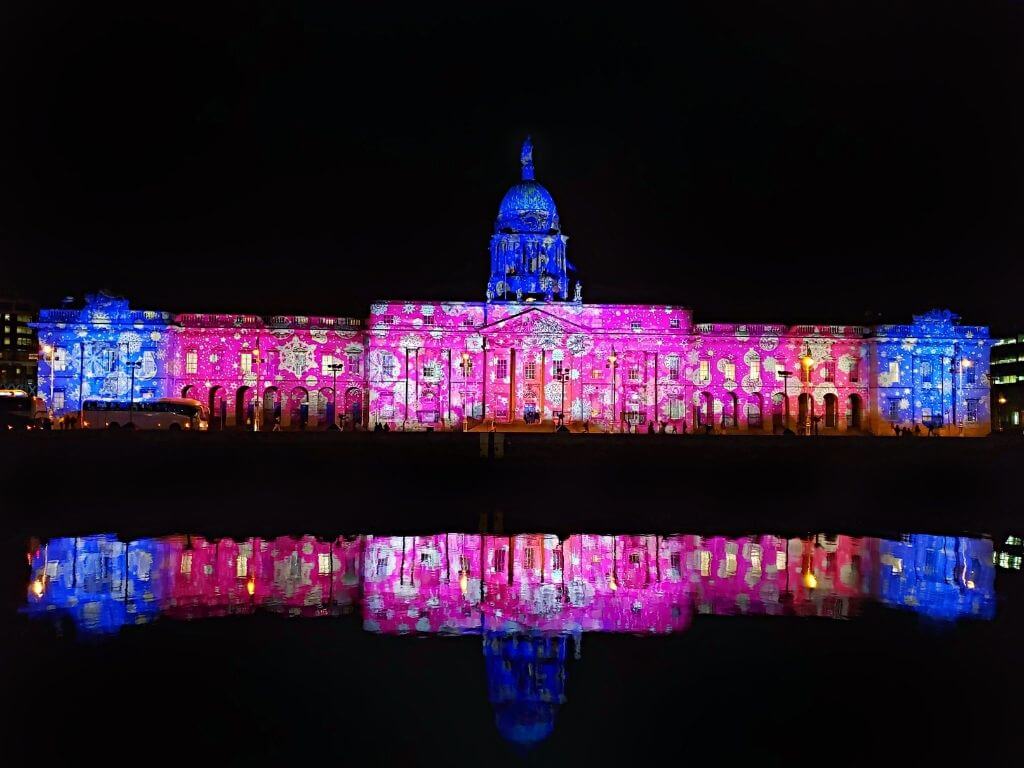 Best Places to see Christmas light displays in Ireland
Christmas lights displays in Dublin
Wonderlights
Address: Malahide Demesne, Malahide, Co. Dublin, K36 C432
Wonderlights, first held in 2019 at Palmerstown House Estate, is taking place at Malahide Castle in an event called 'Castle of Light'. A magical mix of lights, colour and nature on an enchanting 1.8km walk in the castle grounds and forest, this event is suitable for the whole family.
Winter Lights
Address: Various locations across the city
Held in 2020 and 2021, this event is returning for 2022. Various locations around the city are transformed with festive lighting and colourful projections to bring cheer to the city of Dublin. Locations with Christmas lighting displays in previous years included City Hall, The Custom House, The GPO, The Mansion House and Trinity College. For the very best displays of Christmas lights Dublin has to offer, keep an eye on the website for updates for this year. Note that early indications are that the lights will be turned off earlier each night in comparison to previous years to become more energy efficient.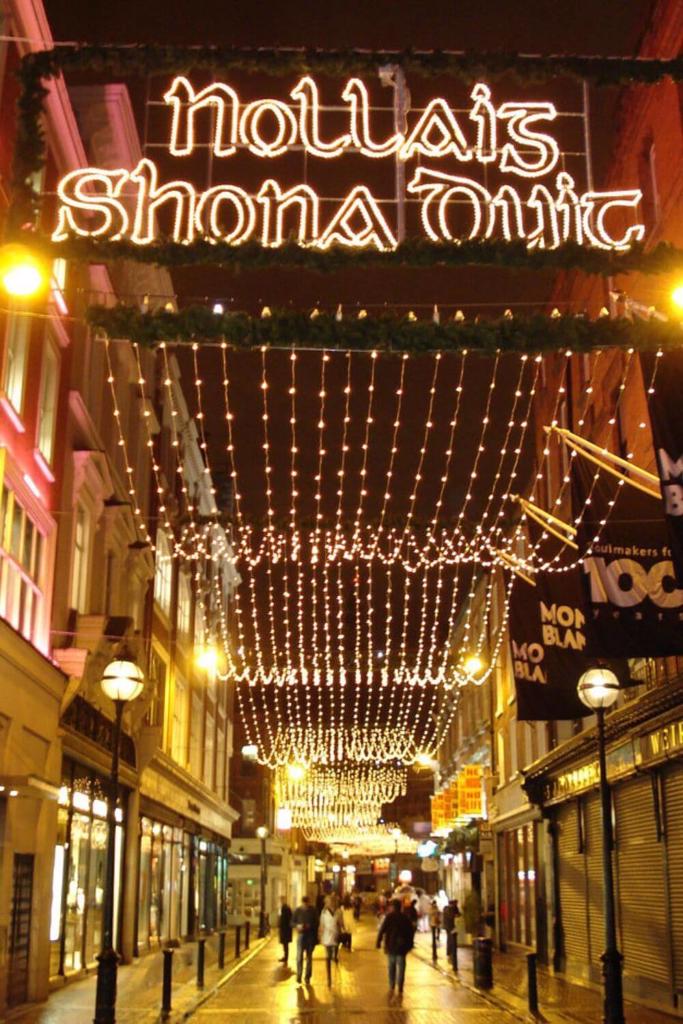 Wild Lights
Address: Dublin Zoo, Saint James' (part of Phoenix Park), Dublin 8
Running from October to January, this is a hugely popular event and has some of the best festive lighting Dublin has to offer in the exciting weeks before Christmas. This spectacular night-time event takes visitors on a journey through 'The Magic of Life' during which you can discover the importance of biodiversity in lights. From pollinators such as bees to the metamorphosis of caterpillars, and the diversity found below the surface of our oceans, visitors can learn about The Magic of Life while enjoying this not-to-be-missed festive light display in Dublin! Book your tickets now.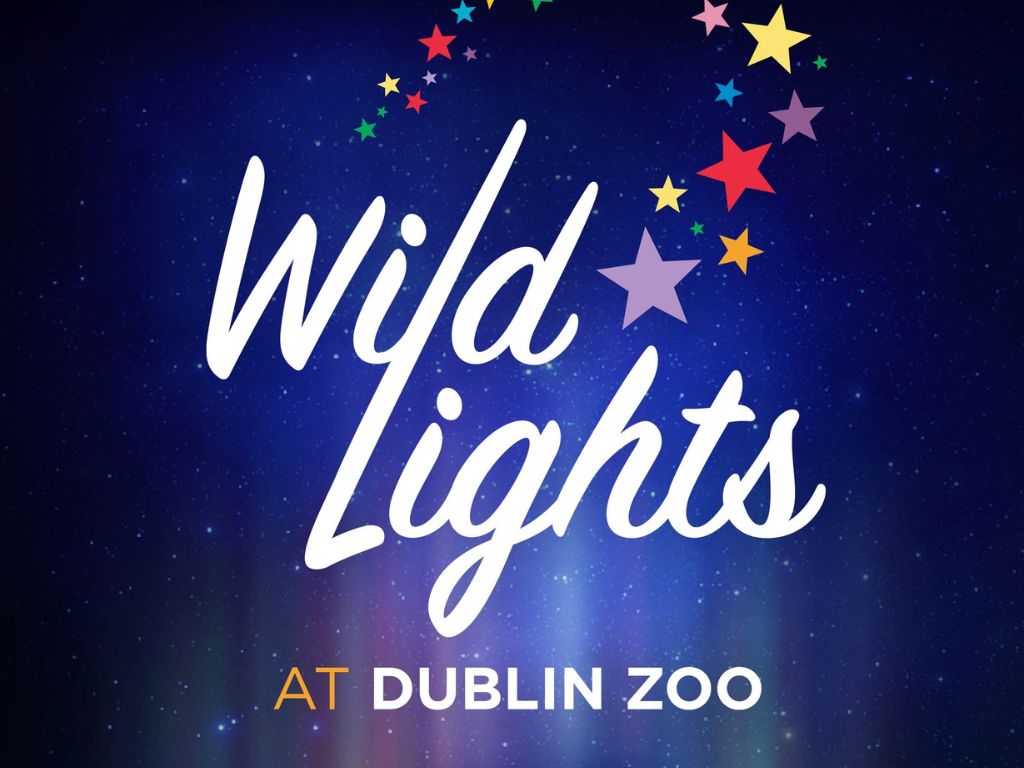 Christmas light displays in Kildare
Kildare Village Enchanted Christmas Lights (TBC)
Address: Nurney Road, Co. Kildare, R51 R265
Each day in November and December the Enchanted Lights are turned on at 4pm throughout the festive season. It is a great event to catch while stocking up on those all-important Christmas presents in the Village.
Christmas lights displays in Westmeath
Land of Light
Address: Belvedere House, Gardens & Park, Mullingar, Co. Westmeath, N91 EF80
Taking place from October to December, the Land of Light returns to a new venue for 2022, Belvedere House, Gardens & Park in County Westmeath. Walk through a forest trail and be amazed at the spectacular light show and illuminations complete with music. Set on the grounds of the country house, Land of Light is a unique, family-friendly experience. So, if you are looking for Christmas light displays to music and are based in the east of the country, head to Belvedere House.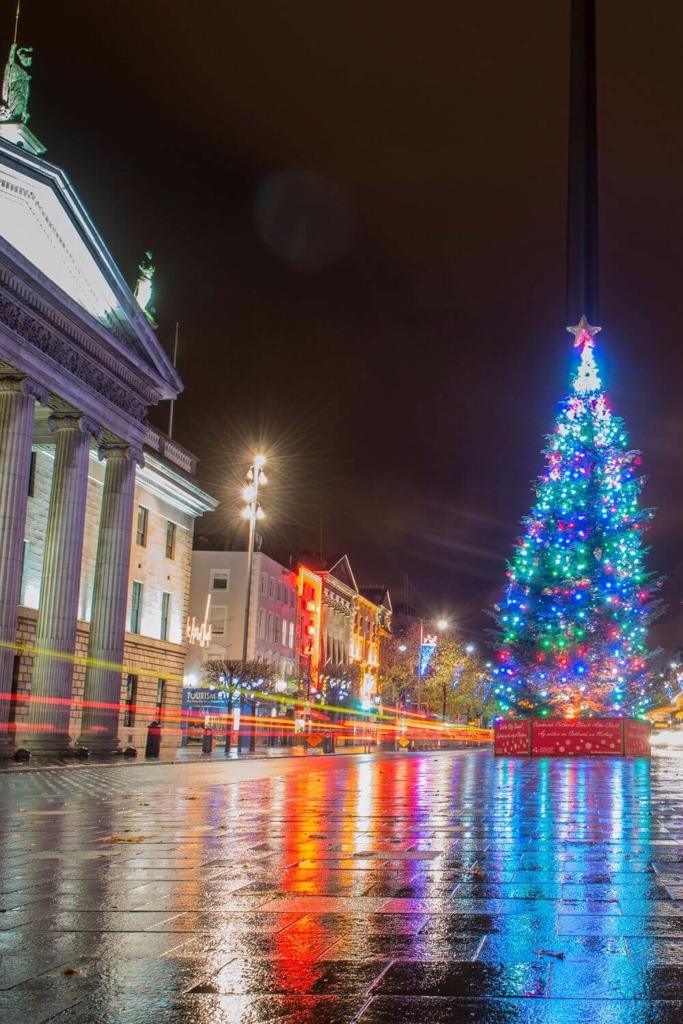 Christmas lights displays in Wexford
Gorey Christmas Lights
Address: Across Gorey Town
Every year, Gorey in County Wexford there is a festival for the Christmas Lights Switch On which includes music, celebrations and an appearance by Santa. The lights are switched on and Santa arrives to take letters from children. This is a great family event and the lights remain on throughout the festive season across the town.
Christmas light displays in Galway
Light Up Galway Festival
Address: Eyre Square and various locations across the city
If you are based in Galway and have been wondering "will there be Christmas lights displays near me?" this festive season, then you are in luck. Galway City is holding a Light Up Galway Festival which will combine light with colour. The festival will begin on Eyre Square with an official Light-Up Ceremony before other iconic buildings and landmarks are also illuminated for the festive season such as the Latin Quarter, Spanish arch, and Commercial Court. The official ceremony is going to be a big one and takes place on the 18th of November at Eyre Square.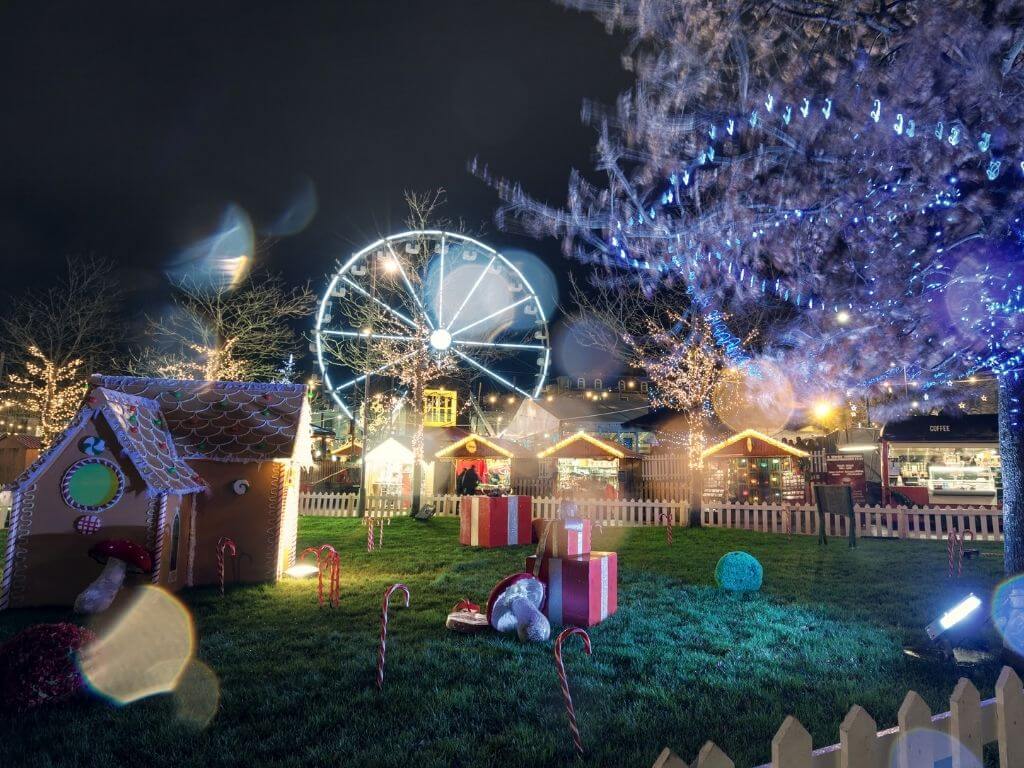 Christmas lights displays Roscommon
Strokestown
Address: Strokestown, Co. Roscommon
Strokestown is another great place to catch a festive light display in Ireland.
Christmas wouldn't be Christmas without lights

Strokestown
Following a series of successful fund-raising campaigns, the Christmas Lights team work tirelessly to create the annual Winter Wonderland in the centre of town, and like previous years, this year will be no exception. The wonderful team of volunteers will transform the centre of town with a beautifully illuminated read Christmas Fir tree with the street-scape of Strokestown wrapped in ice-white lighting along all four boulevards.
Each year the GRAND SWITCH-ON is arranged to coincide with the opening night of Strokestown Christmas Market (find details of that here).
Keep an eye on the Strokestown Facebook page for more information about the grand switch-on and Christmas market events.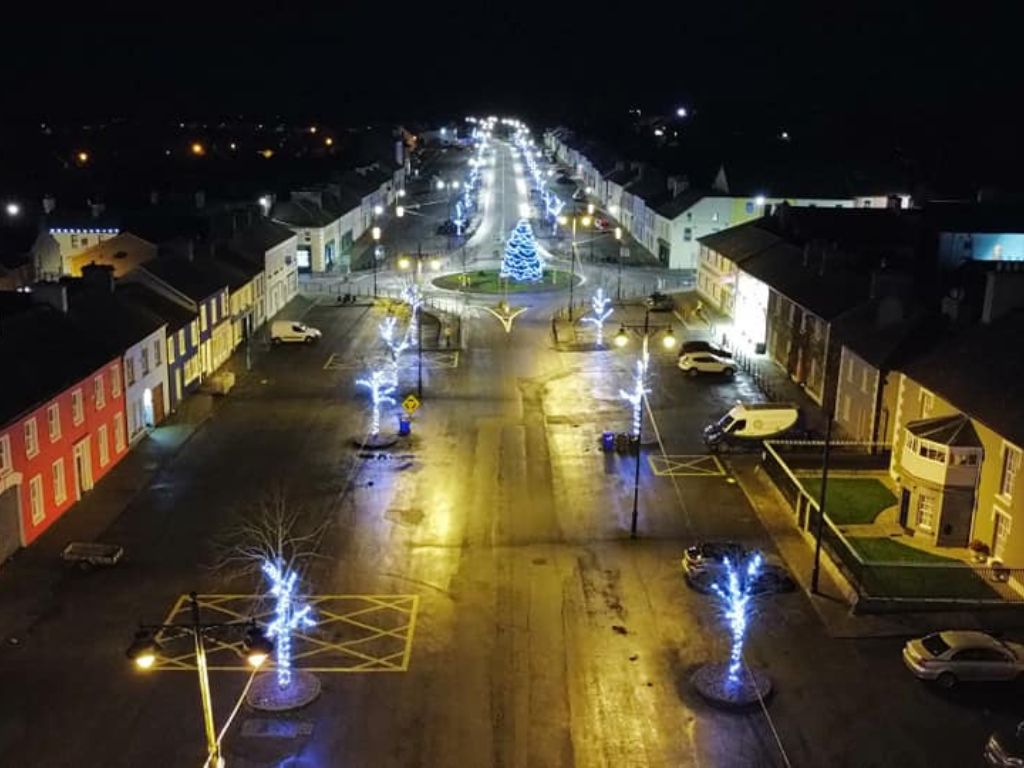 Christmas lights displays Kilkenny
Yulefest Kilkenny
Address: Across Kilkenny
Yulefest is the Christmas festival that takes place in Kilkenny, and during this time various places across the city are illuminated including Kilkenny Castle and the Kilkenny Design and Craft Centre. There are Christmas markets, live music performances and more during the festive season, all under beautiful Christmas light displays. The official switch-on usually takes place at the end of November.
Castlecomer Discovery Park and Nore Valley Park also have Christmas light displays for visitors to enjoy.
Christmas light displays in Clare
Bunratty Castle and Folk Park
Address: Bunratty West, Bunratty, Co. Clare
Bunratty Castle and Folk Park are holding their Christmas Trail of Lights in which the Folk Park is illuminated with festive Christmas lights for the season. Visitors can enjoy the illuminated Christmas displays which include snowmen, a nativity scene, and more.
There is also a Polar Express train ride around the grounds which passes the fairy village and Bunratty House and Ardcrony Church, both illuminated with festive lights. Visitors can also enjoy the lights around the Folk Park where colourful Christmas characters can be seen including Scrooge, the Grinch and more. Note that this does not include a meeting with Santa.
There will also be a carousel, puppet show, and a Christmas Wishing Tree.
Christmas lights displays in Waterford
Winterval
Address: Various locations across the city
One of the biggest events of the year in Waterford City is returning this year to celebrate 10 years of Winterval. Winterval is the Waterford City Christmas Festival that turns the city into Ireland's Christmas Capital. As well as a Christmas market, live performances, Santa train, Christmas tree and more, the city will be illuminated with amazing Christmas light displays.
Christmas lights displays in Cork
Glow
Address: Patrick Street, Bishop Lucey Park and other locations in the city
Each year, Cork City Council and community groups and local businesses rally together to illuminate the city with a spectacular light display show. Christmas trees, giant baubles and more are illuminated at the official switch-on ceremony and left on for the festive season. In past years there has been a Christmas window trail, Ferris wheel, pantomimes, and more.
Christmas light displays in Limerick
Light Up Limerick
Address: O'Connell Street and across Limerick City
Light Up Limerick is the annual Christmas festival in Limerick which starts with the Christmas lights switch-on in O'Connell Street. The streets of the city are illuminated with festive lights and there is usually a month of festive and family-friendly events across the city and county including pantomimes and music performances. However, this year the switch-on event on O'Connell Street will not be taking place, although the lights will be illuminated in November.
Christmas light displays in Meath
The Enchanted Garden
Address: Loughcrew Estate, Loughcrew, Oldcastle, Co. Meath, A82 X4Y1
The Enchanted Garden at the Loughcrew Estate in County Meath returns for 2022 with this year's theme being Celtic Myths and Legends. Delve into Celtic mythology and enjoy a Christmas light display with sound, sculptures, projections, and more. This incredible lighting spectacle in an idyllic environment is a not to be missed Christmas event.
Places to see Christmas light displays on homes in Ireland
There are many private homes that get into the festive spirit by adorning their exterior and garden with Christmas light displays.
If you are wondering where to see these homes, here is a list of places to check out. Driving around these neighbourhoods with the kids is a cheap and free way to see outdoor Christmas lights in Ireland.
Dublin – Lucan, Sallynoggin, Crumlin, Tallaght, Dalkey, Sandymount, Cabra, Finglas
Kildare – Rathangan,
Limerick – Bruree, Shanagolden, Templeglatine, Askeaton
Cork – Drimleague, Macroom
Galway – Lurgan Park, Tuam
Wexford – Arklow, Drinagh
Carlow – Bagnelstown
Mayo – Foxford
Donegal – Kerrykeel
Best Places to see Christmas light displays in Northern Ireland
Christmas light displays in Antrim
Enchanted Winter Garden
Address: Randalstown Rd, Co. Antrim. BT41 4LH (UK)
The Enchanted Winter Garden takes place on the grounds of Antrim Castle where visitors can enjoy a beautiful Christmas lights display including an amazing light tunnel. There will also be a Ferris wheel, a carousel, and food stalls. Visitors can also enjoy a magical trip through an enchanted Wonderland Wood.
More information. Note, certain days/times are already sold out!
Belfast Lights Up for Christmas
Address: Various locations across the city including the Titanic Quarter, City Hall and Victoria Square
Belfast comes alive at Christmas with light displays across the city. The iconic City Hall is adorned with festive lights, Victoria Square is lit up from top to bottom, and even Titanic Belfast gets into the festive spirit with a Christmas light display. Note that there will not be a special switch-on event this year.
Bright Lights Botanic, Belfast Botanic Gardens (not running in 2022 or 2023)
Address: College Park Ave, Botanic Ave, Belfast, Co. Antrim, BT7 1LP (UK)
Bright Lights Botanic was an amazing new illumination show brought to the Botanic Gardens in Belfast by the same people who create the "Wild Lights" in Dublin Zoo each year (see further below).
The Botanic Gardens were transformed into a magical Winter Wonderland, and the magical winter trail lit up the evening skies during the festive season. Visitors could take a leisurely walk and enjoy the after-dark festivities as they were taken on a Christmas journey and follow the trail of BOBO the gnome.
With plenty of tree lights, colourful lanterns and more, this was a Belfast Christmas event not to be missed. However, this event has been cancelled for at least the next two years (see here for further details).
Christmas lights displays in Down
Christmas at Hillsborough Castle
Address: The Square, Hillsborough, Co. Down, BT26 6GT (UK)
Hillsborough Castle and Gardens will be transformed into an illuminated enchanted wonderland with sparkling tunnels, giant lit baubles, and more including a fire garden. If you are looking for a mesmerizing Christmas light display in Northern Ireland, head to Hillsborough Castle.
More information. Book your tickets for this limited capacity, timed event now.
These are some confirmed Christmas light displays in Ireland for this year, as well as some that we anticipate will take place again this year. If you know of any light displays in other places across the Emerald Isle, please let us know so we can add them to the list for this year.
Read More about Christmas in Ireland: