Wondering what are some of the best Irish Christmas traditions you can incorporate into your own festive celebrations? In this post, I am sharing some of the best Irish Christmas traditions in Ireland including some of my family's own traditions.
The festive season on the Emerald Isle is one that everyone enjoys. And there are plenty of Christmas traditions in Ireland that add to the excitement and spirit of this time of year. Discover a few of them that you can bring to your house for the month of December with this guide.
Best Irish Christmas Traditions in Ireland
There are some Irish Christmas traditions that are similar to others around the world, and some that are unique to the Emerald Isle. While some are practised by each and every family, others are not. Some are traditions from long ago while others are relatively new Christmas traditions in Ireland.
Whether you live in Ireland or not, you can easily incorporate some of these Irish traditions for Christmas into your own family celebrations to bring a little Irish festive cheer to your house. Everything from Irish Christmas customs to food and decorations is covered.
Christmas Cake
In most Irish households, Christmas in Ireland doesn't begin in December but in October, or at the very latest November. Why? Because there is the task of preparing the Christmas cake.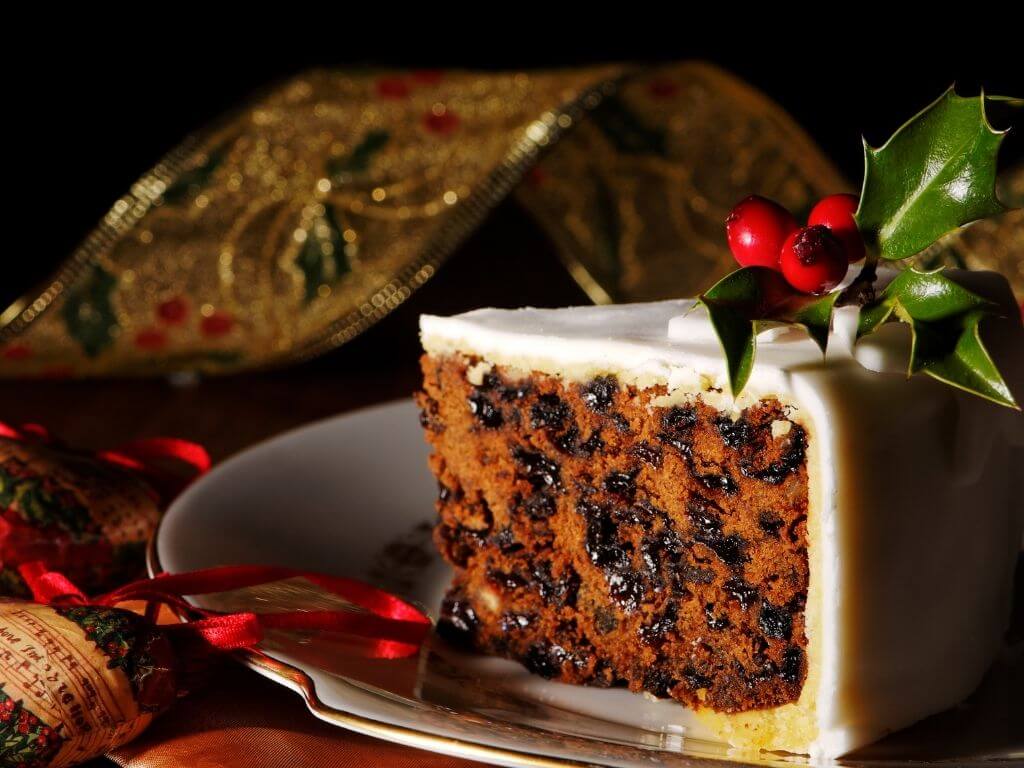 Traditional Irish Christmas cake is a moist, slightly spicy fruitcake with lots of fruit and at times nuts as well. The process of preparing the Christmas cake begins with the soaking of dried fruit in alcohol, brandy or whiskey (Jameson where my Dad is concerned). The fruit is soaked overnight before the cake is made and baked.
After the cake is cooked, it is wet with alcohol again, traditionally whiskey, and stored in parchment paper in an air-tight container and it is 'fed' more whiskey every 3-4 days (one week at a minimum). Just before Christmas Day, the cake is then decorated with honey, and marzipan before being topped with a layer of white royal icing and decorations of holly, Christmas trees, and other Christmas-themed icing decorations.
Growing up as a child, I can remember my mother travelling from our home in the foothills of the Dublin mountains in Tallaght to my aunt's house in Bray, Co. Wicklow in late October or early November to see her begin the Christmas cakes, one of which we received on another visit shortly before Christmas. This was an annual tradition in our house.
If you want to try this Ireland Christmas tradition, then I recommend this Irish Christmas cake recipe from The Foodellers.
Christmas house clean
Another tradition that always happened in our house, and that I have carried on is the big Christmas house clean. Consider this a sort of Christmas spring clean of the house to prepare it for the arrival of friends and family over the festive season, and of course, Santa Claus as well.
This Christmas tradition generally happened at the start of December in my family home, before the decorations were brought out. Windows were cleaned, curtains washed, every nook and cranny was cleaned, dusted and hoovered, and everything kept as tidy as possible until the big day. This was a large-scale operation with myself, and my three sisters roped in to help.
And remember, this was an extra deep clean on top of the normal daily and weekly cleaning. We always dreaded it, but it had to be done. And it's something I do myself now in December. Thanks mum!
Decorating the house
A tradition that I love for Christmas is the day we decide to decorate the house. Getting the tree out, untangling the lights (not a problem in my house as we bought a pre-lit tree a few years ago), hanging the baubles, and finishing off with a star or angel. Decorating the house is one of my favourite parts of Christmas.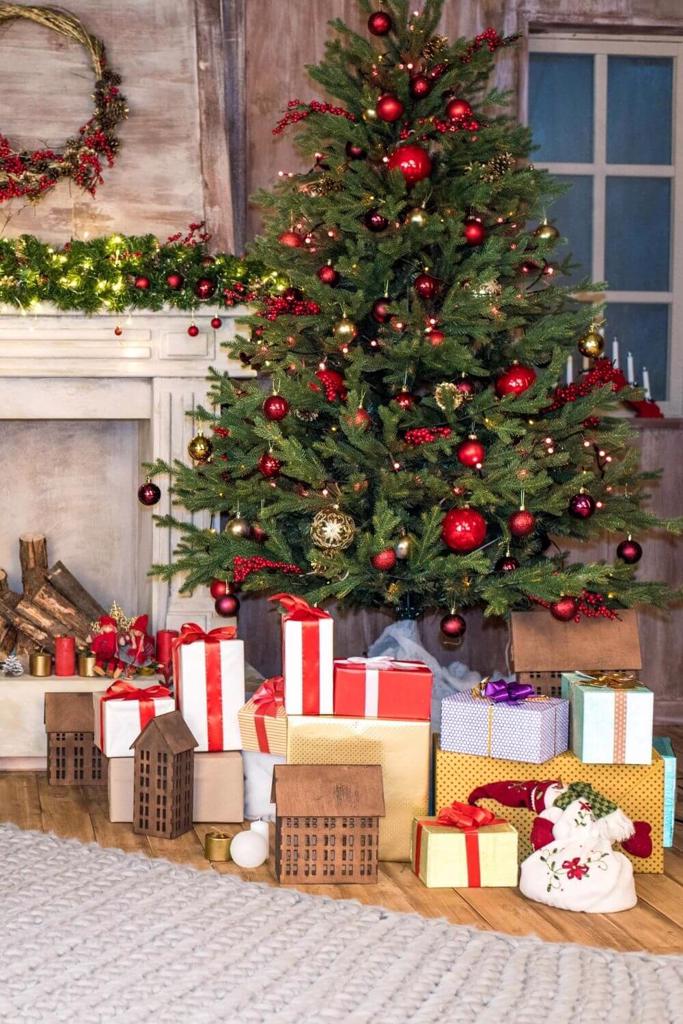 Now, when you decorate your house for Christmas is a very personal thing for each and every family. Some get the decorations out on the 1st of December, others do it earlier or later.
Traditionally in our house, we waited until the 16th of December as that was the start of the birthdays in our house. Myself and my sisters were all born around the festive season, so the start of Christmas was marked by decorating the house on the first of our birthdays. While this date has slipped slightly by some in our family, I try to keep to that date as much as I can as it reminds me of my childhood Christmases.
Whether you choose to decorate your house on December the 1st or not, make sure it is a Christmas tradition that you do every year.
Holly wreath on the door
One of the old Irish Christmas traditions that many families continue today is hanging a holly wreath on the door.
This Christmas tradition originated in Ireland when holly grew in abundance and afforded poorer families the means with which to decorate their houses. Wreath making became popular and they were hung on the front of doors. Other holly decorations were also made such as fire mantle garlands.
There are wreath-making classes throughout Ireland during December and they are popular activities for those who want to incorporate this Irish Christmas tradition into their preparations for the festive season. But if you don't have time then you could always make your own.
Christmas candle in the window
One of the Ireland traditions for Christmas that my mum always did was put a candle in the window. Now I will clarify, it was one of those electric candles with seven candles, not an actual flaming one.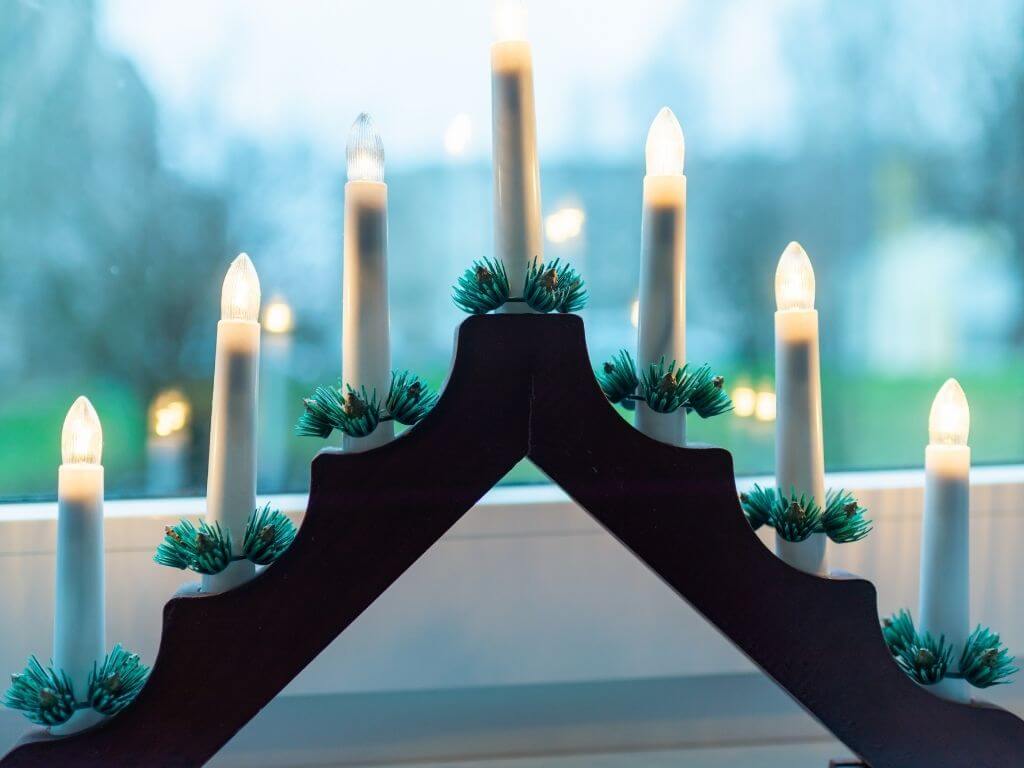 The candle in the window is a signal to those who are far from their own home or travelling that they are welcome in that house. It is a reminder of the inns where Mary and Joseph went for lodgings on the eve of the nativity.
Fun fact: Did you know that in Áras an Uachtaráin, there is a permanent candle in the window to remind all emigrants of Ireland that they are welcome back on the island and to show them the way home. It was adopted by Mary Robinson during her terms as President and has remained ever since.
8th December shopping day
A huge day in the festive season's calendar in Ireland is the big Christmas shopping day on 8th December. Consider it as an Irish Black Friday for non-Dublin dwellers.
This is one of the Ireland Christmas traditions that I think is quite unique. It is the day that many people from the 'country' head to the Irish capital to do their Christmas shopping. Dubliners know to avoid the city centre on that day if they don't want to jostle for space with crowds.
Christmas markets
A fairly new addition to Irish Christmas traditions is Christmas markets. Many cities and towns across Ireland have introduced Christmas markets and Yuletide markets to their festive season calendar and their popularity is growing.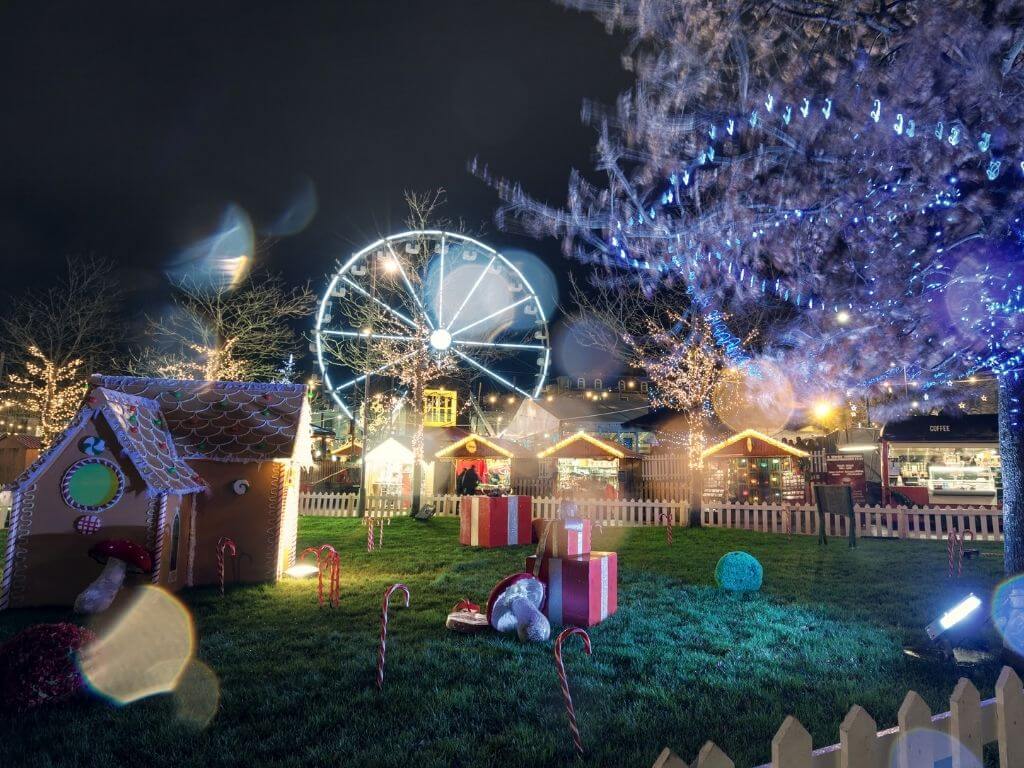 Cities including Galway, Waterford, Belfast, Cork and Dublin usually have Christmas markets starting at the end of November which has vendors selling everything from mulled wine and mince pies, to handmade Christmas crafts and gifts, and other local produce.
Meeting with Santa Claus
A Christmas tradition that isn't just found in Ireland is the kids' annual meeting with Santa Claus to discuss potential presents and whether they might be on the nice or naughty lists.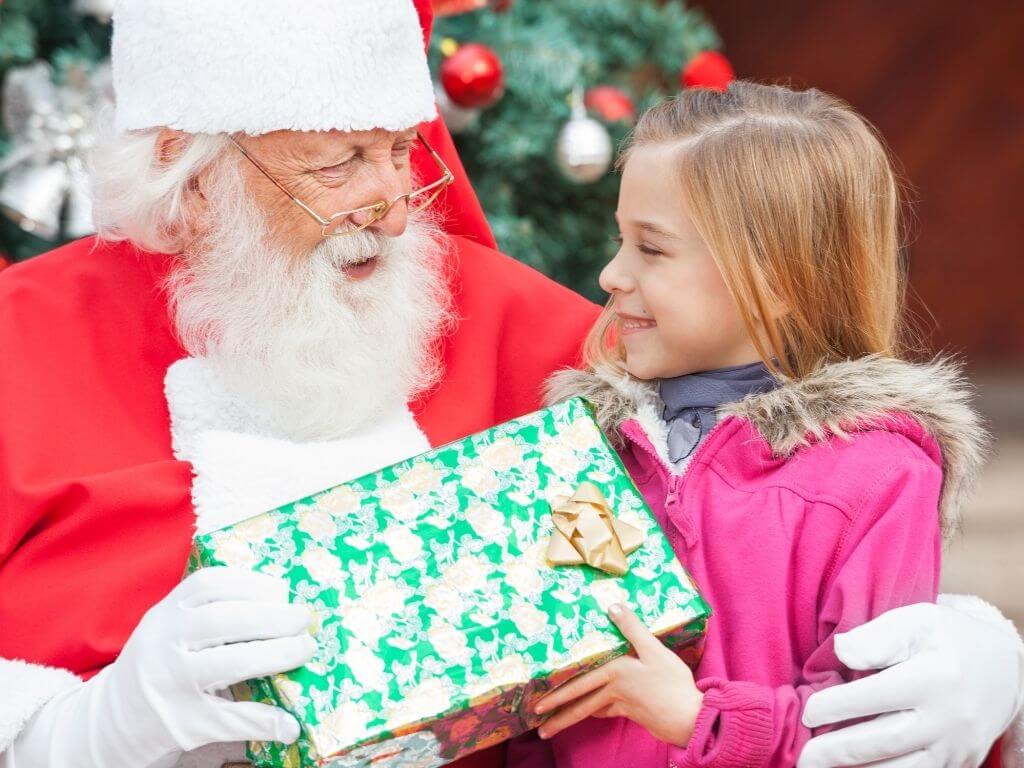 Whether it is at a special Christmas event in Ireland or your local shopping centre, a meeting with Father Christmas before the day itself is a big tradition with many Irish families. Many make an outing of it, combining it with some Christmas present shopping for friends and family, and even a nice family meal. Just don't forget the kids' letters to Santa with their lists!
Christmas Carols
Throughout the month of December, you are bound to come upon Christmas Carol singers, whether in a shopping centre, in the centre of town, or even some who knock at your door.
I fondly remember the carol singers knocking on our door throughout December. They included some great singers like my school friend Olivia who is a church singer now, or the local lads chancing their arm for a pound or two (that's an Irish pound).
Often, you will see Carol Singing advertised in local newspapers raising money for charity or the local parish church. But, done right it can be a lovely thing to enjoy with family as Christmas Day edges closer.
Wren Boy Procession
This is an Irish Christmas tradition linked to Irish mythology and not one that I am aware of that is widely practised. Taking place on St Stephen's Day (26th December), it was mostly practised in the Republic of Ireland.
The tradition consists of hunting the wren (now a fake wren) and placing it on top of a decorated pole. Crowds of 'strawboys' then celebrate the wren by dressing up in straw suits (hence the name), masks and colourful clothing. The celebration includes live music and parades through towns and villages that still practise this tradition.
To find out more about Wren Day, click here.
Drive around to see the Christmas lights
A Christmas tradition in Ireland that I miss since we left the Emerald Isle is driving around neighbourhoods to see the Christmas light displays. While you can enjoy festive light displays in almost every town, some of the best Christmas lights displays in Ireland are the ones that people do on the outside of their own houses.
Private house owners across the country get into the spirit of the season by decorating the exterior of their homes with Christmas lights. Everything from icicles, to reindeer, Santa Clauses and more are placed into the garden and lit every night for all to enjoy. Some homeowners also use their Christmas light display to raise money for charity, asking passers-by to leave a donation.
I vividly remember one of the first houses that started doing this in the area of Dublin where I grew up, and houses in other areas we passed during the festive season that was ablaze with beautiful light displays. It has grown ever more popular, and I do hope to return to Ireland during December one year to see the displays across the suburbs of the city.
Midnight Mass on Christmas Eve
One of the most popular Irish Christmas Eve traditions is to attend Midnight Mass. Traditionally held at midnight on Christmas Eve, you will often find it now taking place at 10pm in many parishes across the Emerald Isle.
It is a very sociable event with families, friends and neighbours heading to the parish church for mass to celebrate the birth of Jesus. The church is usually crowded, more so than at any other time of the year, and many combine midnight mass with seeing the church nativity scene and enjoying the Christmas Carols that will be sung during and after the mass.
If you are religious, then this is a lovely Christmas tradition to include in your own festive season.
Traditional Irish Christmas Dinner
I dare you to show me someone who doesn't love Christmas dinner. The best time of Christmas Day is when everyone gets to gather around the table and eat until they can eat no more.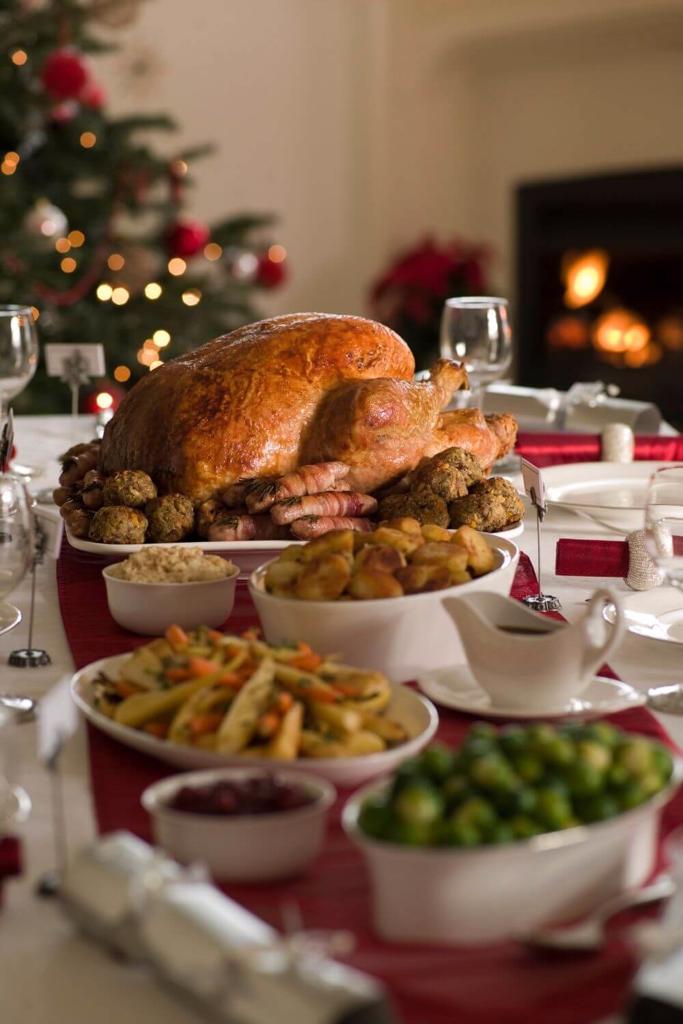 Now, a traditional Irish Christmas dinner involves roast turkey, ham (usually glazed with honey or mustard), varieties of potatoes but mainly roast potatoes, and plenty of vegetables including everyone's not-so-favourite Brussel sprouts, carrots, and broccoli. Dinner is accompanied by a gravy of some sort and, of course, stuffing. You cannot have turkey without stuffing.
Dessert can range from mince pies and Christmas cake (see above) to sherry trifle or any other dessert the family might enjoy.
Christmas dinner in our house involves all of the above and also a Beef Wellington as one of my brothers-in-law does not eat turkey or ham (is he even Irish?). It is typically served at 2.30pm and lasts as long as it takes to ensure everyone is fit to burst.
Leftovers are available for the rest of the evening on the kitchen counter, and we always partake in a turkey and stuffing with mayonnaise sandwich later in the evening. If there is any meat remaining on St Stephen's Day, my dad makes a curry with it. This might sound strange, but my dad is famous for his curries.
Traditional Christmas dinner is one of my favourite parts of the festive season.
Boxes of chocolates and biscuits
One of my other favourite holiday traditions in Ireland for the festive season is the boxes of Cadbury's Roses and Nestle Quality Street boxes of chocolates. Those from the United Kingdom will be well acquainted with these but for those who are not, these are large tins or boxes of chocolates with a variety of flavours inside.
These come out typically after Halloween, but I have seen reports of them entering the shops as early as September. Everyone has their personal favourite and mine are the strawberry and orange creams. Yum.
Alongside chocolates are a box of 'good' biscuits. These were usually Jacob's biscuits and were a large box with two layers. There was everything from custard cream to chocolate fingers, pink wafers, and shortbread biscuits inside. Again, everyone had their favourites, and the big rule where the biscuits were concerned was that you had to finish the top layer before you could move onto the bottom layer. There was always one type of biscuit left on top that you were forced to eat in order to move on.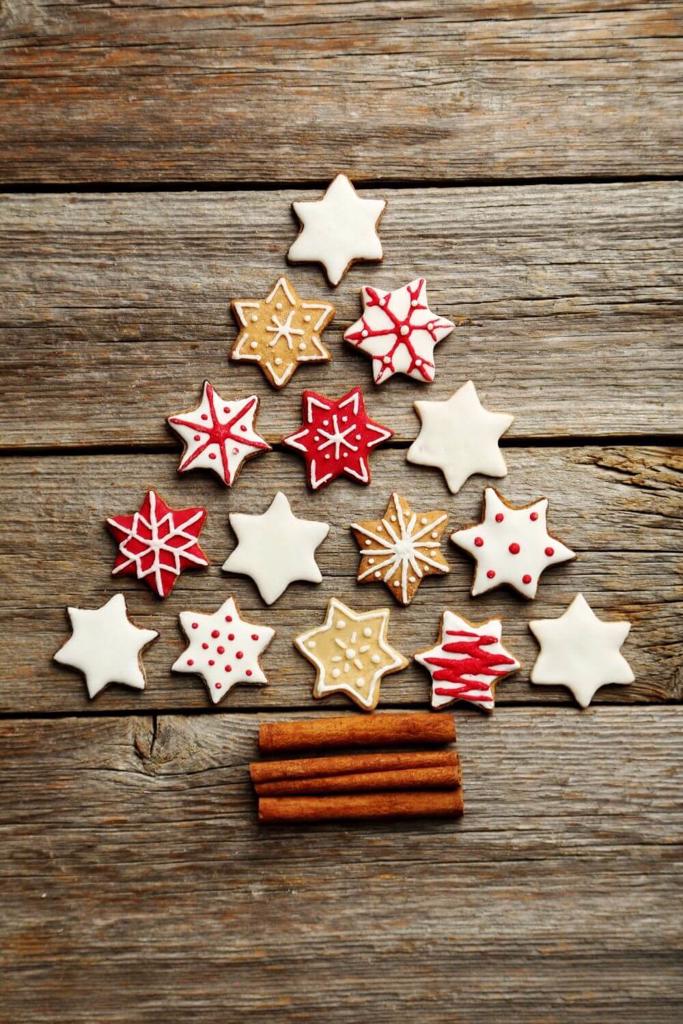 The university I attended was located close to the Jacobs factory in Dublin and the smell of baking biscuits, especially in September and October was mouth-watering as they prepared the boxes for the supermarket shelves. That will be an everlasting memory of my time during my PhD.
Christmas Day Forty Foot swim
A popular Christmas tradition in Ireland is the annual Christmas Day swim. In Dublin, this takes place at the Forty Foot in Sandycove near Dun Laoghaire. Now, bear in mind that this is the depths of winter in Ireland, where outside temperatures are lucky to reach 8˚C. The water in the Irish Sea is often a mere 10˚C at best.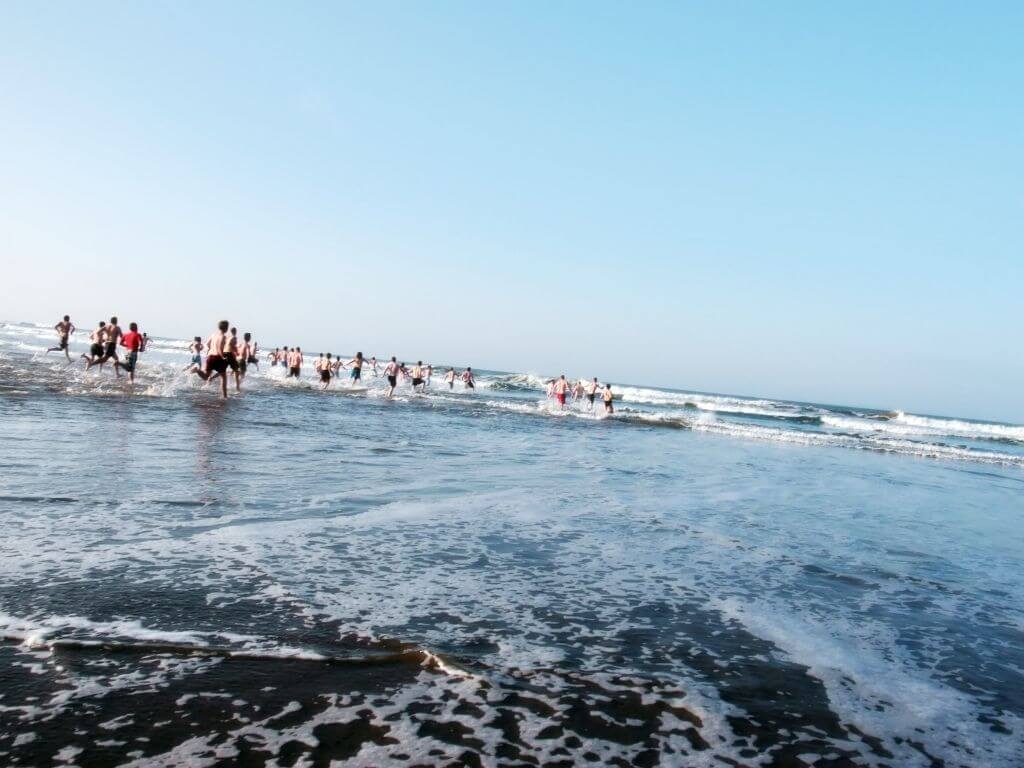 This is an Irish Christmas tradition I have never taken part in, nor would I ever. Way too cold for me. However, there are lots that do, both at the Forty Foot and other beaches around the country. If you have a hangover from too many Christmas Eve drinks, it is said this will cure it.
Christmas Day at home, St Stephen's Day seeing family
Typically, Christmas in Ireland has two facets to it. Christmas Day is typically the day you spend with your immediate family, those you share a house with. You exchange presents, go for a walk, enjoy Christmas dinner, and even fall asleep to Christmas movies on the TV.
St Stephen's Day was usually the day we would go 'visiting'. We'd head to Bray to see one set of cousins on my mother's side of the family, before moving on to Shankill to see other cousins. Or this would be postponed to the 27th of December if we were visiting my aunts and uncles on my dad's side of the family on St Stephen's Day.
Either way, the 26th of December was typically the day we would go visiting other members of the family to exchange presents and eat until we rolled out of their house.
St Stephen's Day horse racing
Another of the Irish holiday traditions that are pretty unique to the Emerald Isle is the St Stephen's Day horse races. These horse races have been a long-standing tradition and can attract up to 20,000 visitors.
It has become such a big event that the races at Leopardstown in Dublin have been turned into a Christmas Festival over 4 days. Other horse racing events also take place on St Stephen's Day in Limerick. People go to stretch their legs, meet friends and have a little wager or two.
Christmas Panto (Pantomime)
One of the highlights of my childhood Christmases spent in Ireland was our annual panto trip. My aunts would treat us to tickets to a pantomime, usually in the Olympia or the Gaiety Theatre. Typically, our trip would take place between Christmas and New Year to celebrate another birthday.
We loved these visits to the theatre to partake in a chorus of "he's behind you" or "oh yes it is!". I looked forward to these trips every Christmas and it's something I need to introduce my son to.
Little Christmas on 6th January
January the 6th is Little Christmas and is not just an Irish tradition. It is the feast day of the Epiphany and is celebrated around the world in some form or another.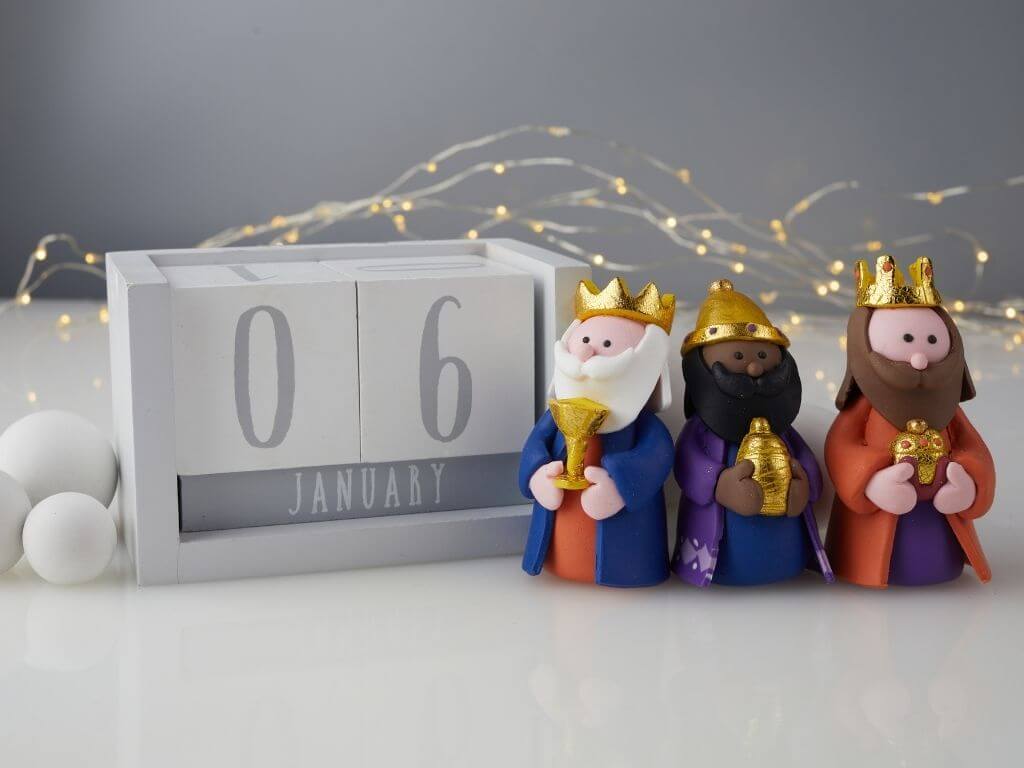 In Spain, the 6th of January is El Día de Reyes (the day of the Kings) when the three kings (or three wise men) came with gifts for the baby Jesus and children receive gifts under shoes they leave outside that night if they have been good.
Meanwhile, here in Portugal, it is Dia dos Reis (day of the Kings) and is the day on which the traditional Bolo de Rei (King cake) is eaten.
In Ireland, it is called Nollaig na mBan or Women's Christmas. Traditionally, the women of the house rested on this day after all their hard work during the festive season. The men would take over the housework and cooking while many women came together to eat and celebrate their efforts together.
Today it marks the end of the festive season and is usually the day that the Christmas tree and decorations are taken down and stored. Some believe that it is bad luck to leave your decorations up beyond this day. So, you've been warned. Personally, I take mine down sooner than that.
Conclusion
These are some of the most popular Christmas traditions you will find in Ireland. Some are typically Irish, and some are celebrated and enjoyed around the globe. Many of these are a regular occurrence in my family and ones we have kept going since my mum passed away.
Are there any special Christmas traditions you share with your family?
Read more about Christmas in Ireland: