Wondering what goes into making a traditional Irish Christmas dinner? In this post, I am sharing with you exactly what goes into my family's Christmas dinner, including all the trimmings.
The festive season in Ireland is a big time of year for all families, whether kids are involved or not. It's a time for exchanging gifts, visiting family and friends, and just enjoying the spirit of the season that's in it.
And one of my personal favourite parts of it is enjoying a traditional Irish Christmas dinner. Discover exactly what goes into making the annual Christmas feast with this guide.
Traditional Irish Christmas Dinner
The big Christmas Day feast is often the centrepiece of Christmas in Irish households, with many family members chipping in to help with preparing and cooking all the traditional Irish Christmas food for Christmas Day dinner.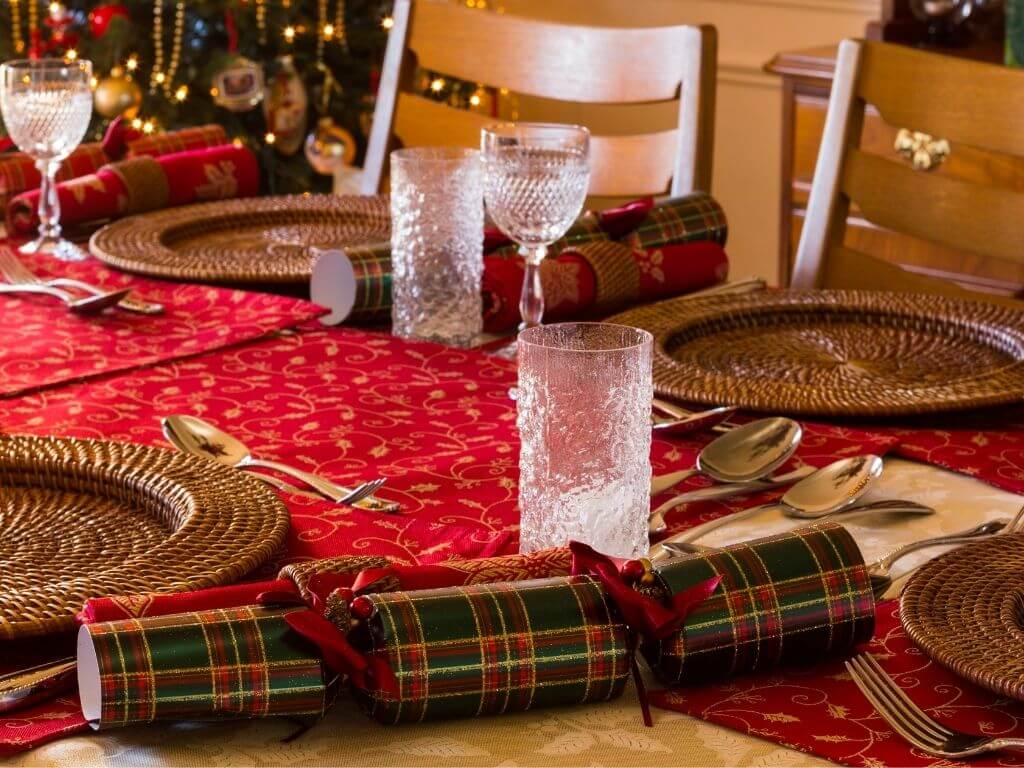 With everything from starters to the big main feast, to desserts and more, it's no mean feat to get it to all come together in a timely fashion. I'm going to share with you my own family's traditional Christmas dinner menu, which is often cooked by my retired chef father. I'll also mention some other options which you might find on the table during an Irish Christmas dinner.
Starting to get hungry? I've got another post about some of the best Irish food you can find and eat on the Emerald Isle that you might enjoy.
The Christmas dinner table is also decorated in the same manner the house may be and Christmas crackers from the tree are also often used as part of the decorations to put a final touch to the table. Do you decorate your table with the Christmas crackers?
Traditional Irish starters for Christmas dinner
It is not often that Irish families will sit down to a full three-course meal, but Christmas Day is one of them. Dinner on December the 25th begins with a starter.
With Ireland having a long coast and many beautiful coastal towns to visit, it is hardly surprising that the starter on Christmas Day often involves a fish starter.
My Dad prepares a starter of smoked Irish salmon, a common starter among Irish families on Christmas Day. The salmon is finely sliced and served on a bed of salad leaves, sliced tomato, and served with a wedge of lemon and Marie Rose sauce. He will also include shelled prawns for those who like them.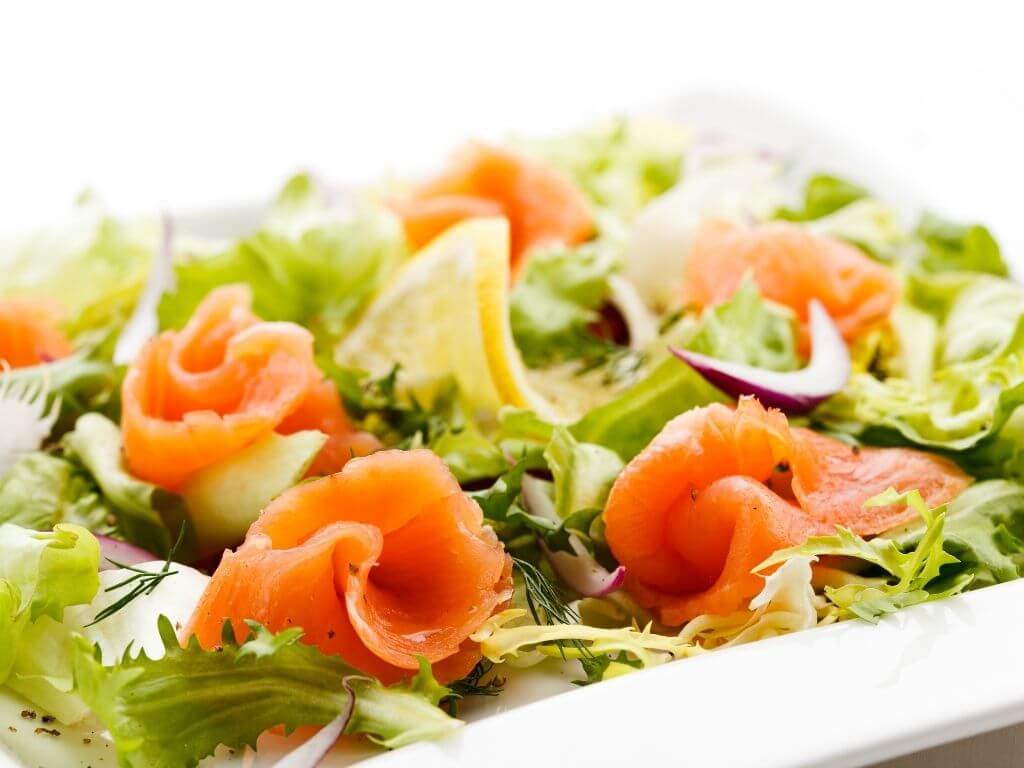 Some families enjoy a prawn cocktail as a starter instead of salmon, again served with salad leaves and a Marie Rose sauce.
For vegetarians, a melon salad is often the starter of choice. Another starter of choice for many families is a hot soup, often a good thick country vegetable soup which can cater for the vegetarians in the family.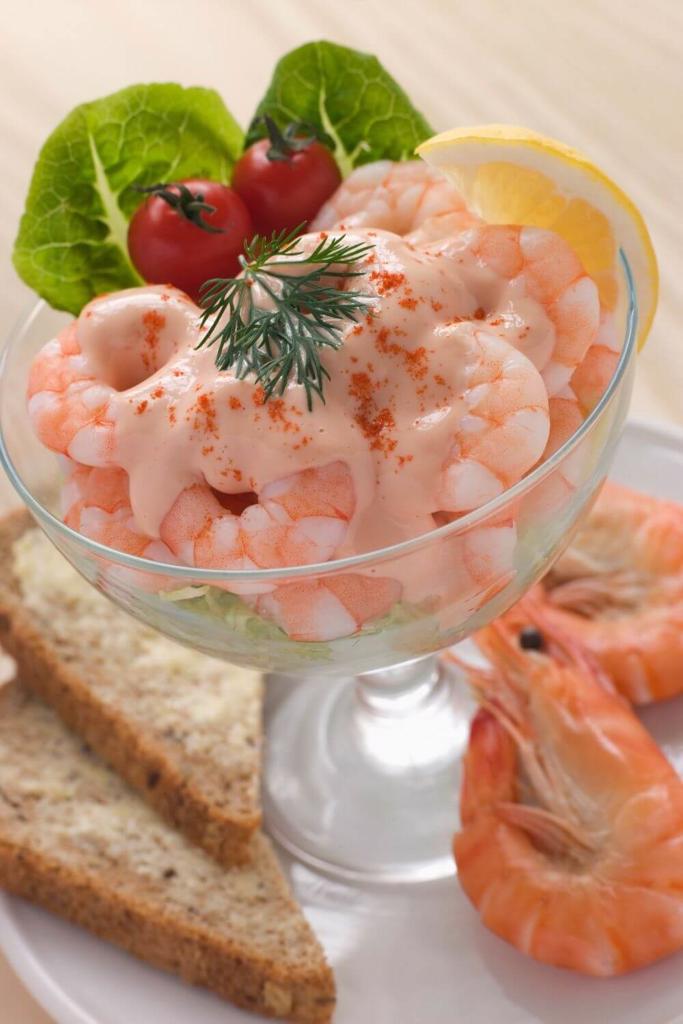 Traditional Christmas dinner in Ireland
If you have been wondering what is a traditional Irish Christmas dinner, you are about to find out.
The main course is a big affair in Irish households and the traditional Irish food for Christmas involves both a roast turkey and glazed ham. Two types of meat are standard. Some families opt for a roast goose or duck but for most families, the bird of choice is a turkey.
The turkey is roasted in the oven and can be stuffed and dressed according to each family's taste. My father cooks our turkey with a lemon inserted into the cavity to keep the inside moist, while the outside is covered with strips of streaky bacon to keep the outside of the bird moist. Some families use an orange instead of a lemon.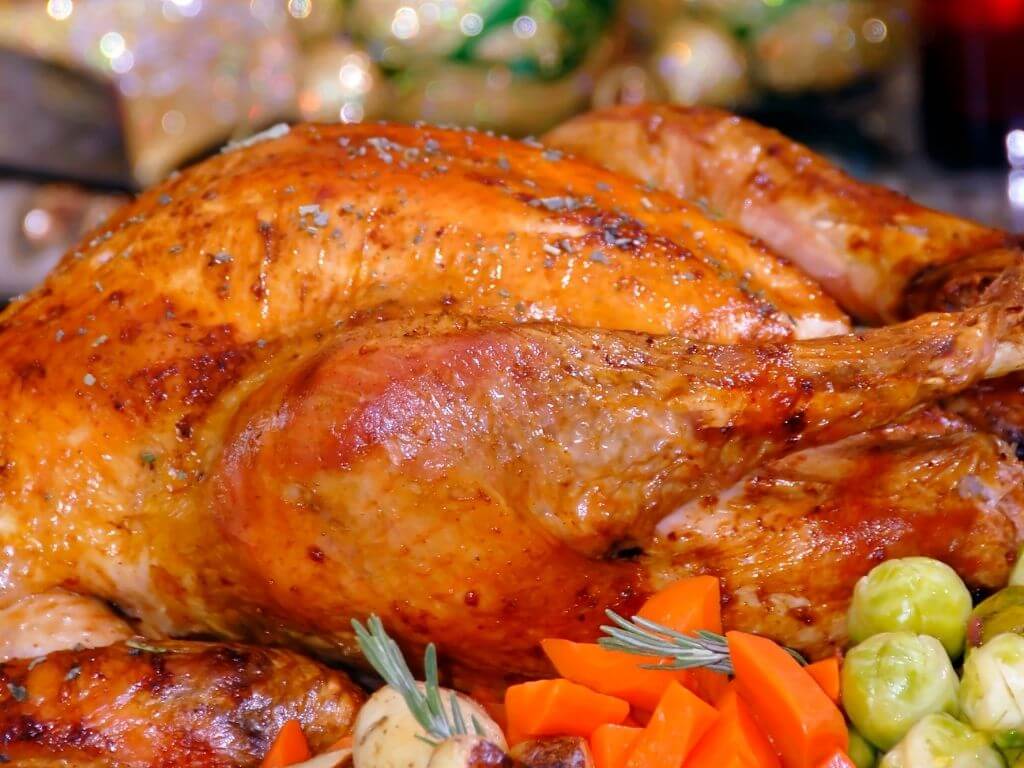 He adds a small bit of water to the roasting tray with an onion, carrot, and herbs and he bastes the bird during the roasting period with the juices that are mixed into the water. Just before the bird is cooked, he will remove the bacon strips to crisp the skin. The juices in the tray are used to create the gravy.
The turkey is served with a sausage and breadcrumb stuffing that I've learned to make myself. This is usually a sage and onion flavoured stuffing. My son and husband lap up the stuffing on Christmas Day. You simply cannot have roast turkey on Christmas Day without stuffing.
Alongside the turkey is served a glazed ham. The ham is first steeped overnight to remove excess salt, before being boiled. The ham is then cut on the surface, into which are inserted cloves, before being covered with honey and mustard and oven-baked to complete it. The ham is my favourite meat on Christmas Day.
Served with the turkey and ham are usually roast potatoes, Brussel sprouts, carrots, and either broccoli or parsnips in our house. My father will also do a small tray of garlic potatoes with a cheesy topping. Other households will also serve red cabbage, peas, and leeks and potatoes can also be mashed, served as a gratin, or as Dauphinoise potatoes.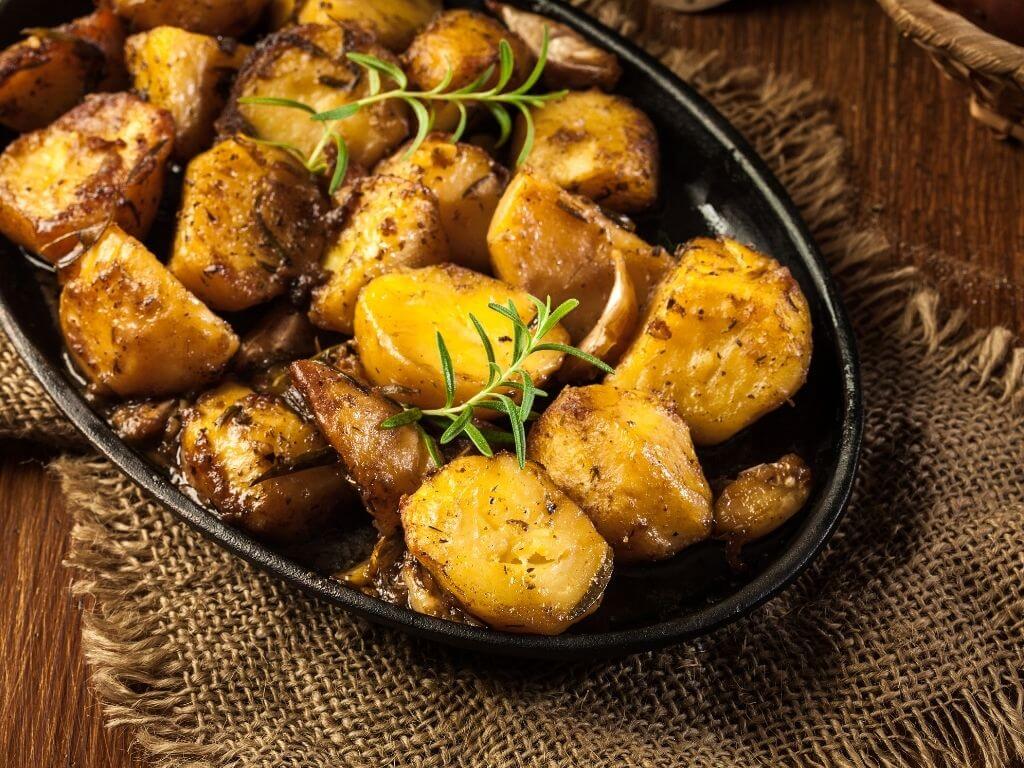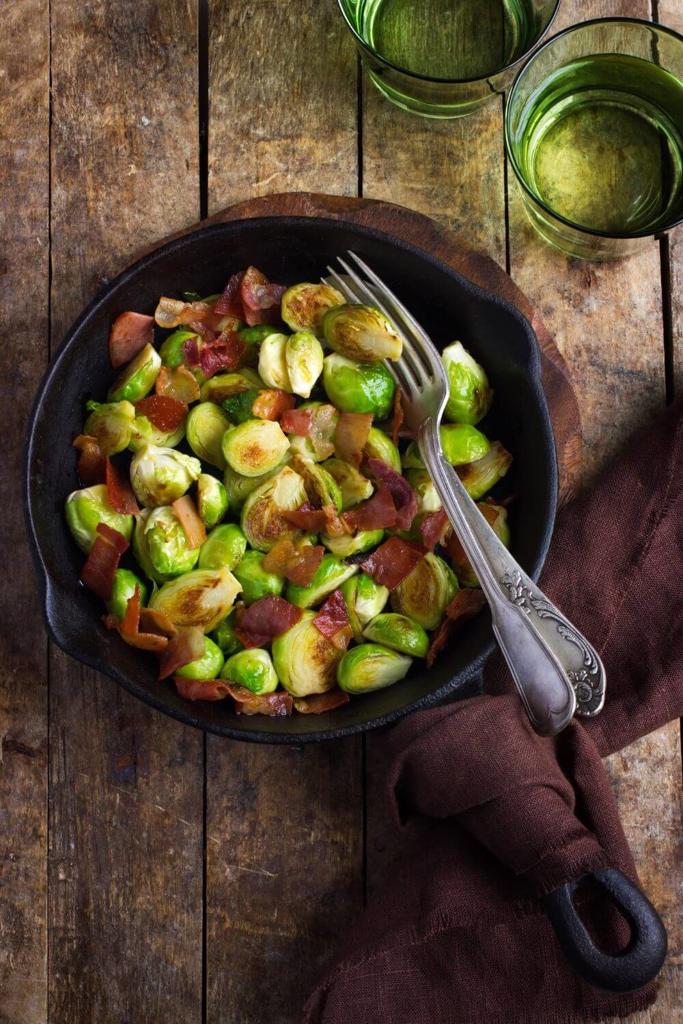 In our house, all of this is served with a rich, dark gravy that my father makes from the juices and liquid in the turkey tray. Cranberry sauce and bread sauce are occasionally served but not in our house or many other Irish households. It's a proper gravy all the way for us.
If we are together as a family, my father, and four sisters, then my dad will also prepare a Beef Wellington to serve alongside the turkey and ham. This is because one of my brothers-in-law does not like turkey or ham, so he is catered for with a Beef Wellington. But if we're not all together, then a traditional Irish Christmas dinner is served.
Occasionally you might find spiced meat, similar to corned beef, served at some tables but this is much less common. For vegetarians, a nut roast is a typical dish served.
I have a guide about more Irish Christmas traditions that you might enjoy reading.
Traditional Irish Christmas desserts
Whether you have room or not after the main course, there is always something for afters and traditional Irish desserts for Christmas include Christmas cake, Christmas pudding with custard, or a trifle which can be a sherry trifle or a strawberry trifle for those who don't drink or like sherry.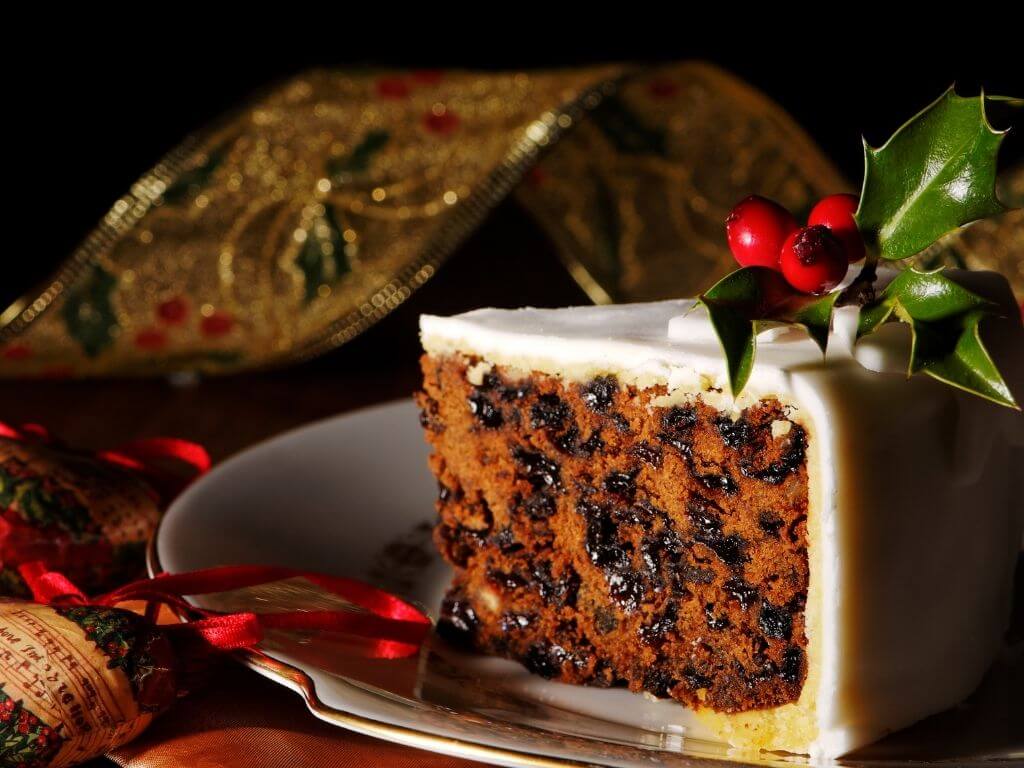 Foodellers have a great traditional Irish Christmas cake recipe you can prepare for your festive feast. Just be aware you need to prepare it at least 6-8 weeks before Christmas Day.
In our house, a strawberry trifle is the dessert of choice as not many of us like sherry. For kids who don't like custard or cream my father makes small dishes of jelly for them to enjoy with vanilla ice cream.
If you haven't come across a sherry trifle before, it is essentially a sponge cake or sponge fingers lower layer soaked with sherry. To this is added a strawberry or raspberry jelly and this is allowed to set before fruit cocktail is added. The dessert is topped with custard and finally whipped cream. You can top the trifle with chocolate, or Hundreds & Thousands sprinkles to decorate.
A Christmas pudding is a steamed pudding that resembles a Christmas cake inside as it is made with fruits. But it is never decorated with marzipan or icing like Christmas cake, and it is often served with hot custard or vanilla ice cream. My mother was a fan of Christmas pudding, but I am not. These days, my dad will make a Christmas cake to have as an alternative to trifle.
Other things you might find on the table for Christmas dinner in an Irish household might include mince pies. These are a sugary mix of fruits and nuts encased in sweet golden pastry. However, these are not only offered at the dinner table. They are offered throughout the day and night. And in the weeks leading up to Christmas in our house.
One thing that you won't find on many traditional Irish Christmas dinner tables is pigs in blankets (cocktail sausages wrapped in bacon). This is a very British tradition for Christmas and only a few Irish families will include these.
Drinks served at Christmas can be anything from sparkling wine to wine (red or white), Guinness, and often Baileys to end the festive eating. Baileys, an Irish cream liqueur, served over ice can be delicious and used to be my favourite Christmas tipple when I was a drinking woman. A good Irish coffee is often served later in the night in Irish households for those who like it.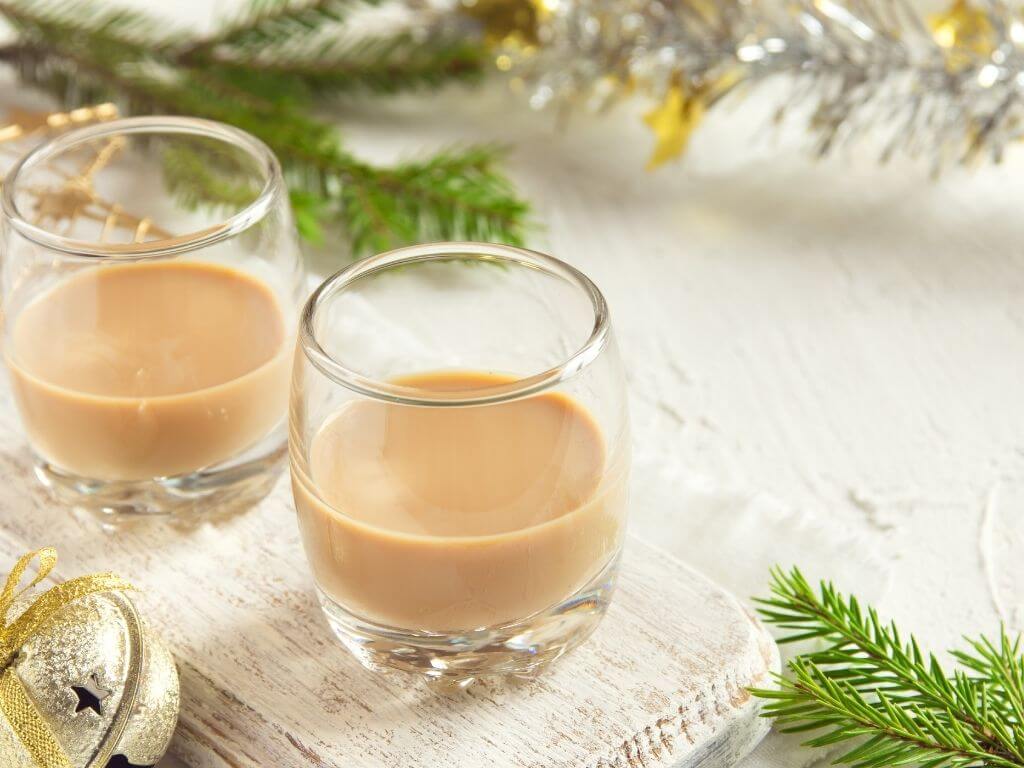 Final thoughts on Christmas dinner in Ireland
So, there you have it. Everything entailed in a traditional Christmas dinner in Ireland. Irish Christmas food traditions are common among most Irish families. Each will have their take on Christmas dinner and may have something unique to their household. But for the most part, Christmas dinner in Ireland has the same foods and drinks, whether the family is in Ireland or further afield.
Read more about Christmas in Ireland: