Glamping is becoming ever more popular, especially in recent times when staycations and holidays at home are on the increase. And glamping in Ireland is no exception.
Whether you are looking for glamping breaks in the north, south, east, or west of the country, you'll find spots across the country.
But, if you are looking for the best glamping in Cork, Ireland, then you'll find plenty of ideas right here.
I've researched the best glamping places in Cork so you don't have to. From bell tents to glamping pods, these are the best places to go glamping in County Cork.
Best Glamping in Cork, Ireland
Some of the best glamping spots in Ireland are located in the southwest corner of the Emerald Isle and you will find plenty of options for glamping in Co Cork. Take a look at some of these which are some of the best glamping Cork has to offer.
Ballyvolane Glamping
Address: Castlelyons, Fermoy, Co Cork, P61 FP70
If you want a luxurious and romantic Cork glamping getaway, then head for Ballyvolane. Set in the grounds of Ballyvolane House, guests can enjoy glamping in the garden from May to September. There are two different-sized bell tents and a glamping ark.
The 4m bell tent is designed for 2 people, while the 5m tent accommodates 2 adults and 2 children, and the glamping ark sleeps 2 people. All accommodation comes with futon-style beds with bed linen provided.
There is a communal heated wash house, and the converted barn has WiFi and is ideal for playing games, reading, and socializing. There is a small café where you can purchase tea, coffee, and continental breakfast, and fresh pastries and glamping guests have a dining terrace or can pre-book a 4-course seasonal dinner in the main house.
Activities on-site include walking, tennis, a walled garden, and 5-aside football. If you are walking around the grounds, keep an eye out for red squirrels. Further afield, you can enjoy hill walking, fishing cycling, and both Fota Wildlife Park and Lismore Castle are within 40-minutes driving.
Wild Atlantic Glamping
Address: Ardagh Bere Island, Co. Cork
If you are looking for glamping in West Cork, then you won't go wrong with Wild Atlantic Glamping on Bere Island. As the first of its kind on Bere Island, this purpose-built complex can be enjoyed typically between Easter and September, weather-permitting. Bere Island is located 2 hours from Cork City and is accessible via a car ferry, on a first-come-first-served basis.
At Wild Atlantic Glamping, there are 8 luxury bell tents perched along the shore, each with private decks with views over Lawrence Cove in Bantry Bay. There are 2 Glamping for Groups & Friends bell tents and 6 bell tents for the Family Glamping and Couples options.
Family Glamping bell tents accommodate 3-4 people with one double bed and 2 camp beds. The Couples glamping tent has a double bed and floor cushions for relaxing. And the Friends glamping tent has three single camp beds.
In each tent, bed linen and towels are provided along with a stove, cool box, electricity, and a welcome pack.
There are communal showers, toilets, and a kitchen and dining area. There are also outdoor picnic tables, a campfire and BBQ area, laundry, and a covered drying area. There is also direct access to the sea from the site.
Activities on, or nearby, include hiking, cycling, snorkelling, kayaking, and swimming.
Top of the Rock Pod Páirc and Walking Centre
Address: Dromdaleague, Cork
If you are looking for some of the best glamping pods West Cork has to offer, then head for Top of the Rock. Located in the heart of West Cork, this pod park is the ideal place for a getaway, whether as a couple or family.
The seven pods were the first glamping pods in Cork of their kind. Along with these, there is also a caravan for 2. The standard pods sleep 2 adults, while there are also family pods sleeping 2 adults and 3-4 small children.
The caravan comes with a large bed (can be 2 singles), toilet and washbasin, kitchen and dining table, and you must bring your own bed linen and towels, although you can rent them at an extra cost.
Pods come with a double bed, and a single camp bed, and/or extra mattresses. Bed linen and towels are provided for the double bed, for additional beds you need to bring your own linen and towels.
Two pods have a toilet/washbasin, mini kitchen, and dining area. Other pods share communal kitchens, toilets, showers and there is laundry and a games room shared with campers.
On-site there is a playground and guests are welcome to explore the farm. Nearby there is hiking and walking, an Alpaca farm, pitch and putt, and a model railway.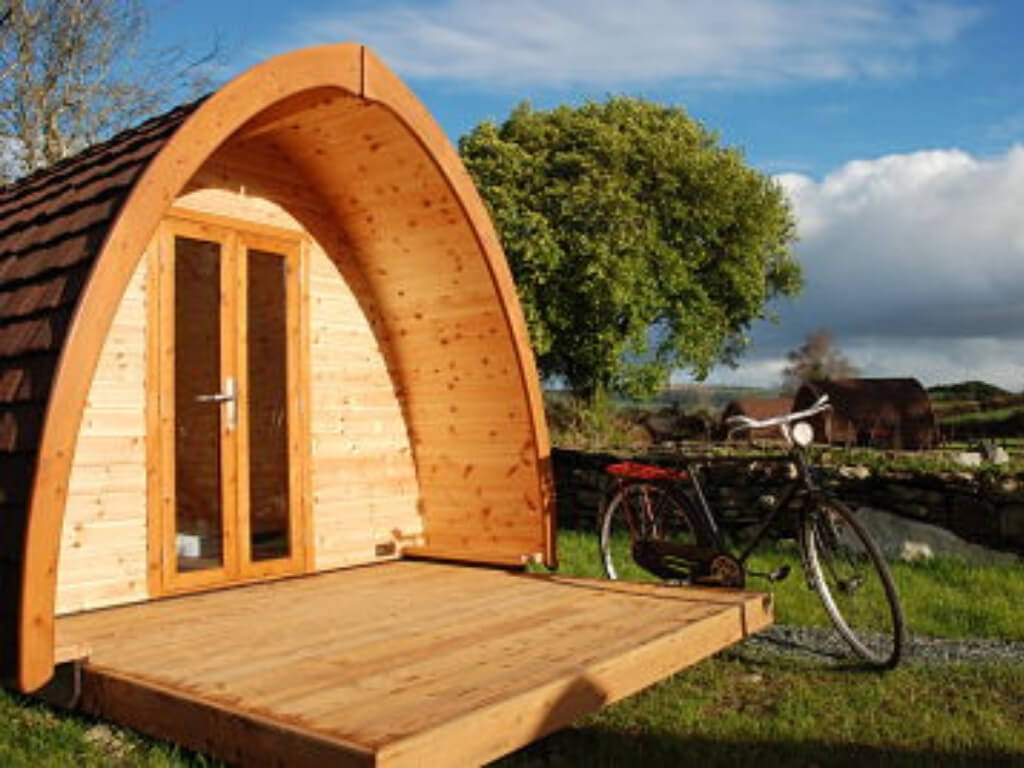 Mountain Forge Escape
Address: Mountain Common, Ardfield, Co. Cork, P85 XK19
If you are looking for the best glamping West Cork has to offer with stunning views, then Mountain Forge might be the place for you. This campsite at the start of the Wild Atlantic Way has one incredible, transparent glamping dome.
The dome is fully furnished with a bed, toilet, sofa bed, and private porch with 2 deck chairs. The kitchen and showers are in the shared communal facilities for the campers. There is WiFi on-site and it is family-friendly.
Locally there are plenty of things to do as well as exploring the start of the Wild Atlantic Way. There is a lagoon activity centre, golf club, model railway, Castlefreke Castle and of course, walking and hiking.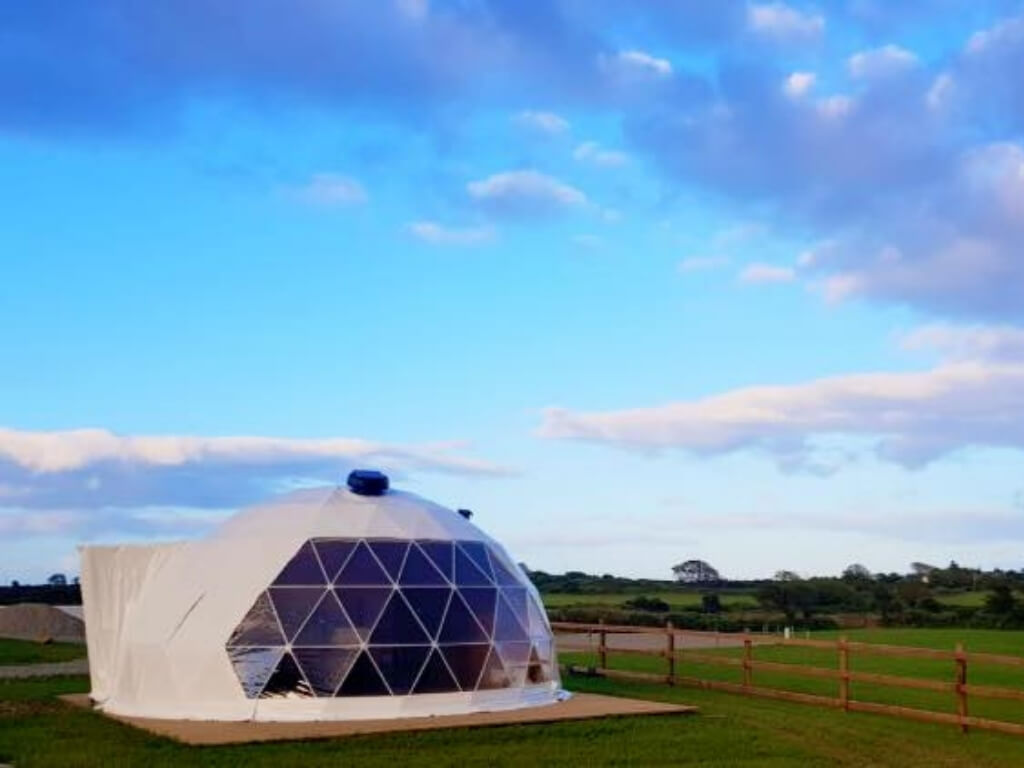 Inch Hideaway Eco Sustainable Campsite
Address: Inch Hideaway, Glanturkin, Whitegate, Co. Cork, P25 ND37
Looking for some Cork glamping pods that look after the environment at the same time? Then Inch Hideaway Eco Glamping, Cork is the place for you. Located in East Cork, this site is an Eco and Sustainable Tourism site that has 4 yurts and one incredible wagon.
All yurts have a private garden space with a picnic table and BBQ. There is one yurt that sleeps 4 people (double and two singles), 2 that sleep 6 people (three double beds), and one that sleeps eight people (four double beds). Bed linen is provided but you may need to bring your own towels. Check and confirm at the time of your booking.
The Wanderly Wagon is an upcycled bus that sleeps 4 people. It comes with a kitchenette, hot shower, eco-toilet and there is a picnic and BBQ area on the outside deck area.
Communal areas include the Cob House for self-catering and kitchen facilities. The dining area is in the barn and there are also communal pizza ovens, BBQs, and a campfire. The site holds pizza, BBQ, and cocktail evenings too.
On-site there is a therapy room offering treatments and also yoga. Close by you can visit Inch beach, one of Ireland's best beaches (15-minute walk). You can also enjoy guided walks, hiking, surfing, paddleboarding, cliff walks and there is an outdoor activity centre nearby.
Chléire Haven Glamping and Camping
Address: Keenleen, Skibbereen, Co. Cork
Located on Ireland's most southerly inhabited island is one of the most peaceful glamping Co Cork has to offer. Cape Clear Island is where you will find Chléire Haven glamping and camping site. The island is a 45-minute ferry ride from Baltimore and cars are not normally brought onto the island, keeping it a safe haven for families to enjoy.
At Chléire Haven you have the option of staying in a Mongolian yurt or Bell tent, both of which sleep a max of 6 people. Bed linen is provided for one double bed and two singles in the yurts, while you will need to bring your own linen for the bell tents. The yurt glamping accommodation comes with a stove, gas cooker, solar-powered lighting, and cool box. Note that towels are not provided.
There are communal wet rooms and toilets and cooking facilities. You can order a breakfast pack 3 days prior to arrival and there is a small shop on the island for some supplies, although it is recommended you get everything you need before arriving at Cape Clear Island.
Things to do on the island include snorkelling, kayaking, diving, rock fishing, and dolphin and whaleboat trips.
Ballyroe
Address: Ballyroe, Co. Cork, P81 TX62
Ballyroe is a family-run business that offers guests a place to stay, to eat, and to craft. Operating all year round, there are two apartments in a separate cottage and three unique shepherd's huts for a unique glamping experience in Cork.
In the shepherd's huts, you will find a queen bed, sleeping 2 people. There is also a bathroom, kitchenette, firepit, outside area, and bed linen and towels are provided.
Guests are welcome to enjoy the garden and to say hi to the resident hens. Nearby there is plenty to do as the site is just 2 miles off the main N71 road between Skibbereen and Clonakilty.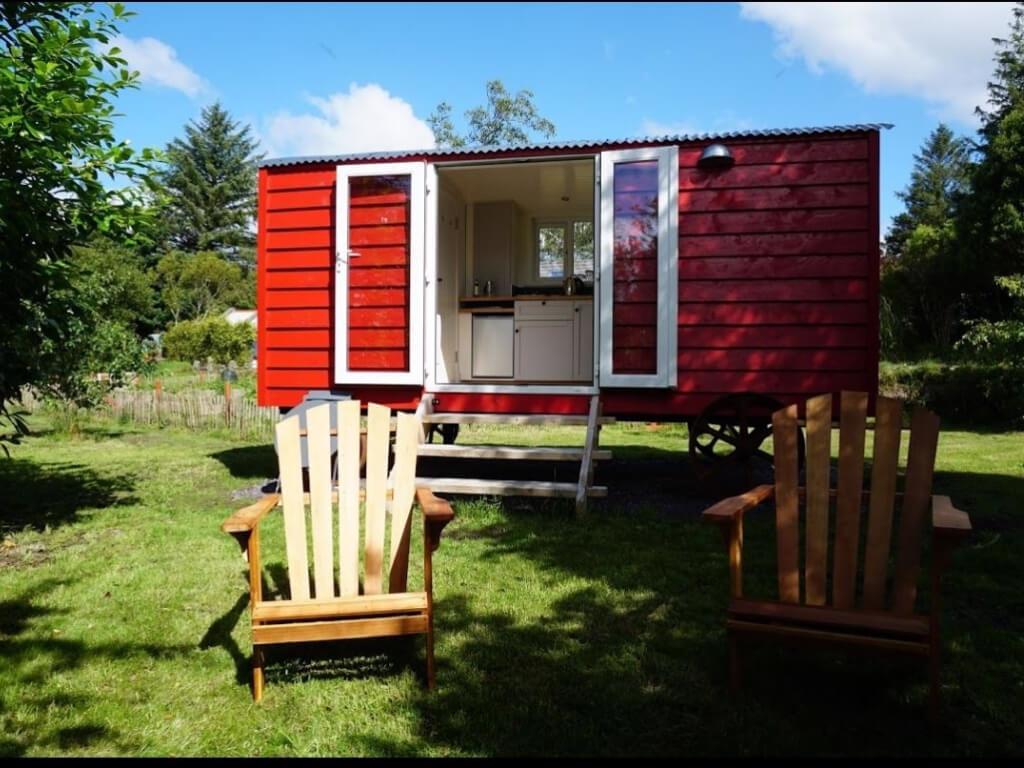 Tig Lammax
Address: Toames West, Tooms West, Ireland, Co. Cork, P12 V343
Located in the heart of Cork, in the Lee Valley, is the Tig Lammax glamping pod. This small B&B business has one pod that is a great base for exploring Cork.
The pod is a luxury glamping pod that sleeps 4 adults, or 2 adults and up to 3 small children. There is a double bed and sofa bed, toilet and washbasin, and a single put-up bed for a child up to the age of 7 is also available. Bedding and towels are only provided for the double bed.
On-site there is a separate outhouse with a shower, toilet, cooking facilities, and laundry. A continental breakfast is available (payable).
Locally, guests can enjoy walking, cycling, the Lee Valley, Kilcrea Friary and Castle, and Tig Lammax is located near the site of the assassination of Michael Collins.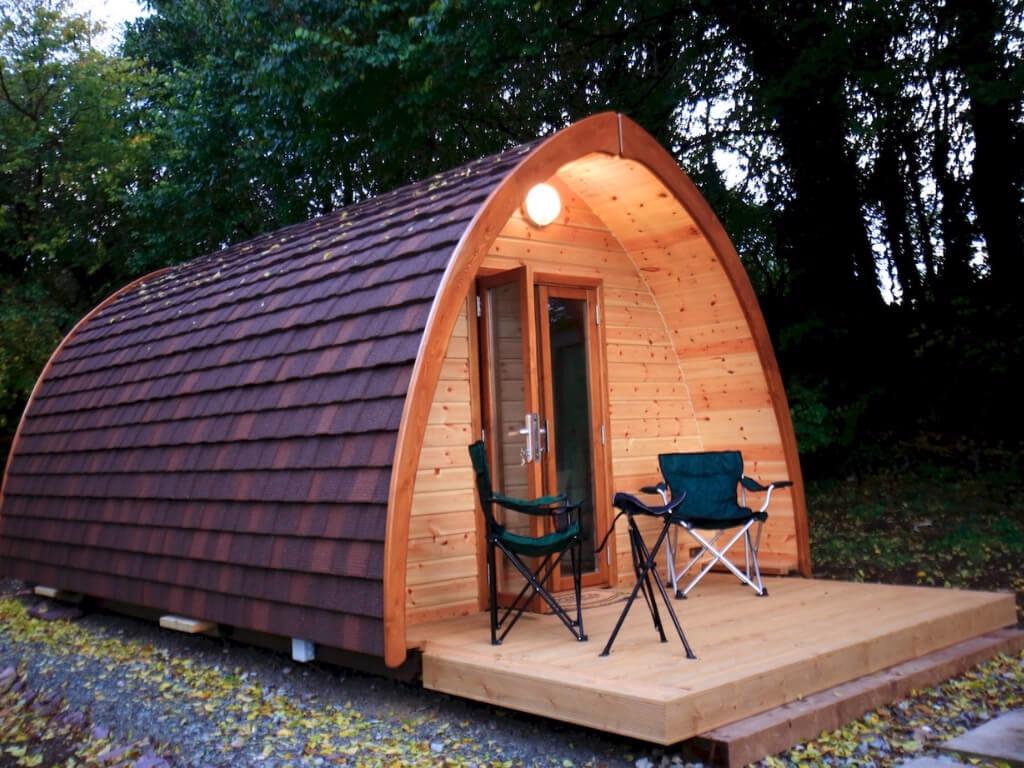 Conclusion
Hopefully, this list gives you some idea of the best glamping in Cork should you be looking to spend some time in the county and are looking for unique places to stay in the area.
These are among some of the best glamping spots Ireland has to offer visitors looking for a unique stay.
Read more about visiting Cork and the surrounding areas: