The southernmost county in Ireland is Cork, and it is one of the best places to visit on the Emerald Isle.
If you have not explored Cork before, or are visiting Ireland for the first time and wondering if it is worth adding to your itinerary, you will discover the best things to do in Cork, Ireland right here to help you decide.
Having visited Cork myself a few times, despite being a Dublin girl, I know some of the best things to see and do in the county. And I've added to my own knowledge by researching other things to do for a forthcoming trip to the county for my own family.
So, if you are looking for adventure in County Cork, read on for the best things to do in Cork, Ireland.
*This post contains affiliate links, which may include Amazon affiliate links. To read more about affiliate links, please visit my Disclosure Policy page.
Cork is a county that I have only recently begun to explore, having eluded me throughout my childhood and teenage years.
As the largest county in Ireland, Cork has plenty to offer visitors, whether they are native to Ireland or not.
In this post, I help you uncover 10 amazing things to do in County Cork that will soon have you heading south!
Best things to do in Cork, Ireland
You need not be wondering what to do in Cork with this list of 10 things to do in the county. Whether you prefer the outdoors, history, food, or culture, there is something there for every type of traveller.
Cork City
As the main city in the county, there are lots of things to see and do in Cork. Sitting on the banks of the River Lee, Cork was the base for the rebel movement during the fight for Irish independence. It is a bustling city.
There are several churches and cathedrals in the city worth visiting including St Anne's Shandon, an 18th-century church that is a famous landmark in Cork. Its clock face was known as the four-faced liar because until 1986 when it was repaired, each of the four faces showed slightly different times. Visitors to the city can climb the tower and ring the famous bells for a small fee. St Fin Barre's Cathedral is also worth visiting.
The Cork Butter Museum is another must in the city. In the 19th century, Cork was the largest exporter of butter in the world and the museum tells the story of Ireland's most important food export.
Cork City Gaol (pictured) is also another one of the great things to do in Cork City. Located a 20-minute walk from the city centre, the restored City Gaol has fascinating exhibitions about the lives of the inmates in the 19th and 20th centuries. There is also a Radio Museum in the same building. Book your tickets in advance for the Cork City Gaol here.
Blackrock Castle (discussed in more detail below) and Barryscourt Castle are both great places to visit in Cork too.
Other areas of Cork City to spend time in include the Quays, Grand Parade, St Patrick's Street, and the Shandon Quarter where you will find galleries, antique shops, and cute cafes along its squares and old lanes.
Discover Cork on a walking tour of the city. For the latest prices and availability, and to book it, click here.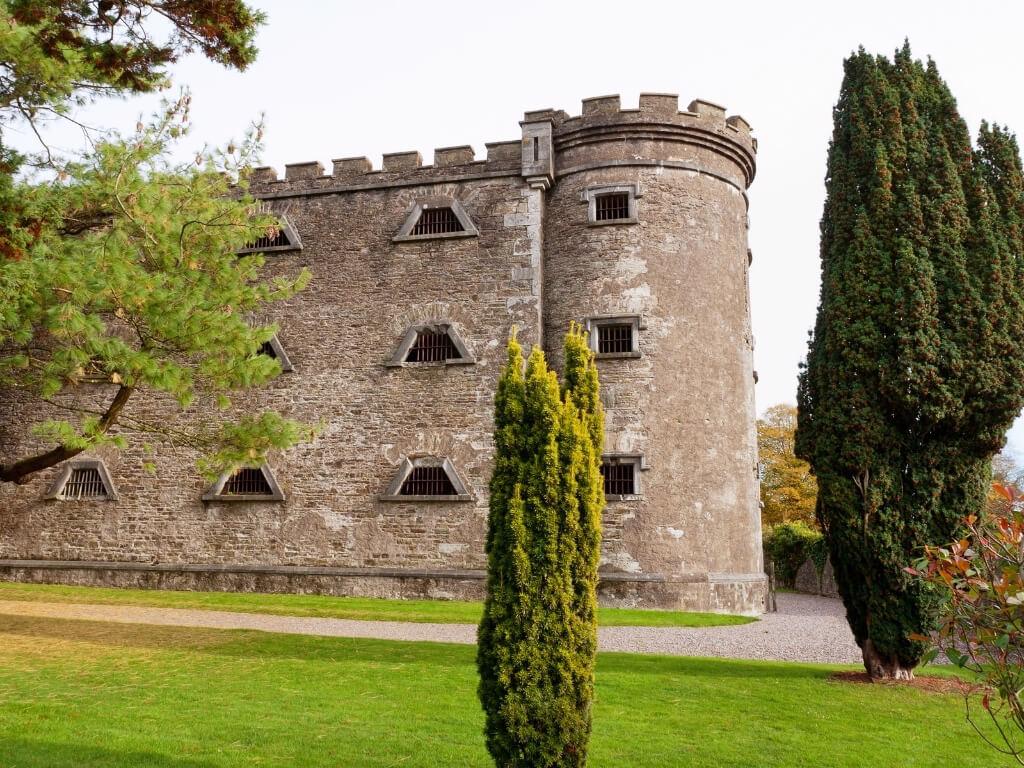 Blarney Castle and more
Some of the best places to visit in Cork are the many castles and one of the top things to do in Cork, Ireland is to visit Blarney Castle (pictured).
As one of Ireland's most famous tourist attractions, Blarney Castle welcomes thousands of visitors every year who flock to do one thing. Kiss the Blarney Stone. Legend has it that those who kiss the stone will be bestowed with the gift of the gab and never be lost for words again. The stone is located at the top of the castle, some 99-steps high and you must sit with your back to it, lean back, and kiss it upside-down.
But that is not all there is to do at Blarney Castle. There are stunning grounds to visit with a poison garden, fern garden, two waterfalls, playground, fairy garden, and more. My advice is to arrive early, kiss the stone and spend the rest of your time exploring the gardens.
Blackrock Castle in Cork City is also worth visiting. This 16th-century castle was built as a harbour fortification for the city and while it still looks like one, it now houses an observatory and museum with educational exhibits. You can climb to the top and discover the armoury on a guided tour.
Barryscourt Castle was the 16th-century seat of the Barry family and has been extensively restored. The tower house stands out from most thanks to its 50m (164ft) long hall which occupies the west of the castle. The castle has period furnishings and decorations, and the orchard has also undergone restoration work. The work is not yet complete, meaning the castle is currently closed to visitors. But keep an eye on the website to see if it is open when you are planning to visit County Cork.
Other castles to visit in County Cork include
Desmond Castle, Kinsale – 16th-century fortified house once occupied by the Spanish. Enjoy exhibitions detailing its history, and a small wine museum.
Baltimore Castle, Baltimore – 13th-century stone tower castle which dominates Baltimore Harbour. Enjoy seasonal art displays, exhibits on the town's and castle's history, and views from the battlements.
Discover both Blarney Castle and Cobh on a day tour from Cork City. For more information and to book, click here.
Cobh
Cobh is one of the best places to visit Cork. Pronounced 'cove', this charming coastal town in Ireland is dotted with colourful houses that are overlooked by a splendid cathedral, St Colman's Cathedral. Cobh is one of the top places to visit in Cork thanks to its association with the Titanic.
Cobh was the final port of call for the fateful liner before it started its first and only journey out across the Atlantic Ocean. Visitors can enjoy an insight into the tale of the liner at the Titanic Experience Cobh. Guided tours lead you through to a set of interactive exhibits before you get to stand on the exact spot from where the passengers left to board the ship.
Other places to visit in Cobh include the Cobh Museum which traces the history of the town, and the Cobh, Queenstown Story where you can learn about the emigration during the Great Famine and the convicts shipped to Australia, through interactive displays.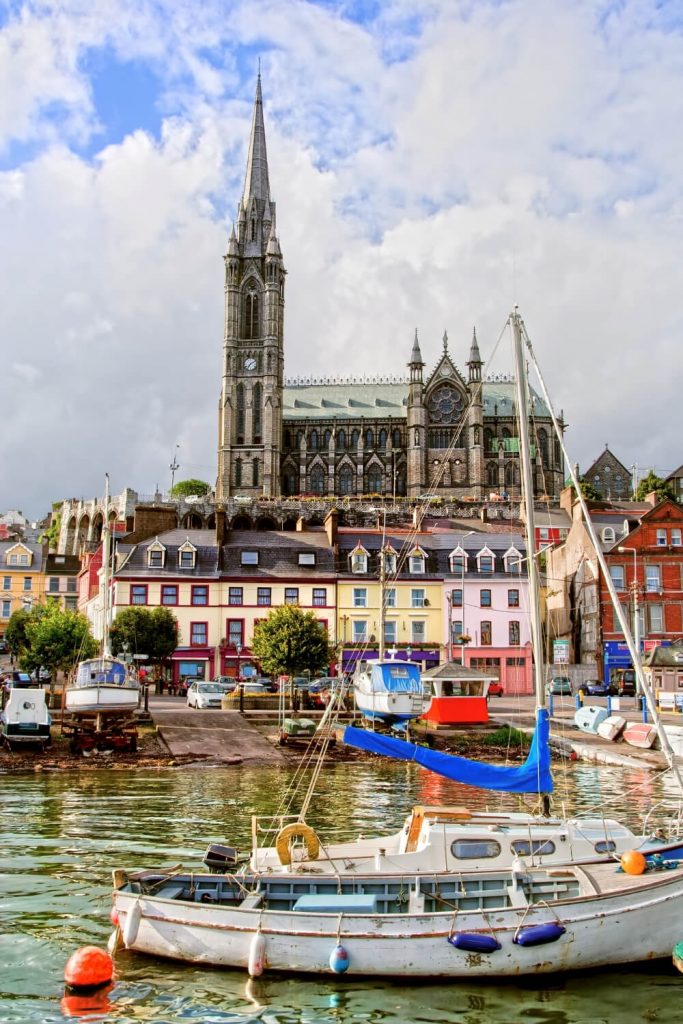 Houses and Abbeys
Some of the best things to do in County Cork are to visit the great houses and abbeys.
Bantry House is located about one and a half hours drive from Cork City and is an early 18th-century historic house with gardens. Located along the Wild Atlantic Way, Bantry House has been the home of the White family, formerly the Earls of Bantry, since 1739. They still live there and manage the estate.
The house is adorned with art and furnishings brought from Europe by the 2nd Earl of Bantry including tapestries originally made for Marie Antoinette. The gardens are a treasure, with the Italian Garden being a highlight in front of the great house, which leads to a set of terraces with incredible views. The house and garden are a must-visit in West Cork. And you can even stay there in one of the B&B bedrooms.
One of the best things to see in County Cork is Timoleague Abbey. Located in Carbery East in County Cork, this friary was established in 1240 on the site of a 6th-century monastic settlement and is a great place to visit if you like ecclesiastical architecture. Wandering through the grounds you'll be able to explore the church, infirmary, walled courtyard, and lots of cloisters.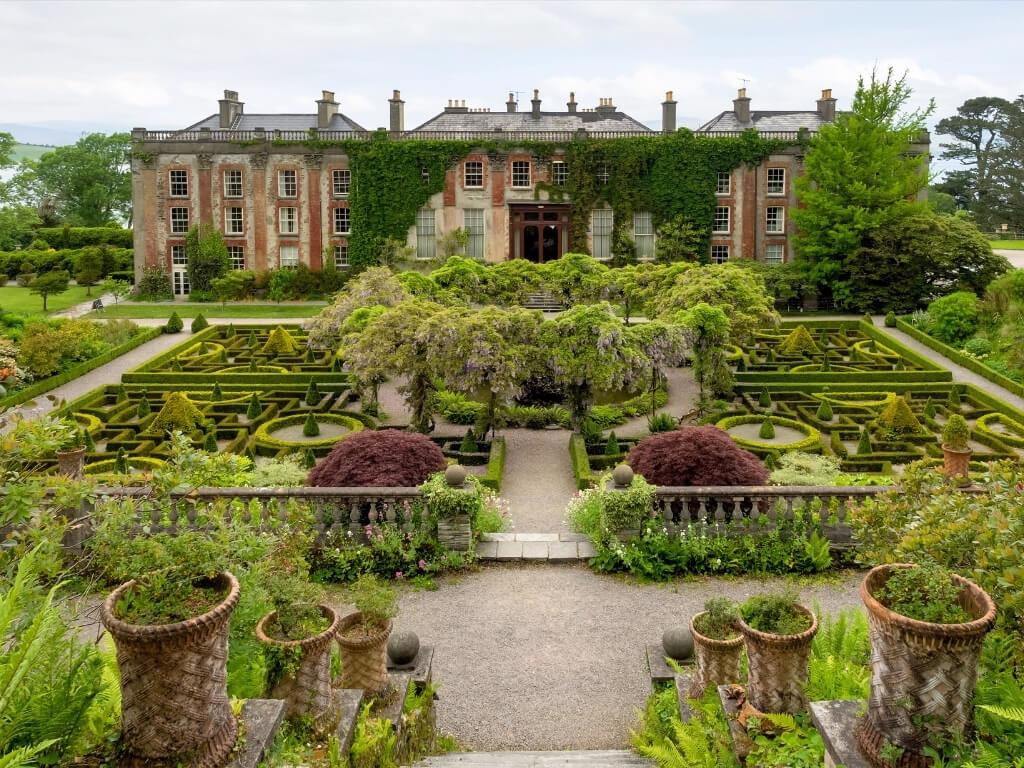 Islands off County Cork
One of the things you cannot miss if you are visiting this part of the Emerald Isle is to visit one of the islands off the coast. There are several islands lying off the coast of Cork and they are among the best things to see in Cork.
In Cork Harbour, you will find Spike Island. Once an important part of the city's defenses with its artillery fort, it was used to house prisoners of war during the Irish War of Independence and between 1984 and 2004. This use of the island earned it the name "Ireland's Alcatraz". Today you can explore the former prison buildings on a guided tour. Allow plenty of time to enjoy the site.
A 10-minute ferry ride from Baltimore will lead you to Sherkin Island, a tiny island that is frequented by day-trippers and artists. If you are looking for secluded coves to swim in, want to gaze out to sea, or enjoy lunch somewhere different, then head to Sherkin Island.
Another of the Cork islands to visit is Cape Clear Island (pictured). The crossing takes 45 minutes from Baltimore to reach the island and there you will find private inlets, pebble beaches, and cliff-top walks. This small island is in a Gaeltacht area (Irish speaking) and is Ireland's southernmost inhabited island. There are walking trails, a ruined 12th-century church, the ruins of 14th-century Dunamore Castle and you can take boat trips to see one of the best lighthouses in Ireland, the off-shore Fastnet Lighthouse, also known as Mizen Head Lighthouse. This rock is also known as the Teardrop of Ireland as it was the last sight of Ireland emigrants saw on their journey across the Atlantic Ocean. Titanic also passed her as she set sail across the ocean.
Other Cork islands to visit include
Dursey Island, a wildlife sanctuary that is connected to the mainland via a cable car.
Bere Island, with its ruined Martello towers and 19km loop of the Beara Way walking route.
Garnish Island, also known as Ilnacullin, which is a horticultural wonder.
Coastal Towns
Among the top 10 things to do in Cork is exploring the pretty coastal towns. With a long coastline and as Ireland's largest county, Cork has plenty of coastal towns to visit. Cobh, already discussed, is often top of people's lists but you should also consider some of the others.
Kinsale is another Cork coastal town that makes it onto people's wish-list (pictured). This pretty town has a harbour filled with yachts and is home to Desmond Castle, an early 16th-century tower house. Just east of the town lies Charles Fort, an impressive 1670s-star fort that is one of the finest examples remaining in Europe today. Other things to do in Kinsale include visiting St Multose Church, Old Market House which is a museum, and the Signal Tower and Lusitania Museum dedicated to the ship of the same name that was torpedoed by a German U-boat in 1915. The Old Head of Kinsale is also the starting/endpoint for the Wild Atlantic Way.
One of the best towns in Cork to visit along the coast is Youghal. Located in the east at the mouth of the Blackwater River, Youghal pretty town that was once presided over by Sir Walter Raleigh who was its mayor between 1588 and 1589. You can enjoy walks, boat cruises along the Blackwater and discover the town's history in the heritage centre.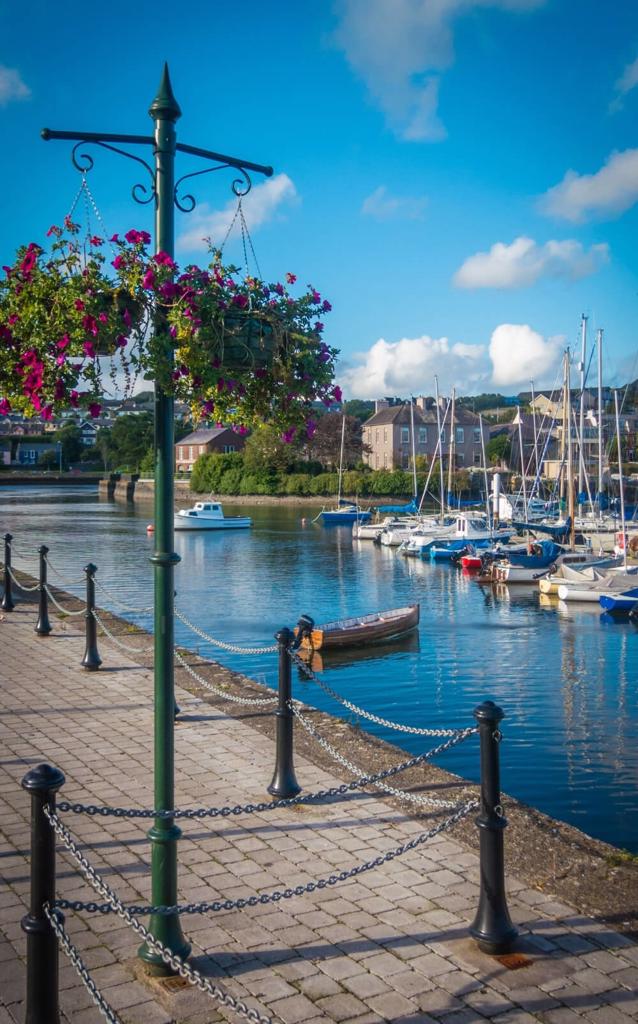 Peninsulas
County Cork has several peninsulas which are worth visiting and are home to some of the best beaches in Cork.
Peninsulas to visit include Mizen Head, Sheep's Head, and the Beara Peninsula.
Mizen Head is home to one of the best Irish beaches, Barleycove beach. Schull is the main town from where you can take walking trails. There is also a planetarium and dive school. Mizen Head Visitor Centre is home to the information about the Fastnet Lighthouse (already mentioned, and pictured).
Sheep's Head Peninsula is a rocky landscape where you can enjoy hiking and walking and also cycling. The Sheep's Head Way is popular with walkers and is a 93km-long walking route around the peninsula.
The Beara Peninsula is home to parts of both Counties Cork and Kerry. It holds the third major 'ring' circular driving route in Ireland and the 137km Ring of Beara can be done in one day. However, you should make time to drive the Healy Pass Road too across the peninsula. At the end of the Beara Peninsula lies Dursey Island (mentioned above).
Fota Island
Lying in Cork Harbour is Fota Island, connected to the mainland by a short bridge. This former private estate is home to one of the fun things to do in Cork with kids, Fota Wildlife Park. As well as the wildlife park, there is a resort hotel, golf course, and beautiful gardens.
Fota Wildlife Park is a large outdoor zoo that has plenty of animals to delight kids including zebras, giraffes, cheetahs, and plenty of monkeys. Animals have enclosures that are large and some even roam free within the zoo itself including some cheeky lemurs. There is also a little train that goes around the zoo and a large playground that kids will love.
Fota House, Arboretum and Gardens are also located on the island and Fota House is a Regency-style house that you can take guided tours of. The 150-year-old arboretum is the highlight, along with the gardens which include walled gardens.
And finally, Fota Island Resort is a luxury hotel that boasts no less than three championship golf courses. There are self-catering holiday homes available if you'd rather not stay in the hotel and there is a spa for pure relaxation.
Michael Collins Trail
One of the interesting things to do in County Cork, Ireland is to embark on a Michael Collins Trail. Born just outside Clonakilty in Cork, Michael Collins was a leading figure in the War of Independence in the early part of the 20th century and became commander-in-chief of the army of the newly formed Irish Free State in 1922.
There is a Michael Collins Centre in Clonakilty for those who are fans of the revolutionary hero, where you can learn about his life and the times in which he lived. From there, you can join a Michael Collins War of Independence Tour, visiting notable sites around County Cork that are associated with the man himself and the era. Pre-booking is essential. For more information, visit the website.
You can also visit the Michael Collins House, a museum dedicated to the Irish hero and revolutionary figure. This is also located in Clonakilty. This museum also has a Michael Collins Trail (link here) that you can follow to visit notable sites from his life and the War of Independence.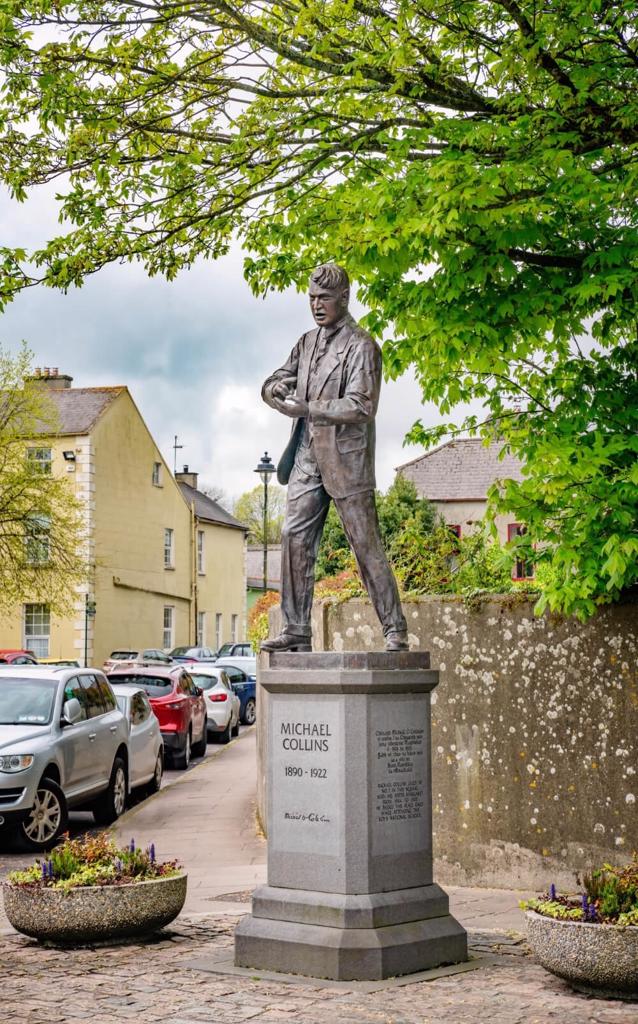 Gourmet Cork
Although you might not think it, County Cork is becoming a culinary destination in Ireland. From food to whiskey, Cork is moving up in the world of Irish food and drink.
The Ballymaloe Cookery School is fast becoming the best place to visit in Cork, thanks to its owner and famous chef, Darina Allen. You can do half-day sessions, all the way to 12-week cookery courses.
Clonakilty produces some of the best black and white Irish pudding, one set of Irish foods I miss the most. Clonakilty sausages are also among the best ingredients for a full Irish breakfast.
Cork is also famous for its cheese, with the Mitchelstown and Charleville producers located in the county. Gubbeen Farm Foods are located near Schull and produces artisan cheese. Other products from the Gubbeen Farm include ham, salami, free-range eggs, and organic vegetables.
If you are looking for other artisan produce, head to the Belvelly Smokehouse located 19km east of Cork. This is the oldest smokehouse in Ireland and the owner is happy to show you around (arrange ahead of your visit). Seafood and cheese are smoked here and if you can't make it to the house, there are stalls to buy the produce at Cobh and Midleton farmer's markets, and at the Cork English Market.
As for drink, the most famous distillery in Cork is the Midleton Distillery where you can join the Jameson Experience tour to discover how Irish whiskey is made, in one of the best Irish distilleries. Book your ticket ahead of your visit by clicking here.
The West Cork Distillers produce liqueurs, vodka, and a range of whiskies. Although there are no formal tours, visitors are welcome to arrange a visit (call ahead of time).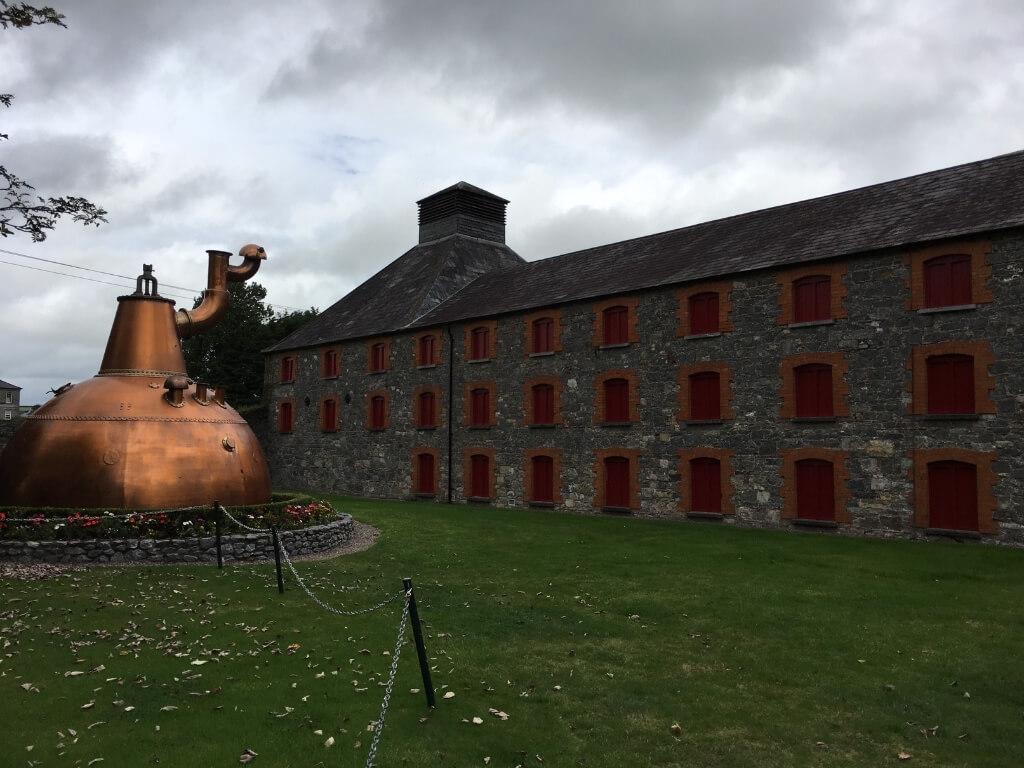 Where to stay in CORK
Luxury hotels in CORK
Castlemartyr Resort
This luxury hotel and resort is located 35-minutes east of Cork City. This is among the finest castle hotel resorts in Ireland and if it is luxury you are looking for, then you won't go wrong with this hotel. Stunning woodlands, a spa, golf course, and three dining options await you here. For more information and to book this hotel, click here.
Fota Island Resort
This 5-star hotel and resort is located on its own island is a haven outside of the bustling city of Cork. The resort has a luxury hotel, self-catering holiday homes, 3 golf courses, a spa, and much more. There are lots of on-site activities, plenty of dining options, and the hotel is ideally located for exploring Cork and Cobh. For the latest prices and availability, click here.
Hayfield Manor
This 5-star luxury hotel is located in Cork City and is the ideal place to stay if you want to be located in Cork City. This family-owned, boutique hotel is often voted among the best in Ireland and offers walled gardens, luxury accommodation, and a relaxing spa, all within a 15-minute walk to the city centre. If you fancy a luxury stay in the heart of Cork City, then Hayfield Manor is for you. Click here for more information and to see the latest prices and availability.
Budget-friendly hotels in CORK
Jury's Inn Cork
One of the best hotels in Cork for budget-friendliness is Jury's Inn in Cork City. Located on Anderson Quay, you will have a comfortable stay in this affordable hotel. The hotel is centrally located, has an all-day coffee bar, bar menu available, and a seasonal restaurant serving food after 6pm. Click here for the latest prices and availability.
Quality Hotel Youghal – Note, you should contact the hotel direct to enquire if they are taking bookings for 2022.
If you are looking for accommodation in the east of County Cork, then the Quality Hotel in Youghal is a perfect place to stay. With both hotel rooms and self-catering accommodation, this is a great place to stay in Cork, whether you are travelling as a couple or a family. There is a bar, restaurant, and leisure centre on-site. To find out more and see the latest prices, click here.
Casey's of Baltimore Hotel
If you would prefer to base yourself in West Cork, then consider checking in to Casey's of Baltimore. Located an hour and a half from Cork City, this hotel offers luxury stays at affordable prices. The hotel is located off the Wild Atlantic Way and has a variety of accommodation options, as well as a restaurant and easy access to lots of activities in the area. Find out more and check the latest prices here.
Things to know about County Cork, Ireland
If the county is new to you, or you don't know much about it, this section has some interesting facts about Cork to know before you go.
Where is County Cork? – County Cork is located in the south of Ireland and in the province of Munster. It has a coastline that lies on the Celtic Sea, an area of the Atlantic Ocean to the south of the Emerald Isle. Cork is bordered by Kerry, Limerick, Tipperary and Waterford.
County Cork facts:
Cork in Irish is Corcaigh, from corcach, meaning "marsh".
The county covers 7500 square kilometres (2900 square miles) and the population of County Cork is approximately 543,000.
It is one of the twenty-six counties of the Republic of Ireland.
Cork is the largest county of Ireland (all 32 counties), by size and 3rd in terms of population. Cork City is the 2nd largest in Ireland after Dublin.
Cork has two Gaeltacht (Irish-speaking) regions.
Cork has a mountainous region, the Shehy mountains which form part of the border between Cork and Kerry. The highest peak is Knockboy at 706m.
Rivers that flow through County Cork include the Lee, the Bandon and the Blackwater.
The Old Head of Kinsale is the start/end point for Ireland's famous Wild Atlantic Way Coastal Route.
Notable cities towns in County Cork – Cork City (only city), Bantry, Midleton, Youghal, Blarney, Cobh, Mallow, Clonakilty, Charleville, and Skibbereen.
Weather in Cork – Cork has a similar climate to the rest of the Emerald Isle, with warm summers and mild, wet winters. Summer days are long with high temperatures of 19˚C (lows of 11˚C), and short, dark winter days with high temperatures of 8˚C (lows of 3˚C). Rain is common throughout the year, with April being the driest month. Don't travel to Cork at any time of the year without a raincoat and umbrella. If you want to know more about the weather and best time to visit Cork, Ireland, read this post.
Famous people from Cork – Cork has produced its fair share of famous people including Michael Collins (revolutionary leader and hero, already mentioned), Sonia O'Sullivan (athlete), Jack Lynch (former Taoiseach), Micheál Martin (Taoiseach), Roy Keane (footballer), Graham Norton (TV personality), Jonathan Rhys-Meyers (actor) and Cillian Murphy (actor).
Final thoughts on the best things to do in Cork, Ireland
If you have been wondering what are the best things to do and see in Cork, I hope that this guide to the county has helped. From castles to islands and more, these are the best things to do in County Cork, Ireland.
More about visiting Ireland, Cork and its neighbouring counties: