Glamping is becoming ever more popular, especially in recent times when staycations and holidays at home are on the increase. Glamping in Ireland is no exception. Whether you are looking for glamping breaks in the north, south, east or west of the country, you'll find spots across the country. If you are looking for the best glamping in Wicklow, Ireland, then you'll find plenty of ideas right here.
*This post contains affiliate links, which may include Amazon affiliate links. To read more about affiliate links, please visit my Disclosure Policy page.
Best Glamping in Wicklow, Ireland
If you are looking for the best glamping Wicklow, Ireland has to offer, there are some great spots to choose from. In Wicklow, glamping spots are available for those who fancy a spot of camping with little luxuries. Whether you are looking to stay in a yurt, bell tent or even want to do a spot of treehouse camping, Wicklow has something for everyone!
Clissmann Horse Caravans
Address: Cronybyrne, Rathdrum, Co. Wicklow
If you are looking for Wicklow glamping pods with a difference, then you won't find any more unique than the Clissmann Horse Caravans. Located near Rathdrum, you have the option of staying at the site in a glamping caravan or hitting the road in your very own horse-driven caravan. If you fancy a spot of glamping in the Wicklow Mountains, Clissmann Horse Caravans offer a selection of 3-night horse caravan tours into the Wicklow Mountains so you can experience glamping from the road.
The colourful gypsy caravans are compact and cosy with two double beds. Bed linen, towels and extra blankets are provided, as well as hot water bottles to ensure guests are kept warm. Each caravan also comes with two gas cooking rings and a grill so you can make a lazy brunch after a good night's sleep. There is also a BBQ and picnic bench with each caravan at the site.
Guests have shared toilet and shower facilities, and the communal area has free WiFi, charging points and tea/coffee making facilities. The communal area also has a fridge/freezer for food storage. The site also has laundry facilities making it the perfect base for a longer getaway!
As well as lots of outdoor space on-site, locally there is plenty to do. Mount Usher Gardens is a short 12-minute drive from the farm, while the monastic site at Glendalough is just 10-minutes away. For those visiting with kids, the Clara Lara Fun Park is located just 5-minutes from the Clissmann site. There is plenty on offer in the local area for visitors to enjoy.
Glendalough Glamping
Address: Laragh East, Laragh, Co. Wicklow
If you are looking for glamping in the Wicklow Mountains, then the Glendalough Glamping in Laragh, County Wicklow is the place for you. Located just over 4km from the monastic site of Glendalough, Glendalough Glamping is set on a 21-acre farm that keeps a rare breed of Shropshire sheep.
Accommodation is in the form of glamping pods in which bed linen is provided. There is room for up to four people with two single beds and a sofa bed in each.
There are shared toilets, showers and cooking facilities as well as laundry available in the purpose-built lodge where guests are checked in and where you can find the communal dining area. Free WiFi is included.
There is not much to do on-site but all the Wicklow attractions such as Glendalough, the Wicklow Mountains National Park and more are within easy driving distance. Glendalough Glamping is ideal for couples who love peace and quiet and being closer to nature.
Note: Glendalough Glamping is an adults-only site.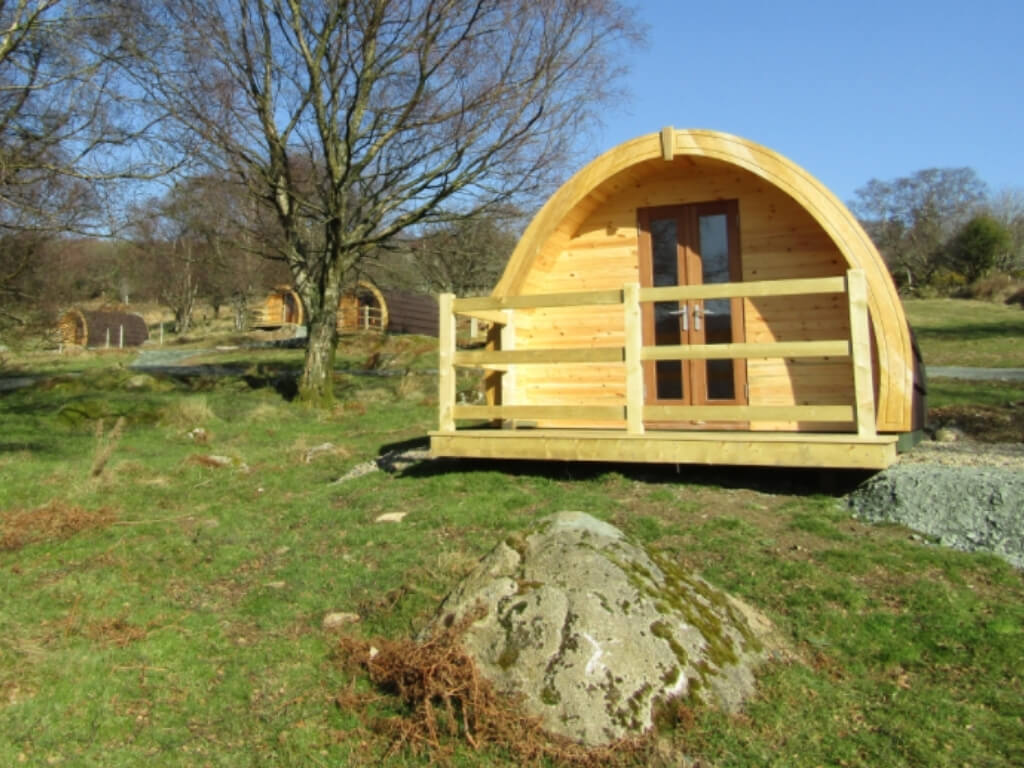 The Old Forge Glamping
Address: Munny House, Money Upper, Munny Upper, Co. Wicklow
The Old Forge Glamping, Wicklow is located near the Wicklow/Carlow border, in quiet woodland on the grounds of a historic Georgian house, overlooking Lugnaquilla. Open from April to September, this is a great place for a quiet getaway in County Wicklow.
Glamping at the Old Forge comprises four yurts, a log cabin and a 3-bedroom cottage. Each yurt and cabin comes with its own personal BBQ and campfire, perfect for toasting marshmallows. Each tent comes with a double bed and two singles, with bed linen provided but not towels. Outside there is a table and chairs at each tent.
There is an outdoor bar, plenty of spaces for kids to run around in, a fully furnished kitchen and toilet/shower facilities.
The Old Forge is located close to the Wicklow Way where guests can enjoy walking trails from 4km to 20km in length. Rathwood, with its woodland walk, playground and falconry is just 4km from the Old Forge. Less than 10km away is Huntington Castle and Gardens, and also Altamont Gardens.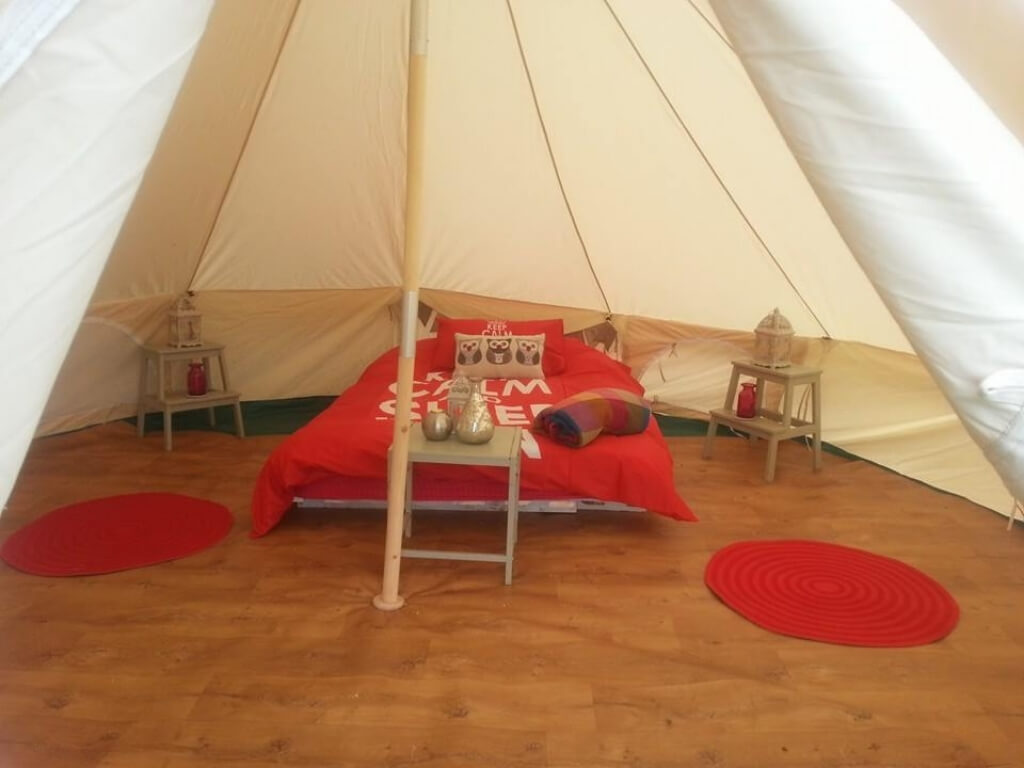 River Valley Holiday Park
Address: Main Street, Ballygillaroe, Redcross, Co. Wicklow, A67 H799
At River Valley Camping, Wicklow glamping doesn't get much better with treehouses, huts and lodges on offer. Whether you are glamping in Ireland as a family or couple, River Valley Holiday Park has it all. Families are located close to amenities while adults-only friends and couples have a child-free section of the park all to themselves.
River Valley Wicklow glamping accommodation comes in the form of 2 Treehouses, Kukoo Huts and a micro- and maxilodge. The Treehouses can accommodate 6 people split between two sides. On one side there is a table and chairs, double and two single beds, while the other side has a double bed and toilet with basin. There is a balcony separating the two sides. Bed linen and towels are not provided.
The Kukoo Hut, of which there is one, accommodates 2 adults and 2 children. This has a picnic table outside and a small fridge and microwave inside but no toilet. However, the amenities block is located very close to the hut. Bed linen and towels are not provided so you need to bring your own.
The Microlodges (two available) are similar to the hut with a double bed, two single, small fridge and microwave but no toilet. Again, you must bring your own sleeping bed linen. The Maxilodge, of which there are 5, can sleep 2 adults and 3 children, although the third child should be under 7 years of age to fit in the smaller bed. Again, it has a picnic table, small fridge and microwave but no toilet and you need to bring your own linen.
There is an amenities block located near to the hut and lodges which has shared toilets, showers, sinks, laundry and the camper's kitchen.
Activities on-site are extensive with tennis, table tennis, pedal go-karts, crazy golf, pet's corner and a playground. During July and August, there is evening kids' entertainment and a morning kids club at weekends in June and September and every day in July and August. There is also archery, badminton, indoor football and basketball, and pool tables.
Off-site, visitors can surf at Brittas Bay, one of the best beaches in Ireland, and there is horse riding available nearby. Other places nearby to visit include Clara Lara Fun Park, Glendalough and the Glenroe Open Farm. You can also visit the Powerscourt Estate and River Valley makes the ideal base for exploring the Wicklow Mountains National Park.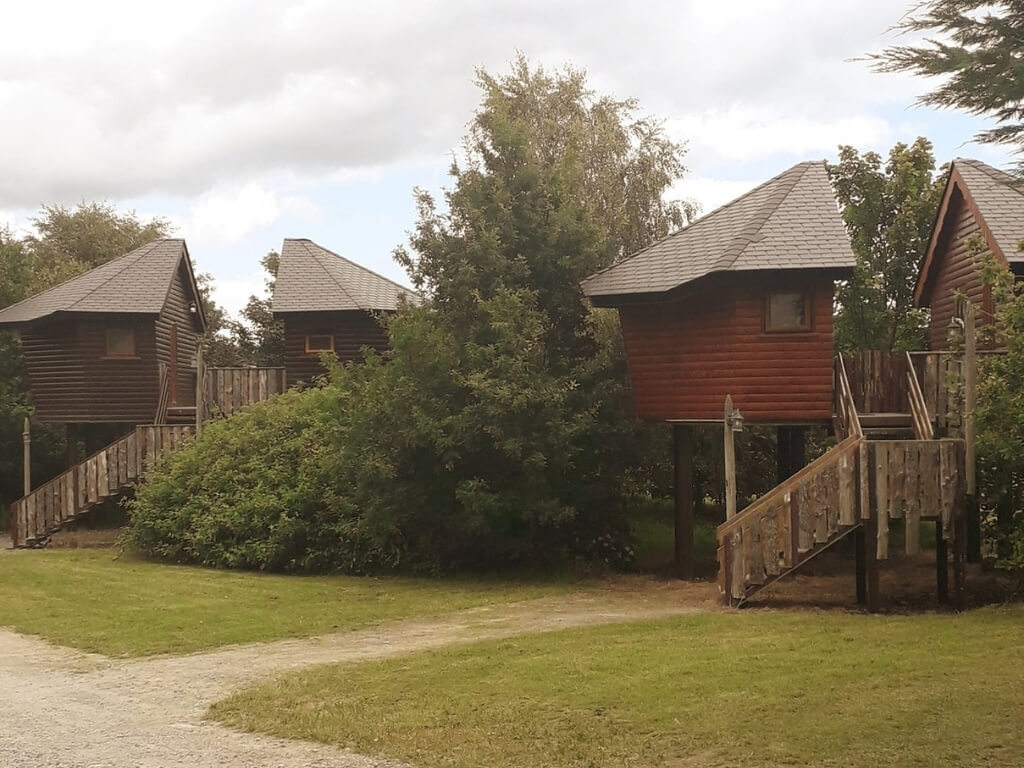 Hidden Valley Holiday Park
Address: Lower Main St, Glasnarget North, Rathdrum, Co. Wicklow
Hidden Valley Holiday Park is located in Rathdrum and is a family-run set in a quiet valley near the Avonmore River. There is a lake on-site and nature is never far away.
The Hidden Valley Camping, Wicklow offers glamping accommodation in the form of lodges. There are Glamping Mini Lodges which can accommodate up to 5 people and come with a picnic table, small fridge and kettle. Bed linen and towels are not provided. Next up are the Loft House Glamping Lodges which can accommodate up to 6 people which again come with a picnic table, small fridge and kettle. And again, you must bring your own bed linen and towels. There are a few ensuite units.
Lodges do not have kitchens or bathrooms but guests can use the shared camper's facilities nearby which have toilets, showers, laundry and camper's kitchens.
A new addition to Hidden Valley Glamping Wicklow is the Boutique Lodges. The Boutique Lodge can accommodate two adults and four children and comes with a kitchenette (with a kettle, toaster, fridge and microwave), dining area and a bathroom. There is a picnic table outside and BBQ stands for disposable BBQ's only. These are private with parking but you must bring your cooking and eating utensils, bed linen and towels. The Boutique Lodge XL is similar to the Boutique Lodge but can accommodate two adults and six children.
On-site activities include the Lakehouse Restaurant, Kid's Outdoor Adventure Fun Park, Family Laser Tag, Boating Lake, Mini Golf, Bungee Trampolines and playgrounds. There are also cinema nights at weekends during the high season.
If you fancy venturing out of the holiday park, Hidden Valley is ideally located for exploring Wicklow and visiting places such as Brittas Bay, Glendalough and Mount Usher Gardens.
Knockrobin Glamping
Address: Rathnew, Wicklow, A67 EE09
Located not too far from Wicklow Town, and a short stroll from Tinakilly Country House Hotel is Knockrobin Glamping. Knockrobin Glamping, Wicklow is one of the newest sites in the county and combines luxury with the countryside.
Glamping at Knockrobin is in 10 luxury bell tents with comfortable beds, fresh bed linen and private decks. Hotel-style bathrooms are shared and located close to the bell tents. Towels and toiletries are provided, as is a Continental-style breakfast, making this the ultimate in luxury glamping. Guests can also use the communal kitchen and there are BBQ's on-site as well.
Activities on-site are limited to walking and enjoying the surrounding countryside. This makes Knockrobin the perfect place for a relaxing getaway. Knockrobin Glamping is located near Wicklow Town meaning it is a great base for exploring the county with places like Glendalough, the Powerscourt Estate, Mount Usher Gardens, Brittas Bay and more within easy reach.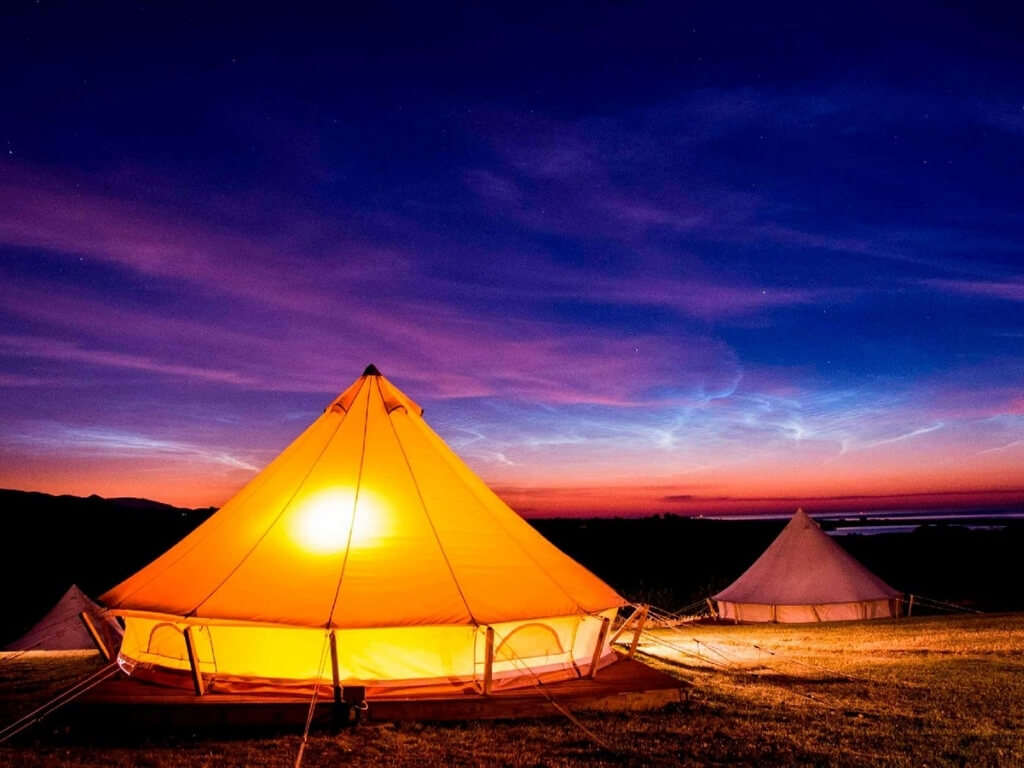 Tipi Adventures Ireland
Address: R755, Ballyhad Lower, Rathdrum, Co. Wicklow
If you fancy glamping with a difference in Wicklow, then head to Tipi Adventures near the village of Rathdrum. Located in a forest beside the Avonmore River, Tipi Adventures offers outdoor sleeping in a private wilderness site.
At Tipi Adventures you can sleep in a tipi (teepee tent), in a hammock or even a tree tent. Rustic tipis sleep up to 6, tree tents are suitable for up to 3 people and hammocks are of course designed for one.
Tipi tents come with a groundsheet, six pallet beds and sleeping mats, you just need to bring your own sleeping bag. Tree tents are suspended above the ground and offer hammock-style sleeping but with the space of a tent. This is outdoor glamping at its best!
This is an outdoor site in a quiet, outdoor location so catering facilities must be pre-booked and toilets are eco-friendly, composting toilets. There is no running water or electricity so you must bring your own drinking water and food.
In terms of activities, nature provides plenty of things to do including taking a dip in the nearby river (weather permitting), walks in the forest, and there are a variety of courses and adventures that can be booked with Tipi Adventures including learning outdoor and survival skills (payable).
Away from the site, you can easily reach most activities in Wicklow including Clara Lara Fun Park, the Kilmacurragh Botanic Gardens and Brittas Bay.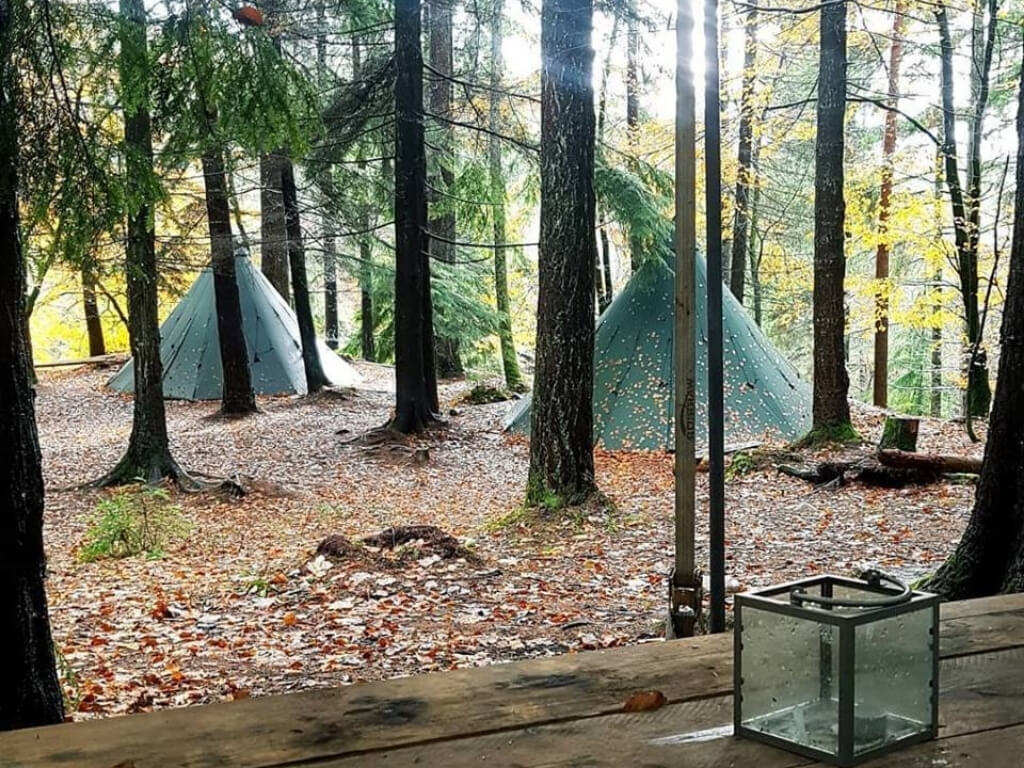 Hopefully, this list gives you some idea of the best glamping in Wicklow should you be looking to spend some time in the county and are looking for unique places to stay in the area.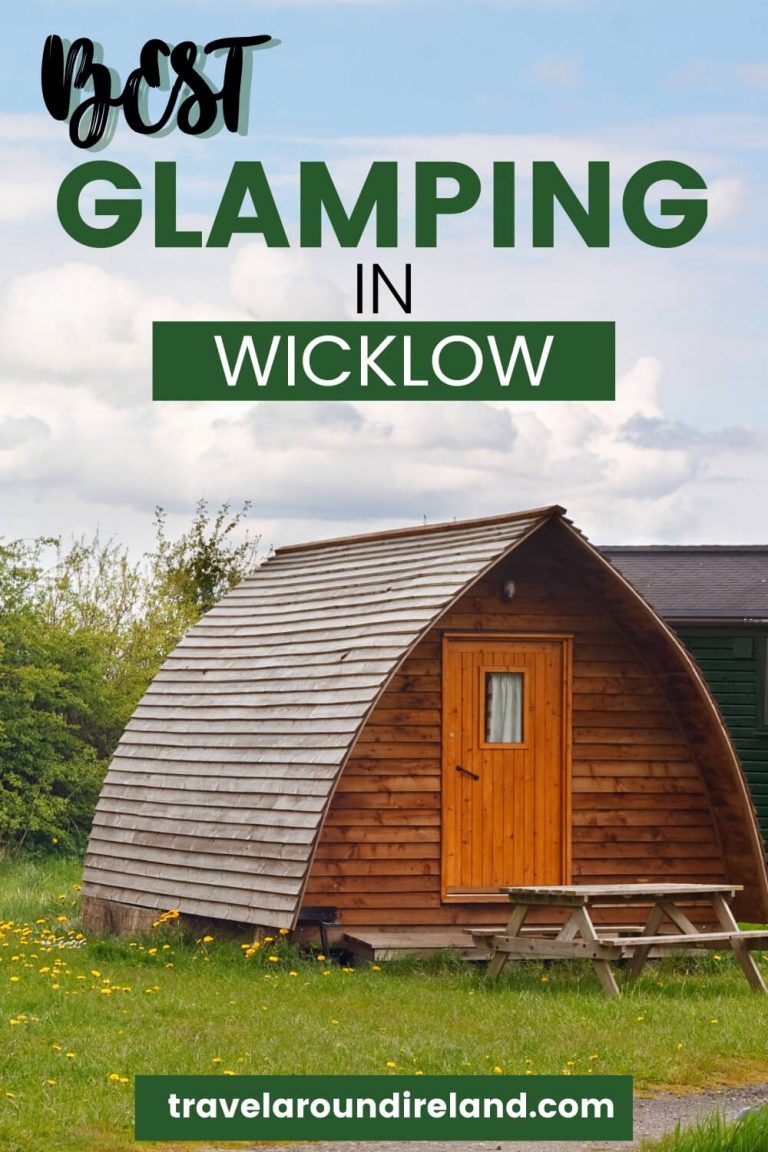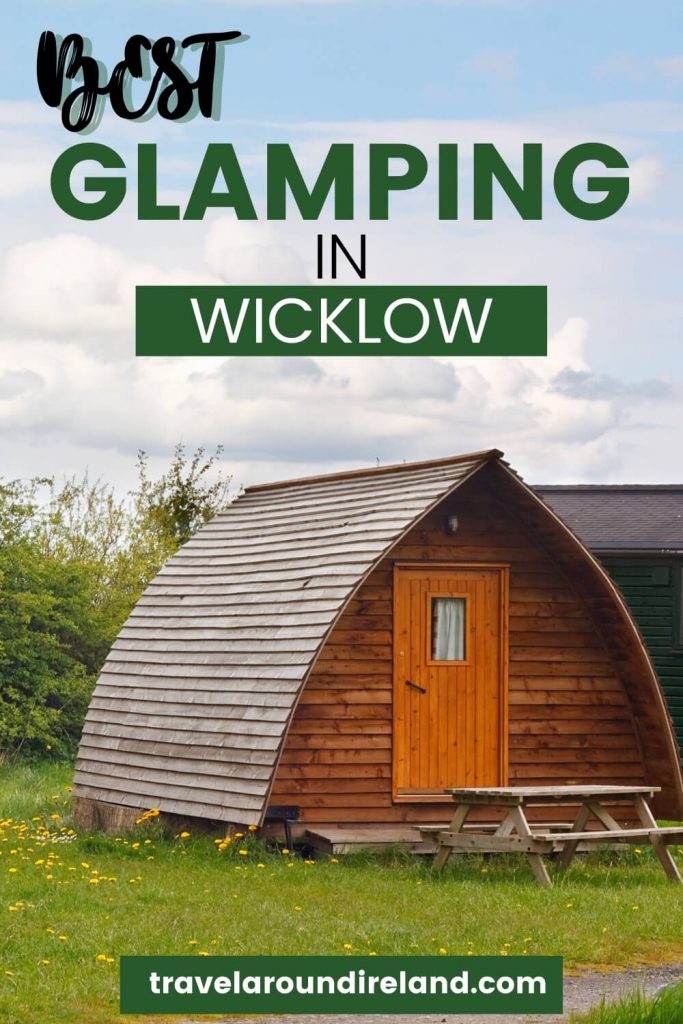 Related Posts