County Carlow is the second-smallest county in all of Ireland and does not often make people's list of places to visit in Ireland. And that is a shame because it has plenty to offer visitors to this part of the southeast of Ireland. Learn more about the county and discover the best things to do in Carlow, Ireland below.
Founded by the Normans in 1207, Carlow is one of the oldest counties in Ireland. It is often known as the Dolmen County thanks to the Brownshill Dolmen (see more below). But there is more to Carlow than meets the eye. Discover all the things to do in Carlow to help you decide whether to add it to your Ireland itinerary.
*This post contains affiliate links, which may include Amazon affiliate links. To read more about affiliate links, please visit my Disclosure Policy page.
Best things to do in Carlow, Ireland
Discover some of the best things to do and the best places to visit in Carlow with this list. From historical sites and castles to the beauty of nature, County Carlow packs a punch for a small county in the southeast of the Emerald Isle. With this list of the best Carlow attractions, you'll soon be considering a stop there.
Carlow Town
Carlow Town is quite a compact county town compared to some of the others, but there are still plenty of things to do around Carlow Town. Being situated on the River Barrow, walks along the riverside are one of the best things to do in Carlow for free.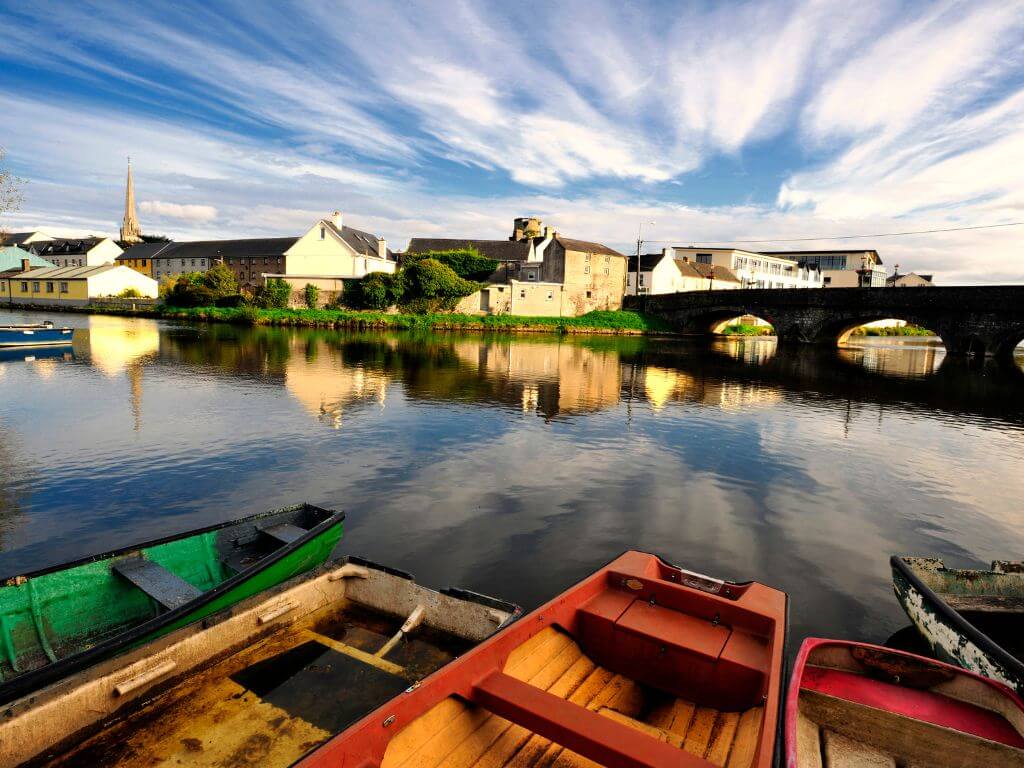 Walk around Carlow Town and you will find a few museums (see below), a ruined castle, a cathedral, and a courthouse that has beautiful architecture. Appearing like a Greek temple, Carlow Courthouse was built in the Neo-classical style and was completed in 1834. If you like architecture, then visit this.
Also in Carlow Town is an impressive cathedral (pictured below_. Dating from 1833, this cathedral was built in the Gothic Revival style. It has an elaborate pulpit, and stunning stained-glass windows and is free to visit.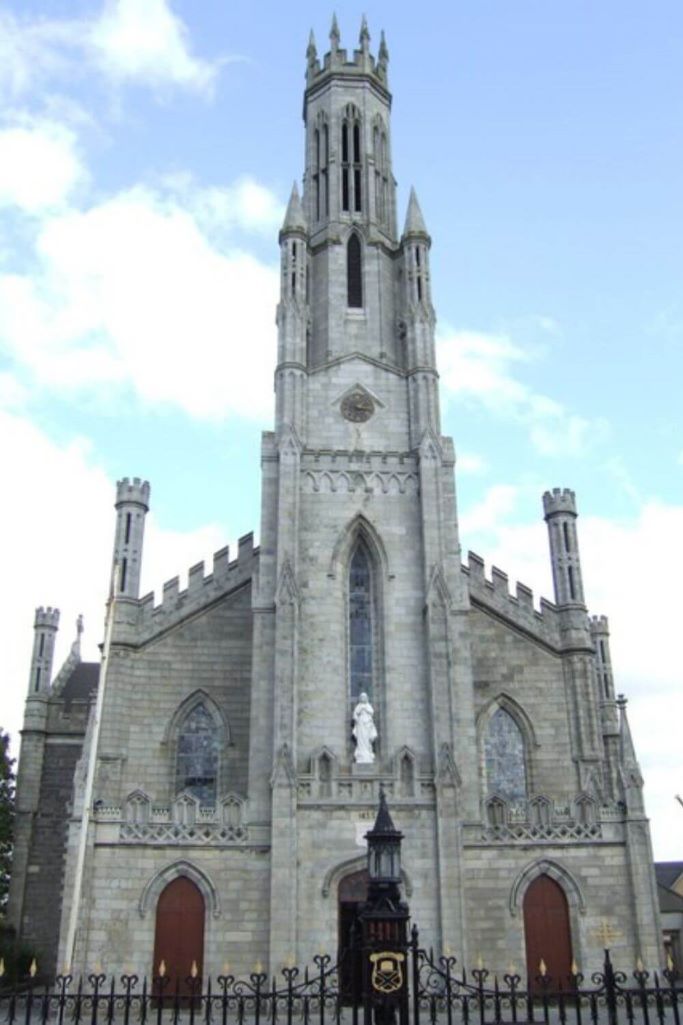 On the northern edge of the town is where you will find the Delta Sensory Gardens. Situated on 1 hectare of land, there are 16 interconnected areas, all beautifully landscaped and manicured with sculptures, ponds, waterfalls, and more spanning the five senses. There is a small entry fee to visit the gardens, the proceeds of which benefit the adjoining Delta Centre which provides a variety of services and respite for adults with learning difficulties.
Carlow Town also has a cultural centre in the form of the Visual Centre for Contemporary Art, housed in an impressive modem building. Within its walls, you will find the largest single exhibition space in Ireland with many permanent and temporary exhibitions to be found throughout the centre. It also houses the George Bernard Shaw Theatre.
Castles in Carlow
If you love history, then you will enjoy the many castles in Carlow, Ireland. Like all counties of Ireland, Carlow has several castles located within its borders and I've chosen to highlight the three best ones here.
Carlow Castle is located within the town itself, close to the River Barrow. Built in the early 13th century by the famous William Marshal, 2nd Early of Pembroke, the castle was a towered keep and was believed to be one of the finest of its kind at the time in Ireland. Today it is mostly ruined with just the outer face of the west wall and two adjoining towers remaining. However, if you are visiting Carlow Town, it is worth going to see the castle.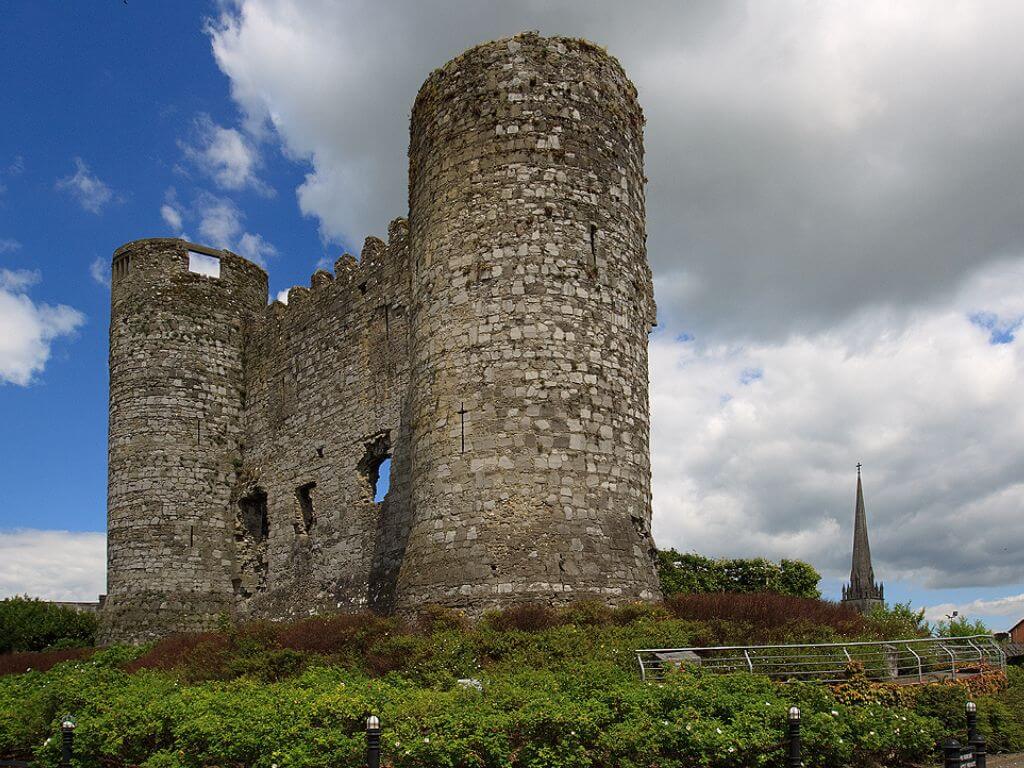 One of the best castles in Carlow to visit is Huntington Castle and Gardens. Located in Clonegal, this impressive castle is intact and still in the hands of the descendants of Lord Esmonde who was granted the castle for his loyalty to the British crown. The castle is still a private residence but is open for tours during the summer months.
The gardens at Huntington Castle are as impressive as the castle itself and include seasonal gardens, a water garden, a woodland playground, and a beautiful yew walk. If you plan to visit the castle, allow extra time to enjoy the gardens. I can highly recommend visiting this castle
And another of the great castles in Carlow to visit is Duckett's Grove. Carlow has many ruined castles but in my opinion, the most impressive is Duckett's Grove. Built during the late 18th century and completed in 1825, the castle was originally styled as a great Georgian country house and later redesigned in the Gothic Revival style which is where its castellation appearance comes from. Unfortunately, it was damaged by fire in the 1930s and the interior is now inaccessible.
However, that said, the building still gives you an idea of just how grand it must have looked in its time. While the castle is closed, the gardens and surrounding land are open to the public. There is a walled garden that changes from season to season, and lovely walks around the castle, particularly the back.
There are some stables in use that house a craft and gift shop which are open during weekends and for special events. Duckett's Grove is free to visit and is a remarkable building set against the landscape surrounding it. We have visited it several times and it never gets any less impressive.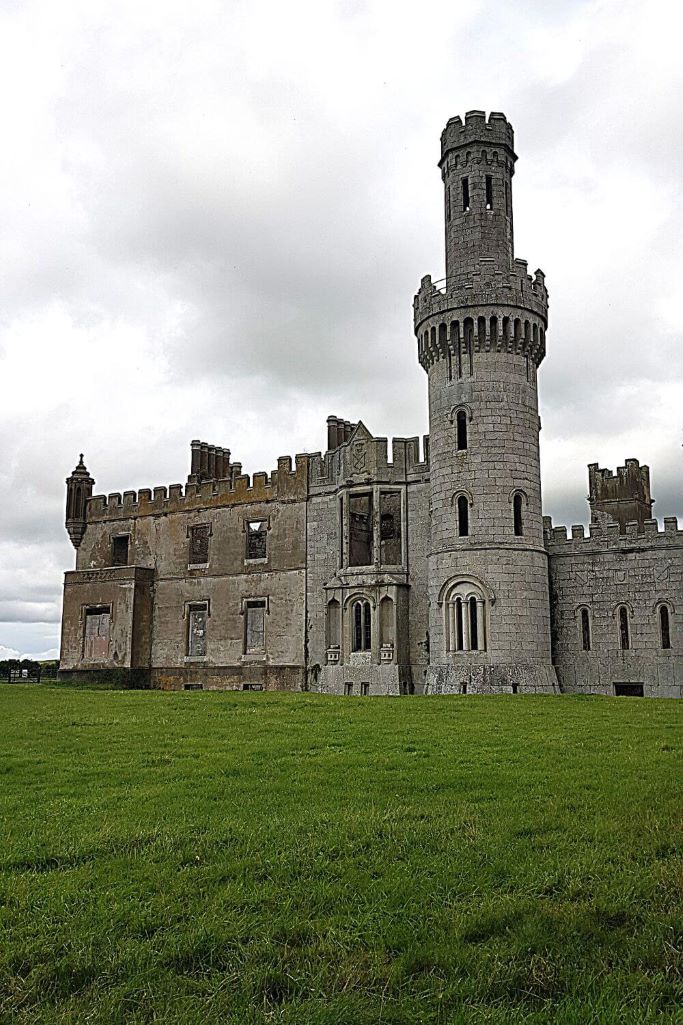 Brownshill Portal Tomb Dolmen
As mentioned, Carlow is often known as the Dolmen County and that is largely due to the Brownshill Dolmen. Dating from the early Neolithic period, between 3000 and 4000BC, this large megalithic portal tomb is located 3km from Carlow Town and is reputed to have the heaviest capstone in Europe, weighing in at more than 100 tonnes.
It is set in a quiet meadow and is one of the most popular Carlow tourist attractions with locals and visitors alike. While you won't spend a huge amount of time at this site, it is worth visiting, if only to wonder at how prehistoric man got such a heavy capstone in place. Note that there is a small car park there.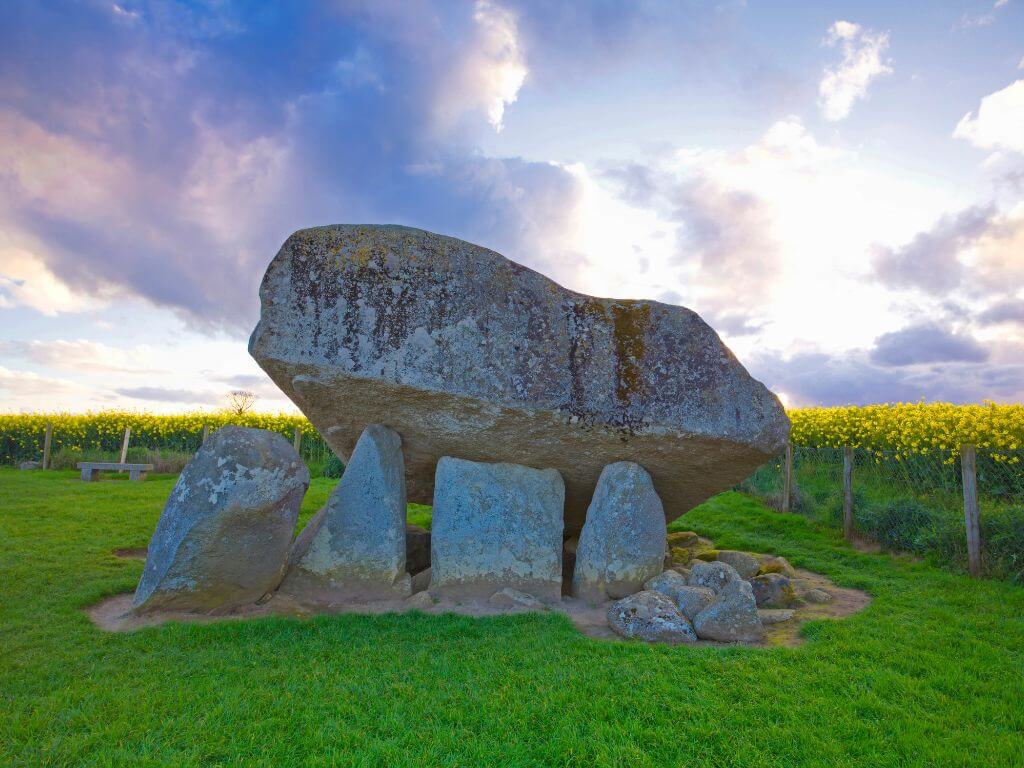 Altamont Gardens
One of the top things to do in County Carlow is to visit the Altamont Gardens. One of Ireland's finest landscaped gardens, Altamont is where you can see snowdrops in Spring, bluebells in late Spring, and some of the best autumn colours in Ireland.
Covering 16 hectares on the banks of the Rover Slaney, at Altamont visitors can enjoy beautifully landscaped gardens, enjoyable walks through an Arboretum, Bog Garden, and Ice Age Glen, and immerse themselves in formal and informal gardens that change throughout the seasons. Note that entry is free but there is a small charge for parking.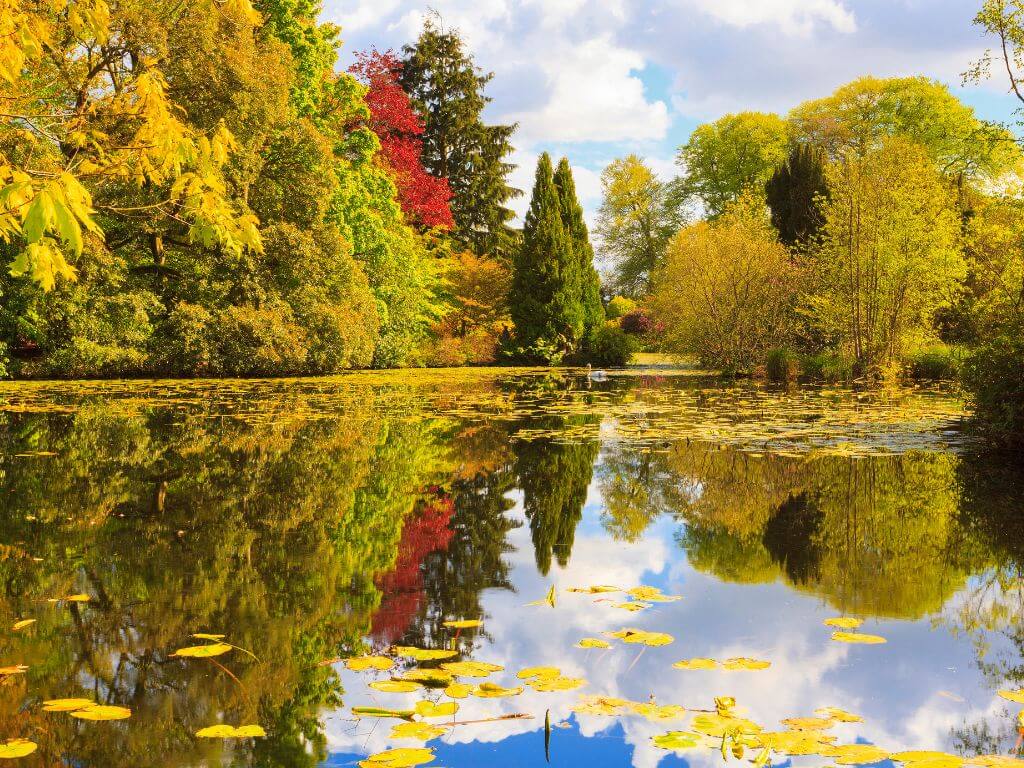 Carlow distilleries and breweries
Some of the places to go in Carlow if you are not visiting with kids are its distilleries and breweries, of which there are a few.
The Walsh Whiskey Distillery is in County Carlow and is one of the best distilleries to visit in Ireland. Established in 1999, the distillery is a family-owned business that produces fine Irish whiskey.
The Carlow Brewing Company is another fun place in Carlow to visit. Producing the O'Hara brand, the brewery makes traditional Irish stout, ales, wheat beers, and lagers. The brewery was established in the 1990s and offered tours before the pandemic. You should get in touch with them to see if they have restarted their brewery tours.
Note that the distillery tours at the Royal Oak Distillery are no longer running.
Borris Viaduct
If you are looking for unique Carlow things to do, then swing by the Borris Viaduct. This railway viaduct dates from the 19th century and has 16 arches supporting limestone pillars. It is one of the great engineering feats of the time and rises some 60ft high and spans both the Borris and Mountain River Valley.
The viaduct was built for the train route between Wexford and Bagenalstown, a route that travelled 48 miles through the Blackstairs Mountains foothills. Although passenger services across it ceased in 1931, goods services continued for another 16 years before they stopped and the line was permanently closed in the 1960s.
Today, you can walk along the top of the Viaduct and enjoy the views of the scenic landscapes surrounding it. At various points along it, there are information boards about the viaduct and its history and there is a car park for visitors.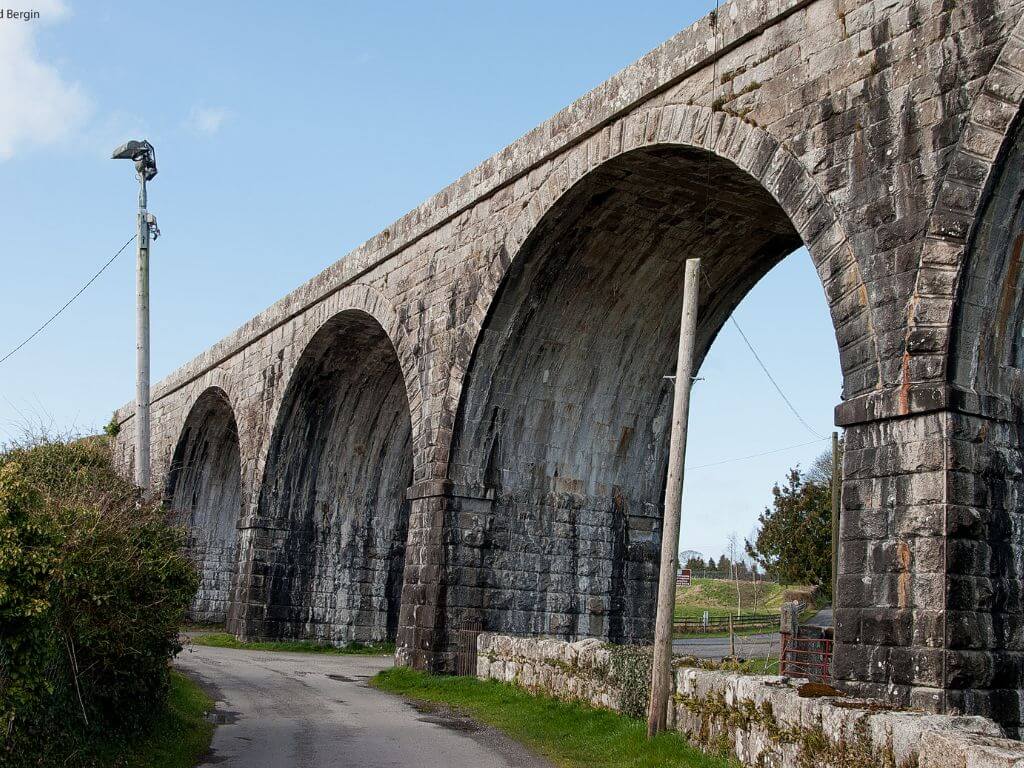 Borris House
Located near the town of the same name, Borris House is the ancestral home of the McMorrough Kavanaghs. Built in the 1730s in the Tudor style, it is one of the few great houses in Ireland that remains in the hands of the original family.
Borris House is a private residence and is not open to the public throughout the year. During the months between April and September, the house opens for guided tours, and occasionally events are also held on the estate. If you are visiting the house during the summer months, make sure to allow time to enjoy the walks around the estate and in the woods.
Museums
There are a number of museums to visit in County Carlow. The Carlow County Museum is located in Carlow Town and is dedicated to the history of the inhabitants of the town and surrounding area.
There are many interesting exhibits including a trapdoor from early 19th century gallows and a 6m-high carved pulpit from Carlow Cathedral. The building also houses the county archives and library. It is free to enter and with it being an indoor attraction is ideal for sheltering from the rain if the heavens open.
If you want to learn more about the history of County Carlow and the people that have lived there over the centuries, then make sure to add this to your must-visit list of places to see in Carlow.
Located in a 19th-century church building in Carlow Town is the fascinating County Carlow Military Museum. The museum is dedicated to the preservation display of military memorabilia whose artefacts were donated by the families of military servicemen from the area.
With over 4500 items from as far back as the 1798 Rebellion, artefacts on display also include items from the 1916 Easter Rising and World War I. Note that the museum is only open on Sunday afternoons.
Nature
Some of the fun things to do in Carlow involve getting outdoors. With beautiful scenery and landscapes all around, if you are interested in the outdoors, then you will find plenty of outdoor activities in Carlow.
Oak Park Forest Park is a great place to enjoy the outdoors in County Carlow. Situated on the outskirts of Carlow Town, the park is 50 hectares of woodland containing tree species such as oaks, pine, fir, and beech, among others. There are also several colour-coded walks through the woodland for those of varying abilities.
The Barrow Way is a long-distance walking trail that follows the path of the river. Walking the Barrow Way is a popular outdoor thing to do in Carlow, taking in towns such as Leighlinbridge, Bagenalstown, Goresbridge, Graiguenamanagh, and St Mullins.
The entire route covers 114km or 70 miles, but many people opt to just take on part of the route. The route is mostly flat, but can be uneven in parts, and some passes through farmland. However, the scenery along it is worth the visit.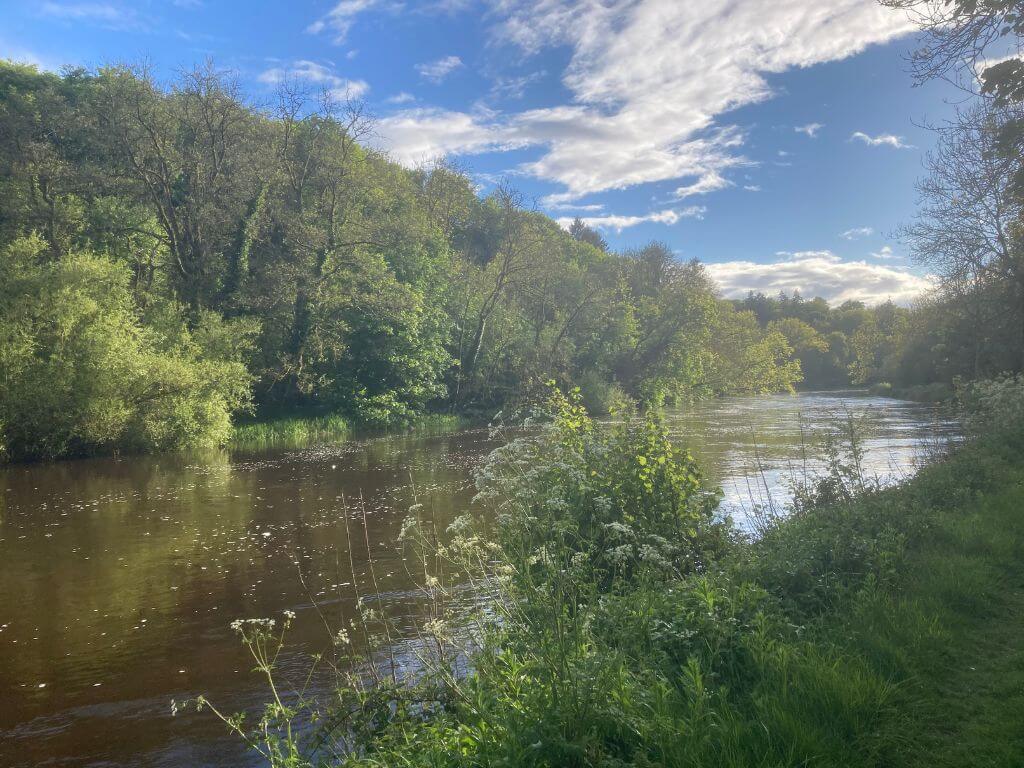 The South Leinster Way is a 102km trail that starts in Kildavin County Carlow and ends in Carrick-on-Suir in County Tipperary. To complete the entire trail typically takes 5 days but many people, like the Barrow Way above, opt to walk just part of the route. Along the route, visitors pass old country towns, ruined demesnes, and lots of woodlands.
Rathwood Forest Walks is a set of easy trails located at Rathwood and cover over 4km. There are trails for those of all abilities with benches along the routes to sit and enjoy the peace and quiet of the surrounding nature. With a variety of native flora and fauna, it's a great place to visit if you want a gentle walk in nature.
Last but not least, you can also get out and enjoy the rivers that flow through County Carlow. There are boat trips along the Barrow in Carlow with boatrips.ie which are a gentle meander along the river, departing from Carlow Town. This is another way to enjoy the great outdoors in Carlow.
Chocolate Garden of Ireland
Located in the village of Rath near Tullow in County Carlow is the Chocolate Garden of Ireland. This award-winning family business creates handmade chocolate, ice cream, and a range of other treats.
At the Chocolate Garden of Ireland, visitors can enjoy a range of experiences including afternoon tea, chocolate mold making, and other chocolate workshops. There is also a café, ice cream parlor, and a play area for those visiting with kids. And of course, you can buy plenty of delicious treats in the shop. Note, you must pre-book your experience.
Milford Mills
Another unique place to visit in Carlow is Milford Mills. This 18th-century watermill sits on the River Barrow in the town of Milford, hence the name. It was originally built as a flour mill and malting house but was later converted into a hydroelectric power station, and it continues to produce power for the national grid even today.
You won't spend much time there and as the mill is actively producing electricity for the grid, you cannot go in, but there are some lovely walks around it and you might even be lucky enough to spot otters on the weir.
Where to stay in Carlow
Luxury hotels in Carlow
Mount Wolseley Hotel, Spa & Golf Resort
Located in the rolling countryside near Tullow, the Mount Wolseley Hotel, Spa and Golf Resort is a 4-star luxury resort that is just an hour from Dublin and that has easy access to other places such as Waterford, and Kilkenny. Guests can enjoy a tranquil and luxurious stay with leisure facilities, golf, dining options, and even guest houses for larger parties. Click here to discover more and to book your stay today.
Woodford Dolmen Hotel
One of the best Carlow hotels for travellers to stay in is the Woodford Dolmen hotel. This 4-star hotel is situated 3km outside of Carlow Town and offers a family-friendly setting with plenty of amenities on site including dining, free parking, and WiFi. Click here to see availability, the latest price or to book your stay.
Lord Bagenal Inn
A great 4-star hotel to consider for your trip to Carlow is the Lord Bagenal Inn, located in Leighlinbridge. This family-run hotel has been operating for more than 40 years and offers its guests the ideal mix of comfort and convenience. With WiFi, free parking, and plenty of dining options, and with its location along the banks of the River Barrow and on the Barrow Way, this is an ideal location for those looking to enjoy the outdoors in County Carlow. Click here to find out more information and to book your stay.
Budget-friendly hotels in Carlow
Talbot Hotel
Conveniently located in Carlow Town, the Talbot Hotel is a four-star hotel located 5 minutes from the centre of town and just one hour's drive from Dublin. With a choice of spacious rooms, interconnecting family rooms and two suites, dining options, and a fitness club, the Talbot is a budget-friendly choice in Carlow Town. Click here for the latest prices, availability and to book your stay.
Dinn Ri Hotel
The Dinn Ri Hotel in Tullow is an excellent 3-star hotel in County Carlow that offers guests a comfortable but budget-friendly stay. The hotel has 10 boutique-style bedrooms, a bar, and a restaurant. Note that this hotel does not have free parking, although there is paid parking near the hotel that guests can use. Click here to see more or to book your stay.
Avalon House Bed & Breakfast
Another great budget-friendly option for accommodation in Carlow is the Avalon Bed and Breakfast. This award-winning B&B is located in Carlow and has off-road parking with CCTV, en-suite rooms, and daily breakfast, this is a great option for your Carlow stay. Click here to see more information and to book your stay.
Things to know about County Carlow, Ireland
If you've never visited Ireland or ventured to this part of the Emerald Isle, this section is dedicated to sharing some more information and facts about Carlow, Ireland.
Where is County Carlow? – Carlow is located in the Southeast region of Ireland. It is part of the Republic of Ireland and is landlocked, bordered by Kildare, Laois, Kilkenny, Wicklow, and Wexford.
County Carlow facts:
Carlow is thought to have derived from the Irish 'Ceatharlach', which means four lakes (ceathar meaning four, and loch meaning lake). But it is also believed that the first part of the name, ceathar, comes from the Old Irish word cethrae meaning animals, flock, herd, or cattle, with the lach referring to a place of cattle or herds.
The county covers 897 square kilometres (346 square miles) and the population of Carlow is just less than 57,000.
It is one of the twenty-six counties of the Republic of Ireland.
Carlow is the 31st smallest county of Ireland (all 32 counties) by size and the 30th smallest by population.
County Carlow's highest mountain peak is Mount Leinster and you will also find the Blackstairs Mountains in the county.
Carlow has several rivers flowing through it, including the Barrow and the Slaney.
Given its name, there are four lakes in Carlow.
Notable towns in Carlow – Carlow (the county town), Borris, Clonegal, Hachetstown, Nurney, Tinnahinch, and Tullow.
Weather in Carlow – Like much of Ireland, Carlow experiences wet, mild winters with temperature lows of 8C in the day and 2C at night, and short dark days. Summer brings drier, brighter weather with temperature highs of 20C during the day and 11C at night, accompanied by longer days. As with all of Ireland, rain is common throughout the year, so don't go without a raincoat, even in summer. To find out more about the weather in Ireland and the best time of year to visit Ireland, read this post.
Famous people from Carlow – A few famous people hail from County Carlow including Pierce Buttle, a soldier, planter, and statesman who is recognised as one of the US's Founding fathers. Rugby player Sean O'Brien and jockey David Mullins also come from County Carlow. But the most famous person from County Carlow is Saoirse Ronan, Oscar-nominated Irish actress, who grew up in the county.
So now that you've discovered the best things to do in Carlow and the best places to stay in Carlow, will you be adding it to your list of places to visit in Ireland? It is the perfect place to visit outside of Dublin if you are planning to head south and are looking for a stop along the way.
More guides to visiting Ireland: