In the Midlands region of Ireland sits the little known county of Laois (pronounced leash). As one of the smallest counties in Ireland, it is often travelled through by visitors on their way to the likes of Limerick or Cork. But, it is a pretty county and you're about to discover some of the best things to do in Laois, Ireland which might make you consider stopping there during your next trip in Ireland.
*This post contains affiliate links, which may include Amazon affiliate links. To read more about affiliate links, please visit my Disclosure Policy page.
As one of the most southerly counties in the Midlands of Ireland, Laois may be small but it packs a punch. From unspoiled nature to a rich and diverse history, country estates and ruined castles, you are going to learn just some of the top things to do in County Laois, Ireland which will put it on your radar and make you consider spending a night or two there during your next exploration visit to the Emerald Isle.
Best things to do in Laois, Ireland
If you've ever wondered what to do in Laois, wonder no more. Despite being one of the lesser-known counties of Ireland as mentioned, there is plenty to offer visitors who choose to spend some time in this little county. Discover 10 amazing things to do in County Laois, Ireland and put this on your itinerary for your next trip.
Slieve Bloom Mountains
The Slieve Bloom Mountains in Laois create part of the border between it and County Offaly. Although they are not very tall, standing 527m at their highest point, this small mountain range offers a change to the landscape from the mostly flat central plains of the Midlands.
Along with the Massif Central in France, the Slieve Bloom are the oldest mountains in Europe and once stood over 3000 metres in height. They stretch from Roscrea (Tipperary) in the south to Rosenallis (Laois) in the north.
Along with natural beauty and wildlife, visitors can enjoy walking and hiking along six trails of varying difficulty. The longest is the Slieve Bloom Way, a 75km (48-mile) circular trail that meanders through wooded glens, open vistas and mountain streams. Many of the other trails lead to this trail.
Find more information about the Slieve Bloom Way here. There is accommodation available in Kinnitty but nowhere else on the trail, although there are other village and towns strung across the base of the mountain range where you may find accommodation.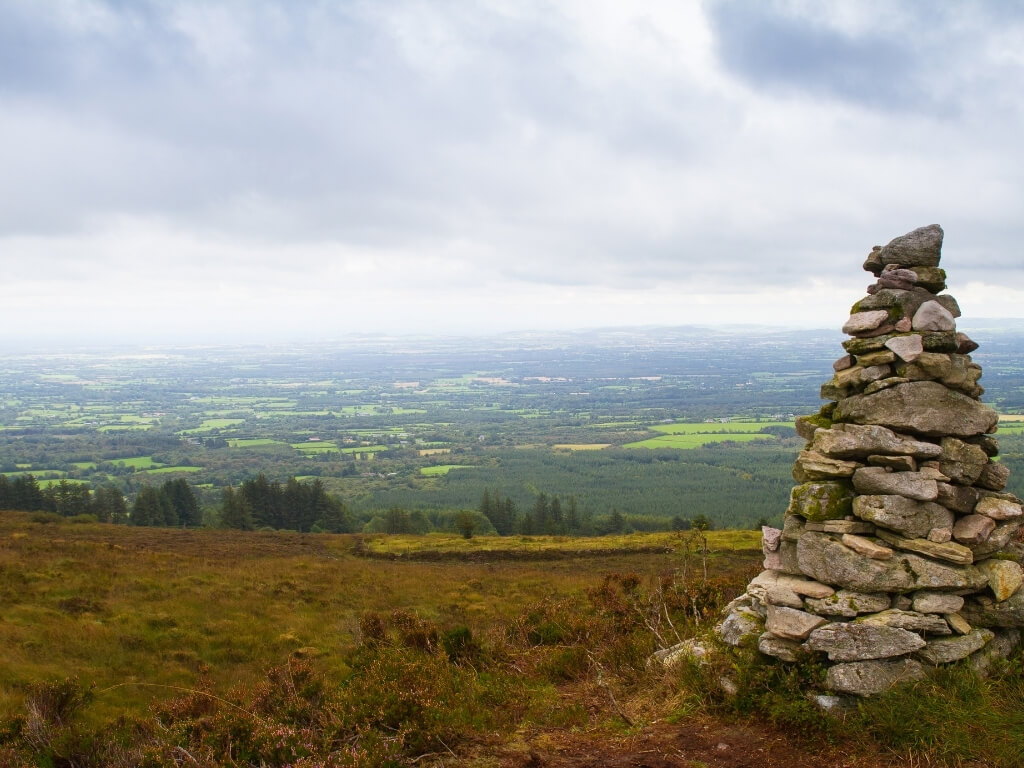 Rock of Dunamase
One of the best things to do in Portlaoise, Ireland is to visit the Rock of Dunamase. Portlaoise is the county town of Laois and the Rock of Dunamase is just a short 7-minute drive from the centre of town.
This rocky outcrop sitting 46 metres above the plains of Laois is home to the ruins of Dunamase Castle. This was an early Hiberno-Norman stronghold established in the 9th century on an Iron Age ring fort and the current ruins were built in the 13th century but destroyed by Cromwellian forces in the 17th century.
You can explore the ruins by climbing steep banks and ditches. Through two gateways you can enter the fortified courtyard, the views from which can reach all the way to the Wicklow Mountains on a clear day.
There is no entry fee, you just need to climb up and take in the views.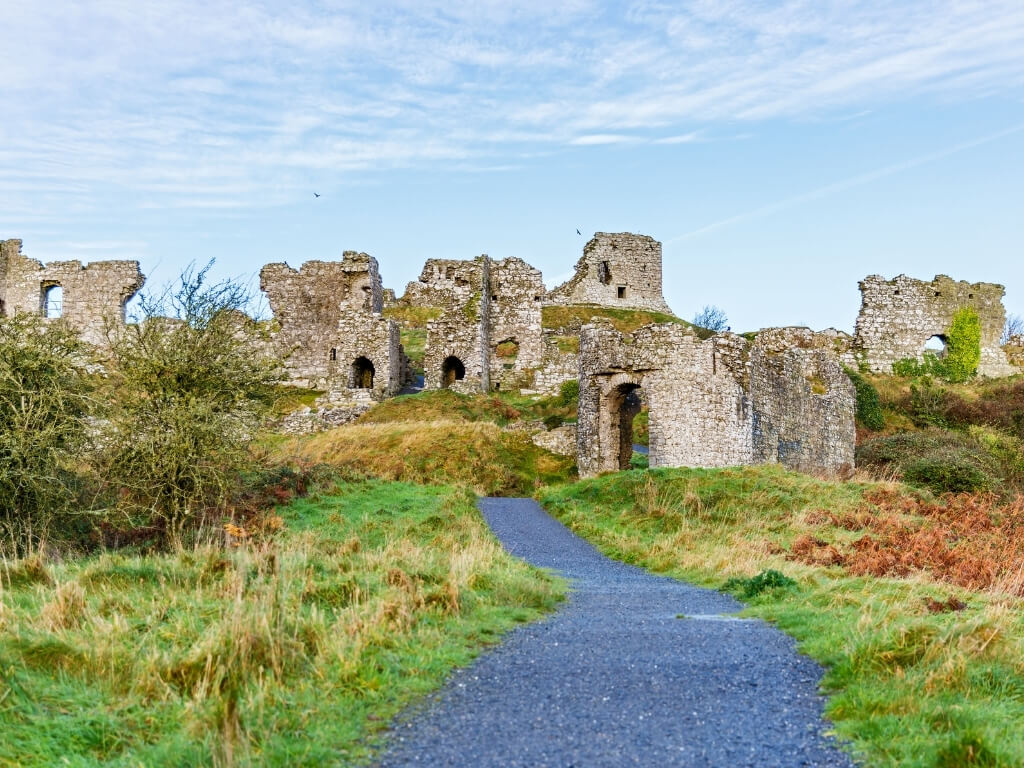 Emo Court and Parklands
One of the best things to do around Portlaoise, Co Laois is to pay a visit to Emo Court and Parklands. Commissioned in 1790 by the Earl of Portarlington, this grand Neo-Classical mansion was designed by the same architect who created the Custom House in Dublin.
An unusual feature of Emo Court is its green dome on top of the building. Coupled with extensive grounds that contain over 1000 species of trees including sequoias and shrubs from around the world, this is a must-visit in Laois.
The parklands can be enjoyed year-round and families often visit during summer to enjoy a picnic before exploring the grounds and lake. There is an on-site café for refreshments if you forget to bring your own.
Emo Court can normally be explored, self-guided or on guided tours but it is currently closed for renovations. Entry to the house is payable, while the grounds are free to visit, making the grounds one of the best things to do in Laois for free.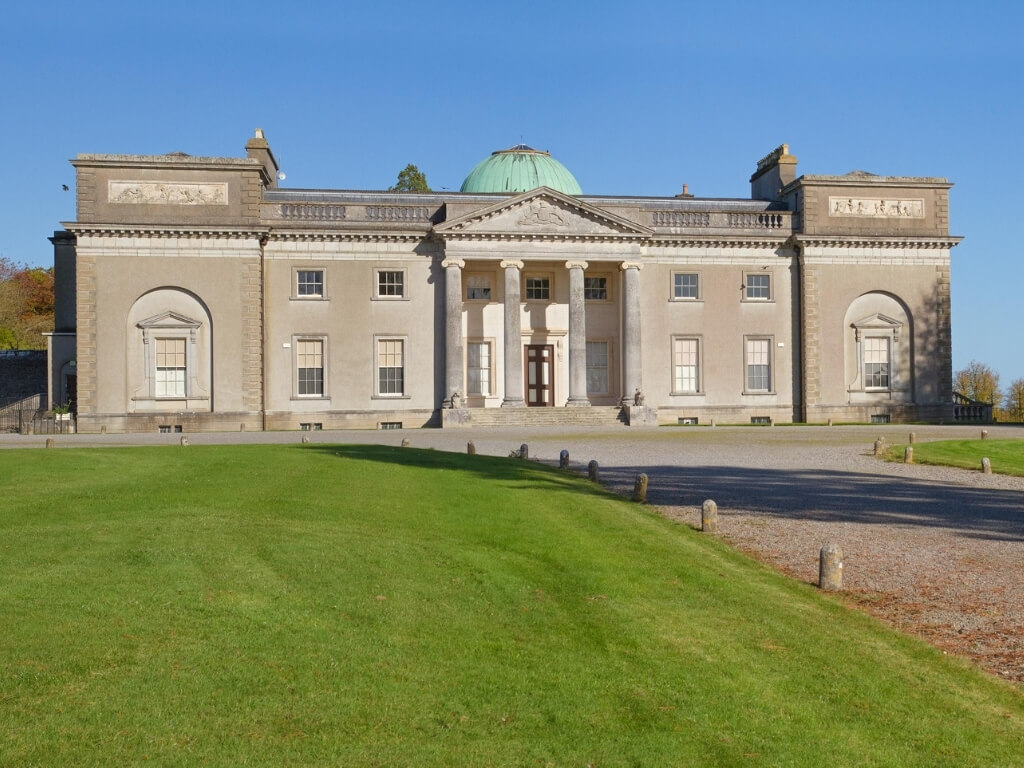 Timahoe Round Tower and Heritage Centre
13km southeast of Portlaoise is a tiny village of Timahoe. Although little more than a few houses, Timahoe is famous for its Round Tower. It is one of Ireland's finest and was built in the 12th century. Although the cap of the tower was rebuilt in the 19th century, it is largely intact and original.
Its Romanesque door stands high off the ground and is elaborately decorated. The tower stands beside a stream and is part of an ancient site that includes the ruins of a 15th-century church. Within the tower are five floors each of which is reached by ladders, an extra safety feature of Round Towers of the time.
It is free to visit the Round Tower and there is free parking.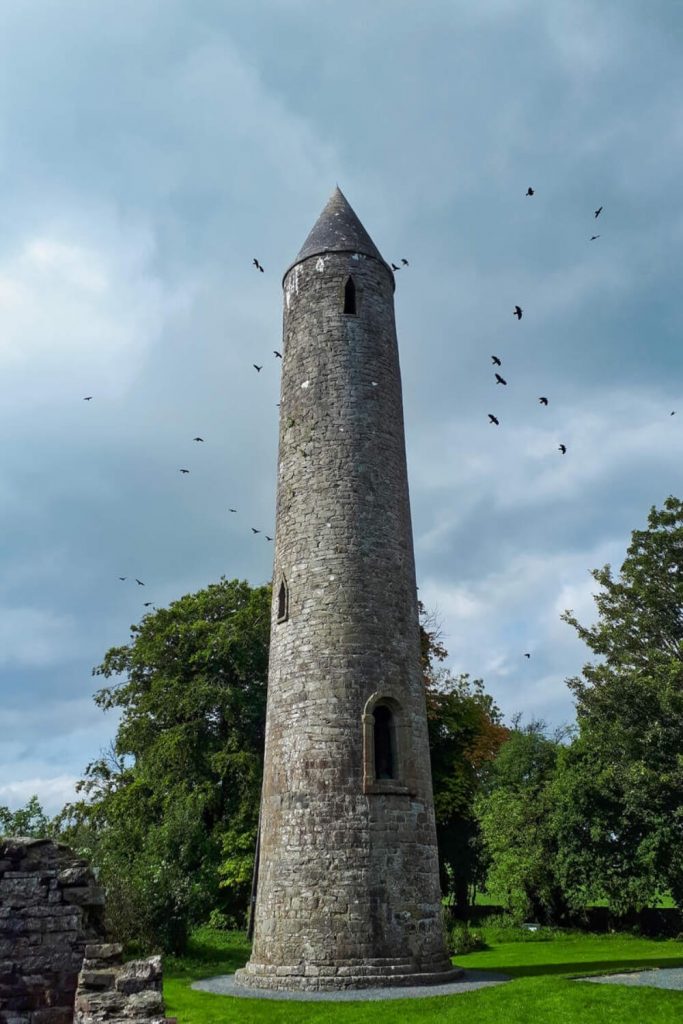 Stradbally Hall and Steam Railway Museum
Stradbally Hall is a large house located just 10-minutes from Portlaoise. Home to the Cosby family, it has played host to the Electric Picnic festival since 2004.
During the English plantations of Laois and Offaly in the 16th century, Queen Elizabeth I took possession of a Franciscan religious house at Stradbally and gave it to the Cosby family. They rebuilt large parts of the estate and landscaped the gardens and the estate has remained in the family ever since.
The ancestral home is located in 550 acres of woodland, with streams and countryside teeming with oaks and chestnut trees. There is a paintball course, fishing lakes, and the annual Irish Steam Rally is held there each August.
The Stradbally Woodland Railway is a 1km-long single-track located on the estate and there is a museum housing old locomotives. It is not always open so it is best to check before you arrive. If you are looking for things to do in Laois with kids and have any Thomas the Tank Engine fans on your hands, then a visit to the Stradbally Woodland Railway is a must.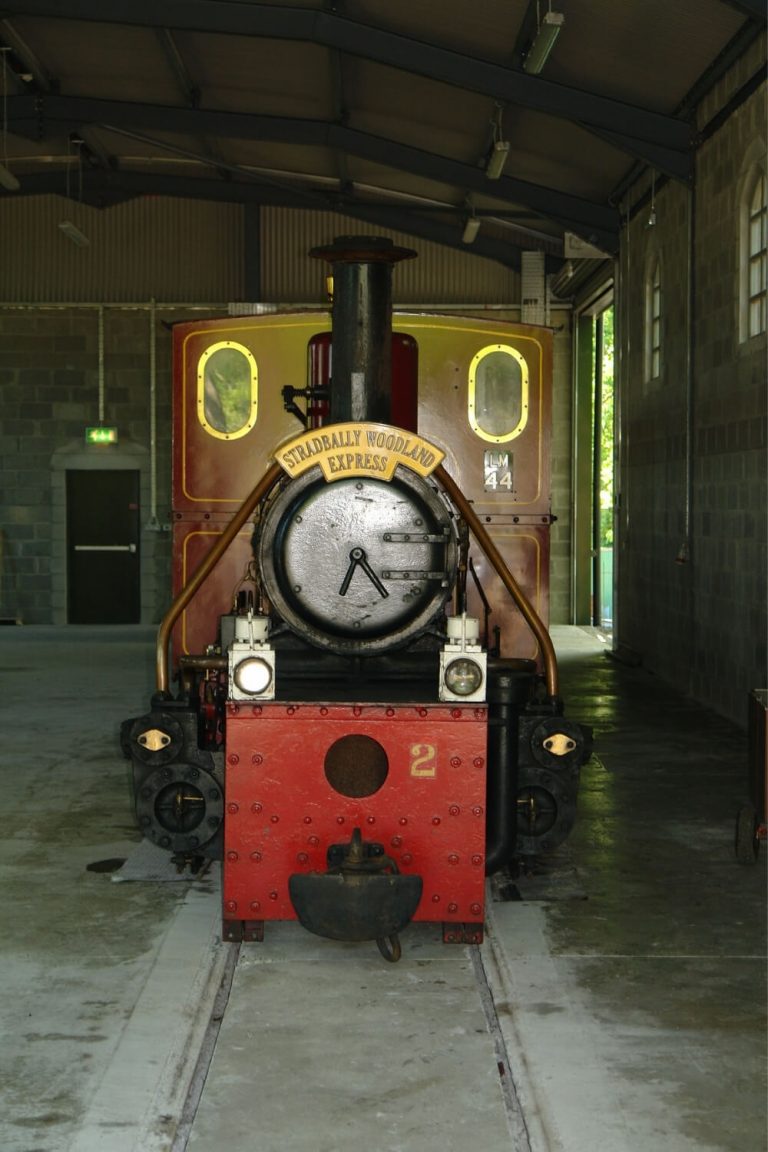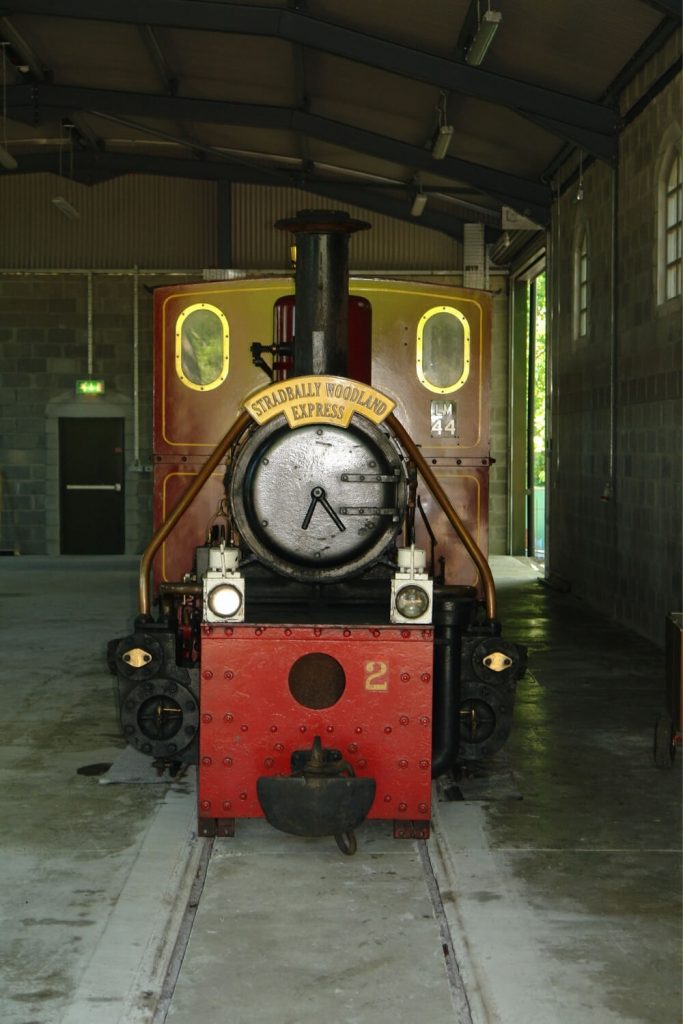 Heywood Gardens and Estate
20km south of Portlaoise is where you will find the Heywood Gardens. These 18th-century, 50-acre gardens were designed by Lutyens and completed in 1912. They feature gardens, lakes, woodland and architectural features on the side of a sweeping hill.
There used to be a house there and the gardens are composed of elements linked by a terrace that originally ran along the front of the house. The centrepiece of the gardens is a sunken garden featuring an oval pool with a fountain.
Heywood Gardens are open all year-round and have no admission fee. Plan to spend about one hour enjoying the tranquillity of the gardens.
Glenbarrow Waterfalls
The source of the second-longest river in Ireland, the Barrow, is in the Slieve Bloom Mountains. The area is known as Glenbarrow and as well as being the area where the source of the River Barrow is, it also one of the most scenic parts of the Slieve Bloom Mountains
There are four walking loop trails in Glenbarrow, both short and long, which start at the car park for the Glenbarrow trailhead and follow the river for the first section before branching off. It is along these trails that you can see the three-tiered waterfalls. During spring, the woodland will be covered in bluebells.
This area of outstanding natural beauty is free to visit and a great place to get outdoors and enjoy some fresh air in County Laois.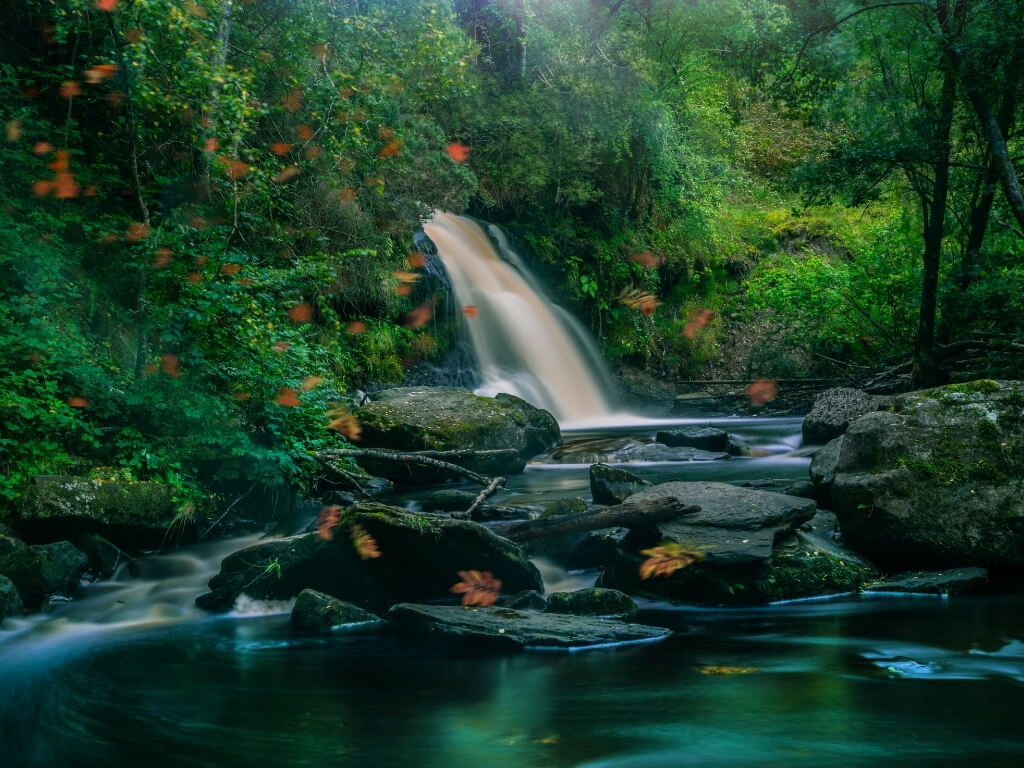 Ballykilcavan Farm and Brewery
If you are visiting Laois as a family, then a trip to Ballykilcavan Farm and Brewery in Stradbally is a must. A family-run farm for 13 generations, since 1639, Ballykilcavan has traditionally been a mixed farm of 440 hectares. With woodlands, grass for livestock and fields for crops, they have diversified over the years, adding a brewery and visitor experience to their business.
Kids will enjoy the farm tours, where the owners share the family's stories. See the farmyard, barley field, 19th-century walled garden and more on this 1-hour tour. You may even meet a few of the farmyard animals.
Parents will love the brewery tour in which you learn about the on-site working brewery, the growing of barley and the crafting of beers. At the end of the tour, visitors can taste four different Ballykilcavan beers. Make sure someone is the designated driver!
Ballykilcavan Farm and Brewery is a great place to visit in Laois as a family.
Museums
For such a small county in Ireland, Laois has quite a few museums to visit.
The Abbeyleix Heritage House and Museum is a 19th-century school building which details the history of the town. From Turkish-influenced carpets made in the town which were chosen for Titanic, to memorabilia from the Morrissey family who ran the town's renowned pub and shop from 1775 to 2004, there is a lot to discover in the museum.
At the Mountmellick Museum, visitors can discover the town's Quaker and industrial heritage while also learning about the embroidery history of the town. Tours are available and the museum also gives guides of the heritage trail around town.
The Donaghmore Workhouse & Agricultural Museum, located 20km west of Durrow, is a harrowing reminder of the Great Famine. This stone building was the last resort for the destitute in the 1850s. Visitors can see rooms of an Irish Famine Workhouse as they would have appeared in the 1800s and imagine how hard life was for those shamed in having to turn to the workhouses to try to survive. And many did not. There is also an Agricultural Museum there.
These different museums give visitors a peek into life in County Laois in times gone by and are great places to add to your Laois itinerary.
Castles
Like many counties in Ireland, Laois has lots of ruined castles to explore. Castles are among some of the best things to do in Laois for kids who can enjoy the space around them while imagining they are knights and princesses.
Castle Durrow is an 18th-century country house built in the pre-Palladian design. After the original family left for England in 1922, it was first bought for the timber on the land, before becoming a school and then in 1998 it was bought and redeveloped as a luxury hotel. Whether you are staying there or not, the gardens are worth visiting and you can dine in the hotel's restaurant, or even enjoy a spot of Afternoon Tea.
Located near Portarlington is Lea Castle, a ruined castle originating from the late 12th or early 13th century. Originally owned by the Fitzgerald family, it went through several owners, fires and rebuilds before being ransacked and destroyed by British forces in the mid-1600s. Once a sprawling castle, it is quite the ruin these days but still worth visiting if you are nearby.
Also known as Tynekill, Tinnakill Castle is another ruined castle in Laois, dating from medieval times, possibly the 15th century. Once the seat of the O'Connor's and McDonnell families, it fell into disrepair following the Irish Rebellion of the mid-1600s. It is somewhere to visit briefly if you are near the parish of Coolbanagher.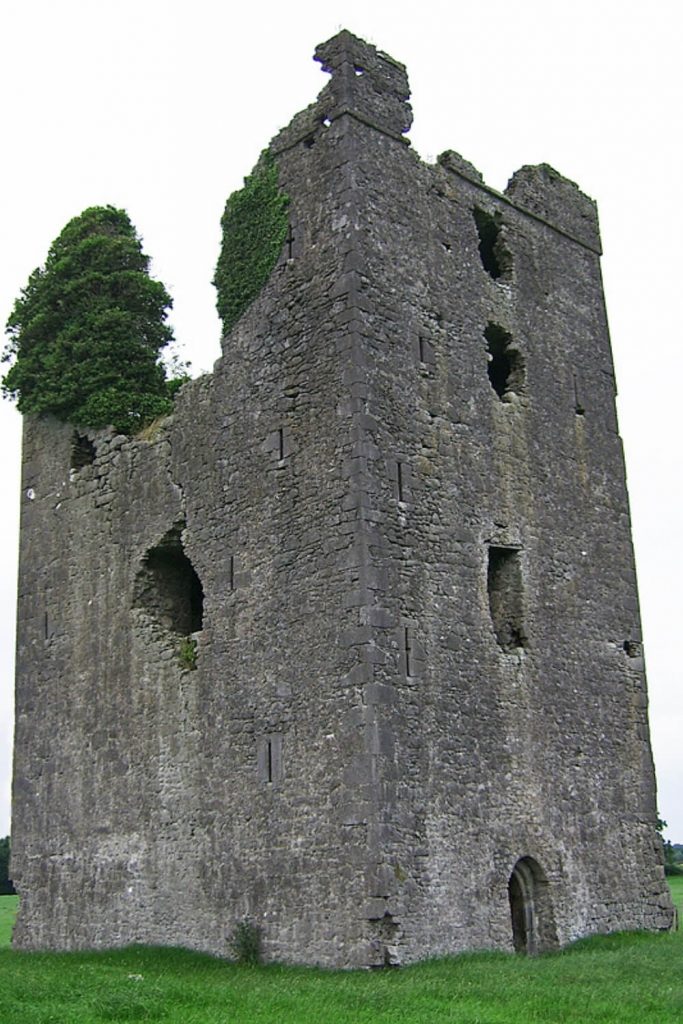 Where to stay in Laois
Luxurious hotels in Laois
Roundwood House
A short 20-minute drive from Portlaoise is Roundwood House, an 18th-century stately Palladian villa that is also a hotel. Nestled in 18-acres of native woodland, Roundwood House also has a restaurant in which you can dine. There are only a few rooms and the hosts also live in the house. Click here for the latest prices and availability.
Ballyfin House
Ballyfin House, or Ballyfin Demesne, is a luxury 5-star hotel that is a 600-acre estate which has been home to many great families over the centuries. Built in the 1820s it has been a stately home, as well as a school, before becoming a luxury hotel in 2011. The house and gardens are strictly private to guests.
Budget-friendly hotels in County Laois
Midlands Park Hotel
For a budget-friendly stay in Laois, head to the Midlands Park Hotel in Portlaoise. This 4-star hotel is centrally located and has both restaurants and bars, and a health and leisure club which has a pool. Click here for information and the latest prices.
Maldron Hotel
Another budget-friendly hotel to stay in Portlaoise is the Maldron Hotel. A 3-star hotel which offers a comfortable stay, it has a pool, spa and restaurant, everything you could need for a relaxing stay under one roof. Click here for prices and availability.
Things to know about County Laois, Ireland
If you've never visited Ireland or ventured to this part of the Emerald Isle, this section is dedicated to sharing some more information about County Laois, Ireland.
Where is County Laois? – Laois is located in the southern part of the Midlands region of Ireland. It is part of the Republic of Ireland and is landlocked, bordered by Offaly, Kildare, Tipperary, Kilkenny and Carlow.
County Laois facts:
Laois is derived from Loígis, the name of an Irish tribe. It has also been known as County Leix and Queen's County.
The county covers 1,720 square kilometres (660 square miles) and the population of County Laois is approximately 85,000.
It is one of the twenty-six counties of the Republic of Ireland.
Laois is the 23rd smallest county of Ireland (all 32 counties), both by size and population.
While the Midlands region of Ireland is mostly flat, Laois shares a mountainous border with Offaly in the form of the Slieve Bloom mountains.
Ireland's second-longest river rises in the Slieve Bloom Mountains, the River Barrow, and flows through the county southwards towards the Waterford Harbour.
Notable towns in County Laois – Portlaoise (the county town), Abbeyleix, Stradbally, Portarlington, Ballybrittas and Mountmellick.
Weather in Laois – Like much of Ireland, Laois experiences wet, mild winters with temperature lows of 8C in the day and 2C at night, and short dark days. Meanwhile, summer is drier and brighter with temperature highs of 20C in the day and 10C at night, and longer days. Rain is common throughout the year, so don't go without a raincoat, even in summer. To find out more about the weather in Ireland and the best time of year to visit Ireland, read this post.
Famous people from Laois – Surprisingly, there are a few famous people who hail from Laois. They include John Gregory Adair (builder of Glenveagh Castle), Darina Allen (TV chef), Tony Byrne (Ireland footballer), Cecil Day-Lewis (British Poet Laureate), Stephen Hunt (Wolves/Ireland footballer) and Robert Sheehan (actor).
While many would overlook visiting Laois, it is a small county with plenty to offer visitors who dare to stop on their way to Cork or Limerick. There are plenty of free things to do in Laois, with kids or without, and whether you enjoy the outdoors or history, you are sure to find something you'll enjoy. Will you be putting Laois on your Ireland bucket list?
Related Posts