When it comes to great things to do, Antrim has it all. This beautiful county of Northern Ireland has everything from beaches and castles, to mountains, glens and some rather famous places. Discover the best things to do in Antrim to help you plan your time in this lovely pocket of Ireland.
*This post contains affiliate links, which may include Amazon affiliate links. To read more about affiliate links, please visit my Disclosure Policy page.
Antrim is home to some of the best places to visit in Ireland. Home to the Antrim Coast Road, the Causeway Coast and one of Ireland's natural wonders, the Giant's Causeway, Antrim is gaining in popularity thanks to these and other great places to visit in the county. If you have never been to Antrim and are considering visiting this beautiful corner of Ireland, then this post is for you.
In this county guide for Antrim in Northern Ireland, I am not only sharing with you some of the best things to do in Antrim, but I'll also give you some facts about County Antrim and tell you the best places to stay near each Antrim attraction where applicable.
Best things to do in Antrim, Northern Ireland
In this guide, you will find the top things to do in County Antrim, a county in Northern Ireland that has so much to offer those visiting. From the capital of Belfast to famous filming locations and some stunning landscapes, it can often seem like Antrim has it all.
Giant's Causeway
One of the most famous tourist attractions in County Antrim is the Giant's Causeway. Found along the famous Causeway Coast, this geological wonder of Ireland is one of the most popular Antrim tourist attractions and is a UNESCO World Heritage Site.
Although the famous hexagonal rock formations were formed 60 million years ago when a thick layer of molten basaltic lava cooled, hardened and contracted to leave behind the five-, six- and seven-sided columns we see today, there is a legend behind the Giant's Causeway. Antrim was home to a giant named Finn McCool who built the bridge in order to reach Scotland to fight the Scottish giant Benandonner. The Scottish giant pursued Finn back across the causeway, but he took fright and fled back to Scotland, ripping up the bridge as he went. What remains of the bridge can be found at the Giant's Causeway in Ireland and Staffa in Scotland, which has similar rock formations.
There is a Visitor's Centre which has information about the Causeway and the rocks. Guided tours leave from here and you can also pick up an audio guide from the centre to listen to as you explore the area. The causeway is a short 10 to 15-minute walk from the Visitor's Centre. There are several different areas to discover and not far from the Causeway is Port na Spaniagh or Bay of the Spaniards that has an interesting story.
The Giant's Causeway is located 8 miles from Portrush and there is a seasonal hop on hop off bus link or you could take the number 172 from Portrush. If you are arriving by car, there is a car park which is payable, although only available as a combined ticket with entry to the Visitor's centre. Parking-only tickets are not available. As this is one of the best places to visit in Antrim, it gets extremely busy so arrive early or go midweek and out-of-season to avoid the crowds.
Take a guided tour of the Giant's Causeway from Belfast. Book your tour here.
Stay at the Causeway Hotel. Find latest prices and availability here.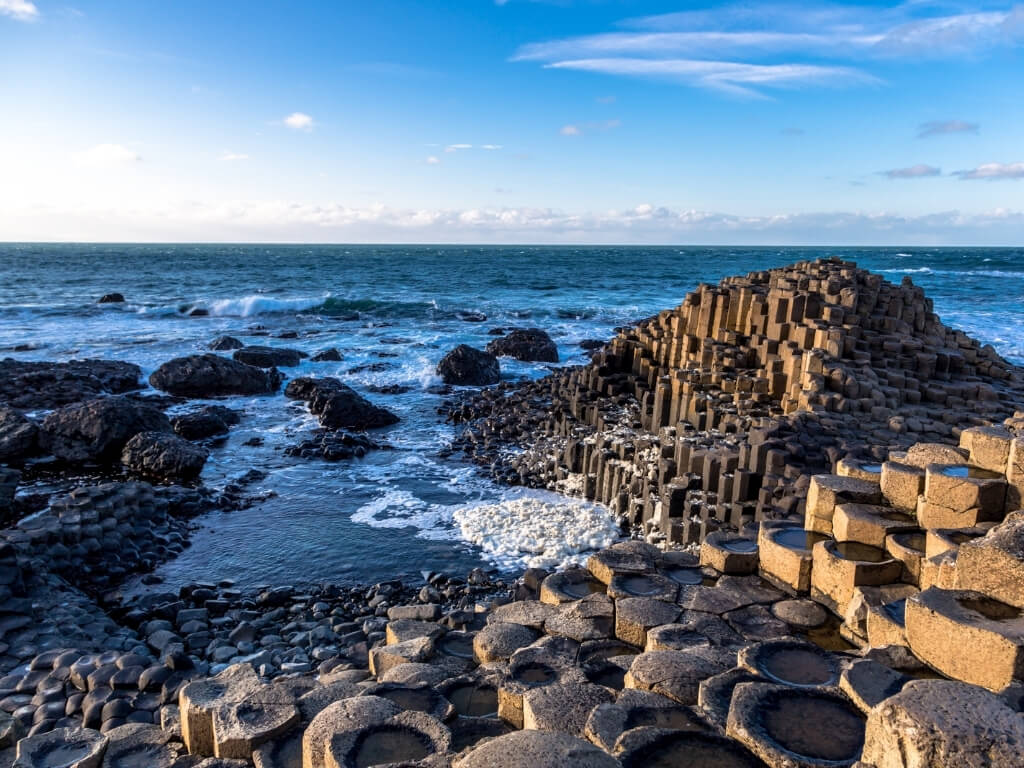 Dunluce Castle
Of the best things to see in Antrim, Dunluce Castle is another found on the Causeway Coast. This ruined castle sits on top of sheer basalt cliffs and is reached via a narrow bridge from the mainland.
Dating from the 15th century, this was once the seat of the MacDonnell family, with Randall MacDonnell becoming the first Earl of Antrim in 1620. The round towers and outer walls date from 1480.
There is a Visitor's Centre at the entrance to the castle from where you can take guided tours running at 11am and 2pm daily. In the castle complex, you can visit remaining guest lodgings, stables, a brewhouse and in the remains of the 17th-century Manor house, you can even see the huge fireplaces and staircase supports. There is also a discovery room where you can view excavation finds.
Dunluce Castle is located just 3.5 miles from Portrush and you can also reach the castle via a leisurely stroll from Portrush along the coast which is 5 miles long. You can download the free Dunluce Castle app for an audio tour with computer-generated images of how the castle once looked to use as you explore the ruins. For the best views of the cliff-top castle, stop at the Magheracross car park, 750 metres west of Dunluce.
Book a tour from Belfast to visit the Game of Thrones filming locations which include a stop at Dunluce Castle. See this tour and get the latest prices and availability here.
Stay in the Inn on the Coast Hotel for easy access to Dunluce. See the latest prices and availability here.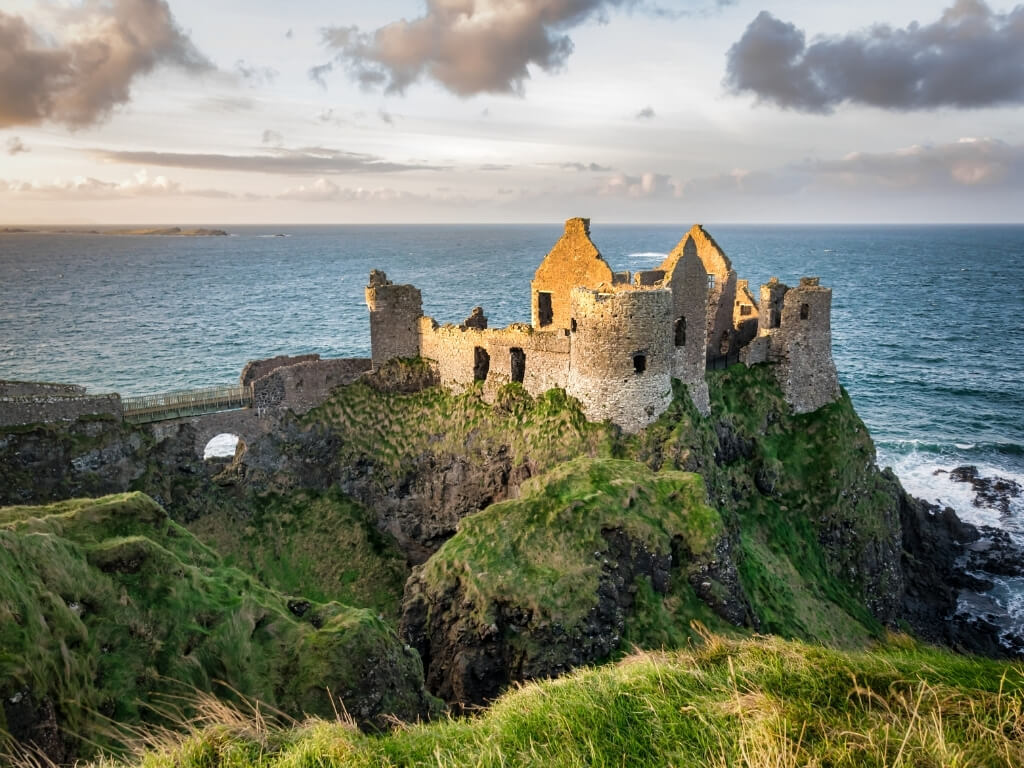 Belfast City and the Titanic Quarter
Belfast City is another great thing to do in Antrim. However, people often get confused asking is Belfast in Antrim or Down. The River Lagan is the border between Antrim and Down, and the original town of Belfast was located north of the River Lagan which runs through it. Therefore, it was classed as being in Antrim. However, like many cities, it grew and as a result sprawled across the river into County Down. Today part of the city lies in Antrim and part of it is Down.
Belfast has a wealth of things to do and see and is becoming a popular tourist destination in Ireland as it reinvents itself after the Troubles. Old shipyards on the banks of the Lagan have given way to the modern Titanic Quarter, while the area around St Anne's Cathedral has become a cultural and creative hotspot, far from its once run-down and derelict appearance. Queen's Quarter around the university is a bustling and vibrant part of the city thanks to its large student population.
In terms of family-friendliness, it is worth visiting Belfast as a family as there are lots of things to keep even the youngest members of the family entertained.
Belfast highlights for visitors include Titanic Belfast where you can learn about the ill-fated liner, the Ulster Museum and the Botanic Gardens. Another thing that is popular with visitors to the city is to take a Black cab tour to view the political murals across the city.
No matter what your interests, Belfast has something for everyone and is also a great place to start a full tour of Ireland.
Find out more about the Black cab tour of the political murals and book one here.
Get your Titanic Trail tickets here. Or book your Titanic Experience here.
And if you are looking for hotel recommendations, why not check out the Titanic Hotel or the Merchant Hotel.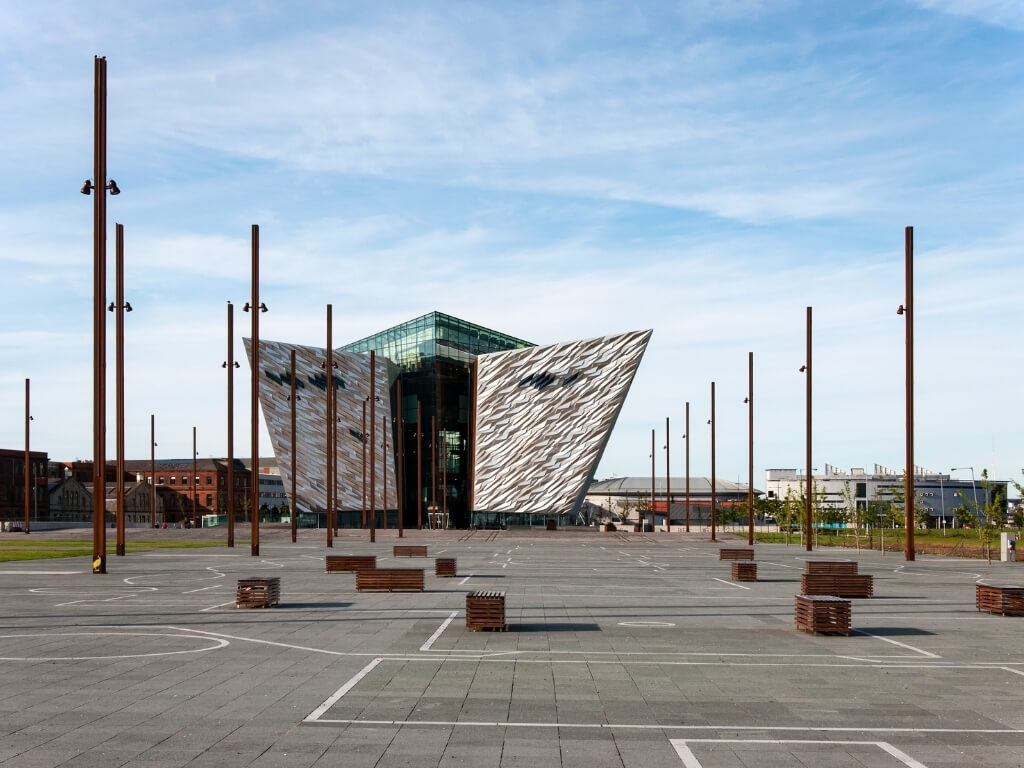 Old Bushmills Distillery
Another one of the top tourist attractions in Antrim is the Old Bushmills Distillery, found in the town of Bushmills. The distillery is located just a short 10-minute drive from the Giant's Causeway, making it an ideal location to visit after the causeway.
As the world's oldest licensed distillery, Bushmills has been making whiskey for over 400 years, surviving fires and World Wars. Their whiskey is made with Irish barley and water from the St Columb's Rill tributary of the Bush River. The whiskey is matured in oak barrels and single malts of 10, 16 and 21 years are produced along with the Original and Black bush varieties of the whiskey.
The distillery offers tours and children over the age of 8 years of age are permitted. Visitors can learn about the history of the distillery and whiskey-making, and those over the age of 18 can taste some of the whiskeys at the end of the tour. Bushmills is one of the best Irish distilleries to visit.
Book a combined Giant's Causeway and Bushmills Distillery tour from Belfast and let someone else do the driving. Find out more and book your tour here.
Stay in the Causeway Hotel near the Giant's Causeway, just an 8-minute drive from the distillery. This is a great place to stay if you are visiting both sites and want accommodation close to both. Book this hotel here.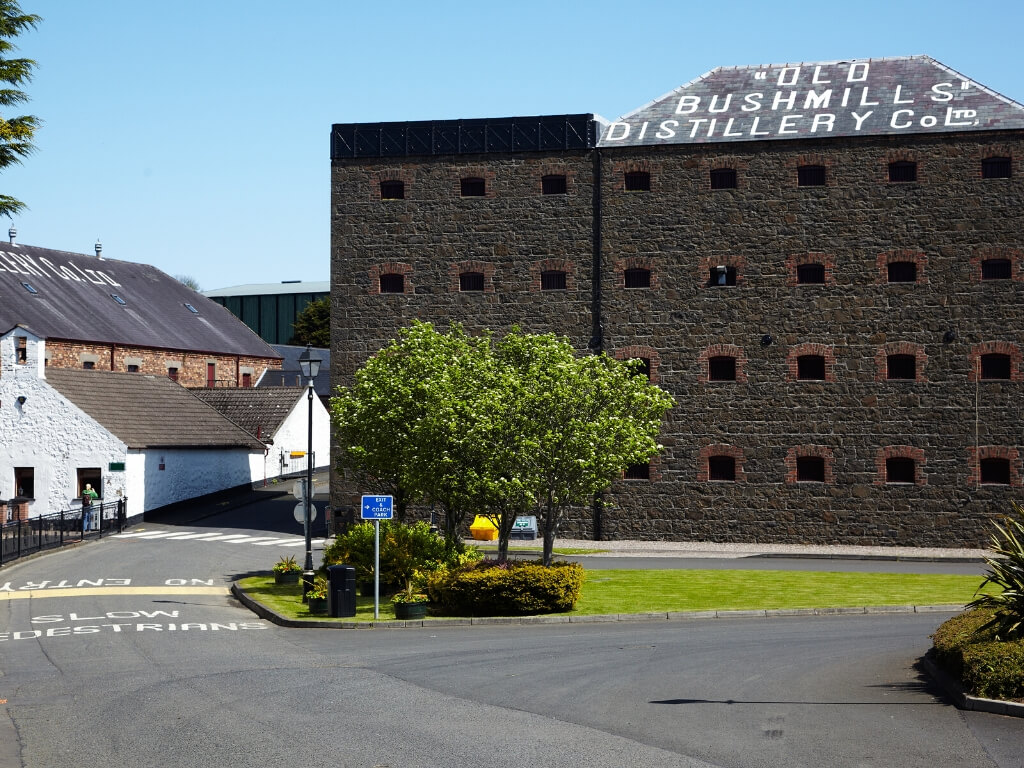 Games of Thrones Locations
One thing this county of Ireland has become famous for is the locations in which the TV series Game of Thrones was filmed. These include the Dark Hedges. Antrim provided quite a few filming locations and the Dark Hedges is the one that attracts the most visitors.
The mystical landscape of this corner of Ireland, with its unique rock formations, wooded glens and ruined castles made it the perfect backdrop for the TV series. Tour operators from Belfast run daily tours to the filming locations which include:
The Dark Hedges – Planted in the 18th century to line the route to a Georgian mansion, these gnarled, entwined beech trees have become a Northern Ireland attraction in their own rights thanks to them doubling up for the Kingsroad in Game of Thrones. With its growing popularity, non-essential traffic is banned from the road, but there is nearby parking if you are visiting the Dark Hedges.
Portstewart Strand – This wide sandy beach was used to film scenes of the Dorne coast in the TV series. It lies just over 4 miles west of Portrush.
Ballintoy Harbour – located roughly halfway between the Giant's Causeway and Ballycastle, this picturesque village was used as the location for scenes on Pyke and the Iron Islands.
Fair Head and Murlough Bay – Murlough Bay, located 6 miles east of Ballycastle, was used as Slaver's Bay where Tyrion Lannister and Ser Jorah Mormont are discovered and captured. The cliffs above are where Renly and Stannis parleyed. And the nearby headland of Fair Head was used in scenes in several episodes.
Larrybane Quarry – Located close to the Carrick-a-Rede Rope Bridge, this disused quarry was used to film scenes for Renly Baratheon's camp in Stormlands and also for the Kingsmoot in the Iron Islands.
Cushendun Caves – 12 miles southeast of Ballycastle you will find the Cushendun Caves which is where the scenes of the red priestess, Melisandre, gives birth to a shadow creature.
These and more locations are a big reason why people come to visit Antrim.
Visit some of these and other Game of Thrones filming locations on a tour from Belfast. Click here to find out more and see the latest prices and availability.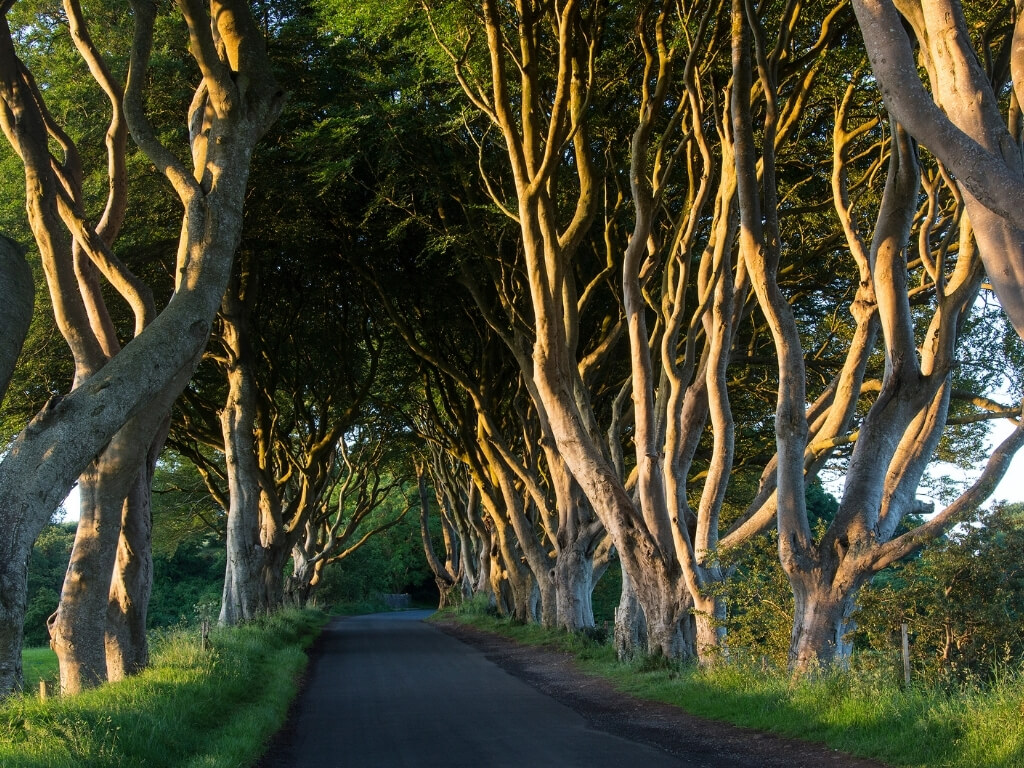 The Glens of Antrim
Once the wildest and most remote part of Ulster, the 9 Glens of Antrim is a region of the county between Cushendun and Glenarm where nine rivers carved deep valleys through the Antrim Mountains towards the sea. Hence their name "the Glens of Antrim".
They have been made more accessible by the Antrim Coast Road (see further on) and are an Area of Outstanding Beauty. Each of the nine glens is stunning and with wooden forest, rivers and waterfalls, it is easy to see why people flock here. One of the most popular is Glenariff whose waterfalls in the Glenariff Forest Park Trails are worth visiting.
Glens of Antrim Map (with Game of Thrones filming locations)
Visit the Glens of Antrim on a full Northern Ireland coastal tour from Belfast. Find more information, latest prices and availability and book it by clicking here.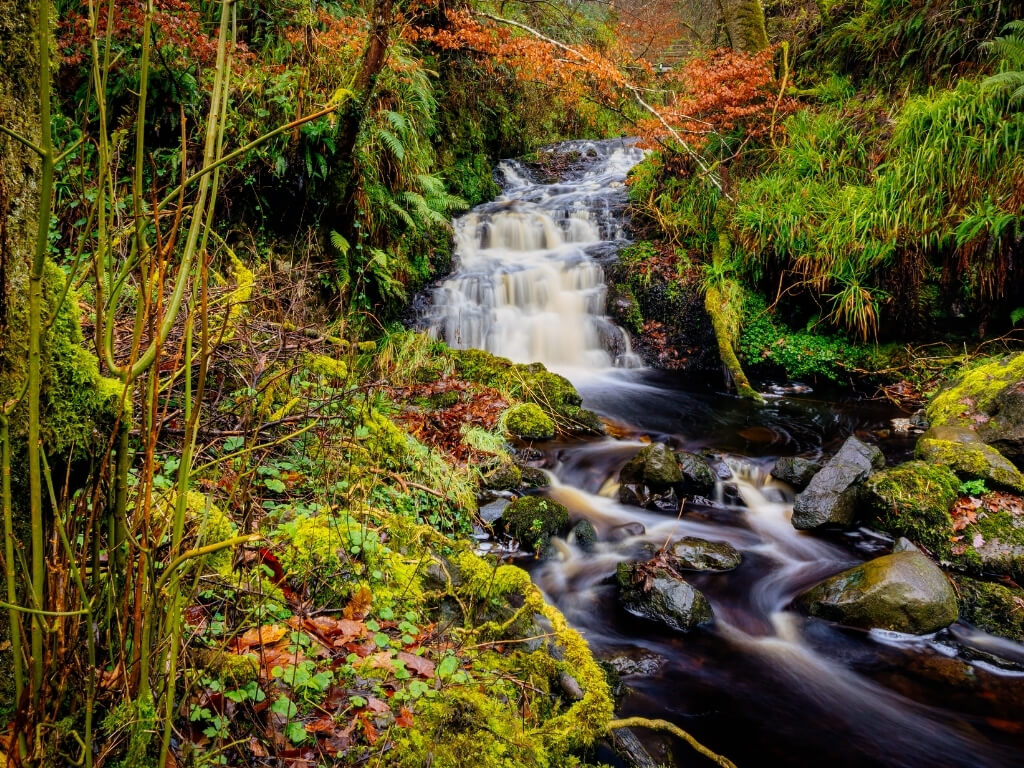 Rathlin Island
Less than 4 miles off the coast at Ballycastle lies Rathlin Island. A rugged, L-shaped island it is home to seals and thousands of nesting birds in spring and summer. There are around 150 residents who make a living from farming, fishing and tourism.
Rathlin Island is almost tree-less thanks to the salty winds that roll off the Atlantic Ocean. High white cliffs encircle most of the island. It is also home to Bruce's Cave, said to have been where the Scottish hero Robert Bruce watched a spider spinning a web in 1306 after fleeing Scotland following defeat at the hands of the English king. The perseverance of the spider inspired Bruce to return to Scotland and win back his kingdom.
Rathlin Island has some spectacular walking routes and the Rathlin West Light Seabird Centre offers amazing views of neighbouring sea stacks where nesting birds come to breed. There is also an exhibit on the marine life and history of Rathlin in the lighthouse tower.
To reach Rathlin you need to take a ferry from Ballycastle. Note that only residents can drive onto Rathlin Island but nowhere on the island is more than one and a half hour's walk from the ferry terminal. Daily sailings are available but advanced booking is essential. There are a few guesthouses and hostels on the island if you want to stay overnight.
For a guided walking tour of Rathlin by a local, click here where you can find more information, prices and availability.
You can stay in Ballycastle for visiting Rathlin Island. Check into the Carnately Lodge B&B. See the latest prices and availability for this B&B here.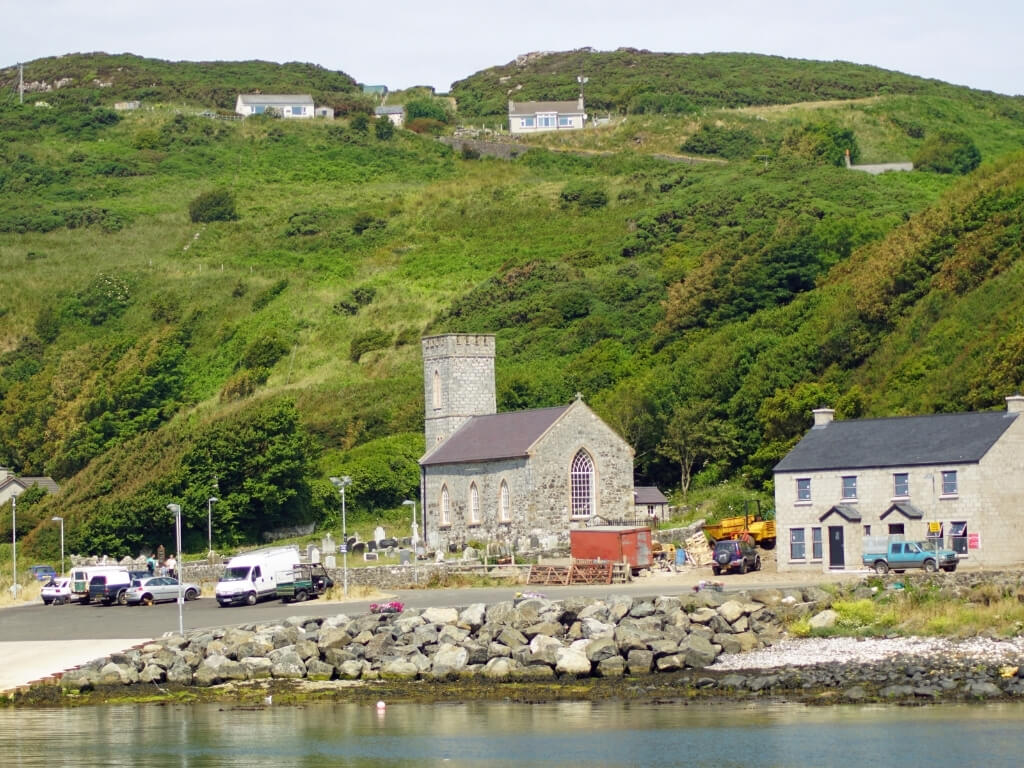 Carrickfergus Castle
If you are wondering what to do in County Antrim, then a visit to Northern Ireland's most impressive medieval fortress is a must. Located just 11 miles from Belfast in the town of the same name, this impressive castle stands overlooking the harbour. Originating in the 12th century and built by John de Courcy after his 1177 invasion of Ulster, Carrickfergus Castle is one of the finest and best-preserved Norman castles in Ireland.
The walls of the outer ward date back to the 13th century while visitors can also see the 17th-century red-brick gun ports. The castle keep houses a museum and there are life-sized figures dotted around the castle illustrating the castle's history.
Carrickfergus Castle is a National Monument and is one of the best places in Antrim to visit if you love history.
Visit Carrickfergus Castle and three other castles, as well as the Glens of Antrim, Giant's Causeway and Carrick-a-Rede rope bridge in one day trip from Belfast. Click here for more information, the latest prices and availability.
If you are looking to stay in Carrickfergus, then check out Walter's Place B&B. Find the latest prices and availability here.
Carrick-a-Rede Rope Bridge
Another one of the top places to visit in Antrim is Carrick-a-Rede Rope Bridge. Located on the Causeway Coast just over 1 mile east of the town of Ballintoy, this hair-raising experience will test your nerves.
First erected by fishermen in 1755, the rope bridge hangs 30m (100ft) above the waves of the Atlantic Ocean and is by no means steady, swaying and twisting as soon as you step foot on it. The Carrick-a-Rede Rope Bridge is made from planks of wood strung between wires and provides access to the tiny island of Carrick-a-Rede. The bridge stretches across the 20m (65-ft) chasm, hence not being for the faint-hearted.
The National Trust who manage and operate the bridge has introduced a ticketed timed system due to the growing popularity of this Northern Ireland attraction. Arrive early or pre-book your tickets to avoid long queues or worse still, disappointment. There is on-site parking, a gift shop, guided tours are available and there is a small cafe.
The Carrick-a-Rede Rope Bridge is included in many daily tours from Belfast including this one, or you can visit it yourself.
Or how about a kayak tour under the bridge. Discover more about this activity and how to book it here.
You can either stay in Ballycastle (see above accommodation recommendation) or near the Giant's Causeway to visit the Carrick-a-Rede Rope Bridge.
Antrim Coast Road
The Northern Ireland Antrim Coast is a stunning part of the country and the A2 follows much of it. There is a very scenic section in Antrim that has earned it the name of the Antrim Coast Road. It is regarded as one of the best tourist routes in the world thanks to the many amazing places to visit along its route.
Running for 25 miles from Larne to the Red Arch near Cushendall, the Antrim Coast Road passes through the villages of Ballygalley, Glenarm, Carnlough and Waterfoot. Completed in 1842 it was built in order to make the Glens more accessible. Take care if driving it yourself as it is a single-lane two-way road that hugs the coast along some hairy sections. Summer is a busy time on this road, so if you want to enjoy it to the full, avoid this time of year to visit it.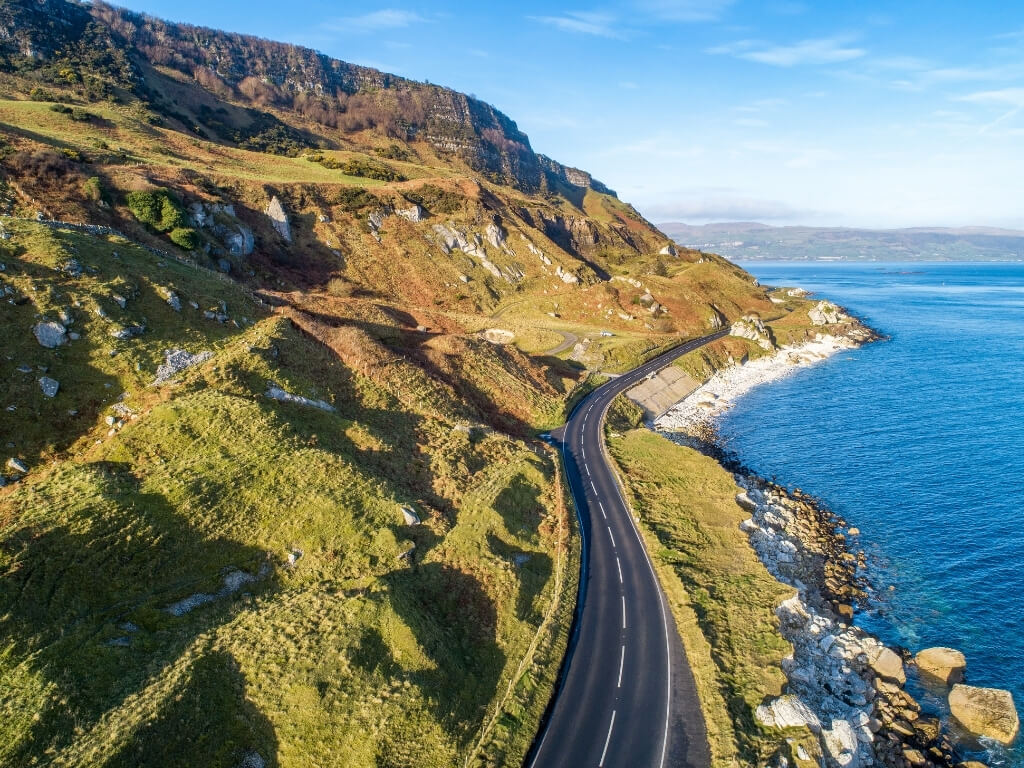 Things to know about County Antrim
If you've never visited Antrim and would like to know more about it, this section has some information about the county.
Where is Antrim? – If you are still wondering where is County Antrim, it is in the top northeast corner of the island of Ireland. It is part of Northern Ireland and stretches from the northeast shore of Lough Neagh east to Belfast and northwest to Derry.
County Antrim facts:
Antrim comes from the Irish word 'aontroim' which means lone ridge.
The county covers an area of 3.046 square kilometres (1,176 square miles) and the population of County Antrim is approximately 618,000.
It is one of the six counties of Northern Ireland which is a part of the United Kingdom, but one of 32 counties found on the island of Ireland. Read this post to understand why these 6 counties are not a part of the Republic of Ireland.
It is only one of two counties in Ireland where the majority of the population are from a Protestant religious background. The other is County Down.
The majority of Belfast is located in County Antrim, with the other proportion located in County Down.
Notable cities and towns in County Antrim – Major cities in Antrim include Belfast and Lisburn while other towns include Larne, Ballycastle, Portrush, Antrim town, Newtownabbey, Ballymena, Carrickfergus and Bushmills.
Weather in Antrim – The weather in County Antrim is much like most places in Ireland. Summer has longer days with temperatures reaching around 20C, while winter is dark and cold with short days. Rainfall is common throughout the year. Temperatures in Antrim can be lower on average than parts of southern Ireland thanks to the winds that blow in from the Atlantic Ocean along the coast. To find out more about the weather in Ireland and the best time of year to visit Ireland, read this post.
Famous people from Antrim – Antrim has produced its fair share of famous people including James Adair, an 18th-century explorer, trader and historian. TV and film stars include James Nesbitt and Liam Neeson and famous sportspeople from County Antrim include Joey Dunlop (1952-2000, Isle of Man TT motorcycle racer), Geoff Wylie (darts) and Tony McCoy (jockey).
I hope this post has given you a glimpse into what to do in Antrim if you are thinking of visiting. It has some of the most popular tourist attractions in Northern Ireland along with a stunningly beautiful landscape.
If you don't want to drive yourself, then consider these Northern Ireland tours from both Belfast and Dublin: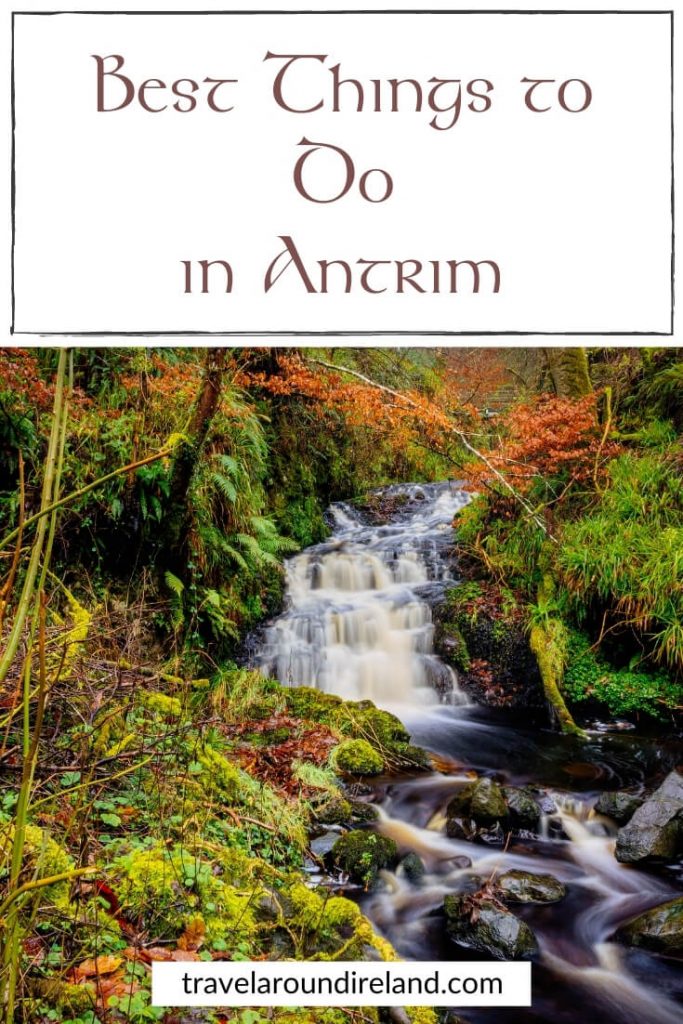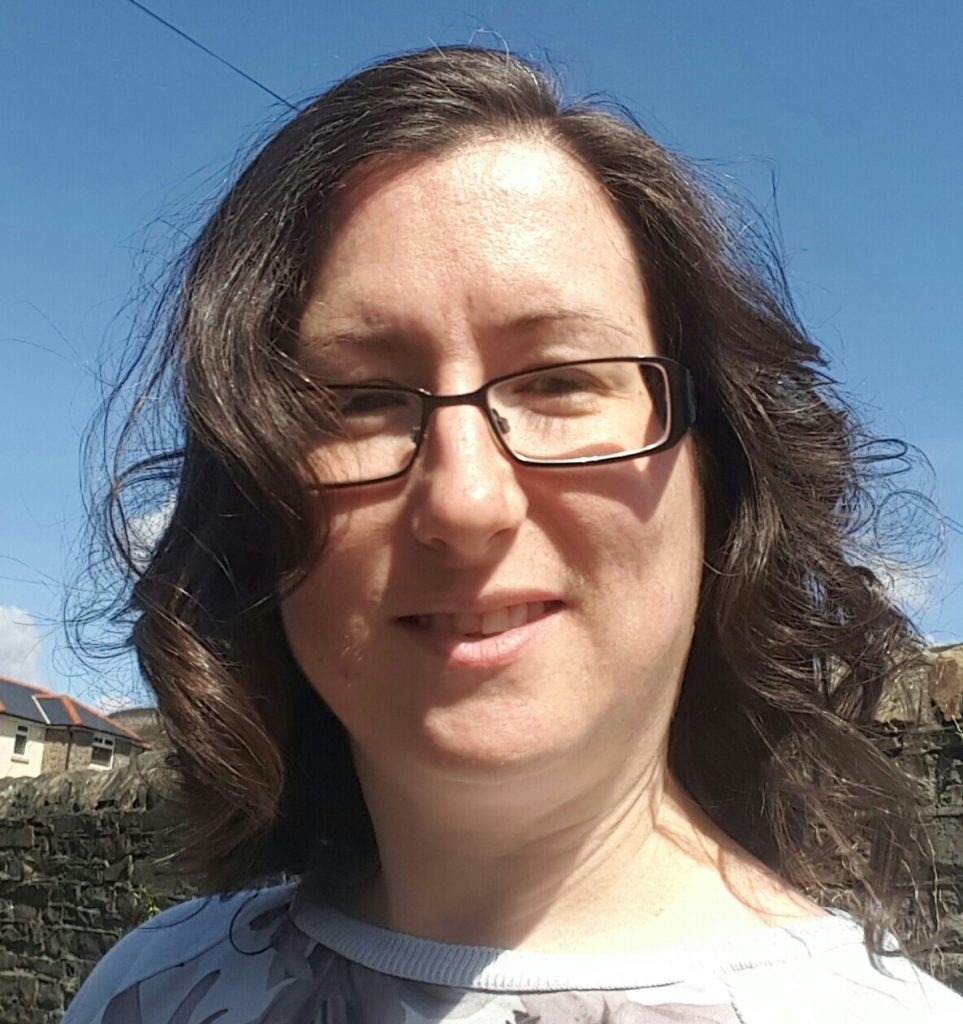 Cath is an Irish expat now living in Portugal. She regularly returns to Ireland to explore more of the wonderful island with her family.
Related Posts