If you are looking to visit the Emerald Isle you are probably wondering "when is the best time to visit Ireland?". For me, there is no bad time to visit Ireland, but for other people, there are some things that will play a role in when they decide to book that trip. With this guide, I share everything you need to know to help you make your decision.
Best time to visit Ireland
For its latitude, Ireland has a mild climate compared to other countries of the same latitude. This is thanks to the Gulf Stream in the Atlantic Ocean making its weather warmer and milder than would be expected. Ireland's climate is temperate with an abundance of rainfall and a lack of real temperature extremes. Weather can be a factor in when people decide to make that visit to Ireland.
Best Time to Go to Ireland – Things to consider
When it comes to deciding the best time of year to go to Ireland, there are a few things to consider.
Budget – If you working to a strict budget when planning a trip to Ireland, the time of year will be a huge factor. Summer is the most expensive time to visit Ireland, simply down to supply and demand, while winter will be the cheapest.
What are you going for – The purpose of your visit can be another factor. If it is simply to enjoy a city break, this can be done at any time of the year. However, if you want to enjoy hiking and the outdoors, then summer is when you will have a better chance of finer weather and more daylight hours.
Do you like crowds or not – If you want to avoid crowds at the most popular tourist attractions, then a summertime visit is to be avoided. Winter sees fewer visitors but there are other compromises to be made.
Weather – Deciding when is the best time to go to Ireland can simply come down to the weather. Winter can be cold and wet, while summer can be warm and dry. But, and it's a big but, you can often see rain during summer. If it is a decision between cold temperatures or warmer ones, then your decision is already made for you.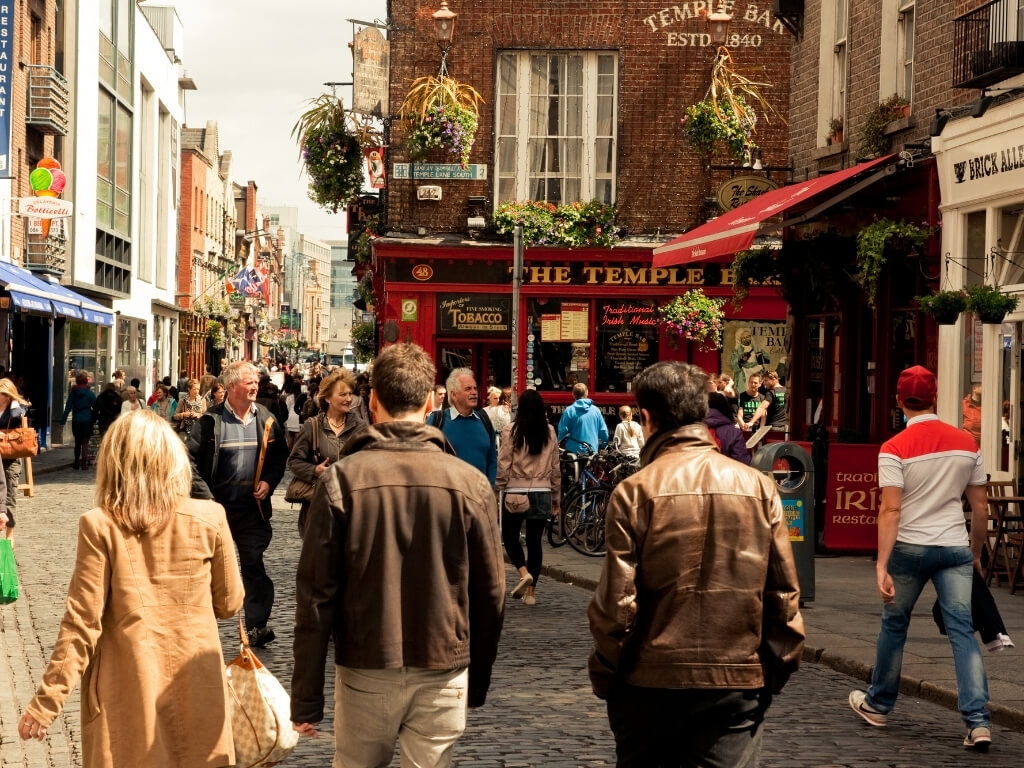 When is the best time to visit Ireland – Month-by-month weather
As already mentioned, the best time of the year to go to Ireland can be based on a few factors but the majority of the time, people make the decision based on the weather. Here is a month-by-month guide to help you narrow it down.
January – This is typically the coldest month of the year. Average highs of 7°C are offset with average lows of 3°C. Days are short, and snow can make an appearance on higher ground, while rain is highly likely.
February – February is cold, wet, and often windy with the most probability of storms. Temperatures are not too dissimilar to January, although there may be a slight decrease in the amount of rain.
March – While rain is still highly likely, days are starting to become longer, although sunlight might be hidden behind rain clouds. Temperatures are starting to rise ever so slightly to highs of 10°C and lows of 4°C. It is not unheard of for there to be snow on the coldest days of March.
April – With the clocks having gone forward at the end of March, days are starting to stretch, temperatures are slightly warmer than last month with highs of 11°C and lows of 4°C. Rain is still common but to a lesser degree than the winter months. Spring has sprung.
May – Warmer, finer weather arrives with average daily temperatures now heading to highs of 15°C and lows of 7°C. Days are longer and sunnier but do not pack away the umbrella as you might still need it.
June – Warm, sunny weather continues to improve with highs of 17°C and lows of 10°C. Sunlight hours are the longest they will get, and the sun doesn't set until nearly 10pm! Keep the raincoats handy though as rain is still a high possibility.
July – July is usually the driest month of the year in Ireland with highs of 19°C and lows of 12°C, but you cannot be guaranteed not to see rain if you visit Ireland during this month. Days are still long and enjoyable.
August – The warmest month of Ireland is usually August with high and low temperatures equal to July. Rain starts to increase this month and days are beginning to get shorter.
September – There is often more sun than rain in September with average high temperatures of 17°C and lows of 10°C. It can be one of the best months to visit Ireland with a good amount of daylight hours still around.
October – The cooler air starts to show an appearance in October with highs of 13°C and lows of 8°C. Autumn colours make an appearance and, while rain is almost guaranteed, it can be one of the best months to visit Ireland to avoid the crowds.
November – This month it turns colder and frosty with temperature highs of 10°C and lows of 5°C. With the clocks having turned back at the end of October, days are noticeably shorter heralding the start of winter.
December – December is often the wettest month in Ireland with high temperatures of 8°C and low temperatures of 5°C. That said it is not unheard of for temperatures to dip below freezing and snow can occur too. The days are the shortest of the year, with darkness creeping in just after 4pm.
The moral of the story when it comes to visiting Ireland and the weather is to go prepared with layers, a raincoat at the very least and also an umbrella. Just because the table below doesn't mention rain in certain months does not mean there is none. Rain can occur during every month of the year in Ireland and it is best to be prepared.
Month
Weather
High Temp (C)
Low Temp (C)
# of Daylight Hours
January
Cold/Wet/Rain/Snow
Coldest month
7
3
7.5
February
Cold/Stormy
7
3
9
March
Wet/Chilly
10
4
11
April
Sunnier days
11
5
13
May
Warmer/Fairer
15
7
15
June
Warm/Sunny
17
10
16.5
July
Warm
Driest month
19
12
17
August
Warmest month
19
12
15.5
September
Cooler/Rain
17
10
13.5
October
Cold/Crisp/Rain
13
8
11.5
November
Cold/Frosty
10
5
9.5
December
Very cold
Wettest month
8
5
8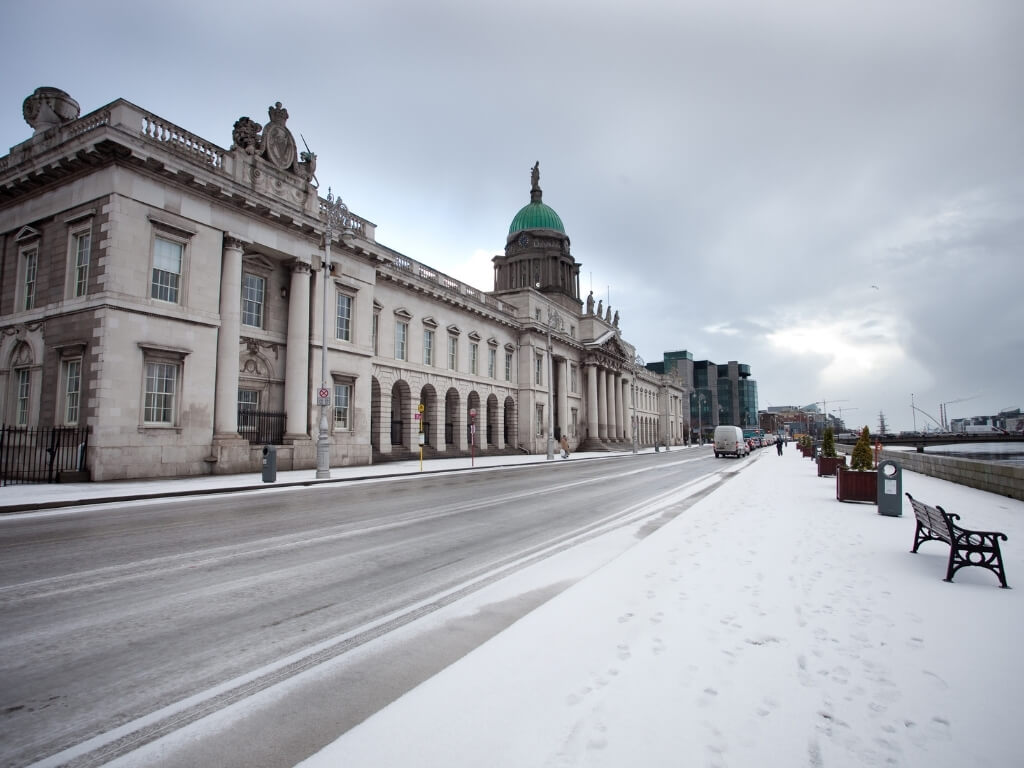 When is the best time to go to Ireland – Public Holidays Guide
When deciding the best time of year to travel to Ireland, you may want to take into account public holidays. This can be for several reasons. Firstly, one of the biggest public holidays is St Patrick's Day on March 17th and accommodation and prices of flights can be very expensive. There are also lots of crowds in many of the cities, particularly in Dublin. Secondly, if you are visiting during a public holiday you may find shops, restaurants and tourist attractions closed for the day. Public transport may also operate on a reduced timetable. So, bear this in mind.
Here is a list of the public holidays in both the Republic and Northern Ireland. Where the holiday is shared by both parts of Ireland, no separate note is marked. Where it applies to only the Republic of Ireland, it is marked with Rep, and where it applies only to Northern Ireland it is marked with NI.
January 1st – New Year's Day
First Monday in February – Imbolc/St Brigid's Day (unless February 1st is a Friday in which case the bank holiday falls on a Friday) (Rep)
March 17th – St Patrick's Day
Easter Monday (generally late March or early April)
First Monday in May
Last Monday in May (NI)
First Monday in June (Rep)
July 12th – Battle of the Boyne (NI)
First Monday in August (Rep)
Last Monday in August (NI)
Last Monday in October (Rep)
December 25th – Christmas Day
December 26th – St Stephens Day (Rep)/Boxing Day (NI)
Note: Good Friday is not a bank holiday in Ireland but is in Northern Ireland. However, in the Republic, schools and most businesses close that day.
Best time to travel in Ireland – Seasons Guide
Tourist seasons can play a big role in deciding the best time to travel to Ireland.
Peak or High season in Ireland is from June to September and the week surrounding St Patrick's Day (March 17th). These are by far the busiest months with a huge influx of visitors. Aside from March, the summer welcomes warmer, usually drier weather with long days of more than 15 hours of daylight. This makes these months the ideal ones for cramming in lots of sightseeing into an Ireland itinerary. However, the result is these months are also the most expensive times of the year to visit Ireland.
The week around St Patrick's Day is also very busy with visitors from across the globe descending on Dublin to enjoy or take part in the St Patrick's Day Parade. This often coincides with the Six Nations Rugby Championship and Ireland may be playing a home game during the weekend which increases the number of visitors, with supporters of the opposing team arriving in Dublin.
The Shoulder season in Ireland is April to May and October and is often said to be the best time to visit Ireland for a few reasons. The weather is often mild, although be prepared for rain. Crowds are lighter than in the summertime and with a good number of daylight hours, these two things combined make sightseeing a more pleasurable activity. Fewer crowds also mean lower costs for flights and accommodation.
The Low season in Ireland is November to March, not counting St Patrick's Day. These are the coldest and often wettest months of the year with reduced daylight hours resulting in much shorter days. While this results in fewer crowds, cheaper flights and accommodation, you may find some attractions closed or with reduced opening hours and potentially fewer accommodation choices on offer. That said, if you plan things right, don't mind the cold and rain, and pack accordingly, this can turn out to be the best and cheapest time to visit Ireland, especially if you are on a budget.
What is the best time to visit Ireland weather-wise?
If the weather is your big deciding factor and good weather is a must, then you are limited to travelling to Ireland during the summer months.
As mentioned already, these are the months with the warmest temperatures and the least amount of rain, although you can still experience rain throughout the summer. The days are long with lots of hours of daylight, making the summer months the best time to visit Ireland weather-wise.
All attractions are open and there are generally lots of activities on offer for tourists visiting from June to August. Visitors can enjoy the outdoors and there are lots of festivals and events during these months. Just be aware that primary schools in Ireland finish up at the end of June, while those in secondary school who are not sitting exams finish for the summer at the start of June. Most schools return during the last week of August.
Summer is the best time to visit if you want to avoid the cold and the worst of the rain, you want to use as many daylight hours as you can for sightseeing and budget isn't a factor for your trip to Ireland.
What is the best time of year to visit Ireland for sightseeing?
If sightseeing is your main reason for visiting Ireland, then typically the shoulder season and September are the best months to go. Crowds have thinned out, schools are either awaiting the summer holidays or have returned after them, and prices, as a result, are lower in terms of flights and accommodation.
The weather is warm and, while rain can arrive, if you go prepared you can still sightsee. Daylight hours are typically more than 12 hours giving plenty of time to squeeze in your sightseeing, but without the manic crowds of summer.
If you are interested in enjoying a festival while you are in Ireland, here is my post about the best festivals on the Emerald Isle which might help you plan exactly when to visit Ireland. Note that these will be busier times for the city or area where the festival is taking place, regardless of the time of year.
I hope this guide has helped you decide when is the best time for you to visit Ireland.
Related Posts