Planning an Irish adventure and pondering over the best things to do in Galway, Ireland?
I understand it can feel a bit overwhelming trying to plan the perfect itinerary with so many incredible options at hand. But you're in luck! As a local with insider knowledge, I've crafted a comprehensive guide that takes you beyond Galway's vibrant city life and into the heart of this mesmerizing county.
Perfectly curated for wanderers like you, this guide aims to ease your planning woes and unlock the rich experiences that County Galway has to offer.
From the city's lively art scene to the breathtaking landscapes in the countryside, get ready to dive into the diverse charm of one of Ireland's finest counties.
Prepare to immerse yourself in the enchanting allure of Galway while we unravel its magic together!
*This post contains affiliate links, which may include Amazon affiliate links. To read more about affiliate links, please visit my Disclosure Policy page.
County Galway is the most southerly county in the Province of Connaught and is home to the capital city of the West of Ireland, Galway City.
As mentioned, many visitors to this part of the Emerald Isle spend time in the city, discovering warm Irish welcomes and kicking back in friendly, yet cosy pubs.
But there is so much more to the county than just Galway City.
Uncover 10 amazing things to see and do in Galway and the surrounding area in this post to add to your Ireland bucket list.
Best things to do in Galway, Ireland
Deciding which of the many Galway things to do and see you should add to your Ireland itinerary can be a difficult choice, especially if you are not familiar with this county in Ireland. My family had a second home in County Galway for many years and it fast became one of my favourite counties in Ireland to visit in my teens and early twenties.
I am going to share ten of the best things to do in Galway, Ireland that include Galway City and the rest of the county. I am not going to go in-depth into Galway City but will outline some of the best activities in Galway City you can consider for your next Ireland trip.
Galway City
The main place people flock to in County Galway is Galway City. And if you are wondering what to do in Galway City, you have lots of choices. The main things to do around the city are in the area centred between Eyre Square and the Spanish Arch, and Galway Cathedral close to the university.
The Spanish Arch is one of the best things to see in Galway City. Believed to be an extension of the medieval city walls, it was designed to protect ships in the harbour while Spanish traders unloaded their cargo. It dates from the late 16th century and is now a meeting place for locals and visitors as well as being a hub for buskers.
Just behind the Spanish Arch, you will find the Galway City Museum, one of the best free things to do in Galway City. Visitors to the museum can discover the history of Galway from 1800 to 1950 as well as view rotating displays of work by local artists.
Galway also has an impressive cathedral located beside the Salmon Weir Bridge, close to the university. If you enjoy architecture and design, then a visit to the Cathedral is a must. You can take a riverside path from the Spanish Arch to the Salmon Weir Bridge, which is a lovely way to reach the cathedral on a warm summer's day.
Of course, you cannot visit Galway City without visiting Eyre Square. This central public square comes alive in good weather with locals and visitors alike enjoying the green space and sculptures within. For those who enjoy retail therapy, the Eyre Square Centre is a shopping mall located on the western side of the square.
Close to Galway City Centre, you will find one of the best beaches in Galway, Salthill. Salthill is a suburb of Galway and has a 2km-long seaside promenade that is very popular with locals and Irish tourists, especially in summer. I spent one summer holiday in Salthill with my family and remember the sunburn well! If you want to dip your toes in the sea, do it in Salthill.
Aran Islands
One of the top things to do in Galway is to take a trip out to the Aran Islands. This group of three islands lying off the coast in the mouth of Galway Bay are comprised of three islands, Inishmór, Inishmaan and Inisheer (largest to smallest, respectively) and are composed of the same limestone as the Burren in County Clare.
The easiest way to travel to the islands is via the ferry or with an Aran Islands tour from Galway City. Ferries depart from Rossaveal Ferry Terminal, 37km west of Galway City which has bus links to/from the city. While there are three islands, many visitors only get a chance to explore Inishmór. The Aran Islands are best visited during a day trip from Galway.
As one of the best things to do in Galway, Ireland Inishmor has plenty on offer to visitors who make the 40-minute trip across the bay. Dun Aonghasa is a 2,000-year-old Iron/Bronze Age fort with three large drystone walls and it sits on a sheer cliff face at 90-metres (300ft) above the swell of the Atlantic Ocean (pictured below). There are also several other Iron Age forts on the island.
Visitors can also explore ruined Christian churches and there is also a natural tidal pool called the Wormhole which regularly features on the World Cliff Diving Series calendar.
Inishmaan is one of the least visited of the islands but is a great one to visit if you enjoy peace and quiet while strolling along a sandy beach. Empty beaches, jagged coastline cliffs and farming fields are what await you on Inishmaan. There is a stone fort and churches to explore, as well as a small museum located in the cottage in which the writer JM Synge spent several summers.
Inisheer is the smallest of the Aran Islands and is home to O'Brien's Castle and the Plassy Wreck, a steam trawler wrecked on the coast in 1960 and whose cargo of whiskey was never found despite a full rescue of those on board. It has also featured in the opening sequence to the TV series "Father Ted".
The Aran Islands are also the origins of the Aran jumper, one of the best Irish souvenirs you can buy and the island's history and culture are steeped in fishing and farming. They are often voted in the top 10 things to do in Galway.
Connemara
Some of the best outdoor Galway activities can be found in the Connemara region of the county. The name Connemara translates to "Inlets of the Sea" and its coastline is peppered with bays, coves and inlets. Much of the coastline lies along the Wild Atlantic Way and inland the landscape becomes rugged, wild and quite mountainous.
If you wondering what to do around Galway County, a visit to Connemara is not to be missed. This region is home to the Connemara National Park, one of Ireland's six national parks. Walking and hiking are popular activities, especially in part of the Twelve Bens Mountain range in which Benbaun is the highest peak. Visitors can also stumble upon megalithic tombs or some of the wild Connemara ponies.
If you are looking for a beautiful attraction in Galway to visit, then head to Kylemore Abbey on the edge of the Connemara National Park. This Gothic Mansion sits on the edge of a lake and is simply stunning. Other things to enjoy in Connemara include the 19th-century Glengowla Mines, Brigit's Garden with its reed-thatched crannóg, and Aughnanure Castle located in Oughterard near the shore of Lough Corrib.
Connemara is also home to Pádraig Pearse's Cottage, where the Irish writer wrote some of his short stories and plays. There is a visitor centre detailing his life before you visit the cottage itself.
And for any film buffs, head to a spot 3km west of Oughterard where you can visit the bridge featured in The Quiet Man.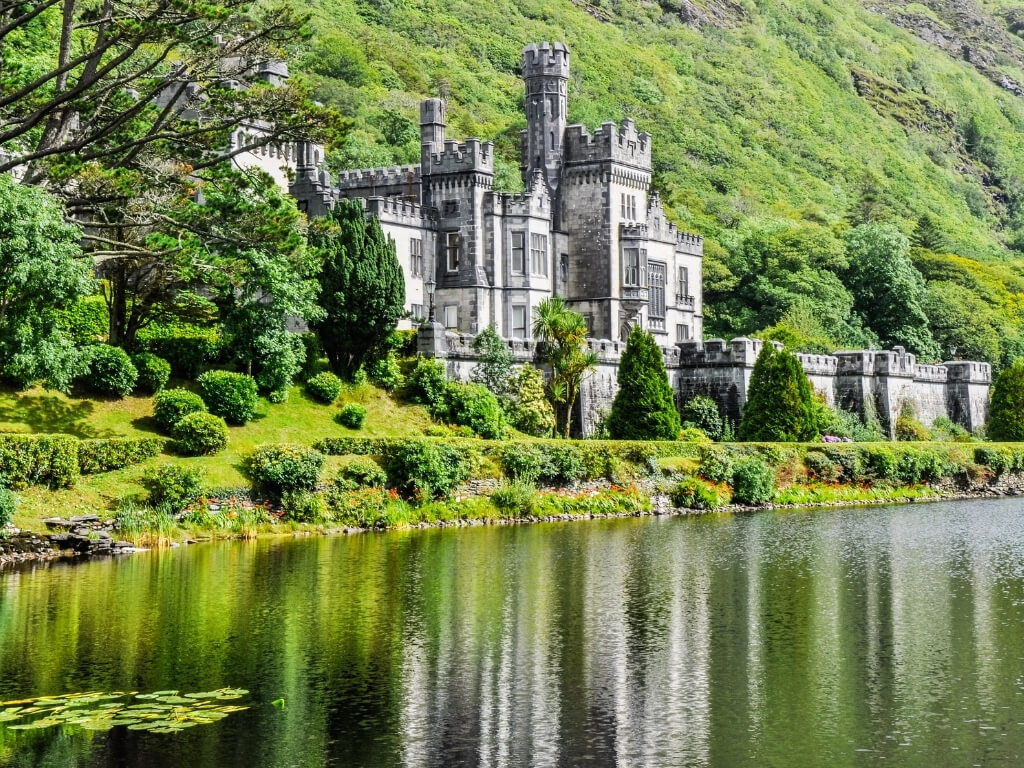 Roundstone
Also considered to be within the region of Connemara is Roundstone, where you will find some of the beaches in Galway. The village of Roundstone is a picture-perfect Irish harbour town with two beaches that are among the best beaches in Ireland, Gurteen and Dog's Bay (pictured), which lie side-by-side, separated by a sliver of land.
Roundstone is a bog area (towards Clifden) where you may see peat being cut in the summer. Visitors can visit Roundstone Musical Instruments to see how traditional Irish musical instruments such as the bodhrán are handcrafted. People visiting the area can also enjoy the outdoors at Roundstone. As well as the beach, there are walking and hiking trails, and kayaking and paddleboarding available too.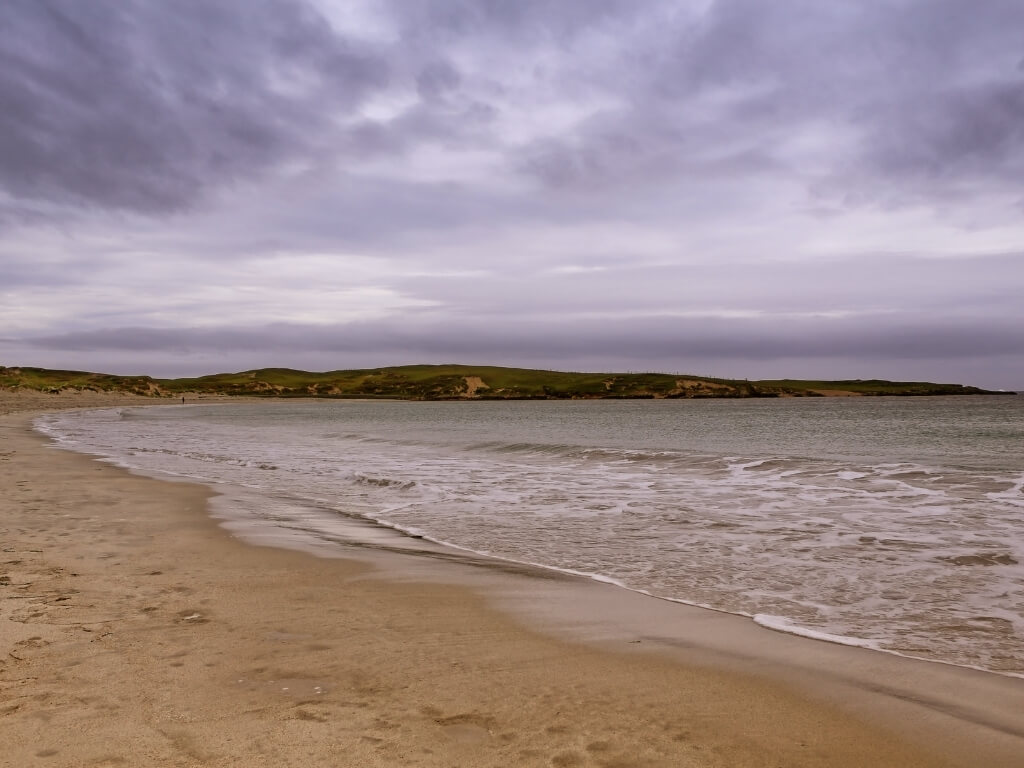 Clifden
Often dubbed the 'capital of Connemara' Clifden is a Victorian-era town where you can find other top activities to do in Galway County. As ever, the outdoors are to be enjoyed, especially on a sunny day, and visitors can enjoy beaches, equestrian sports, and walking and hiking in some of the Twelve Bens mountain range (pictured below).
Clifden is where you will find the start of the Sky Road driving route, an 11km loop that passes through rugged and beautiful coastal scenery before returning to Clifden.
Just south of Clifden is the Derrigimlagh Discovery Point where you can listen to recordings from the 1907 station established by Guglielmo Marconi where the first transatlantic wireless messages were sent from. Nearby is the landing spot (or rather a crash site) of the first transatlantic flight.
Clifden is also home to the Connemara Heritage & History Centre where you can take a peek into lost traditional ways in this restored farm. The Station House Museum is a small museum located in a former train shed that gives visitors a glimpse into Clifden's history and has displays about the local ponies. Visiting Clifden is one of the best things to do in County Galway, Ireland.
Inishbofin Island
One of the top things to do in County Galway is to visit the tranquil island of Inishbofin, which lies 9km west of the mainland from Letterfrack. The island is peaceful and quiet and visitors can enjoy sandy beaches, farm fields and deserted country lanes where walking, cycling and horse riding are easy to do.
The island is famous as being the exile home of St Colman, the base of the pirate queen Grace O'Malley (now a ruined castle) and as the island that Cromwell forces captured to use as a jail to house priests and clerics in the 1650s.
St Colman's ruined monastery can be viewed along the 8km Cloonamore Loop. There is a Heritage Museum which gives visitors a comprehensive introduction to the island's history and traditions. And one of the best beaches in County Galway is the sandy Tra Ghael beach on the island.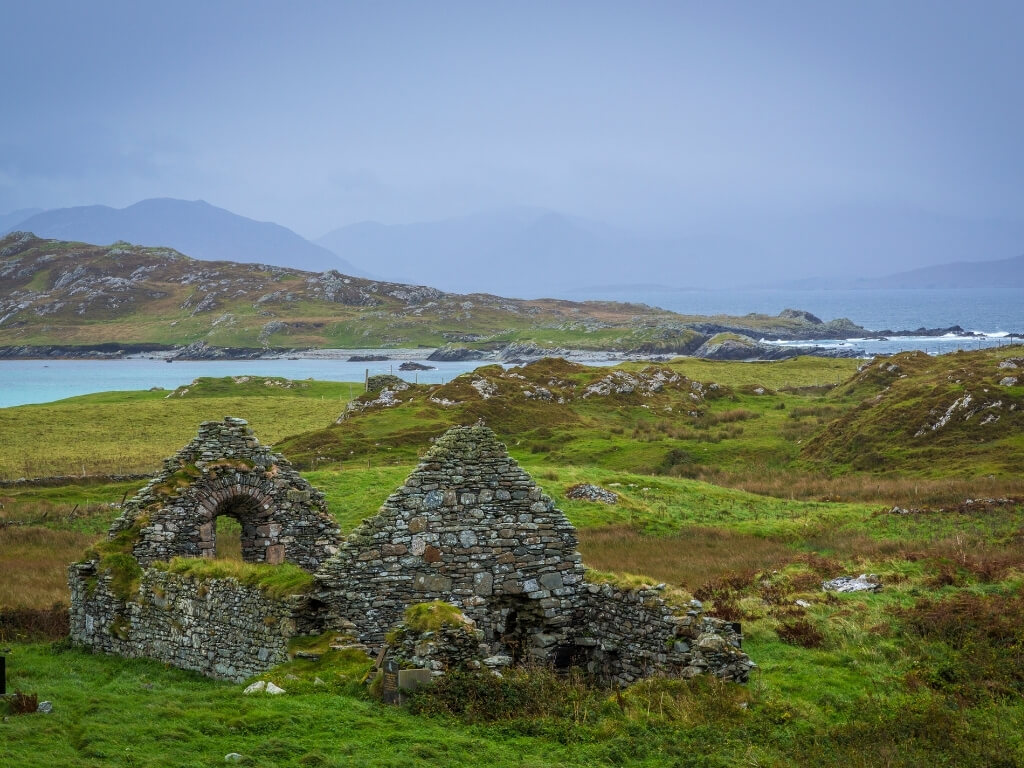 Wild Atlantic Way
A must-do in Galway is a drive along part of the Wild Atlantic Way. Some of the best scenery along the world's longest coastal driving route can be found along the Galway coastline.
Killary Harbour (pictured below) is one of Ireland's only fjords and lies along the border of County Galway and County Mayo. This area is the starting point of the Galway stretch of the Wild Atlantic Way that runs as far as just south of Kinvara.
The roads driven along this section of the Wild Atlantic Way pass through pretty villages, loop around peninsulas, bays, coves and inlets, skirt amazing sandy beaches, and is often sandwiched between a beautiful yet, at times, rugged coastline and mountains. Galway City is the only city located along the Wild Atlantic Way.
Whether you are venturing out to parts of Connemara or staying in Galway City, it is worth taking a trip along part of this driving route to experience all it has to offer. Stop at any of the pretty villages along the way and sample some of the best Irish food in a quiet café or cosy pub.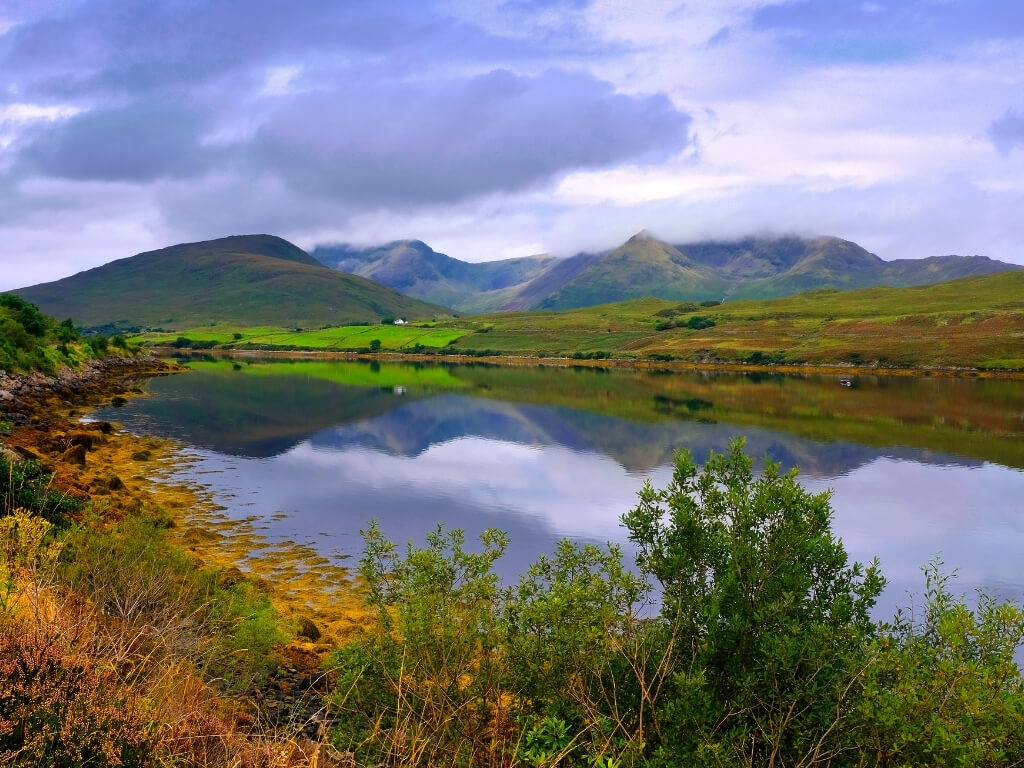 Thoor Ballylee
If you are a fan of Irish literature then head to the southern part of County Galway to discover Thoor Ballylee. This 16th century Tower House is famous for having been the summerhouse of WB Yeats between the years 1921 and 1929. It was the inspiration for The Tower, one of his best-known works.
There is an audio-visual tour which includes readings from Yeats's poetry and visitors can enter the Tower itself. Fellow writer Seamus Heaney described it as the most important public building in Ireland. If you are going to be in the southern part of Galway, near Gort, then it is worth stopping by Thoor Ballylee.
Monastic Sites
One of the top 10 things to do in Galway is to visit the monastic sites scattered around the county. There are a few worth visiting including
Claregalway Franciscan Friary (13th century) – pictured below
Clontuskert Augustinian Priory (12th century)
Kilmacduagh (7th century)
Kilconnell Franciscan Friary (14th century)
Abbeyknockmoy Cistercian Abbey (12th century)
Ross Errilly Franciscan Friary (15th century)
Athenry Dominican Priory (13th century).
Many are ruins but worth visiting to see their cloisters, tombstones, stone carvings, naves, churches, and other monastic ruins. Kilmacduagh, on the edge of the Burren, has a Round Tower which is impressive and Ross Errilly Friary is the most impressive surviving Franciscan friary in Ireland today. More information about the history of these monastic sites in Galway can be found here.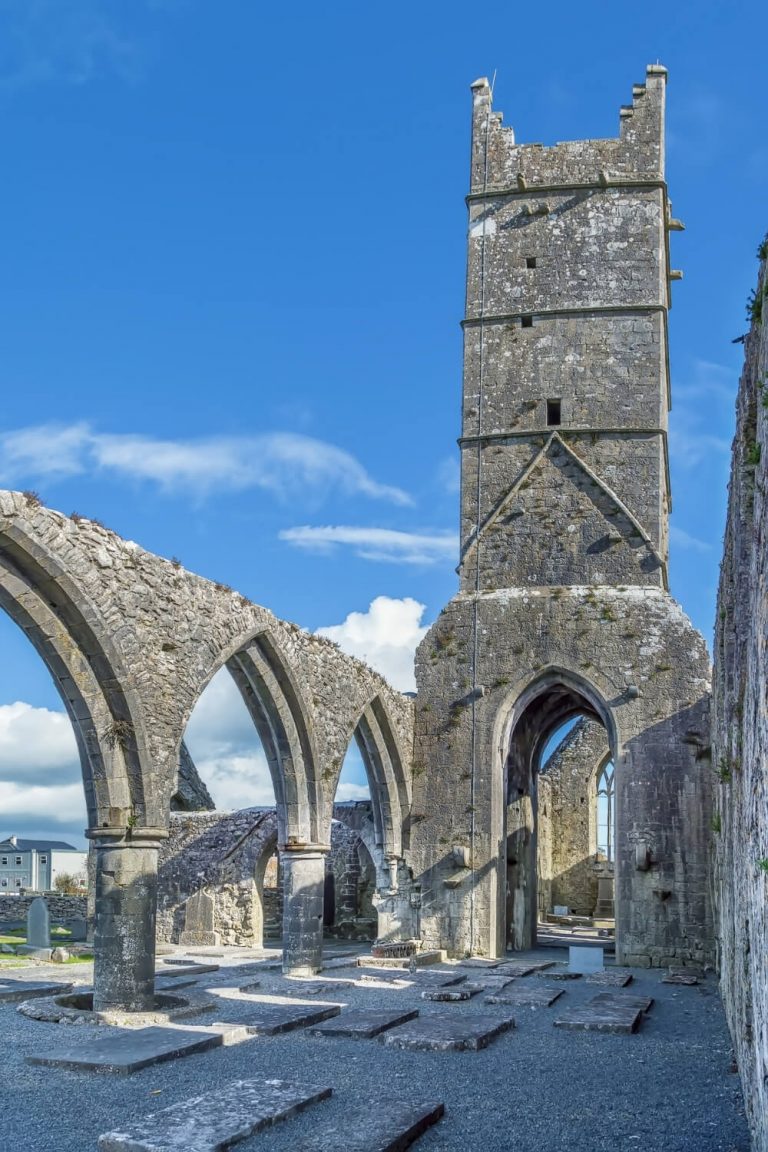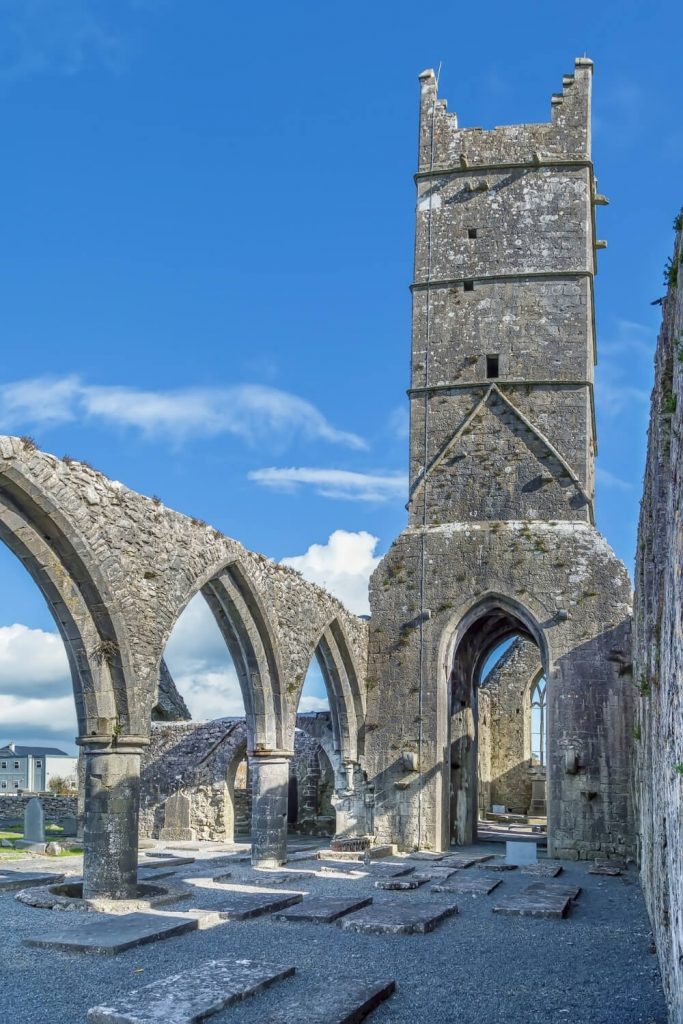 Castles
Some of the best Galway attractions are the many castles that lie within the county. No matter where you visit in the county, you are sure to stumble upon at least one castle to visit and admire.
One of the best castles near Galway is Dunguaire Castle in Kinvara. This 16th-century tower house lies on the shores of Galway Bay on the site of a previous 6th-century royal palace. Visitors can enjoy castle tours and medieval banquets. Visit the website for more information.
Portumna Castle is an imposing 17th-century semi-fortified house built in the Renaissance style. Extensively restored after a fire in the early 1800s, it is a delight to visit as are its formal gardens. There is an exhibition on the ground floor of the castle about the building and its former owners, and visitors can also enjoy views across Lough Derg. See here for more information.
Located near Oughterard (and already mentioned and pictured below) is the former home of the O'Flaherty family, Aughnanure Castle. Built in the 16th century, the tower house lies on the shore of Lough Corrib and visitors can view the banqueting hall, watchtower and other areas. Two courtyards are also at the site. If you fancy visiting, check this link for more information.
Other castles to consider visiting in County Galway include
Athenry Castle
Menlo Castle
Merlin Castle
Oranmore Castle
Corofin Castle
Renville Castle
Where to stay in Galway
Luxury hotels in Galway
Glenlo Abbey Hotel & Estate
If you are looking for 5-star hotels in Galway, then consider booking into the Glenlo Abbey Hotel. Located just a short 12-minute drive from Galway City Centre, this luxury Galway hotel with nearly 300 years of history offers guests a luxurious stay near the shores of Lough Corrib. Golf, archery, falconry and fishing are just some of the activities available on-site. Find prices and availability here.
Ballynahinch Castle Hotel and Estate
If you want to be close to some of the best things to see in County Galway, then book into Ballynahinch Castle, one of the best castle hotels in Ireland, dating from the 16th century. Nestled on the shore of Ballynahinch Lake and just over an hours' drive from Galway City, this 4-star hotel is perfectly located for a luxury castle stay in the heart of Connemara. Guests can enjoy walking, shooting and fishing on-site. Click here for prices and availability.
Budget-friendly hotels in Galway
Western Hotel
Located just off Eyre Square in the heart of Galway City, the Western Hotel is a budget-friendly, award-winning hotel. The Western is a 3-star luxury hotel that is also easy on your wallet. As well as hotel rooms there are self-catering apartments, a restaurant and free parking. There are even pet-friendly rooms. For a comfortable stay in the city centre, choose the Western Hotel. Click here for prices and availability.
Claregalway Hotel
This 3-star hotel is located a short 15-minute drive from Galway City Centre and is situated just north of the city. With an on-site restaurant and leisure centre with a pool, it offers budget-friendly accommodation within reach of the city and wider county. Find the latest prices and availability here.
Things to know about County Galway, Ireland
If you are not familiar with the West of Ireland and County Galway, then this section will enlighten you with some information about the county that might be of interest.
Where is County Galway? – County Galway is located in the West of Ireland, in the southern part of the Province of Connaught. Its coast lies on the Atlantic Ocean and it is bordered by Counties Mayo, Clare, Tipperary, Roscommon and Offaly. Its border with Offaly and Tipperary is formed by the River Shannon.
County Galway facts:
Galway in Irish is Gaillimh which means "stony", which formed the western boundary of the earliest settlements in the county. It is derived from Dún Gaillimhe meaning Fort Gaillimh.
The county covers 6149 square kilometres (2374 square miles) and the population of County Galway is approximately 258,000.
It is one of the twenty-six counties of the Republic of Ireland.
Galway is the 2nd largest county of Ireland (all 32 counties), by size and 5th in terms of population.
Galway has the largest Gaeltacht (Irish-speaking) region in Ireland, in which 20% of the population of County Galway live.
Galway has both flat and mountainous regions, with the mountainous region being dominated by the Twelve Bens, of which Benbaun is the highest peak. These are found in the Connemara region of the county.
Ireland's longest river provides the border with two counties and the other most notable river in the county is the River Corrib which flows into Galway Bay.
Galway has a few lakes including the largest in the Republic of Ireland, Lough Corrib. The other notable lakes are Lough Derg and Lough Mask.
Notable cities towns in County Galway – Galway City (only city), Tuam, Clifden, Carraroe, Ballinasloe, Loughrea and Athenry.
Weather in Galway – County Galway has a temperate climate and it is often a wet one. The Atlantic Ocean influences the weather in Galway. Winters are mild and wet with average day temperatures of 8°C and lows of 2°C. Days are also short and dark. Summer sees longer brighter days with average day temperatures of 18°C and lows of 12°C. Rain is common throughout the year, with October typically being the wettest month and April the driest. As with all of Ireland, do not travel to Galway without a raincoat, even in summer, which is the best time to visit Galway, Ireland. For more information about the best weather in Ireland and the best time of year to visit Ireland, read this post.
Famous people from Galway – There are a few famous people who come from County Galway. They include Nora Barnacle, wife of Irish writer, James Joyce. Dolores Keane, a musician, also hails from Galway and the current president of Ireland, Michael D Higgins is also from County Galway.
Final thoughts on the best things to do in County Galway
If you've been considering visiting this part of the Emerald Isle, I hope this post about the best things to do in Galway gives you a few ideas of how to spend your time in the county.
No matter what you choose to see and do, if you chose just one or two things from this list, you will see the best of Galway during your visit.
Read more about visiting Ireland, Galway and its neighbouring counties: