Are you eager to explore the captivating natural wonders of Ireland, but not quite sure where to begin your journey?
Ireland is a treasure trove of stunning landscapes, majestic cliffs, and serene lakes, enough to make anyone's heart skip a beat.
As an Ireland native, I'm here to share my intimate knowledge and passion for Ireland's natural world, helping you uncover these beautiful sights.
I've crafted this guide for nature enthusiasts like you, who yearn to experience the awe-inspiring natural beauty Ireland has to offer.
This list of must-see natural wonders will help navigate your journey across the enchanting Emerald Isle, ensuring you experience the breathtaking views and picturesque spots that make Ireland such a beloved destination.
So, if you want to know more about the natural wonders of Ireland you must not miss, grab your hiking boots and prepare to step into Ireland's awe-inspiring outdoors.
*This post contains affiliate links, which may include Amazon affiliate links. To read more about affiliate links, please visit my Disclosure Policy page.
The Natural Wonders of Ireland to Add to Your Bucket List
Some people often talk about the 7 wonders of Ireland including places such as the Giant's Causeway, the Rock of Cashel and the River Shannon but there is more to Ireland than just 7 natural wonders. If you are going to travel Ireland, you will be spoiled for choice when it comes to beauty and nature. Below you will find what we think are the most amazing natural wonders to be found in Ireland that you simply must not miss when visiting this beautiful island.
Ireland map denoting the Ireland natural wonders you must not miss.
River Shannon
One of the best natural wonders in Ireland snakes through the landscape from County Cavan to County Limerick and is also the longest river in Ireland. The River Shannon stretches for 360km or 224 miles, starting from the Shannon Pot in County Cavan, and eventually draining into the Shannon River basin, which in turn empties into the Atlantic Ocean.
It divides the west of Ireland, the province of Connaught, from the east and south and was named after a Celtic goddess, Sionna, who was the granddaughter of Lir.
The River Shannon can be enjoyed from the banks or from the water and there are three main loughs, or lakes, along it. Fishing is popular along its length and visitors can enjoy the River on a Shannon River Cruise.
Newgrange
One of the most popular landmarks in Ireland for visitors is the Boyne Valley, or Brú na Bóinne, with its prehistoric monuments of Knowth, NewGrange and Dowth. These passage tombs have stood longer than the Pyramids of Giza, having been built 5000 years ago. There are also a large number of other monuments in the area, making it a significantly important archaeological site. Brú na Bóinne is also a UNESCO World Heritage Site, one of only two heritage sites in Ireland.
The site is located in County Meath, not far from the town of Drogheda and only 40km from Dublin, making it easily accessible as a day trip from Dublin. Access to Newgrange and Knowth is by guided tours only and they start from the Brú na Bóinne visitors centre. It is a hugely popular tourist attraction and it is advisable to book your tour in advance of your visit.
Explore Newgrange and beyond with a tour from Dublin. Check latest prices and availability here.
Phoenix Park
If you are looking for some nature in Ireland, but don't really want to venture outside of Dublin, then the Phoenix Park is the place to visit. One of the largest enclosed recreational public parks in Europe, the Phoenix Park has lots of things to do and see. And best of all, entry is completely free.
Within the walls of the park lie fields, woods, Dublin Zoo which is great if you are visiting Dublin with kids (although this is a paid attraction), the Wellington Monument, the People's Gardens, the Papal Cross and more. And if you are really lucky, you might even spot the herds of resident deer around the park, particularly around the fifteen acres playing fields near the Papal Cross.
The Burren
Located in County Clare in the west of Ireland, the Burren National Park is a natural wonder and one of the best sights in Ireland to visit. Although this unique landscape can look quite barren it is anything but. Its name comes from the Irish word boireann, meaning "great rock" coming from the fact it is a Karst limestone area whose rock formation have developed over thousands of years.
As well as the outstanding rock formations, the landscape teams with flora and fauna including flowers, ferns, insects such as moths and butterflies and also animals such as badger, fox and stoats and birds. It's a place that can easily be combined with a visit to another place on our list, the Cliffs of Moher.
Explore the Burren coast, Cliffs of Moher and Galway Bay on a tour from Dublin. Check latest prices and availability here.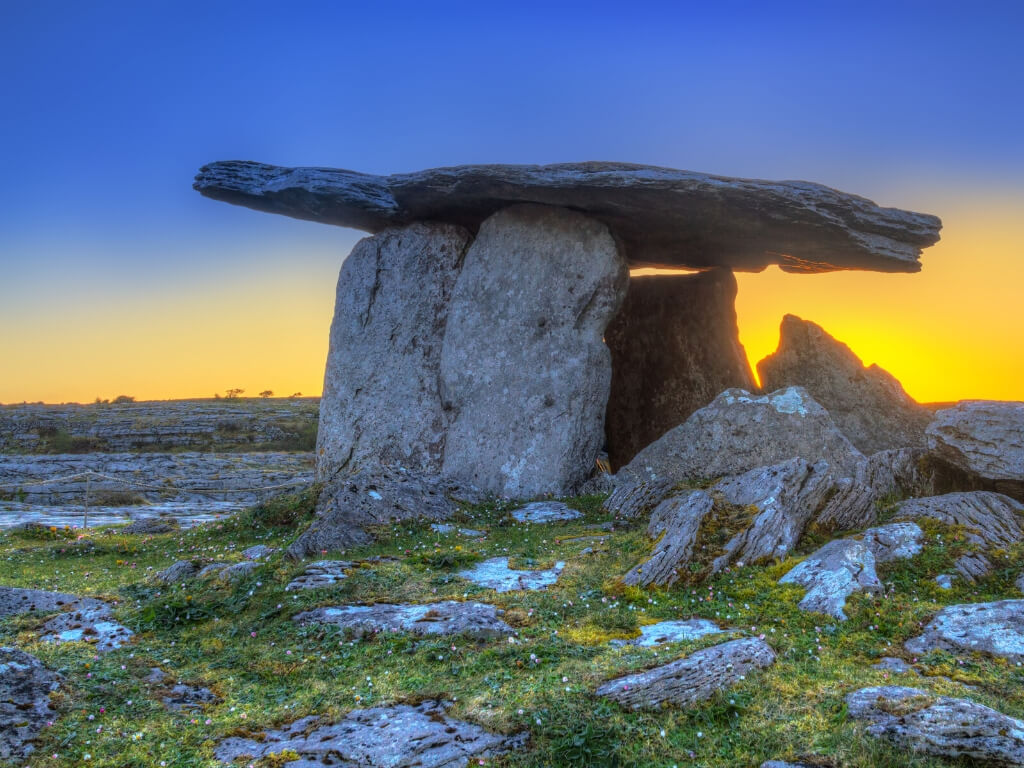 Carrauntoohil
One of the great Ireland natural attractions is its highest mountain, Carrauntoohil. Located in County Kerry, it is part of the beautiful MacGillycuddy's Reeks, Ireland's highest mountain range. Carrauntoohil stands at 1,038.6 metres tall, or 3,407 feet. Reaching the summit is often an item found on the bucket list of many Irish people and is not for the faint-hearted.
Enjoy hiking Carrauntoohil and combine it with a visit to the Ring of Kerry, discussed further down.
Giant's Causeway
When people discuss natural attractions in Ireland, they often refer to the seven wonders of Ireland, and one attraction which always features is the Giant's Causeway found in Northern Ireland. These famous rock formations in Ireland are one of the regions most popular attractions and is a site in Ireland not-to-be-missed.
Located in County Antrim, the Giant's Causeway consists of over 40,000 interlocking basalt rock columns jutting out from the landscape at the shore's edge. These were formed as a result of volcanic activity 60 million years ago. However, legend has it that the giant Finn MacCool forged this rock bridge in order to reach his Scottish giant enemy. Hence its name.
The Giant's Causeway is Ireland's only other UNESCO World Heritage Site and is a must for anyone planning a visit to Ireland.
Find latest prices and availability for tours to the Giant's Causeway from Dublin here. And for tours from Belfast, find the latest prices and availability here.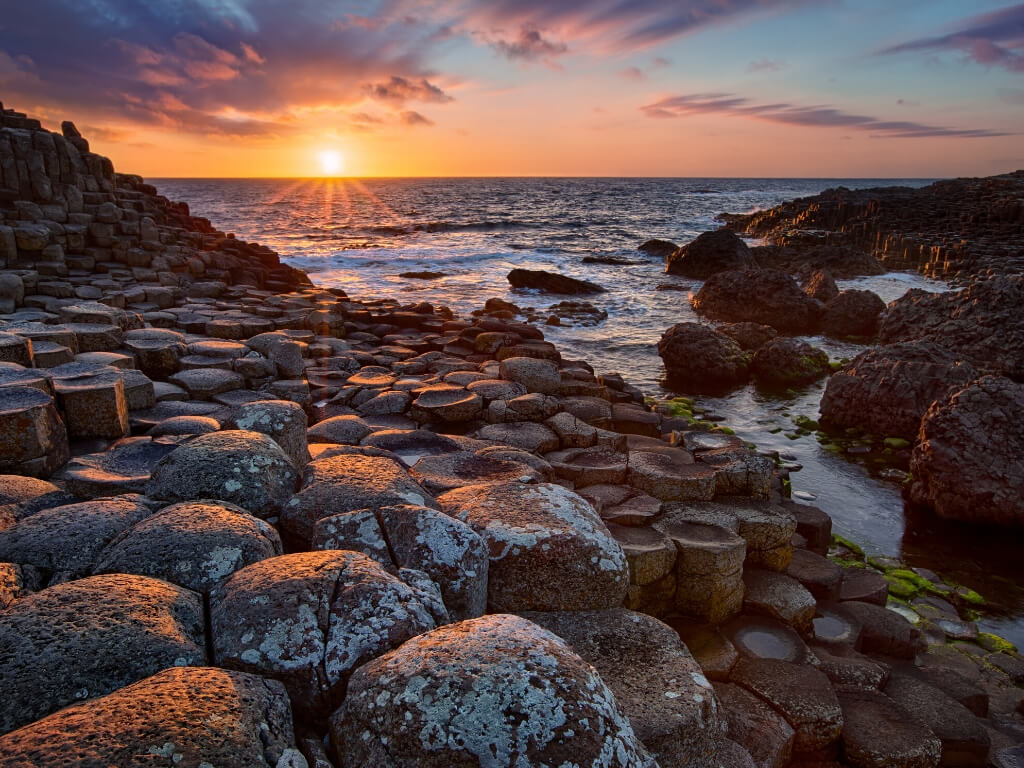 The Cliffs of Moher
Briefly mentioned above, one of the most stunning natural wonders of Ireland can be found in County Clare along the Atlantic Ocean. The Cliffs of Moher is one of the top tourist destinations in Ireland, with over 1.5 million visitors each year, and they are a must-see on the island.
Standing at a majestic 214 metres (702 feet) at their highest and stretching for 14 kilometres (or 9 miles) along the west coast of Ireland, the Cliffs of Moher are sea cliffs located on the edge of the Burren. Their name comes from the old promontory fort called Mothar (Moher) which one stood on Nag's Head at the southernmost point of the cliffs, now the site of Moher Tower.
On a clear day, visitors can see as far as the Aran Islands in Galway Bay, as well as the Twelve Pins mountain range in Galway and Loop Head in the south at the mouth of the River Shannon. The Cliffs are a famous point along the Wild Atlantic Way, one of the best road trips to undertaken in Ireland.
Take a fully guided tour of the Cliffs of Moher from Dublin. Check the latest prices and availability here.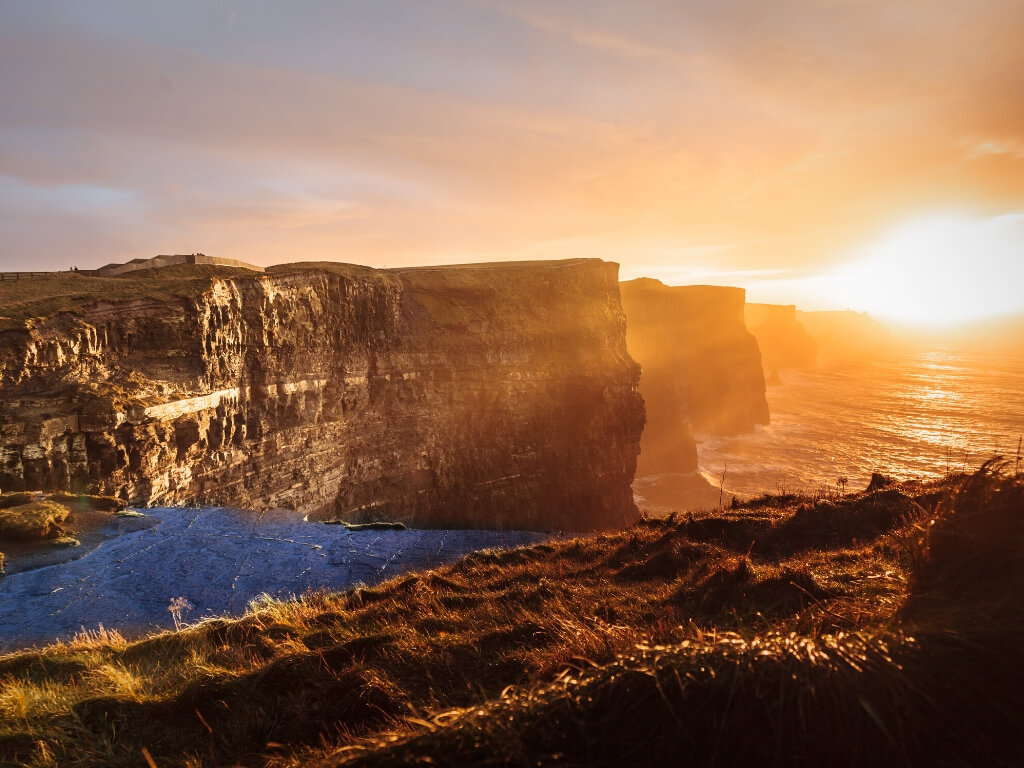 Lough Neagh
The largest freshwater lake in Northern Ireland is Lough Neagh and is an area of outstanding natural beauty. It also the largest lake on the British Isles with a surface area of 392 square kilometres, or 151 square miles. It supplies over 40% of the water to Northern Ireland and has two main inflows from the Rivers Blackwater and Bann.
Five of the six counties of Northern Ireland have borders along its shores and as well as many towns and peninsulas along its shores, you will also find a number of islands in the lake. The lake can be used recreationally, although conditions out on the water can change rapidly, mainly due to windy conditions.
The lake is a popular place for birdwatchers, particularly in the summer months. And fishing and cruises are also popular activities on the lake.
Benbulbin
One of the most unusual natural landmarks in Ireland is a flat-topped rock formation, located in County Sligo, by the name of Benbulbin, It is part of the Dartry Mountains, in an area of Ireland which is often referred to as Yeat's Country, and is one of the best places in Ireland to visit. At its highest point it stands 526 metres, or 1726 feet tall and is a popular walking destination in Ireland.
Benbulbin was formed during the ice age when Ireland was covered be glaciers. It was originally a large plateau, hence its flat top. Its name is an Anglicanisation of the Irish words "binn Ghulbain", with binn meaning peak and ghulbain meaning beak/jaw.
Walking Benbulbin is a popular activity, although it is advised to approach it from the south face which is less hazardous than the north. If you are lucky enough to reach the summit, and it is a clear day, you will be rewarded with views over the coastal plains of north County Sligo as far as the Atlantic Ocean.
It has many Irish legends associated with it and was also the scene of the murder of six IRA members during the Irish Civil War in 1922. Benbulbin is a place of natural beauty in Ireland and is a must if you are visiting County Sligo.
Rock of Cashel
Of all the natural wonders in Ireland, there are none more striking than the Rock of Cashel, in Ireland's Ancient East. This historic abbey was once the seat of the Irish High Kings of Munster before the Norman invasion. Its other names include Cashel of the Kings and St Patrick's Rock.
Most of the buildings date from the 12th and 13th centuries, with the oldest, a round tower, originating from around 1100. The main abbey no longer has a roof, which was removed in the 1700's, but the arches remain, giving you a sense of what it may have looked like hundreds of years ago.
The Rock of Cashel is one of the most amazing sites in Ireland to visit, even with kids, and stands proudly on the hill overlooking the plains of County Tipperary. It can easily be visited during a day trip from Dublin and you could combine your visit with some of the best castles in Ireland in the area including Cahir Castle. It is an Irish wonder that everyone should visit at least once in their lifetime.
The Rock of Cashel is just one of the stops on a 3-day Dingle, Killarney and Wicklow Tour. Check out this tour and get the latest prices here.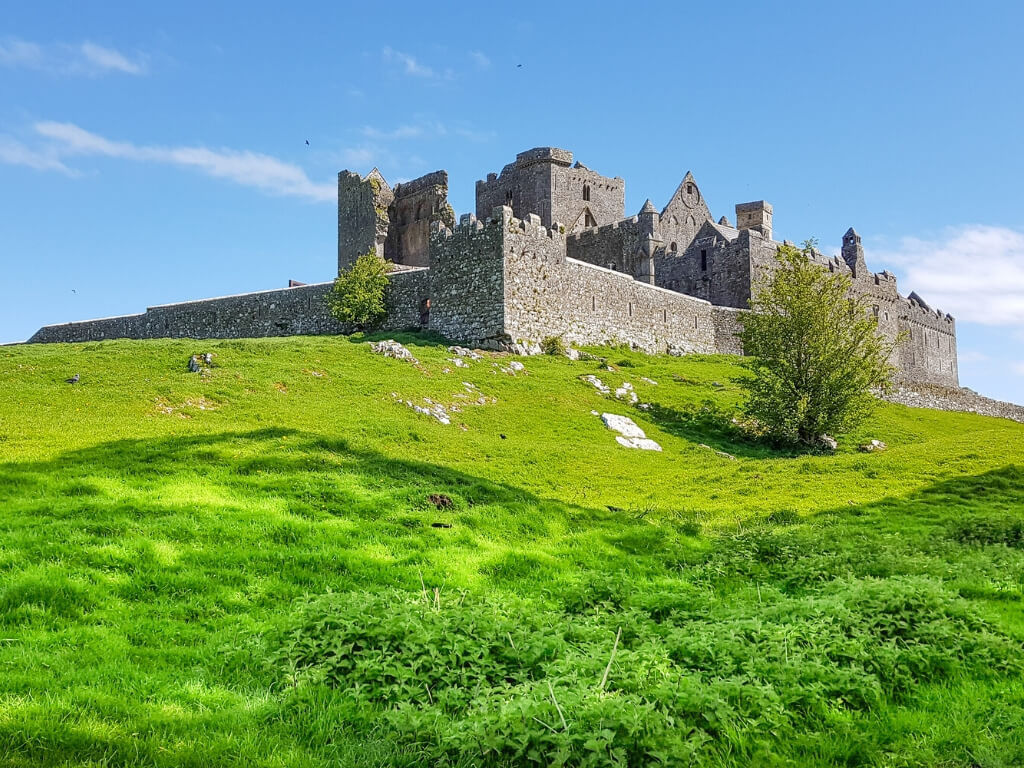 Slieve League
Slieve League, or to give it its Irish name Sliabh Liag, is a mountain located in County Donegal (in the north-western tip of Ireland) along the Atlantic coast. Standing, at their highest point, 609 metres or 1998 feet, it is among the highest sea cliffs on the island of Ireland and are one of the sights in Ireland many people visit when in the northern half of the country. In fact, they are almost three times higher than their famous counterparts, the Cliffs of Moher.
Hiking is a popular activity along this section of the Atlantic Coast, and they are also part of the Wild Atlantic Way. Typically, visitors leave their cars at the car park and walk a few kilometres to get the views. There are also ancient stone remains believed to be the site of a pilgrimage before the arrival of Christianity. Slieve League may be lesser known than their County Clare cousins but are no less wondrous.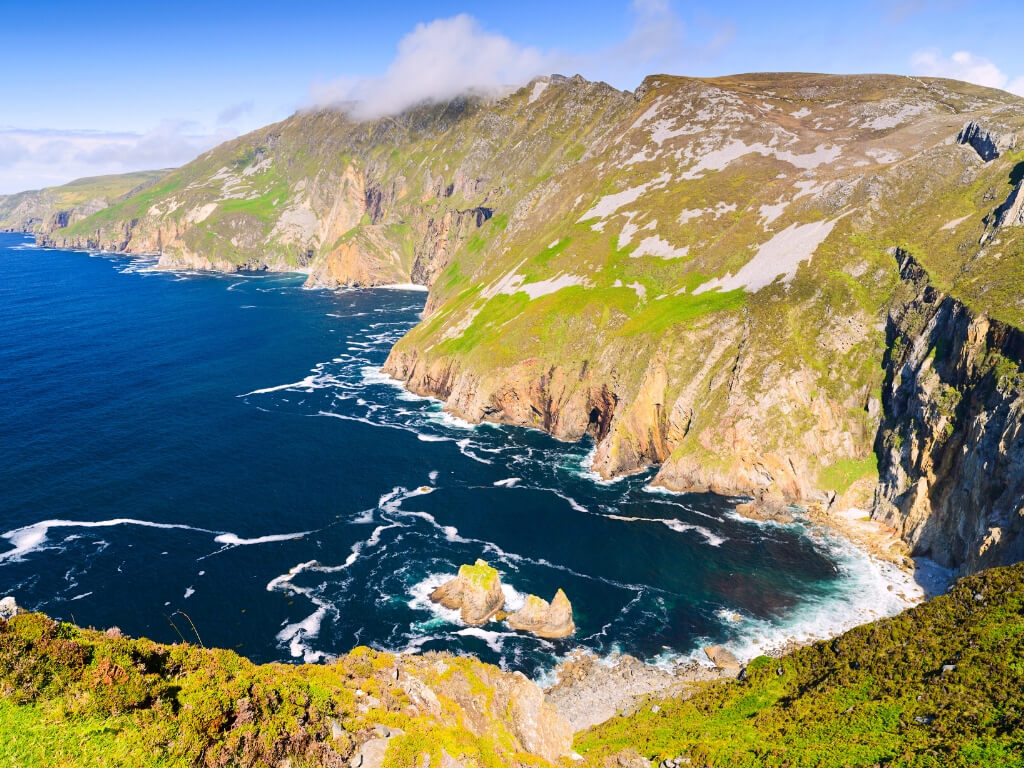 Final thoughts onh Ireland's best natural wonders
Many people talk of the 7 or even 10 wonders of Ireland that you should not miss during a visit to Ireland, but I've gone one more to show that there are more wonders of Ireland than you may think.
In fact, I could have added many more to this list but felt the ones featured herein are those which should be on everyone's Ireland bucket list.
From sea cliffs to World UNESCO Heritage sites, Ireland is awash with natural wonders to inspire many a visitor to this wonderful island.
More about visiting Ireland and its natural wonders: