March 17th is the biggest date on the religious and cultural calendar for the Irish. Whether they are on the Emerald Isle or further away, the Irish come together to celebrate St Patrick's Day, the feast day of the patron saint of Ireland. Discover some fun and interesting facts about St Patrick's Day and learn everything you need to know about the biggest day on the Irish calendar.
Facts about St Patrick's Day
If you have ever asked yourself "when is St Patrick's Day?", "who was St Patrick?", or even "does anyone outside Ireland celebrate St Patrick's Day?", then find out the answers to these questions and more St Patrick's Day facts right here.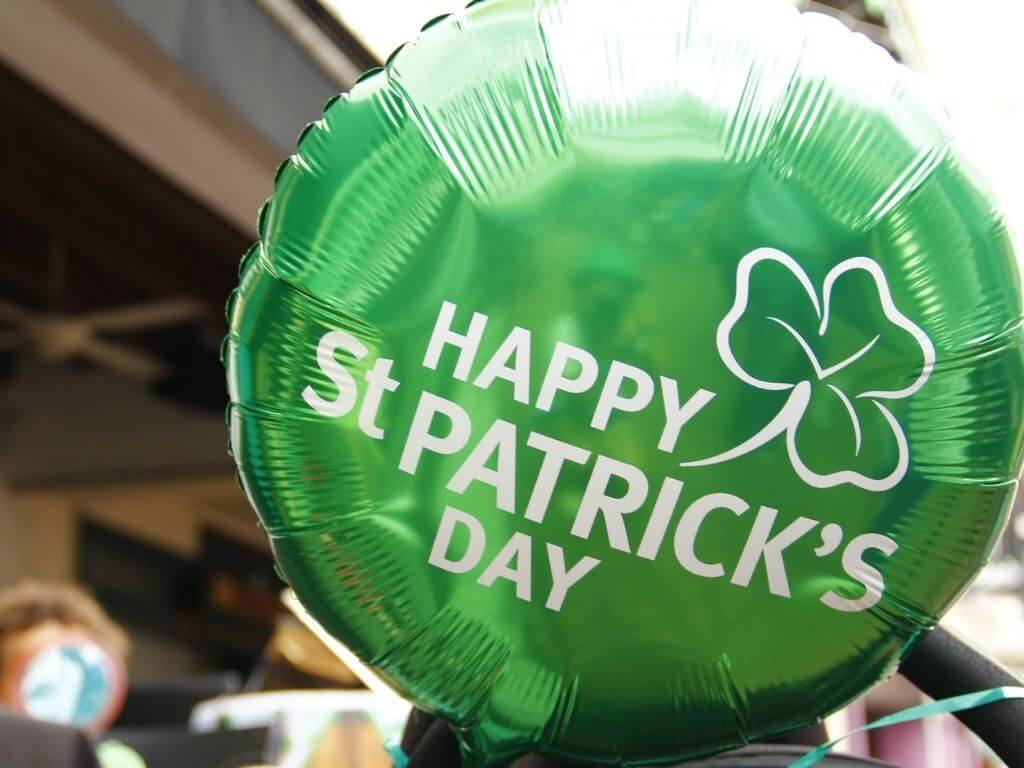 When is St Patrick's Day? Saint Patrick's Day is on March 17th and is a National Holiday in Ireland. It is the biggest cultural and religious celebration of the patron saint of Ireland.
How long have the Irish been celebrating St Patrick's Day? The Irish have observed this date for over 1000 years and have been holding parades and festivals in celebration of the day for around 100 years.
How did the Irish celebrate St Patrick's Day in days gone by? St Patrick's Day often falls during Lent and is a day when families went to church in the morning and celebrated in the afternoon. Lent is traditionally a time of abstention and these or other prohibitions were waived for the celebrations (see the video below for a laugh).
What do the Irish eat on St Patrick's Day? Traditionally, the meal of the day was cabbage and bacon, and many Irish families still follow this tradition.
Does anyone else around the world celebrate St Patrick's Day? The Irish diaspora around the world celebrates St Patrick's Day.
Did you know that the first St Patrick's Day parade was not held in Ireland but in America? According to records, a St Patrick's Day parade was held in 1601 in a Spanish colony in Florida. However, many believe the first actual parade was held in Boston in 1737. And in 1772, homesick Irish soldiers serving in the English army held one in New York City. From there it became ever more popular.
In America, more than 100 St Patrick's Day parades are held, including in New York City and Boston, which is the largest. This is mainly thanks to the large Irish populations that arrived in the cities during the 19th and 20th centuries.
And aside from parades, one of the biggest and best things to see on St Patrick's Day in the USA is the Chicago River. The city has been dying its river green since 1962 to mark the day.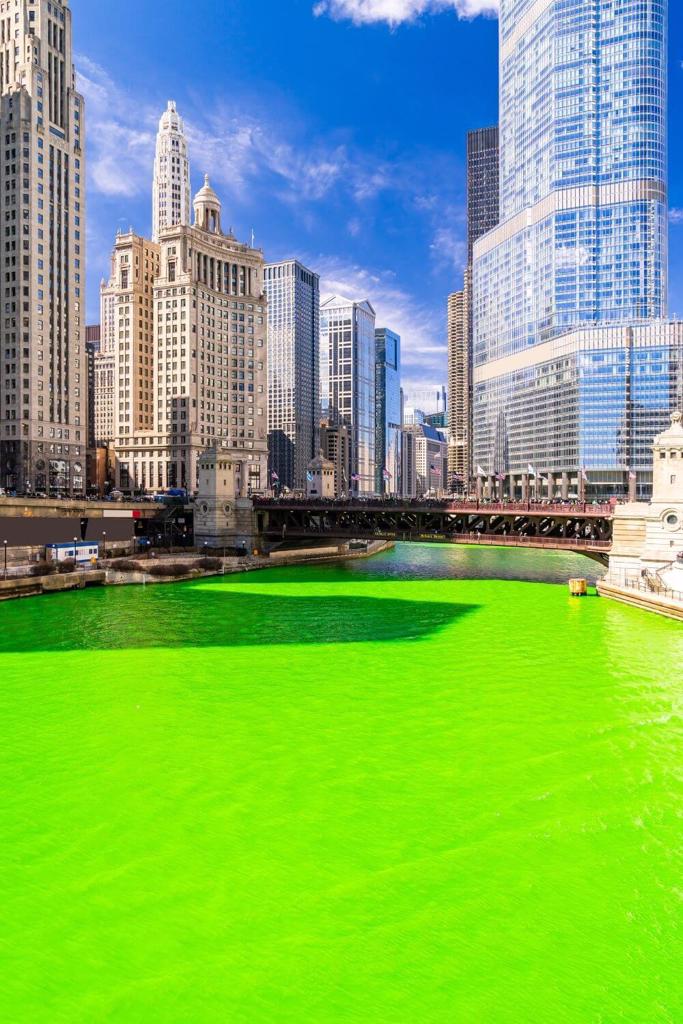 Many iconic landmarks around the world are illuminated in green light on St Patrick's Day including the Eiffel Tower in Paris, the Sydney Opera House, and even Christ the Redeemer in Rio de Janeiro.
Fun facts about St Patrick's Day and other things to know
Did you know?
St Patrick's Day only became a religious holiday in Ireland in 1903.
As a result of St Patrick's Day being a religious holiday, pubs had to close on St Patrick's Day until the 1970s, when it was reclassified as a national holiday.
The first parade in Ireland took place in Waterford in 1903.
The St Patrick's Day Parade in Dublin is the largest in Ireland. Thousands flock to the city centre to enjoy the parade which runs from Parnell Square, down O'Connell Street, along Dame Street and Patrick Street, ending at St Stephen's Green. Starting at 11 am, the parade includes floats, bands, dancers, arts groups, and more from Ireland and around the world.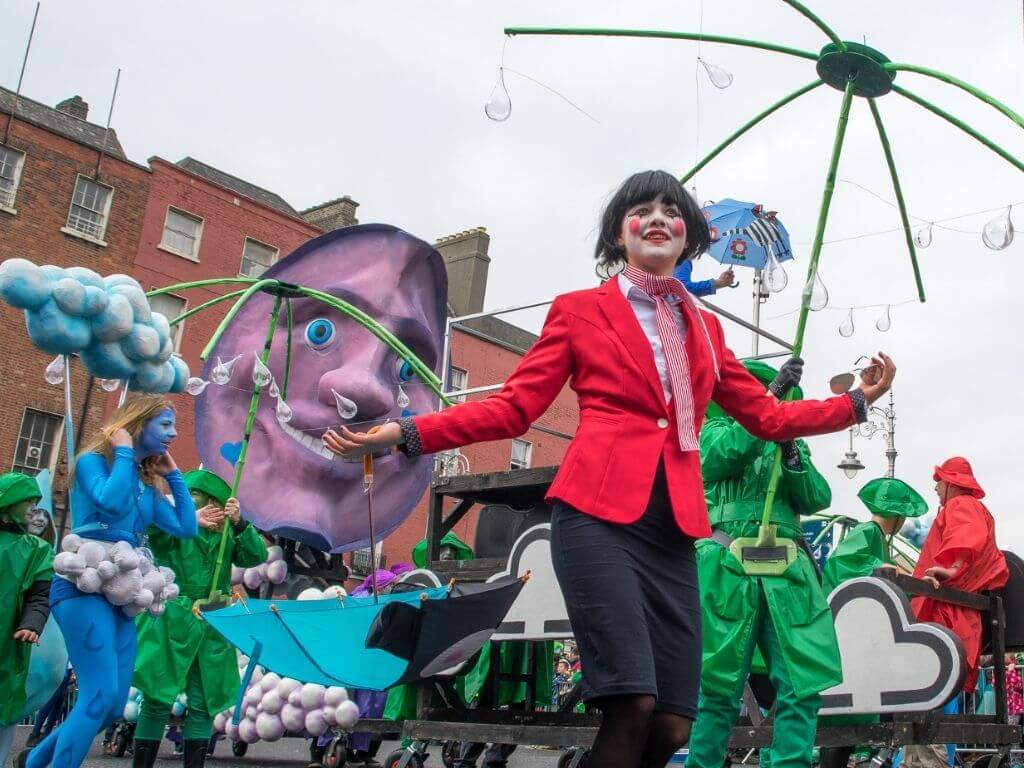 Pubs across the country are packed for the day, with green everywhere, and the beer and Guinness flowing.
Until the 19th century, the colour blue was associated with St Patrick, not green. Green took over thanks to its symbolism of Ireland and is now the colour you will see on St Patrick's Day.
In 2021, due to the global pandemic, St Patrick's Day in Dublin was broadcast on a dedicated TV channel online with a virtual parade and other virtual events. The highlight was a spectacular drone show over Dublin (see video below).
5 Interesting facts about St Patrick
Here are some fun facts about St Patrick that everyone should know before celebrating this Irish national holiday.
Who was St Patrick?
St Patrick was a 5th-century monk
Was St Patrick Irish?
No, it is believed St Patrick was from Wales or Scotland and his real name was Maewyn Succat.
How did St Patrick come to be in Ireland?
At the age of 16, he was kidnapped by Irish pirates and sent to Ireland as a slave to tend sheep. Six years later he escaped and returned to his family.
When he became a cleric, he returned to Ireland as a missionary and is credited with bringing Christianity to Ireland.
How did St Patrick's introduce Christianity to Ireland?
In the 5th century, Ireland was a pagan country, and it is believed that St Patrick's used the shamrock to explain the Holy Trinity to the pagan Irish. There have always been Irish symbols with three aspects to them including the Triskele and Triquetra. The shamrock was also a symbol of the Celtic goddess Ana/Anu, making it easy for St Patrick's to use it to explain the Holy Trinity.
Why is St Patrick's Day on the 17th of March?
It is believed that St Patrick died on the 17th of March in 461 in Saul, County Down, although the year is not certain. He is believed to be buried in the grounds of Down Cathedral in Downpatrick.
Legends synonymous with St Patrick
There are a few legends associated with St Patrick, some are well-known and others less so.
He drove the snakes from Ireland – Legend has it that St Patrick spent 40-days fasting at the top of a mountain now known as Croagh Patrick in County Mayo. When he descended the mountain after his fast, he saw snakes gathering in front of him. It is said he drove to them to the sea and banished them, never to return to Ireland again.
However, post-glacial Ireland never had snakes. After the last Ice Age, when the temperatures began to warm, snakes in Ireland migrated north and east, towards Britain and when the ice caps melted, they created a barrier for snakes in the form of the Irish sea.
He used the shamrock to symbolise the Holy Trinity – As mentioned above, it is said that St Patrick used the native shamrock to explain the concept of the Holy Trinity to the pagan people he was trying to convert to Christianity; that God is one and three people, God the Father, God the Son and God the Holy Spirit. Three people being one God.
Pagan Ireland, also already mentioned, had many symbols and deities comprising the number three and perhaps using the shamrock as a visual aid alongside symbols such as the Triskele helped in his explanation.
St Patrick created the Celtic cross – It is said that St Patrick created the Celtic Cross, which incorporates many Celtic symbols into it, making it more palatable for previously pagan natives to accept the new faith.
However, the cross was popular with Celts long before St Patrick arrived in Ireland, with it symbolising north, south, east, and west, and also earth, wind, fire, and water.
His walking stick turned into a tree – Legend says that St Patrick carried an ash walking stick. After returning to Britain to visit his parents, he would thrust the stick into the ground along his return journey to Ireland to preach to those he met along the way. At a place known as Aspatria, the message of his preaching took so long to reach the people that the stick took root and grew into a tree.
He debated with ancient Irish ancestors – It is said that St Patrick met two ancient Irish warriors, Oisín and Caílte mac Rónáin, once members to Fionn mac Cumhaill's warrior band the Fianna, that somehow survived to St Patrick's time. The debate was a result of Patrick trying to convert the warriors while they defended their pagan roots.
And finally, never ever call it St Patty's Day or Patty's Day. Paddy is derived from the Irish for Patrick, Pádraig. Patty is a shortened version of Patricia, a woman's name! It is also synonymous with burgers. Marcus Campbell has written an easy way to remember it on his website:
IT'S PADDY, NOT PATTY. EVER.

SAINT PATRICK'S DAY? GRAND.

PADDY'S DAY? SURE, DEAD-ON.

ST. PAT'S? IF YE MUST.

ST. PATTY? NO, YE GOAT!

Paddynotpatty.com
So, remember, if you are addressing an Irish person or are in Ireland for St Patrick's Day, don't ever call it St Patty's Day/Patty's Day. You will offend and most likely get an ear-bashing. #PaddyNotPatty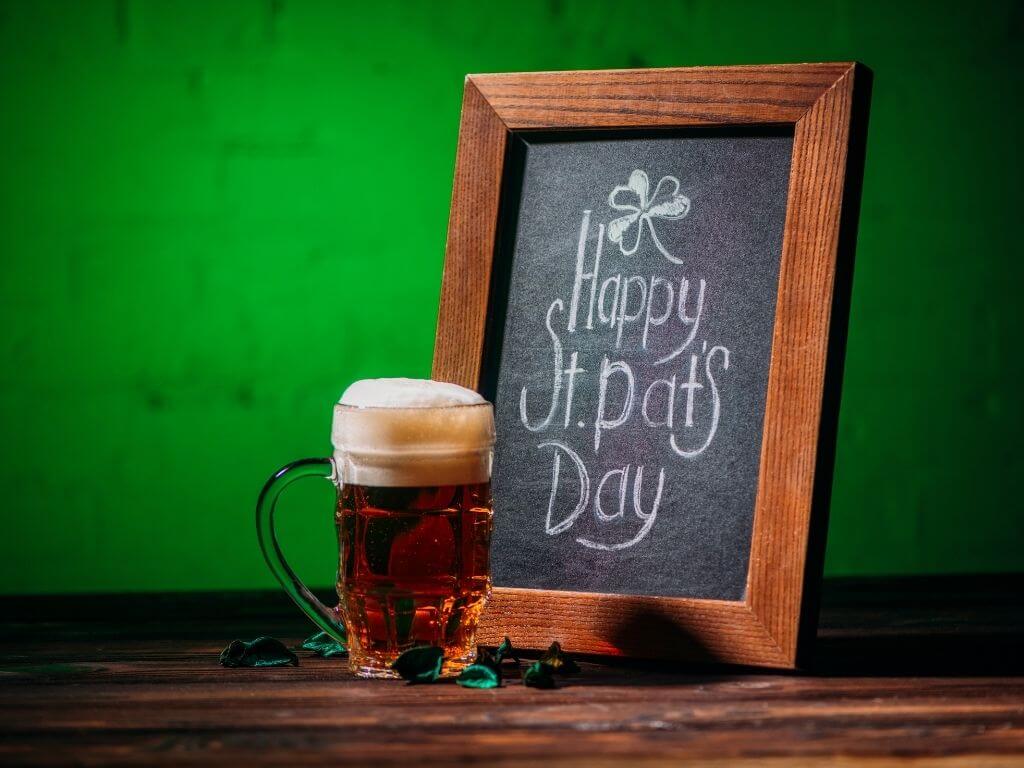 So now that you have learned lots of facts about St Patrick's Day and know all you need to know about this huge event in the Irish calendar, how are you going to be celebrating Paddy's Day?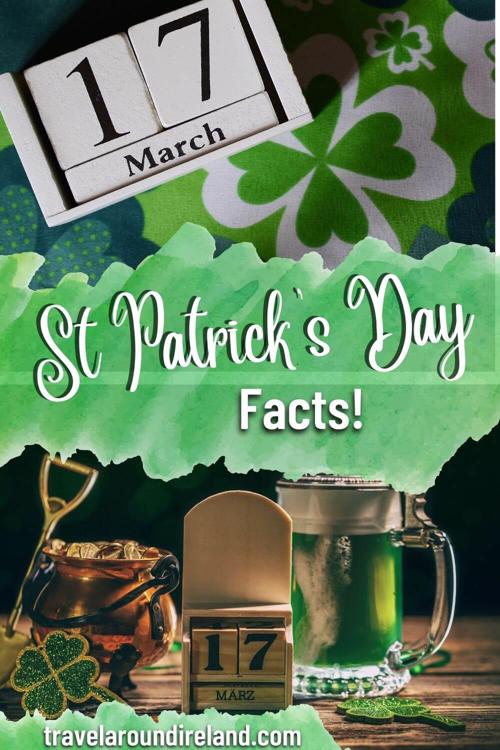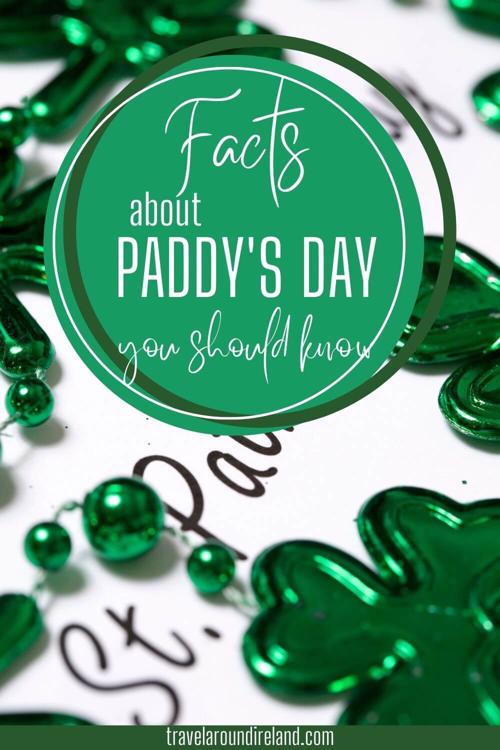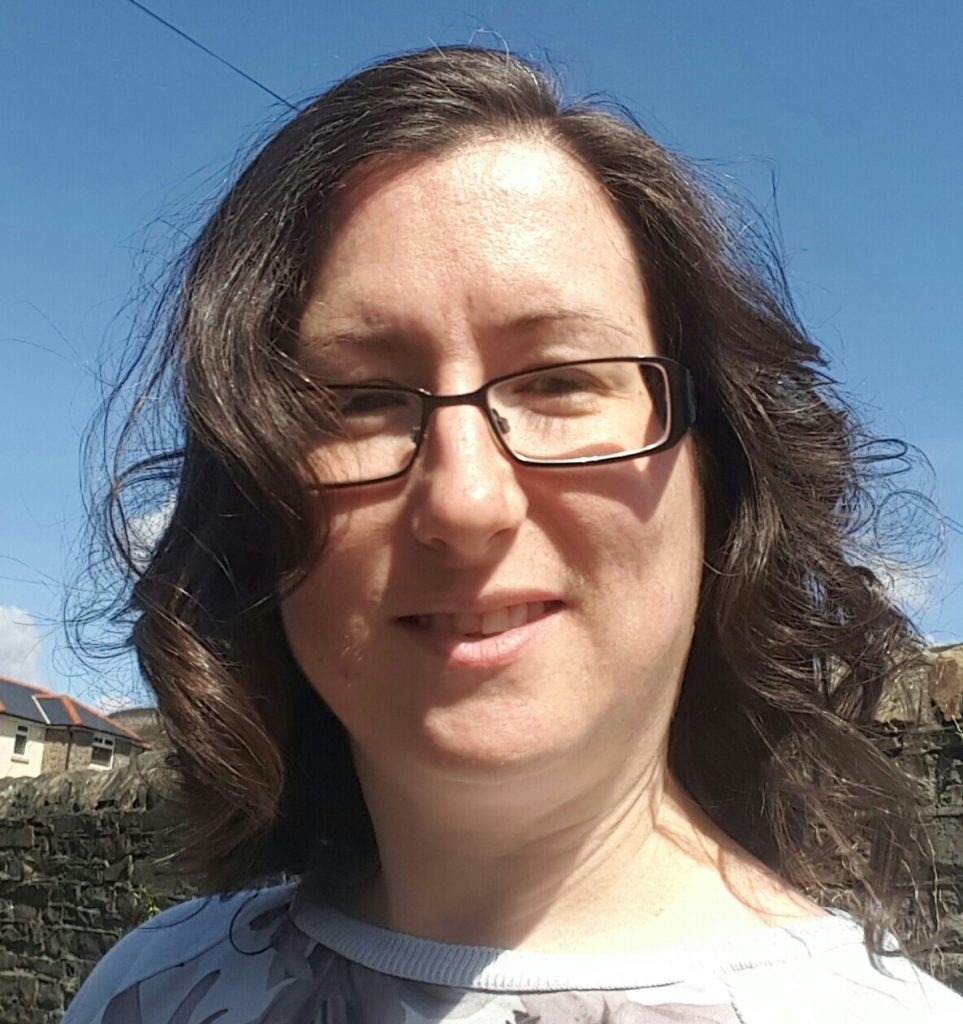 Cath is an Irish expat now living in Portugal. She regularly returns to Ireland to explore more of the wonderful island with her family.
Related Posts