Looking to join in with the Irish celebrations on the 17th of March in the Irish capital? Then you'll need some help and ideas for how to plan your St Patrick's Day in Dublin. Discover tips for getting to Dublin for the day and a full St Patrick's Day in Dublin itinerary.
March 17th is the biggest date on the Irish calendar. And thousands flock to the capital Dublin to enjoy the best St Patrick's Day celebrations Dublin has to offer. So, whether you are coming across the Atlantic, or popping in from 'down the country', this guide to St Patrick's Day in Dublin is all you need to know to plan your time in the city.
*This post contains affiliate links, which may include Amazon affiliate links. To read more about affiliate links, please visit my Disclosure Policy page.
Tips for getting to Dublin for St Patrick's Day
This section deals with tips for getting yourself to the Irish capital for the St Patrick's Day celebrations in Dublin. Everything from getting to Dublin to getting around on St Patrick's Day itself.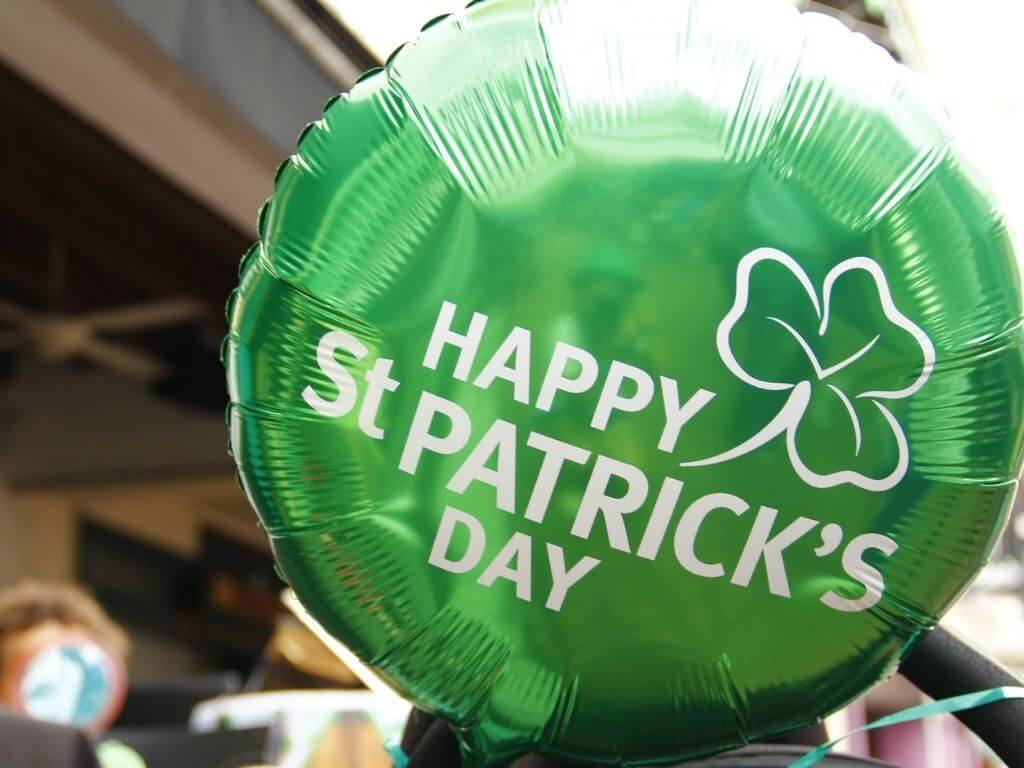 Getting to Dublin
If you are coming to Ireland from Europe or the USA, Dublin Airport will probably be your arrival point. Dublin Airport is served by most airlines and trans-Atlantic airlines including American Airlines, Delta and Aer Lingus.
For budget airlines in Europe, Ryanair or Aer Lingus will probably be your airline. For flights to Ireland, start your search with Skyscanner to compare flight times, routes and prices.
How to arrive from Dublin Airport to Dublin City Centre
There are a few ways to get from Dublin Airport to Dublin City Centre if you are staying in a hotel in the centre of the city.
Taxi – There is a taxi rank at Dublin Airport outside arrivals. It will take approximately 30 minutes, depending on traffic and cost around €30. As taxis are metered, heavy traffic and delays may increase this price.
Public transport – There are public transport buses that you can get from the airport to the city. These are the cheapest option but often the longest, with the bus journeys often taking between 45 minutes to 1 hour, as there are stops along the route. The buses that run from the airport to O'Connell Street include the 16, 33, 41, 41B and 41C.
Aircoach – This is another bus, number 700, that runs between Dublin Airport and Leopardstown Clayton Hotel, with 22 stops along the way. For more information about Aircoach, click here.
Dublin Express – This is a coach service, the number 782, between Dublin Airport and George's Quay. Learn more here.
Arriving to Dublin from other parts of Ireland
If you normally reside in Dublin or are visiting the capital during a longer trip, then you will either arrive by car, bus or train.
With cars, you will need to ensure that your accommodation has parking attached to it. Public parking in Dublin can work out very expensive. The alternative is to find a hotel with on-site parking in the suburbs and use public transport to get into the city on St Patrick's Day. There are also park-and-ride sites for the Luas lines in the outskirts. Click this link to find out more.
Public transport includes buses and Luas trams. Consult the Dublin Public Transport website to plan your journey into the city. Be aware that due to the parade, much of the city centre will be closed to all vehicles, including buses and trams so you may have to walk part of your journey to reach the very centre of Dublin.
If you are arriving in Dublin from other parts of Ireland, you can plan your bus journey with Bus Éireann or your train journey with Iarnród Éireann/Irish Rail.
Accommodation
When it comes to booking your accommodation in Dublin for St Patrick's Day, the earlier you do that, the better.
With tens of thousands of people descending on the city for St Patrick's Day, Dublin accommodation becomes expensive and hard to find.
Budget hotels and hostels will be booked out early, and if you leave it late to secure your accommodation, you may find yourself paying over the odds for city centre accommodation or being stuck in the suburbs when you would much prefer being in the centre.
If you are hoping to travel to Ireland on a budget, then consider staying in a hostel in Dublin or a budget hotel. Alternatively, you could choose to stay in the outskirts and travel into the city centre on public transport.
Wherever you decide to stay, book your accommodation as soon as you start planning your St Patrick's Day visit to Dublin.
What to pack
You don't necessarily need a St Patrick's Day costume, there will be plenty of those on show in the St Patrick's Day parade. Dublin will be awash with the colour green, with both locals and tourists donning green, be it a Saint Patrick's Day hat, tricolour scarf or more.
That said, if you do choose to go all out and dress head to toe in green, you won't be out of place on March 17th. You will need a good, waterproof raincoat at the very least, as the Irish weather can be unpredictable, even on Paddy's Day. An umbrella may come in handy for walking from place to place but will be cumbersome and annoying during the parade.
I have a complete packing guide for Ireland which covers everything you will need to remember if you are travelling to Ireland from outside the country. There is even a handy printable checklist, so you don't forget anything, just remember to add anything you purchase for the big day itself onto the list.
Other things you could consider purchasing and packing for St Patrick's Day in Dublin include:
Green scarf (your neck will thank you while you are stationary when watching the parade)
Arrive early for the parade and bag the best spots
The St Patrick's festival, Dublin, includes a spectacular parade through the centre of the city which is the highlight of the 5-day festival and is one of the best St Patrick's events in Ireland.
Local Dubliners, Irish from across the country and further afield gather in the city centre to enjoy the annual parade. The parade, which starts in Parnell Square on the northside, and snakes its way through the city, ending at St Stephen's Green on the southside, is something everyone wants to see.
And bagging the best spots from which to enjoy it is an important part of the day. The route is lined with fencing on footpaths and getting a front-row spot is important to many. So, if you want to ensure an uninterrupted view of the floats, costumes and performers, you need to bag the best spots early. Many people start gathering from around 10am for the 11am start (11am for a 12pm start). So, whatever you do, arrive early to claim your spot.
Enjoy the craic (and Guinness)
No matter what your interests, and whether you enjoy a tipple on St Patrick's Day or not, ensure you enjoy the craic. This means getting into the spirit of things, enjoying a laugh with your fellow revellers, and simply soaking up the atmosphere. After all, that is what St Patrick's Day is all about.
And if you ARE going to have a pint or two, try to leave it later in the day so you can enjoy the parade before getting a bit tipsy. Your bladder will also thank you for it. And enjoy your Guinness from the comfort of a cosy pub afterwards to warm up. Try not to visit the Guinness Storehouse on St Patrick's Day and instead plan your time in the city better so you can enjoy it at your leisure without too many people jostling for entry or space.
Why not consider planning more than a few days in Dublin around the parade. Here is my 3-day Dublin itinerary to help you that you can easily adjust to include your St Patrick's Day in Dublin.
Getting around Dublin on St Patrick's Day
As mentioned above, much of the city centre is closed to vehicles from early in the morning until the afternoon of St Patrick's Day. This is because the parade travels from Parnell Square, down O'Connell Street, along Dame Street and Patrick Street, before ending at St Stephen's Green.
In the morning, floats and participants will gather on the northside and afterwards the southside, meaning traffic flow is impeded. Public transport will end near to but not in the city centre, and those entering Dublin by public transport will need to walk the rest of the way to reach the city centre. It is not far but could be a walk of up to 30 minutes, depending on where you are coming from and to. Factor this into your morning plans.
Once you are in the city centre, everything is walkable and wandering Dublin during the St Patrick's Day festivities can be enjoyable, so long as you take care to protect yourself and your belongings from pickpockets and thieves.
Members of the public can cross the parade route at certain points, except during the parade itself. And be mindful that it can take a few hours following the parade to remove barricades and fencing and open up all routes.
Your feet will be your main mode of transport on St Patrick's Day in the centre of Dublin.
It's never Patty's Day
And if you are from outside Ireland and are planning to be on the Emerald Isle on St Patrick's Day, take note. The day is called St Patrick's Day, or Paddy's Day. St Pat's Day at a push. But never, ever call it St Patty's Day or Patty's Day.
Paddy comes from Pádraig, the Irish spelling for Patrick. Patty is either the shortened version of Patricia, a girl's name or the meat you put between two buns of a burger. Make the mistake and you may get an ear-bashing!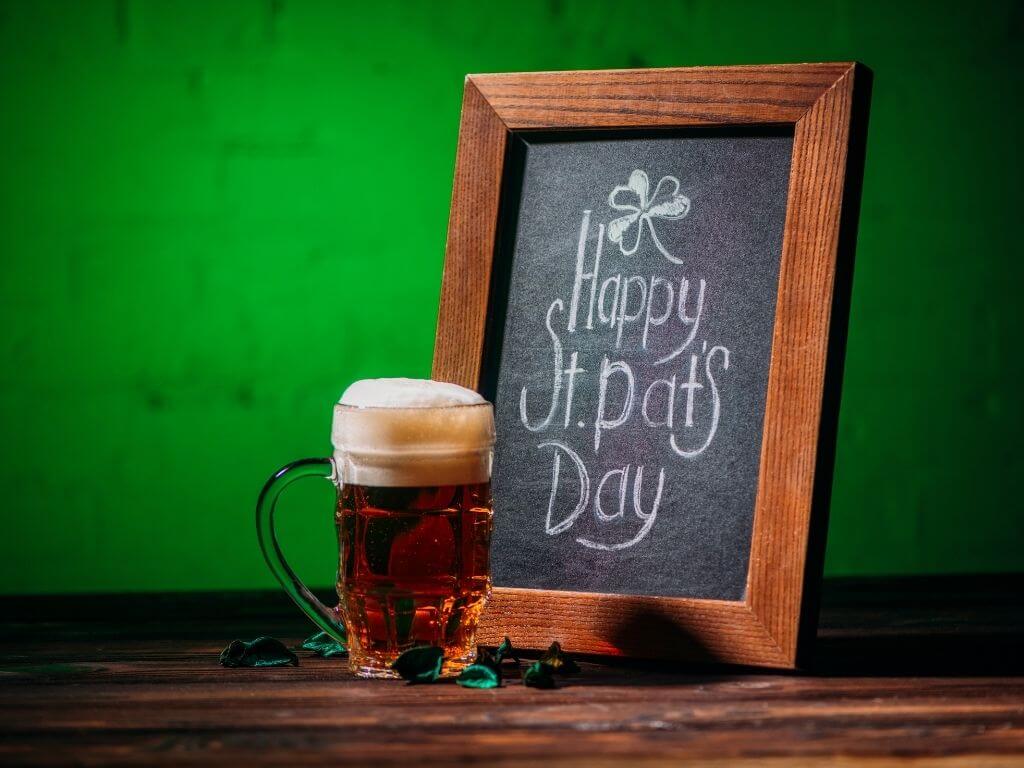 St Patrick's Day in Dublin itinerary
Now you may think that you can wing it on St Patrick's Day in Dublin, and to be fair, you probably could. But it is better to have an outline of an itinerary, otherwise, you could find yourself watching the parade from the back of a crowd and wandering around aimlessly afterwards.
So, to help you plan your time better, here is my suggestion for your St Patrick's Day in Dublin itinerary.
8-9am Breakfast – Start with a hearty breakfast at your accommodation or a café nearby. Choose a full Irish for your St Patrick's Day breakfast and you'll be set for the day. It is also a good idea to line your stomach if you are planning to have a few pints before your next meal.
While a full Irish is like a full English breakfast, there are a few extras that give it that Irish twist such as white pudding and soda bread. My favourite thing to do is halve my sausages and put them between two slices of soda bread with real Irish butter. Yum. Wash it down with a strong cup of tea (or coffee if you prefer).
10am Stake out your parade-watching spot – Watching the parade is a St Patrick's Day tradition that many Irish families, particularly those who live in Dublin, do annually. And bagging the best spots is a must. You know that saying…. the early bird catches the worm…. Well, this is true of the best parade-watching spots.
Many families head into the city early and stake their claim on a piece of the pavement from which to enjoy the parade. When I was younger, my family usually found a spot on Westmoreland Street or on Dame Street. We could see the parade approaching and even had some interactions with the performers from time to time.
So, if you want a spot at the front, get out early, at least an hour before the start of the parade and claim your spot. The parade starts at either 11am or 12pm, as in 2019 when the last parade took place before the pandemic (keep an eye on the St Patrick's Festival website for more details closer to the day).
Now, that said, if you don't want to stand for hours on end, there are a few grandstands along the route where you can enjoy the parade while seated. The grandstand seats are ticketed and sell out quickly, so you need to book these in advance. The grandstands are normally located in:
Parnell Square
Westmoreland Street
Christchurch
St Patrick's Cathedral
For more information about grandstand tickets and to book yours, click here.
11/12am Watch the parade – The parade used to start at 11am but the more recent parades before the start of the pandemic began at 12pm. Enjoy the spectacle of the parade, the colourful floats, performers in elaborate costumes, and the many marching bands that flock from Ireland and across the world to take place in the Dublin St Patrick's Day parade.
It lasts for between 60 and 90 minutes and once it is over, the city centre route begins to clear and people either head home or somewhere to warm up (see below).
1-2pm Find a cosy pub for lunch – With the parade over, especially if it is a cold day, you may want to find a cosy pub to warm up and enjoy lunch if you are hungry. This is when the St Patrick's Day drinks often start flowing as well.
Many of the pubs in Dublin, particularly around Temple Bar and O'Connell Street will be busy. You can either wait for a seat or head down side streets such as Abbey Street, George's Street, or off Grafton Street. The pubs along these streets may not be as busy and you might get a seat and a meal quicker.
Remember, Temple Bar is the tourist heart of Dublin when it comes to pubs and a few pints, so if you really want to stay around that area, be prepared for queues and a long wait.
4pm Wander Dublin or sightsee – After lunch or your few pints, enjoy Dublin over a few hours. I wouldn't suggest visiting places like the Guinness Storehouse on St Patrick's Day, simply due to the sheer number of people in the city who will be heading that way.
You could enjoy a walk through Trinity College and visit the Book of Kells if you have pre-paid tickets or the queues aren't too long. You could also visit Molly Malone, a unique thing to do in Dublin. Dublin Castle is a top Dublin attraction and can be a great place to visit. Check out the Chester Beatty Library or join a tour of the State Apartments, again depending on the queues.
6pm Dinner – I would suggest getting dinner around 6pm. I would also suggest you book a table prior to arriving as restaurants, just like the pubs, will be busy on St Patrick's Day, especially if you are not planning to eat at your hotel. Read my post about the best Irish food to eat while in Ireland so you can have an idea of what you might like to try on St Patrick's Day.
8pm St Patrick's Day drinks – To end your day on a high, why not enjoy a St Patrick's Day bar crawl, or in Irish terms, pub crawl. You can enjoy a drink and the craic in one pub, before moving on to another. That said, if you find one you really like, sit your bum down and let the Guinness flow.
Final thoughts about planning your St Patrick's Day in Dublin
St Patrick's Day in Dublin is a busy time and will be full of tourists and locals alike. Traditionally a day filled with green and many a drunken person, it is also a great day to be in a city that is alive and full of atmosphere. The party atmosphere begins with the parade and carries on throughout the day and well into the night, making it one of the best places to celebrate St Patrick's Day in Ireland.
If tourists, a sea of green, and singing and shouting are not your thing, then the city centre is not the place for you on St Patrick's Day in Dublin's fair city!
Read more about St Patrick's Day in Ireland: