Wondering how to get around Dublin?
If this is your first time visiting the Irish capital, or your first return trip in a long time, you might be wondering what the best way is to navigate the city.
Getting around Dublin doesn't have to be complicated. With this guide to Dublin transportation, you will discover that there are plenty of ways to get around Dublin without a car, lots of public transportation in Dublin for visitors and locals alike to use, and you can even walk and cycle in the city.
From Dublin buses to the Luas, the DART and taxis, there are plenty of options for ways to get around the Irish capital outlined in this article to help you prepare for your visit to Dublin.
Let's look at all the options and find the best way to get around Dublin for you!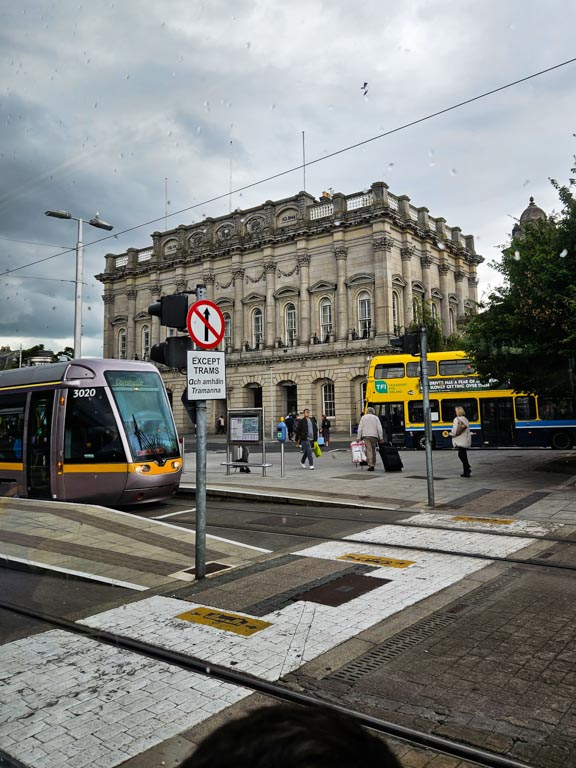 *This post contains affiliate links, which may include Amazon affiliate links. To read more about affiliate links, please visit my Disclosure Policy page.
How to get around Dublin: Public transport in Dublin
Getting around Dublin, Ireland without a car is easy thanks to the extensive public transport network in the city and its suburbs.
The network includes:
Buses including Dublin Bus and Transport for Ireland
Luas
DART
Suburban Rail Network
All passengers must buy their tickets for the Luas, DART or rail services before they board the service, while bus passengers can buy their tickets as they board unless using a LEAP card.
Bus travel in Dublin
Dublin has a large bus network that connects the outer suburbs to the city centre and beyond. Dublin Bus operates most of the routes in the city, while some private companies such as Go-Ahead Ireland run other routes.
Dublin Bus have operated in the city for decades and I have spent many hours commuting to school or university on them. They have changed colours over the years from green in my youth to the recognisable blue and yellow now visible on the streets of Dublin.
Go Ahead is a newer company that operates some suburban routes as well as some into Kildare.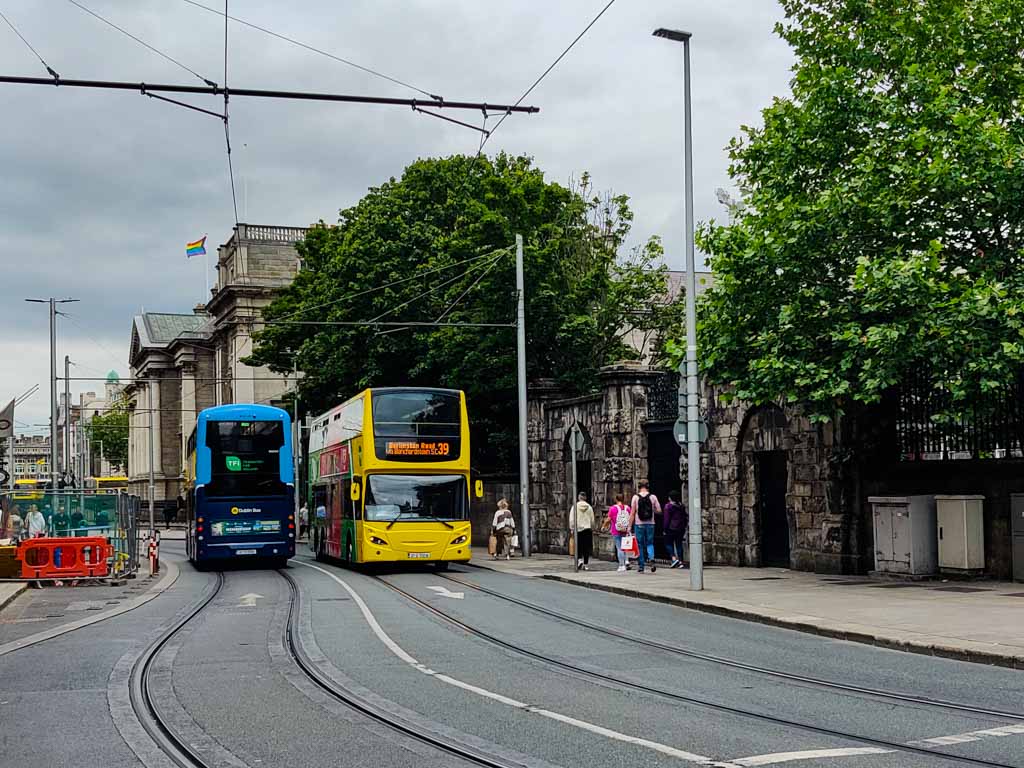 How to travel on the buses in Dublin
Travelling on buses in Dublin is easy.
Passengers wait at designated bus stops (normally marked with the route numbers that stop there), hail the bus as it approaches by sticking your hand out, and board the bus when it stops, and the front doors open.
Passengers can pay their fare one of two ways:
Using a LEAP card (see further below).
Paying with cash (Euro coins only, notes are not accepted, and no change is given. Note that drivers do not handle money nowadays).
To alight the bus, you press the STOP button on one of the handrails on the bus to signal the driver you want to alight. Wait for the bus to stop and alight via the middle doors.
If you are unsure of when you will approach the stop you need, you can ask the driver when you board if he can let you know. They are usually good at accommodating tourists or passengers on a new-to-them route. My best advice is sitting near the driver on the bottom deck, so you don't miss his announcement.
You can find details of all Dublin Bus fare prices and schedules on their website. There is a good Dublin Bus route map on the Transport for Ireland website to help you plan your journey.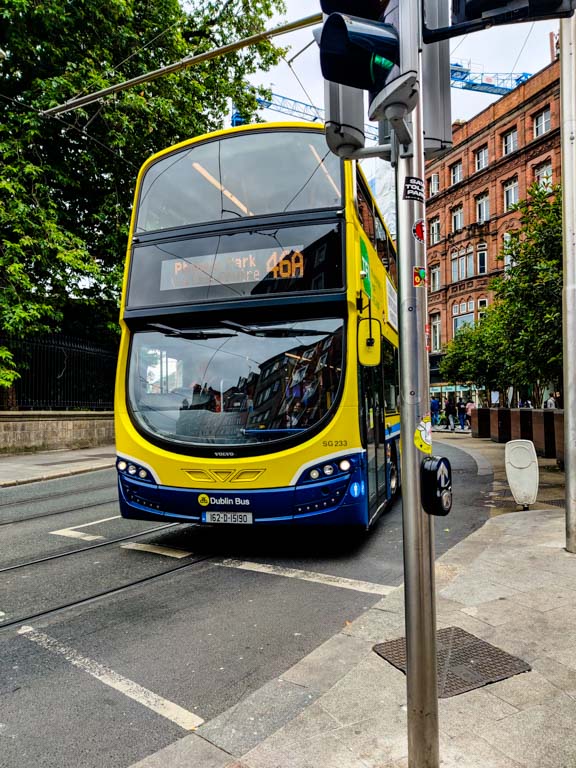 On Saturday nights there are also night buses to take revellers from the city centre home after a night in the city. These buses are called Nite Link buses and there are approximately 12 routes serving a limited number of suburbs.
These buses operate at set hours between midnight and 4am and also make a limited number of stops along the route, far fewer than the day buses on the same route.
Closer to Christmas these also operate on Friday nights.
I spent many a Friday or Saturday evening as a student in my late teens and early twenties on the Nite Link after a night out with my friends in the city centre. For a poor student, they were the cheapest way of getting home!
Luas travel in Dublin
Personally, the best way to get around Dublin, Ireland for me is using the Luas, Dublin's tram system.
Introduced in 2004, shortly after I left Ireland to join my now husband in the UK, Dublin's tram system has two lines that serve the city and some of its suburbs.
The Green Line was the first one to be introduced and this operates from Bride's Glen on the southside to Broombridge on the northside.
The Red Line (the one I travel on) operates between Saggart and Tallaght in the southwest of the city and Connolly Station/The Point along the northside quays of the city centre.
Fun fact: Luas is the Irish word for speed.
The Luas is the best way of getting around Dublin without a car for me because the trams run at regular intervals and do not get caught for hours in heavy Dublin traffic, thanks to their dedicated tracks along some of Dublin's busiest roads.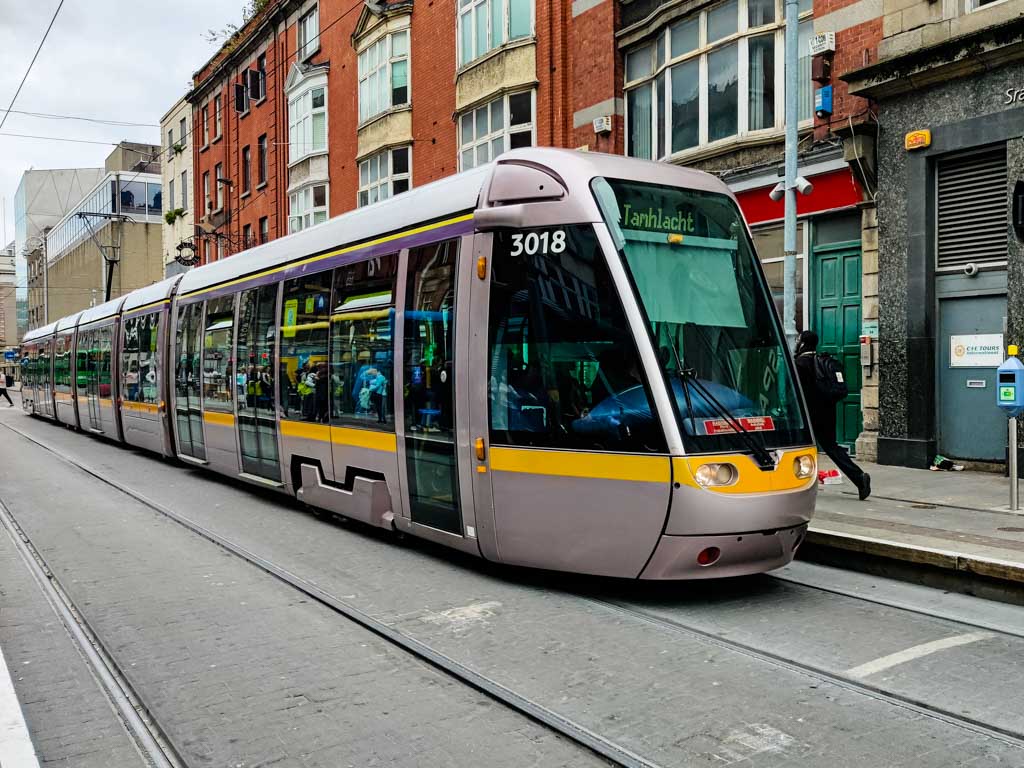 How to travel on the Luas in Dublin
Using the Luas in Dublin is very easy.
Passengers wait at the dedicated Luas stops. Luas trams stop at every station along its route whether there are passengers on the platforms or not. The doors will be opened by the driver allowing passengers to board or alight the tram.
Passengers can pay their fare via two methods:
By using a LEAP Card.
Buying their ticket at the payment machine at the stop.
Unlike buses, there is no need to indicate to the driver you want to alight because each Luas tram stops at every station along its route as already mentioned.
The Luas website is a great resource for information including seeing the Dublin tram map and using the Luas journey planner.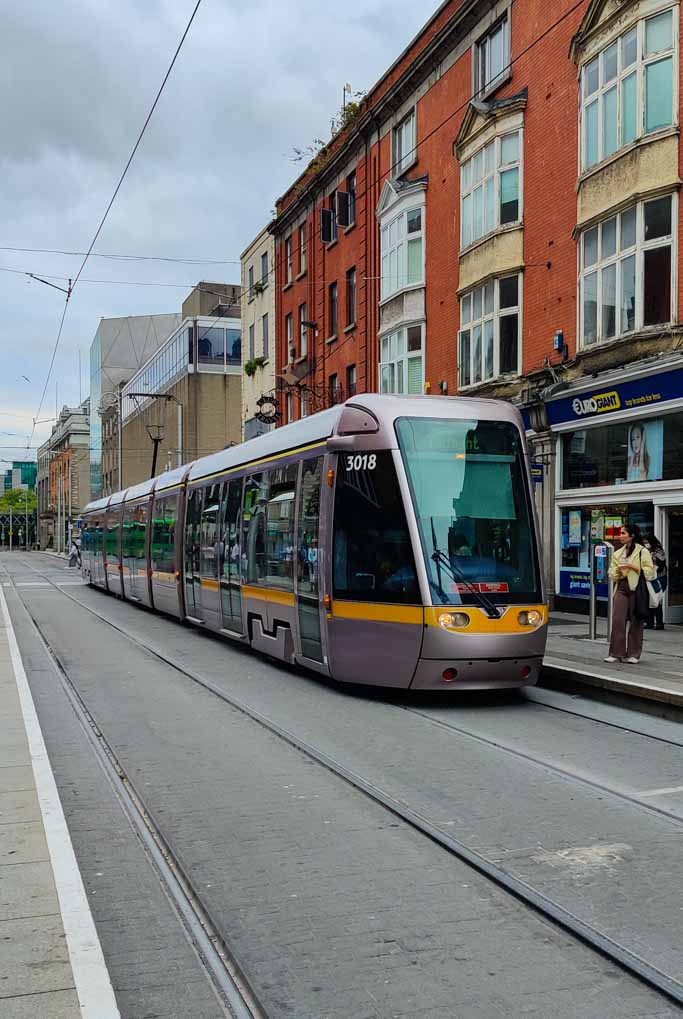 DART travel in Dublin
The DART (Dublin Area Rapid Transit) is the coastal train that runs along Dublin's coastline from Howth on the northside to Greystones in County Wicklow, just over the border with Dublin.
The DART typically operates every ten minutes and serves every station along its route. It passes through Pearse Street, Tara Street and Connoly train stations in the city centre.
I have travelled on the DART on many occasions, firstly to visit family in Shankill and Bray, and then daily to my first job after my degree in Baldoyle.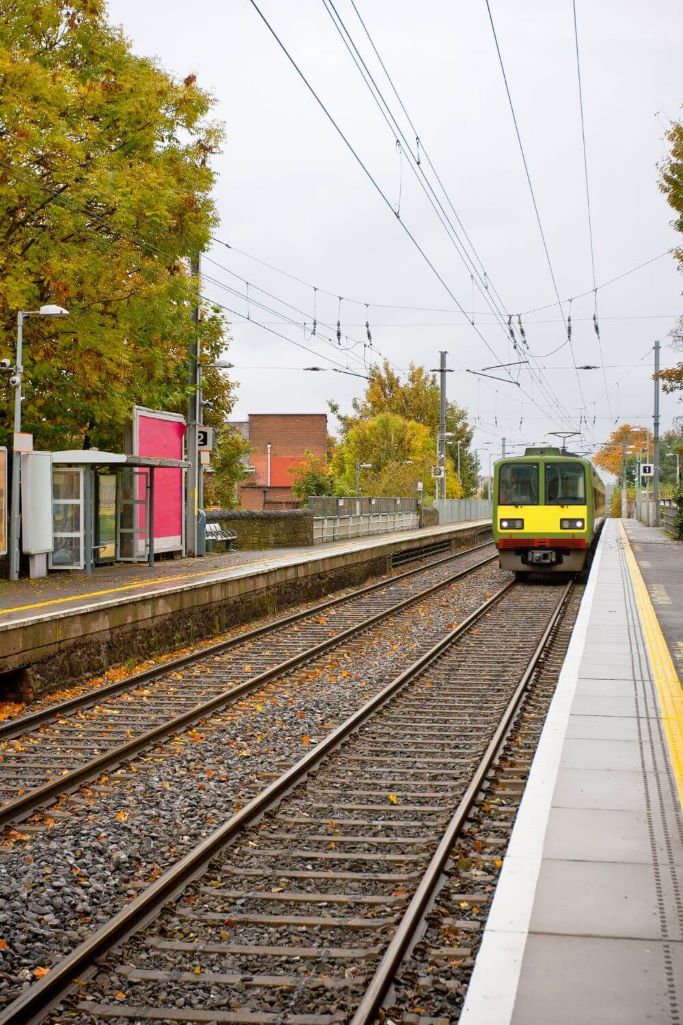 How to travel on the DART in Dublin
The DART works similarly to the Luas and other rail services.
The DART has dedicated stations along its route that it stops at, and passengers wait on the platform for the DART to arrive. The doors will be opened by the driver to allow passengers to board or alight.
Passengers can pay for their fares via three methods.
Using a LEAP card.
Buying their ticket at the payment machine at the station or at the manned counter (only available at larger stations).
Buying their tickets online ahead of their journey.
Like the Luas there is no need to indicate to the driver you want to alight as they stop at every station along the route.
You can find information about Dublin DART timetable on the Irish Rail website and plan your journey using the journey planner on the Transport for Ireland website.
Rail travel in Dublin
Dublin has several suburban commuter rail services that travel to places such as Maynooth, Celbridge and Balbriggan.
These operate from Connolly Station, Tara Street Station or Heuston Station and tickets for these services operate in the same manner as the DART services.
Tourists would not normally need to use these services unless they are visiting a town in the suburbs. More information about the commuter services can be found on the Transport for Ireland website.
The Leap Card
The Leap Card is a pre-paid travel card that can be used to pay for travel around Dublin on all Transport for Ireland services including Dublin Bus, Go-Ahead Ireland, DART, Luas, and commuter rail services.
For those travellers who are familiar with London's Oyster card, this is Dublin's equivalent.
Travellers can top up their card via the Leap app, at Irish Rail and Luas payment machines, at Leap agents and in Post Offices.
Leap fares work out more cost-effective than cash fares and can be up to 30% cheaper.
There are two ways to use your Leap card depending on the type of public transport you are using:
On trains and Luas services, passengers must tap on and off (as you would with an Oyster card).
On buses, passengers only tap on as they board the bus.
There is a Visitor Leap Card for tourists which is a once-off card with unlimited travel on all Dublin public transport that is valid for 1 day (24 hours), 3 days (72 hours) or 1 week (168 hours).
The Visitor Leap Card is activated upon the first tap. The card expires 12 months after the day it is purchased.
Those visiting Dublin can buy their Visitor Leap Card online (here) or through certain agents in the airport or across the city (see the full list here).
If you are ordering your card to be delivered to your house, note that European addresses can take up to 10 working days, while the rest of the world can take up to 14 working days for delivery.
How to get around in Dublin: Cheapest way to get around Dublin
The cheapest way to navigate the Irish capital is to walk around Dublin.
The city centre is relatively small and contact compared to other European capitals, and you can easily traverse both sides of the city on foot.
Walking around Dublin is also very convenient if you are staying in the centre of the city. It is also a great way to see the city!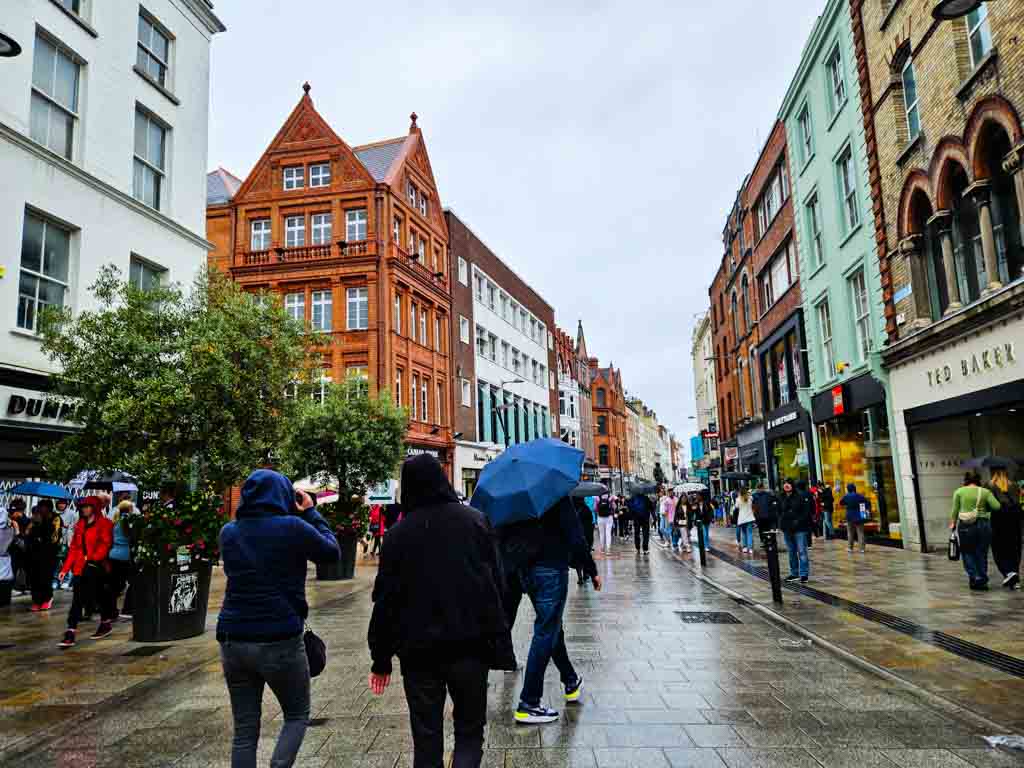 During the summer of 2023, I stayed in two separate hotels in the city centre and walked everywhere, from St Stephen's Green to the Jeanie Johnston on Custom House Quay, to Trinity College and beyond.
There are lots of paid walking tours in Dublin you can take to get your bearings or you can use the example self-guided tour I suggest in my article about spending 3 days in Dublin.
If you are looking for the best way to get around in Dublin that is cheap and convenient if you are staying in the city centre, then walking is it.
Other ways of travelling around Dublin
Aside from walking or the public transportation Dublin has to offer, there are a few other ways to get around Dublin.
These include:
Taxis
Cycling
Sightseeing buses
Driving
There are pros and cons to each of these other options.
Taxis in Dublin
Taxis are another way of getting around Dublin. They are convenient but not necessarily the cheapest way to navigate the city. They are also not the best way to travel around Dublin during peak times due to the possibility of getting stuck in Dublin traffic.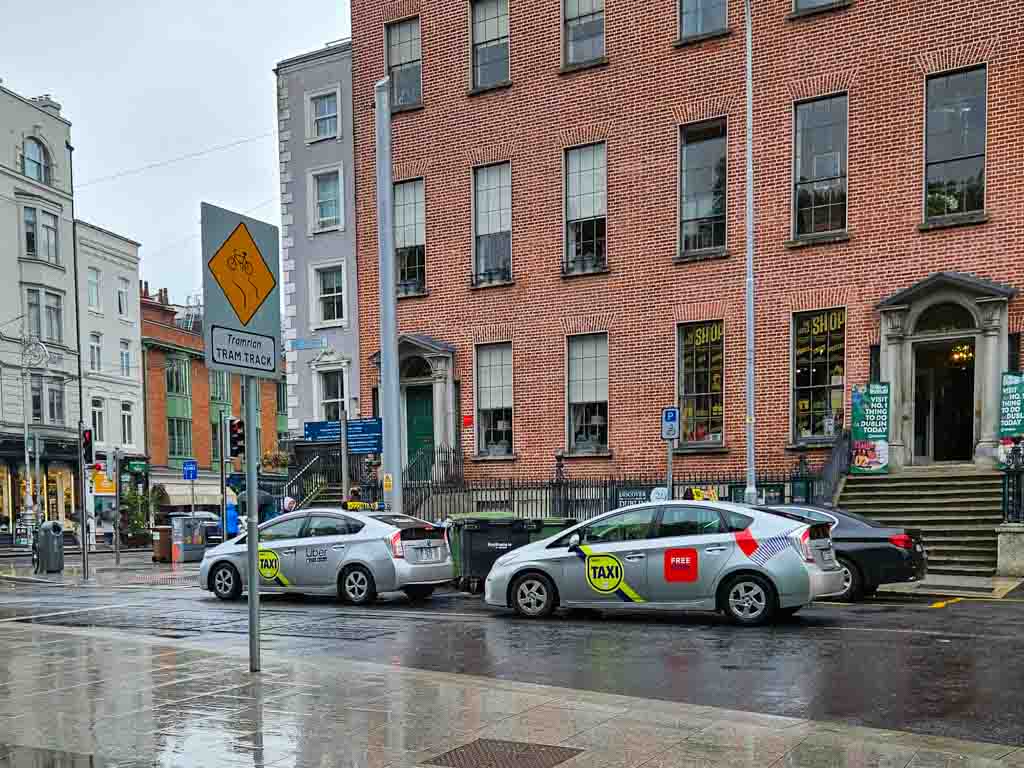 How to get a taxi in Dublin
Getting a taxi in Dublin is easy and can be done in several ways.
Ask your hotel or accommodation to call one or give you the number of a company they use or recommend.
Hail one on the street. If the roof light is on it means they are available for hire. If you see one approaching, stand at the edge of the pavement and stick your arm in the air while looking at the driver.
Use the Uber app. However, be warned that although Uber operates in the city, only licensed taxis and limousines can offer rides. No private cars are allowed to operate through Uber in Dublin. And the taxi must work to the meter.
Use the FREENOW app. One of the best ways to get a taxi in Dublin is to get one through the FREENOW app.
Cycling around Dublin
Another way to travel around Dublin is to cycle. This can be another cheap option for transportation in Dublin.
Dublin Bikes is a scheme through which members of the public can rent a bike for 1 or 3 days. It is run by Dublin City Council and there are bike rental stations dotted around the city including beside Christ Church Cathedral where there is also a payment machine.
To see other locations, view this map on the Dublin Bikes website.
There are also some bike tours of Dublin that run over a couple of hours and can be a fun way to take a guided tour.
However, be aware that roads in Dublin City Centre getting very busy, especially during peak hours and bikes, cars, taxis, and buses all share the same space.
A light and helmet are a must if you choose this option.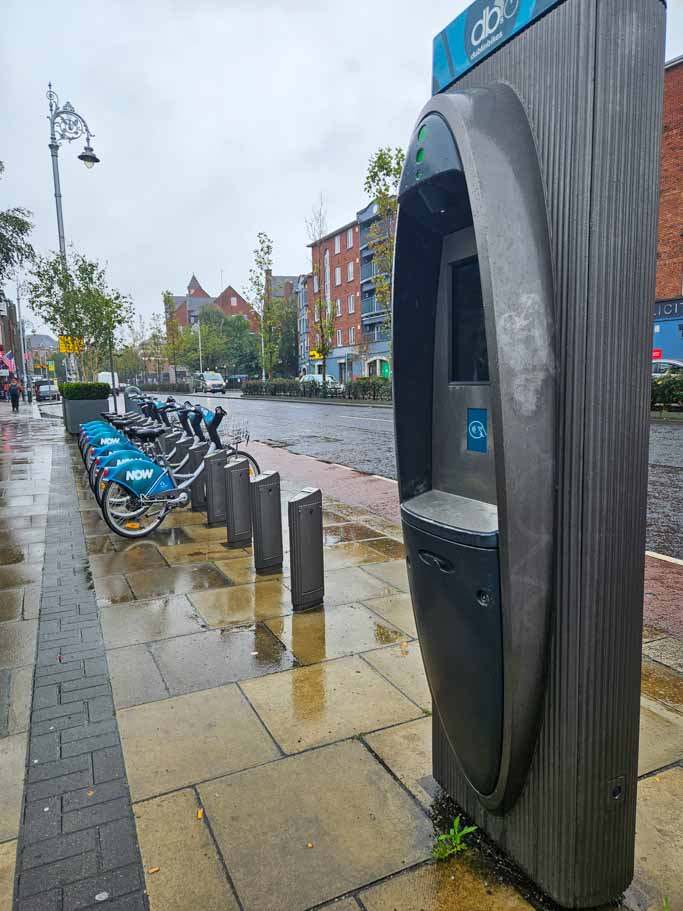 Dublin sightseeing buses
When it comes to how to get around Dublin as a tourist, the sightseeing buses are a great option. There are several companies operating in the city including:
These are typically available for 23 hours, 48 hours or more and include audio guides in multiple languages.
Their routes bring visitors to all the major attractions including Kilmainham Gaol, the Guinness Storehouse, and the Jameson Distillery.
Do Dublin Freedom Card
The Do Dublin Freedom Card is a great option for those who want to combine using public transport in Dublin with sightseeing.
This card gives users 72 hours of access to Dublin's bus, Luas, DART and train networks while also giving them 48 hours of access to the Do Dublin sightseeing buses.
The Do Dublin Freedom Card also allows visitors to avail of airport transfers via the numbers 16 and 41 Dublin Bus airport services.
Currently retailing at €48, it is the best all-round value for tourist travel in Dublin.
Get your Do Dublin Freedom Card now by clicking here.
Driving
And of course, driving around Dublin is always an option, although not necessarily the most enjoyable or budget-friendly.
Visitors have two choices here:
Rent a car at the airport.
Hire a car for a few hours with Go Car.
Renting a car and driving in Dublin comes with disadvantages.
Firstly, navigating the city can be stressful with one-way streets, especially during rush hour.
And then there is the hassle of finding a parking space. While there are public car parks across the city, these can work out expensive with many of them charging between 2 and 4 per hour.
Many hotels in the city centre do not have their own car park and customers need to use nearby paid public car parks. This can add significantly to the cost of your trip.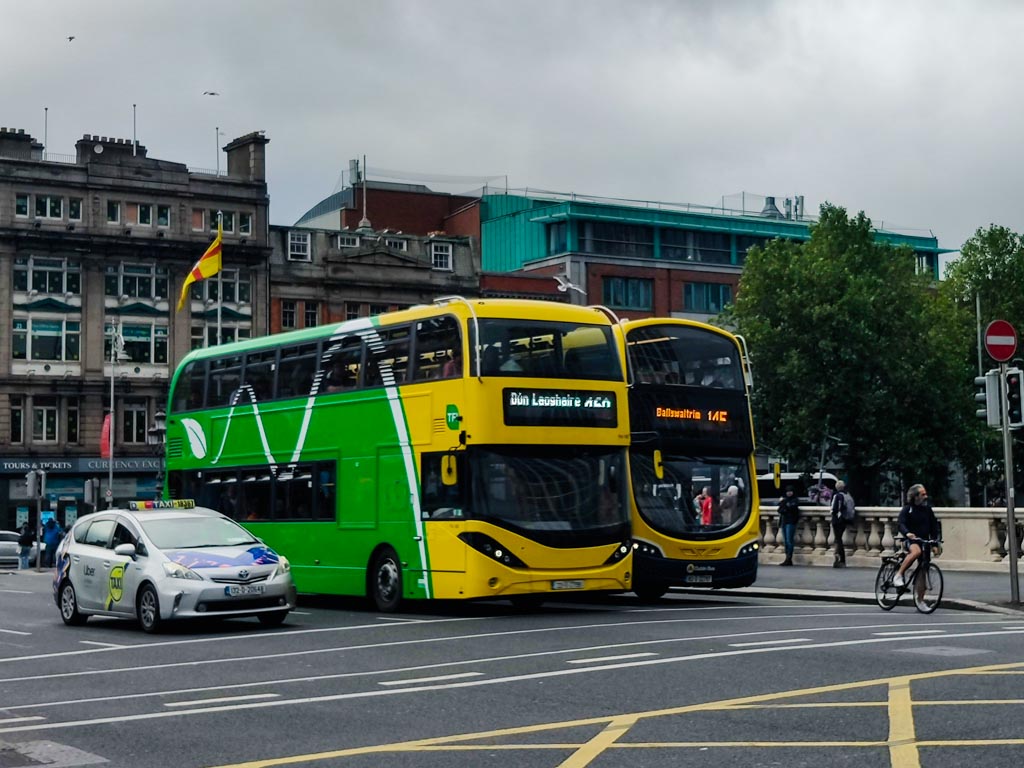 Frequently Asked Questions about how to travel around Dublin
How to get around Dublin – Summary
There are lots of options for getting around Dublin. From walking to using public transport, there are many ways to navigate the Irish Capital.
Visitors to the city centre will find walking the easiest with most of the main attractions within 20 minutes walk of one another.
And for things a bit further apart, the bus and tram network makes reaching them just as easy.
When visiting Dublin, especially the city centre, a car is not necessary and can be more hassle than it is worth.
So, if you are planning to visit Ireland and are wondering about how to get around Dublin, I hope this article has shown you that there are plenty of options open to visitors and locals alike.
Heading to Dublin? Then you might also enjoy reading these posts: