So, you only have one day in Dublin but are thinking, well that's not enough! Let me reassure you it is.
There are plenty of things you can do if you only have a day in Dublin that includes some of the big sites, enjoying a meal and even a pint or two if you fancy it.
In this post, I am sharing my one day in Dublin itinerary that I did during a recent trip to Ireland to see family, and I will also give you some ideas of what to do in Dublin for a day if there is something on my itinerary you want to swap out.
A word of warning before we dive in. You will need to be up early, have pre-booked your tickets to some of the more popular tourist attractions in Dublin, and have your walking shoes on. You will also need some cash to either pay for public transport or a taxi between some places in this day in Dublin itinerary.
*This post contains affiliate links, which may include Amazon affiliate links. To read more about affiliate links, please visit my Disclosure Policy page.
One day in Dublin itinerary
Your day will start early, so make sure to set your alarm and get breakfast into you before you set off. Whether you eat at your hotel/accommodation or find a quiet café to fill up, that's your choice. But make sure you have something in your belly before setting off.
One day in Dublin – Kilmainham Gaol
Start your day with a visit to Kilmainham Gaol, one of the best historical sites in Ireland to visit. Kilmainham Gaol is a popular place with tourists in Dublin and you should pre-book your tickets (book your tickets through the OPW website). Book the earliest tour for your group (we joined the 9.45am tour) and expect to spend just less than an hour being guided around the gaol.
Your tour guide will bring you to different parts of the gaol, which is like a maze, hats off to the guides for knowing their way around. You will learn about the history of the Gaol, some of its famous inmates and their role in Irish history, and you will visit the Victorian wing, an addition to the original wing of the gaol that has featured in Irish movies such as In the Name of the Father featuring Daniel Day-Lewis and Michael Collins featuring Liam Neeson. Our tour guide was Jonathon and he was a great guide with plenty of stories and extensive knowledge of the Gaol and its former inhabitants.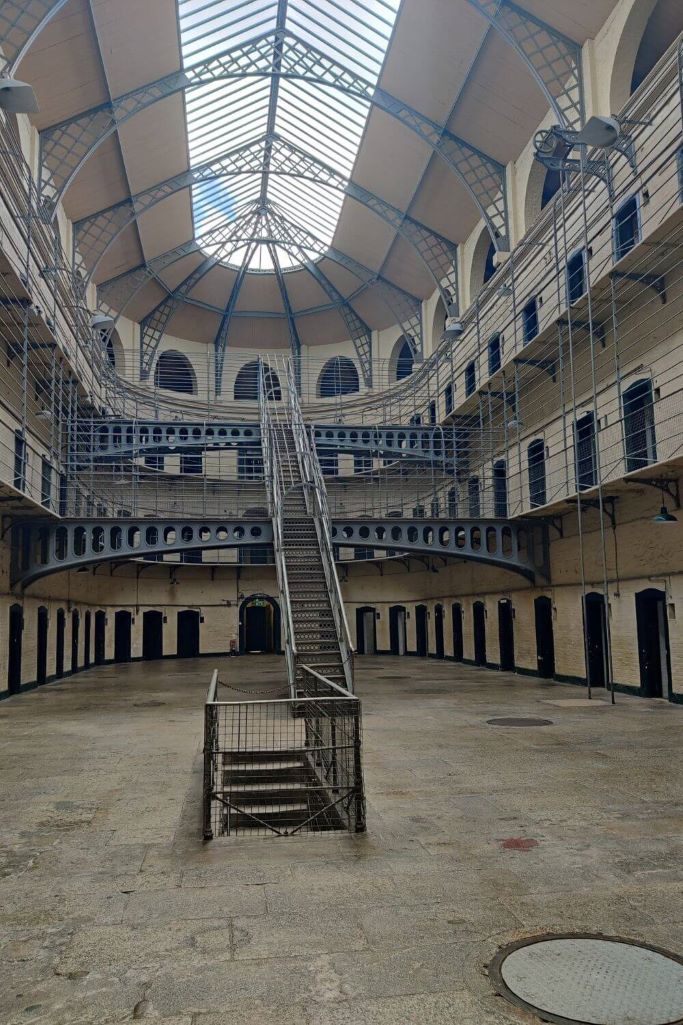 Afterwards, you will have time to visit the museum, where there are lots of different displays and exhibitions about Irish history, the 1916 Easter Rising and some of the participants who were then imprisoned in the gaol, and more. You can spend as much or as little time as you like in the museum. I spent a good hour browsing the exhibitions and displays before my sisters called me to say they wanted to go!
Kilmainham Gaol is a great place to visit and is included on some Hop on Hop off bus tour routes. Just check the route or ask the driver if he is stopping there. It is located in Inchicore, 4 kilometres from O'Connell Street.
You can reach it by the city tour bus as mentioned, by car/taxi, a journey of around 18 minutes (a taxi should cost less than €20 depending on traffic), or you can hop on public transport in the form of a bus. From O'Connell Street, the numbers 13 or 40 stop close to Kilmainham Gaol, or from Aston Quay just across O'Connell Bridge, you can get the numbers 69 or 70 which stop close to the Gaol. The bus takes less than 30 minutes from the city centre.
Address: Inchicore Rd, Kilmainham, Dublin 8, D08 RK28
A day in Dublin – Grab lunch or shop on Grafton Street
After visiting Kilmainham Gaol, return to Dublin City Centre (by bus, taxi or Hop on Hop off bus) and head to Grafton Street, one of the pedestrianised streets in the city centre.
There you will find a range of shops including Brown Thomas selling luxury goods, Carroll's where you might find a souvenir from Ireland or two, and other high street shops and stores. As I was visiting from Portugal without my son and husband, I popped into Carroll's for some obligatory Irish souvenirs and went into the Disney Store for some presents for my son.
After you are done with your retail therapy, get some lunch. Whether you choose to stay on Grafton Street or wander down a side street or two, there are plenty of options for lunch. My sisters and I chose to eat at Captain America's, opposite the Disney Store.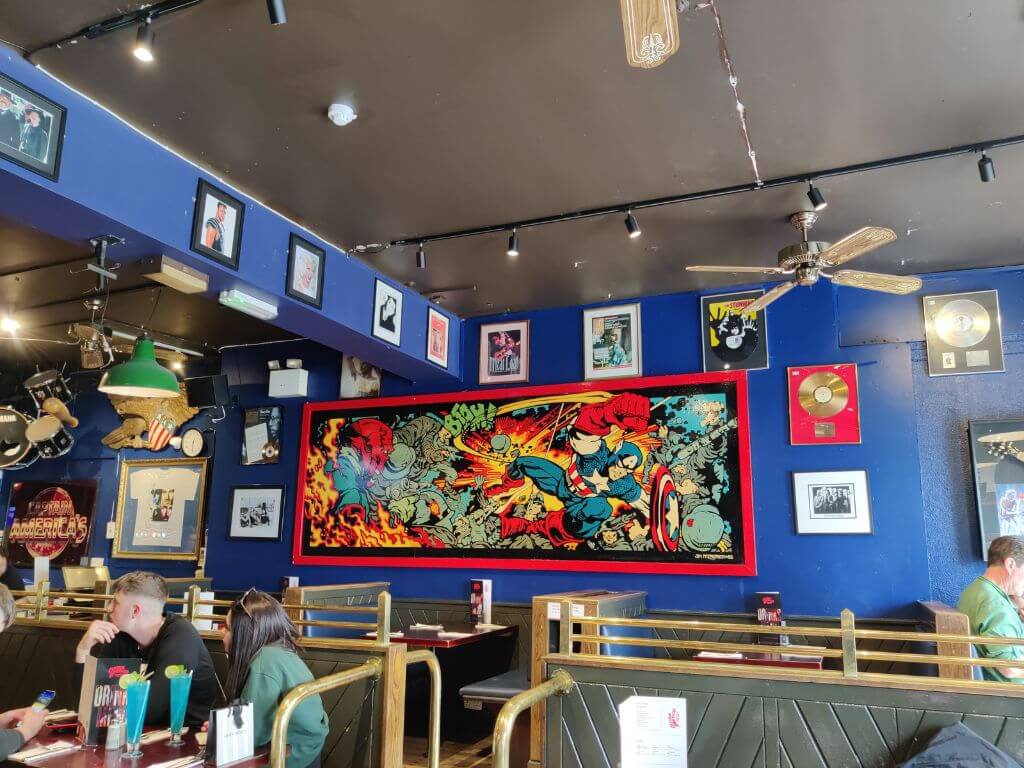 Captain America's is a family-friendly, American-style diner with generous portions and a large cocktail menu. We opted to share several different dishes that included chicken wings, nachos, and chicken tenders. We also shared some pitchers of non-alcoholic cocktails. Well, it was lunchtime after all, and one sister had to leave us early and drive.
There are several other options on Grafton Street and in the side streets off it, so where you dine is completely your choice.
Captain America Address: 44 Grafton Street, Dublin, D02 CA21
Dublin in one day – Visit the EPIC Museum
After lunch and shopping, one of the best things to do in Dublin in one day is to visit the EPIC Museum, the museum dedicated to the history and story of Irish Emigration. EPIC, the Irish Emigration Museum was the winner of Europe's Leading Tourist Attraction in 2019, 2020, and 2021, and once you visit, it is easy to see why.
Located in the regenerated Dublin Docklands, the museum covers the history of the Irish diaspora and their emigration to other countries worldwide. You get an insight into where they went and why, and how their emigration affected both Ireland and the countries they went to.
Through 20 interactive galleries and exhibitions, visitors take a journey through Irish emigration, from times such as the Famine when the Irish were escaping starvation and death, to more modern times. It is an incredible museum, that has very visually appealing displays and exhibitions, and stories that will astound you. You can also find a wall on which famous people with Irish history and ancestors are featured.
The museum has a gift shop (I may have bought a few more souvenirs) and there are several cafés and restaurants for drinks and refreshments including a Starbucks. Book your tickets for the museum via the EPIC website. We pre-booked our tickets but there was the option to buy walk-up tickets on the day as well. You can expect to spend 1-2 hours in the museum.
The EPIC Museum is located on the north side of the River Liffey and you can reach it by two routes. Either walk there via Townsend Street, a journey of around 20 minutes, or you can walk to the Lower Abbey Street stop of the Luas Red Line and hop on a Luas (using a Leap Card, read more here) towards the Point and alight at George's Dock whose stop is right beside the rear of the EPIC Museum. This journey takes around the same length of time as walking directly to the museum.
Address: The Chq Building, Custom House Quay, North Dock, Dublin 1
Dublin for a day – The Book of Kells
After learning about Irish emigration, you need to cross back over the Liffey as one of the things to see in Dublin in one day that you simply cannot miss is the Book of Kells. Located in Trinity College, your ticket gains you entry into the Book of Kells exhibition, a chance to view the Book itself and a visit to the Long Room.
The Book of Kells is not only one of the most famous books in the world, but it is also one of the most historically important religious manuscripts. Created in around 800AD by Christian monks, this is one of the most beautifully illuminated Gospel manuscripts.
The beauty of the book attracts hundreds of thousands of visitors every year, and the Book of Kells is one of the most popular attractions in Dublin. Entry is timed, with a limited number of visitors allowed into the exhibition area.
Visitors first enter the Book of Kells exhibition whose displays are dedicated to explaining the book, its illustrations and text. It is a fascinating exhibition and you can also learn about the tools and equipment needed in the 9th century to create such a wonderful manuscript that has lasted for over a millennium.
After learning about the Book of Kells, which is aided by an audio guide you can download to your smartphone, you can pass into the room which contains the Book of Kells itself. Two pages are displayed for several weeks before being turned. The room is dimly lit, the Book is contained in an atmospherically-controlled, glass case and you are not allowed to take pictures of the Book itself.
Following this, you pass into the Long Room, the oldest library at Trinity College which is also home to over 200,000 of Trinity's most ancient books. There are busts of famous writers and poets in the room as well as one of the oldest Harps dating back to the 15th century. This is one of the most photographed areas of Trinity College and it is easy to see why! The Book of Kells and the Long Room are a must-see in Dublin in one day.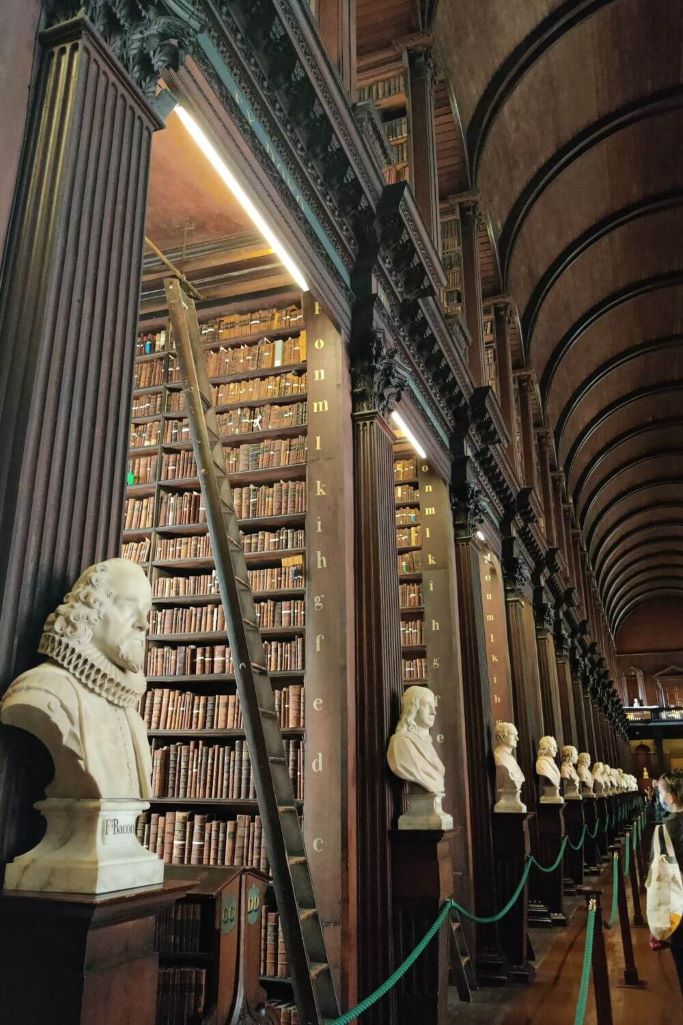 Returning to Trinity College from the EPIC Museum will simply be a reverse of the route you took, with a few minutes cut off your time as you will be stopping at the main gate of Trinity College instead of continuing up Grafton Street. During your 1 day in Dublin, make sure to pre-book your tickets for this must-see in Dublin as there are rarely walk-up tickets available. You can expect to spend over an hour between the exhibition, Book of Kells and Trinity College Long Room.
If you want to combine the Book of Kells with a tour exploring the exterior of Dublin Castle, this tour offers just that. Click here to see the latest prices and availability.
Address: The University of Dublin Trinity College, College Green, Dublin
One day in Dublin – Grab dinner and a pint in a pub
And finally, end your day somewhere cosy, especially if the weather has turned grey and miserable as it did on my one day in Dublin. While I opted to return to my sister's house and feast on smoked cod and chips, if you are staying in the city, then seek out one of the non-touristy pubs in Dublin.
By avoiding the tourist traps in Temple Bar and choosing a more 'local' pub, you'll find good food, a great pint and maybe a bit of live music to end your Dublin one-day itinerary. On the menu might be an Irish Stew, Dublin coddle or something else to warm you up if it is cold outside. Read my post about what Irish foods to try while in Ireland so you know what to look for on the pub menu!
One day in Dublin itinerary – Summary
I thought it would be useful to summarise the above itinerary to help you see more easily exactly how you can spend one day in the city. This is the exact way I spent the day with my sisters, some of whom had to leave after lunch. I've included the timings (according to the pictures I took), so you have an idea of how long I spent at each location.
8.00 – Breakfast in Inchicore
9.30 – Arrive Kilmainham. We parked in the car park of the Hilton Hotel across the road from the Gaol.
9.45 – Start Kilmainham Gaol tour
10.30 – Enter Kilmainham Gaol Museum
11.15 – Depart Kilmainham Gaol (I would have stayed much longer but my sisters were eager to get into the city centre). We drove into the city and parked in the Drury Street Car Park.
11.30 – Shopping on Grafton Street
12.00 – Lunch at Captain America's
13.30 – Depart Grafton Street
14.15 – Arrive at the EPIC Museum
15.30 – Depart EPIC Museum
16.00 – Arrive at Trinity College
16.30 – Enter the Book of Kells Exhibition
17.30 – Depart Trinity College
Other things to include in your perfect day in Dublin
If there are aspects of my one day in Dublin itinerary that you are not interested in, then here are some ideas for other things to include in your own itinerary.
One day in Dublin – Guinness Storehouse
If you are looking for other things to do in Dublin in a day, then you might want to swap one of my locations for the Guinness Storehouse. The Guinness Brewery was founded in 1759 and the Guinness Storehouse brings visitors through the history of the famous brew and what it takes to not only brew the 'black stuff' but also what it takes to pour the perfect pint.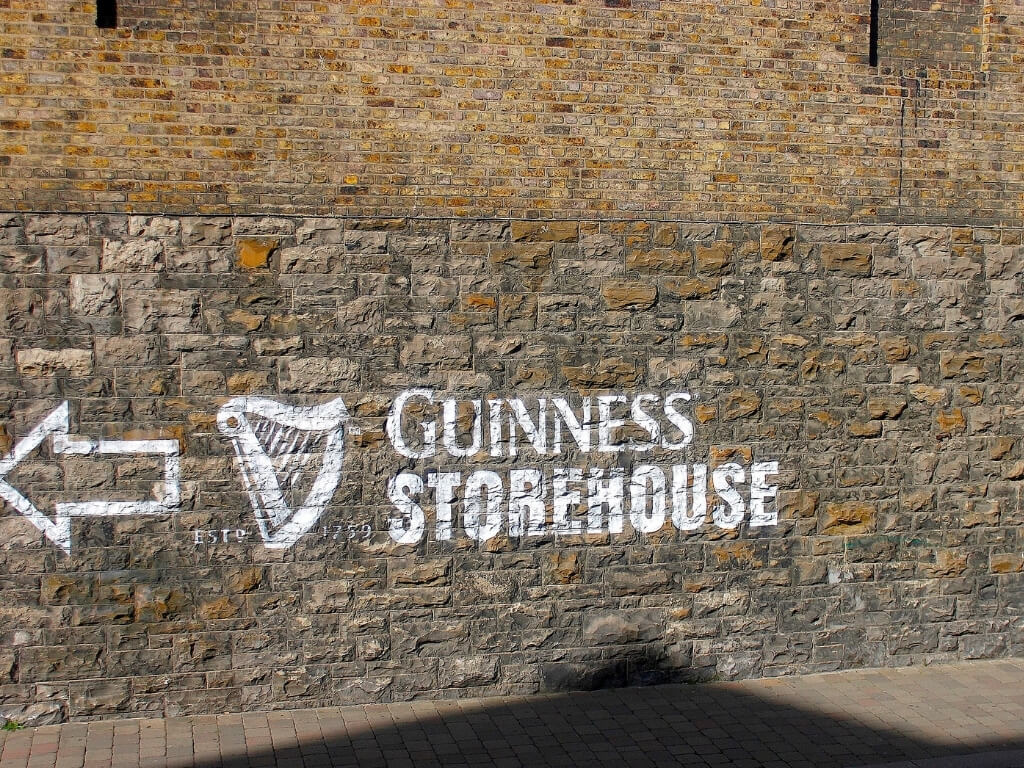 Journey through seven floors of exhibitions before arriving on the eighth for a pint of Guinness accompanied by 360˚ views of Dublin City. Since this is another one of Dublin's popular places to visit, pre-book your tickets ahead of your visit (click here to see the latest prices and availability).
A day in Dublin – Museums and galleries
If you are wondering what to do in Dublin in one day and are a fan of wandering through museums and galleries, then there are plenty to choose from in Dublin. Firstly, the National Museum of Ireland has no less than three different sites in Dublin to visit.
The Archaeology branch (Kildare Street)
Natural History Museum (Merrion Square)
Decorative Arts and History Museum (Collins Barracks)
Each is dedicated to a particular branch of history, and each are outstanding in their own right. Even better, they are just three of the free museums and galleries to be found in Dublin.
Another place to visit would be the National Gallery of Ireland, where you can find a wealth of both Irish and international art to discover. Located beside the Natural History Museum on Merrion Square, you can easily combine a visit to both.
One day in Dublin – Dublin Castle
If you fancy a peek inside what was once the stronghold of British power in Ireland, then swap one of my locations in my one day in Dublin itinerary for a visit to Dublin Castle. Now a government and conference complex, visitors can join guided tours to the State Apartments, the only way to see the ornate rooms of the castle.
Another place within Dublin Castle you can visit is the fascinating Chester Beatty Library. Considered one of the best small museums in the world, the Chester Beatty Library houses the extensive collection of Arthur Chester Beatty, which includes artworks from across the world including religious artworks from Western, Islamic and East Asian cultures. And with no entry fee, this is one of the best free things to do in Dublin.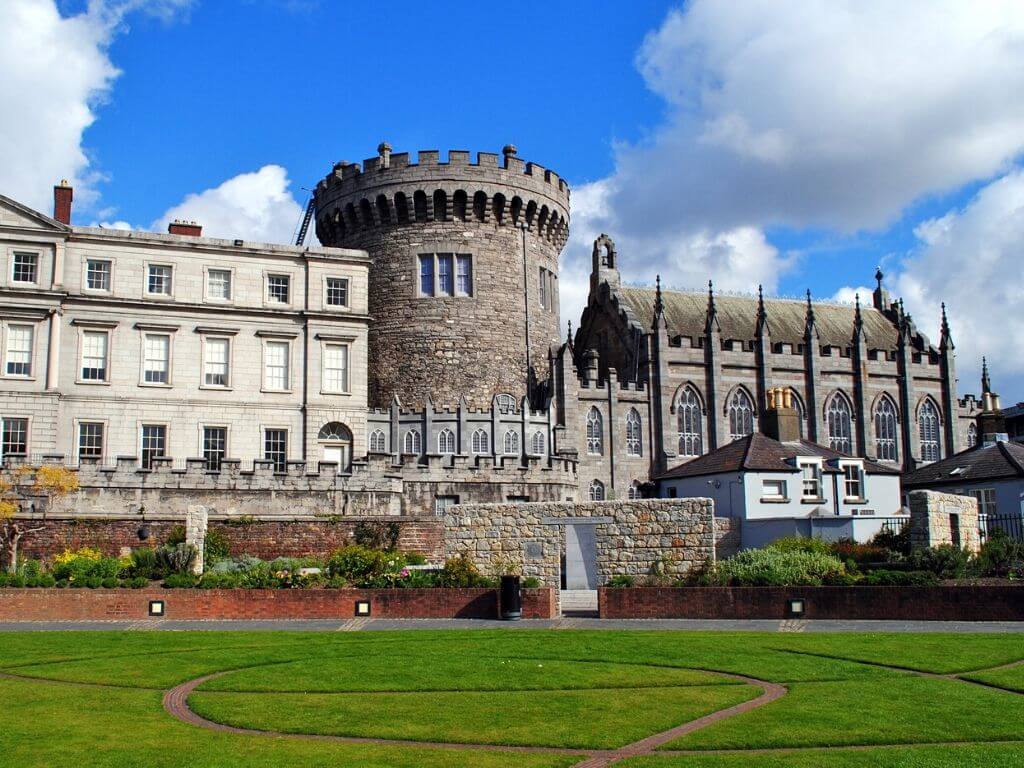 Getting around Dublin in a day
This one day in Dublin itinerary involves some travel by car (or taxi), walking and perhaps public transport. The locations within the city are well linked by public transport, and in certain cases within the city centre, walkable.
If you would like more information about traversing the city without a car, you might find the section about how to get around Dublin without a car in my post about travelling Ireland without a car helpful.
One Day in Dublin FAQ
There are certain questions that crop up time and again about exploring Dublin in a day. Let's answer them here.
While this was my personal one day in Dublin itinerary, you should get an idea from it what is achievable if you only have one day to explore the city. You can modify it to suit your own interests or swap out certain locations for ones that you are more interested in.
Read more about visiting Dublin: