Searching for an enriching historical journey through the streets of the Irish capital and wondering if you should take a private walking tour of Dublin? You're not alone.
Many visitors to Ireland crave an intimate experience that dives deep into Dublin's rich tapestry of tales. But with so many options, where do you begin?
In this AB Tours of Dublin Review, I'll reveal my personal adventure with the top man himself, shedding light on every nook and cranny we explored.
If you're eager to uncover the heart of Dublin and the history in a city that pulsates with stories, then walk this path with us.
I was once in your shoes, wondering which guide would best illuminate Dublin's past. Now, I have the pleasure of being able to offer my insights.
Read on to discover why taking a private walking tour of Dublin with AB Tours is the best way to discovering the Irish capital while exploring its history at the same time.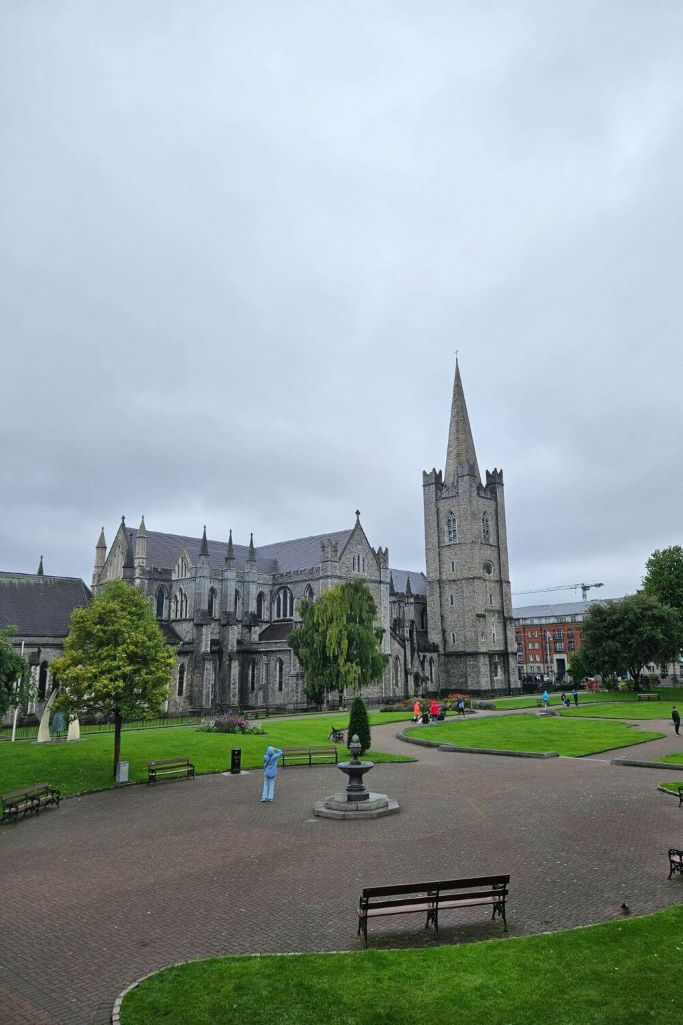 Who are AB Tours, Dublin
AB Tours is a local company that offers private tours of Dublin for both individuals and groups and was established in 2020 by Alan Byrne.
Alan is a local historian with a Master's in History from UCD and has been a freelance tour guide in Dublin since 2017. He began his own company, as mentioned, in 2020 that offers both day and evening tours of Dublin.
As well as being a tour guide, Alan is also an archive research assistant and a lecturer at the Liberties College in Dublin through which other tour guides in the city can gain their training and certification as National Tour Guides.
Alan is the owner of AB Tours and when he is lecturing or undertaking research, his tours are covered by associate guides who have received their National Tour Guides White Badge.
My Experience of AB Tours (Private Walking Tour of Dublin Review)
Despite being a Dubliner myself, on a recent trip back home, I wanted to take a walking tour of Dublin. As a local, you think you know your hometown well, but I can assure you, that is just not true.
I wanted to find someone who would enlighten me about things I did not know about Dublin and was familiar with Alan and his company, AB Tours. So, I contacted Alan via email and enquired about the availability of guided tours in Dublin during my trip back.
Alan was available on one of the days I was child-free, and we agreed to meet in the city and for Alan to take me around and share his extensive knowledge of both Dublin and its rich and varied history.
Map of places visited during my AB Tour
Prior to my tour, Alan and I had a conversation about what I was interested in seeing and places I might be interested in visiting. This was so Alan could tailor the tour for me.
On that day, we met at the Guinness Storehouse and went from there.
AB Tours Private Tour (Stop1): Guinness Storehouse
Now, despite being a Dubliner and living in the suburbs for half my life, I had never been to the Guinness Storehouse. My husband had visited with friends of ours prior to us leaving Dublin, but I had never been, and I wanted to change that.
Alan and I met outside the entrance and Alan brought me on a whistle-stop tour of the venue.
With Guinness being one of the top ten Dublin attractions, Alan is a regular visitor and knows the best exhibits to see and which ones to miss if you are on a tight schedule.
We visited various exhibitions on the different floors, as well as listening to the taste testing talk (neither of us was partaking as I am tee-total and it was a bit too early for Alan), and finally ended up in the Gravity Bar, where the 360 views of Dublin were not totally clear due to grey skies and drizzle.
But I had ticked off one of my Dublin bucket list places in an hour thanks to Alan's knowledge of the exhibitions at the Guinness Storehouse.
As it was a dreary, drizzly day in Dublin, we took a taxi from Guinness' to Dame Street to continue our Dublin private walking tour.
AB Tours Private Walking Tour of Dublin (Stop 2): Stag's Head
Next, Alan and I popped into the Stag's Head, just off South Great George's Street. Now, I must point out that this is not a regular occurrence on Alan's tours. Meals are an optional extra on AB Tours and the cost of the meal will be added to the price of the tour.
We had lunch in the Stag's Head because it was 1.30pm when we arrived in the very centre of Dublin, and I was hungry!
I don't ever remember visiting the Stag's Head before, so this was another first for me. It is a traditional, historical pub in Dublin that offers patrons great food and the chance to catch some traditional Irish music.
This Victorian pub has been around since the 1770s and offers visitors an authentic experience.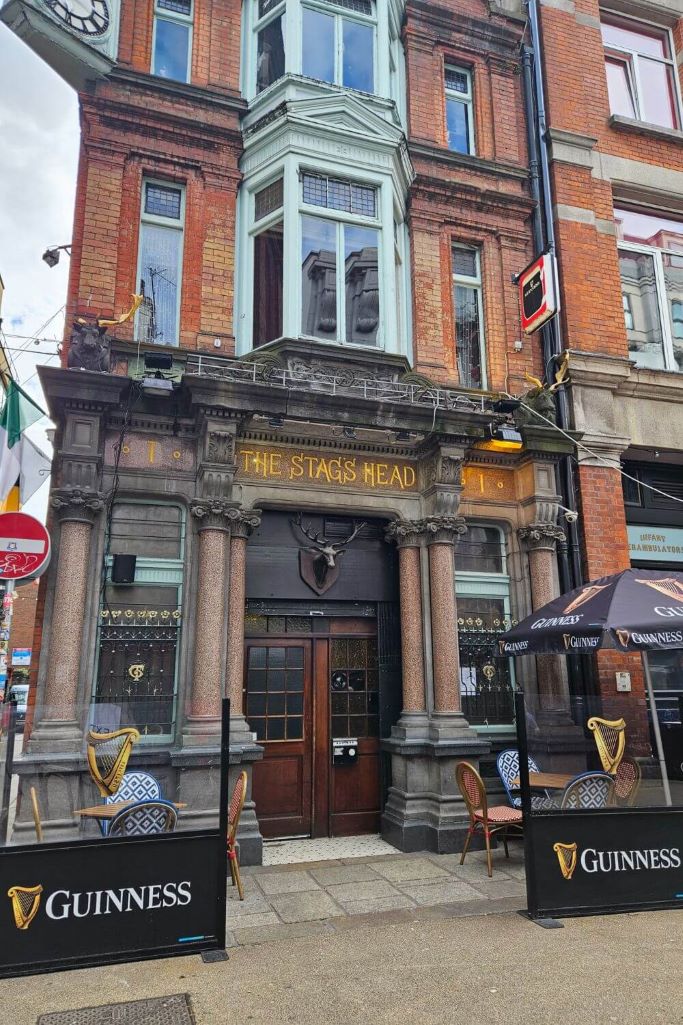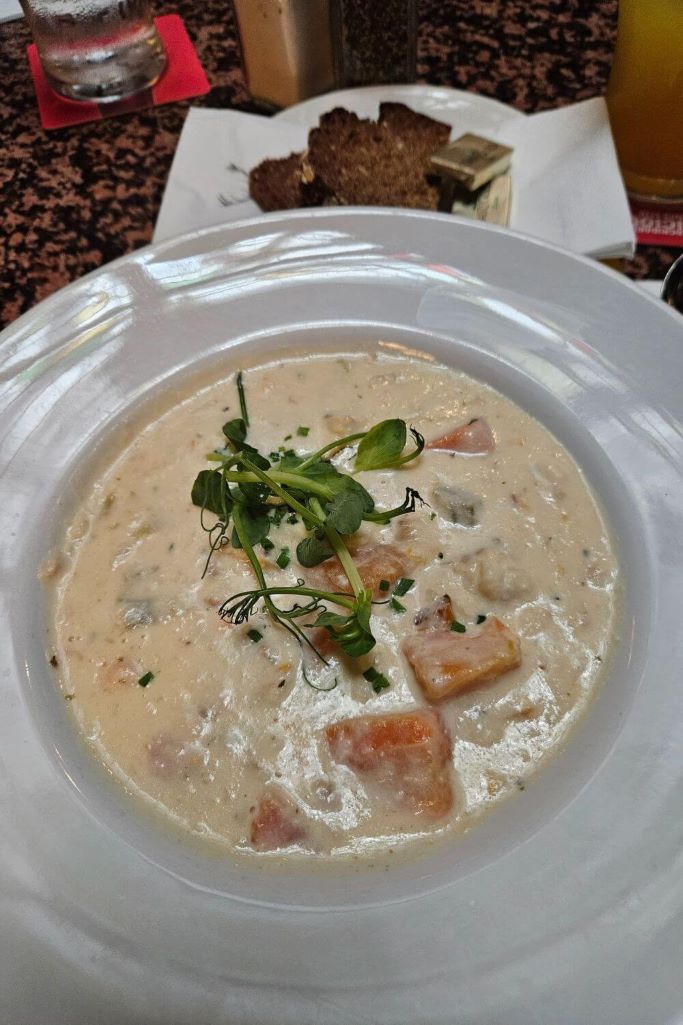 Alan and I had lunch and a soft drink, and my choice was the seafood chowder. This Irish dish is one I will always choose if I see it on a menu and this one did not disappoint. Served with brown bread, it was yummy. All washed down with a Rock Shandy, my favourite Irish soft drink!
After we paid the bill, we set off to our next stop which was a short walk away.
AB Tours Walking Tour of Dublin (Stop 3): Dublin Castle
Dublin Castle was next up.
Now, I had visited the State Apartments in Dublin Castle on a school tour over 30 years before my tour with AB Tours, and I wanted to revisit them.
On that same tour, I visited Kilmainham Gaol and I managed to revisit the Gaol during a weekend at home in June 2022. So, Dublin Castle was a must.
Alan and I are both OPW Heritage Card holders, so we simply registered with the ticket desk and took a self-guided tour of the rooms.
Alan has visited the State Apartments on previous tours many times, and like Guinness, was able to direct me to the best ones while imparting his knowledge of the previous residents of the Apartments and of some of the painters of the many portraits and landscapes that adorn the walls.
In St Patrick's Hall, we encountered a painting which was signed by a painter named Markievicz, which Alan reliably informed me was the husband of Constance Markievicz. Constance was one of the leaders of the 1916 Easter Rising and whose cell I saw the previous year in Kilmainham Gaol.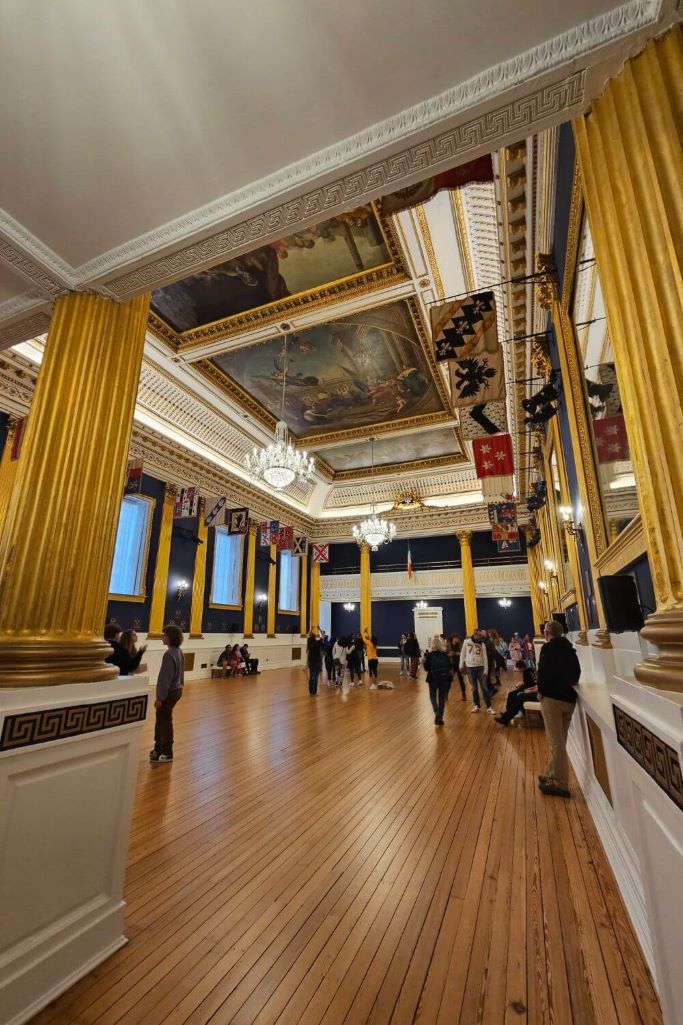 The State Apartments were incredible and so lavishly decorated. Alan shared his knowledge of the various Lord Lieutenants of Ireland during the years of British Rule while we wandered from room to room. This was all new information for me.
During our wander through the exquisite rooms, Alan also explained the significance of the Lion and the Unicorn which adorn the facades of many buildings in Dublin as well as some flags and crests. As a result, I started noticing these more and more as our tour progressed and in the coming days in and around Dublin.
After completing our tour of the State Apartments, we wandered the grounds before heading to the Chester Beatty Library, somewhere I have written about but never visited until now. While wandering the grounds, Alan shared his knowledge of the history of Dublin Castle, from the Viking age to the Victorian and also about the River Poddle.
The Chester Beatty Library is more of a museum and is one of the best free museums Dublin has to offer visitors looking for something a bit more unique.
Filled with items from the collection of Arthur Beatty, visitors can see fine examples of religious artworks and manuscripts from around the world. It is an amazing place in Dublin to visit and you could spend hours perusing the exhibits.
Don't miss out on a visit to the roof garden, one of Dublin's hidden gems.
AB Tours of Dublin Private Tour (Stop 4): St Patrick's Cathedral
From Dublin Castle, we headed to St Patrick's Cathedral, one of two in the Irish capital.
St Patrick's Cathedral was another first for me, and we had to wait for half an hour while a service finished. As it was drizzling, we popped over to the Hyatt Centric Hotel to see their exhibition wall of artefacts found during a dig prior to the hotel being built.
Once the service at St Patrick's Cathedral was finished, we took a self-guided tour of the cathedral and saw different tombs, the stunning stained-glass windows, the door from which the saying 'to chance your arm' came called the Door of Reconciliation (pictured below), and the grave of Jonathan Swift and Stella, whose plaque had been removed for conversation work.
Each area of the cathedral has corresponding numbers on the self-guided audio device so you can learn more about each area, and the various plaques or exhibits.
From St Patrick's Cathedral, we walked past the entrance to Marsh's Library, and on to the Lidl on Aungier Street to see their glass floors which sit over the ruins of Hiberno-Norse structures including a chapel and an 18th-century theatre.
AB Tours of Dublin Walking Tour (Stop 5): St Stephen's Green
Last, but not least, on my walking tour of Dublin with AB Tours was St Stephen's Green.
Now, I have visited this Georgian park in Dublin many times over the years, from spending the afternoon in it with friends after seeing the St Patrick's Day parade to feeding the ducks with my baby sister (13 years my junior), but Alan was able to open my eyes to the other things it has hidden in it.
For example, there is a historical trail throughout the park dedicated to the role it played during the 1916 Easter Rising, through informational boards. I never knew this existed.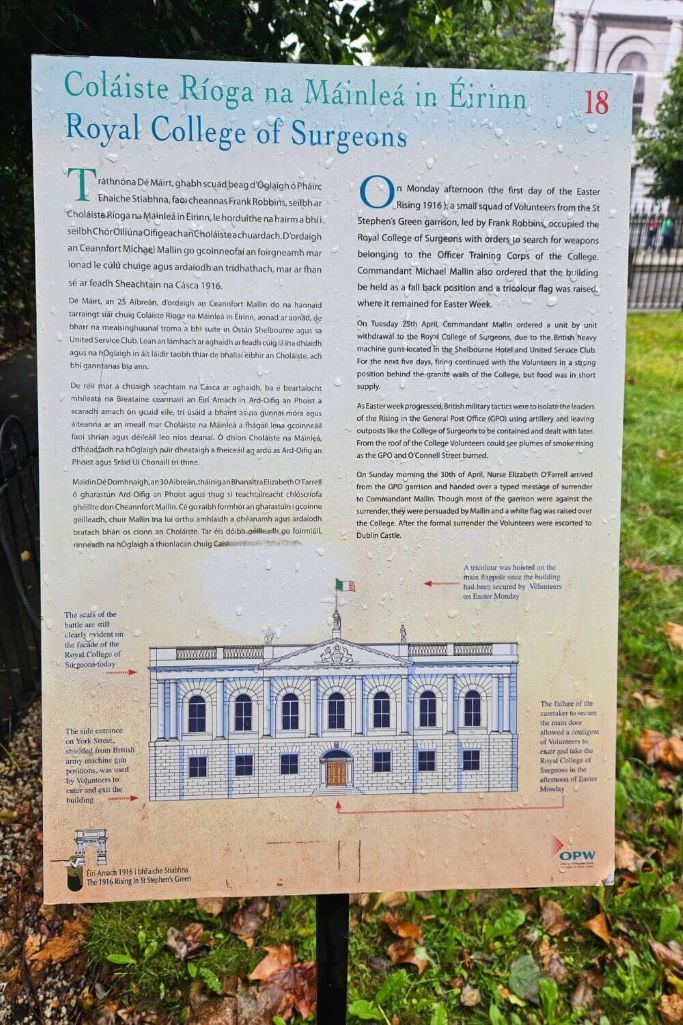 The park is also dotted with statues and busts of historical figures such as Robert Emmet and Constance Markievicz.
There is a statue of Wolfe Tone at one of the entrances, and a Talking Statues plaque which you can scan with your phone to hear him talking. And there is a famine statue also within the park.
St Stephen's Green is a great place to visit in the city centre for a reprieve from the hustle and bustle, and despite it being a rainy day in Dublin, it was still so worth popping in and learning more about it from Alan.
And we, of course, took our picture on the other O'Connell Bridge in the park before parting ways after an epic tour of Dublin.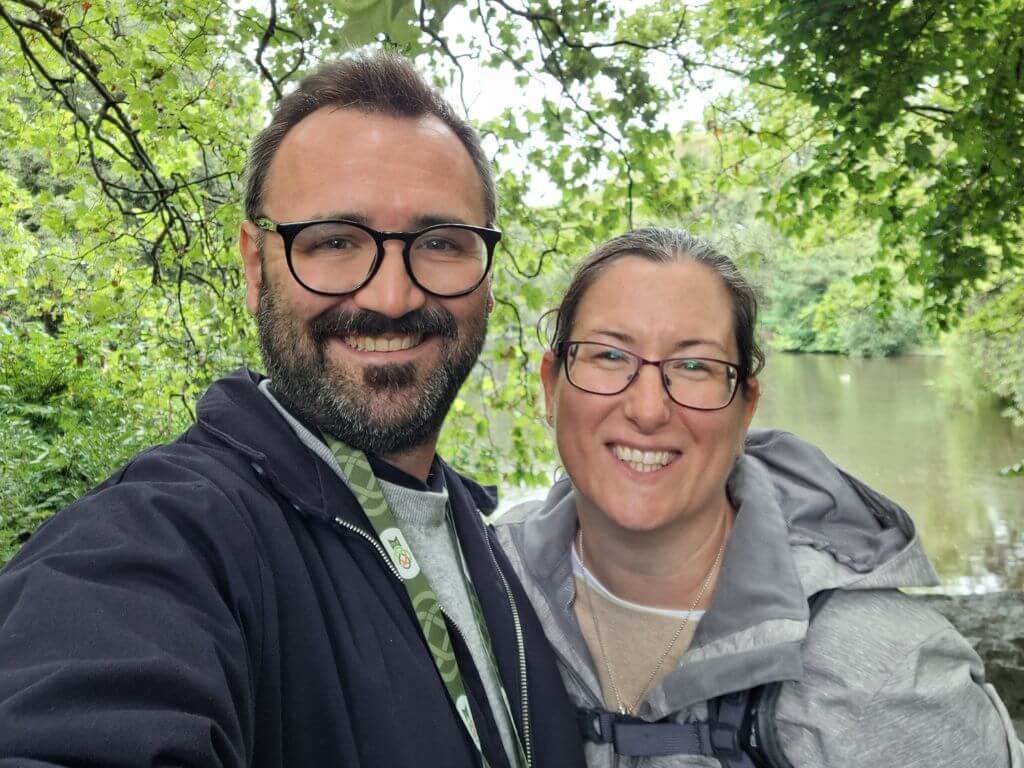 How does a walking tour with AB Tours work?
To check availability and to book a tour with AB Tours, you can email Alan using the button below.
You can check availability with him, get his latest prices, and start discussing your tour with Alan via this email.
Alan does not have a set tour route nor set talks as he tailors his tours to his clients, whether they are solo, a couple, or a group.
If you have specific requirements or places you really want to visit, then he can accommodate them and incorporate them into your tailor-made tour. Depending on the group size, you can even have small alterations to your tour during it if time and location permit.
Typically, tours with AB Tours last 3 to 4 hours and a bit of rain won't result in a cancellation, just bring your raincoat and a brolly. Mine lasted a bit longer as we stopped for lunch.
Just be warned that Alan gets booked up quickly for summer tours, so if you are visiting during June, July, or August, get in touch with him as soon as possible to secure your tour with him.
Note that meals and entry tickets to tourist attractions and venues are optional extras and the price of these will be added to the cost of the tour, but you must arrange this with AB Tours in advance to avoid disappointment.
What Do I Need to Take on Private Tours in Dublin City
The most important thing to remember for any tour of Dublin on foot is a comfortable pair of walking shoes.
As the name suggests, you are going to be walking for around 3 hours at least and you don't want to be wearing anything that is not comfortable or will give you blisters.
And when it comes to a private walking tour, Dublin weather can be unpredictable at the best of times.
With that said, you should bring a raincoat and an umbrella. My walking tour with AB Tours was in July 2023 and it rained consistently throughout our time in the city. I had my raincoat on so did not need an umbrella. It was the same situation when my son and I took a donut walking tour of Dublin a week later.
This just goes to show that even in what is the middle of summer, you could be met with rain, so go prepared.
If your tour day is bright and sunny, bring sunscreen and a bottle of water.
Frequently Asked Questions About Guided Tours of Dublin with AB Tours
Final Thoughts on Walking Tours in Dublin with AB Tours
If you are looking for the best private tour guide Dublin has to offer, then you need to secure your tour with AB Tours.
My tour was completely tailored by Alan to my wants and requirements, and Alan even threw in a few additional things along the way which opened my eyes to some of the hidden things I did not know existed in my hometown.
With his huge wealth of historical knowledge and of the venues we visited, Alan was able to point out the most important aspects of certain venues to ensure we squeezed in as much as we could in our allotted time.
A private walking tour of Dublin with AB Tours can be completely tailored to your interests, and you can even make some minor changes along the way. There is no standard script nor standard route and you can decide exactly where and what you see.
Alan was so knowledgeable and shared so many things with me about Irish history and the venues we were visiting, that it made me realised just how little I really know about my hometown.
I thoroughly enjoyed my time in the city with Alan and cannot thank him enough for my tour. If you are looking to discover Dublin on a completely tailored and personal tour, then I highly recommend booking your slot with AB Tours. You won't be disappointed!
You might also enjoy: