Is Dublin safe to visit for tourists?
It's a question that lingers in the minds of many first-time visitors, especially in more recent years.
Visiting and navigating a new city can be daunting, especially when safety concerns arise. Are there areas you should avoid? What is it like being in Dublin at night? Which are the safe areas in Dublin to book your accommodation?
These are all legitimate questions and if this is your first time visiting Dublin, or you are returning after a long period of time, fear not. I am going to answer these questions and more using my local knowledge of the city.
I am a Dubliner who has both lived in Dublin and visited the city as a tourist, and I've put together this guide to address safety in Dublin to put your mind at ease and give you all the answers and tools to enjoy every moment of the Irish capital.
Incidents like the recent violence in which rioting and looting took place in Dublin are extremely rare and are always a shock to us Dubliners, as well as the very rare incidents involving tourists during the summer of 2023.
My guide to safety in Dublin includes:
The answer to the question "Is Dublin safe to visit for tourists?".
What the locals have to say about safety in Dublin.
Good places to stay in Dublin, and places to avoid.
Tips for staying safe in Dublin.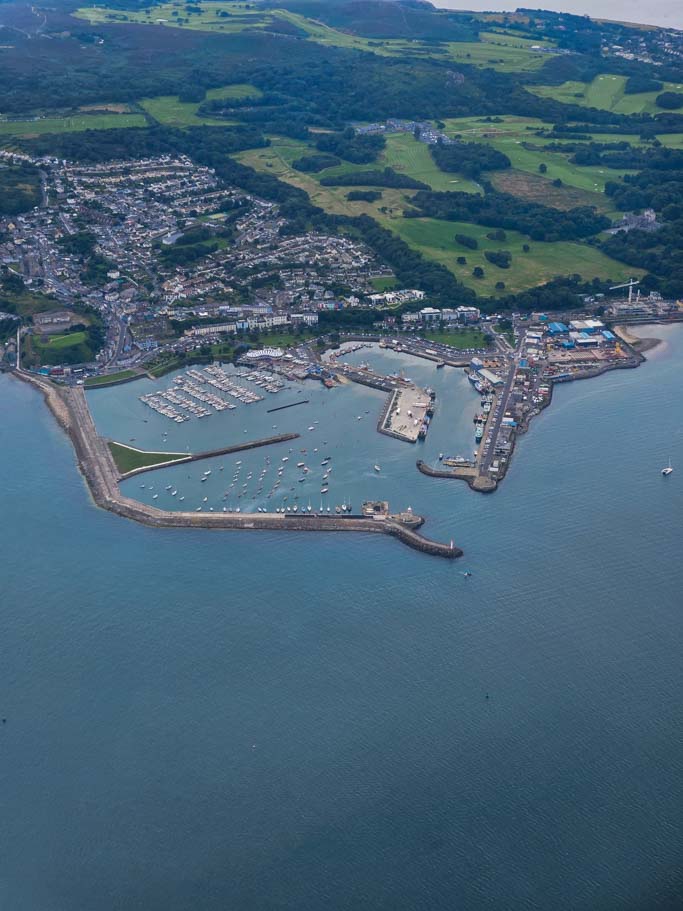 *This post contains affiliate links, which may include Amazon affiliate links. To read more about affiliate links, please visit my Disclosure Policy page.
Now, the reason many people are wondering how safe is Dublin is due to some recent incidents involving attacks on tourists during the summer of 2023 and rioting and looting in the city centre in November of 2023 (mentioned further below). Despite these isolated incidents, Dublin is generally a safe city to visit, whether it is your first visit or tenth visit.
That said, as with all major cities, you cannot go around with a lackadaisy attitude. Petty crime does exist and can happen to anyone.
Ask yourself: Would I wander the dark lanes of Paris at night? Would I walk around London or go on the Underground with my bag open, a big camera around my neck and dripping in jewellery?
If the answer is no way, then it is the same in Dublin.
For the most part, Dublin is a safe destination for travellers.
But to answer any questions or concerns you might have, I've put together this guide to help you learn what to do and what not to do in the city, give you the low down on where is best to stay in the city centre and where to avoid, and give you some tips to help keep you as safe as possible in the land of the leprechauns.
I will answer every question related to safety in Dublin in greater detail, as well as share my own thoughts and experiences where staying safe in Dublin as a visitor is concerned.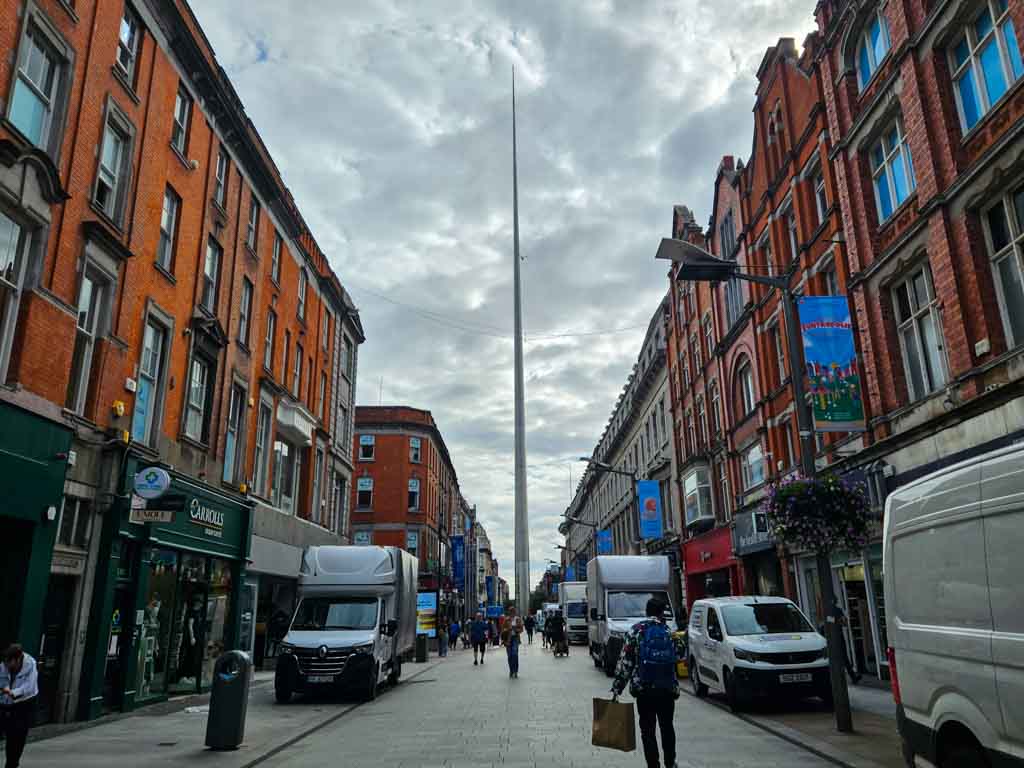 Is Dublin Safe?
At the time of writing this post in October 2023, Ireland scored 1.312 on the Global Peace Index and was ranked #3 behind Iceland and Denmark. This score is a combination of many factors including the level of societal safety and security.
Ireland has regularly featured in the top 10 on the Global Peace Index.
However, you must remember that Ireland is a small country compared to others around the world, and outside of Dublin and its suburbs lies a rural country that is less populated than the capital.
Most crime occurs in the cities and in particular in Dublin, due mainly to the fact it is home to a quarter of the population of the Republic of Ireland.
But fear not, most Dubliners are honest and friendly people (even those of us from Tallaght), and armed with the tips below and some common sense, it can be an amazing city to visit in Ireland.
What the locals have to say
While conducting research for this article, I spoke to the local tour guide, Alan Byrne of AB Tours in Dublin about some incidents involving tourists during the summer 2023, and here is what he said:
"I think a lot of it (Dublin being unsafe for tourists) is sensationalised compared to the reality. I live right in the city centre, close to several drug treatment shelters. I'm out on the streets every day, all over Dublin with groups of visitors.

Many of the commentators are probably getting their information from TV, radio, or social media. There have been virtually no incidents on any of my tours over the last few years apart from one attempted pickpocketing from a backpack. Thankfully that was spotted in time and the person fled empty handed.

If you look at crime statistics, they are all down over the last few years and I certainly felt less safe in Dublin 20 years ago. However, some of my guiding colleagues have noticed a small increase in people harassing their clients lately.

Speaking anecdotally, there is a slight edginess to the city increasing again. Some teenagers have been getting braver in their actions, but it usually boils down to an intimidating presence rather than much activity. I think this is probably a consequence of the Covid years, whereby the streets were largely vacated, and teenagers could run amok.

Some of the laneways in Temple Bar, such as the Icon Walk or Love Lane (pictured) were decorated to promote 'soft policing' and gently discourage petty drug dealing. Sadly, these lanes have fallen back into their old ways since the lockdowns.

So, I would say to people that Dublin is comparatively safe. I've lived in the city for over 10 years and have never seen a knife in public, let alone a gun. I can count the troublesome incidents that have disrupted my tours on one hand. If you compare it with any major city, it ranks as very safe, although caution should be exercised wherever you travel."

Alan Byrne, AB Tours Dublin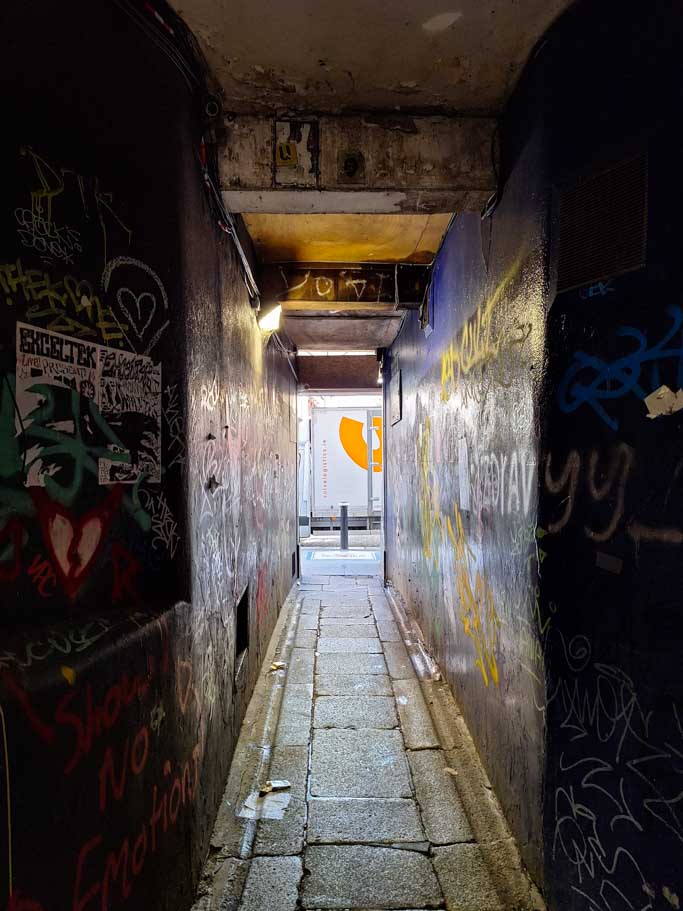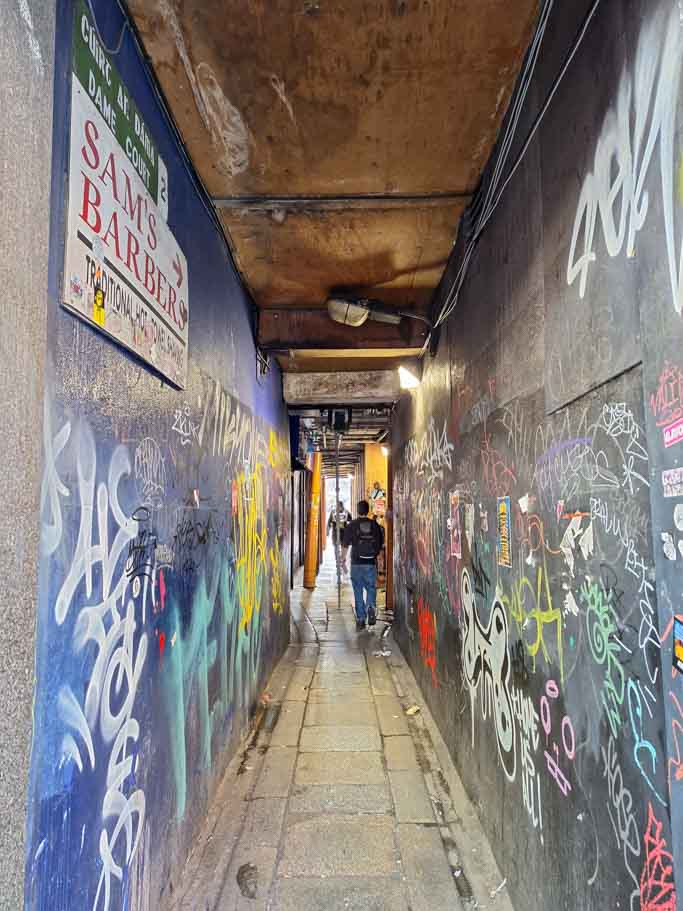 Things to Know about Safety in Dublin
Is Dublin, Ireland safe? For the most part, yes, as with all cities.
As mentioned, Ireland is regularly featured in the top ten countries on the Global Peace Index.
Ireland has been classified as a Level 1 threat location (exercise normal precautions) by the US Department of State, but after recent assaults the US Department of State issued a security alert for Dublin, advising visitors to exercise Security Awareness.
A study in 2019 (pre-pandemic) revealed that 98% of tourists felt safe and secure during their visit to Ireland.
That said, there are certain areas that even the locals will tell you to avoid and certain ones they are comfortable frequenting.
As the US Department of State mentioned in their security alert for the city, being aware of your surroundings, using common sense, avoiding being intoxicated in the city centre, and avoiding walking alone at night are all things visitors can do to remain as safe as possible in the city.
Travel Advisories
Most countries have set Ireland as a low-level threat location, advising their citizens to practise normal safety and security precautions when visiting the island.
For example, for Canadian visitors, the government of Canada has set Ireland as a country to take normal security precautions.
Likewise, those travelling from New Zealand have also been advised to exercise normal safety and security precautions while in Ireland.
The US Department of State has set Ireland as a Level 1 threat location but did issue a security alert for Dublin in July 2023, making it a medium threat location and strongly advising US visitors to exercise security awareness when visiting the Irish capital. You can read a Guardian news article about this advisory here.
Crime in Dublin
Most crime in Dublin related to tourists is petty crime such as pickpocketing and theft.
But in recent months there have been some serious assaults on tourists, with one American tourist seriously injured after an assault on O'Connell Street, and in the Temple Bar area of the city, a group of British tourists were assaulted at night.
Both attacks occurred shortly after 10pm at night. Following these, the Irish government increased police presence on the streets of Dublin to try and ensure visitor safety.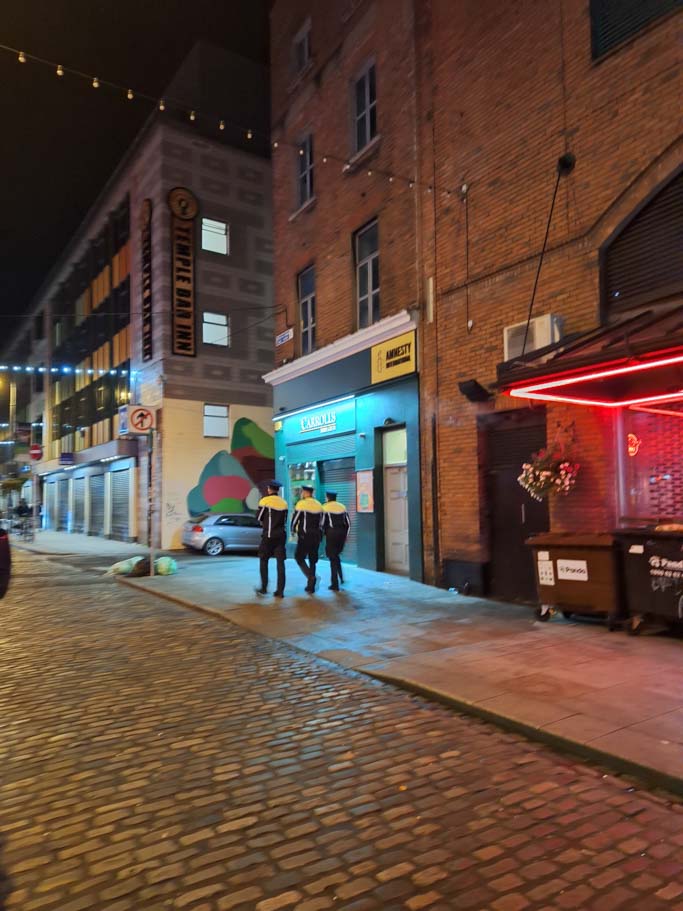 These types of violent crimes on tourists are not a regular occurrence, but visitors to the city should be aware that the top five common crimes committed in Ireland (not just Dublin) include violent crimes such as theft and assault, drug abuse (and related crimes), possession of weapons, and public order offences.
Petty crimes such as theft and pickpocketing are more prevalent with tourist crime, and the worst of the violent crimes tend to occur in the rougher areas of suburban Dublin.
You can find the latest crime statistics by clicking here.
Another recent incident that shocked the country occurred following a stabbing incident involving a teacher and school children on Parnell Square in Dublin City Centre.
The subsequent riots and looting were horrendous but you should be aware that these are extremely rare and something I have not experienced or seen in Dublin in my lifetime until now.
Petty Theft
Petty theft is one of the crimes most related to tourist incidents in Dublin. The theft of cell phones, theft of wallets/bags, and pickpocketing on busy streets and on busy public transport are the main types of crimes tourists may fall victim to.
That said, these types of crimes can occur in any city around the world and to visitors and locals alike.
In my early teens I was a victim of pickpocketing and because of my naivety had my purse stolen from my pocket which included a small watch given to me by an uncle. So, even locals can be victims in Dublin.
Substance-Related Crimes
Substance-related crimes can also be one type that involves tourists.
Tourists can become victims of petty crime if they are very intoxicated, making them easy targets for petty criminals on the streets of the city centre.
Tourists can become victims when those with a substance-related addiction turn to petty crime to feed their habit.
Avoiding Bad Areas
There are certain areas of Dublin that visitors should avoid, others where you should avoid walking alone late at night, and some areas where both tourists and locals generally feel safe.
One of the biggest factors in staying safe in Dublin is to avoid certain areas of Dublin, keep your wits about you in others, and avoid walking alone in Dublin at night.
I discuss this in greater detail below but suffice to say, there are some areas of Dublin I wouldn't venture to as I don't know them well.
Important emergency numbers in Dublin
Should you be the unfortunate victim of a crime in Dublin, the emergency numbers to be aware of are:
112 for the emergency services.
999, while this is the UK emergency services number it can still route you to the Irish emergency services if you forget number 112.
The service you will require will be the police or Gardai, and an ambulance if you have been injured.
Common Scams in Dublin
Like all major cities around the world, Dublin has a few scams that visitors need to be aware of.
Taxis: while 99% of taxis in the city are reputable and licenced, there are some fake taxis in operation whose sole purpose is to take advantage of tourists. They will either charge you far more for your fare than it should be, or worst, rob tourists of their money. If you need a taxi in the city, hail one at a taxi rank, get your accommodation to call one from one of the firms they use, or download the FREENOW app and check the car has a number on the roof and the driver's license details are displayed in the car.
Fake Tourist Guides: like other cities, there are some fake guides in operation who will try to sell tours to tourists that don't exist or offer to show them places themselves for a high fee. Do not fall victim to these people. I recommend booking your guided tours via Viator or Get Your Guide.
Pickpockets: people bumping into you may not be coincident. Pickpockets in the city often operate by 'accidentally' bumping into people while pickpocketing them or their bags. Keep all valuables in an anti-theft bag such as the Pacsafe cross-over bag or the Pacsafe Venturesafe backpack that I myself use in Dublin.
Hazardous Weather & Natural Disasters
Ireland does not suffer from natural disasters. The worst it experiences is severe weather such as gales during winter but even those are not a daily occurrence.
While yes, it does snow in Ireland, Dublin does not experience the worst of it. Apart from occasional heavy snowfall, Dublin usually gets a small flurry of snow before it melts and clears.
When it comes to the safety of tourists in Dublin, natural disasters and hazardous weather are not something you typically need to be worried about.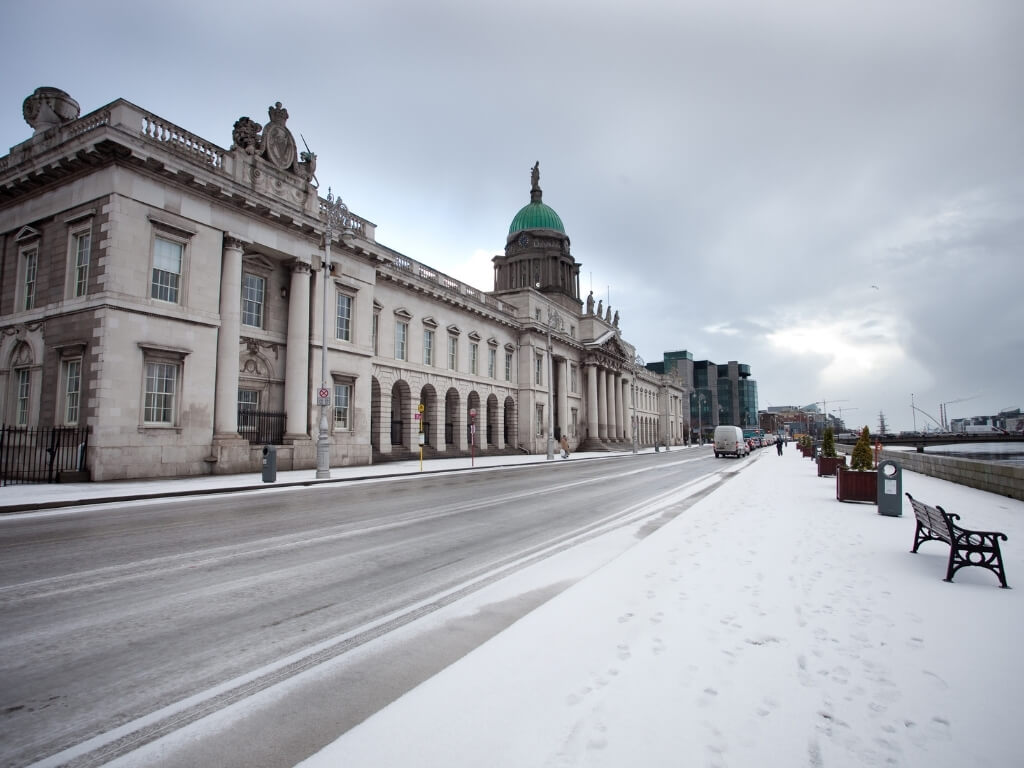 Is Tap Water Safe to Drink in Dublin?
A common question I see asked by first-time visitors to Ireland is whether you can drink tap water in Dublin.
The answer is yes, the tap water in Dublin is safe to drink. I love drinking tap water in my family's house in Dublin as it is soft water and free from the minerals and salts you find in hard and semi-hard water (the scientist in me is coming out now), unlike our tap water at home in Portugal.
Dublin tap water comes from a range of sources but the biggest source is the Ballymore Eustace water treatment plant which supplies over 50% of the city and suburbs water. Its water source is the Poulaphuca Lake along the River Liffey.
Where to stay in Dublin/Areas to avoid in Dublin
One thing that visitors to the Irish capital always ask is what are the safest areas in Dublin and what aren't. It is natural to wonder where you should stay or visit and where you should avoid.
As promised, here are my thoughts on some of the better and safest areas of Dublin to stay in and to visit, and areas to avoid, both from a visitor's and local's point of view.
Where to stay in Dublin
Location matters when it comes to safety. Dublin has some lovely areas that are clean and safe and ideal for tourists visiting the city.
Merrion Square
The area around Merrion Square is a nice area of Dublin to stay.
Located at the back of Trinity College, it is where you will find the Natural History Museum and National Gallery of Ireland as well as the entrance to the government buildings.
There is a Georgian park in the centre and several hotels nearby such as The Davenport, The Mont, and The Alex, which I have personally stayed in and would stay in again.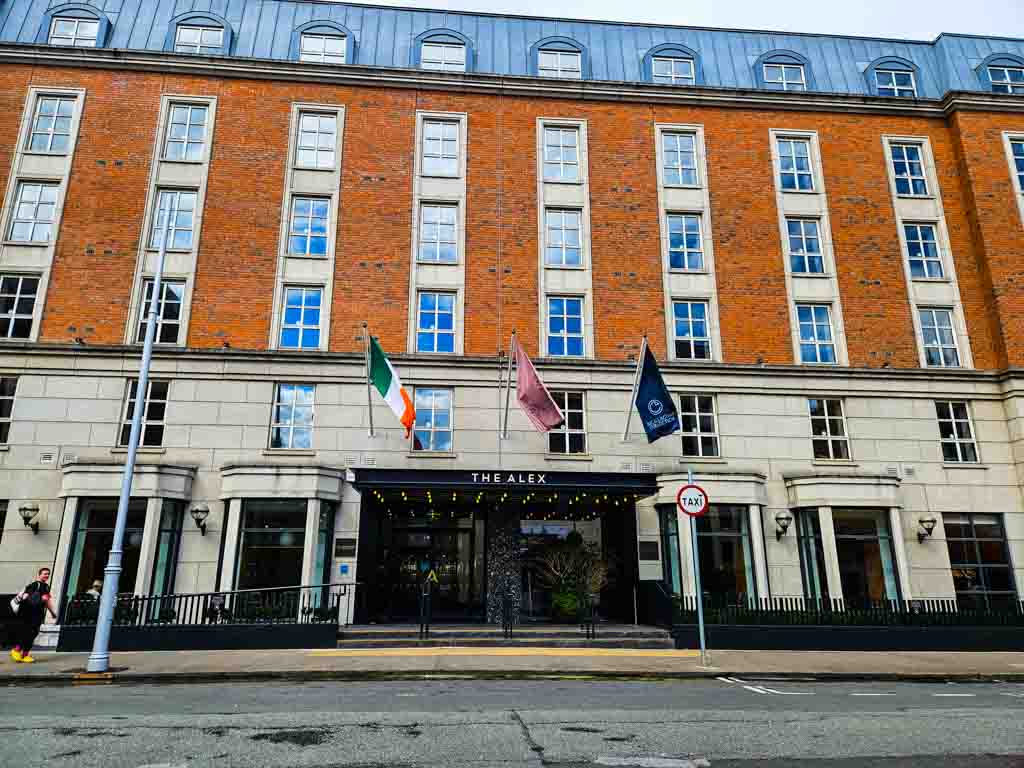 Temple Bar
Temple Bar is considered safe for tourists in Dublin. This area runs between the southside quays and Dame Street and has lots of bars, cafes, restaurants, and hotels to choose from.
Despite the recent incident in the area involving tourists, Temple Bar remains a popular part of the city for tourists and locals alike.
Hotels here include The Morgan, The Hard Rock Hotel, The Clarence (owned by U2), Fitzsimmons and Kinlay House. The Westbury, a 5-star Dublin hotel is located on Westmoreland Street, on the edge of Temple Bar.
This area is in the heart of the city, but you should stay alert and aware, especially if returning to your hotel late at night.
Grafton Street and St Stephen's Green
So long as you keep your wits about you on busy days, staying near Grafton Street or St Stephen's Green can be a good option.
Hotels near here are centrally located and leave you within walking distance of most attractions. This is the southside of the city which is generally thought of as the safer side of the city (but there are still some areas that tourists should avoid as there is not much for them there).
There are a few hotels off Grafton Street along side streets including The Westbury Hotel, and the famous Shelbourne Hotel along St Stephen's Green. I've personally stayed in The Grafton opposite The Hairy Lemon pub, and it was a great, centrally located hotel.
Portobello
Portobello is another area that is considered safe for accommodation for tourists.
It is the area sandwiched between part of Kevin Street, New Street, Camden Street and Portobello Road along the Grand Canal.
Hotels in this area can work out cheaper than the very centre of Dublin and most will be less than a 30-minute walk to Trinity College gates. Hotels here include the Camden Court Hotel, the Maldron Kevin Street, and Keavan's Port Hotel.
Smithfield
Previously, this area of Dublin was a rough part of the city.
However, in recent years it has been regenerated and is home to the likes of the Old Jameson Distillery. It also has several hotels in the area. It is walkable to the very centre of Dublin, or you can take the Luas Red Line.
Would I choose to stay in this area of Dublin? No, but that is because I still know it as a rough part of the city and do not know it at all these days.
Outside of the city centre, the following locations are considered safe, and I would be more than happy to stay in these areas or recommend them to tourists:
Howth – a fishing village on the northside at the end of the DART line.
Malahide – a well-to-do area with a castle, this is considered a posh end of northside Dublin.
Killiney and Dalkey – located along the DART and with good bus links to the city, these areas are considered clean, posh, and safe for locals and tourists alike.
Ballsbridge – not too far from the city centre and with good bus links to the city centre, this area is another safe option for visitors to Ireland.
Castleknock – located on the northside of Dublin, this is another area considered up-market and safe but does require a taxi or taking public transport into the city centre. Castleknock Hotel is one of Ireland's castle hotels located in the area.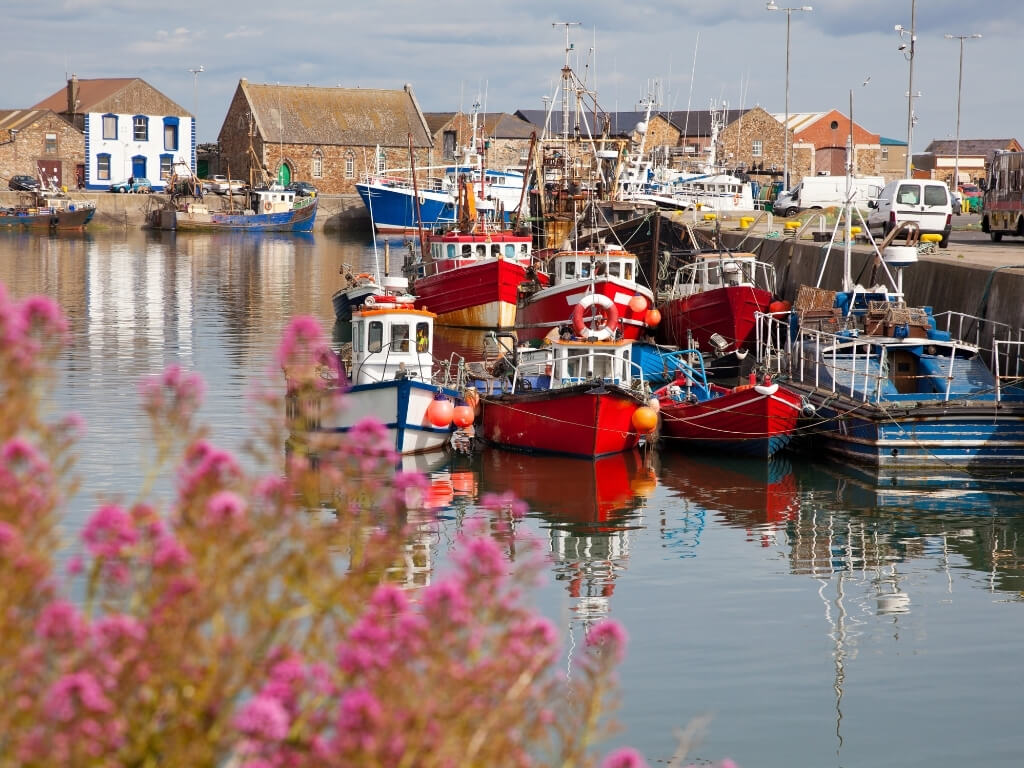 Areas to avoid in Dublin
If you are wondering are there any dangerous areas in Dublin, the answer is yes. Like all capital cities in the world, there are the good and the bad. These are areas that do not have a lot to offer tourists and therefore there is no reason for tourists to stay here.
Upper O'Connell Street, Parnell Square and Mountjoy Square
Upper O'Connell and the Parnell Square area of the northside of Dublin is not considered a very safe area for tourists.
While The Gresham Hotel, a 4-star Dublin hotel, is located along Upper O'Connell Street, the area is generally not considered a part of Dublin that tourists should frequent, especially at night. The 'safe' part tends to stop at the intersection with Henry Street.
Personally, I avoid Parnell Square. The Hugh Lane Gallery is located on it, and I would only visit this during the day and return to Lower O'Connell Street quickly afterwards.
Beware of Talbot Street, Gardiner Street (with Mountjoy Square along it) and Lower Abbey Street. While accommodation prices along these streets can look appealing, I would not stay on any of these streets.
I only go to Lower Abbey Street during the day when I need to get the Luas Red Line back to my family's home in the suburbs.
Certain Quays
There are a few quays along the river Liffey which are ok and generally safe during the day such as Custom House Quay, Eden Quay, Aston Quay, Wood Quay, Essex Quay, Wellington Quay, Ormond Quay Upper, Bachelor's Quay, George's Quay, and Burgh Quay.
I would avoid walking along the following quays, especially at night:
Ellis Quay
Usher's Island
Usher's Quay
Arran Quay
Inn's Quay
Merchant's Quay (beware even in daylight)
Ormond Quay Upper
City Quay (fine in daylight)
Sir John Rogerson's Quay
North Wall Quay
While some hotels along the Quays are fine such as the Hilton Garden Inn beside the Jeanie Johnston (Custom House Quay), the Spencer further on, or The Clarence on Wellington Quay, I would not personally stay on or off any of the other quays.
Thomas Street and James' Street
Thomas Street, including around the Guinness Brewery on James' Street, is not considered a safe area of Dublin for tourists to stay in.
The same can be said for areas that are close to these two streets including Oliver Bond Street.
Other than the Guinness Storehouse, there are no other attractions for tourists so they should try to avoid staying in these areas and get public transport, a taxi, or the hop on hop off bus to visit the Guinness Storehouse.
Pearse Street/Tara Street
The areas around these streets are known for high crime rates and unsavoury characters. I would not recommend that tourists stay in and around this area.
Sherrif Street
This area has a bad reputation among many Dubliners and has no attractions for tourists, meaning there is no reason for them to be there. Therefore, I would not recommend that tourists find accommodation here or in the surrounding area.
Outside of the city centre, the following locations are considered unsafe for tourists, and I would not recommend you look at accommodation in these areas:
Tallaght (the area of Dublin I grew up in)
West Dublin including Blanchardstown (the area my husband grew up in)
Ballymun
Finglas
Ballyfermot
Questions about specific areas of Dublin
Is Tallaght safe?
No, Tallaght is not a safe area for tourists to visit or stay in. Crime rates are high and drugs and anti-social behaviour is common. Despite this being the area of Dublin I grew up in and where some of my family remain, I strongly recommend visitors avoid this area of Dublin. There are no tourist attractions here so no need for tourists to visit it.
Is O'Connell Street, Dublin safe?
Lower O'Connell Street is generally considered safe and the entire street now has a stronger police presence after an incident in July involving a tourist. That said, you need to use common sense and avoid walking the Upper section late at night.
Is Temple Bar safe?
The Temple Bar area of Dublin is considered a safe area of Dublin.
However, there was an assault on a group of tourists in the area in July 2023 that made the news. This occurred after 10pm at night and is not typically a common occurrence.
That said, you should be careful in the area, keep your belongings close and hidden away, and not walk around late at night alone or down dark alleys alone.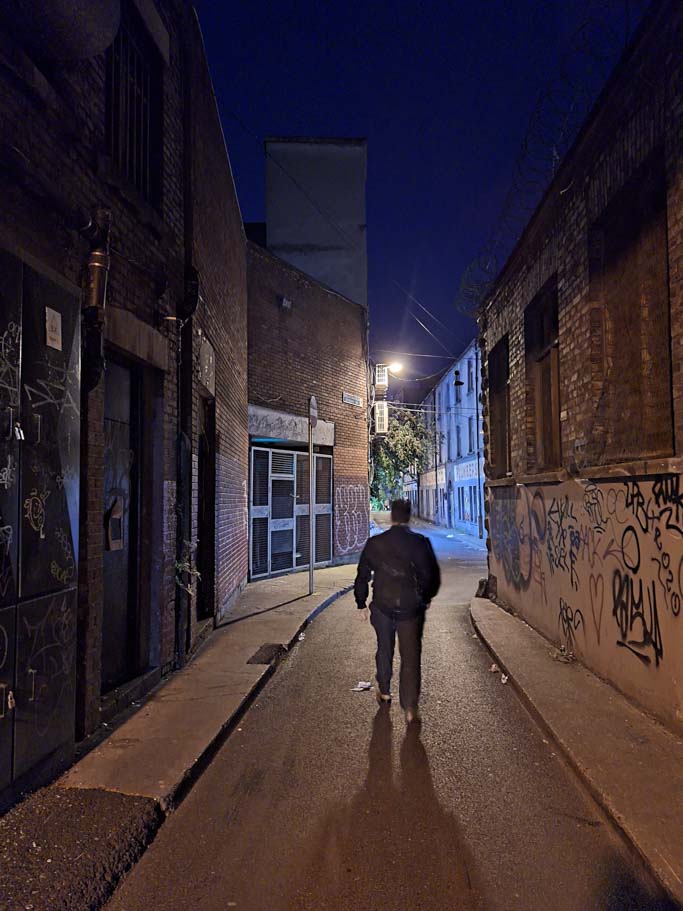 Is the Liberties area of Dublin safe?
If you had asked me this a few months ago I would have said no. But, during my time with AB Tours, Alan told me that this area of Dublin, like Smithfield, is being regenerated and is home to two distilleries in Dublin, the Teeling Distillery, and the Liberties Distillery. Guinness Storehouse is also located in this area.
So, it is very much your decision whether you want to stay in this part of Dublin. That said, I would not walk around it late at night, especially south of Thomas and James' Street.
Is Smithfield Dublin safe?
Like the Liberties, I would have said no a few years ago but with the regeneration of this part of the city, it is safer to stay in than before.
Is Kilmainham Dublin safe?
Personally, I would say no. Despite Kilmainham Gaol being located there and yes, you should visit it, I would not stay in this area of Dublin, nor walk around it late at night. Crime does occur here, and my sisters and I narrowly avoided being caught up in an incident when we parked in the Hilton to visit the Gaol in 2022.
Is Dublin safe for solo travelers?
If you are wondering is Dublin safe to travel alone, the answer is yes.
But, as with all major cities, you need to keep in mind the safety tips I've outlined below, not walk around Dublin at night alone, especially in the areas I've mentioned above. Use common sense and avoid the rough areas.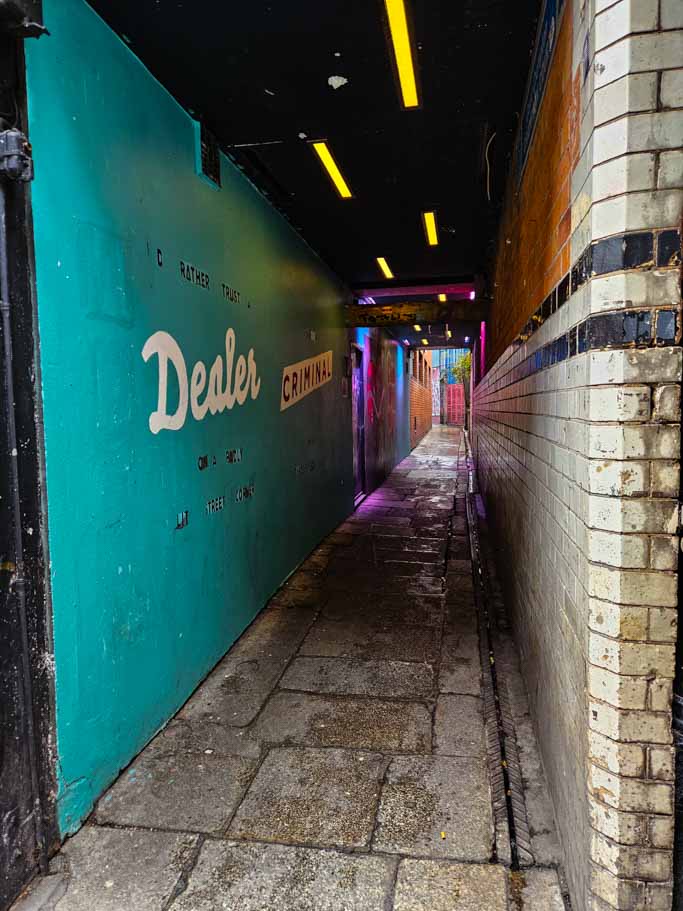 Is Dublin safe for tourists?
Yes, overall Dublin is a safe city for tourists to visit so long as you use the tips outlined in this article, use common sense, and don't wander off the main tourist's trail and down dark alleys.
Is Dublin safe for solo female travel?
Yes. At the time of writing this article, I have just returned from a weekend in Dublin solo.
I walked the length and breadth of the city alone in the day, visited 4 museums over the course of 2 days, ate alone in The Brazen Head, enjoyed ice cream from Murphy's on my own and waited for my sister on Dawson Street in the evening.
I travelled to and from the suburbs on the Luas Red Line on both days. That said, when I left my sister at 8pm after dinner one Friday evening to return to the suburbs, I got a taxi as I would not travel on the Luas after dark.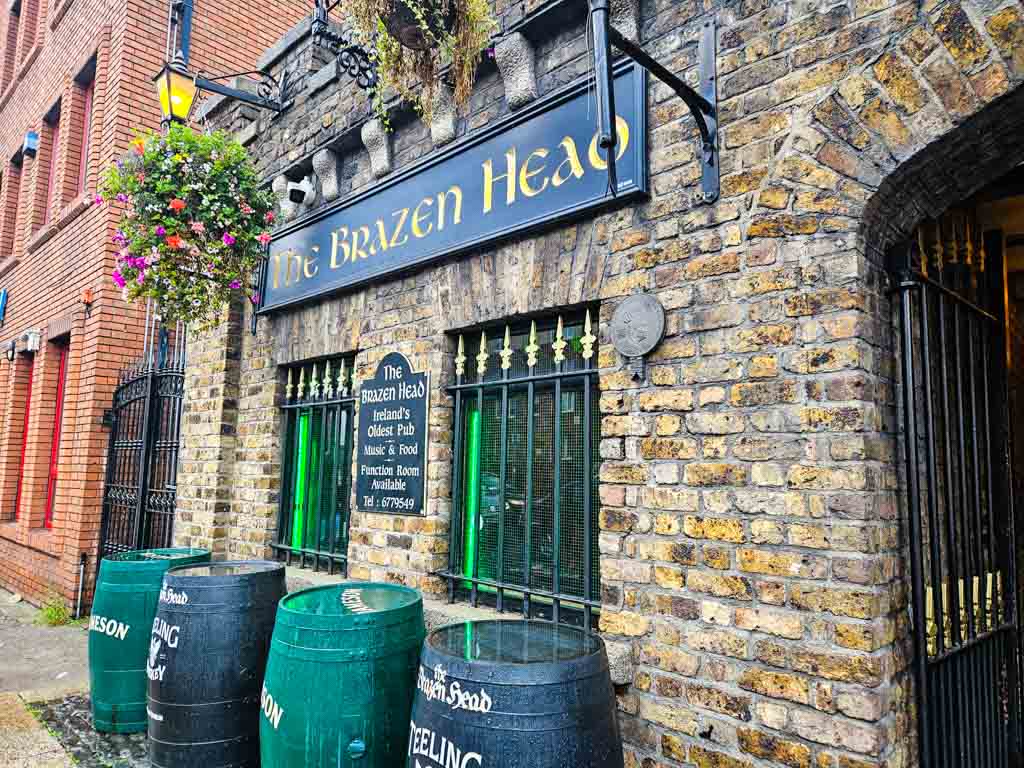 13 Top tips for how to stay safe in Dublin
1 Use common sense
Just as you would in any major city around the world or at home, using common sense is an absolute must when visiting Dublin. How safe is Dublin, Ireland very much depends on the actions of the travellers and visitors to the city itself.
Avoid having flash items on display. Keep your bag closed and close to you at all times in pubs and restaurants and keep your valuables secure, just as you would at home.
Only carry minimum cash with you and one card, leave everything else behind in your hotel or accommodation.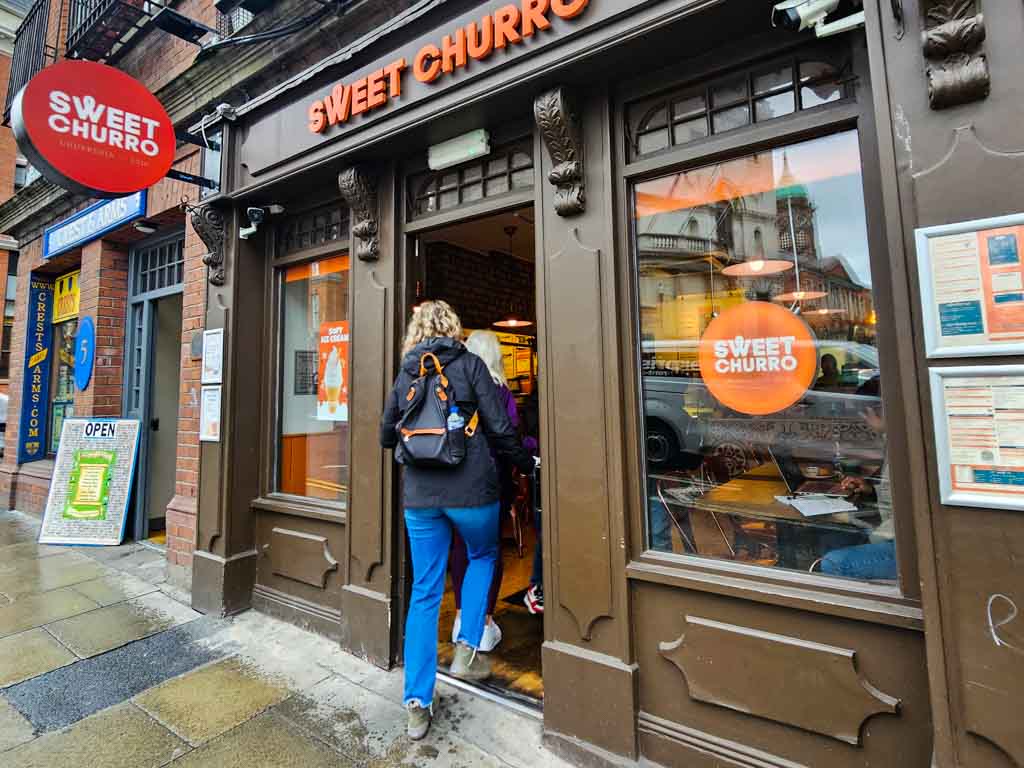 2 Don't stray off the beaten path
Beware of taking shortcuts through alleys and empty lanes in Dublin. Muggings and petty crime often happen in places such as these, so stick to the main streets as much as possible.
3 Don't wander Dublin alone at night
If you're asking yourself is Dublin safe to walk at night, it depends on the circumstances. If you are in a group, it is not late at night and you are not in an area you should avoid, then you should be safe.
Alone, in a rough area and late at night are to be avoided.
Tourists are most vulnerable in the dark and at times there can be scuffles and fights outside pubs at kicking out times. Take extra care.
4 Always remain alert and aware
You should always stay aware in crowded areas of Dublin which can include Temple Bar, Grafton Street and Henry Street, the two pedestrianised shopping streets in Dublin.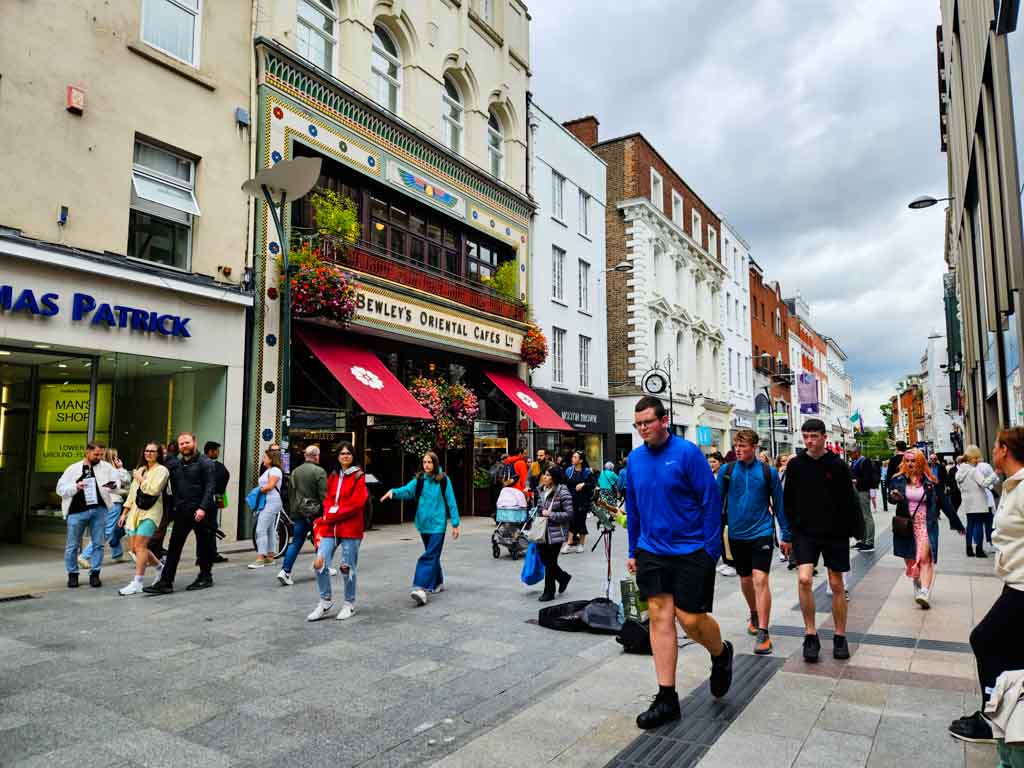 These areas can get crowded, particularly during summer or weekends, so always stay alert and aware.
Be aware of pickpocket techniques which include distraction or bumping into you and keep your wits about you.
Use anti-theft bags as already mentioned, such as the Pacsafe brand, to keep what valuables you are carrying safe and secure.
5 Stay aware when using public transportation
When you are traversing the city centre, or have opted to get around Dublin, Ireland without a car, stay aware when using public transport. This goes for buses, DART trains and Luas trams alike.
6 Visit Temple Bar early in the evening
To avoid the worst of the risks, it is best to visit Temple Bar during the day or in the early evening, avoiding the worst of the intoxicated or argumentative people.
7 Drink responsibly
Hand in hand with visiting Temple Bar is to ensure you drink responsibly. Do not get so drunk that you cannot walk straight or find your way around as this will only create a target on your back for the unsavoury elements in the city.
8 Taxis
When using taxis, only get into one that is clearly licensed. These have their number displayed on the plate above their roof and the same number displayed on their badge in the car.
All real taxis in the city are regulated and need to display both parts. Any 'taxi' without these two are fake and you should avoid getting into the car.
You can use the FreeNow app to find a taxi, and it works similarly to Uber. Know that if you choose to find a cab using Uber, it will be a licensed taxi that must work to the clock meter in the car.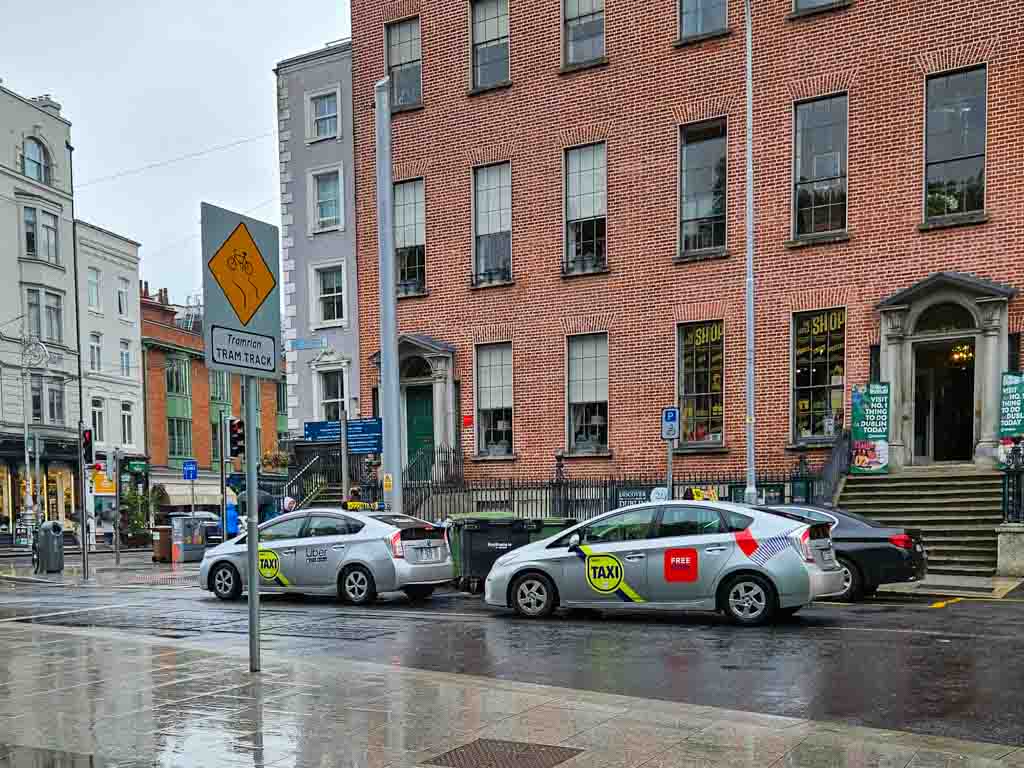 9 Parking
If you have a car and need to park, make sure to use regulated car parks and avoid leaving anything in the car. Anything left on display or valuables in the trunk could attract unwanted attention and result in the car being broken into.
And like walking, avoid parking in dark alleys or lanes.
10 Invest in a money belt or use a bum bag/anti-theft bag
As mentioned already in this post, it is advisable to invest in a bag that hides your valuables while out and about and is anti-theft. I have used the Pacsafe brand for years when travelling and at home.
I prefer the Venturesafe backpack while travelling and the Metrosafe bag at home.
And if you want to keep your money and cards super safe, invest in a money belt to hide underneath your clothes.
11 Politics can be a touchy subject
To avoid arguments, avoid discussing Irish politics. The history behind Irish politics and the difference between Ireland and Northern Ireland can cause serious divides among the Irish and has even split families. So, don't start on politics.
12 Prepare for Dublin's Traffic
Whether you are exploring on foot, bicycle, or public transport, prepare yourself for a city whose traffic can get gridlocked, even outside of peak times.
The city streets are busy and certain ones have been pedestrianised or made one-way streets.
Cars, taxis, bikes, buses, and trams all share the same roads and during busy times, pedestrians should take extra care.
13 Travel Insurance
Do not travel to Ireland without some form of travel insurance. Just because you haven't needed to use travel insurance in the past, does not mean you won't have to this time.
We all hope it won't be needed but you never know, and it is far easier and comforting to know you have travel insurance behind you, rather than worrying how on earth you are going to pay medical bills or extra unforeseen travel costs.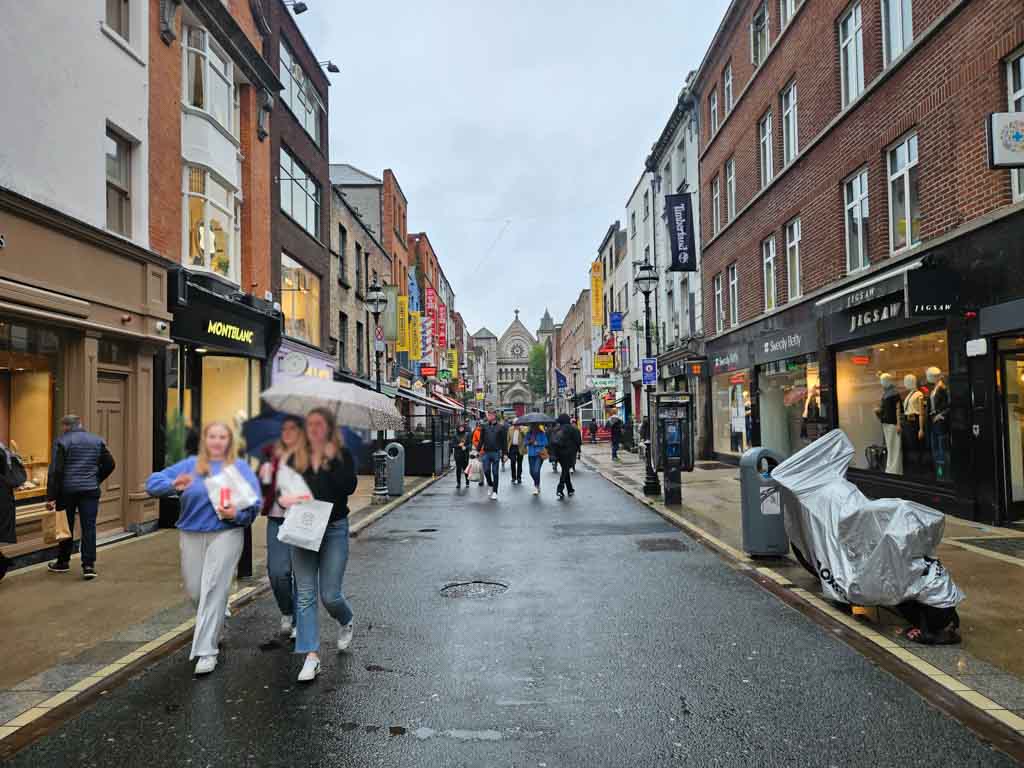 FAQs About Safety in Dublin
Final thoughts on is Dublin a safe city to visit
How safe is Dublin for tourists depends on several factors.
Location plays a huge part in visitor safety when it comes to accommodation and places to visit and walk around.
There are even certain areas of both the city centre and suburbs that locals will avoid if they can.
But, by using common sense and the tips outlined in this article, tourists can remain as safe as possible while enjoying the Irish capital to the full.
Dublin is like any other major city across the globe. There are good sides and bad sides to the city and if you remember all the things you would and wouldn't do in other cities, you can rest assured you will be doing everything in your power to remain safe in the city.
Learn more about visiting Dublin: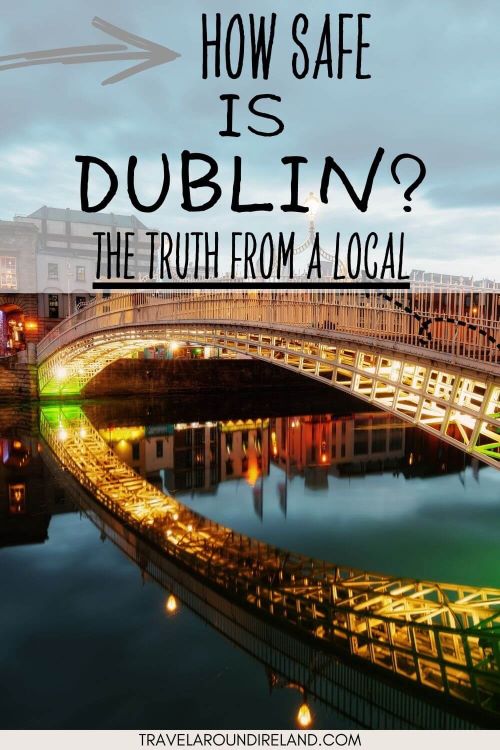 Travel Around Ireland is a participant in the Amazon Services LLC Associates Program, an affiliate advertising program designed to provide a means for sites to earn advertising fees by advertising and linking to amazon.com, amazon.co.uk, amazon.ca. Amazon and the Amazon logo are trademarks of Amazon.com, Inc. or its affiliates. To learn more about affiliate links, read my Disclosure Policy here.