Are you expecting a baby girl and are looking for some Irish girls names beginning with C to give you some ideas? This list of the top Irish names for girls beginning with C is the perfect place to start your search.
A Guide to Irish girls names beginning with C
With popular Irish girls names Ciara and Catriona included, and some more unique names as well as hard to pronounced Irish girls names starting with C, you'll love this list of Irish names starting with C for girls to help give you ideas. Or to simply find out what a name you've heard means!
Caoimhe
One of the top pretty Irish names for girls beginning with C, and my personal favourite, is Caoimhe. This name in particular causes confusion over how you pronounce it. Coming from the Irish word "caomh" meaning dear or noble, Caoimhe is pronounced Kee-va. It can also mean "gentle, beautiful or precious". It is one of the more common Irish girl names in Ireland but rarely heard outside of the Emerald Isle.
Ciara
This is the female version of the Irish boys name Ciaran. It comes from the Irish word ciar which means "dark" and implies dark hair and eyes, so its full meaning is "little dark one". St Ciara was a 7th-century figure who established a monastery in Kilkeary in County Tipperary. It is pronounced Ke-ra and is a very popular Irish girls name.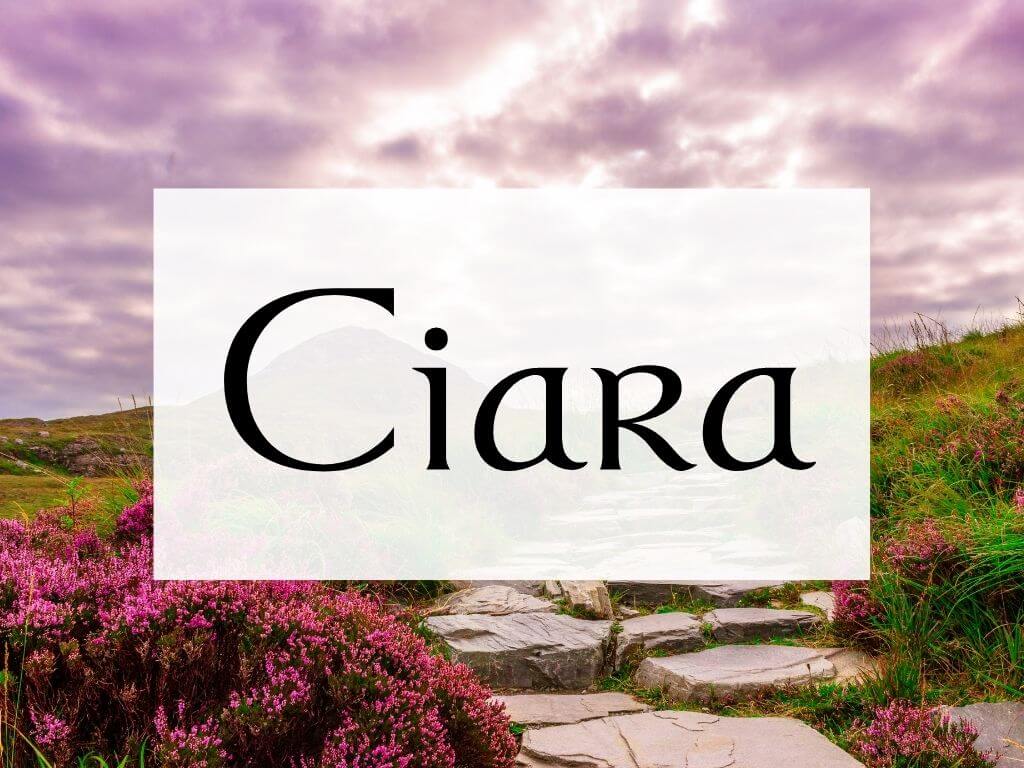 Clodagh
Pronounced Clo-da, this Irish girls name starting with C is popular in County Tipperary and County Wexford due to the River Clodiagh running through the two counties. Rivers were often named for a local female deity and were often places for prayer. It is thought Clodagh is related to the river but no known female deity of the same name is recorded anywhere. Another version of the name is Cloda, pronounced the same way. It is not well-known outside of the Emerald Isle.
Cliodhna
With versions such as Clíona, Clio and Cliodna, it means "shapely" coming from the word clodhna. It is a name that is found in Irish mythology and is pronounced Clee-ona. The story tells of Cliodhna, the goddess of love and beauty, who had three magical birds that could sing the sick to sleep and cure them. In the tale of "Cliodhna's Wave" she falls in love with a mortal and leaves Tir-na-nOg with him. But when he goes on a hunt leaving her on a beach, she is swept to sea by a great wave, leaving her love desolate. Another story tells of a Cliodhna who was the Queen of the Banshees of the Tuatha De Danann (a supernatural race in Irish mythology).
Caireann
Pronounced Care-in, this name comes from the word cara meaning "friend" in Irish, but in the diminutive form so its meaning is "little friend". In Irish legends, Caireann Chasdubh (Cairean of the Dark Curly Hair) was mother of the legendary warrior Niall of the Nine Hostages, and therefore maternal ancestor of the high kings of Ireland. The English version of this Irish name for girls beginning with C is Karen.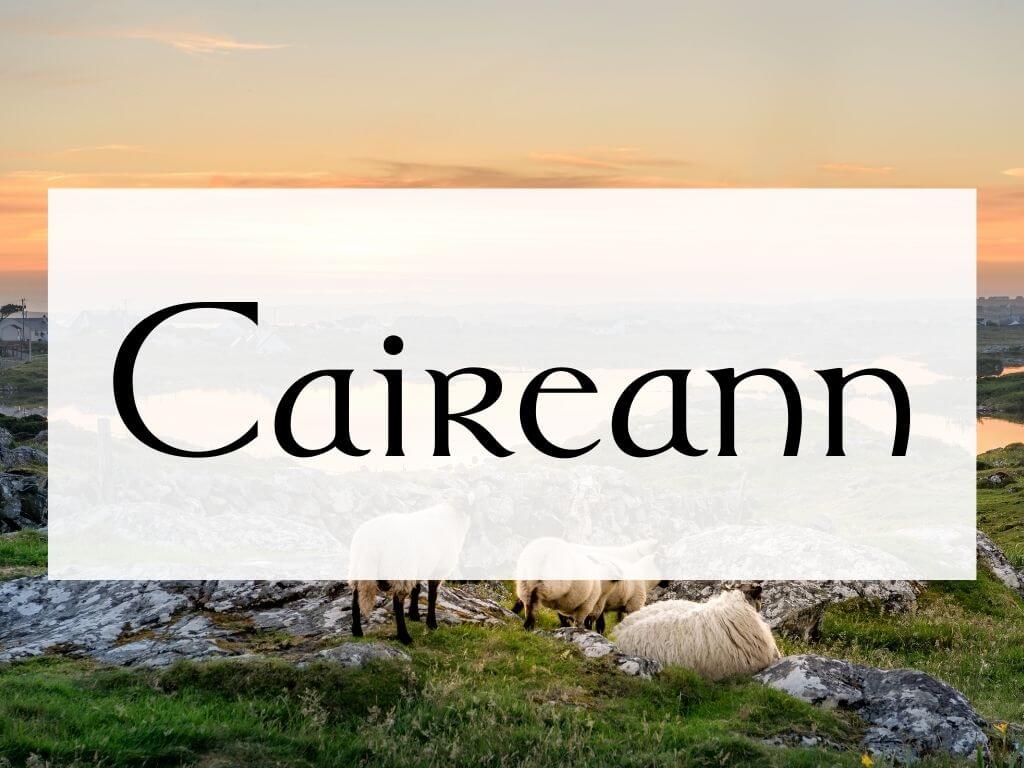 Catríona
This is the Irish form of Catherine and is pronounced Ka-tree-nah. It is derived from an older Greek name meaning "pure or clear". It is sometimes written as Catrina or Catriena. Some people believe it is the female version of the Irish boys name beginning with C, Ciarán. If this were true it would mean "dark". Catríona is not often heard outside of the British Isles where it is popular both in Ireland and Scotland.
Caitlin
This is another format of Catriona that is popular in Ireland and Wales. Traditionally it was pronounced Kath-leen or Koit-lenn but during the 1970s non-Irish speakers began to pronounce it as Kate-lin which is the most common way to pronounce the name nowadays. As it comes from Catriona/Catherine, it also means "pure". Other versions of it include Cait, Caitlyn and the same versions but with a K.
Cara
Cara means "friend" in Irish and is pronounced as it is written, Car-a. It can also be found written as Kara and Caragh. It became a first name in the 19th century with its popularity rising after the 1950s. It can also mean "beloved" when coming from the Latin word cara.
Cadhla
This Irish girls name beginning with C is pronounced Kay-la and can also be found written as Kayla or Keyla. It is a unique Irish name and means "beautiful, comely or graceful". This is not a very common name and is quite a rare Irish name for girls.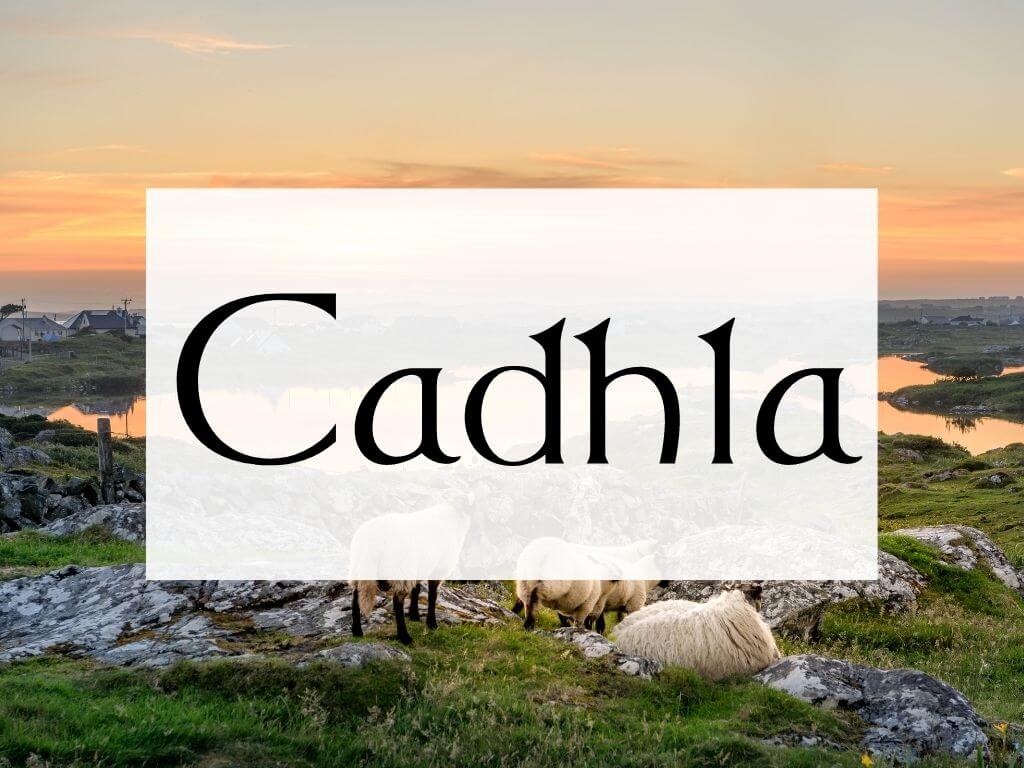 Caoilainn
Coming from the Irish words caol meaning "slender" and fionn meaning "pure, fair or white" this Irish girls name starting with C is typically pronounced Kay-linn. It can also have versions such as Caoilfhoinn, Caoilinn, Keelan and Caelainn. In history, there were several saints who bore the name Caoilainn and one was described as pious and gaining respect from her fellow sister nuns for her gentle and sweet temper and dedication to duty. Today it is a very rare Irish girls name.
This list is by no means exhaustive but includes some of the most popular and more commonly used and heard Irish girls names beginning with C.
Discover more Irish names: