Ireland is somewhere that many people want to travel to. And for different reasons. But what is Ireland famous for? What is it that makes so many people want to visit this small island on the edge of Europe? Well, here are 31 things that might surprise you when it comes to what Ireland is famous for.
It can be hard to believe but some people don't know much about Ireland. And when they hear of a family member or friend heading to the Emerald Isle (more on that in a minute), they wonder why?
Why are people drawn to Ireland? What makes them want to go there? Why is Ireland so famous and what is Ireland known for that has hundreds of thousands of people visiting every year?
Well, let's find out the reasons why Ireland is such as popular destination and on plenty of people's bucket lists.
31 Things Ireland is famous for
1. Emerald Isle
Ireland is also known as the Emerald Isle. But why is Ireland known as the Emerald Isle? Well, to put it simply, it is known by that term thanks to the rich, lush, green landscape that is visible as far as the eye can see.
Some of the best parts of Ireland are surrounded by green, including the Cliffs of Moher, the Ring of Kerry, and the Rock of Cashel. Everywhere you turn, rolling fields of emerald green meet your eye and it is a wonderful sight to see.
Thanks to the rain, which is a dominant feature in Ireland's weather, lush green grass grows 365 days a year, carpeting this small island in green. Hence the nickname of the Emerald Isle.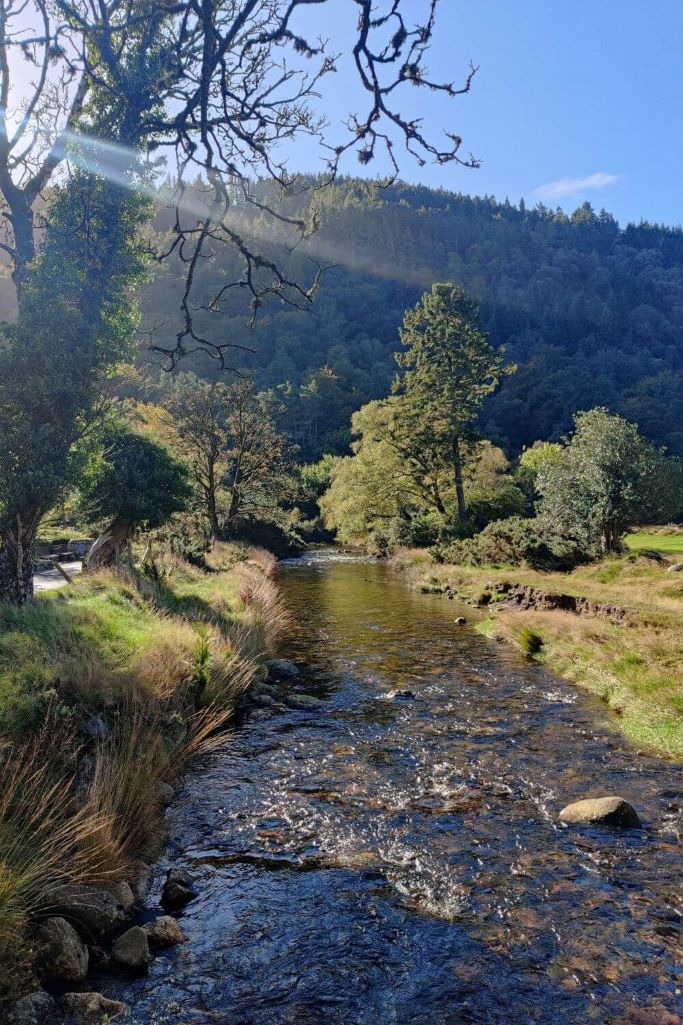 2. St Patrick's Day
If you have been wondering what is Ireland known for, well, its patron saint is a big one. St Patrick's Day is celebrated annually in mid-March and it's a day of celebration for all things Irish. The day marks the anniversary of St Patrick's death, who was known for bringing Christianity to Ireland.
The most obvious way to celebrate St Patrick's Day is by wearing green and attending a parade, something that occurs in almost every town and city across Ireland. Floats, people in costumes, and music are key features of the day.
St Patrick's Day is one of the busiest times of year in Ireland, with people descending on the island from across the world to partake in the celebrations on the 17th of March. So be warned, alongside summer, this can be an expensive time to visit Ireland.
Whether you are spending your St Patrick's Day in Dublin or attending one of the other many events in Ireland for St Patrick's Day, you are sure to have a great time, with lots of laughter and merriment to be had.
3. Shamrocks
Another thing Ireland is famous for is shamrocks. This Celtic symbol is strongly associated with Irish culture and history due to its three-leafed design and its use by St Patrick.
Shamrocks have been seen as a symbol of hope and good luck throughout Irish history. As mentioned, they were also used by the monk, when he was introducing Christianity to Ireland, to represent the Holy Trinity, with each leaf signifying a part of the Holy Trinity; the Father, the Son, and the Holy Spirit.
These days, you can find shamrock motifs everywhere in Ireland including on clothing and decorations. Even the national airline, Aer Lingus, uses it to represent its brand.
Shamrocks are a symbol of national pride and are also believed to bring luck to those who wear them. And on St Patrick's Day, many people pin a small bunch of shamrocks to their lapels.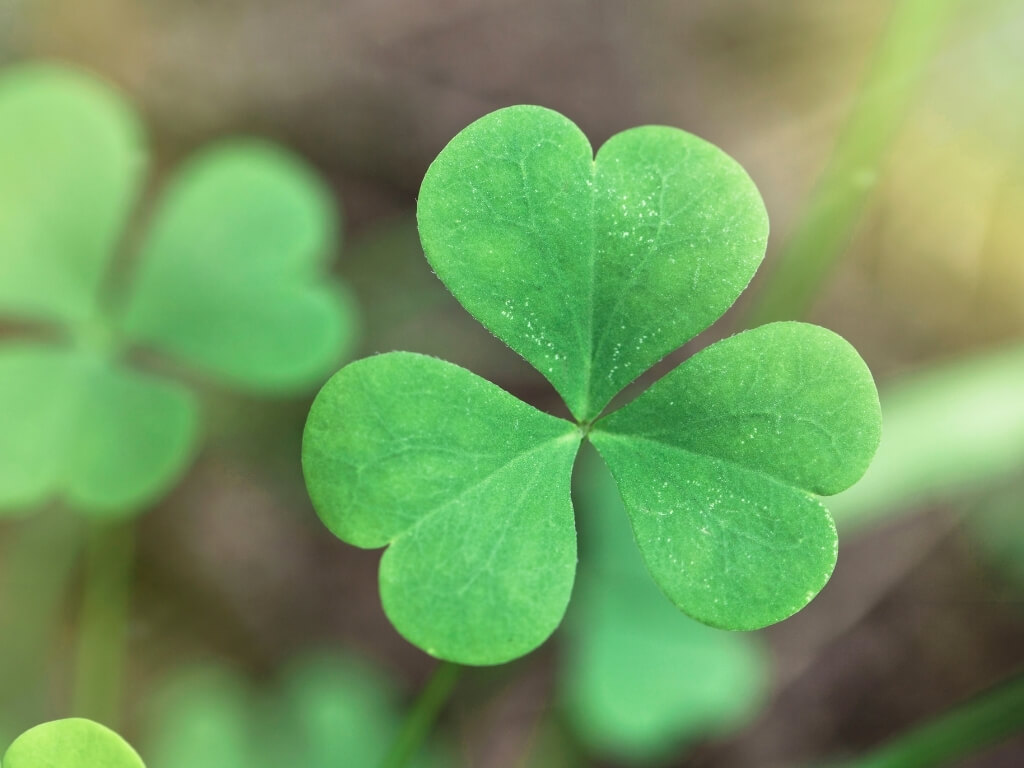 4. Leprechauns
One of the fun things associated with Ireland is Leprechauns. Leprechauns are a type of fairy-tale creature that is said to bring luck and good fortune. They are usually depicted as small, mischievous men dressed in green clothing with pointy hats.
The origins of leprechauns come from Irish mythology and folklore where they were said to be shoemakers or cobblers who mended the shoes of fairies. It's said that if you catch a leprechaun, he will grant you three wishes in exchange for his freedom or his pot of gold.
These days, Leprechauns are usually depicted with pots of gold at the end of rainbows, and they often feature in Irish-themed merchandise across the world. On St Patrick's Day, you might even see a few people dressed as them during the festivities.
5. Guinness
One thing Ireland is famous for the world over is Guinness. This iconic stout was first brewed in Dublin in 1759. Today, Guinness is brewed in 49 countries around the world, owns 5 breweries, and is now exported to over 150 countries (reference).
Over 10 million glasses of Guinness are enjoyed every day across the globe. And that's just the drink. Enjoyed both on its own and as part of popular cocktails, Guinness remains a staple of Irish culture and a symbol of the country abroad.
The original brewery in Dublin is an attraction for visitors looking to learn about this iconic Irish brand. The Guinness Storehouse is one of Dublin's top tourist attractions, complete with the famous Gravity Bar, where visitors can enjoy a cold pint and take in breath-taking views of the city after immersing themselves in the seven floors dedicated to the brand and brewing process of one of Ireland's biggest exports.
Not to be forgotten is the fact that Guinness is also an important part of Ireland's economy, generating hundreds of millions of euros each year. It's no wonder then that this quintessential Irish drink holds such an iconic status.
And that's not all. Guinness also created the Guinness Book of World Records in 1955 to compile a reference book of world records, and this is still going strong today.
6. Irish Whiskey
When people ask, "Ireland is famous for what products?", alongside Guinness comes Irish whiskey.
This alcoholic beverage is made from a grain mash and aged in wooden casks for several years. Irish whiskey has become very popular around the world, thanks to its complex aromas, smooth finish, and range of flavours.
The best-known brands include Bushmills, Jameson, Tullamore Dew, and Teeling. By far, Jameson is the most famous and most popular among international audiences. And its popularity has inspired cocktails and other drinks such as Irish Coffee, which blends whiskey with coffee, brown sugar, and cream (see below).
There are many great Irish distilleries to visit during a trip to the Emerald Isle, both in the capital and across the island. There are also plenty of top whiskey tours in Dublin to take that will introduce you to the complex brewing process. And you can do some tasting at the end of your tour.
So, if you're in Ireland, don't forget to try a glass of smooth Irish Whiskey! And toast the barman with "Sláinte"!
7. Irish Coffee
Irish Coffee is a hot drink made with Irish whiskey, coffee, brown sugar, and cream. It's an Irish classic that's often served as a dessert after dinner.
The beverage has its origins in Foynes, County Limerick in 1943 when it was served to warm up cold passengers arriving by plane. Legend has it that Chef Joe Sheridan created the beverage as a pick-me-up for weary travellers. The recipe has since become popular around the world, particularly during winter when people want to warm up with something special.
To make Irish Coffee, hot coffee is poured into a cup and combined with two teaspoons of brown sugar. A shot of Irish whiskey is then added and stirred in. Finally, a dollop of cream is gently floated on top, and the drink is ready to be served. Irish Coffee can be enjoyed as an after-dinner treat or sipped slowly by a warm fire.
So, if you're ever feeling a bit chilly, give Irish Coffee a try and enjoy the warmth of this traditional Irish beverage!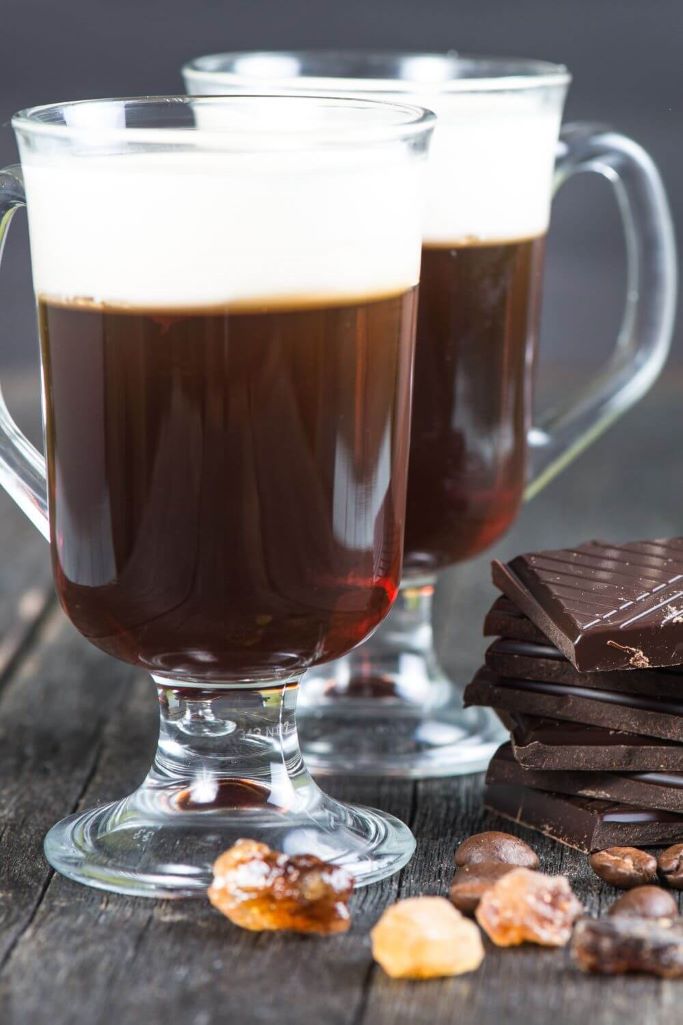 8. Pubs and Temple Bar
Ireland is famous for its drinking culture, and at the heart of that are the pubs. Every town and village across the country has pubs a plenty where locals and visitors can experience the 'craic', a term used to describe the atmosphere of fun and great conversation that you'll find in an Irish pub.
And no trip to Ireland would be complete without visiting Temple Bar in Dublin, with its cobblestone streets lined with pubs and restaurants. This popular tourist destination has many bars and restaurants lining its cobblestone streets. From traditional Irish pubs to modern craft beer venues, there is something for everyone.
Whether you're looking for live music or just want a pint of the black stuff, this place has it all. Not only that but it's also a great spot for just wandering around and taking in the atmosphere.
However, if you are looking for a quieter affair in Dublin, why not visit one of these non-touristy pubs in the city for a pint of Guinness, a Jameson, or an Irish coffee to warm your bones.
No matter your preference, you will always find a pub with a warm welcome wherever you go in Ireland.
9. Music
Ireland is famous for its music, both traditional and modern.
Traditional Irish music is characterised by its distinctive melodies and is often played alongside jigs and reels in pubs, or at festivals. In our house, we refer to it as 'diddley-eye' music due to the combination of the tin whistle, banjo, and bodhrans (Irish drum which makes for a unique Irish souvenir).
Modern Irish bands such as U2, The Cranberries, and The Script are popular around the world, while renowned folk singers such as Enya and the folk band Clannad have contributed to the unique sound of Ireland.
If you are hoping to experience music while on the Emerald Isle, Kilkenny is renowned for its pubs where you can enjoy live music of the traditional kind, and Darkey Kelly's, a great pub in Dublin, is one of the best-known pubs in Dublin for live traditional music.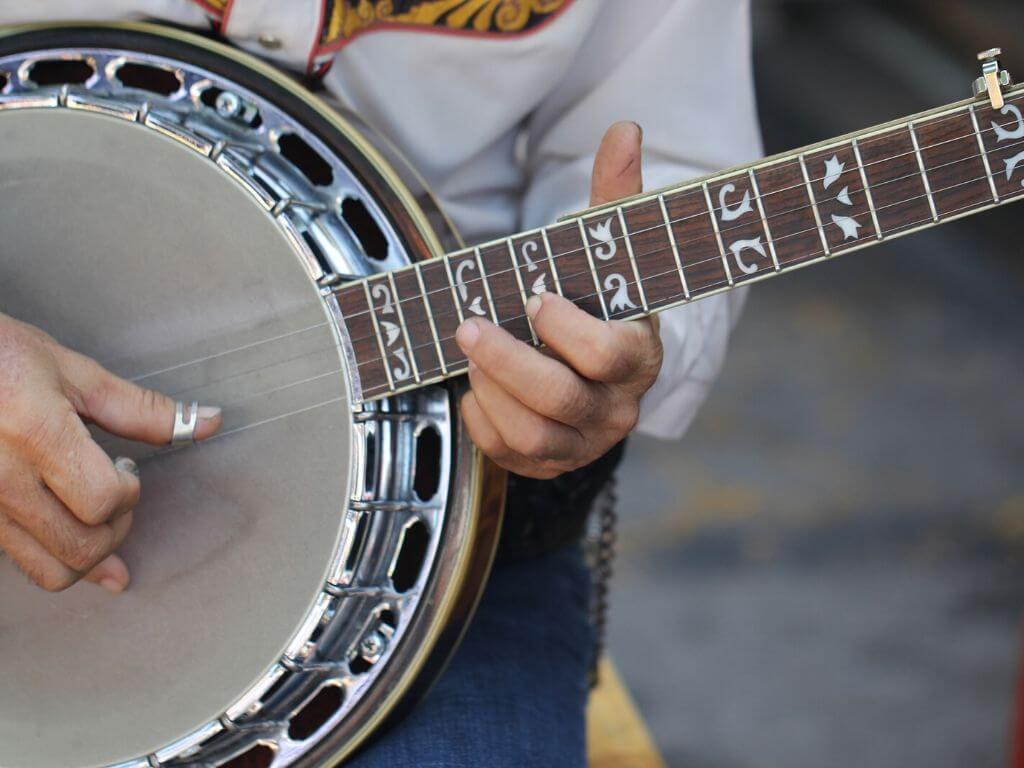 10. Riverdance
Riverdance, another thing that Ireland is famous for, is an internationally acclaimed Irish musical show which first debuted in Dublin, Ireland in 1994. It originated as an interval act during the Eurovision Song Contest that year and has since become a global phenomenon.
The iconic score, which still gives me goosebumps to this day, was created by Bill Whelan, and the main dance was performed by Michael Flatley and Jean Butler, accompanied by the Riverdance troupe.
The dance was subsequently expanded to a stage show that features traditional Irish music and dancing, with performances involving intricate footwork and exciting routines that captivate audiences across the world.
The Riverdance stage show has gone on to tour in over 300 venues around the world and has been seen by millions of people, earning multiple awards and accolades. In 2016, Riverdance celebrated its 20th anniversary with a special performance that featured past members from the show.
Today, the legacy of Riverdance continues to live on as more and more people listen to that iconic musical score. And it continues to inspire many others to take up Irish dancing.
11. Authors
Some of the most famous people from Ireland have been authors and writers including James Joyce, George Bernard Shaw, Oscar Wilde, C.S. Lewis, and Bram Stoker who wrote "Dracula". The Irish are known for their storytelling abilities which have been passed down through generations and can be seen in some of the most famous works of literature.
Ireland also has a long heritage of storytelling, from the legends of Cuchlainn and the Children of Lir to the tales of the Leprechauns, the Irish are known for their ability to bring a story alive.
From the authors of yesteryear to modern-day authors such as Roddy Doyle, Colm Toibin, and Cecelia Ahern, Irish authors are known the world over and are something Ireland is famous for.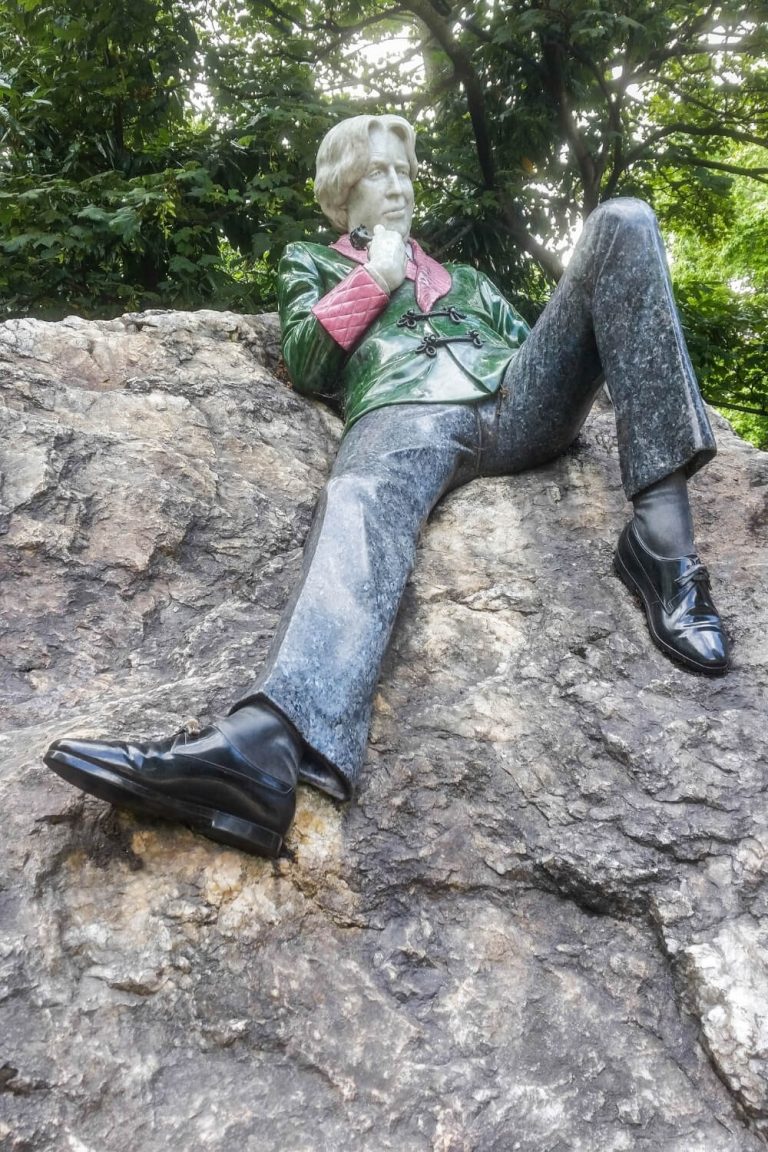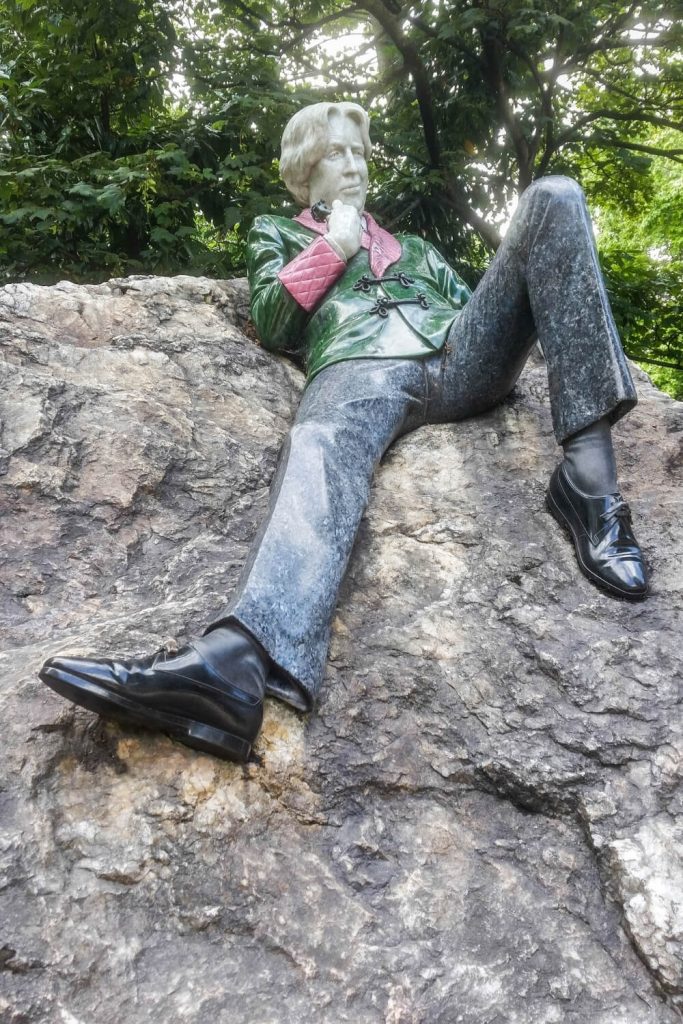 12. Famous Irish people
As well as authors, there have been famous Irish historical figures including Daniel O'Connell, Charles Stewart Parnell, Michael Collins, and Eamon De Valera. Visitors to Ireland can learn more about these figures with visits to Kilmainham Gaol and the GPO Museum in Dublin.
Famous Irish people of more recent times include U2's Bono and The Edge, actors Pierce Brosnan who played 007 and Colin Farrell, fighter Conor McGregor, and comedian and talk-show host Graham Norton. Ireland has produced some of the world's greatest movie stars which are mentioned below.
For a small island, Ireland has produced plenty of famous people.
13. Landmarks
One of the other famous things in Ireland is its landmarks. Known the world over, these are one of the main reasons why so many people visit this little island every year.
One of these famous natural landmarks is the Cliffs of Moher. The Cliffs of Moher are one of the most visited places in Ireland and are stunning coastal cliff faces rising 214 metres (702 feet) above the Atlantic Ocean at their highest point. These cliffs are something many people travel to Ireland just to see.
Another landmark that Ireland is famous for is the Giant's Causeway, a UNESCO World Heritage Site that features over 40,000 basalt columns formed from an ancient volcanic eruption around 60 million years ago. This famous landmark in Northern Ireland is a must-see for any visitor and makes for some incredible pictures.
And not forgetting the Rock of Cashel, also known as St. Patrick's Rock. It was the traditional seat of the High Kings of Munster and features some of Ireland's most impressive medieval architecture. With a Round Tower, the Abbey with its missing roof and fine examples of Celtic Symbols in the form of High Crosses in the graveyard, the Rock of Cashel is another landmark that has made Ireland famous.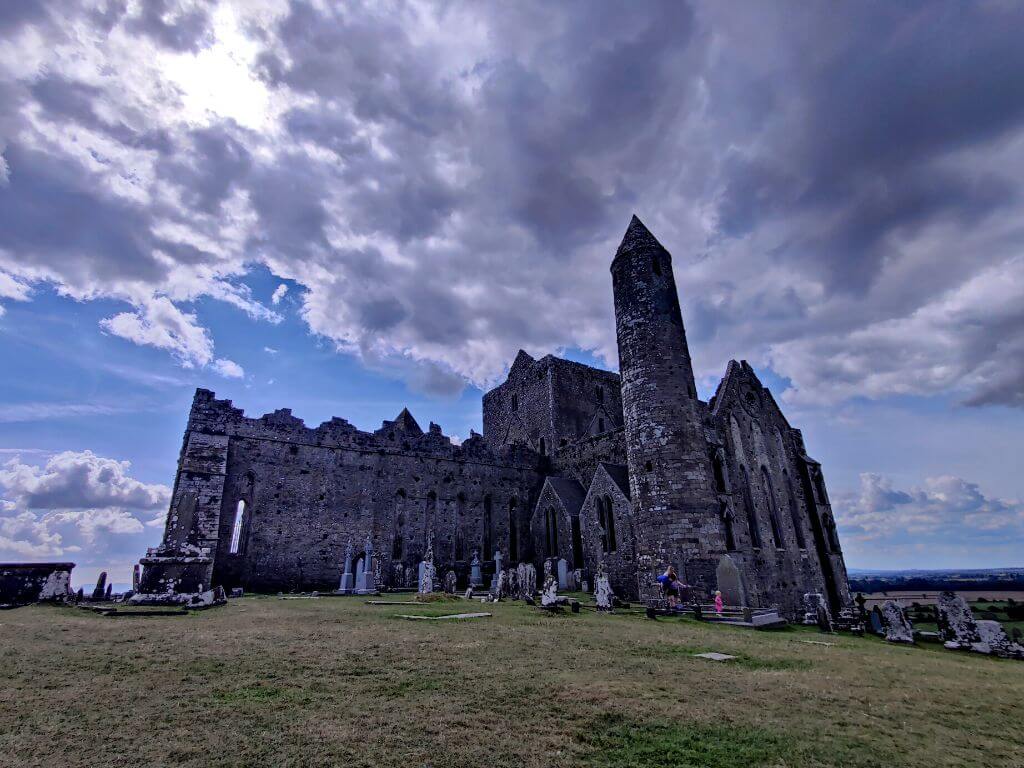 14. Redheads
Ireland is also known as a country of many redheads. It has been estimated that around 10% of the Irish population have red hair and even more carry the gene.
Ireland even hosts a Redhead Convention every August, which celebrates natural gingers, and crowns a ginger King and Queen at the convention. It's a fun event that also has other events such as carrot tossing, and you can hear lectures on topics related to redheads.
Redheads are known for being fiery-tempered and having a fiery passion – so be sure to watch out for the gingers when you visit Ireland!
15. Book of Kells
When people wonder "what is Ireland most famous for?", one thing that often comes out top of the list of the Book of Kells.
The Book of Kells is an illuminated Gospel manuscript written in Latin around 800 AD and is now housed in Trinity College Dublin. It has become a symbol of Ireland's culture and heritage, and its intricate designs have made it one of the most visited attractions in Ireland.
The book contains the four Gospels of the New Testament as well as a host of illustrations, which include intricate images of animals and plants. Visitors can enjoy a large exhibition explaining the importance of the manuscript, how and where it was produced, and some of the finer details such as the pigments used, and interpretation of some of the Latin words and symbols, before seeing the book itself.
After exploring the displays in the exhibition, visitors can see two pages of the historical manuscript in an environmentally controlled case within a low-light room. Note that no pictures of the manuscript can be taken, but you can take pictures of the exhibition displays beforehand.
16. Being a Celtic nation
Ireland has a long and illustrious history as a Celtic nation. Along with Scotland, Wales, Cornwall, the Isle of Man, and Brittany in France, these six nations/regions comprise a geographical area that has roots in the same language and cultures.
The Celts were the original people of these nations, and it is believed they arrived in Ireland around 500 BC, bringing with them a new culture and set of traditions as well as their language, which is still spoken today in Ireland, although only fluently as a first language in the Gaeltacht areas.
Some festivals also have Celtic roots such as Samhain, which is the harvest festive believed to have been the festival from which we get Halloween.
There are also Celtic symbols still evident today in the form of the Trinity knot, Triskele, and the Celtic Tree of Life (learn more about these and other symbols in my post about Celtic symbols).
17. Filming locations
The beauty and unique landscape of Ireland has made it a popular destination for film production.
There have been many great Hollywood films featuring Ireland. Filming locations across the island have included Skellig Michael which featured in the later Star Wars films, most of the scenes from Braveheart were filmed in Ireland including at Trim Castle, and the Quiet Man starring John Wayne and Maureen O'Hara was filmed in County Mayo.
Now, you may have also been wondering what is Northern Ireland famous for. Well, as well as being the location of the Giant's Causeway, Northern Ireland is famous as the filming location for many scenes from the hit TV series, Game of Thrones.
Game of Thrones fans will recognize many Northern Ireland locations, including the Dark Hedges in Country Antrim and Ballintoy Harbour in County Down. Other iconic places where Game of Thrones was filmed include Cushendun Caves, Castle Ward, and Tollymore Forest Park.
These beautiful locations have become hugely popular with fans of the show from all over the world, and are widely considered to be some of Northern Ireland's most iconic attractions.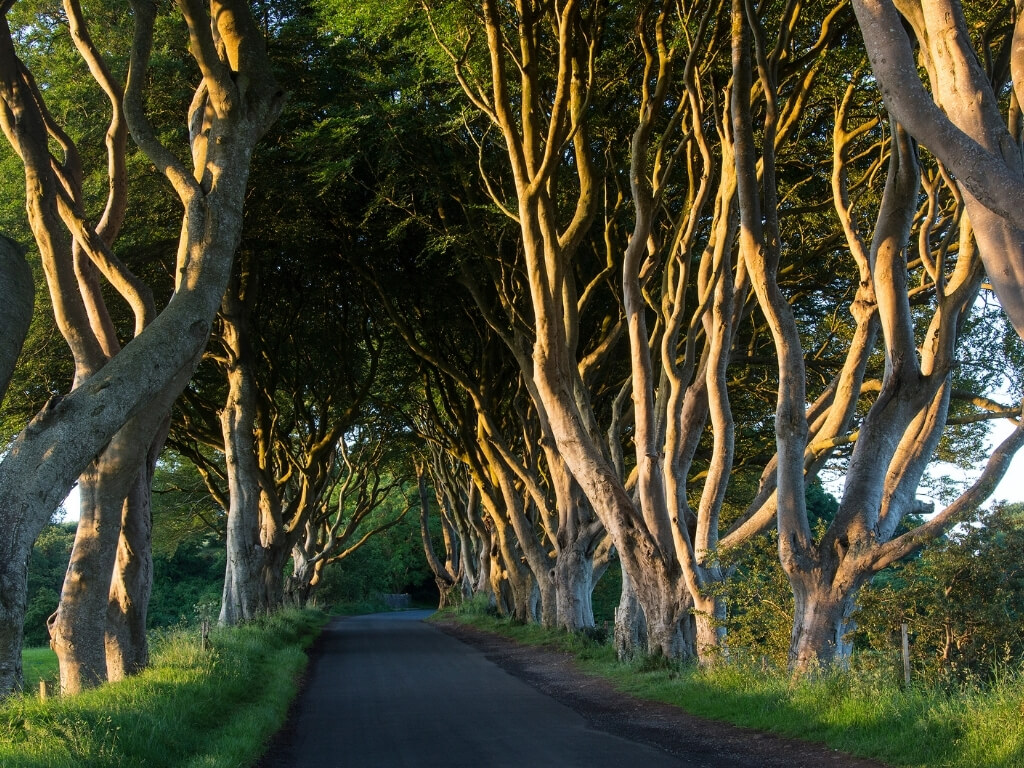 18. 2 Irelands
Although we refer to 'Ireland' as a complete country within this post and other articles on this website, there are two nations that make up Ireland as an island. They are the Republic of Ireland and Northern Ireland, two distinct countries.
The Republic of Ireland occupies about five-sixths of the island and is a sovereign, independent state with its own government. It is part of the European Union, and its capital city is Dublin.
Northern Ireland, on the other hand, is a region within the United Kingdom, whose capital city is Belfast. Northern Ireland covers an area of around 14,160 square kilometres and has its own legislative assembly.
Both countries share a common history, culture, and heritage which binds them together while they each retain their distinct identity. This duality makes the island of Ireland a truly unique place to explore and experience. Each country has must-sees and this is often the reason why many visitors try to see the entire island in one trip. It is doable but you have to be up for a lot of travelling.
To discover more about these two countries and why there is a difference between them, read my article about Ireland versus Northern Ireland – what are the differences?
19. Great Famine
Something else that Ireland is famous for is the Great Famine. The Great Famine of Ireland, also known as the Great Hunger, took place between 1845 and 1852.
It was caused by a fungus that destroyed much of the potato crop which was a main food source in Ireland at the time. As the main source of food for the poorer people of Ireland at the time, repeated failures of potato crops due to blight (the fungus) led to mass poverty and starvation throughout the country.
With no crop to harvest for their landlords, no crop with which to feed their families or to sell, and with rents still owed to landlords, the ordinary Irish people, and farmers fell on unimaginably hard times.
The famine resulted in an estimated 1 million deaths due to starvation and disease, and for those lucky enough to be still living, no choice but to leave Ireland.
The famine was also the cause of a huge wave of Irish immigration to the United States and Canada with over 2 million people leaving the country during this time.
The Great Famine is an important part of Irish history and the impact it had on Irish society can still be felt today. The population of the country has still not recovered to pre-famine levels. It is also one of the main reasons why there are believed to be 80 million Irish diasporas spread across the world today.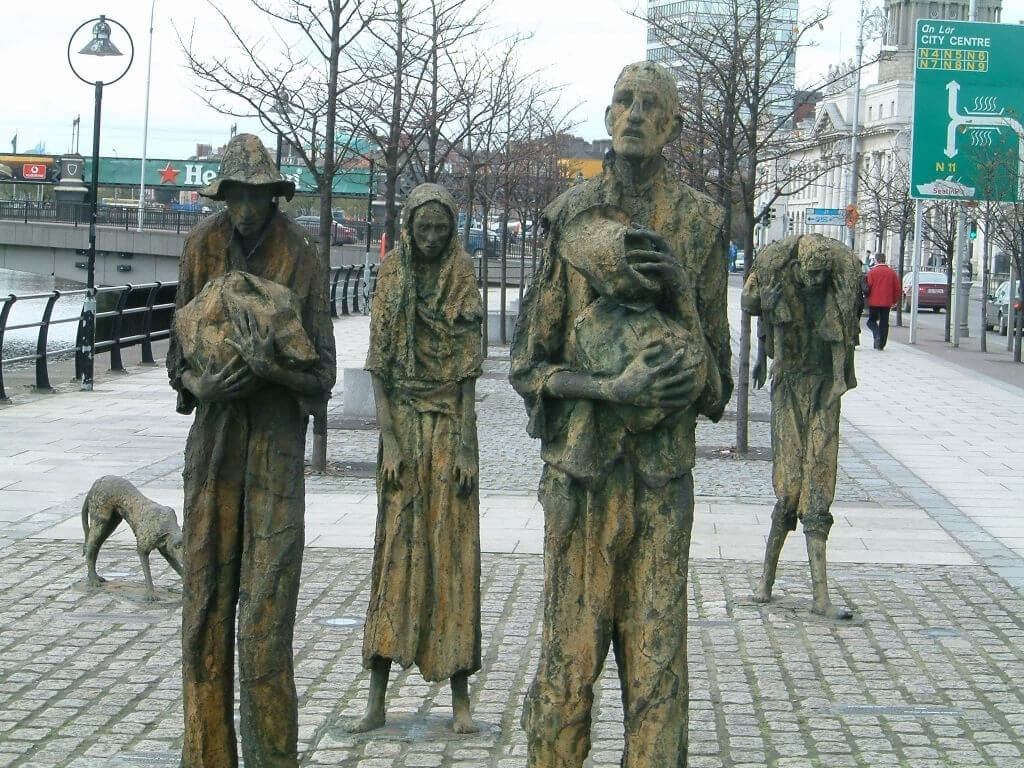 20. Food
Something you might not think Ireland is famous for (but is) is its food. While it is true that we love our potatoes, there is so much more to Irish food than just the trusty spud. While the land provides plenty of vegetables and meat, our seas provide the freshest fish and shellfish.
If you're visiting Ireland for the first time, you should try some of the delicious traditional Irish food dishes. From warm bowls of creamy chowder and hearty stews to fish and chips – not to mention an array of freshly made pastries like scones, apple tarts, and soda bread – there's something to satisfy every taste.
And of course, you can't forget the traditional Irish breakfast which includes sausages, bacon, eggs, black and white pudding, and a range of other tasty treats.
Ireland is known for its local produce, and you'll find many dishes featuring fresh vegetables and herbs cooked in a variety of ways. So don't worry, there's plenty to satisfy even the pickiest eater!
21. The "craic"
When it comes to what the Irish are known for, having the 'craic' is up there.
Now, do not get this word mixed up with the illicit substances of the same sounding word spelled differently.
The word 'craic' has a special place in Irish culture. It's used to describe the fun and lively atmosphere that exists when people are gathering, usually for a good time. Whether it's at a pub, music event, or family reunion – the craic is always present! You'll often hear conversations about who had the best craic, or in other words, who had the most fun.
The Irish take their love of having a good time seriously – and it's a part of their culture that is celebrated around the world. So, if you ever find yourself in Ireland, be sure to get out and experience the craic! You'll have an unforgettable night!
22. Ryanair
Known across Europe but perhaps not so much in Northern America, another thing Ireland is famous for is the no-frills, low-cost airline, Ryanair. This low-cost, budget airline flies to hundreds of destinations across Europe and several airports in Ireland itself.
Ryanair has been operating since 1985 and is widely credited with revolutionizing the European airline industry. Their low-cost model and extensive flight network have enabled millions of people to travel within Europe on a budget.
Despite some controversies over their fees, Ryanair remains one of the most popular airlines in Europe, offering flights to over 200 destinations across the continent and beyond.
They are a bit like marmite, you either love them or hate them. So long as you are aware of all the hidden costs, and know what to expect, they can be great for navigating your way around Ireland while being conscious of your budget. And believe me, there are hidden costs. But even those don't put me off using Ryanair.
Whether you are travelling to Ireland or looking to explore more of Europe from the Emerald Isle, Ryanair is one of the best ways to do this in just a few short hours of flying.
23. Titanic
The Titanic is another thing that Ireland is famous for, although you might not have thought so at first. Although it was built and operated by the British company, White Star Liner, Titanic was constructed at the Harland and Wolff shipyard in Belfast. As many as 3,000 people worked on creating the vessel from its conception onwards.
The Titanic embodied Ireland's ambition to become a major power in shipping and engineering – a feat that was sadly cut short when the Titanic sank after hitting an iceberg in April 1912.
Although its maiden voyage set sail from Southampton, its last port of call before heading out into the Atlantic Ocean was Cobh in County Cork. The last thing its passengers saw of the continent of Europe was the Fastnet Lighthouse, an Irish lighthouse that is known as the Teardrop of Ireland.
In Northern Ireland, the story of Titanic has become part of local culture and heritage – a reminder of one of Ireland's great achievements as well as a tragedy that should not be forgotten.
The former Harland and Wolff shipyard is now home to the world-famous Titanic Belfast visitor experience, attracting millions of tourists each year to experience the story and legacy of Titanic. In this way, the Titanic will always remain an important part of Northern Ireland's past, present, and future.
Similarly, visitors to the Republic of Ireland can visit the Titanic Experience in Cobh, County Cork. This popular Cork tourist attraction allows visitors to journey back in time and explore the history of the fateful vessel. The experience encompasses many different interactive exhibits that help recreate the atmosphere of 1912.
Visitors can learn about the people on board, their stories, and what happened during their voyage. There is also a film that brings to life the events of April 1912, when Titanic met its fate. Additionally, there are fascinating artefacts from the ship on display.
Both Belfast and Cork are intertwined in the history of the Titanic and are both great places to visit in Ireland for those wanting to learn more about the ill-fated liner.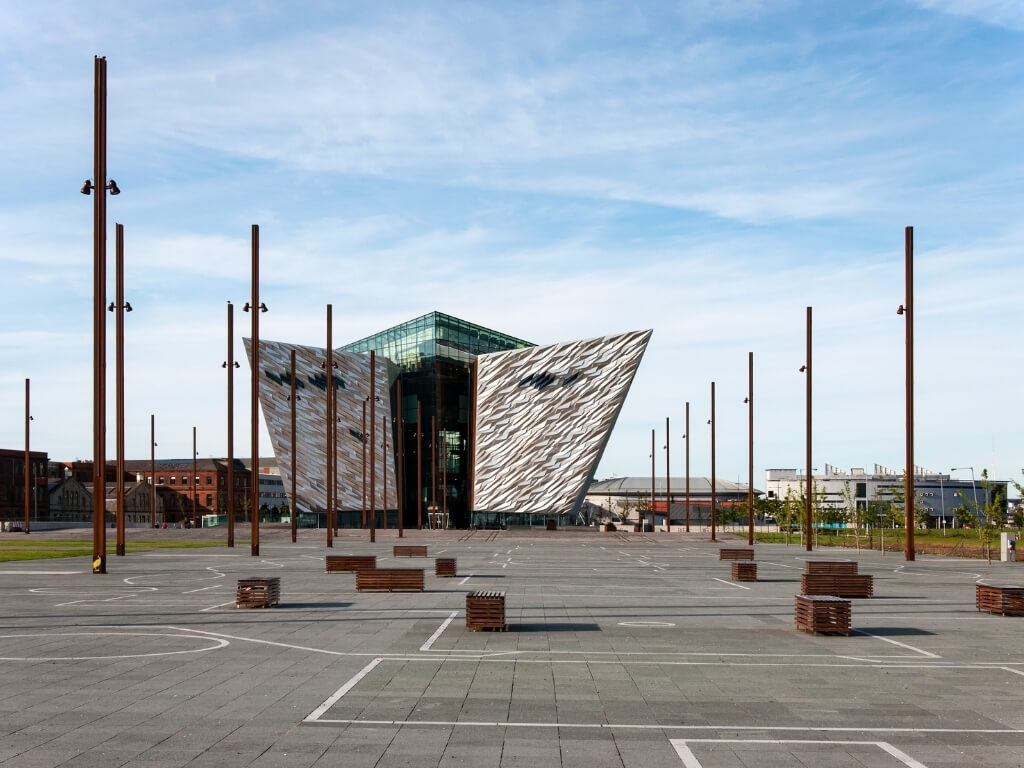 24. Harps
A national symbol of Ireland and something strongly associated with Ireland is the harp.
The harp is an iconic symbol of Ireland and has been used in Irish music for centuries. It originated in medieval times but has remained a popular instrument over the years. The sound of the harp is often heard in traditional Irish songs, as well as more modern tunes.
The harp has been the national emblem of Ireland since the 13th century and features on the front of Irish passports, as well as being the brand symbol of Guinness and Ryanair (mentioned above).
Brian Boru, the last High King of Ireland, was said to be a skilled player of the harp, so much so the oldest harp in Ireland, housed in Trinity College, was named the Brian Boru Harp after him.
25. Aran Sweaters
One of the most famous things from Ireland, and a popular souvenir to buy on the island, is the Aran sweater.
Originating from the Aran Islands, these heavy woollen sweaters/jumpers were hand-knitted by fisherwomen in the 19th century. The intricate stitches traditionally used in the sweaters were believed to represent protection and luck for fishermen, as well as often representing different Irish families or villages on the islands.
Today, the Aran sweater has become an iconic piece of clothing associated with Ireland, becoming popular all around the world. There are many modern variations of the Aran sweater, but the classic wool designs remain popular and a must-have in any Irish wardrobe!
They also make for great souvenirs of your trip and are a great way to keep warm during the colder autumn and winter months in Ireland. Add one to your packing list for Ireland or your list of items to buy while enjoying the Emerald Isle.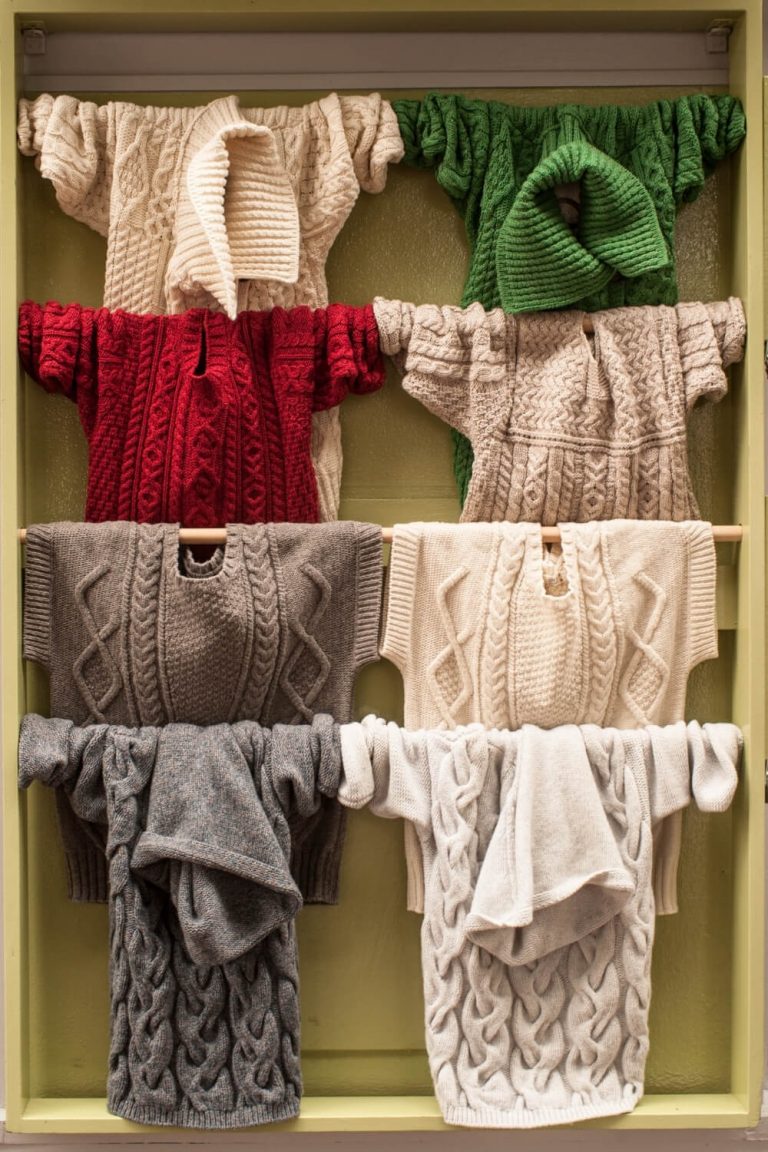 26. Sports
Ireland is world-renowned for its sports culture. Soccer, rugby, hurling and Gaelic football are among the most popular sports in the country and fans of these games can be seen passionately cheering for their teams all over Ireland.
Famous Irish footballers have included Roy Keane (formerly of Manchester United), George Best (also formerly of Manchester United), and former Liverpool FC players Steven Heighway, Jason McAteer, and Steve Staunton.
And the Irish national soccer team has competed in major tournaments such as the Euro 2016 and World Cup in the past, reaching the quarter-finals of the 1990 World Cup.
Irish athletes have also been hugely successful on the international stage, from boxer Katie Taylor to golfer Rory McIlroy to runner Sonia O'Sullivan.
27. Eurovision Song Contest
Since its debut in 1965, Ireland has made quite a name for itself at the Eurovision Song Contest and it is something it is famous for, especially in Europe.
They are one of the most successful countries in Eurovision history, having won 7 times (most recently in 2018). Ireland has also finished in the top five a total of 16 times since their first entry and is usually seen as an early favourite in the competition.
The country's commitment and love of the Eurovision Song Contest are impressive, and Ireland has consistently been amongst the favourites each year, no matter how well their entry does.
The entire country rallies around the entry with Eurovision parties taking place on the night of the event itself. Even if Ireland does not win, the Eurovision night is a huge event across Ireland, and wondering how many points the country's entrant will receive.
I remember hearing Johnny Logan singing "Hold Me Now" in 1987, my first introduction to the Eurovision Song Contest and it being the winning entry that year. It has since been a tradition in my family to watch the Eurovision, whether Ireland is competing or not.
28. Having no snakes
One of the unique things about Ireland is that it does not have snakes, and this is often attributed (wrongly) to St Patrick. It is said that he drove all the snakes from Ireland in the fifth century.
However, this is unlikely as there was never an actual population of snakes, due to the cold climate and lack of food sources during the last Ice Age, some 10000 years ago. After the ice melted, the surrounding seas kept them from the island.
It's also quite a unique characteristic for any country to not have snakes, and so this stands out in the collective memory as something that makes Ireland special.
29. Castles
Something Ireland is known for is its many, many castles. From medieval strongholds still standing proudly to crumbling ruins, there are over 30,000 castles and fortifications throughout the country.
This includes two of the most iconic castles in Ireland — Blarney Castle and Dublin Castle.
Blarney Castle is known for its famous stone, which legend says will give you the gift of gab if you kiss it. As well as the castle, there are extensive, beautiful gardens to explore such as the fern garden, poison garden (watch kids in this area), two waterfalls to see, and lots more.
Meanwhile, Dublin Castle was the traditional seat of British rule in Ireland and a must-see for travellers to its capital. Visitors can wander the grounds or visit the Chester Beatty Library for free or take a guided tour of the State Apartments.
Whether you visit these or one of the many castles throughout Ireland, ensure you put at least one castle on your itinerary.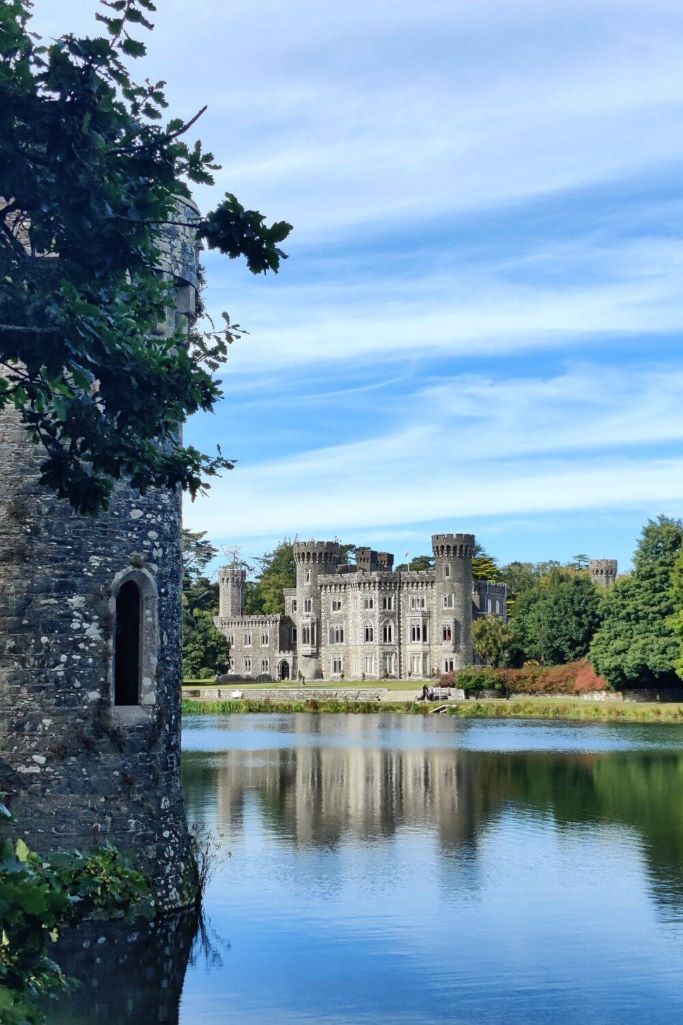 30. Poets
Ireland has been a nation of poets for centuries and some of the most famous people in Ireland have been poets.
From William Butler Yeats to Seamus Heaney, some of the most prominent names in poetry have come from Ireland. Irish poets have celebrated the beauty and culture of their homeland with memorable lines that will be remembered for years to come.
Other notable poets include James Joyce, Patrick Kavanagh, and Oscar Wilde. All have explored the country's landscape, its people, and its way of life in their works.
Their words continue to inspire readers today to visit Ireland, and their poems will live on for many more centuries to come.
31. Films and Movie Stars
There have been many famous people born in Ireland including Hollywood movie stars. Famous celebrities from Ireland that have starred on the big screen include Irish actors Colin Farrell, Brendan Gleeson, Liam Neeson, and Daniel Day-Lewis among others.
And there have been plenty of Irish actresses as well. From Maureen O'Hara and Brenda Fricker to Saoirse Ronan, star of Atonement, Hanna and Brooklyn, Ireland has produced many famous actors and actresses on the big screen.
So, if you've been wondering what is Ireland famous for, it is for a variety of things including Guinness and Irish whiskey, shamrocks, and leprechauns. It is also home to St Patrick's Day celebrations which are enjoyed by many from around the world.
Many Hollywood movie stars have also come from Ireland, making it an important source of talent in the entertainment industry.
And Ireland is a place of culture and history which has made it one of the most beloved countries in the world and a must-visit for many.
Read more about Irish culture: