Irish Whiskey is famous the world over. Since the techniques of distilling were introduced to Ireland over 1000 years ago by monks after their travels to the Mediterranean, of all the spirits produced via this method, Irish Whiskey is by far the most popular. In this post discover 10 of the best distilleries in Ireland to visit, tour and taste.
*This post contains affiliate links, which may include Amazon affiliate links. To read more about affiliate links, please visit my Disclosure Policy page.
Best Distilleries in Ireland to Explore
While many of the best distilleries in Ireland are whiskey distilleries, there are one or two dedicated to producing other spirits, either separately or alongside whiskey. Many of the top Irish distilleries are found in the south, in the Republic of Ireland but one of the most famous is in Northern Ireland. In this post, I introduce you to some of the best and tell you why you should be visiting these distilleries. You will also get a short introduction towards the end into how Irish Whiskey is made.
Irish Distilleries map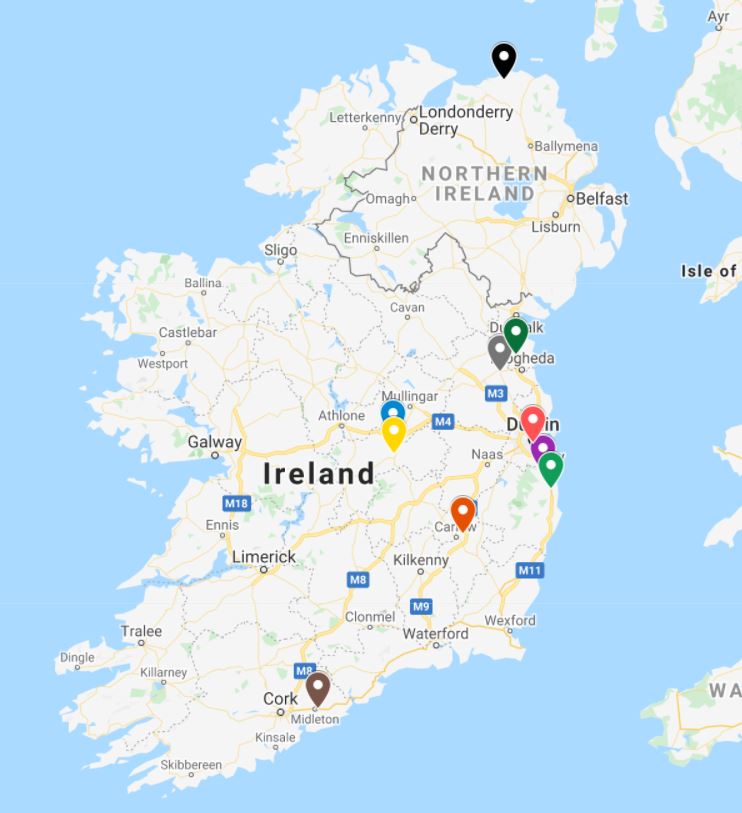 What is Irish Whiskey
The word whiskey comes from the Irish word 'uisce beatha' (pronounced ishca baa-haa), which means water of life. Irish whiskey is a distilled spirit with an alcohol volume of 40%. There are some exceptions to this rule. Whiskey can only be called Irish Whiskey if it is both distilled and matured on the island of Ireland.
Why choose Irish Whiskey?
Irish Whiskey is often smoother than Scotch due to the fact that no peat is used during the distilling process (see the section below on how Irish Whiskey is made). Irish whiskey is typically distilled three times, whereas Scottish whiskey is only distilled twice.
Scotch production focuses more on blending while Irish production focuses on distillation. This gives Irish whiskey a lightness over Scotch whiskey.
Irish whiskey is generally more mellow than Scotch whiskey as it is often matured for at least a year longer than Scottish whiskey; three years for Irish over two for Scotch.
Top Irish Distilleries to Explore
Kilbeggan Distillery, Westmeath
Located in Westmeath, the Kilbeggan Distillery is one of the oldest Irish distilleries, having opened its doors over 260 years ago. The Old Kilbeggan Distillery is the oldest licensed building in Ireland. It produced Irish Whiskey until hard times fell in the early 20th century due to events such as the Irish Civil War and Prohibition in the USA, and production ceased in 1957.
After being refurbished, the distillery was opened as a museum in the 1980s before distillation recommenced in 2007. Members of the public can visit the distillery and step back in time to discover artisanal whiskey distilling, meet the families that owned it (in the museum) and see the old equipment used in whiskey production. Visitors can also learn about modern-day distilling and whiskey production.
Tours operate daily from 9am to 6pm and cost between €14 and €80.
Discover the Kilbeggan and Tullamore Dew Distilleries on a private day tour. Book it here now!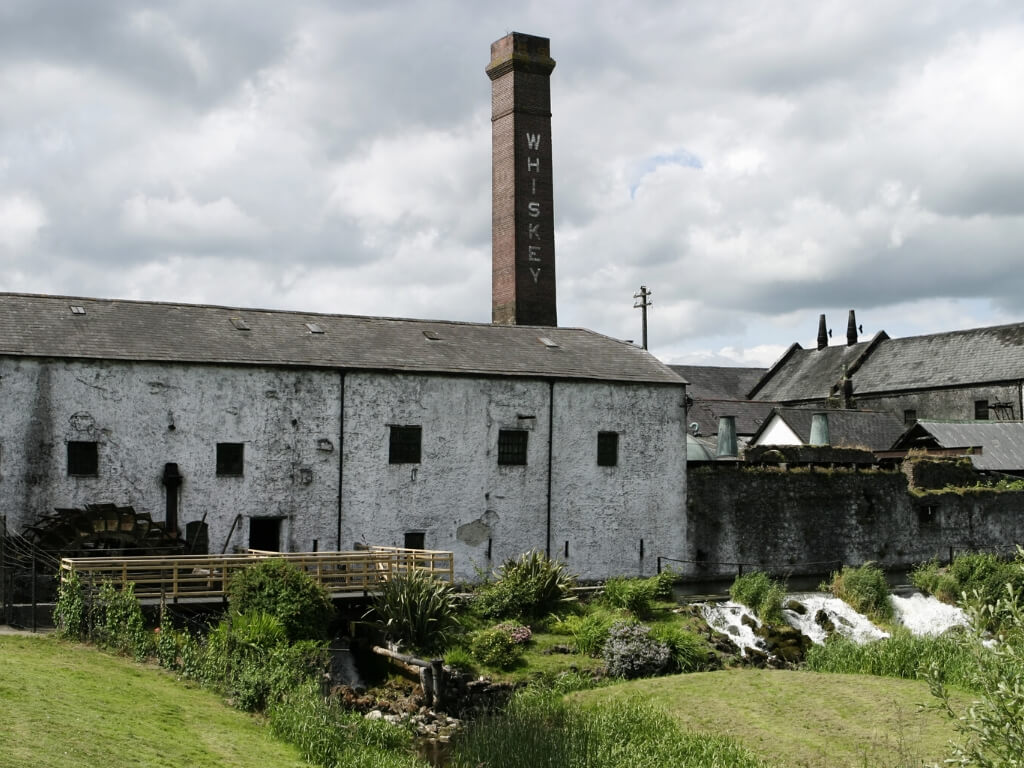 New Midleton Distillery, Cork (for the Jameson Experience)
The New Midleton Distillery, located in the town of the same name in Cork, is a huge complex and one of the biggest whiskey distilleries in Ireland. In 1975, three famous Irish Whiskey distillers came together in an amalgamation, John Power & Son, John Jameson & Son and the Cork Distilleries Company. Whiskeys produced at the site include Jameson, Midleton Very Rare, Paddy, Powers and Redbreast.
Up until that point, Jameson has been distilled in Bow Street, Dublin where a museum now stands. Bow Street opened in 1780 by a Scottish man, John Jameson and was one of the big four distilleries in Dublin until 1971, producing the famous Jameson Irish Whiskey. The museum in Dublin offers guided tours and tutored tastings.
After the three distilleries came together and expanded the site at the Old Midleton Distillery in Cork, the old distillery was turned into a visitor's centre where the Jameson Experience is housed. As one of the best Ireland whiskey tours, the Jameson Experience is a guided tour in which visitors learn about the history of Jameson, through a series of recreated scenes from the Old Jameson Distillery in Dublin and videos showing how distillation occurred in the early days of Jameson. The tour lasts approximately 75 minutes and ends with a tasting session.
The Jameson Experience is open daily from 9am to 6pm March to October, and 10am to 6pm November to February. Tours cost €20 per adult and €10 per child, with under 18's NOT eligible for the tasting element of the tour.
FUN FACT: The Old Midleton Distillery is home to the world's largest pot still.
Book your visit for the Jameson Experience HERE!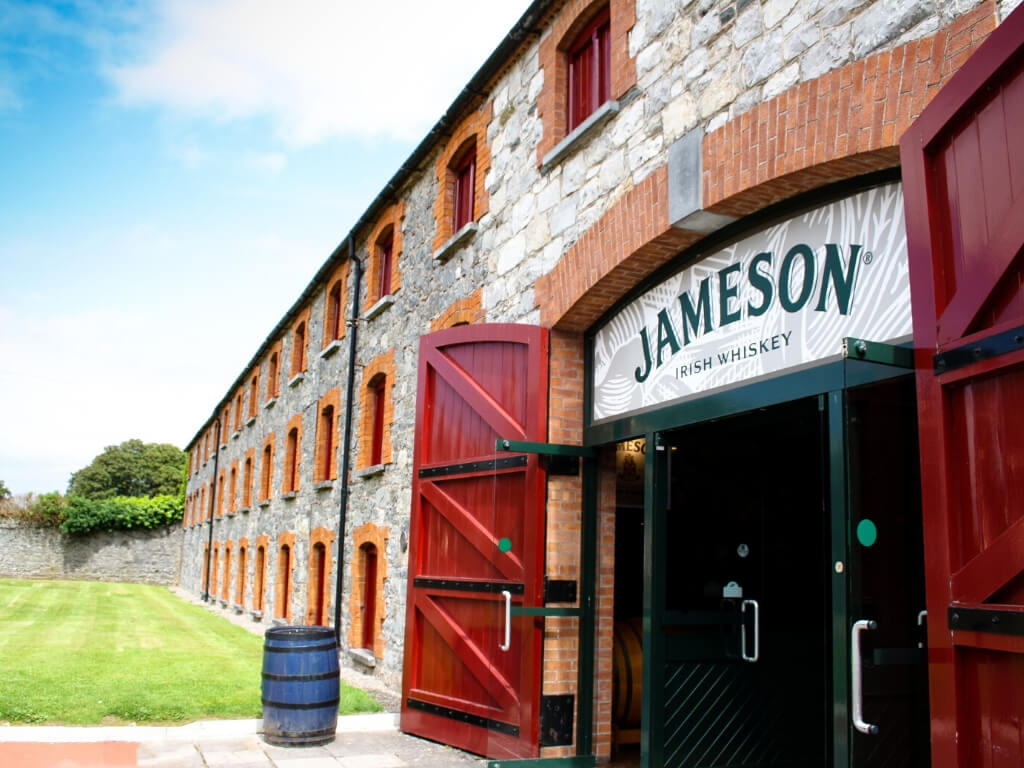 Bushmills Distillery, Antrim
One of the most famous distilleries in Northern Ireland is Bushmills, in the town of the same name in Antrim. Registered in 1784, Bushmills has survived fires and world wars to celebrate 400 years of whiskey production in Northern Ireland.
The distillery is run by family and friends who maintain the philosophy of small handcrafted batches produces the best Irish whiskey. Thanks to investment, Bushmills now has 10 stills, producing single malts of 10,16 and 21 years old, along with the Original and Black bush brands of Bushmills, some of their most notable blends and regularly featured in lists of the top 10 Irish whiskeys.
Of all the Irish whiskey distilleries, Bushmills is the only one that has remained in continuous operation. The distillery is a popular tourist attraction in Northern Ireland, welcoming over 120,000 visitors per year. They run Irish whiskey tours which offer an insight into a working distillery and also tutored tastings.
Tours run daily and cost €8 per adult and €4.50 for children between 8 and 17 years of age. Opening times are Monday to Saturday from 9.15am to 4.45pm from March through October, with opening times starting at 10am in the winter months of November to February. Sunday opening hours are 12pm to 4.45.
Visit the Bushmills Distillery and Giant's Causeway on a day trip from Dublin. Find more information and book it now HERE.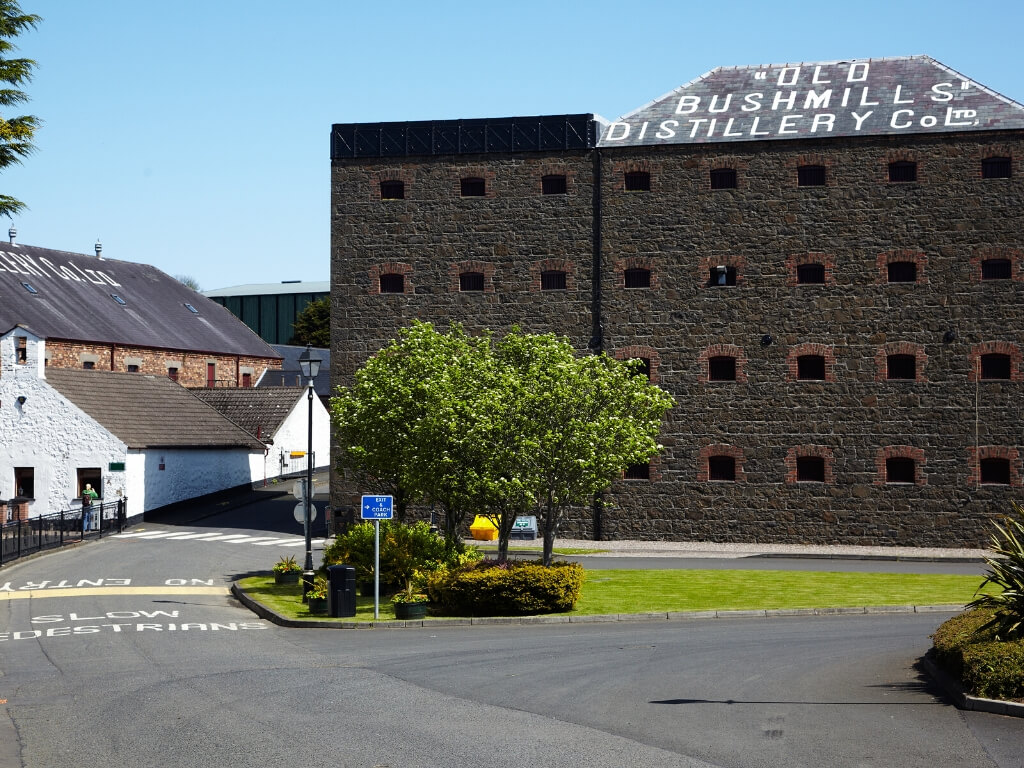 Teeling Distillery, Dublin
The new Teeling Distillery in Dublin was the first new distillery in Ireland to open in 125 years in 2015 by Jack and Stephen Teeling, whose father John Teeling founded the Cooley Distillery in 1987. However, the Teeling family's relationship with whiskey started way back in 1782 when ancestors of the current generation started a distillery in Marrowbone Lane.
Arguably the best distillery in Dublin, Teeling is a popular attraction, welcoming over 350,000 visitors per year. The Teeling Whiskey Distillery offers fully guided tours in which visitors can see all the stages involved in producing Irish whiskey. Guided tasting is also offered with a whiskey expert and there is a variety of tasting experiences to choose from.
Tours operate daily from 10am to 5.40pm and cost between €15 and €150.
Visit the Teeling Distillery, as well as two others, on an Irish Whiskey Trail in Dublin. Book this tour HERE.
Tullamore DEW Distillery, Offaly
One of the best whiskey distilleries in Ireland to visit is the Tullamore DEW Distillery in County Offaly. Production of Tullamore whiskey began at the Old Tullamore distillery, established in 1829. Like many Irish whiskey distilleries, it fell upon hard financial times and closed in 1954.
Production of Tullamore whiskey has taken place all over Ireland including at Powers in Dublin and Midleton in Cork after the brand was bought by John Powers & Co. In 2014 production returned to Tullamore to a new distillery opened by William Grant & sons, the new owners of the brand. Tullamore DEW is regularly voted as one of the top ten Irish whiskeys.
A visitor's centre is housed inside a restored former bonded warehouse in the Old Tullamore Distillery, where visitors can follow in the footsteps of Daniel E Williams, the founder of Tullamore DEW. Guided tours and tutored whiskey tasting take place in this visitor's centre and last from 50 minutes to 5 hours.
Tours operate daily and cost between €16 and €90. Opening times are Monday to Saturday from 9.30am to 6pm, and Sunday and bank holidays from 11.30am to 5pm.
Visit the Tullamore DEW and Kilbeggan Distilleries on THIS TOUR.
Slane Whiskey Distillery, Meath
One of the newest Ireland distilleries is that at Slane Castle. Opened in 2018 construction began in 2015 before Slane Irish Whiskey was introduced two years later.
Started by the Brown family, descendants of a 147-year-old Kentucky whiskey-making family, and in conjunction with the Conyngham family of Slane castle, this triple-casked blend is sourced from other Irish whiskey distilleries and then matured using Slane's "Triple Casked" method which uses virgin oak, seasoned whiskey and sherry casks.
The distillery is in full operation and also runs guided tours via its visitor's centre. The tour offers an interactive and immersive journey through the history of the Conyngham family and the Slane Distillery.
Tours operate daily from 10am to 5pm. A standard tour costs €18 for the distillery only. A combined castle and distillery tour costs €27, while a "bottle your own" tour costs €60. There are children tickets available for the standard and combined castle and distillery tour but not for the "Signed and Sealed Tour" where you bottle your own. Under 5's are free on the standard and combined tours and ID will be required for those partaking in the tasting section of tours.
Visit Slane Distillery along with Slane and Trim Castles on a day trip from Dublin. Find more information, latest prices and availability HERE.
Glendalough Distillery, Wicklow
Another new whiskey distillery Ireland has to offer is the Glendalough Distillery in Wicklow. Glendalough is famous for its 6th-century monastery and it was in monasteries where the art of distillation was nurtured in Ireland.
This new whiskey distillery was set up by a group of friends with the primary idea to make innovative spirits while staying true to Ireland's traditions in distilling. The distillery started with poitín, then moved into whiskey distillation and has added gin to their repertoire.
The distillery is not open to the public for tours yet but can be visited as part of the "Meet the Makers" full-day tour. You can, however, buy their products from the Craft Shop at the nearby Glendalough Hotel. But this is a new distillery to watch out for in the future.
Powerscourt Distillery, Wicklow
Another new Ireland distillery is one found in the grounds of the Powerscourt Estate in County Wicklow. Based in the Old Mill House dating back to the 1730s, this building has been restored and houses both the production facilities and a visitor's centre.
The Estate is one of the most visited in Ireland and production of the Fercullen whiskey began in 2018 in the Powerscourt Distillery. The brand name 'Fercullen' is given to the mountainous region of the Powerscourt Estate and was a fitting name to bestow on the whiskey produced on the estate. Three new whiskies were launched in 2018, the Fercullen 14 Years old single malt whiskey, the Fercullen 10 Years old single grain whiskey and the Fercullen Premium Blend Irish Whiskey, all released by an award-winning master distiller.
The distillery is open daily, Monday to Friday from 11:30am to 5pm, and Saturday/Sunday from 12:00pm to 5pm. There are two tours a day, Monday to Friday at 12pm and 3pm, on Saturday and Sunday they run at 12.30pm and 3.30pm. Tours cost from €15.
Book your tour of the Powerscourt Distillery HERE.
Walsh Whiskey Distillery, Carlow
This family-owned distillery was set up after the founders had success with their perfect Irish Coffee and Irish Cream Liqueur. These successes lead to them signing an agreement with Irish Distillers to produce their own whiskey which launched in 2007.
In 2014, building work commenced on the construction of a new facility at Royal Oak in Carlow which included a new distillery, warehouse and visitor's centre. The distillery produces all types of Irish whiskey – malt, grain and pot still – all under one roof and is a must-visit for distilling enthusiasts.
Tours of the Walsh Distillery are available Tuesday to Saturday at 10am, 12pm and 3pm, and on Sundays at 12pm and 2pm. Tours cost €15 to €40
Listoke Distillery & Gin School, Louth
While this is not a whiskey distillery, the Listoke Distillery is a great gin distillery in Ireland and deserves a mention here. Housed in the old stable of Listoke House and Gardens, this is both a distillery and gin school. The distillery produces the Listoke 1777 Gin, among others.
Visitors to the distillery and school can take a Gin School Tour which includes a tour of the distillery where you can learn about the brand history and get an introduction to botanicals, an integral part of gin-making. Following the distillery tour, there is a gin making class in which guests make their own gin. Afterwards, there are tasting opportunities while guests await their gins to distil as well as a buffet. And once your gin has been distilled and bottled, your tour is complete, and you can take your gin home with you.
The tour lasts approximately 3 hours, is available to small, private groups and costs €95 per person.
And if you are combining your trip to Ireland with one to the UK and are looking to enjoy some gin, either via a cocktail or masterclass, then we recommend you check out this Gin and Cocktail website which is full of great ideas for gin tasting across the UK.
A brief history of Irish Whiskey
The process of distillation was introduced around 1000AD to Ireland by monks after their visits to the Mediterranean. They were introduced to perfume distillation and brought the technique back to Ireland.
Whiskey was one of the earliest distilled drinks in Europe, beginning in the 12th century.
Irish Whiskey became popular in the late 1700s with many distilleries opening up as a result of the English introducing distillery licenses. One of the first with a license was Sir Thomas Phillips, the landowner at Bushmills. However, the Kilbeggan distillery began producing whiskey some 27 years before Bushmills did (1757 versus 1787, respectively). That said, Bushmills is the only distillery in Ireland to remain in continuous operation.
By the 1890's Ireland had over 30 major distilleries producing Irish Whiskey. However, after the Irish Civil War and Prohibition, when the export of Irish Whiskey to the USA reduced almost to zero, many distilleries closed.
By 1990, only three whiskey distilleries remained: The Old Midleton Distillery in Cork, Bushmills in Antrim and the Cooley Distillery in Louth. The current Midleton Distillery is an amalgamation of three other distilleries – John Jameson, Powers and the Cork Distilleries Group – who joined forces in 1975 to build a huge facility.
There has been a huge revival of Irish Whiskey in the late 20th century with Irish Whiskey becoming one of the fastest-growing spirits in the world. As of June 2019, there were 25 distilleries across the island of Ireland with more planned or under development.
How is Irish Whiskey made?
Irish whiskey is made from barley and if the whiskey is to be malted, there is a pre-step process done to the barley. The barley is soaked in water to promote germination which causes the grain to release enzymes to start converting the starch in the grain to sugar.
Once germination starts, it is quickly stopped by drying the malted grain in large closed kilns. No smoke from the heat source comes into contact with the malted barley, so Irish whiskey does not have a peaty smell or associated taste that many Scotch whiskies have. This is the pre-step carried out on barley if the whiskey is to be malted. From here the process is the same for all types of whiskey going forward.
Malted and unmalted grain is now ground into a coarse flour called grist. Clear water is added to the grist and it is heated to approximately 60C. A watery, sugary soup is formed as a result of the hot water and enzymes releasing sugar content from the starch of the crushed grain.
After a few hours, the liquid is cooled and drained. Yeast is then added to the sugary liquid called a wort, at this stage. This froths and bubbles as the sugar is converted to alcohol.
Two to three days later all sugar has been converted to alcohol and the froth subsides. The resulting warm beer-like substance has an alcohol by Volume (ABV) of 8%. This is called the wash.
The wash is distilled 2 or 3 times in copper pot stills or in a continuous column into a clear liquid with an ABV of 85%.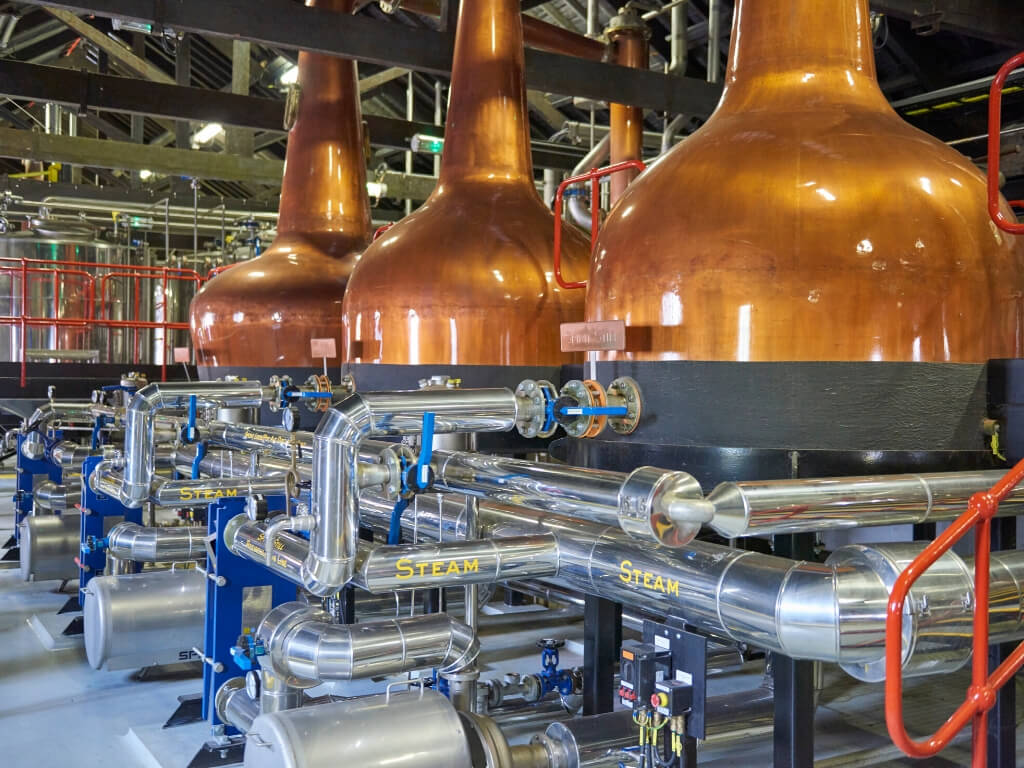 Only the centre portion of each distillation goes into subsequent stages. The beginning and end are returned to the still they have come from to maintain the characteristic and flavour of the particular pot still used. The very beginning portion is discarded as it contains unwanted, unpleasant compounds.
The whiskey distillate is then diluted to 65% ABV with water and placed in, usually, oak casks for at least three years and up to 20 years to mature into Irish whiskey. The type of wood in the barrels and previous use (if any) contribute to the colour, nose (smell), character and flavour of new whiskies. The longer the whiskey is in barrels, the darker the colour and more character of flavour develop.
After maturation, the whiskey spirit is diluted with pure Irish water to an ABV of 40% before bottling and distribution.
This is a short guide to Irish whiskey production.
What are the different types/forms of Irish Whiskey?
There are typically four different types of Irish Whiskey. They are single malt, single pot still, grain and blended.
Single malt – this type of Irish whiskey is made entirely from malted barley in a pot still within a single distillery. It may be double or triple distilled. Bushmills (10, 12, 16 and 21 years), Tullamore DEW Single Malt (10 years) are examples of single malt Irish whiskies.
Single pot still – this type of whiskey is made from a mix of malted and unmalted barley, completely distilled in a pot still within a single distillery. This type was the most common style of Irish whiskey before the emergence of blends in the 20th century. Examples of this type of Irish Whiskey are Redbreast and Green Spot.
Grain – this type of whiskey is produced from continuous distillation in a column or Coffey still, rather than a pot still. It may be produced from a variety of grains and is not often found on its own as it is used to make blended whiskies. However, examples of this type of whiskey are Kilbeggan Single Grain (8, 10, 15 and 18 years) and Teelings Single Grain Whiskey.
Blended – this type of whiskey is a mixture of the above styles. It is the most common style of both Irish and Scotch Whiskey today. Examples of blended Irish Whiskey include Black Bush and Bushmills Original (from Bushmills), Jameson, Midleton Very rare, Powers and Paddy (New Midleton Distillery), Tullamore DEW and Kilbeggan Blended Irish Whiskey.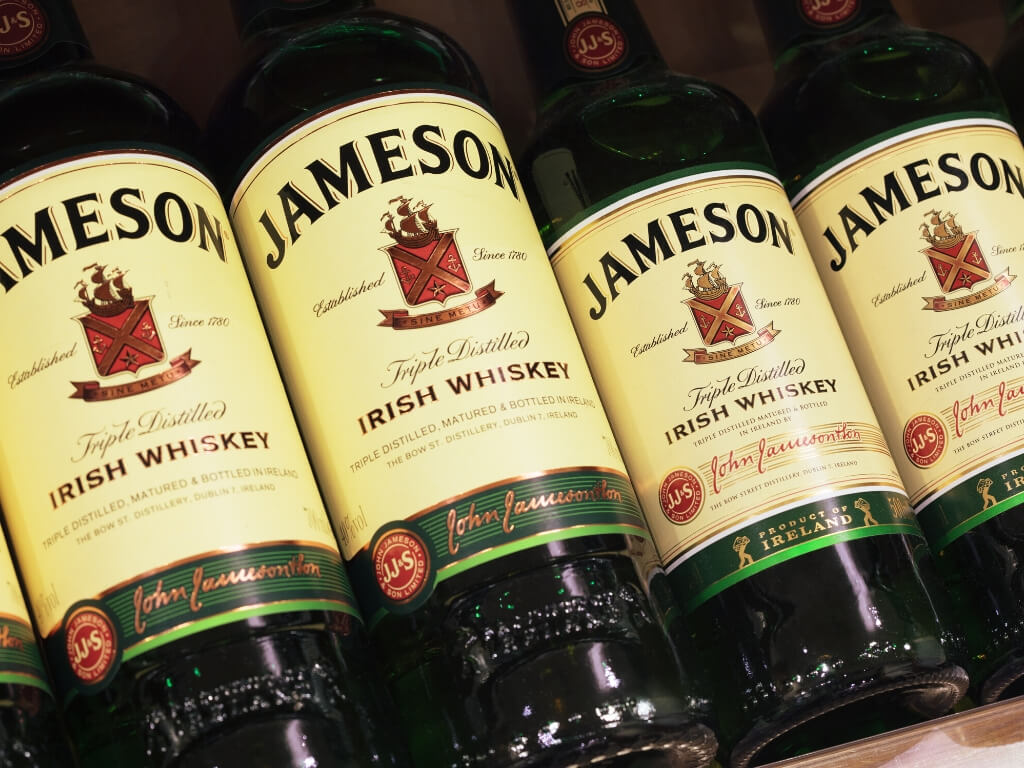 So, there you have it. Our top ten best distilleries in Ireland to discover span the length and breast of the country and are just a select few of the distilleries now located on the island of Ireland. You can be sure to find the best whiskey tours in Ireland in these distilleries and may even be going home with a bottle or two after your tour.
Many of the Irish whiskies mentioned in this article can be found in shops around Ireland, in duty-free shops in the airports, and in specialised stores such as the Distillery Store in Temple Bar or the Celtic Whiskey Shop in Dawson Street, both in the heart of Dublin.
Personally, I have not tasted many of these whiskies as it was not my tipple of choice. However, I can say that the very expensive Midleton Very Rare was extremely smooth to drink and my father's personal favourites are Jameson, Redbreast and Paddy, in that order.
Related Posts