If you are planning on visiting the Emerald Isle but are not sure what to eat in Ireland, and want to experience traditional Irish food, then you've come to the right place. Part of visiting a new country is indulging in their cuisine. This guide to the best Irish food and drink will have you well prepared for seeking out the amazing culinary experiences that are on offer in Ireland.
Some of the best food to eat in Ireland are Irish dishes that I cook at home myself. Whether you want to experience classic Irish food in a fine dining restaurant, or simply enjoy some tasty meals in the comfort of a warm pub, this guide to food in Ireland will have your taste buds watering in anticipation. Are you ready?
*This post contains affiliate links, which may include Amazon affiliate links. To read more about affiliate links, please visit my Disclosure Policy page.
Traditional Irish Food
Traditional Irish foods and dishes have evolved over the centuries and have influences from Britain and other European regions. Irish meals mainly came from the land and the sea, whether it was meat from livestock and vegetables farmed on the land or a selection of fish from coastal waters and inland lakes. As a result, traditional Irish foods use ingredients that would have only been available to people as a result of simple farming and fishing methods.
From humble homemade beginnings, ingredients were used fresh or preserved and recipes have been passed down through the generations. Grains formed a staple ingredient until the potato was introduced in the 16th century. Dairy products also feature prominently, thanks to the abundance of grass growth throughout the year. However, reliance on the humble potato resulted in the death of over 1 million people during the Great Famine of 1845-1852 when successive crops failed due to blight.
In the 20th century, new dishes and influences arrived in Ireland including Chinese, Thai and Italian. And in the 21st century, Irish cuisine is an up-and-coming scene with traditional ingredients being woven into new and elaborate dishes. Traditional dishes have also seen a resurgence, meaning Irish cuisine is becoming one of the best to enjoy.
Let's take a look at some of the best Irish foods you must try when in Ireland.
Potato
As already mentioned, the potato has been a staple of the Irish diets for centuries. Whether mashed, boiled, roasted, fried or chipped, there are few Irish meals that don't include it in some form. As well as being a side on their own, they are the basis for some great traditional Irish potato dishes.
Colcannon
Colcannon mash is a dish comprised of mashed potato with kale or cabbage. Potatoes are mashed with butter and milk and chopped kale or cabbage. Some people add finely chopped onions or scallions (spring onions) and parsley, but for me, colcannon mash should only contain kale or cabbage. It is something that can be enjoyed year-round and is one of the best Irish dishes served with ham or corned beef (see further on).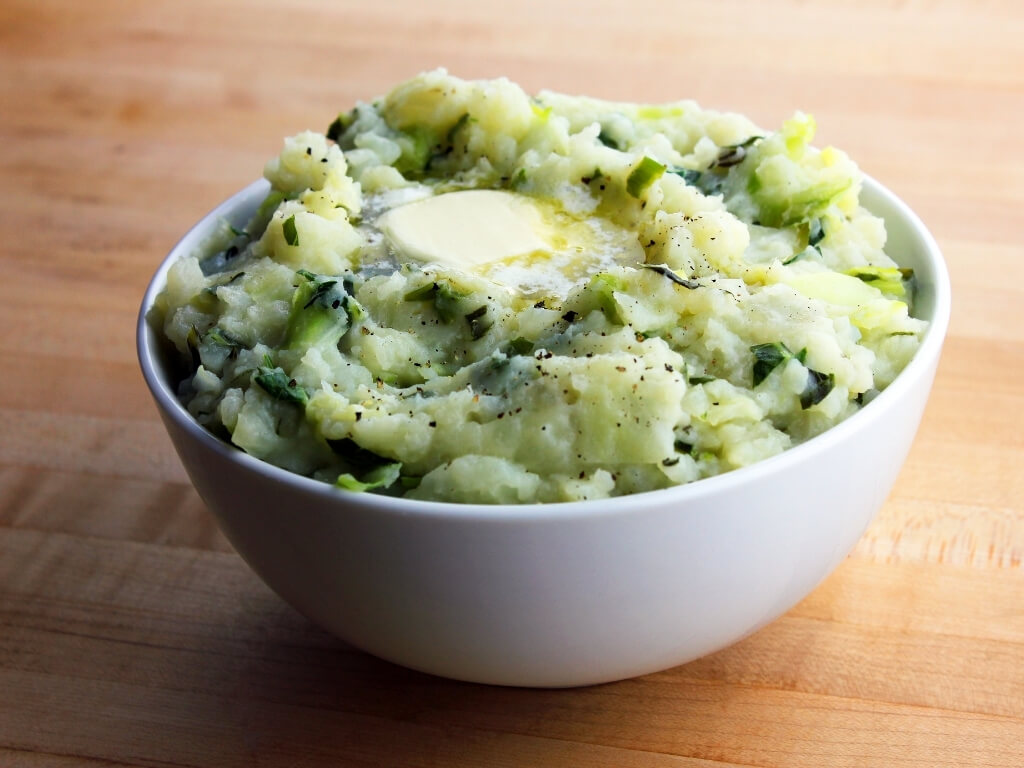 Champ
Another of the traditional Irish dishes that is very similar to colcannon is champ. It is a mixture of potatoes, butter, milk and chopped scallions (spring onions), sometimes seasoned with salt and pepper. However, if your butter contains salt there is no need to add any more. When it comes to Irish food, champ is best served alongside a nice piece of ham and is most associated with Samhain (Halloween).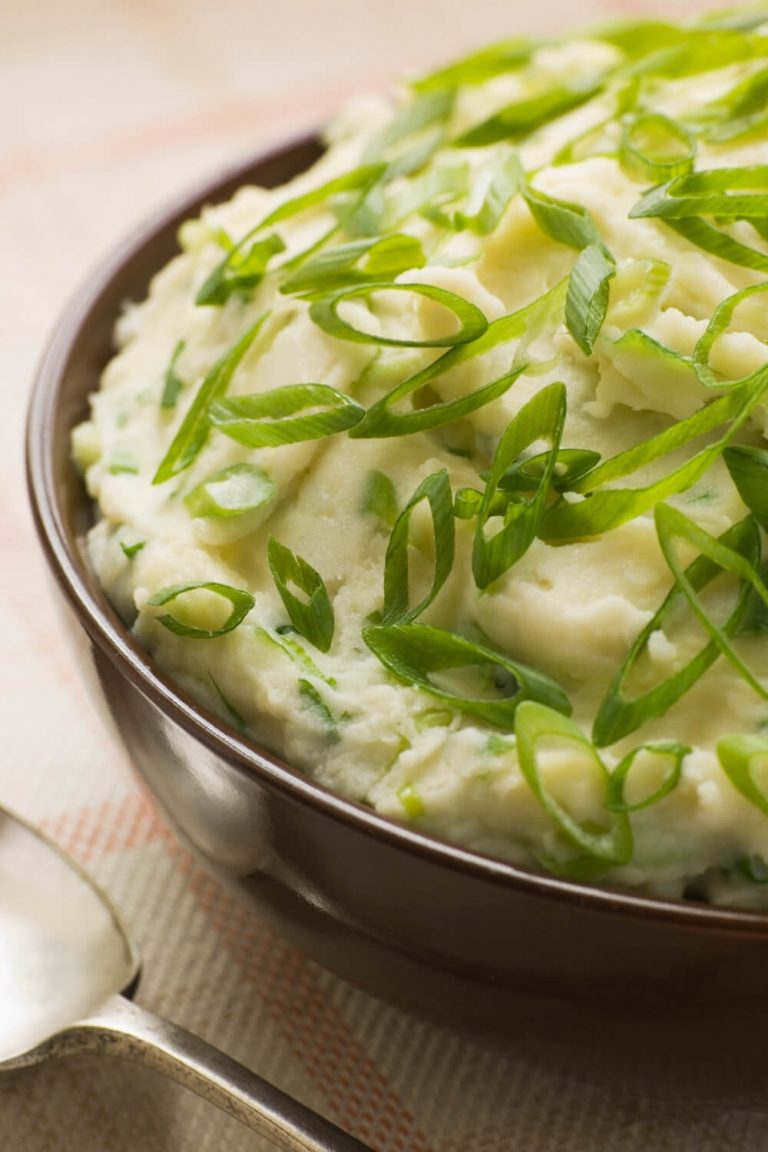 Boxty
A food to eat in Ireland if you are visiting is a boxty. This traditional Irish potato pancake is made from finely grated potatoes with other ingredients, which often depend on the method used to make it. And there are quite a few ways to make it. Boxty is baked on a pan, pan-fried, or made into dumplings. A boxty is traditionally associated with the northern half of Ireland but its popularity across the island has been rising in recent years.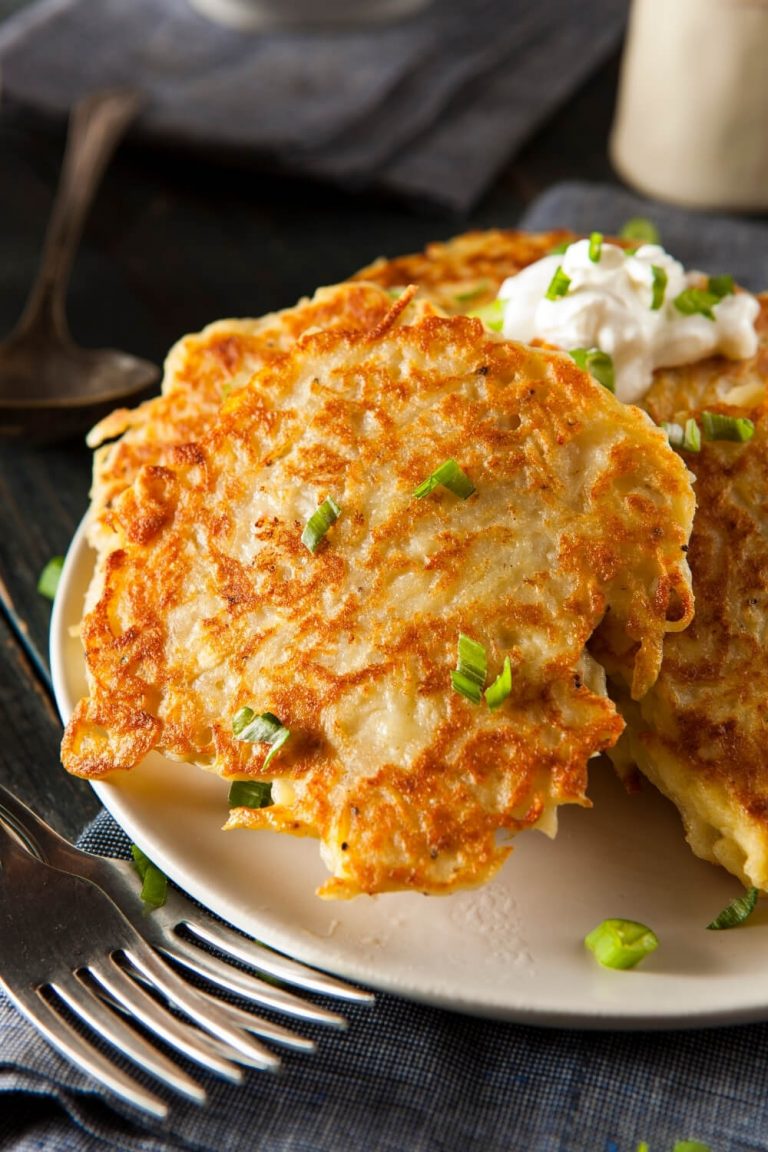 Irish Stew
One of the best, all-time classic Irish dishes, is a traditional Irish stew. A proper Irish stew from times gone by consisted of mutton, potatoes and onions. Other ingredients often included nowadays are carrots, barley, parsley and gravy. It is a classic example of a dish from the land combining meat and root vegetables from the farm.
However, over time, variations have arisen with the likes of a traditional Irish lamb stew made the same way but with more tender lamb meat. This is the nearest you will get to a classic form of the dish. A traditional Irish beef stew is made with beef cuts, typically stewing or braising beef, chuck or round beef. And it can also be made with kid goat.
There are some that will argue that no stew can be called a traditional Irish stew unless it contains mutton, but don't listen to them. It tastes as good with lamb or beef. Either way, an Irish stew is considered Ireland's national dish.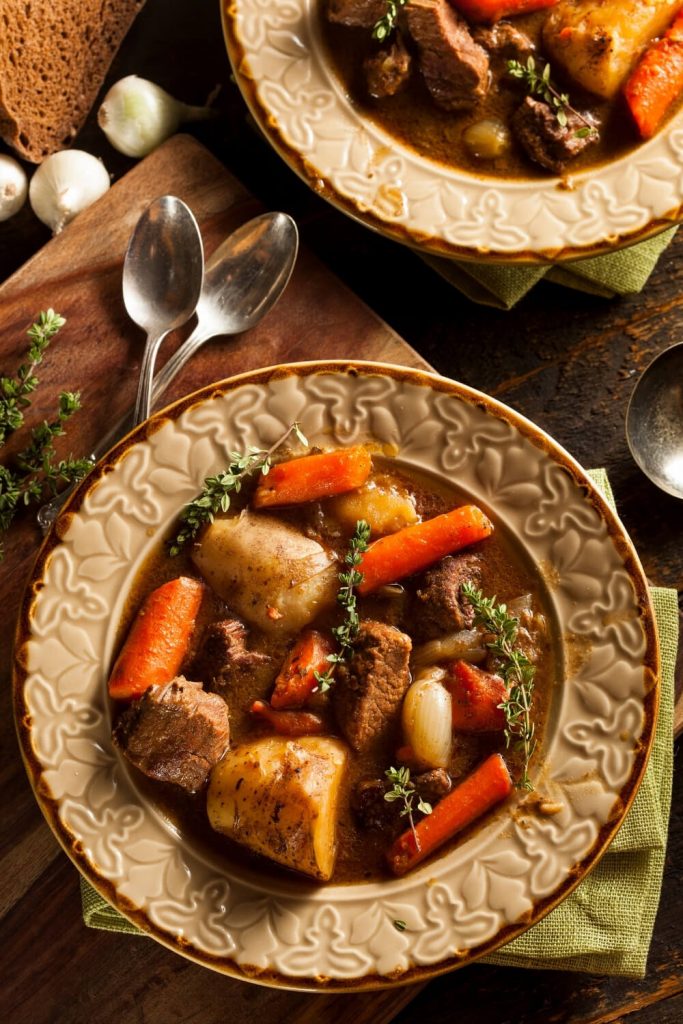 This is a hearty meal that is the perfect winter warmer and can even be enjoyed with Irish soda bread (see further down this post). This is a typical dish I cook during the winter for my family and it never fails to please everyone. One tip: if you are cooking an Irish stew, the best results will come from long and slow cooking. The earlier in the day you can put it on the hob the better. Just watch the heat and the liquid level and keep the water topped up.
Full Irish Breakfast
A dish you are most likely to experience on a trip to the Emerald Isle is a traditional Irish breakfast, one of my personal favourites. Also known as a full Irish, this breakfast is a meal that is often enough to keep you going until later afternoon.
Typically, an Irish breakfast will comprise of sausages, rashers (bacon), black and white pudding (see below), eggs, tomato and is served with the best Irish soda bread. You may also receive baked beans. It is a great way to start the day and prepare you for a full day of exploring and sightseeing.
Pudding
There are two forms of traditional Irish pudding, black and white. Pudding is thought of as an old dish as it was a way of using the offal after the annual slaughter of livestock. Black pudding also contains blood and is thought to date back to Roman times, whereas white pudding is more associated with medieval times.
White pudding contains suet (the raw, hard fat of beef or mutton) which is mixed with oatmeal or barley, breadcrumbs and sometimes pork and pork liver, and seasoned with spices such as nutmeg, sage and white pepper. Black pudding is the same recipe except it also contains animal blood, giving it its black colour.
The best Irish white pudding eaten in our house is a butcher-made white pudding or if going for store-bought pudding, try the Clonakilty brand, and is one of the best things to eat in Ireland, in my opinion. If you don't like the idea of black pudding, I do recommend white. It is my personal favourite and a staple in our traditional Irish breakfasts when we can get our hands on it.
Irish Soda Bread
One of my absolute favourite food to eat in Ireland is traditional Irish soda bread, served only with the best Irish butter, Kerrygold. Traditional soda bread is a non-yeast bread made with flour, baking soda, salt and buttermilk. It is a traditional quick bread in which the lactic acid in the buttermilk reacts with the baking soda to create small bubbles. It can be created with wholemeal or white flour, or a mixture of both, which is how I make it when I can get buttermilk.
The best Irish breakfast is served with soda bread on which I like to place my sausages and is often served with soup in pubs, cafes and restaurants.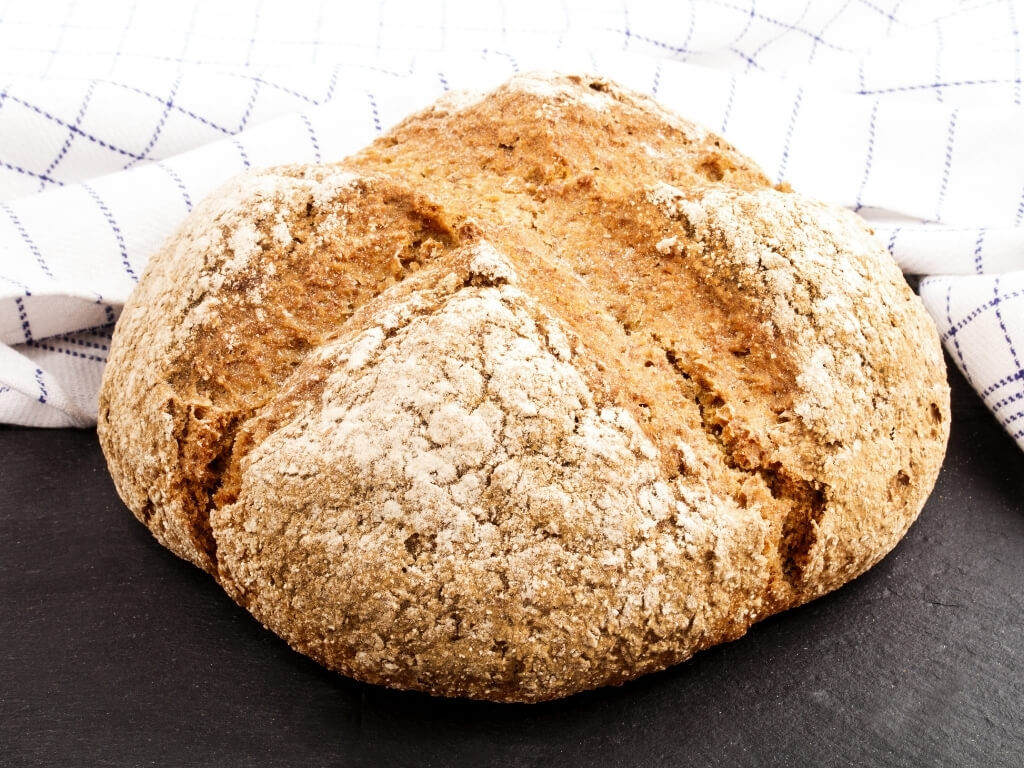 Corned Beef
An Irish dinner that I always forget about until someone cooks it for me is traditional Irish corned beef and cabbage. Corned beef is a salt-cured brisket of beef and is cured in a brine solution to which pickling spices such as mustard seeds, peppercorns, coriander seeds and allspice are added. The curing process usually takes 7 or more days in the fridge before the beef is removed, washed and slowly boiled.
Slow cooking ensures the meat is tender enough to fall apart and it is served with cabbage and potatoes (boiled or mashed are best), creating the dinner of kings.
The corned beef and cabbage tradition stems from the Irish immigrants to the US wanting to enjoy the home tastes of Ireland around St. Patrick's Day. But since bacon was expensive, they turned to the cheapest cut of meat they could afford, beef brisket. And so an Irish traditional food dish was born. However, corned beef did appear in Irish cuisine from the 12th century when it was thought of as a king's delicacy. Either way, if you come across this traditional Irish dinner on the menu, give it a try.
Gammon/Ham
Another one of the traditional Irish meals to enjoy on the Emerald Isle is Irish bacon and cabbage. This is another favourite typical Irish dinner I like to cook and it entails me driving more than 2 hours to get my hands on real bacon in order to do so.
This dish consists of boiled bacon and cabbage, again served with boiled or mashed potato. I don't know any Irish family that eats this typical Irish food combination with anything other than boiled or mashed potato. To serve another form of potato is unheard of in our families.
Often, this dish does not have anything else accompanying it, although my husband does like to pair it with a brown sauce such as HP sauce. And occasionally my father will serve fried pineapple rings with it. But other than that, nothing else joins this dish on the plate.
Seafood Chowder
Since most traditional Irish food has roots in the land or sea, one of the best popular Irish dishes to try on the Emerald Isle is a seafood chowder. Sometimes known as simply an Irish fish chowder, it is a rich and creamy broth in which you will find fresh fish, sometimes smoked fish, and if it is a proper seafood chowder, shellfish such as mussels.
If smoked fish is not available it is often substituted with bacon to give the smoky flavour. Prawns and crab meat may work their way into varieties of an Irish seafood chowder. Each region of Ireland may have their own version too. And what is the best way to serve this? With the classic Irish soda bread of course!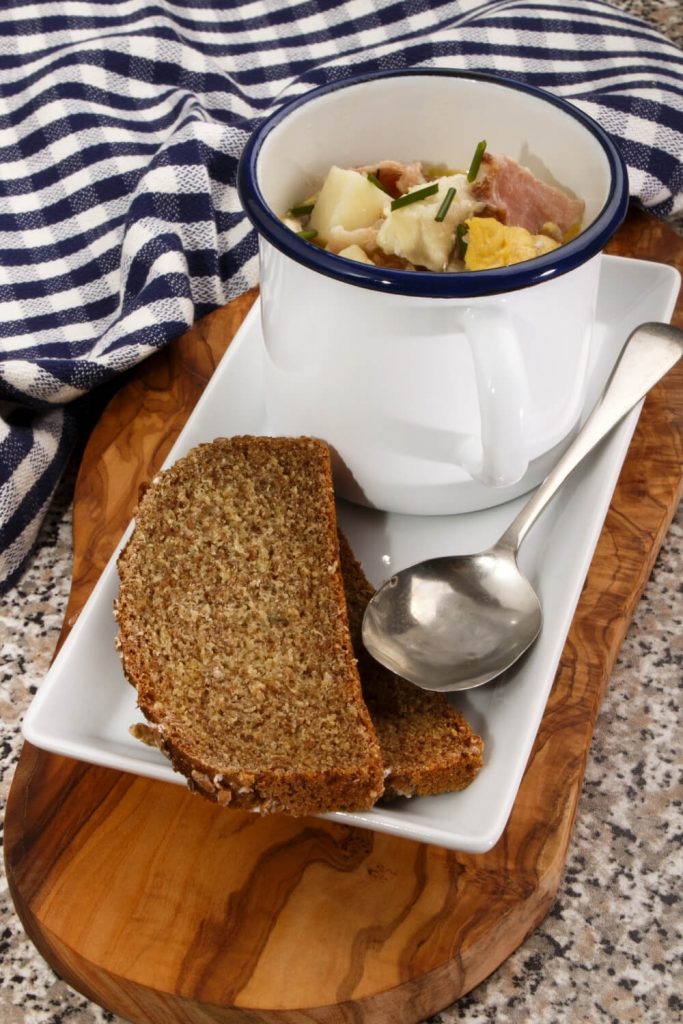 Dublin Coddle
A traditional Irish dish that is most associated with Dublin is the coddle. This dish was often made to use up leftovers and so there was no specific recipe. However, it has evolved and now consistently contains sausages, rashers (bacon), potatoes (of course), onions, seasoning and parsley. Occasionally carrots and barley are added. It became a favourite Irish food in Dublin as it is inexpensive to make and is great comfort food, particularly in the winter months.
Barmbrack
One of the most popular foods in Ireland that arrives but once a year is a barmbrack. This is a quick bread made with raisins and sultanas and is associated with Halloween, although some households will also make one for New Year's Eve.
This traditional food in Ireland was used in a game of fortune-telling, as there were certain objects hidden within the loaf. Each item received carried a hidden meaning for the receiver. The items hidden inside included the following (and their meanings):
A pea – you won't marry that year
A stick – you will have an unhappy marriage or have continual arguments
A cloth/rag – you will have back luck or be poor
A coin – you will have good luck or be rich
A ring – you will marry within the year
Commercially available barmbracks still contain a toy ring but nothing else due to health and safety reasons. Barmbrack is delicious when smothered in real Irish butter and served with one of the best Irish teas (discussed further on).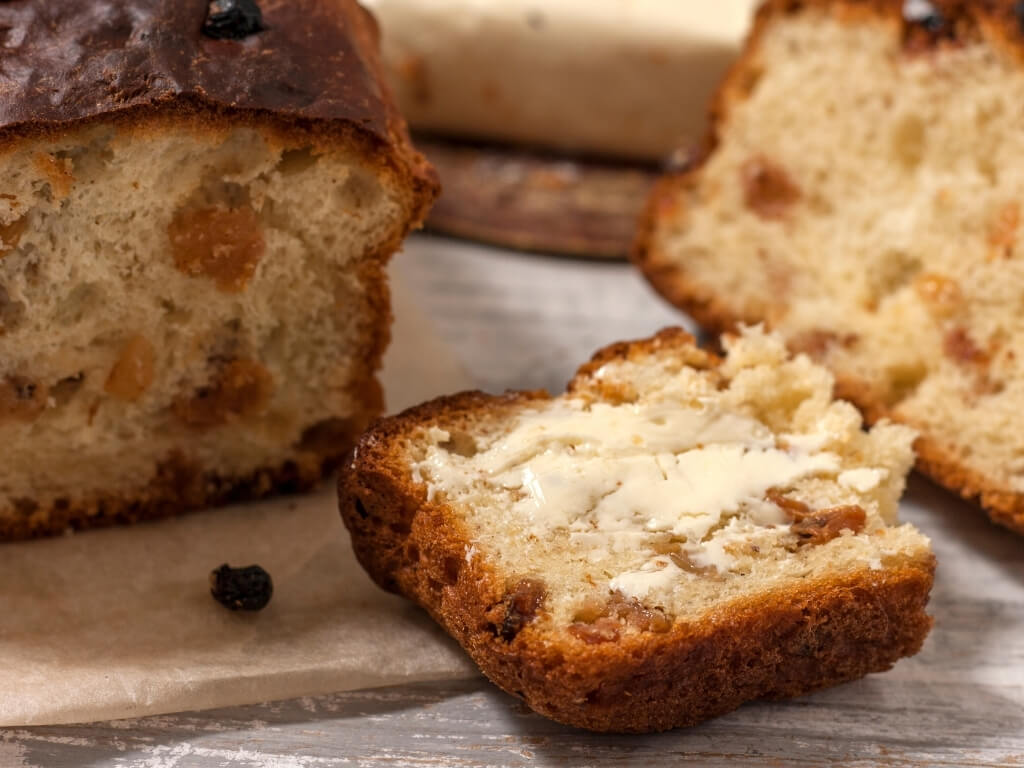 Non-traditional/Irish Fast Food
Now that you've been introduced to the best traditional foods of Ireland, let's talk about some non-traditional, typical food in Ireland that you might want to savour during your visit.
Chip sandwich
Known in Britain as a chip butty, the humble chip sandwich is simply chipped potatoes served on sliced bread (white is the best) and butter. You can add mayonnaise or ketchup and the bread can be sliced or in a roll or baguette form. I've enjoyed this around my family's kitchen table when we get a "chipper" dinner in.
A chipper dinner is a takeaway dinner from a chip shop where items like battered fish, battered sausages and burgers, hamburgers and chips are on the menu. If you are having a chipper, make sure to try a smoked cod and chips, something I always order the first night I return home for a visit. Team it with a battered sausage or burger and chip-shop Irish curry sauce and you will quickly have a full stomach!
Spice Bag
Staying with takeaway dishes, a spice bag is a relatively new kid on the block but is my husband's personal favourite takeaway dish at home in Ireland. Coming from Chinese takeaways, a spice bag (or spice box) contains deep-fried spicy chips, chicken which is either shredded or in battered balls, red and green peppers, sliced chilli peppers, fried onions and spices. We team it with curry sauce and in my area of Dublin, one spice bag is shared between the two of us.
Trio/Special
Also from a Chinese takeaway is a dish that has a few names depending on where you buy it. In my area of Dublin on the Southside, it is called a special or special tray, and in my husband's area of Dublin on the Northside, it is called a trio. This takeaway dish consists of a layer of rice (boiled or fried rice, but fried is best!) in a tray, topped with a layer of chips and covered in curry sauce. Varieties of this dish may include freshly sliced onions on top and meat through the rice such as shredded beef or chicken, duck or prawns. When we choose this dish we team it with chicken balls and extra curry sauce.
Open Sandwiches
Open sandwiches are a popular item on lunchtime menus in pubs around the country. They often consist of soda bread or another firm bread with various toppings including smoked salmon (and scrambled eggs for breakfast), tuna mayonnaise, ham and cheese and more. This sandwich does not have a top layer of bread. Sometimes they are served with your toppings on the side for you to decide how much you want on there.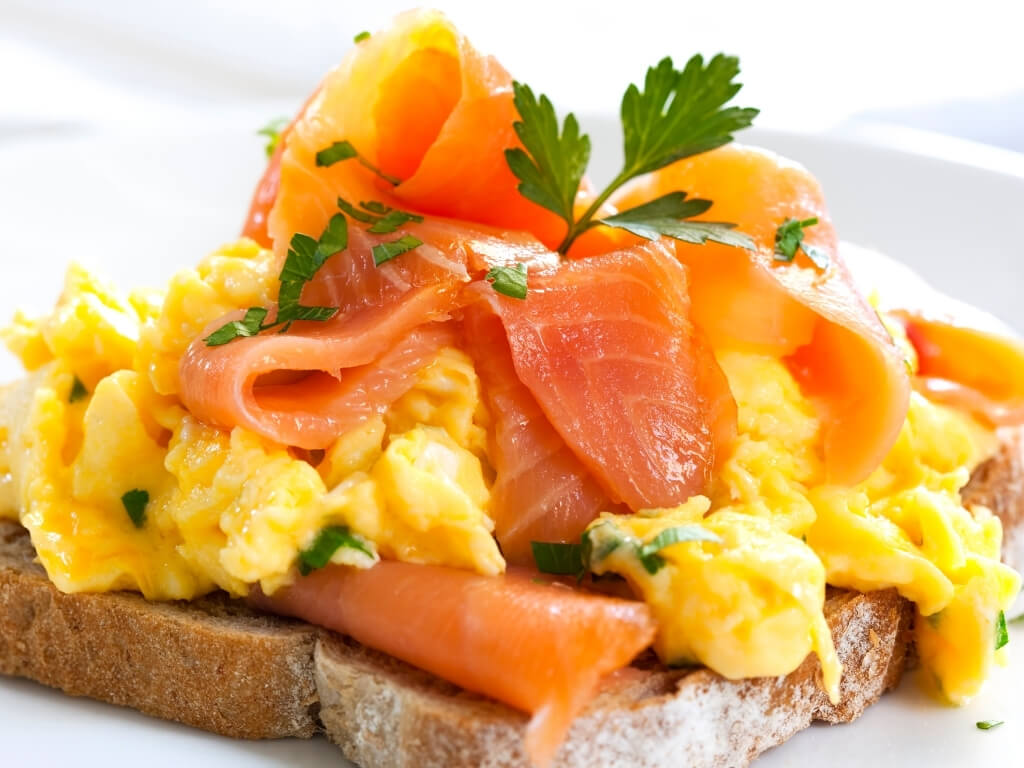 Crisp Sandwich
A crisp sandwich is one in which you put crisps (potato chips) between two buttered pieces of white bread. The crisps typically used in Ireland are either Tayto or King and the flavour used is cheese and onion. There is a never-ending debate across Ireland as to which crisp makes the best sandwich. In our house, we're all about Tayto. If you want to add a new twist to it, add a slice of processed cheese for extra flavour.
Irish drinks
Ireland is a drinking nation. Whether it is of the alcoholic type or not. Ireland has also produced many famous drinks which are exported around the world. Let's take a look at some of them.
Beer
Ireland produces many types of its own beer including stout, ale, ciders and lagers. Typical brands you will find served in pubs or on off-licence shelves include Guinness (see below), Murphy's, Harp, Smithwick's, Beamish, Kilkenny and Bulmer's (known as Magner's outside of Ireland). There are other smaller brands and craft brews, but these are the most widely available.
Guinness
One of Ireland's most famous exports and brands is Guinness. The well-known dark, dry, Irish stout originated in the brewery at St James' Gate in Dublin in 1759 and is still going strong today. It is one of the most famous and successful alcoholic brands and visitors to Dublin can see the brewing process in action and learn about the "black stuff" during a tour at the Guinness Storehouse.
Whiskey
Another of Ireland's biggest imports and widely consumed across the Emerald Isle is Irish whiskey. Whether it is Jameson (my Dad's personal favourite), Red Breast, Paddy or Teelings, Irish whiskey has been around for centuries and is a popular drink across the world. The word 'whiskey' comes from 'uisce beatha', meaning water of life and my Dad won't argue with this. A warm whiskey at the end of a day of sightseeing will get your body's central heating going.
Discover how whiskey is made and enjoy some tasting at the best Irish distilleries to be visited during your trip.
Baileys Original Irish Cream
An Irish alcoholic drink that I used to enjoy, particularly around Christmas time, was Baileys. This Irish cream liqueur is flavoured with whiskey, cream and cocoa and the original Irish cream was invented in 1971. It has started to become ever more popular and is traditionally served over ice. There are other flavours in the range including mint chocolate and crème caramel and it may also be used in place of whiskey in an Irish coffee of sorts. My local mechanic in Portugal loves it but it is hard to come by, so whenever we are back in Ireland we bring him back a bottle of Baileys. Let's just say he looks after our cars well!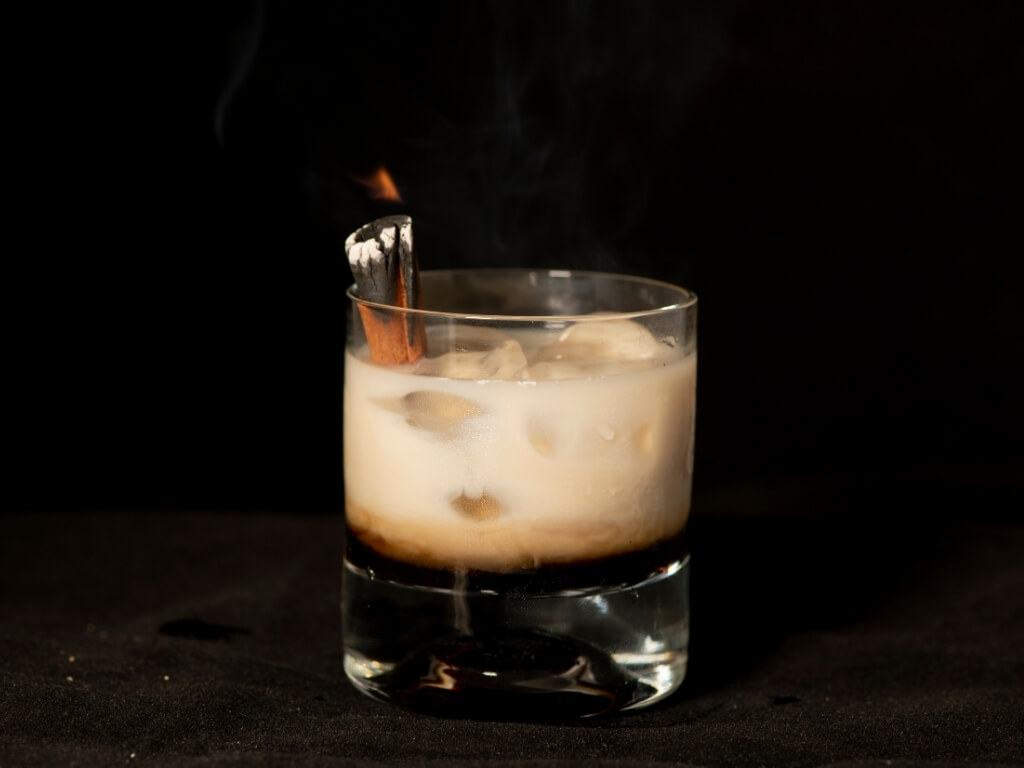 Tea
Ireland is a nation of tea lovers and I hold my hand up and say I am one of them. From morning to night, tea is on the go most hours in our house. And whenever we visit family and friends, the first thing you do upon arriving, and after hugs and greetings, is put the kettle on.
Ever since we left Ireland for, first, the UK and then Portugal, I have only drunk Irish tea thanks to the supply sent or brought by visiting family and friends. And now in Portugal, an English supply shop an hour from our house which stocks our favourite brand of tea. There is just nothing like a cup of Irish tea, especially on a chilly day.
There are several brands in Ireland and the best Irish teas are typically Lyons, Barry's and Bewley's. Some people may argue that Lyons is not Irish as it is made in the UK but it is not widely available in the UK market and is made for the Irish market.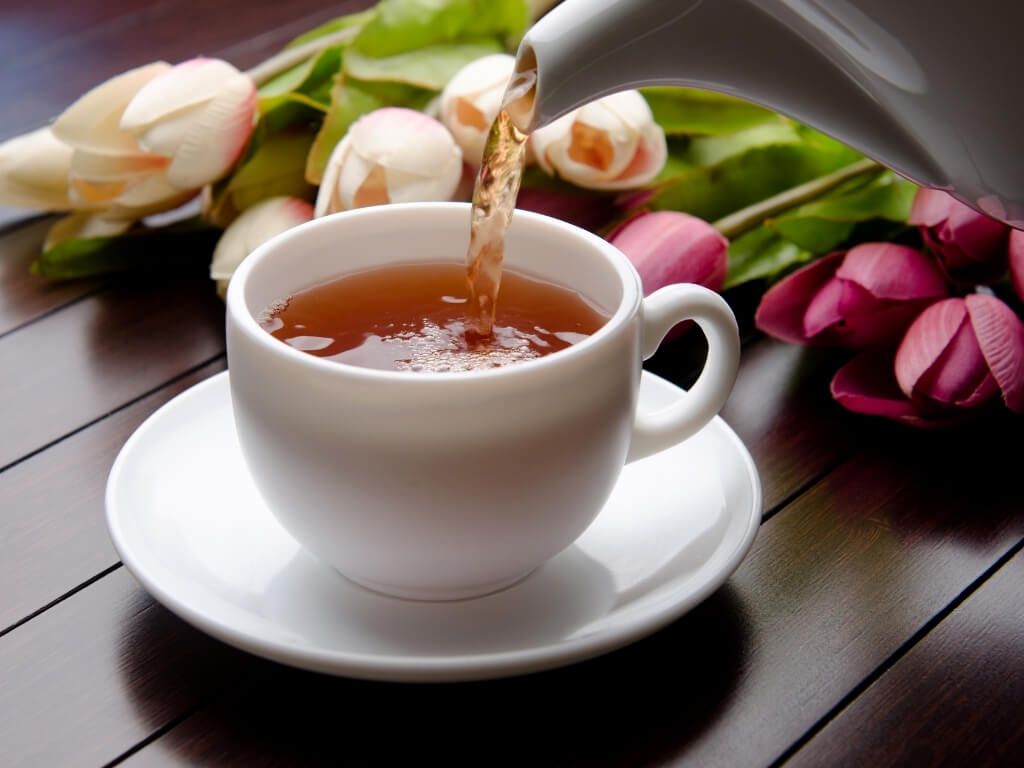 Coffee
While Ireland is not known for its coffee culture, it is starting to seep through. There are the usual coffee chains such as Starbucks and Costa but you are best to forgo these and seek out smaller cafes for a better brew and the potential for delicious homemade snacks and cakes.
Best Irish food tours
One of the best ways to sample a variety of dishes during your visit to Ireland is to book an Irish food trail in the cities you are visiting. There is a huge range available on Viator or Get Your guide. You can sample lots of traditional foods in Ireland on these tours and some combine food with whiskey tasting. Here are our top picks:
Buy Irish food online
If you cannot make it to Ireland but would still like to sample some popular Irish food, there are a few places to purchase some online. Our favourite online Irish food retailer is Paddy Box. While their list of Irish foods is not extensive, they do supply tea bags, crisps and some of our favourite Irish biscuits. They deliver worldwide which is even better!
Your Irish Shop is another online retailer where you could get various Irish brands. They also do hampers filled with some famous Irish food. They are only delivering within the UK currently (no longer delivering to Europe after Brexit).
Food Ireland is a great place to purchase Irish food and ingredients if you are based in the US or Ireland. While they do ship internationally, they are limited to non-perishable foods as delivery takes longer.
So, now that you know what foods to eat in Ireland, you should be well prepared for your visit. From Irish national food such as the Irish stew and anything potato-based to breakfast, lunch and other dinners, this guide to the best Irish food has hopefully given you a taste (pardon the pun) for the culinary delights that await you on the Emerald Isle.
Is your mouth watering yet?
Recommended Cookbooks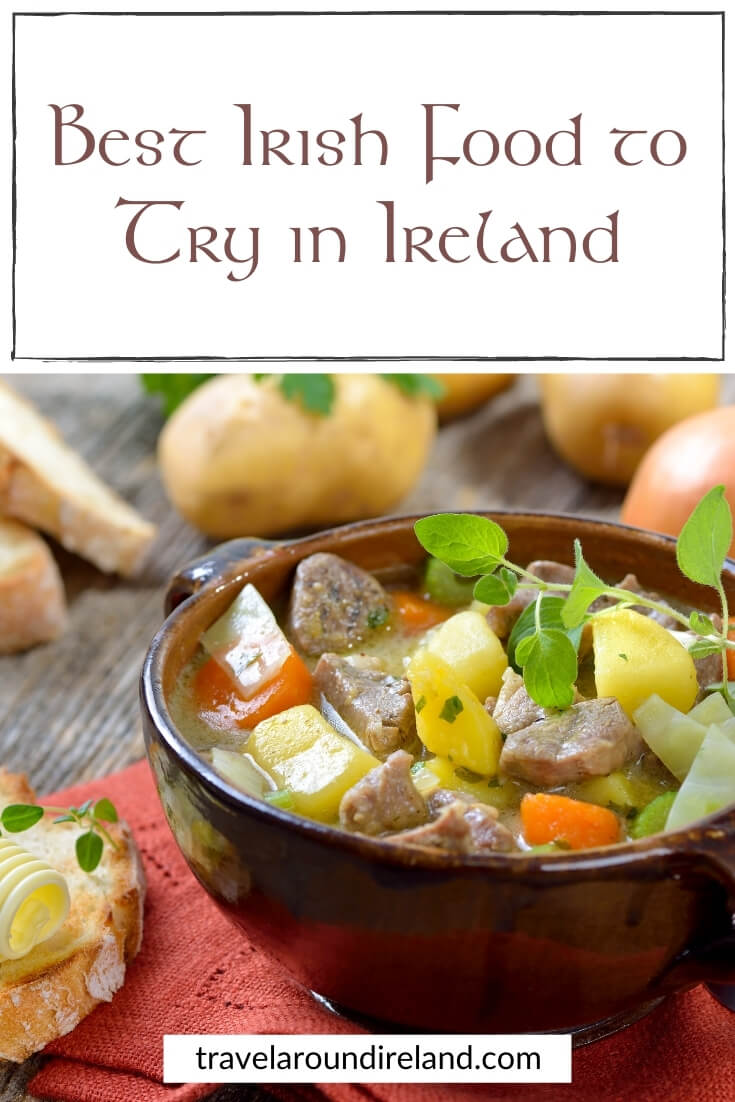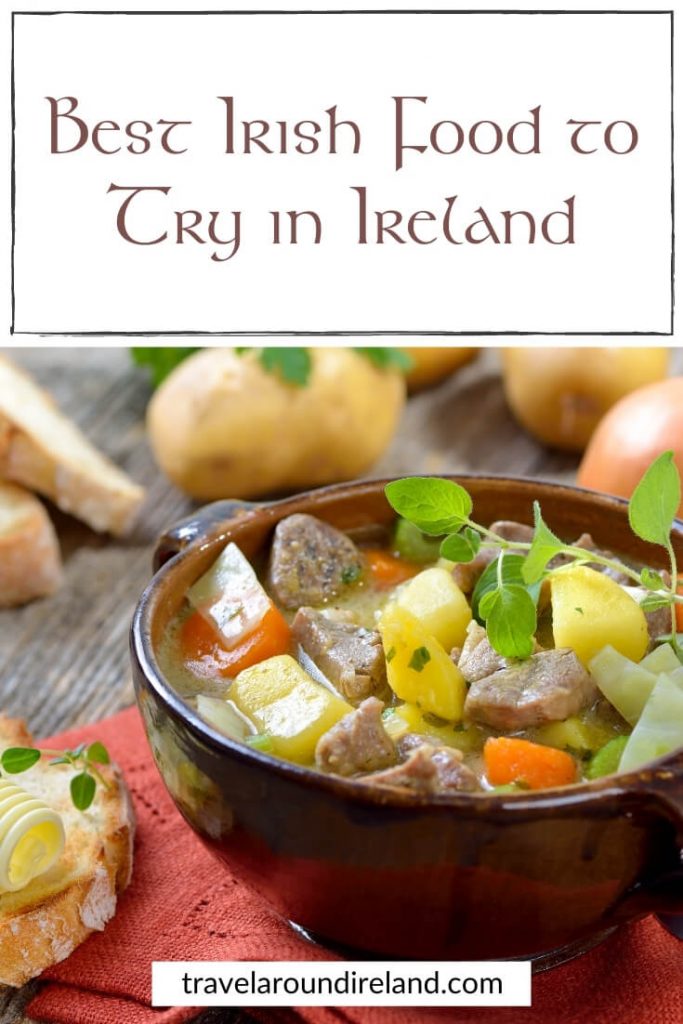 Travel Around Ireland is a participant in the Amazon Services LLC Associates Program, an affiliate advertising program designed to provide a means for sites to earn advertising fees by advertising and linking to amazon.com, amazon.co.uk, amazon.ca. Amazon and the Amazon logo are trademarks of Amazon.com, Inc. or its affiliates. To learn more about affiliate links, read my Disclosure Policy here.
Related Posts