If you are visiting the Irish capital, you don't have to go to all the paid Dublin attractions to enjoy yourself.
I'm going to share with you the best free museums in Dublin that will help you watch your budget but still give you an insight into Irish history and culture.
This list will include museums and galleries in Dublin including some which you might not have ever thought about visiting.
10 Best Free Museums in Dublin
Dublin can be notoriously expensive to visit. Between accommodation, eating out and visiting the top Dublin attractions, costs can start mounting. However, it doesn't have to be that way. You can still learn about Irish history and culture by visiting lots of Dublin museums which cost nothing to enter and visit.
Of all the free things to do in Dublin, visiting some of the museums and galleries on this list are the best things to do when you want to watch your costs or keep your budget down. Even if budget isn't a problem you should still put a few of these on your Dublin itinerary!
Map of the free museums in Dublin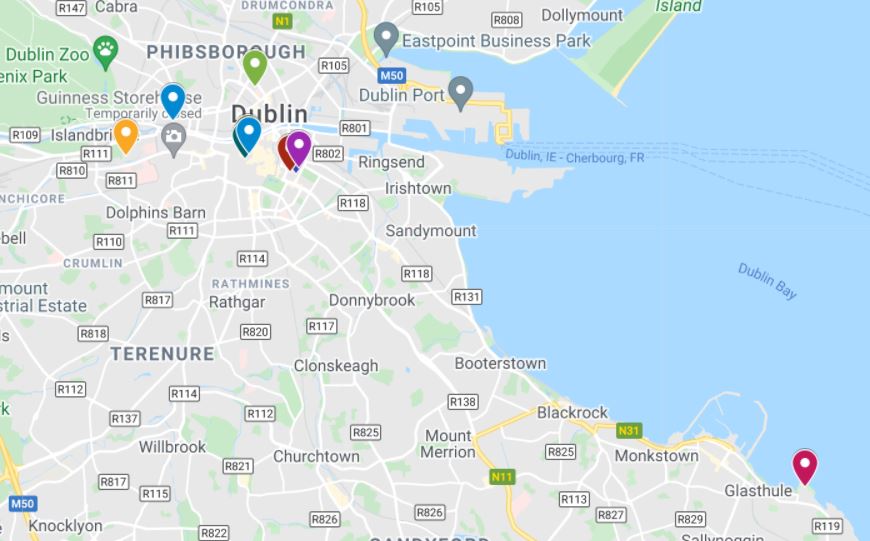 National Museum of Ireland – Natural History
As one of the National Museums of Ireland, the Dublin museum of Natural History is a great place to visit in Dublin and is one of the best museums in Dublin for children. Known locally as the Dead Zoo, the Natural History Museum is located on Merrion Square and is a popular museum. It is easily visited when using any of the Dublin Hop On Hop Off buses.
The museum is home to both permanent and temporary exhibits. The ground floor shows the fauna of Ireland, both in the past and present day. Specimens include badger, fox, rabbit and giant deer, now extinct. You can also view bird specimens, insect and fishing, including the skeleton of a basking shark.
The second floor is dedicated to mammals from around the world. Marvel at the skeletal and stuffed specimens from the far corners of the globe including an Asian elephant, big cats such as cheetah, rodents, monkeys and some mammals which are now extinct.
Originally split across four floors, two remain open with the upper two floors closed to the public after a stairwell collapsed in 2007 and the upper floors were deemed unsafe due to the lack of emergency exits. The Dublin Natural History Museum is a great place to spend a few hours and keep an eye on their website for details of temporary exhibits and forthcoming events.
The museum is open from 10am to 5pm Tuesday to Saturday and from 1pm to 5pm on Sunday and Monday.
Address: Natural History, Merrion Street, Dublin 2, D02 F627.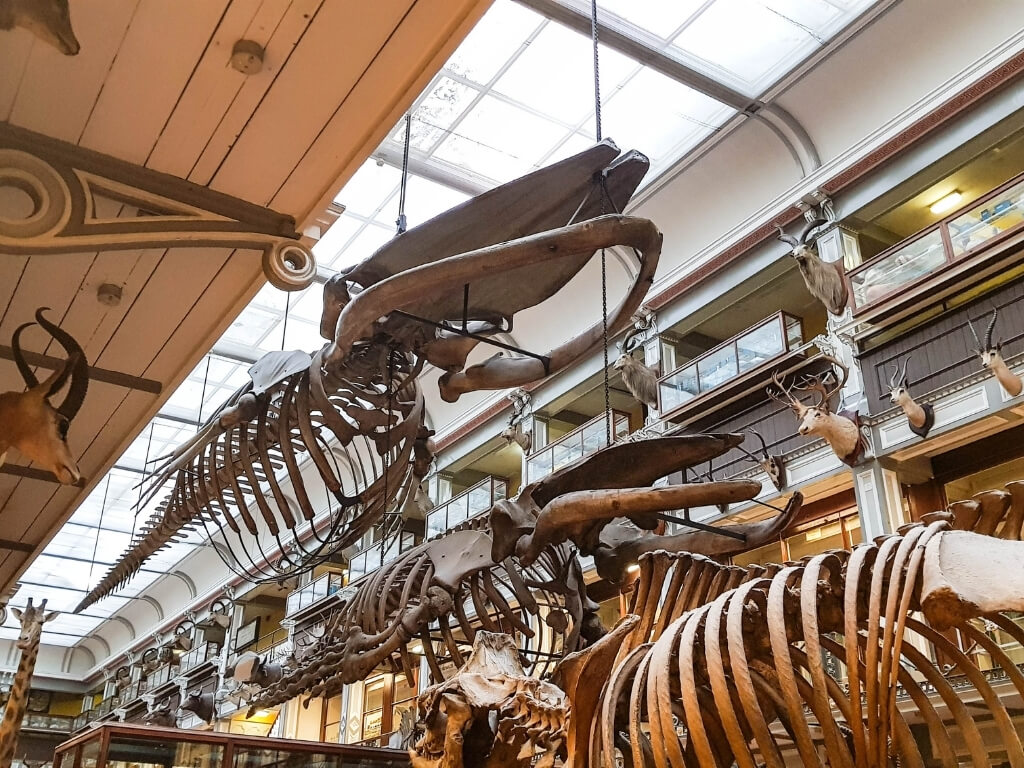 Hugh Lane Gallery
Originally founded by Sir Hugh Lane in Harcourt Street in 1908, and as the first known public gallery of modern art in the world, the Hugh Lane Gallery is one of the top art museums in Dublin, Ireland. Now located in Charlemont House on Parnell Square, this art museum is home to modern and contemporary art by both Irish and European artists.
The gallery has both permanent and temporary exhibitions, and you can find details of current and forthcoming exhibitions on the website. The Hugh Lane Gallery is also home to the Francis Bacon studio and archive which attracts artists, historians and audiences from home and abroad. The studio was moved from London and is displayed exactly as it was in London.
Families are welcomed with open arms at the Hugh Lane Gallery and there is a Kids Club that runs workshops and programmes for children of all ages.
The Hugh Lane Gallery opening hours are as follows: Tuesday to Thursday from 9.45m to 6pm, Friday from 9.45am to 5pm, Saturday from 10am to 5pm and Sunday from 11am to 5pm. The gallery is closed on Mondays.
Address: Charlemont House, Parnell Square N, Rotunda, Dublin, D01 F2X.
National Museum of Ireland – Decorative Arts & History
The Decorative Arts and History Museum, which part of the National Museum of Ireland in Dublin, is another one of the best museums to visit in Dublin which has no entry fee. Located in Collins Barracks, the oldest military barracks in Ireland, the museum is not far from the River Liffey and near the Conyngham Road entrance of the Phoenix Park, and is a great place to spend a few hours.
At this Dublin museum, visitors can learn about Ireland's history and culture through exhibitions that display furniture, silver, ceramics and glassware, as well as weapons, money and folk costumes which help visitors learn about folklife and the history of Ireland. The award-winning Soldiers & Chiefs exhibition displays military artefacts and memorabilia tracing the country's history from 1550 to present-day Ireland.
The museum hosts special and temporary exhibitions from time to time, so it is worth checking the website ahead of your visit to see if there are any happening during your visit and whether they incur a fee, tickets for which may need to be pre-booked.
The museum is open from 10am to 5pm Tuesday to Saturday and from 1pm to 5pm on Sunday and Monday.
Address: Collins Barracks, Benburb St, Dublin 7, D07 XKV4.
Garda Museum
One of the best museums Dublin has to offer which is free to visit is the Garda Museum and Archives, located in the Treasury Building of Dublin Castle in the city centre. This police museum ('garda' meaning police in Irish) was opened in 2017 and covers the history of policing in Ireland, excluding Northern Ireland throughout the ages.
The museum has interesting exhibitions about the history of An Garda Síochána, the official name for the police force in the Republic of Ireland. Visitors can also find information on policing in Ireland before 1922 (the date on which the Irish Free State of 26 counties gained independence from Britain). Exhibitions combine informative displays with memorabilia, photos and artefacts. This is an interesting Dublin museum to visit to get an insight and knowledge of the Irish police force.
Note that this museum is only open in the mornings from 10am to 2pm Monday to Friday. More information about the museum can be found on the Garda website.
Address: Dublin Castle, Dublin 2, D92 AD92.
Chester Beatty Library
Dublin Castle is not only home to the Garda Museum, but it is also home to one of the most interesting and best museums in Dublin, Ireland. The Chester Beatty Library is a world-famous library located in the Clock Tower at the back of Dublin Castle. It is not only Ireland's best small museums but is also one of the best in Europe.
The museum houses a world-class collection of artistic, religious and secular works from around the world, dating from 2700BC to the present day. Named after Alfred Chester Beatty, this is a must-visit in Dublin.
Alfred Chester Beatty was born in New York in 1875 and spent most of his childhood collecting stamps, minerals and Chinese snuff boxes. Running a successful mining company allowed him to expand his collection to the pieces now found in the Dublin museum. Beatty settled in Ireland in 1950 and donated his library in trust for the benefit of the public, so creating the Chester Beatty Library.
The museum is spread across two floors and visitors can enjoy artworks from the Western, Islamic and East Asian worlds. Highlights include a Qur'an collection, the most important outside the Middle East, and the finest collection of Chinese jade books in the world.
As well as books visitors can view miniature paintings, prints, manuscripts, drawing and decorative arts. As well as the permanent exhibitions, temporary exhibitions can often be found at the Chester Beatty which include collections on loan from foreign collections and institutes. It is a unique place to visit in Dublin and should be included in your Dublin itinerary.
The Chester Beatty is open Monday to Saturday (except Wednesday) from 9.45am to 5.30pm, Wednesday from 9.45am to 8pm and Sunday from 12pm to 5.30pm. From November to February, the museum is closed on Mondays. Check the website prior to your visit for details of any special events taking place.
Address: Dublin Castle, Dublin 2, D92 AD92.
National Museum of Ireland – Archaeology
One of the best free museums Dublin has on offer is the Archaeology branch of the National Museum of Ireland, located on Kildare Street. As one of the top museums in Dublin, this venue catalogues the history of Ireland from the Stone Age, through Medieval Ireland and beyond.
Like the Decorative Arts and History branch of the National Museums of Ireland, the Archaeology Museum has both permanent exhibitions and hosts temporary and special exhibitions from time to time. Details of temporary and special exhibitions can be found ahead of time on the website.
Permanent exhibitions include prehistoric Ireland where visitors can see examples of artefacts from the earliest inhabitants of the Emerald Isle. The Bronze Age exhibition has displays of some of the finest gold jewellery fashioned during this period including the famous torc neck rings. There is also a Viking exhibition dedicated to those who founded the first cities in Ireland in the 10th century.
No matter which exhibitions you explore, you won't leave disappointed after visiting one of Dublin's best museums.
The museum is open from 10am to 5pm Tuesday to Saturday and from 1pm to 5pm on Sunday and Monday.
Address: Archaeology, Kildare St, Dublin 2, D02 FH48.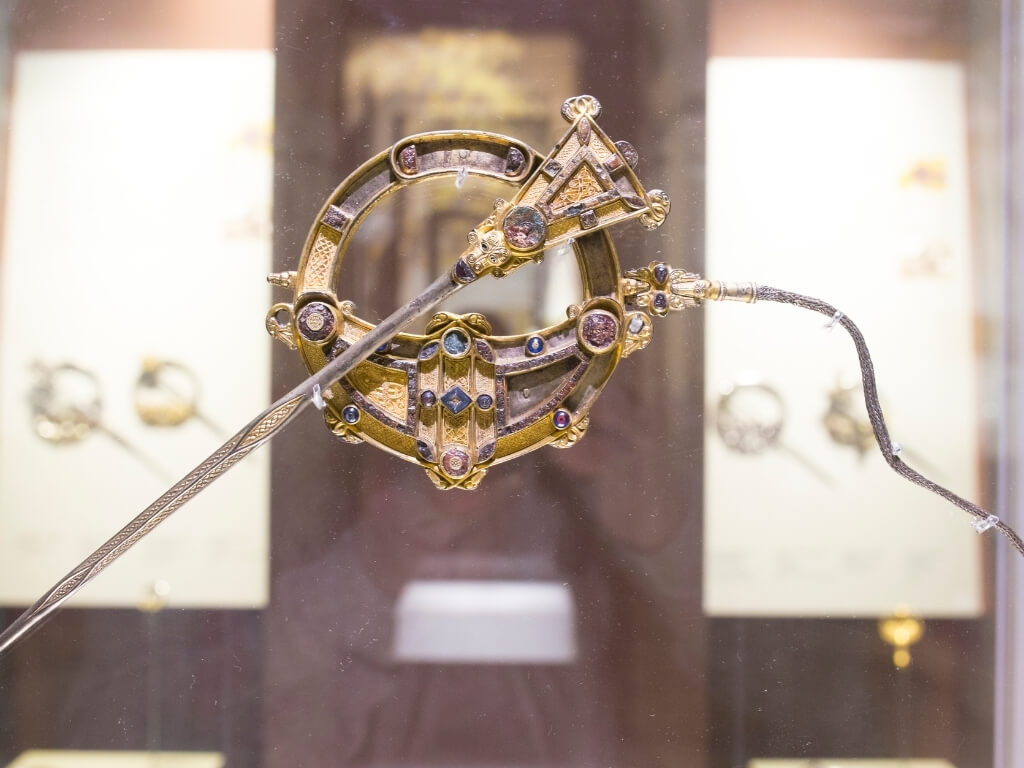 Revenue Museum
The Revenue Museum, located in the crypt of the Chapel Royal at Dublin Castle, is a small but great museum to visit. Giving visitors an insight into the history of collecting duties and taxes in Ireland, through interactive displays, videos and games that are often amusing, this is one of the top free museums in Dublin city centre.
Visitors can experience a glimpse into the varied activities of the Revenue Commissioners from tax collection to customs controls over the centuries. As well as colourful, interactive and engaging displays and exhibitions, visitors can view counterfeit goods and contraband often ceased by the inspectors.
Due to its location, the Revenue Museum is a great place to combine with a visit to both the Garda Museum and the Chester Beatty Museum. It is open on weekdays from 10am to 4pm.
Address: Chapel Royal, Dublin Castle, Dublin 2, D92 AD92.
Irish Museum of Modern Art
Often voted the best Dublin museum of art, the Irish Museum of Modern Art is located in the 17th-century Royal Hospital Kilmainham, just outside the city centre. It is Ireland's leading gallery and museum for modern and contemporary art. The museum has an ever-changing programme of exhibitions from its collection of over 3500 pieces by Irish and international artists.
As well as collection exhibitions, the IMMA hosts visiting exhibitions, details of which can be found on the website. Artworks pieces displayed include paintings, sketches, sculptures, photographs and more. The IMMA also holds family-friendly talks, workshops and tours which are engaging and interesting for children and adults alike. If there is a young artist among your family, the IMMA is worth a visit.
The museum is open Tuesday to Friday from 11.30am to 5,30pm, Saturday from 10am to 5.30pm and Sunday from 12.30pm to 5.30pm. The IMMA is closed on Mondays, except for bank holidays when it is open for Sunday hours.
Address: Royal Hospital Kilmainham, Dublin 8, D08 FW31.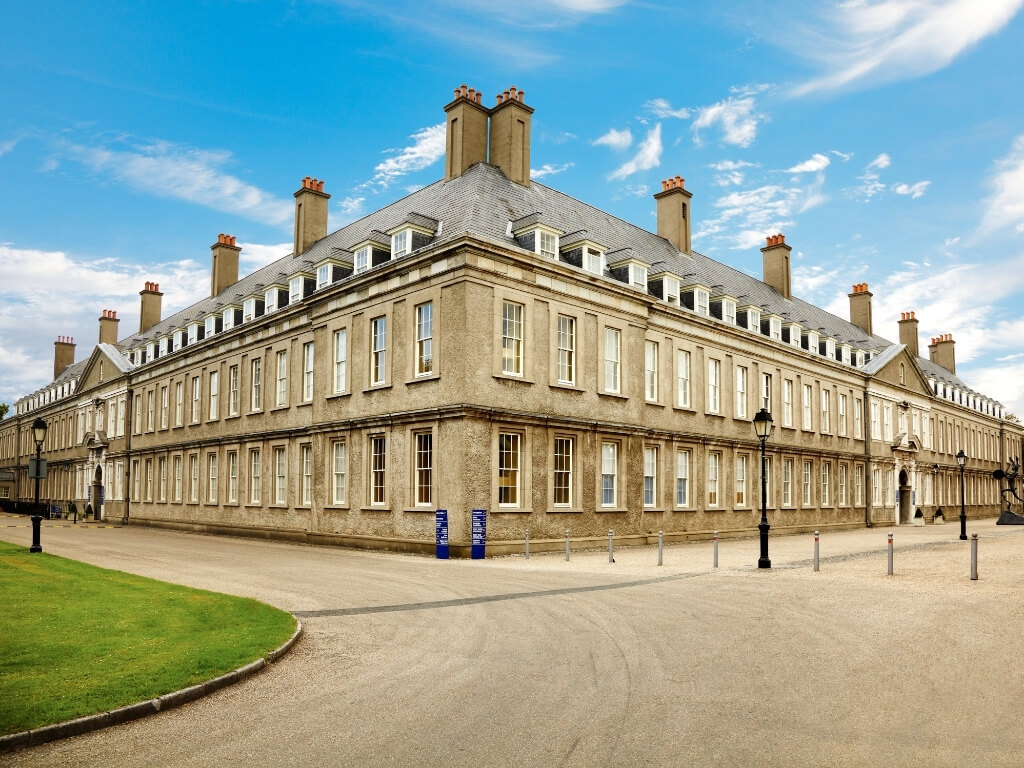 James Joyce Tower & Museum
While most of the free museums in Dublin to visit are located in the city centre, there is one outside the city that is worth visiting. The James Joyce Tower & Museum is located in Sandycove near Dun Laoghaire, which is a short DART ride from the city centre.
This Martello Tower was here James Joyce spent six nights in 1904 and was the location for the opening scenes of his Ulysses novel. The tower contains a museum dedicated to this Irish novelist and displays some of his possessions and items associated with Ulysses. It is a place of pilgrimage for Joyce fans.
It is an interesting place to visit and the living space is set to resemble how it would have looked in 1904 when the famous Irish writer stayed. If nothing else, the views across Dublin Bay are spectacular, so long as it's not grey and miserable. Either way, a visit to the James Joyce Tower and Museum is worth a visit, especially if you are a literature fan.
The museum is run by volunteers and is open 365 days of the week, from 10am to 6pm in summer and from 10am to 4pm in winter. For more information, visit the website.
Address: Sandycove Point, Dún Laoghaire, Dublin, A96 FX33.
National Gallery of Ireland
One of the best art museums in Dublin is the National Gallery of Ireland, which has an entrance located on Merrion Square and one on Clare Street. This gallery houses the national collection of Irish and European art which includes paintings, prints, sculptures and more.
Famous European artists whose works are part of the collection include Rembrandt, Caravaggio, Picasso and Monet. Irish artists include works by Barry, Hamilton and Osborne and also includes a large collection by Jack B Yeats, brother of William B Yeats and also John Butler Yeats, their father.
While the gallery is free to visit, visiting and special exhibitions may incur a fee, so it is best to consult the website before your visit so you go prepared. The gallery is located close to the Natural History museum, making them an ideal partner for a budget-friendly day out in Dublin.
The National Gallery of Ireland is open on Monday from 11am to 5.30pm, Tuesday to Saturday from 9.45am to 5.30pm and Sunday from 11.30am to 5.30pm. Visiting and special exhibitions may have different opening times, so check the website for full details.
Address: Merrion Square W, Dublin 2, D02 K303.
Museums in Dublin city centre are plentiful and not all incur an entrance fee as you can see from this list of Dublin free museums and galleries. Whether you want to discover Ireland's rich and varied history from the Stone Age to modern times, or want to immerse yourself in Irish art and culture, there are free museums in Dublin city to interest everyone, even children. And if the weather is typically Irish, these museums are some of the best free things to do in Dublin in the rain.
Note, that while these museums are free to visit, donations towards the running and upkeep of them are welcomed.
Learn more about visiting Dublin: