Dublin, the capital of Ireland, is a wonderful city to visit. Vibrant, welcoming and full of life around every corner, it is also a city that has so much to offer visitors.
However, it can also be an expensive city to visit.
But you don't have to break the bank while you are there. Here are our top picks of the best free things to do in Dublin.
Finding cheap things to do in any city can be a challenge sometimes. And often, visiting the main attractions can certainly make what might have been a relatively inexpensive city break a lot more costly. But there are always some free things to do that can be just as interesting without breaking the bank. And in this post, I'm rounding up some great things to do for free in Dublin, Ireland.
Top 10 free things to do in Dublin
Visit the Phoenix Park
One of the best places to visit in Dublin for free is the Phoenix Park. This huge urban park located just 2km to the west of Dublin city centre is 707 hectares enclosed by an 11km perimeter wall and there is a treasure trove to be found inside, most of which is free. The Phoenix Park also boasts the title of one of the largest enclosed recreational spaces within any European city.
The Phoenix Park is home to things like Dublin Zoo (one of the few payable attractions), Áras an Uachtaráin (home to the Irish president), the Wellington Monument, Papal Cross, the People's Gardens and the Magazine Fort, to name but a few. It is also home to a herd of fallow deer which can be spotted anywhere in the park, but most often around the area known as the Fifteen Acres playing fields near the Papal Cross.
Open 24 hours a day, 7 days a week, it is easily accessible from the city centre via both public buses and the Luas Red Line, alighting at either Heuston or Museum stops.
There is a Visitor's Centre which is free to enter and from which many of the tours within the park are both arranged and leave from. Free tours of Phoenix Park attractions include ones of Ashtown Castle, the Magazine Fort, Áras an Uachtaráin, Grangegorman Military Cemetery and Arbour Hill Cemetery. Spaces are limited and tours are only available on specific days and times. It is best to check the Phoenix Park Tours website for dates and times of the different tours.
The People's Gardens is a Walled Victorian Garden that is simply beautiful to wander through, especially during summer and it is free to visit. There are many areas to enjoy a walk or cycle, all of which are free. The Phoenix Park is a great place to while away a few hours, especially if you are on a budget in Ireland.
Stroll through Trinity College
Established by Queen Elizabeth I in the late 1590s, Trinity College is Ireland's oldest university and is in the heart of the city centre on the southside. A vibrant centre for education, it is one of the best free places to visit in Dublin if you are on a budget.
It is home to the famous Book of Kells (a payable Dublin attraction) but there are also a few free things to do and visit in Trinity College. Wander the cobbled quads (pathways) that have been walked by the likes of Bram Stoker, Jonathan Swift and Oscar Wilde and admire the architecture, archways and the Campanile tower. There are lots of nooks and crannies to explore and plenty lend themselves to interesting photo opportunities.
Stop into the Science Gallery where free workshops take place, or the Douglas Hyde Gallery to admire some contemporary works of art. You might be lucky to even catch a cricket match on the playing fields in the centre of the university grounds.
One of the best free tours in Dublin is the twice-daily walking tour which starts at the famous Spire on O'Connell Street. This three-hour tour takes visitors around the city of Dublin, visiting sights such as Trinity College, Temple Bar, Dublin Castle, Christchurch and St Patrick's Cathedrals.
This is by far the best way to explore the compact city centre with a local guide who is full of fun facts and can show you some hidden gems along the way. The guides are not paid but it is encouraged that participants leave a donation at the end. These free walking tours are popular and it is advisable to pre-book your spots.
Visit Dublin Castle
The 13th-century castle in the heart of Dublin was the controversial symbol of British rule for over 700 years before finally being handed to the Irish Free State in 1922. And today, apart from the tours of the State Apartment rooms, it is one of the best free tourist attractions in Dublin.
Tours of the State Apartments are payable and you can only visit the Viking Excavation and Chapel Royal as part of a tour but areas such as the beautiful gardens to the rear of the castle, the Garda Police Museum, the Revenue Museum and the Chester Beatty Library (see below) are all free to visit, making it one of the best and most interesting free attractions in Dublin to visit. Just don't be disappointed at the lack of a moat as this is not a castle as you might imagine one to be. You should check the Dublin castle website before visiting in case it is closed due to a State function or event, as it is a working government building.
Browse the shelves of the Chester Beatty Library
The Chester Beatty Library and Gallery, located in Dublin Castle, is a stunning collection of artistic, religious and secular works from around the world. It is also one of the brilliant free things to do in Dublin on a rainy day because it is an indoor attraction.
This museum and library were established in 1950 to house the collection of artworks and artefacts collected by Arthur Chester Beatty. Collections include works from places such as China, Egypt, Iran and Japan and from religions including Islam, Christianity and Buddhism. Within the collections, you will find examples of textiles, woodwork, jewellery and print including over 250 copies of the Qur'an and Christian biblical texts.
Artefacts date as far back as 2500 BC and it is a museum in which you can easily lose many hours. It is easily one of the best things to do in Dublin for free and should be visited, especially if you are already visiting Dublin Castle.
Visit the Dead Zoo (the Dublin Natural History Museum)
If you are looking for some free things to do with kids in Dublin then a visit to the Natural History Museum, known locally as the Dead Zoo, is a must. Located just off Merrion Square and easily reached by public transport, walking or even via a sightseeing bus, this free museum in Dublin City Centre is a great place to spend an hour or two.
Only two of the four floors are currently open, the upper two galleries are closed to the public due to safety concerns. But, the two lower floors are where you will find great collections from around the world. On the ground floor, you will find the Irish Room, with examples of past and present fauna from across the Emerald Isle including skeletons of Giant Irish Deer, a basking shark and animals such as fox, badger and hares.
The first floor houses a collection of animals from around the world including extinct animals such as the thylacine (extinct carnivorous marsupial) and endangered animals such as the pygmy hippopotamus. Other animals on display include an Asian elephant, cheetah and a humpback whale.
The Dublin Natural History Museum is a branch of the National Museum of Ireland and is one of the best free things to do in Dublin with kids.
See the 'dead' famous in Glasnevin Cemetery
Glasnevin Cemetery on the northside of Dublin is one of the top free things to do in Dublin city. It is the location of the graves and tombs of some of Ireland most famous people including Michael Collins (leader of the Irish Free State), Maude Gonne (muse of WB Yeats) and Luke Kelly (of the Dubliners band).
The cemetery is free to enter and is a great place to spot the names of famous people of Ireland's past and history. There is a museum to visit but that is payable, and tours of the cemetery are available which are also payable.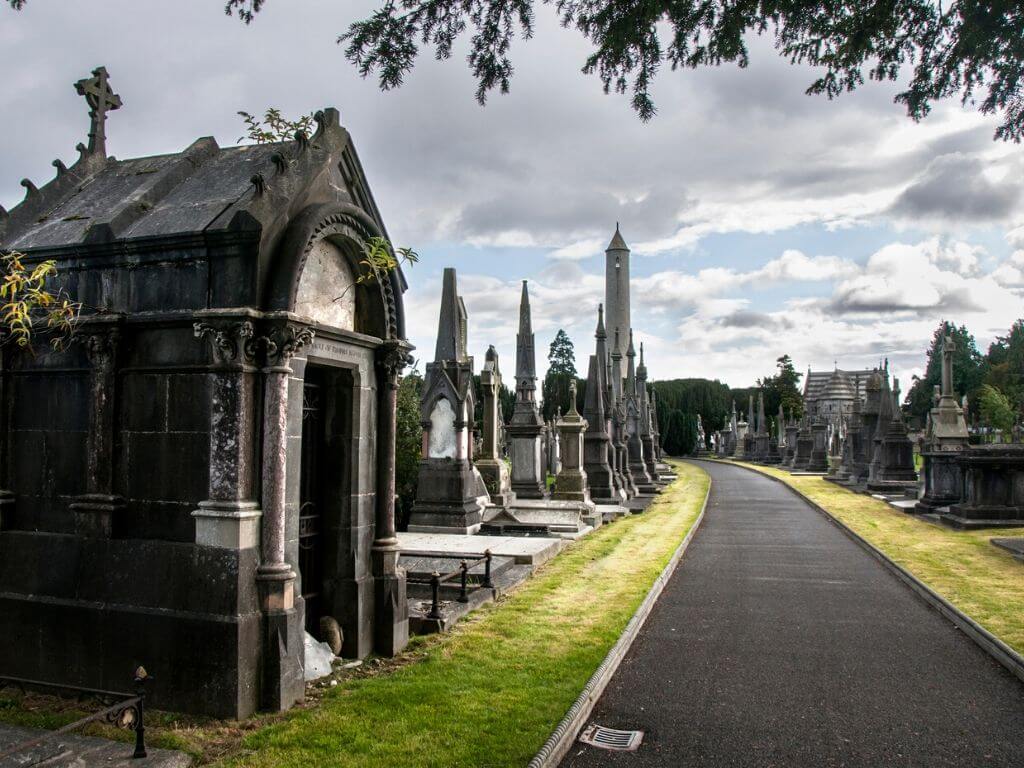 Visit the Botanic Gardens
The National Botanic Gardens of Ireland are also located in Glasnevin, just a short walk from Glasnevin Cemetery, making a visit to both a great idea for a free day out in Dublin.
The Botanic Gardens are famous for their restored and extensively replanted glasshouses. Among them, you'll find glasshouses dedicated to succulents and cacti, orchids, Alpine plants and most famous of all, the Great Palm House which was built in 1883 and restored in 2002 before reopening to the public in 2004.
Throughout the gardens, you'll find all manner of things to discover. There are guided tours available for a small fee from Monday to Saturday, but these are free on Sundays. The National Botanic Gardens in Glasnevin are one of the best free places to go in Dublin, particularly in the summer.
Enjoy some Art for free
Some of the best free museums in Dublin include the National Gallery and the Irish Museum of Modern Art. The National Gallery is located off Merrion Square, close to the Natural History Museum and houses a collection that includes art from Western Europe from the Middle Ages to the mid-20th century. You can see works by Jack Butler Yeats, Monet, Velazquez, Picasso and Gainsborough to name but a few.
The Irish Museum of Modern Art is housed in what was Kilmainham Hospital and was opened in 1991. The collection on display regularly changes and also hosts touring exhibitions. Both art galleries are free to visit and make excellent venues to visit if it is raining in Dublin.
Another gallery that is free to visit is the Hugh Lane Gallery on Parnell Square at the top of O'Connell Street. It houses a collection of modern art and often houses visiting exhibitions.
Visit the seaside
Being a coastal city, Dublin has some great seaside villages and towns to visit including Howth, Dun Laoghaire and the villages of Dalkey and Killiney, home to the rich and famous including Bono, Eddie Irving and singer Enya.
Howth is a fishing village located to the north of Dublin, while Dun Laoghaire, Dalkey and Killiney are located to the south of the city centre. All are accessible by the DART and are great places to spend the day, especially when the sun is shining. You can even hike the headland at Howth.
Other great free activities in Dublin to do
People watch
Whether you are doing it from the comfort of a pub window, a bench in St Stephen's Green or along Grafton Street, people-watching is a great free activity to do in Dublin. You can also do this in the Temple Bar area of Dublin city centre. At the weekend, you may be lucky to catch artists and performers around Temple Bar and on Grafton Street doing performances of dance, music and acting.
Enjoy some live music
No trip to Dublin would be complete without enjoying some live music and if you are lucky you might find some venues across the city hosting bands which are free to enter. One of the best places to catch some live music is Whelan's on Wexford Street, where there are no less than three stages, so you never know what you might hear. A visit to Whelan's is one of the best free things to do in Dublin at night.
Get some free laughs
The popular pub, the Stag's Head in Dame Court holds free comedy nights on Sunday, Monday and Tuesday and entry is completely free. Stand-up shows are aplenty and they even throw in free ice cream. The events are called 'The Comedy Crunch' and are a great way to spend an evening in Dublin.
Get your fill of history at the Collins Barracks Museum
One of the best free museums in Dublin is the Collins Barracks Museum, part of the National Museum of Ireland. This and the three other sites are free entry. It was an army base for over 200 years before being renovated for use as a museum dedicated to Irish history.
Named after Michael Collins, the museum has exhibitions including the Irish Wars 1919-1923, Proclaiming a Republic: The 1916 Rising and 21st Century Irish Craft, to name but a few. There are a huge number of exhibitions to see, so a visit to Collins Barracks Museum should not be rushed.
Say hi to Molly Malone
Originally located at the bottom of Grafton Street, this bronze statue pays homage to the lady from the popular song set in Dublin and was unveiled during the millennium celebrations marking 1000 years of Dublin city in 1988.
Molly, a fictional character, was said to be a fishmonger who plied her trade in Dublin, using her 'wheelbarrow'. With her low-cut dress, the bronze hue around her bosoms has started to wear off. She is now located in Suffolk Street outside the Tourist Information Office and you should certainly get your picture taken with her.
Final thoughts on the best free things to do in Dublin
I hope you have discovered that there are plenty of free things to do in Dublin without having to spend more euros.
Many of the museums and art galleries are perfect places to visit if it is raining in Dublin and many of the activities mentioned are also some of the best free things to do in Dublin for families.
Will you be planning a visit to Dublin soon?
You might also like to read: