There is no shortage of tourist attractions and must-visit places in Dublin. But did you know that there are also a host of unique and unusual things to do in Dublin that you won't find anywhere else? Even some of Dublin's best tourist attractions are unique to the Irish capital.
*This post contains affiliate links, which may include Amazon affiliate links. To read more about affiliate links, please visit my Disclosure Policy page.
When planning a trip to the Emerald Isle and its capital, you'll no doubt be looking for the best things to do in Dublin to ensure you don't miss the must-visit places and tourist attractions. Some of the attractions are among the most unique and unusual things to do in Dublin as you won't find them anywhere else in Ireland (or even the world). When planning your Dublin itinerary, make sure to add a few of these onto it.
Unusual things to do in Dublin
Whether you are looking for 10 things to do in Dublin or 50 things to do in Dublin, this comprehensive list will give you some ideas of unique things to do in Dublin to add to your planned visit. These will include things like unique museums to visit you will only find in Dublin, to some of the best quirky places to eat and drink in Dublin.
Unique things to do in Dublin involving the dead
Glasnevin Cemetery and Museum
One of the 10 top things to do in Dublin is to visit Glasnevin Cemetery and Museum. Opened in 1832, this large cemetery holds the graves and memorials of many notable Irish figures including Michael Collins, Charles Stewart Parnell, Maud Gonne (WB Yeats muse), Éamon de Valera (former Taoiseach and President of Ireland) and Luke Kelly (of The Dubliners). The museum gives an insight into the lives of some of the people buried at the cemetery through interactive exhibits.
Why not join a guided tour of Glasnevin Cemetery and learn more about Dublin's history. Find tickets, latest prices and availability here.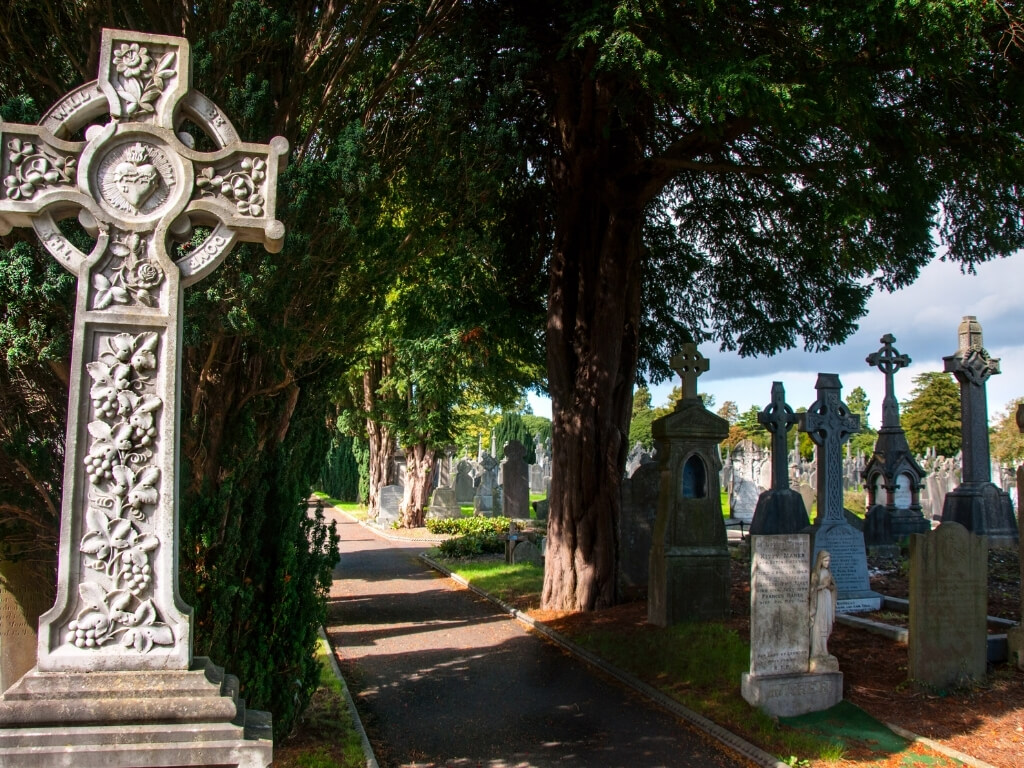 Relics of St Valentine
Whitefriar Street Church, located on Aungier Street holds relics of Saint Valentine. A Roman Catholic Church, the relics were donated to this church by Pope Gregory XVI from the cemetery of St Hippolytus in Rome. The relics include some of the remains of St Valentine in the form of a vessel tinged with the blood of the saint and some other remains of his body, thought to be bone. The church itself is beautiful and contains shrines to St Valentine and Our Lady of Fatima and Our Lady of Lourdes.
St. Michan's Mummies
If you are looking for Dublin things to see that are truly unique, then head to St. Michan's Church located on Church Street where you will come across mummified remains that are 800 years old.
The church originates from the 11th century, although the current building dates from the late 17th century. Despite the church having been rebuilt, the crypt where caskets stand has been left untouched and it is there you can view the mummies. These include a nun, a crusader six-and-a-half-feet tall and the bodies of the Sheares brothers who took part in the 1798 Irish Rebellion against the British rule in Ireland.
The crypt is made from limestone which keeps the vaults dry, making it an ideal environment for mummification. And as the wood dries out, the caskets open revealing their mummies. Since the coffins have technically not been opened by anyone, this allows the public to view the mummies without causing problems with the church rules. Nonetheless, they are unusual and worth going to see.
Kingship and Sacrifice Collection
One of the top 10 free things to do in Dublin is to visit the National Museum of Ireland. And in particular, the Kingship and Sacrifice collection. In this exhibition, preserved bog bodies are on display and visitors can view them and learn about how sacrifice and the burial of the victims in the bogs was related to kingship and sovereignty. Along with the preserved bodies, other artefacts such as royal regalia, weapons and feasting utensils are also on display.
If you are looking to keep costs down in the city, then find out more of the best free things to do in Dublin here.
Strange things at Christ Church
If you are looking for unusual Dublin things to see, then head to Christ Church Cathedral. Originally a Viking church and now the Cathedral of the United Dioceses of Dublin and Glendalough (Anglican Church of Ireland), Christ Church Cathedral holds some unusual things to see alongside its magnificent architecture.
The preserved heart of Saint Laurence O'Toole, encased in a wooden heart-shaped box, is on display in the Cathedral. And a mummified cat and rat are on display in the crypt. Legend has it that the cat chased the rat behind the organ and both became stuck. They were mentioned in James Joyce's Finnegan's Wake and are known locally as 'Tom and Jerry'.
If you want to visit Christ Church Cathedral, pre-purchase your skip-the-line tickets here.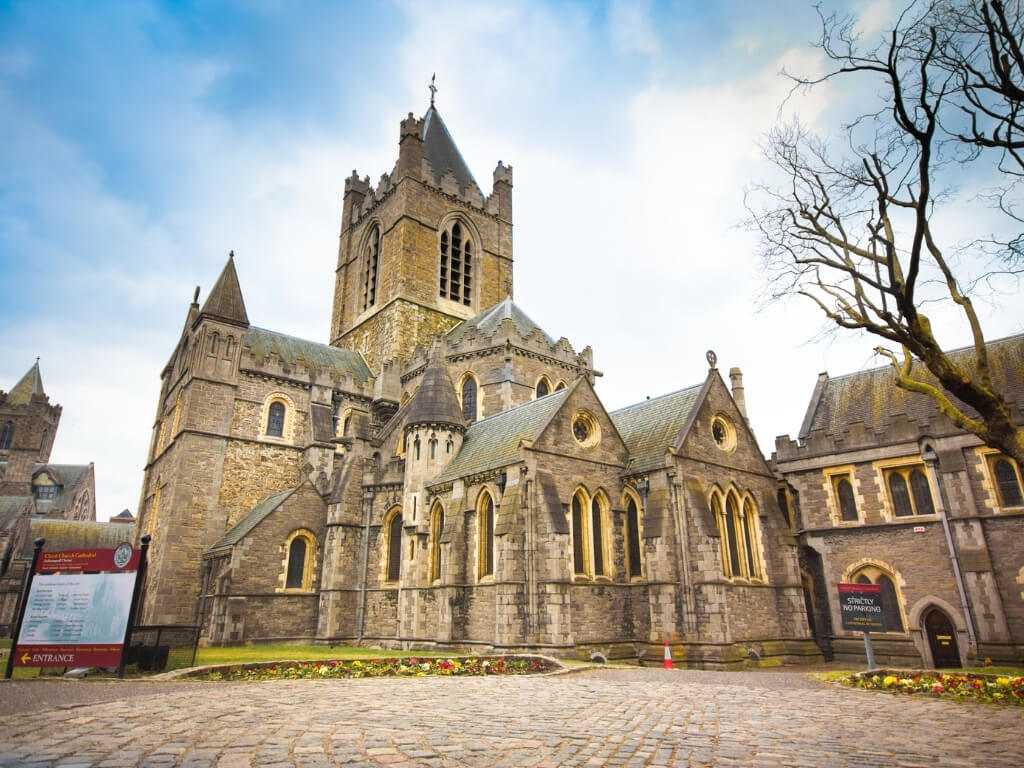 Unique sights of Dublin
Kilmainham Gaol
One of the best things to do in Dublin, Ireland is to visit Kilmainham Gaol. This former jail housed many revolutionaries and political prisoners including the leaders in the 1916 Easter Rising.
Visitors to Kilmainham Gaol can only gain entry via timed guided tours which give an insight into the jail and its former inhabitants. As well as tours of the building and grounds, visitors can see artefacts from the 1916 Rising in the museum and artworks by prisoners incarcerated in prisons across Ireland.
If you are looking for a truly unique experience in Dublin, visit Kilmainham Gaol. Just make sure to book your tickets early to avoid long queues or disappointment. Get your tickets through the Kilmainham Gaol website.
Dublinia
One of the cool things to see in Dublin is the different exhibitions at Dublinia. Dublinia is an interactive museum located across the road from Christ Church Cathedral and shows the history of Dublin from the Vikings, through the Medieval Ages and into Modern-day Dublin.
Costumed characters are on hand to re-enact scenes and answer questions you might have about things from the era in which they are from. There is a Viking level, one dedicated to Medieval Dublin and one level on which kids can pretend to be archaeologists digging for artefacts. If you are looking for children's things to do in Dublin, I highly recommend a visit to Dublinia. With plenty of interactive exhibits and more, they are sure to find it fascinating.
And if you are planning a visit to Dublinia, why not get a Dublin Pass which includes entry to Dublinia and more. Get more information here.
GPO – General Post Office
Located on O'Connell Street, and hard to miss, is the headquarters of the Irish Post Office, the GPO (General Post Office). It is an important building and one of Ireland's most famous.
During the 1916 Rising, it served as the headquarters for the uprising's leaders and it was from there that Padraig Pearse read out the Proclamation of the Irish Free State. The GPO has a visitor centre commemorating the rising called GPO Witness History and this is worth visiting. If you are going to visit, or even just pass by the GPO, check the columns outside where you might be lucky enough to spot bullet holes still remaining from 1916. Entry to the GPO Witness History Museum is included in the Dublin Pass mentioned above.
Dublin Castle and the Chester Beatty Library
Another unique place to visit in Dublin and one of the 10 best things to do in Dublin is Dublin Castle and the Chester Beatty Library, located on the grounds of Dublin Castle. As well as being a major government complex, Dublin Castle has State Apartments which visitors can visit and you will also find the Revenue Museum, Garda Museum, several important Towers and the Chapel Royal (now used as an arts centre).
On the grounds of Dublin Castle, you will also find the Chester Beatty Library, a unique and interesting place to visit in Dublin. Located in the Clock Tower, this world-famous library is one of the best in Europe and is home to the amazing collection from the mining magnate Alfred Chester Beatty. Among the collection are artistic, religious and secular works from around the world including the world's finest collection of Qu'rans. This is also one of the best cheap things to do in Dublin as entry is free.
The Spire
Sitting in the middle of O'Connell Street, opposite the GPO is the Spire. This 120-metre (390 feet) large, stainless-steel pin-like monument is also sometimes called the Monument of Light. It was built on the site of Nelson Pillar, which was damaged in an explosion by Irish republicans in 1966. The base has a design running around it, representing the rock base under the Spire and the DNA double helix strand. At dusk, the base is lit up and also the top 10m. It is a sight to see.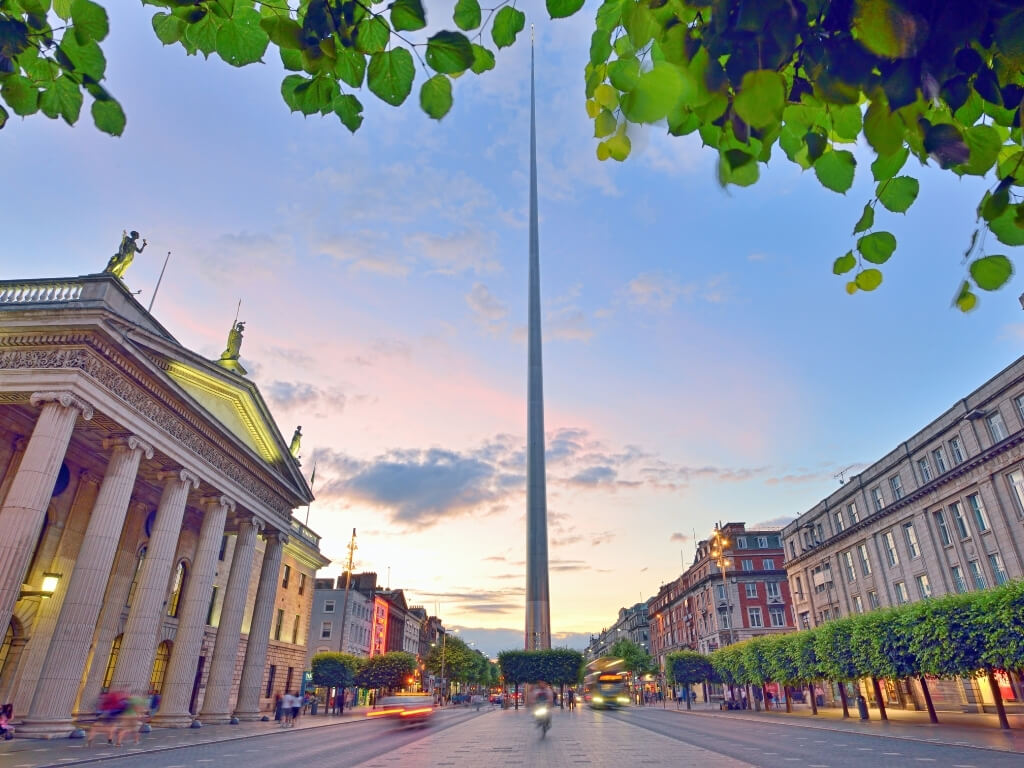 Croke Park Stadium
Croke Park Stadium, located a short distance from the city centre is one of the best things to see in Dublin. Home to Gaelic games such as Gaelic football and hurling, this huge stadium is the principal national stadium of Ireland and also the headquarters of the GAA (Gaelic Athletic Association). Visitors can take tours of the stadium, see the Hall of Fame and get a bird's eye view of the stadium from the media centre. This is Ireland's most famous sporting venues and worth a visit if you like sports. Pre-book your stadium tour and museum visit here.
Jeanie Johnston Tallship
The Jeanie Johnston Tallship is a replica of a ship with the same name that made many voyages from Ireland to the US and Canada in the mid-1800s. While moored on the docks in Dublin, it is a living museum on 19th-century emigration. It is also sometimes called a Famine ship as it ferried emigrants from Ireland during the Great Famine. A 50-minute tour will give you the history of the boat, tell you what life was like for the passengers and let you discover this great ship. Entry to the Jeanie Johnston is included in the Dublin Pass.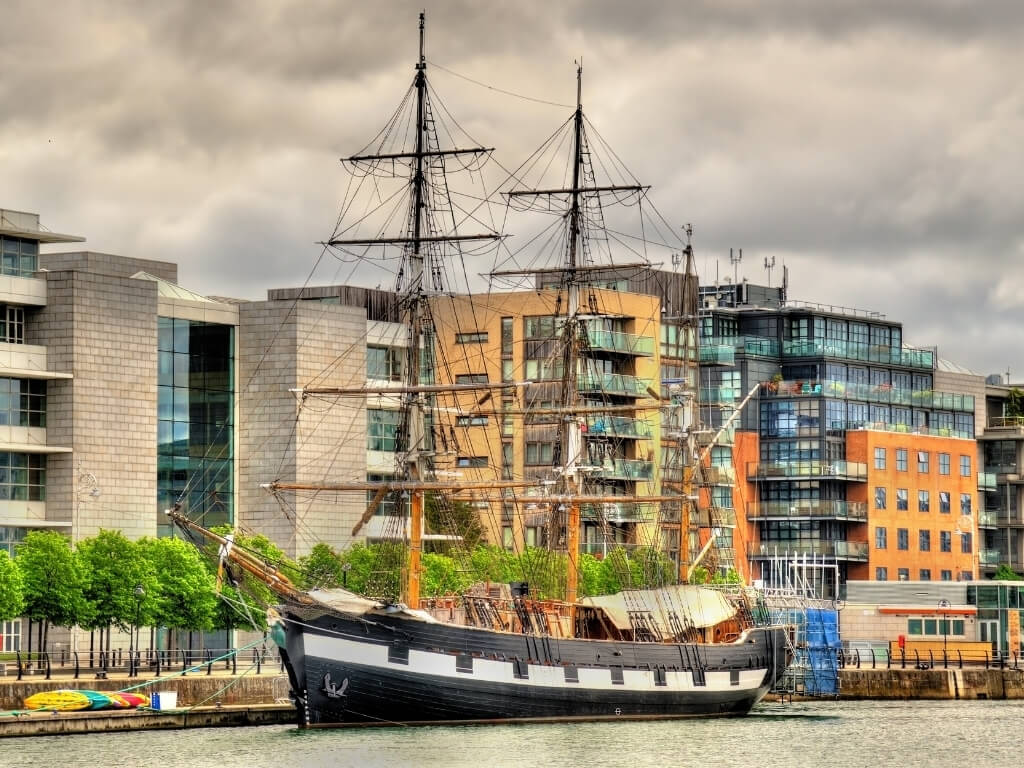 Molly Malone
If you are looking for one of my top 10 things to do in Dublin, then paying Molly Malone a visit is a must. Originally located at the bottom of Grafton Street, she now resides on Suffolk Street, having moved in 2014, something that surprised me when I went looking for her in 2018!
There is a song about this famous fishmonger, selling her
Cockles and mussels, alive alive-o.
Whether the statue is based on a real person remains a mystery, but her bronze statue, erected as part of the 1988 Dublin Millennium celebrations is a must-see if you are in Dublin for a few days.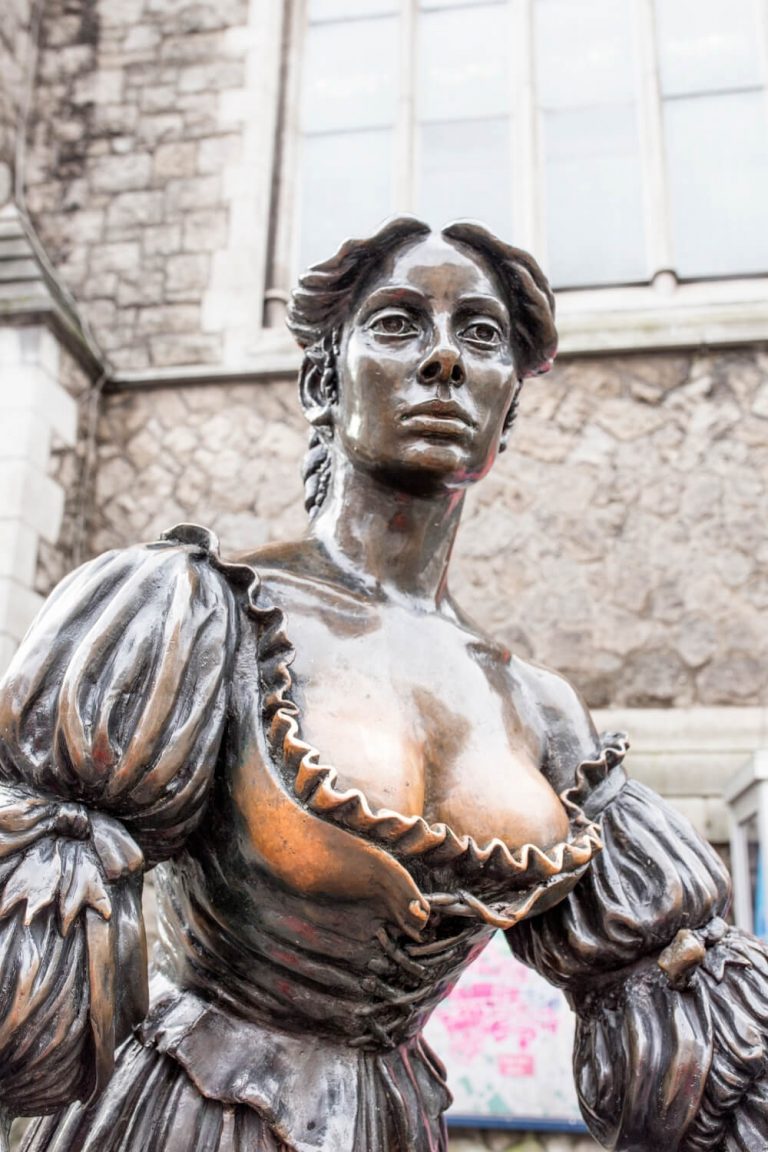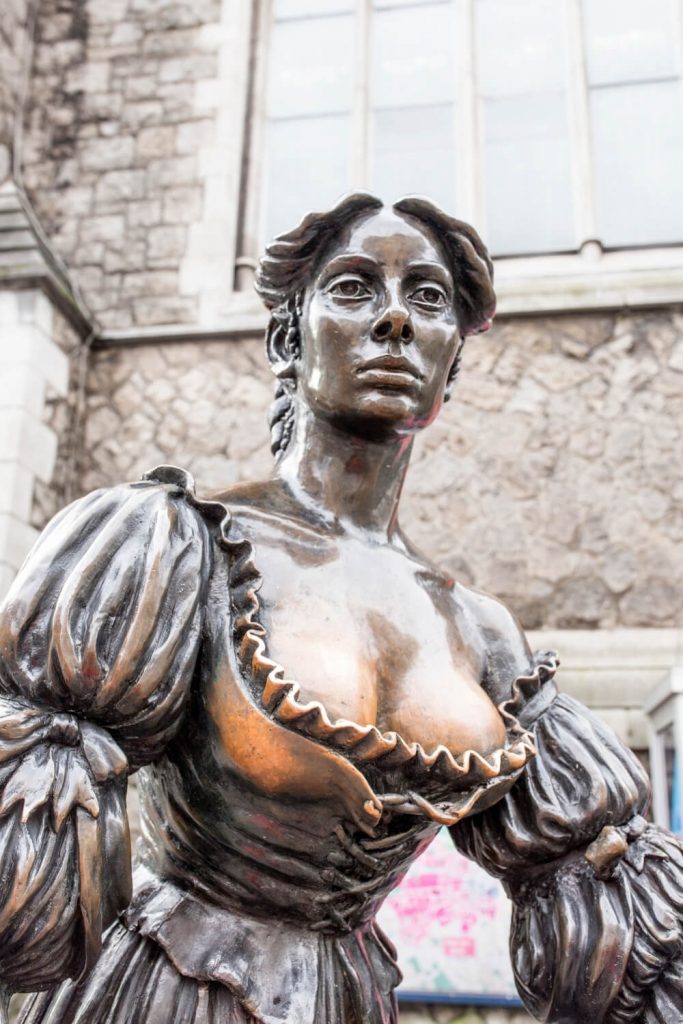 The great outdoors in Dublin
National Botanic Gardens
If you are looking for outdoor things to do in Dublin, then visiting the uniquely beautiful National Botanic Gardens in Glasnevin is a must. Founded in 1795 and home to over 20,000 living plants, these gardens are a beautiful place to visit on a sunny day in Dublin.
As well as gardens including a bog garden and rose garden, the National Botanic Gardens also have fine examples of Victorian glasshouses. These are home to palm plants, fern and cacti among other things. This is a great free thing to do in Dublin, although you need to pay for a guided tour if you don't want to self-guide your way around the gardens.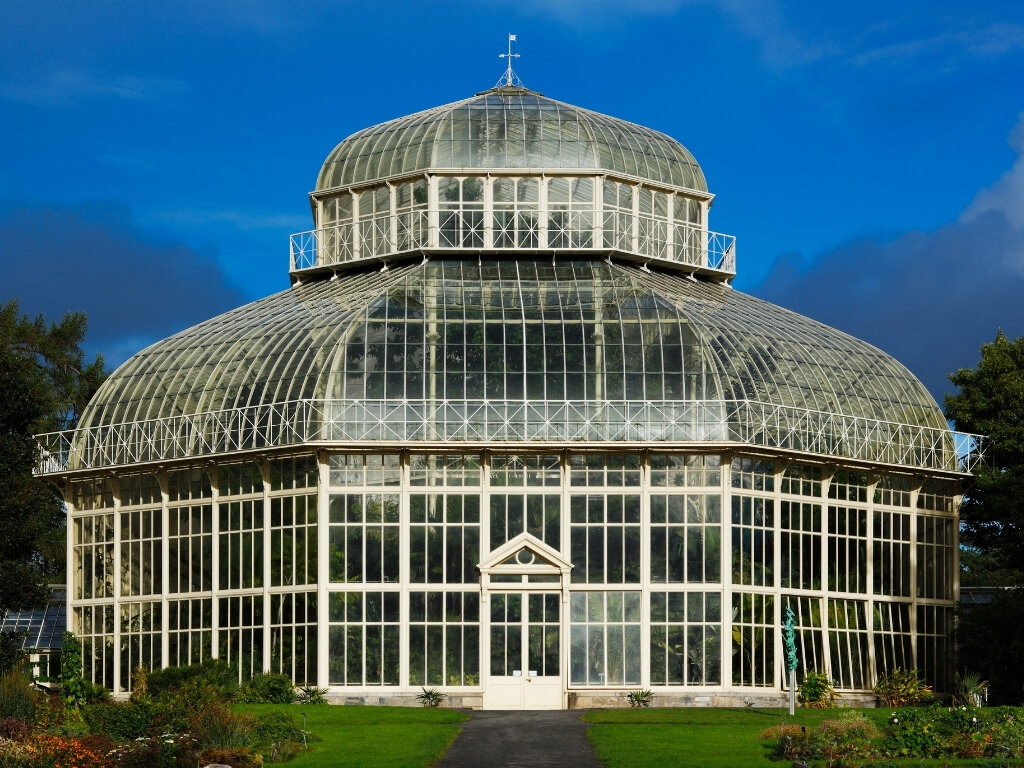 St. Stephen's Green
The beautiful Georgian square garden of St Stephen's Green is located at the top of Grafton Street and is a lovely place to visit in Dublin. A place of peace and tranquillity in a bustling city, St Stephen's Green has a lake, ornamental gazebo, bandstand and various gardens and lawns. There is also a children's playground. There are also busts and statues at the entrances and dotted around the park which is worth seeing. If you want somewhere quiet to sit down before continuing your sightseeing, head to St Stephen's Green.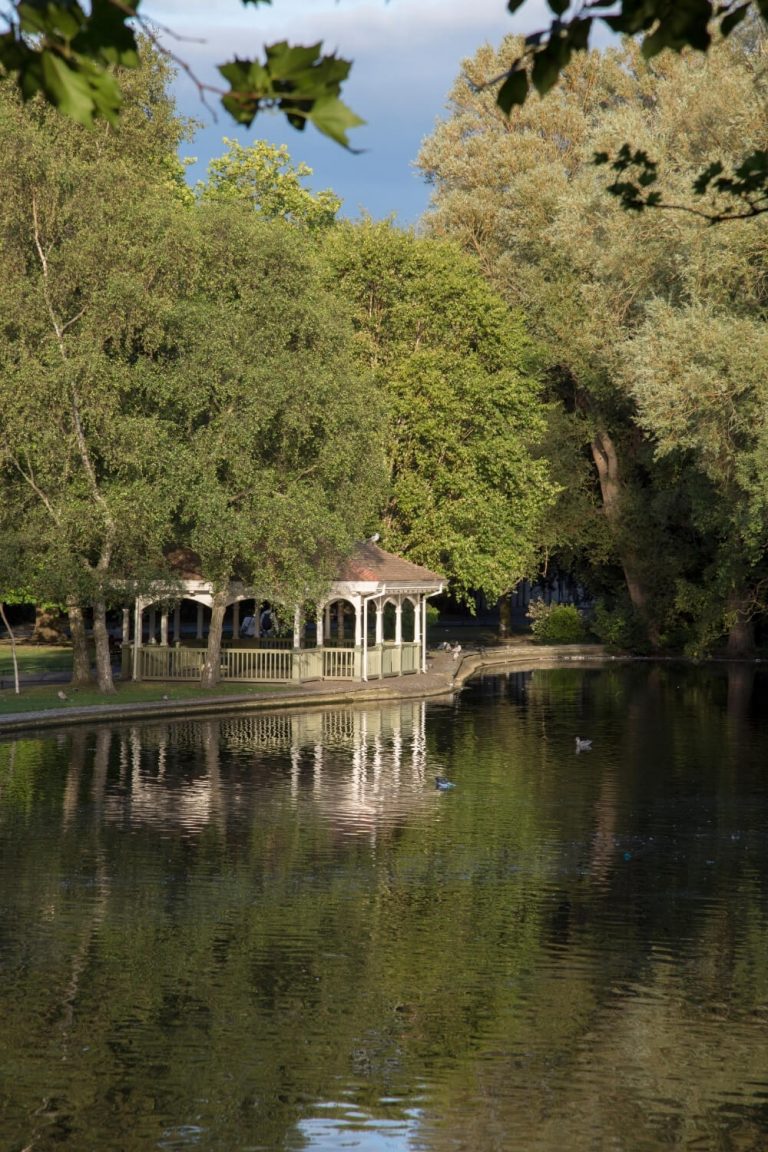 Phoenix Park
The best place for those who love the outdoors is the Phoenix Park. As one of the largest enclosed recreational parks in Europe, the Phoenix Park is home to Dublin Zoo, the Papal Cross, the President's home of Áras an Uachtaráin, the Wellington Monument and the People's Gardens. There is also a herd of fallow deer which roam the park and can often be seen in the woods near the Papal Cross in the early morning. It is a large space and one of Dublin's most beautiful and unique spots to visit. And best of all, it is free (although Dublin Zoo is payable).
Samuel Beckett Bridge
One of the best things to do around Dublin is to go and cross the Samuel Beckett Bridge over the River Liffey. A new addition to the city since I left, this cable-stayed bridge joins Sir John Rogerson Quay on the southside to Guild Street and North Wall Quay on the northside. The shape of the spar and the cables are said to invoke an image of a harp lying on its side. If you are looking for unique things to photograph in Dublin, this bridge is a must.
Ha'Penny Bridge
One of the coolest things to do in Dublin is cross the Ha'Penny Bridge. This pedestrian bridge over the River Liffey was built in 1816 and connects Temple Bar with Lower Liffey Street and used to cost a ha'penny (a half penny) to cross it. Its official name is the Liffey Bridge and is made of cast iron. It was made to replace the ferries that were in operation to bring people from one side of the Liffey to the other. It is an iconic sight in Dublin and one of the most photographed parts of the city.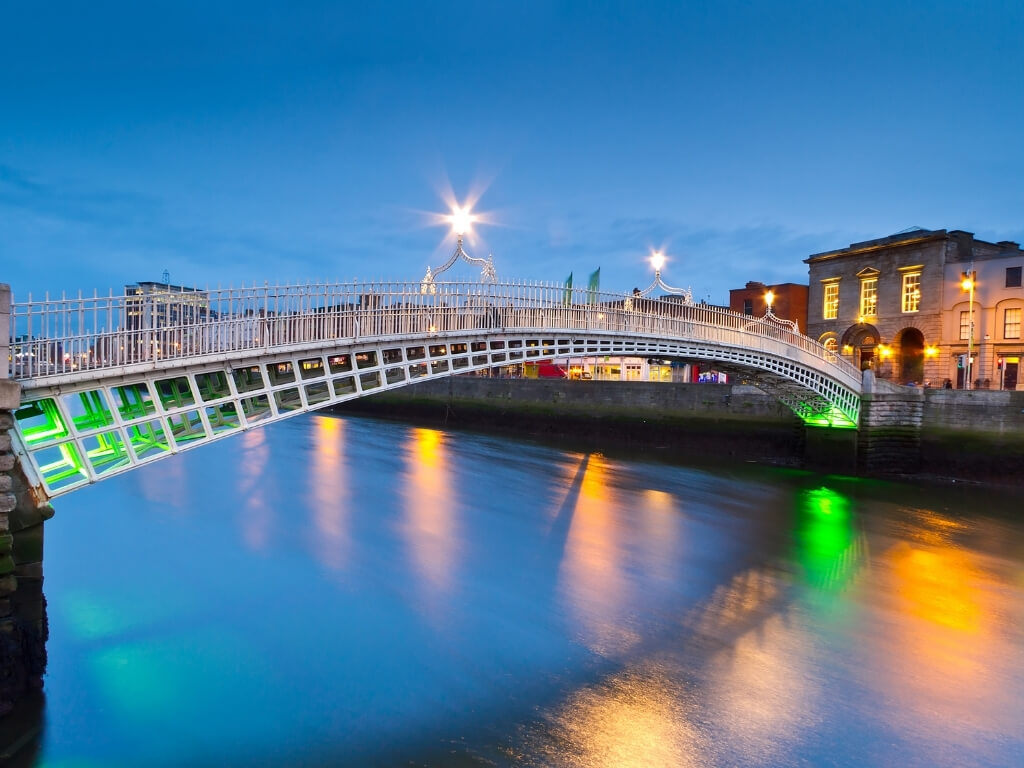 The Meeting Place
This bronze statue of two ladies talking is located at the end of Lower Liffey Street, just across from the Ha'Penny Bridge and is something I have passed hundreds of times in Dublin. It features two ladies having a chat after shopping in the city, one with an Arnott's bag from the shop on nearby Henry Street. It was erected in 1988 and is a statue you are sure to come across if you go to the northside of Dublin via the Ha'Penny Bridge. Make sure to grab a picture as you pass by.
Famine Memorial
Head to Custom's House Quay and there you will find the Famine Memorial. This poignant memorial has five life-size figures dressed in rags and clutching their children and belongings. They represent the hundreds of thousands of people who fled Ireland during the Great Famine in search of a new life. It was created in 1997 and has a sister memorial in Toronto, created in 2007.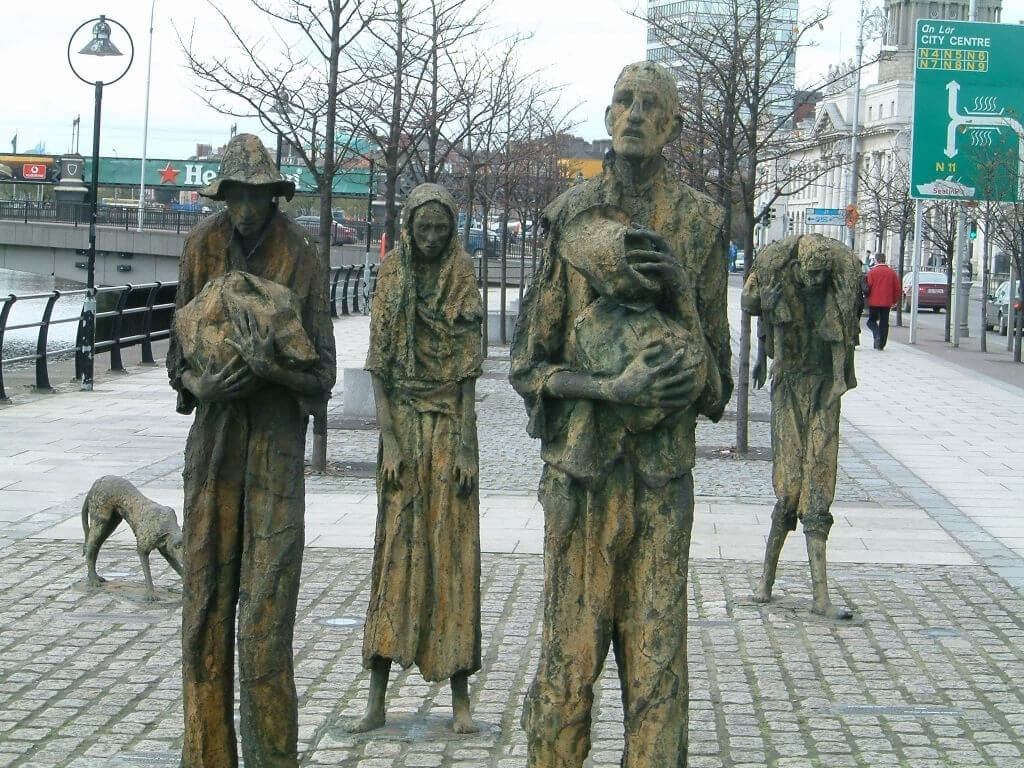 Proclamation Sculpture
Another unique thing to do in Dublin is to see the Proclamation Sculpture across the street from Kilmainham Gaol. A permanent outdoor sculpture, it honours the leaders of the 1916 rising as well as the authors of the Irish Proclamation of Independence. The sculpture by Rowan Gillespie has fourteen figures representing those executed in Kilmainham Gaol, blindfolded and with bullet holes. It is a powerful reminder of the struggles for a Free Ireland.
Brown Thomas
If you are looking for unique Christmas things to do in Dublin, then you need to head to Grafton Street to see the dressed windows of Brown Thomas. Formerly the home of Switzers, this activity in the festive season is a Dublin tradition and I regularly went into the city centre with my family to view the Christmas windows at then-Switzers (now the home of Brown Thomas).
Poolbeg Lighthouse
If you are looking for unique and adventurous things to do in Dublin, then why not take a walk to Poolbeg Lighthouse. This red, active lighthouse at the mouth of the River Liffey has been a navigational aid to visiting boats and ships since 1767, with the present lighthouse having been built in 1820.
As one of three in Dublin Bay, it extends 4 miles into the bay at the end of one of the longest remaining sea walls in Europe. It once held the honour of being the longest walls in the world. It commands great panoramic views from Howth in the north to Bray and the Wicklow Mountains in the south and is a great place to visit if you fancy a long walk. Just make sure to watch the weather forecast before you set off.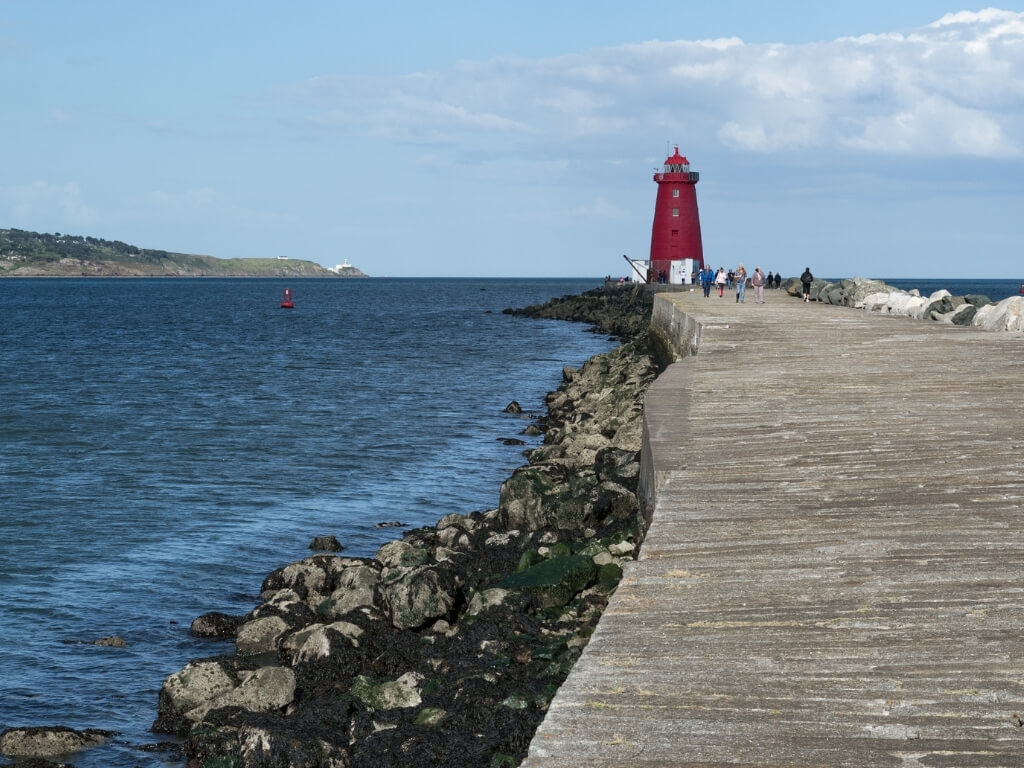 The Hungry Tree
Have you ever seen a bench being swallowed by a tree? If not, and you'd like to, then you can do so by visiting one of the Dublin hidden gems. Located in the Kings Inns Park, the tree in question is a London plane and was planted over 100 years ago next to a cast iron bench from the early 1800s. Over the years, the tree has grown to encompass the bench, earning it the name of the Hungry Tree.
Garden of Remembrance
The Garden of Remembrance is located in the northern fifth of Parnell Square and was created to remember
Those who gave their lives in the cause of Irish Freedom.
Originally opened in 1749 as a pleasure garden whose fee was used to fund the Rotunda hospital, it was commemorated, during the 50th anniversary of the 1916 Easter Rising, by Eamon de Valera to all the freedom fighters from various Irish rebellions during British rule. It has a sunken water feature, a statue of the Children of Lir. It is a place of quiet reflection and is free to visit.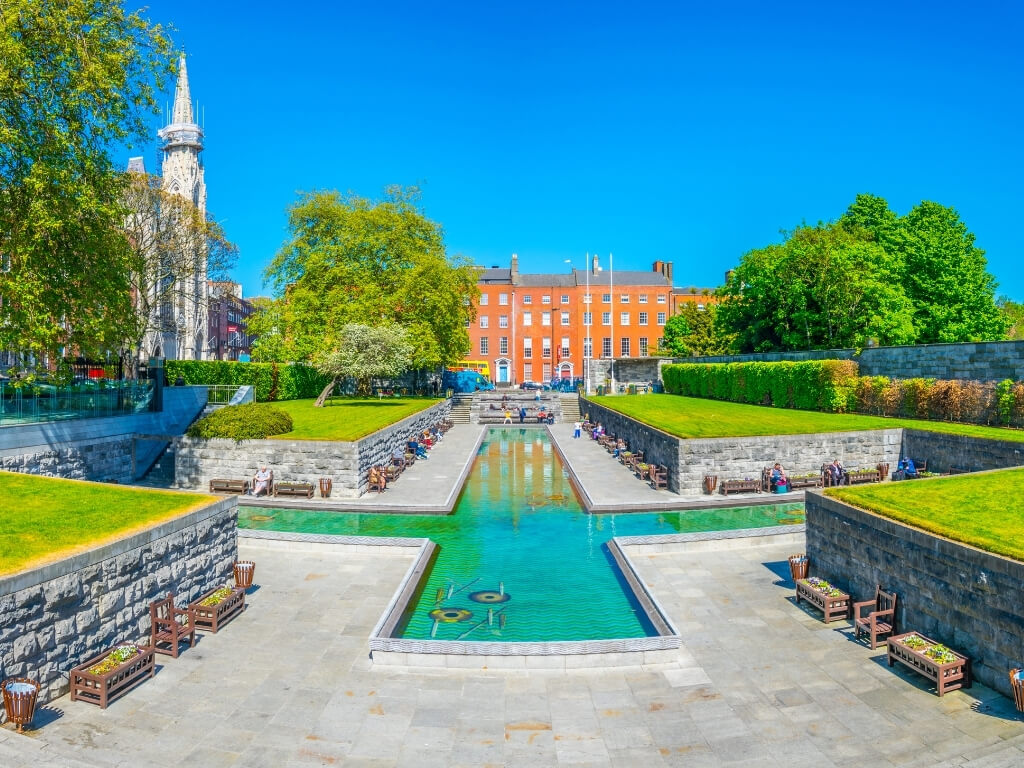 Wolfe Tone Statue
Theobald Wolfe Tone was a Dublin-born republican who lived in the late 1700s. He was a rebel who led a French military force during the 1798 insurrection. His statue stands at the entrance to St Stephen's Green, not far from the Shelbourne Hotel. If you are passing by St Stephen's Green, he is worth a visit and you can find out more via the QR code on him.
Táin Bó Cúailgne Mosaic
When it comes to cool things to do, Dublin has a few and visiting the Táin Bó Cúailgne Mosaic is one of them. A colourful mosaic located along Nassau Street, it depicts the Irish folk story of Cuchulain. It was created by a Belfast artist, Desmond Kinney in the 1970s and is a sight to see. The mural depicts several events and characters from the story of Cuchulain and is located in a car park behind the Kilkenny shop. It's one of the cheap, fun things to do in Dublin.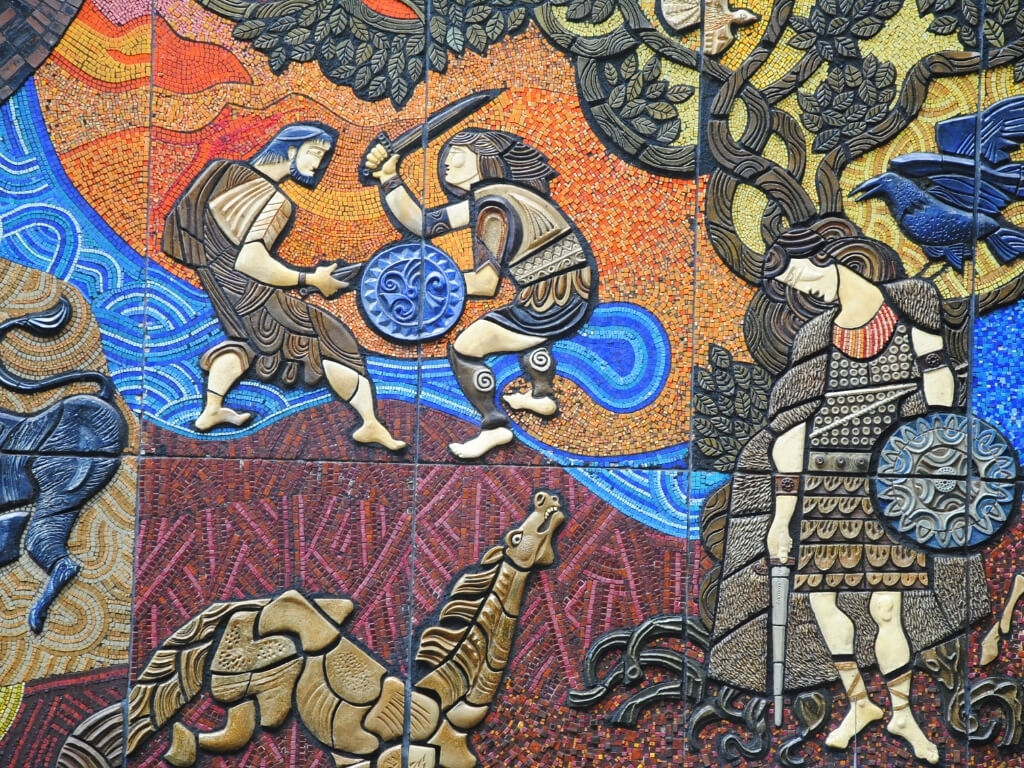 The Forty Foot
One of the best things to do near Dublin is pay a visit to the Forty Foot. Located in Sandycove near Dun Laoighaire, this is somewhere my Dad has swam in his youth. It is a promontory (raised mass of land) where the people of Dublin have been swimming for over 250 years. It was once named one of the best places to swim in the world by the New York Times and it featured in James Joyce's Ulysses. It is an interesting place to visit and damn cold to swim in!
Unusual things to do in Dublin involving Art, History, Literature and Culture
The Long Room Library in Trinity College
If you are looking for unique literary and cultural things to do in Dublin, then you must visit the Long Room Library in Trinity College. This 65-metre (213 ft) long chamber was built in the early 1700s and houses over 200,000 of the Trinity Library's oldest books. The room is lined with marble busts of philosophers, writers and men who supported Trinity College. It also houses one of the last copies of the 1916 Proclamation of the Irish Republic and the Brian Boru harp (the national symbol of Ireland).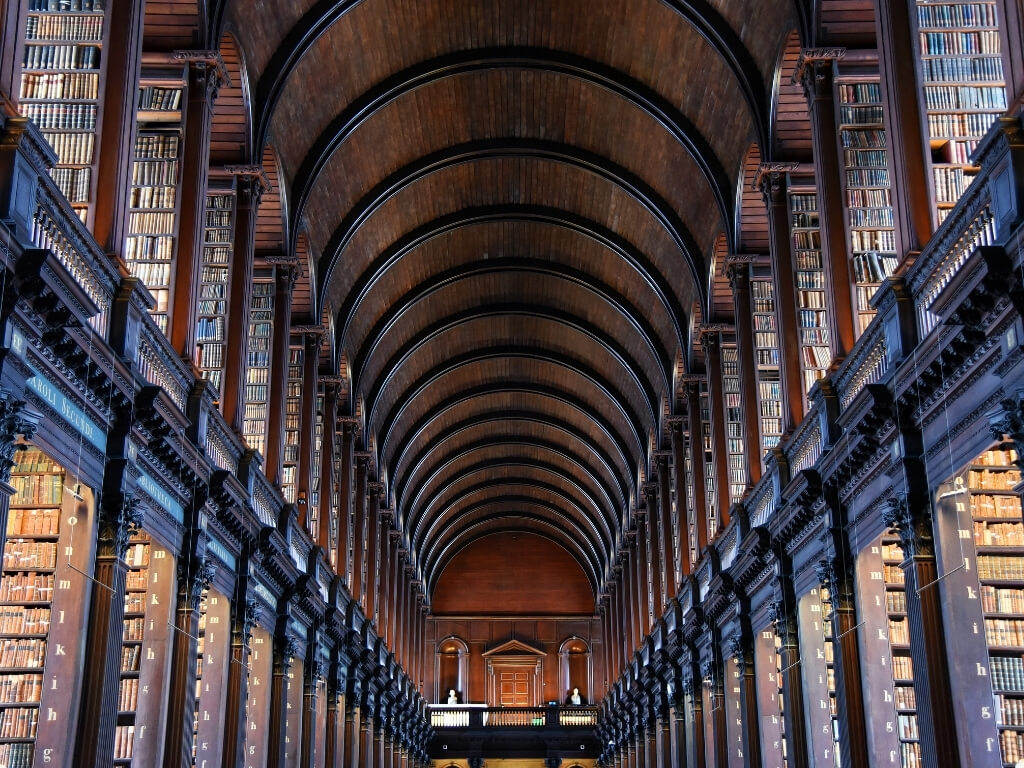 The Dead Zoo
Another great place to visit in Dublin for something unique is the Natural History Museum, also known as the Dead Zoo. This museum holds specimens of fauna native to Ireland and from around the world over two floors. You can also view the Irish Elk Collection including the now extinct giant deer. It is also one of the best free museums in Dublin and can be combined with a visit to the National Gallery of Ireland which is located beside it on Merrion Square.
Dublin Writer's Museum
Located on Parnell Square and facing the Garden of Remembrance is the Dublin Writer's Museum in an 18th-century house. In the museum, you will find displays, activities and collections of works from Irish literature. The writers featured in the museum have made significant contributions to literature both in Ireland and around the world. There are personal letters, first editions of famous books and more on display. If you love literature you will love the Dublin Writer's Museum.
Why not take a private literary tour of Dublin and visit this and other places in Dublin. Find more information and book a tour here.
Francis Bacon's Preserved Art Studio
In the Hugh Lane Gallery, also on Parnell Square, you can find the complete Francis Bacon Preserved Art Studio. The gallery obtained the entire contents of the artist's South Kensington studio and recreated it at the Hugh Lane Gallery in Dublin. Even the walls, doors, floor and ceiling were removed from London and transported to Ireland. It is perfectly preserved for visitors and shows the chaotic nature of the man. It is a truly unique thing to do in Dublin.
Oscar Wilde House
The Oscar Wilde House is where the writer spent most of his formative years and is located at Merrion Square, at the American College who run tours of the house. Visitors can travel through various rooms including the dining room, sitting room and his doctor father's surgery. To find tour availability and prices, click here.
Statue of Oscar Wilde
And if you are visiting the Oscar Wilde House, make sure to go and see his statue across the road on Merrion Square. He is reclining, looking across at his former childhood home and his statue is made from three different types of stone. He is flanked by two additional statues, one of his nude pregnant wife and one of a male torso representing the Greek God of drama, Dionysus.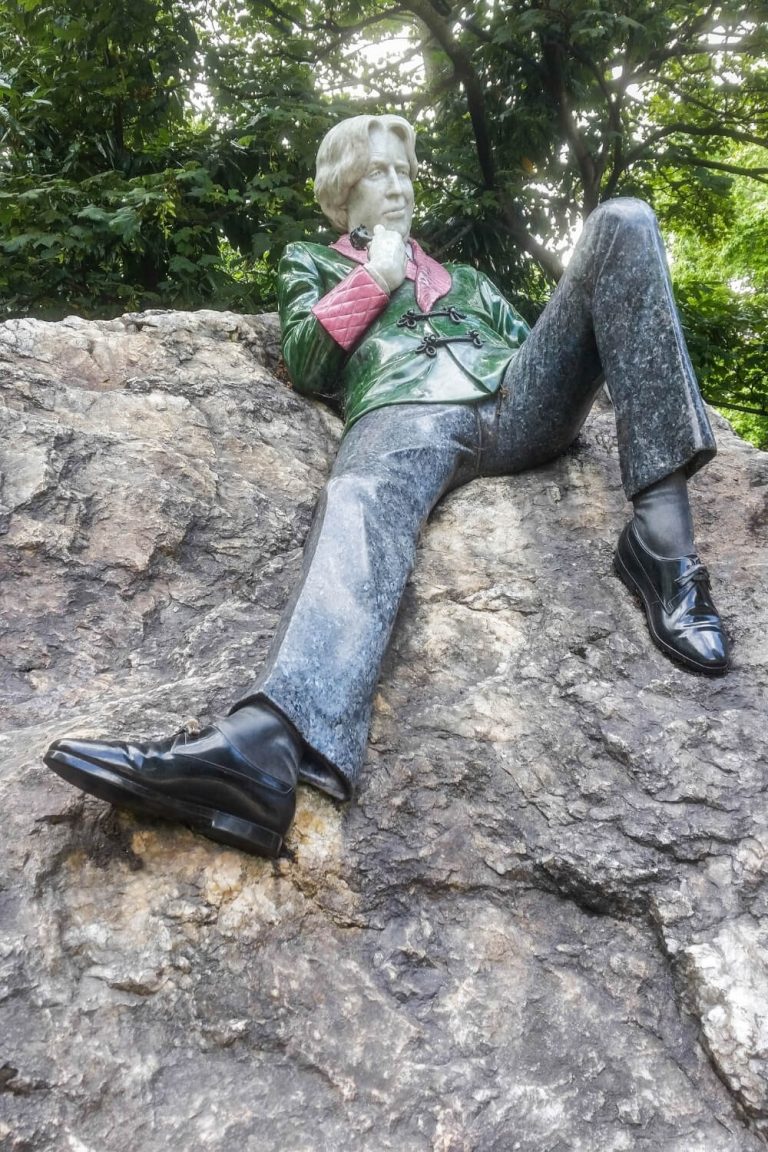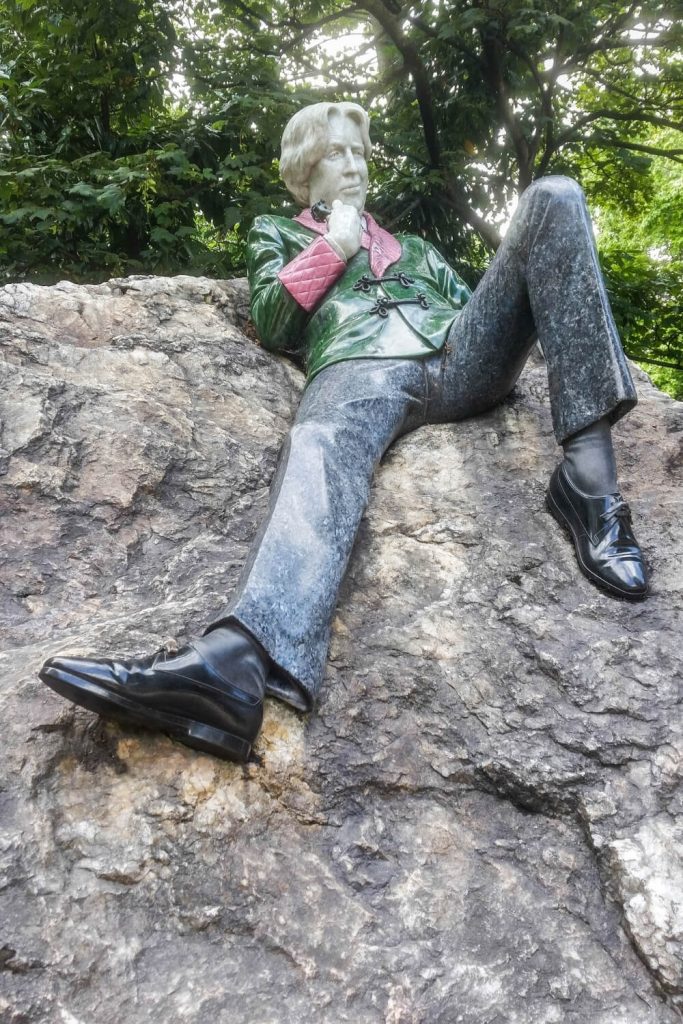 James Joyce Statue
This bronze statue on North Earl Street pays homage to one of Ireland's most famous writers. Standing adjacent to the GPO on O'Connell Street, this statue of Joyce was erected in 1990 and shows the man in a relaxed pose in his home city. It is visited by literary fans who often flock to the city for the 16th of June to celebrate Bloomsday, a literary festival in honour of the writer's most famous novel, Ulysses.
Irish Jewish Museum
Another unique thing to do in Dublin is to visit the Irish Jewish Museum. Located in the once highly Jewish area of Dublin at Portobello around the South Circular Road, it is dedicated to the Irish Jewish community. The museum was once a former synagogue and displays a collection of memorabilia from Jewish communities across Ireland for over 150 years.
National Leprechaun Museum
If you are looking for something that is unique to Ireland, then there is no better place to visit than the National Leprechaun Museum. You'll find this unusual museum on Jervis Street, across the road from the shopping centre of the same name.
This privately-owned museum is dedicated to Irish legends and folklore through the tradition of oral storytelling and of course, features leprechauns. Visitors are guided through a series of rooms, each depicting an Irish tale or legend and can learn about the basics of what a leprechaun is and what defines them. Other creatures are also references in what claims to be the first leprechaun museum in the world.
Freemason's Hall
The Grand Lodge of Ireland in Molesworth Street is one of the best alternative things to do in Dublin. Formed in 1725, this is the second most senior Grand Lodge in the world and the Freemason's Hall in Molesworth Street was opened in 1869 and still serves as the headquarters of the Irish Freemasonry today. Tours of the hall can be taken during the summer months and the museum which gives an outline of the history of the Masonic Fraternity in Ireland is open all year round. The Hall is stunningly beautiful and worth visiting if you are in Dublin during the summer. Click here for more information.
Sweny's Pharmacy – Readings of Ulysses
If you want some different things to do in Dublin, then seek out Sweny's Pharmacy on Lincoln Place, not far from the back of Trinity College and towards Merrion Square. This pharmacy featured in the James Joyce novel Ulysses and often holds readings of chapters of the famous book. It also features during Bloomsday, one of the great festivals in Ireland.
Check here for news on readings.
Little Museum of Dublin
One of the best things to do around Dublin is to pay a visit to the Little Museum of Dublin. Housed in an 18th century Georgian House on St Stephen's Green, this small museum tells the story of the Irish capital through the 20th century. With a collection of over 5,000 artefacts and memorabilia donated or on loan from the people of Dublin. The museum also holds classes for kids and you can also take short walking tours from the museum. Find out more here.
Irish Whiskey Museum
There is one thing that Ireland is famous for and that is whiskey. And there is no better place to learn about Irish whiskey and the distilleries that make it than the Irish Whiskey Museum on Grafton Street. Learn about famous brands and distilleries and the difference between the different blends of whiskey. Visitors can also taste a selection of Irish Whiskeys. Just make sure you aren't driving afterwards!
You can visit the Irish Whiskey Museum during a trip to Dublin and have lunch on a tour. Click here for the latest prices and availability of this experience.
Unusual places to eat and drink in Dublin
Guinness Storehouse
One of the top 5 things to do in Dublin and a unique place for a drink is the Guinness Storehouse. As one of the top Dublin tourist attractions at St James' Gate, it welcomes thousands of visitors every year. You cannot go to Dublin and not visit the Guinness Storehouse.
Visitors will learn about how beer is brewed with four key ingredients, and about the founder, Arthur Guinness. There are lots of interactive displays that not only help you learn about the brewing process but also about other aspects of the business such as transport, storage and marketing.
Split over seven floors, there is a restaurant on the fifth where you can eat dishes in which Guinness is an ingredient. And the top floor is home to the Gravity Bar where you get a free pint of Guinness (included in your entry ticket). Enjoy a pint of the 'black stuff' while taking in 360-degree views across Dublin city.
This is a truly unique place to visit in Dublin and you can get your entry tickets by clicking here.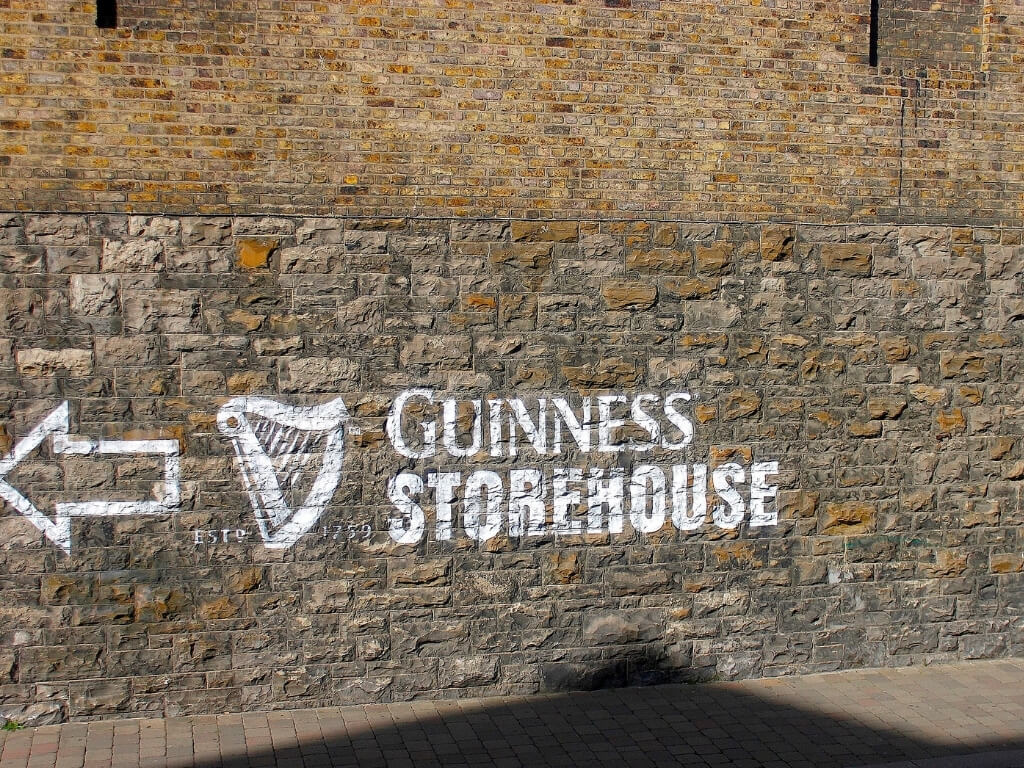 Teelings Distillery
A not to miss in Dublin is the Teelings Distillery, one of the best distilleries in Ireland. Opened in 2015, the first in 125 years, the Teelings Distillery is located in the city centre approximately 15 minutes from St Stephen's Green. Visitor's to the Teeling Distillery can tour and learn about the process of making whiskey in an active, working distillery and afterwards taste some of the whiskey produced on-site. There are different levels of tasting experiences available. Find out more on the Teeling Distillery website.
The Temple Bar
Anyone who visits Dublin is sure to pass through Temple Bar, the bar and nightlife quarter of Dublin located on the southside between Dame Street and the River Liffey. And while there are many pubs, bars and restaurants to visit, none are more famous than the one that shares its name with this area of Dublin, The Temple Bar. This popular pub, especially among poets and artists, has live music daily and is a must-visit for a drink if you are going to be in Temple Bar and looking to enjoy some Irish craic and a warm atmosphere.
The George
On South Great George's Street, you will find a unique place for a drink, The George, Dublin's most iconic LGBTQ bar and club. Home to some of the country's best drag shows and entertainment, The George is not only for the LGBTQ community. Opened in 1985, The George is a great place to have a drink in Dublin, whether at lunchtime or late at night.
The Church
If it is unusual places to eat in Dublin you are looking for, then head to The Church. A converted church that is now home to a café, restaurant and late bar, The Church has everything in one place. You'll find it at the corner of St Mary Street and Jervis Street and you can enjoy pre-dinner drinks at the bar, then enjoy dinner upstairs, before heading back downstairs to dance the night away. If you want everything in one place, The Church is ideal (it's where I had my hen party!).
The Brazen Head
Located on Merchant's Quay, The Brazen Head has a history dating back to the late 12th century. Originally a hostelry and then a coaching inn, the present building was completed in 1754. It is Ireland's oldest pub and you can enjoy food and drink alongside live music and even storytelling. If you are going to be visiting Christ Church Cathedral or the Guinness Storehouse, make sure to pop into The Brazen Head on your travels.
Murphy's Ice Cream
If you are visiting Dublin in summer and would love some delicious ice cream, then find Murphy's Ice Cream on Wicklow Street. The original shop is located in Dingle and is famous for its homemade ice creams. Ice cream flavours can change and alongside the usual, you'll find unique flavours to try. To give you an idea of some there has been
Dingle Gin
Irish Brown Bread
Honeycomb Caramel
Dingle Sea Salt
Irish Coffee
As many Irish ingredients are used as possible and the base ingredient of milk is from Kerry cows. For a taste bud sensation, have Murphy's Ice Cream.
While many of these things to do and see are family-friendly, if you are looking for even more child-friendly things to do in Dublin, then read the Best things to do in Dublin with kids post from Passports and Adventures. This article has ideas for some amazing things to do in Dublin as a family as well as all the information you need for visiting the Irish capital with kids.
There are lots of unusual things to do Dublin that you won't find anywhere else. This list of ideas includes some ideas for unique and unusual, cheap things to do Dublin. Literary fans, history buffs and more will love visiting these places and doing some of the best, cool things to do in Dublin, Ireland.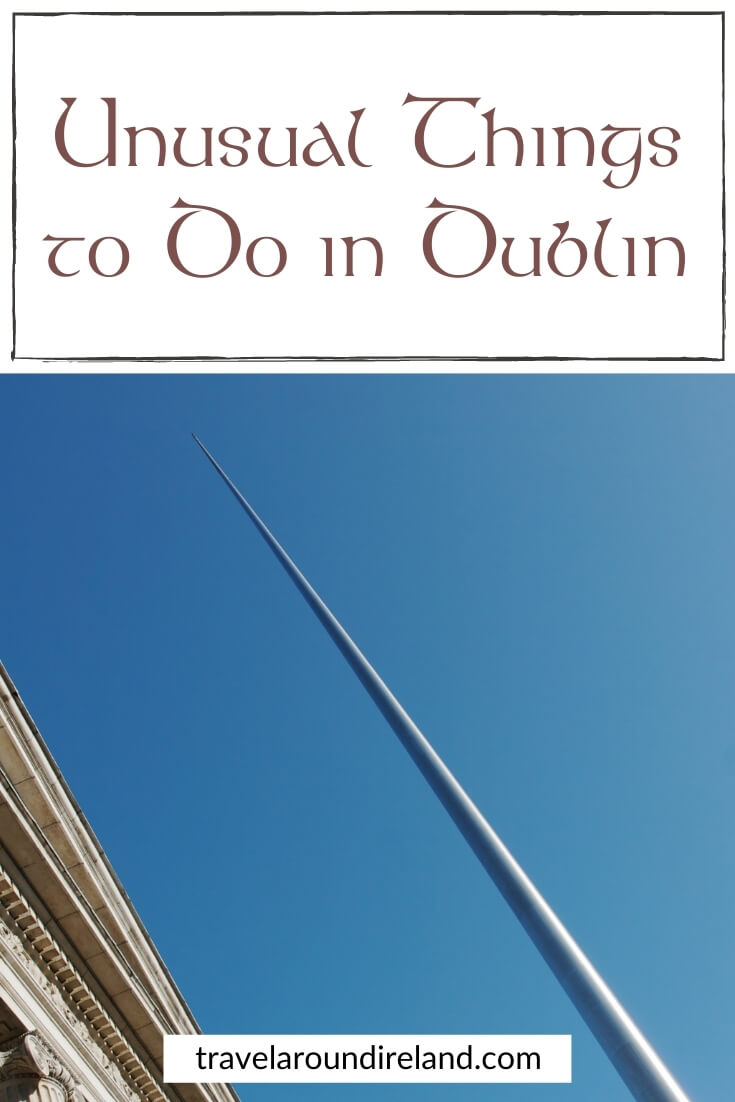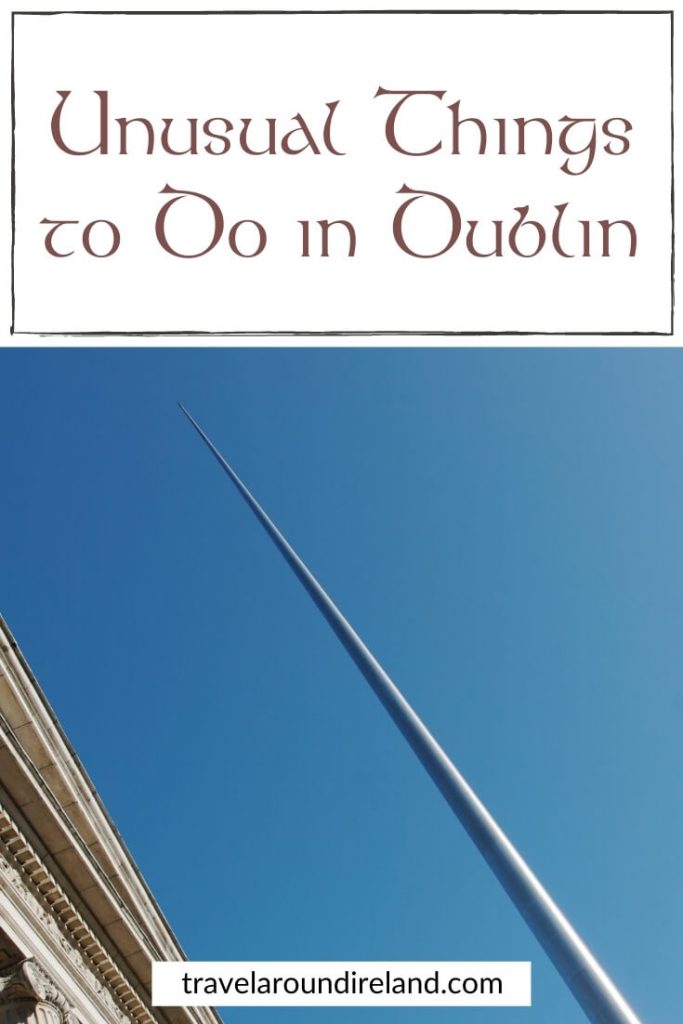 Related Posts