Planning your next holiday and thinking about experiencing the best glamping in Kerry, Ireland?
As a local expert, I can attest that glamping – the blend of glamour and camping – is a must-try in the heart of the Emerald Isle. But with so many options across this beautiful county, how do you choose where to stake your claim?
I've taken the guesswork out of your search, using insider knowledge to compile a list of the most unique, comfortable, and breathtaking glamping spots in Kerry. No matter what corner of the county you're curious about, you'll discover the perfect spot right here.
So let's start this unforgettable glamping journey together!
*This post contains affiliate links, which may include Amazon affiliate links. To read more about affiliate links, please visit my Disclosure Policy page.
Best Glamping in Kerry, Ireland
Whether you are looking for luxury camping in Dingle, glamping in Kenmare or glamping spots near Killarney, this list of the best places in Kerry are sure to have something for you. With ideas for Kerry glamping pods, shepherds huts and more, there is bound to be somewhere that piques your interest.
Coach Field Camping
Address: Camp, Camp Cross, Co. Kerry, V92 EC97
Located in Camp, a small village at the foot of the Slieve Mish Mountains on the Wild Atlantic Way, Coach Field Camping is the perfect base for exploring the Dingle Peninsula. Located 10 minutes from Tralee and 20 minutes from Dingle, Coach Field Camping has good public transport links if you are looking to visit without a car.
Accommodation at Coach Field Camping is in some of the finest glamping pods Kerry has to offer. There are 8 pods in total, sleeping up to either 4 or 6 people. WiFi is available on-site and bed linen and towels are provided in the pods as well as tea and coffee-making facilities. There are communal bathrooms and a communal dining and kitchen area. For other dining options, the campsite is located directly behind the Ashes Bar and Restaurant, with more close by.
Coach Field Camping is conveniently located just a 10-minutes' walk from a beach with a playground along the way, making it a great place to go glamping in Kerry for families. Other activities close by include horse riding, angling and surfing. The camp is also ideal for exploring the Brandon Mountains, Tralee Bay and the Dingle Way.
Killarney Glamping at The Grove
Address: Ballycasheen, Killarney, Co. Kerry, V93 YT32
If you fancy a couples-only getaway then head for The Grove, Killarney. This couples-only destination offers luxury glamping in Killarney for the ultimate romantic getaway. Located close to Killarney and the National Park, and with views of the Kerry Mountains, you can enjoy the perfect stay without interruption from little people.
Accommodation at the Grove Glamping, Killarney is in the form of luxury glamping suites and private luxury lodges. Glamping suites have luxurious double beds, electric blankets and the bedroom is heated to keep you toasty. You also get a private en-suite bathroom, heated patio, and a private outdoor self-catering kitchen with BBQ.
The luxury lodges at Killarney Grove Glamping have central heating, king-size beds, a self-catering kitchen, a private bathroom, and a private sheltered gas BBQ on a private, heated patio area.
Nearby you will find bike hire, the beautiful Killarney National Park, the Ring of Kerry and of course, there is plenty to see and do in Killarney Town. Guests to Killarney Glamping can also access a nearby spa and leisure club with a pool, sauna and steam room. For the ultimate glamping experience in Kerry without kids, head to Killarney Glamping at The Grove.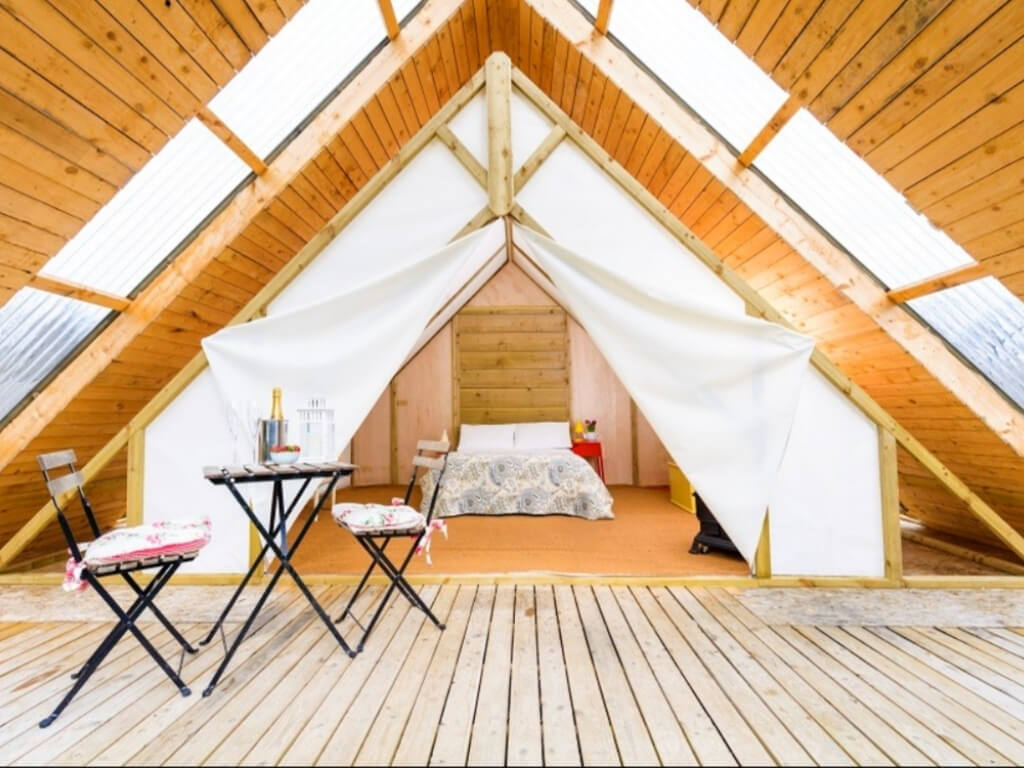 Farmyard Lane Glamping
Address: Lahard, Beaufort, Killarney, Co. Kerry, V93 W2TO
When it comes to glamping, Kerry has a few options and for luxury glamping, head to Farmyard Lane Glamping. This eco-friendly luxury glamping site is located in the MacGillycuddy Reeks district of the county, and nestled among the apple trees of the farm are 2 luxury en-suite glamping pods. Killarney is just 10 minutes away meaning the National Park is also easily accessible.
The pods have a double bed and sofa bed sleeping up to four people. They have a bathroom and kitchenette with a kettle and refrigerator. Bed linen and towels are provided for guests. And you will be welcomed with a complimentary luxury breakfast basket.
On-site there are indoor and outdoor communal cooking facilities and the farm has a horse, donkey, calves, a cat, dog, hens and honey bees that will delight kids. The hens provide the eggs and the bees provide the honey you will receive in your breakfast basket.
Locally you can hire bikes, take walks/hikes, visit the Gap of Dunloe or even climb Ireland's tallest mountain, Carrauntoohil.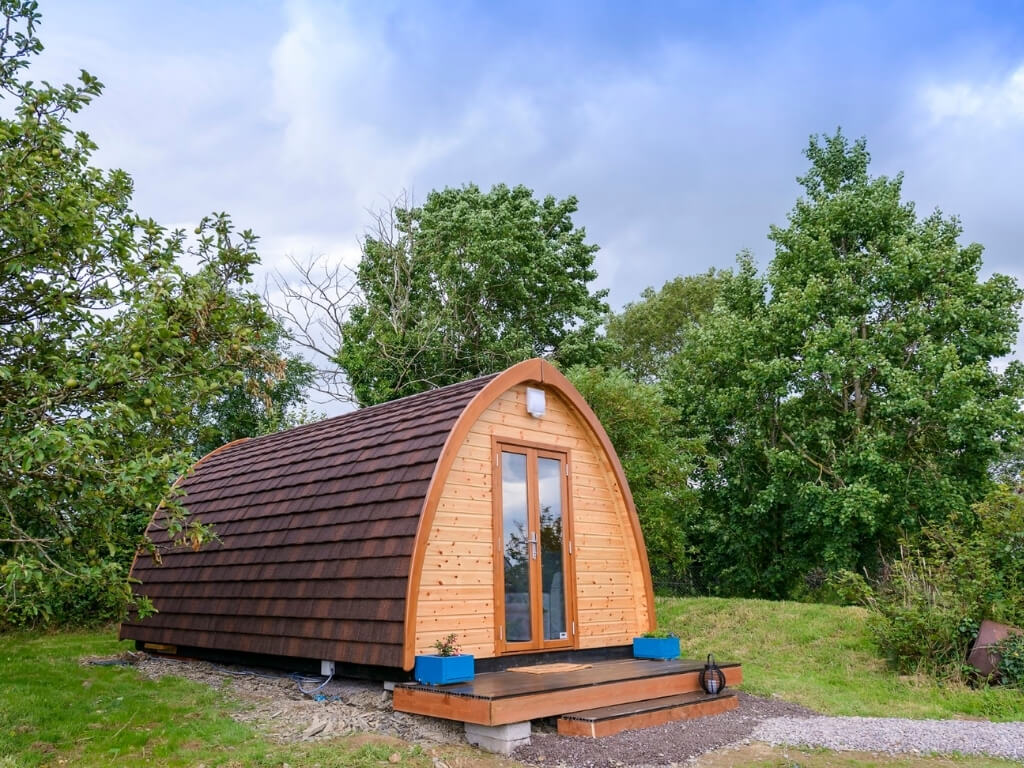 Dingle Way Glamping
Address: Annascaul, Co. Kerry
If you are interested in finding Dingle glamping pods, head for Dingle Way Glamping. Located on the Dingle Peninsula, just 15 minutes drive from Dingle town, this Kerry glamping site has shepherd's huts, a train carriage and a glamping pod for guests to choose from.
The shepherd's hut sleeps two adults and one child, while the Annascaul train carriage, a unique glamping experience, sleeps 2 adults and 2 children. And the glamping pods sleep two adults.
Each glamping unit comes with a private bathroom and kitchenette. Bed linen is provided for guests, as is WiFi, and there is also heating in each unit to keep you toasty. There are communal dining facilities and a communal outdoor BBQ area. Each unit has either a lakeside or mountain view.
Dingle Way Glamping is an ideal 'base camp' for exploring the Dingle Peninsula with Inch beach, one of Ireland's best beaches, close by and the Annascaul river walk.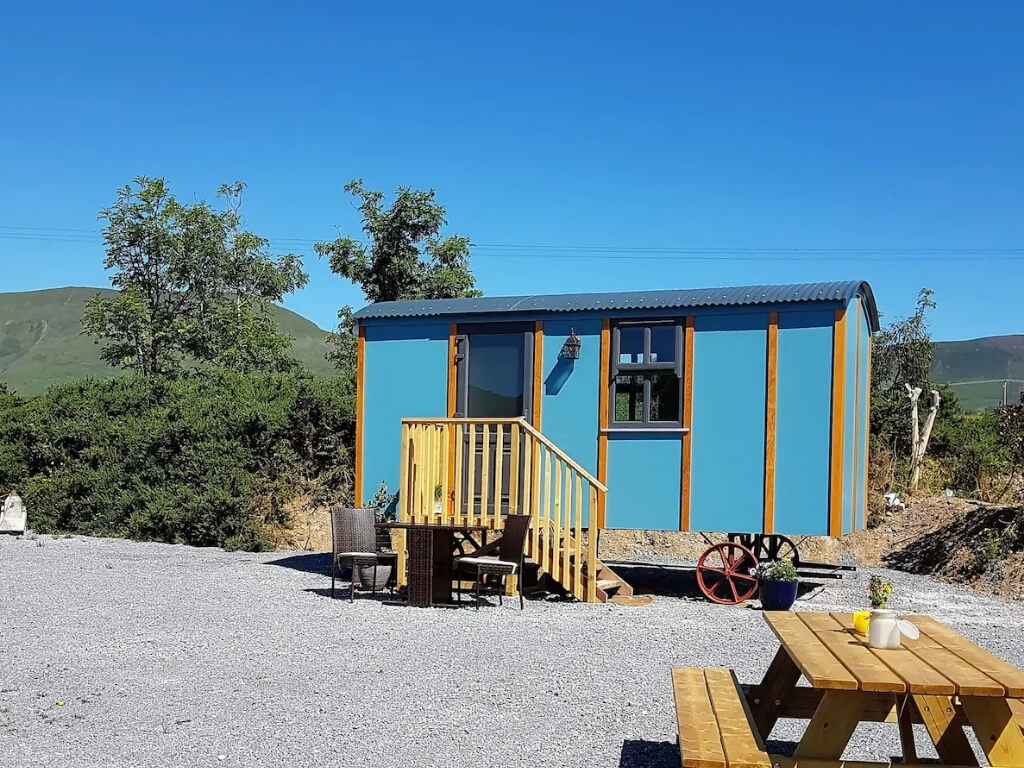 Priory Glamping Pods and Guest Accommodation
Address: Muckross Road, 3 Priory Grove, Killarney, Co. Kerry
More Killarney glamping pods can be found at the Priory Glamping Pods and Guest Accommodation site located 1.5km from the centre of Killarney Town. St Mary's Cathedral is a short 15 minutes' walk away.
The pods sleep 2 people and come with a seating area, a private bathroom, and a kitchenette with a toaster, kettle, microwave and Nespresso machine. Bed linen and towels are also provided and there is WiFi throughout. There is no communal kitchen.
The Priory Glamping site is conveniently located for accessing Killarney Town, the Killarney National Park and the other attractions in the area.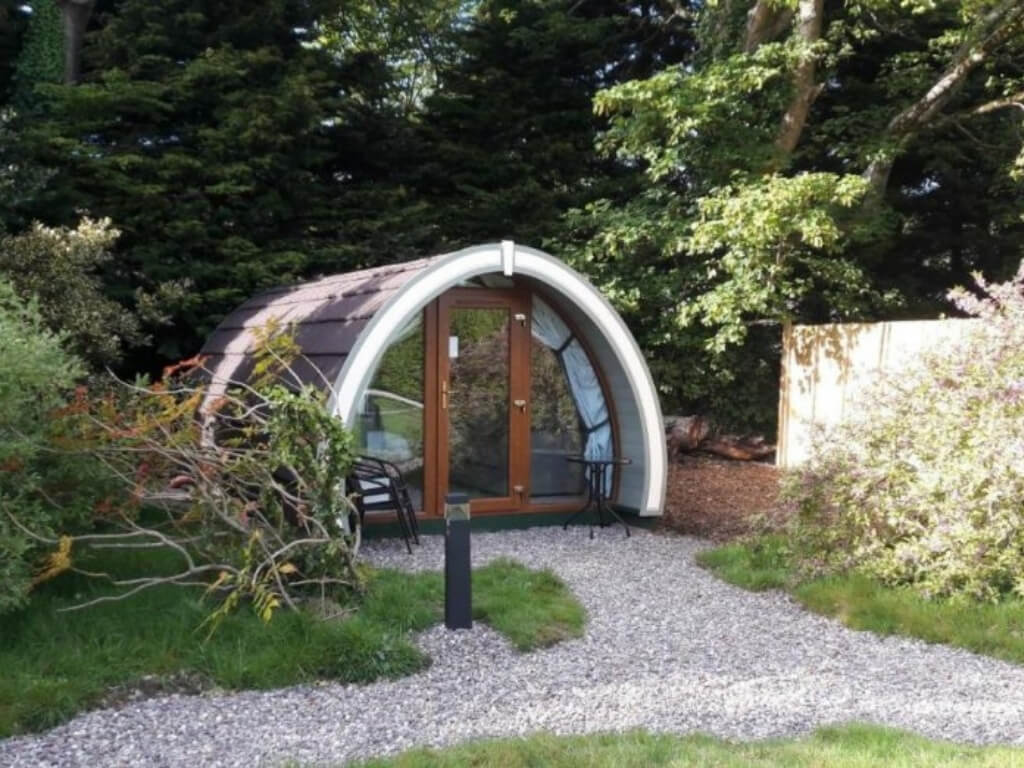 Dromquinna Manor
Address: Sneem Road, Kenmare, Co. Kerry
For the ultimate in luxury glamping in Kenmare, Kerry then consider checking into the luxury safari tents at Dromquinna Manor, Co. Kerry. The luxury glamping tents are located on the Dromquinna Manor Estate, a 40-acre estate whose Manor House is a wedding venue.
There are luxury safari tents and a hideaway tent. The luxury safari tents have their own veranda and deck area and are fully furnished like a hotel room. There is a king-size bed, windows have insect nets and pull-back curtains. Family tents are available with a second bedroom containing two single beds, sleeping 2 adults and 2 children up to the age of 16. Bed linen is provided as is a breakfast hamper, delivered to your tent each morning with a continental breakfast.
The luxury safari tents share communal bathrooms, kitchen and laundry facilities and there is a games room, reading room, playground and a shop. There is also a communal BBQ and campfire area.
There is one luxury Hideaway tent in secluded woods with a private gated garden. Antique furnishings and ensuite facilities provide ultimate luxury. Breakfast is delivered to the tent and it even has a minibar. For a special occasion, stay in the Hideaway tent.
On-site you will find two dining options at the Boathouse and Shutters Pizza on the Pier. Activities include sea swimming, cliff walks, table tennis and a children's playground.
Nearby there is a scuba diving school, horse-riding, an outdoor adventure centre where you can enjoy kayaking, pedal boats, crazy golf, archery and more, and you are on the doorstep to one of Ireland's most beautiful drives, the Ring of Kerry.
If you are looking for luxury glamping on the Ring of Kerry, then stay at the stunning Dromquinna Manor.
Final thoughts on the best glamping in Kerry
Whether you are looking for Kerry glamping pods, luxury safari tents or even a train carriage to sleep in, hopefully, this list gives you some idea of the best glamping in Kerry should you be looking to spend some time in the county and are looking for unique places to stay in the area.
Read more about visiting Kerry and the surrounding areas: