Looking to discover the best things to do in Limerick, Ireland? Then you're in the right place. I've compiled the perfect list to help you plan your time in this county of Ireland.
There are some people who will bypass Limerick as they travel from Kerry to Clare or vice versa. But with this guide, you are going to discover why you should consider adding it to your Ireland itinerary. Here are some of the best things to do in County Limerick no matter what your interests are.
*This post contains affiliate links, which may include Amazon affiliate links. To read more about affiliate links, please visit my Disclosure Policy page.
County Limerick is quite a sizeable county on the Emerald Isle and is the fifth largest county in Ireland. As a result, there are plenty of places to visit in Limerick, whether you are a city lover or a lover of the countryside. In this post, I am sharing a list of ideas to fill your itinerary with, including some of the top 10 things to do in Limerick, Ireland.
Best things to do in Limerick, Ireland
Whether you are looking for the top things to do in Limerick City, or fancy some Limerick sightseeing further afield, this list of things to do, see and places to visit will soon have you spending more than a day or two in this part of the Emerald Isle.
Limerick City
As Ireland's third-largest city, Limerick City has plenty to offer those who decide to stop and explore the city for a few days.
Straddling the estuary of Ireland's largest river, the Shannon, the city was rejuvenated when it was chosen as Ireland's first City of Culture in 2014, particularly the waterfront area. Limerick's history spans more than 1200 years, having been established as a Viking settlement in the 9th century.
One of the best things to do around Limerick City is to visit King John's Castle, the 13th-century castle that sits on the riverbank. There are lots of parts of the castle to explore, with interactive displays, and the view across the Shannon from the top of the towers is worth the climb. Book your skip-the-line tickets by clicking here.
The city also has two cathedrals to visit for those who love architecture. St Mary's Cathedral (pictured below) was founded in the mid-12th century and has a Romanesque doorway and 15th-century misericords in the choir stalls with superb carvings. St John's Cathedral has Gothic-Revival architecture and is the city's original cathedral as it is a Roman Catholic cathedral, unlike St Mary's which is Anglican. Both can be visited on a donation basis.
Another must-do in Limerick is the Frank McCourt Museum. Dedicated to the actor and writer, the museum is based in the former Georgian school building where McCourt taught and contains a re-creation of a 1930's classroom and room from the McCourt household as well as family memorabilia. There is also an Angela's Ashes Walking Tour of the city that visitors can join. Click here to book your tickets for this tour.
If you are looking for something unusual to do in Limerick, head to the Hunt Museum. This museum is also a treasure hunt and encourages visitors to open drawers and poke around while discovering artefacts from as far back as the Bronze and Iron Age. You can get skip-the-line tickets via this link.
For the sporting fans out there, Thomond Park Stadium is worth popping into. Guided tours of the stadium take place Mon-Fri (and Sat-Sun for prebooked larger groups). Visitors can view the grounds that are home to the Munster rugby team. There is also a memorabilia-filled museum.
Free things to do in Limerick city include visiting the Limerick City Gallery of Art where visitors can enjoy artworks from the last 300 years including Sean Keating and Jack B Yeats. It is located next to the People's Park, another free thing to do in Limerick. The People's Park is a great place to escape the city on a sunny day with a book under one of the trees.
The Limerick City Museum is another free thing to do in Limerick City and houses a large collection of artefacts documenting Limerick's history.
Visiting the Milk Market is free and has a variety of stalls selling everything from fruit and vegetables to craft and locally baked goods.
The Treaty Stone is also free to visit and is the stone upon which the Treaty of Limerick was signed, marking the surrender of the city to William of Orange in the late 17th century.
No matter what your interests are, there is plenty of things to see and do in Limerick City.
Discover Limerick City on a walking tour of the city. Click here to book your place now.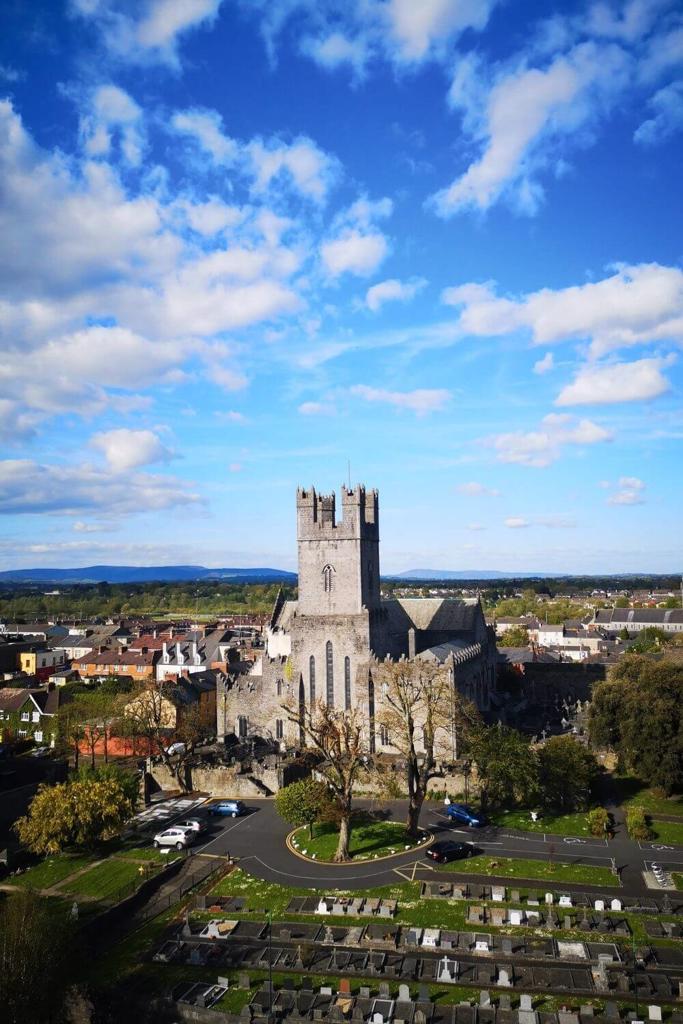 Castles
As with anywhere in Ireland, you will find plenty of castles in Limerick to explore. Already mentioned is the beautiful King John's Castle in Limerick City. This large castle on the banks of the Shannon still has its two tower gateways and more to explore. It's a great place to visit with kids who will love the interactive displays both in the museum and the castle itself. As far as Limerick tourist attractions go, this is a must-visit.io
Another one of the must-visit castles in Limerick, Ireland is Adare Desmond Castle (pictured), located a short 20-minute drive from Limerick City. Erected on an ancient ring fort in the 13th century, it became an important strategic fortress, and its name is derived from the Earls of Desmond to whom it was granted in the mid-16th century. Tours of the castle can be taken during the months of June to September from the Heritage Centre on the main street.
Other castles to visit in County Limerick include
Glin Castle, Glenquin – Standing on the site of a 14th century castle, the current castle is a late 18th century, Georgian country house and heritage site located along the banks of the River Shannon.
Castle Oliver – A Victorian castle in the southern part of the county, it was built for entertaining rather than defense. It can only be viewed from outside as it is now a private residence.
Fanningstown Castle, Adare – Dating from the 12th century, this castle in Limerick has been restored in a romantic Gothic style and is now a luxury castle holiday rental accommodation venue.
Carigogunnell Castle, Clarina Village – A ruined medieval fortification on the banks of the River Shannon, the structure dates to the 13th century.
Springfield Castle, – Another castle that has been transformed into a luxury private castle rental accommodation, it sits among a 200-acre wooded estate.
Abbeys and Friaries
Another of the Limerick things to do is to visit the Friaries and Abbeys in the county. There are a few in the county worth visiting.
One of the best places to see in Limerick is the Franciscan Friary at Askeaton. Lying on the east bank of the River Deel, it was founded in the late 14th century by the 3rd Earl of Desmond. The church, cloister arcade, north transept, and domestic buildings survive today.
There is another Franciscan Friary located at Adare which, while now in ruins, is one of the most structurally complete Franciscan foundations in Ireland today. It was founded in the 15th century and visitors can see the bell tower, cloisters, chapels, and more. This is located on the grounds of a golf course, so let them know at the clubhouse that you wish to visit.
Adare is also the location of an Augustinian Friary (pictured) whose church is still a place of worship. It retains many of its medieval features and is worth visiting while in Adare.
Other monastic sites to visit in Limerick include
Glenstal Abbey, Murroe – A Benedictine monastery whose grounds include lakes, forests and an old walled, terraced garden.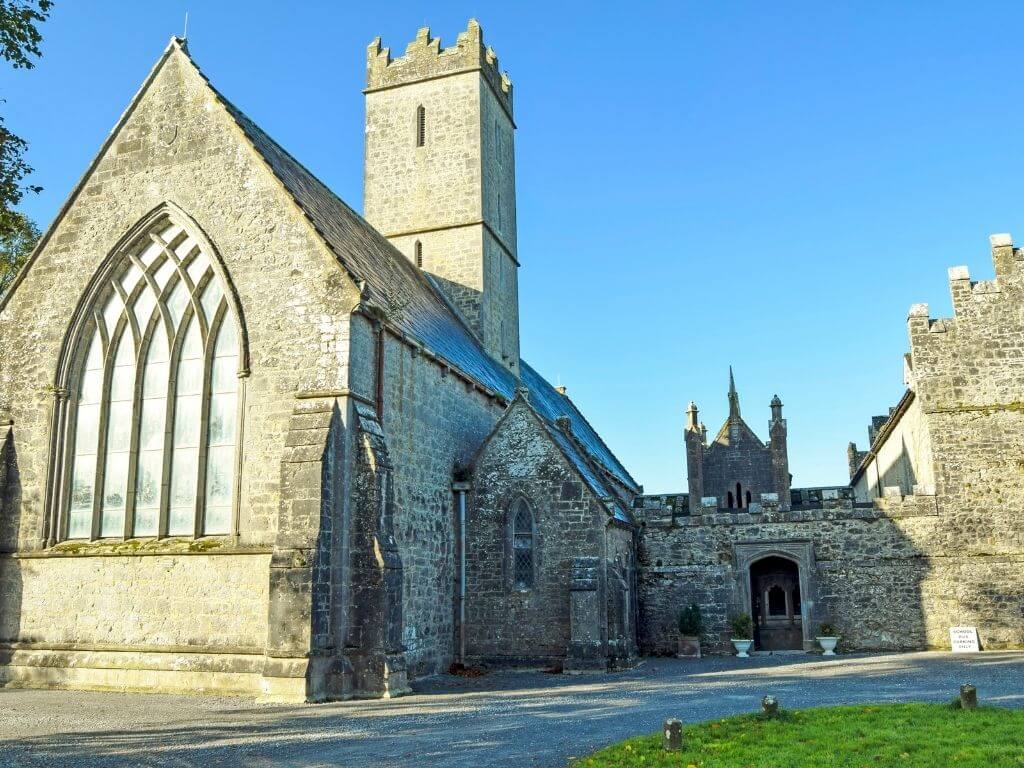 Mountains
One of the top things to do in Limerick, Ireland if you love the outdoors is to head for one of the mountains in the county and its borders.
Galtymore Mountain is the highest of the Galtee Mountains (pictured), a range that stretches for 30kms between County Limerick and County Tipperary. One of the best outdoor activities in Limerick to do is to climb Galtymore Mountain. It can be reached from King's Yard in the south, a route that will take between 4 and 6 hours. King's Yard is a private farm that has some parking and services for climbers and walkers.
Another one of the great outdoor things to do near Limerick is to climb Temple Hill. Also part of the Galtee Mountain range, this 11km round-trip trail offers great views across County Limerick for those who take time to climb it.
Houses & Gardens
Some of the best Limerick attractions are Mountshannon House and Knockpatrick Gardens.
Mountshannon was a mid-18th century large mansion near Castleconnell that was home to the 1st Earl of Clare. It was burnt down during the Anglo-Irish War in 1920 and is mostly a ruin today. But it is still worth visiting if you want to view some neo-Palladian style architecture. The front columns and most of the main wings of the house still stand today (see picture below).
Knockpatrick Gardens are one of the best places to go in Limerick if you want to wander through spectacular gardens. Almost 100 years old, the gardens were planted by the father of the current owner. It is home to a large collection of plants, shrubs, and trees including magnolias, beech, and red horse chestnuts. There are different levels with pools and water features among the plants. Open from April to September, it is a great place to visit in County Limerick.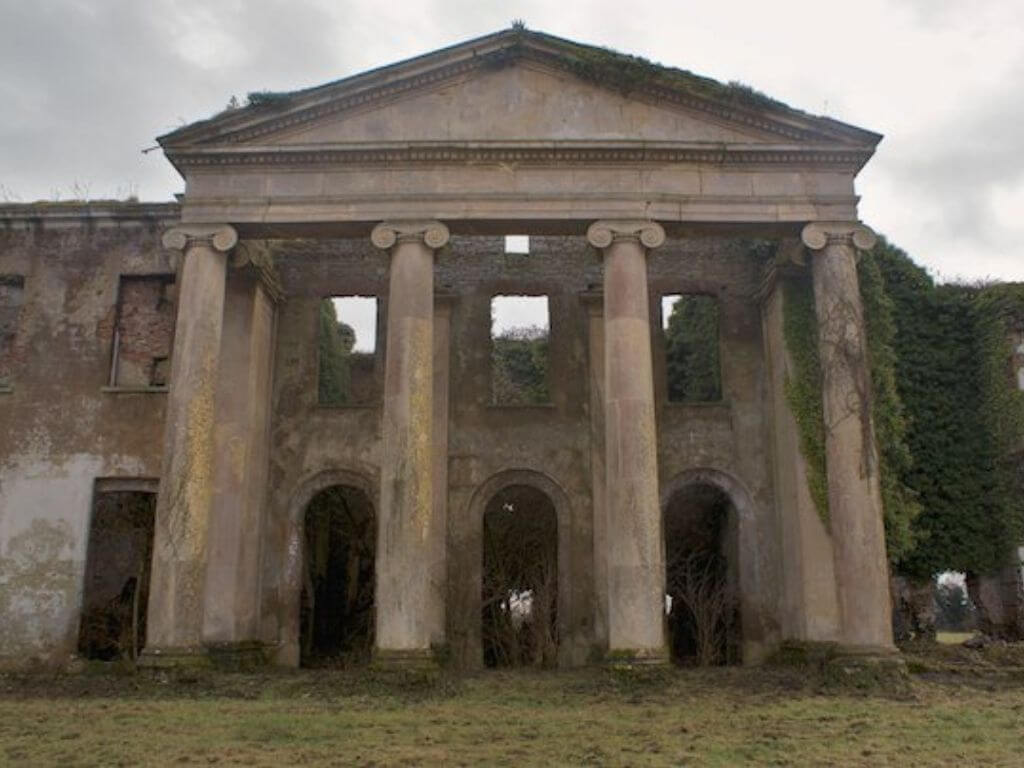 Museums and Heritage Centres
Some of the top 10 things to do in Limerick are visiting the museums and heritage centres dotted around the county. As well as the ones located in Limerick City already mentioned, there are others that are a must if you are visiting County Limerick.
One of the best museums and top attractions in Limerick is the Foynes Flying Boat & Maritime Museum, located in the town of the same name (pictured below). Housed in the original terminal building in Foynes, it is dedicated to telling the tale of when Foynes was at the centre of the aviation world. The Flying Boat Museum is home to the world's only full-size replica of a B314 flying boat, while the Maritime Museum helps visitors learn about the River Shannon. Learn more here.
Another great place to visit is the De Valera Museum and Bruree Heritage Centre. This centre has audiovisual and graphic panels, as well as personal memorabilia that tell the story of Eamon de Valera, former President of Ireland. The visitor centre is located where de Valera grew up and the cottage in which he lived and the national school he attended now house the museum dedicated to his memory.
The Adare Heritage Centre shares the history of the town with visitors and is also the meeting point for those wishing to visit Adare Desmond Castle during the summer months. There is also a restaurant, library, craft shops and more in the Heritage Centre.
The Irish Palatine Heritage Museum is another great place to visit in Limerick to learn about the Palatines, several families of German origin, who settled in County Limerick in the early 1700s. This small museum houses an exhibition that tells their story.
If you are looking for things to do in Limerick when it is raining, why not venture to one of these great museums.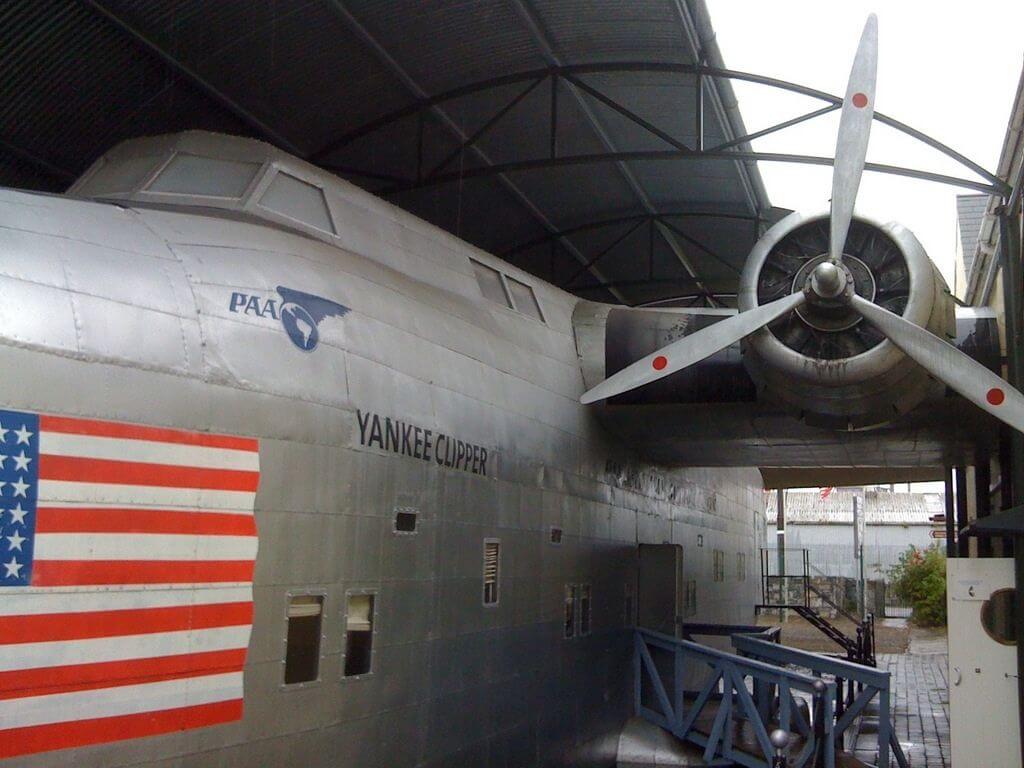 Nature
For nature-lovers, there are plenty of places to visit near Limerick to enjoy nature and the outdoors. As well as the mountains already mentioned, and Knockpatrick Gardens, there are a few other places worth mentioning.
There are no great beaches near Limerick, to enjoy a walk along a sandy beach, you need to travel south to County Kerry or north into County Clare. But in either direction, you won't be disappointed.
Lough Gur is an area of outstanding natural beauty and gives visitors a chance to enjoy rural unspoilt beauty within easy access of Limerick City. There is a Visitor Centre where you can learn about the history and folklore of the area dating back to the Stone Age. Lough Gur lake has two castles on its shores and is often used to enjoy watersports, particularly during summer. The Grange Stone Circle, the largest standing stone circle in Ireland, is also located at Lough Gur.
If you are looking for fun things to do in Limerick, why not take to the water and enjoy a kayaking tour. Nevsail Watersports, operating from the Hunt Museum, offers a range of watersports including kayaking experiences on the River Shannon. If the water is not your thing, then the Curraghchase Forest Park offers 300 hectares of forests, woods, trails, lake, and an arboretum to explore the great outdoors.
For those who love walking, part of the Ballyhoura Way, a 90km waymarked trail, passes through County Limerick. It stretches from John's Bridge in north County Cork to Limerick Junction in County Tipperary and offers those who walk it a chance to be surrounded by natural beauty.
Another place for walkers is the Clare Glens, a wooded area along the banks of the Clare River that separates County Limerick and Tipperary. There are looped trails to enjoy and you might even find one of the best waterfalls in Ireland along the way.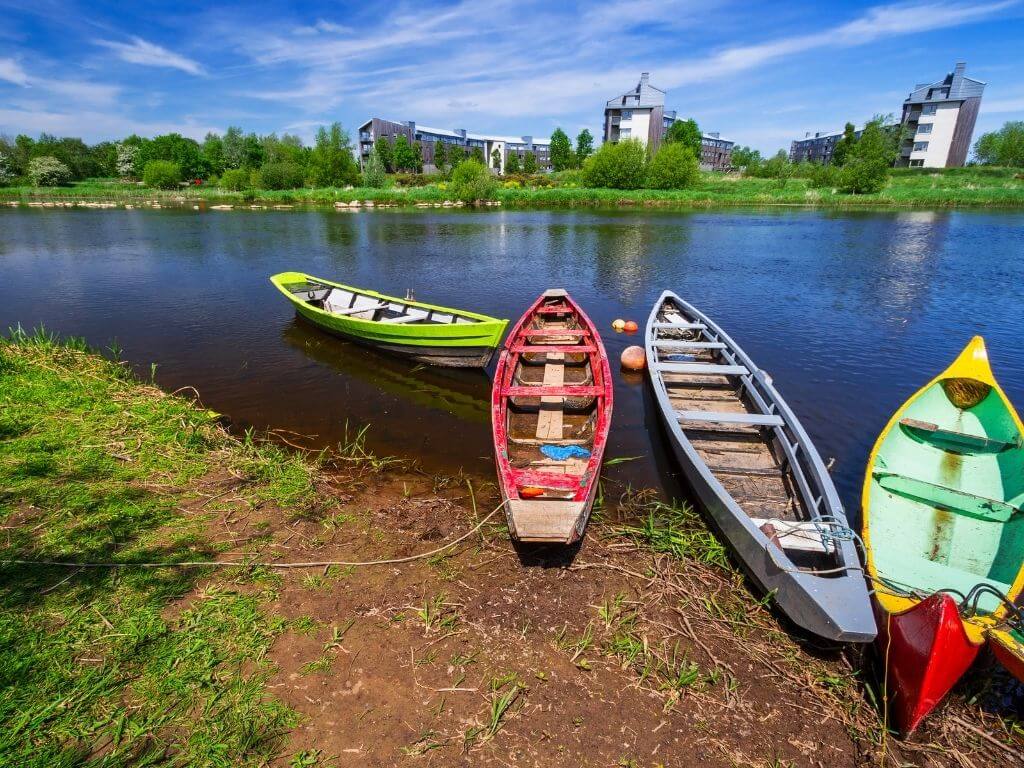 Landmarks
If you are looking for more unusual things to see in Limerick, why not visit the Duntryleague Passage Tomb (pictured). Built around 3500BC, it is also known as Dermot and Grania's Bed and is a National Monument. Most of the capstones still remain although the covering cairn stone is missing.
And if you are looking for something to combine unusual with outdoor things to do in Limerick, then why not visit the Barnagh Tunnel. This railway tunnel was once part of the Limerick/Tralee Railway (now closed) but it has been added to the Great Southern Greenway Limerick after renovations. At over 100m long, the tunnel is a testament to 19th-century engineering and can now be enjoyed by walkers and cyclists alike.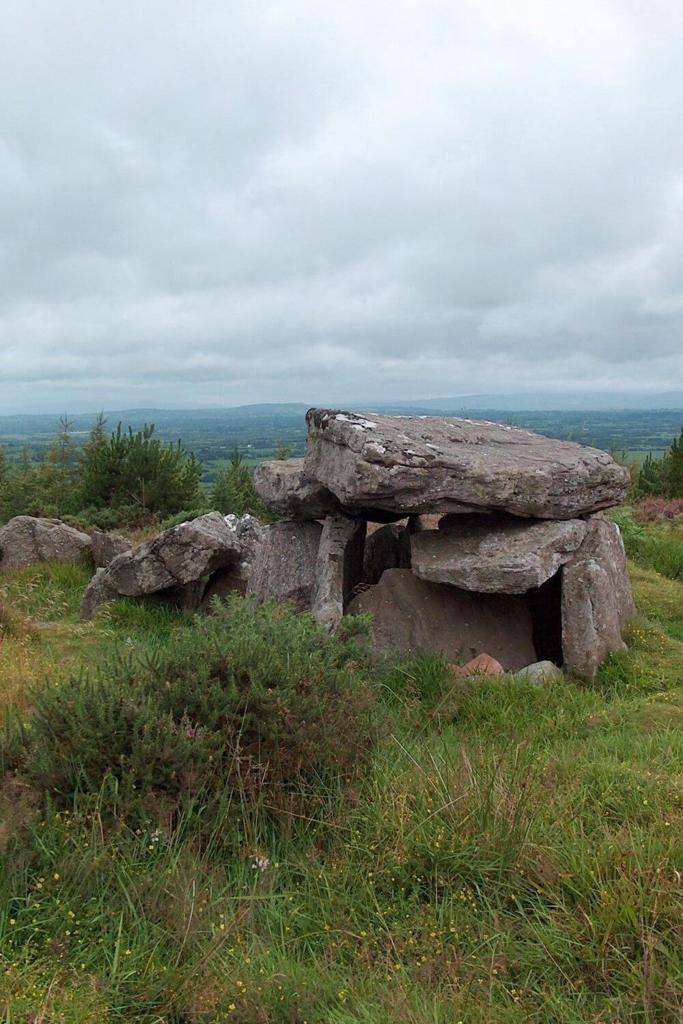 Where to stay in Limerick
Luxury hotels in Limerick
No. 1 Pery Square Hotel
If you are looking for luxury hotels in Limerick City Centre, then No.1 Pery Square Hotel is one to consider for your Limerick stay. This boutique hotel is opposite the People's Park and with elegant, modern rooms, French cuisine, and a spa, this is a great hotel for a luxury stay in Limerick. For the latest prices and availability, click here.
The Savoy Hotel, Limerick
Situated between King John's Castle and Thomond Park, this boutique city centre hotel offers 3 restaurants, luxurious bedrooms, spa, and great views across the river. For a luxurious city centre stay, check into The Savoy. Click here for the latest prices and availability.
Fitzgeralds Woodlands House Hotel
Located on the edge of Adare, just 20 minutes south of Limerick City, the Fitzgeralds Woodlands House Hotel is a luxury hotel with an award-winning restaurant, leisure club, spa, and luxurious, elegant rooms. For the latest prices, availability and to book this hotel, click here.
Adare Manor Hotel and Golf Resort
Also located in Adare, this 5-star luxury hotel and golf resort is the ultimate in luxury. With luxurious rooms, a golf course, spa, health club with indoor pool, 4 restaurants, and 2 bars, this is the ideal location outside of Limerick City for a relaxing yet luxurious stay. Click here for more information and to book your stay.
Budget-friendly hotels in Limerick
Castletroy Park Hotel & Spa
If you don't want to stay in the heart of the city but still be within easy reach, then the Castletroy Hotel beside Limerick University fits the bill. This 4-star luxury hotel that is also budget-friendly offers guests spacious rooms, an Aqua and Leisure Club, and a bar and restaurant. Check out the latest prices and availability here.
Clayton Hotel, Limerick
Located on the waterfront in Limerick City Centre, the Clayton is a budget-friendly hotel option with views across the river. Guests can enjoy a comfortable stay, 2 restaurant choices, and a leisure centre and spa. Click here to see the latest prices and availability.
Radisson BLU Hotel & Spa
Set in 20 acres of beautiful gardens, the Radisson BLU offers luxury accommodation, a spa, award-winning cuisine at budget-friendly prices within 5 minutes drive to King John's Castle, Thomond Park, and more of Limerick's tourist attractions. Click here to see the latest prices, availability and to book your stay.
Absolute Hotel
If you are looking to stay in the medieval quarter in Limerick, then pick the Absolute Hotel. With modern bedrooms, a restaurant overlooking the river, and an independent spa, this hotel is ideally located for easy access to St Mary's Cathedral, King John's Castle, and Limerick's shopping areas. For the latest prices, availability and to book your room, click here.
Things to know about County Limerick, Ireland
This section will give you some useful information about Limerick if you've never visited this part of the Emerald Isle and are considering it.
Where is County Limerick? – If you have been wondering where is Limerick, Ireland, it is in the southwest of the country, sandwiched between County Kerry and Clare. It is part of the Republic of Ireland and is bordered by Kerry to the west, Cork to the south, Clare to the north, and Tipperary to the east.
County Limerick facts:
Limerick in Irish is Luimneach, meaning "the flat area" or "bare/barrel spot of land".
The county covers 2756 square kilometres (1064 square miles) and the population of County Limerick is approximately 194,900.
It is one of the twenty-six counties of the Republic of Ireland.
Limerick is the tenth largest county of Ireland (all 32 counties), by size and 9th in terms of population. Limerick City is the third largest city in Ireland after Dublin and Cork.
Limerick has several mountain ranges including Slieve Felims (northwest), the Galtees (southeast), Ballyhoura (south) and Mullaghareirk (southwest).
Rivers that flow through County Limerick include the Camogue, Deel and the River Shannon with Limerick City sitting on the Shannon Estuary.
Lough Gur is the biggest lake in the county.
Notable cities towns in County Limerick – Limerick City (only city), Newcastle West, Annacotty, Castleconnell and Adare.
Weather in Limerick – Limerick has a similar climate to the rest of the Emerald Isle, with warm summers and mild, wet winters. Summer days are long with high temperatures of 20˚C (lows of 12˚C), and short, dark winter days with high temperatures of 9˚C (lows of 3˚C). Rain is common throughout the year, with April and June being the driest months. Don't travel to Limerick at any time of the year without a raincoat and umbrella. If you want to know more about the weather and the best time to visit Limerick, Ireland, read this post.
Famous people from Limerick – There are several famous people that come from County Limerick including Richard Harris (actor, famous for the Harry Potter films and Camelot), Frank McCourt (actor and writer), Ruth Nagga (actor), Dolores O'Riordan (singer), Terry Wogan (BBC fame), Eamon de Valera (former President of Ireland), Michael D Higgins (current President of Ireland), Keith Earls (Six Nations rugby player), and Steve Finnan (footballer).
Final thoughts about the best things to do in Limerick
I hope this guide to the best things to do in County Limerick will help you better plan your time in this corner of the Emerald Isle. From castles to nature, museums, mountains, and more, there are plenty of things to do in Limerick, Ireland.
Read more about visiting Ireland, County Limerick and its neighbours: