The Wild Atlantic Way, Ireland. A 2500km touring route that follows the ever-changing west coast of Ireland, from top to bottom, or bottom to top depending on which way you choose to travel it. But why is this particular route in Ireland growing in popularity, and why should you travel it? Find out with this comprehensive guide to the Wild Atlantic Way, Ireland.
*This post contains affiliate links, which may include Amazon affiliate links. To read more about affiliate links, please visit my Disclosure Policy page.
Before its inception in 2014, I had inadvertently travelled along part of what was to become the Wild Atlantic Way. After our wedding in Dublin in 2010, my husband and I took off on his motorbike and set off for Achill Island, tracing the Atlantic Coast southwards as we headed for Tuam. From Galway, we followed the coast to the Cliffs of Moher and beyond Limerick, we enjoyed the Dingle Peninsula and the Ring of Kerry. This was our Irish honeymoon and one that filled our hearts with love and memories.
And later, those same routes became one of Ireland's greatest road trip routes. Here is your guide to the Wild Atlantic Way and why you have to travel even part of it just once.
A guide to the Wild Atlantic Way, Ireland
The Atlantic Coast of Ireland holds many wonders, towns, and landscapes to delight visitors to the Emerald Isle. Select locations along it have always been popular with visitors, but others are now getting highlighted, thanks to the Wild Atlantic Way.
What is the Wild Atlantic Way?
The Wild Atlantic Way is a 2500km (1550 miles) touring route that follows Ireland's west coast. It was created by Failte Ireland in 2014 and has encouraged visitors to travel to parts of Ireland they may have previously missed. It highlights popular tourist attractions as well as lesser-known ones.
Where is the Wild Atlantic Way?
The Wild Atlantic Way lies along the west coast of Ireland, following the coast as much as possible along main roads and back roads.
The Wild Atlantic Way map (Map Source: Failte Ireland)
How long is the Wild Atlantic Way in Ireland?
The route is 2500km long, and if you are wondering how long does it take to do the Wild Atlantic Way, that very much depends on you, whether you choose to drive long days, without stops, or whether you choose to stop and enjoy places along the way.
Essentially, you could drive it in a matter of a few days to a week, but you would not get the most out of the Wild Atlantic Way route by doing this. To enjoy stopping in certain areas, you would need at least two weeks, but longer would be better.
You could choose to travel sections over different holidays and vacations, and even then, you probably wouldn't see it all. It is completely your choice how you will travel this coastal driving route.
Where does the Wild Atlantic Way start and finish?
The Wild Atlantic Way starts and ends in Malin Head in County Donegal in the north, and in the Old Head of Kinsale in County Cork in the south. It does not matter whether you choose to travel north to south, or south to north.
What counties are in Ireland's Wild Atlantic Way?
The counties along which Ireland's Wild Atlantic Way runs are Cork, Kerry, Limerick, Clare, Galway, Mayo, Sligo, Leitrim, and Donegal. Your Wild Atlantic Way itinerary may include some or all of these counties, which are all located within the Republic of Ireland.
Note that no part of the Wild Atlantic Way lies within Northern Ireland. This has its own coastal driving route.
Why visit Ireland's Wild Atlantic Way?
So, why is the Wild Atlantic Way so popular, and why should you visit it? Well, along its route are areas of outstanding natural beauty. The west coast of Ireland can be both rugged and beautiful at the same time. Along its route are some famous tourist attractions such as the Cliffs of Moher and other famous driving routes such as the Ring of Kerry.
No matter what part you visit, you will find beauty in nature and plenty of things to do, whether you are a nature lover or history lover. There are also family-friendly things to do along the way and plenty of beaches for kids and surfers alike. It will be hard not to fall in love with Ireland's Wild Atlantic Way.
How to get to the Wild Atlantic Way?
As already mentioned, the Wild Atlantic Way lies along Ireland's west coast. If you are only planning on visiting this part of Ireland and are flying to the Emerald Isle, then Shannon Airport is the easiest way in which to reach the west coast. This is also the best place to start if you are only driving part of the route.
Alternatively, you can fly into Dublin and start in one of three places, depending on the route you plan to take.
Galway lies two hours and 15 minutes from Dublin Airport and is an ideal starting point if you are planning on focussing on only the northern or southern half of the Wild Atlantic Way.
Kinsale is located just over three hours from Dublin Airport and would be your starting point if you are going to travel south to north.
Malin Head is situated almost four hours north of Dublin Airport and is your starting point if you are travelling north to south. Note, that the straightest route to Malin Head travels through Northern Ireland and you will need to let your car hire company know as some do not allow you to cross country borders. Those that do will apply an additional insurance cover. If you want to avoid travelling through Northern Ireland, then the journey to Malin Head will take approximately five hours.
Exploring Ireland's Wild Atlantic Way – Modes of Transport
There are many ways to enjoy exploring the Wild Atlantic Way and your mode of transport is a personal choice.
However, a word of warning. You cannot reach many parts of the Wild Atlantic Way by public transport. While the main big towns along the route may be connected by either bus or rail links, the timetable is possibly, at best, sporadic and irregular.
The best way to explore this part of Ireland is by driving the Wild Atlantic Way. This is by far the easiest way to see as much of this amazing coastal route as possible in whatever time you have. To do this, you either need your own car if you are based in Ireland or are arriving by ferry from the UK. Otherwise, you will need to hire a car.
Compare prices using rentalcars.com.
Another popular way to enjoy the areas along the route is hiking the Wild Atlantic Way or walking the Wild Atlantic Way. There are endless walking and hiking opportunities along this coastal route, from hills and cliffs to beaches. Many of the walks are signposted, and just take extra care if walking along country roads. To check for suitable walking routes, use the irishtrails.ie website. Remember to wear suitable footwear and clothing, and a high-visibility jacket if walking along roads.
Another great way to discover this part of Ireland is by cycling the Wild Atlantic Way. While you might not cover as many miles as you would in a car, you will see the landscape and beauty from a different perspective. There are many roads suitable for cycling and even a few dedicated cycle trails along the Wild Atlantic Way. Many of the towns also have places where you can hire a bike if you fancy spending just one day cycling along this amazing route in Ireland. Helmets are recommended as are high-visibility jackets, and your bike is required by law to have lights on it.
You can also enjoy parts of the Wild Atlantic Way by water. Whether you take a boat tour to view the Cliffs of Moher, fancy kayaking part of the coast, or even surf and swim off any of the many beaches located along the route, you can easily enjoy the Wild Atlantic Way from the water.
If you don't want to drive in Ireland yourself, there is the possibility to do a Wild Atlantic Way tour using a tour company. Rabbies is a great tour company that has several tours which take in part of the Wild Atlantic Way, departing from Dublin. So, if you don't want to chance driving yourself, I highly recommend you consider one of the tours with Rabbies.
See the different tours available with Rabbies by clicking here.
I also recommend checking Get Your Guide for shorter tours that take in sections of the Wild Atlantic Way. Search Get Your Guide by clicking here.
No matter how you travel along this driving route in Ireland, you should always see the Wild Atlantic Way logo. It is a white wave symbol on a blue background and is easily recognised on road signs and posts along the route. Whichever way you see it pointing, that denotes your route to reaching the Wild Atlantic Way.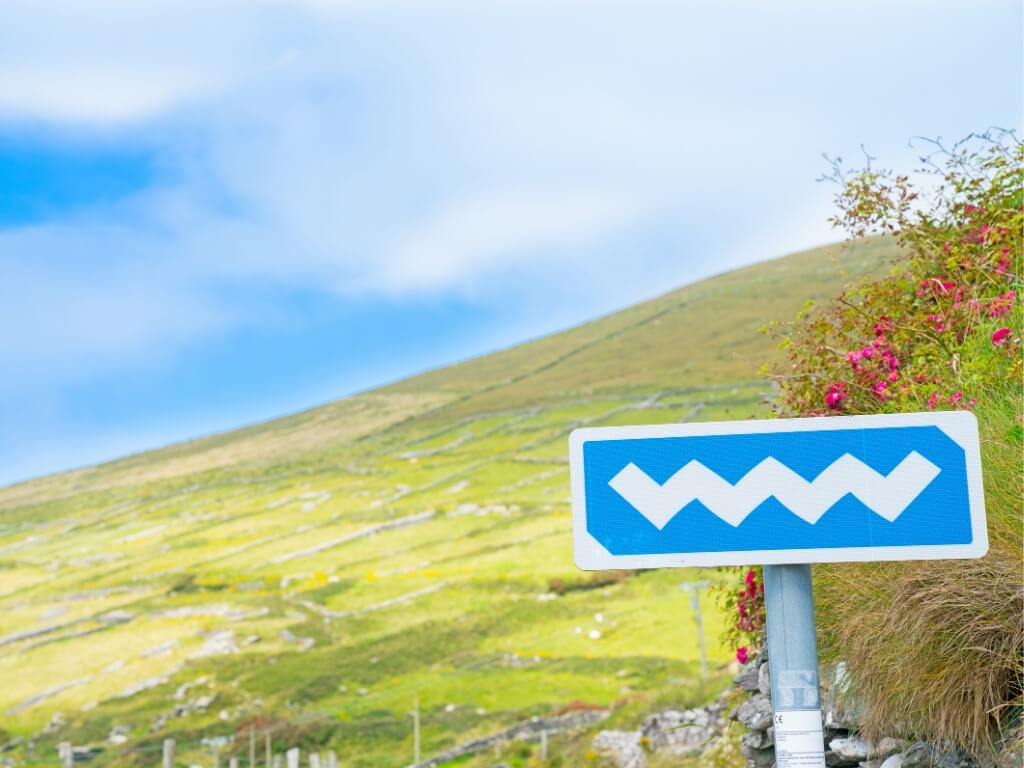 The Wild Atlantic Way Passport
If you'd like a way to track your journey along the Wild Atlantic Way, then get your copy of the Wild Atlantic Way Passport. This little booklet has 20 pages for collecting your stamps as you journey along this incredible coastal route. Each of the 188 discovery points has a unique stamp for you to add to your passport as a reminder of your visit. You can find them at designated post offices or tourist offices, where you can also buy your passport.
Wild Atlantic Way Discovery Points
Among the 188 discovery points along the Wild Atlantic Way are 15 signature discovery points. They represent some of the most popular and best-known points along the coast but are by no means the only thing you should see along this part of the Emerald Isle. They are:
Old Head of Kinsale, Cork
Mizen Head, Cork
Dursey Island, Cork
Skelligs View, Kerry
Blaskets View, Kerry
Loop Head, Clare
Cliffs of Moher, Clare
Derrigimlagh, Galway
Killary Harbour, Galway
Keem Strand, Mayo
Downpatrick Head, Mayo
Mullaghmore Head, Sligo
Slieve League, Donegal
Fanad Head, Donegal
Malin Head, Donegal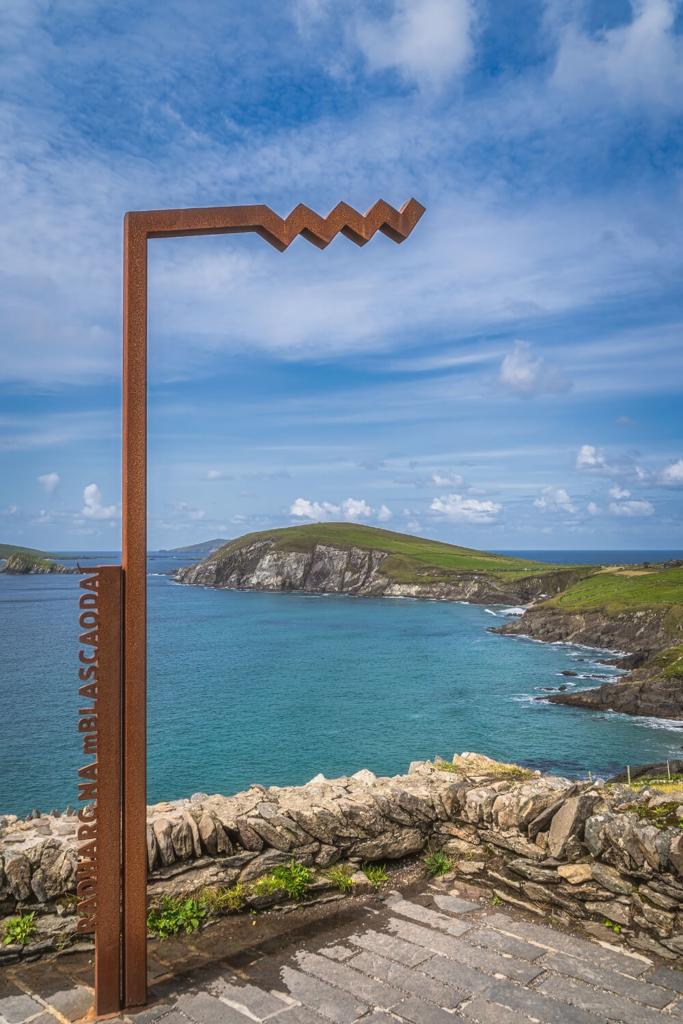 Wild Atlantic Way Highlights
To help you decide whether to travel the entire length of the Wild Atlantic Way, or to concentrate your time in one area, I am going to share with you the highlights along Ireland's Wild Atlantic Way. These will, of course, include the wonders of Ireland's Wild Atlantic Way and some other points of interest you might want to include in your itinerary. The route has been divided into six sections.
Southern Coast Highlights – Cork
If you are looking for cute fishing villages, sheltered coves, pretty harbours, and offshore islands, then the stretch between Kinsale and Bantry Bay is where you should head.
Kinsale has many quiet country lanes that are perfect for cyclists and is a picture-perfect coastal town in Ireland. The beaches of this part of Cork are sandy and beautiful, and some of the best lighthouses to see in Ireland are along this part of the Irish coastline.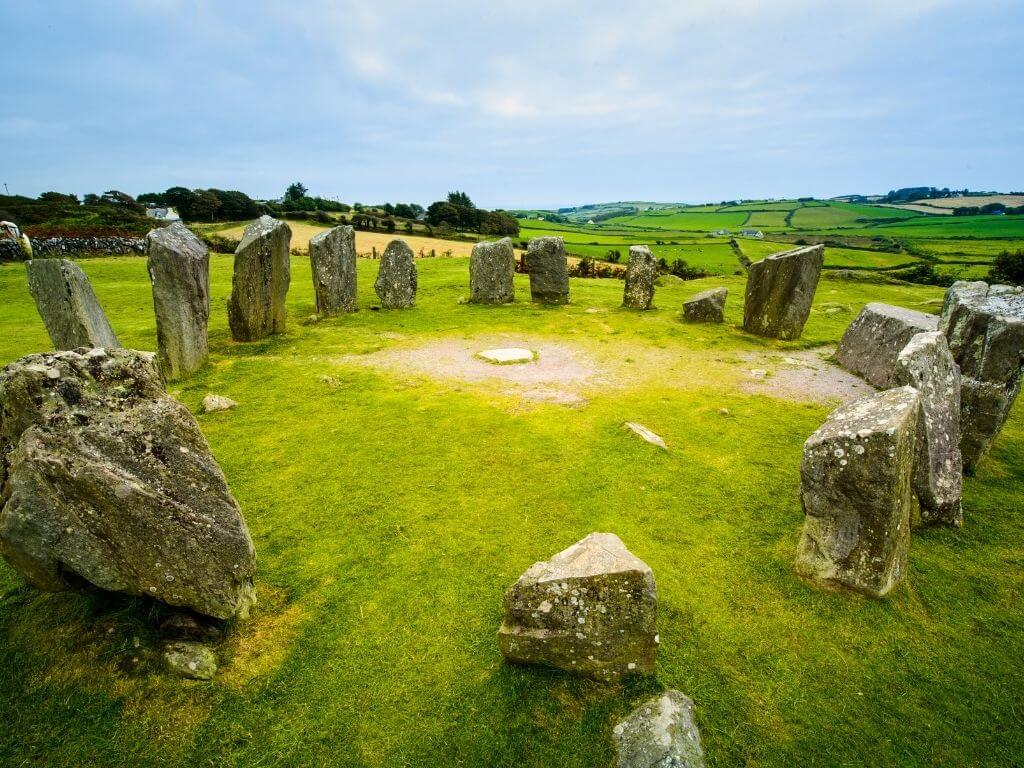 Among some of the best highlights along this part of the Wild Atlantic Way include
Garrylucas Cliff Path is a short cliff-walk path that leads to smaller bays aside from the Blue Flag beach. There is also a sea cave worth seeking out which is only accessible at low tide.
Timoleague is a quiet town with a 13th century Franciscan Abbey that is one of the best things to do in County Cork.
Seven Heads Peninsula is often overlooked as visitors drive from Timoleague directly to Clonakilty. This compact area is a great place to walk or cycle and offers plenty of places for swimming, kayaking, or rock pooling. Visit Broadstrand beach, take a stroll along the Fuchsia Walk or enjoy rock pooling at Seven Heads Bay.
Inchydoney Beach, a Blue Flag beach that is a great beginner surfer beach.
Drombeg Stone Circle, located just west of Rosscarbery, is a small Bronze Age stone circle. During the winter solstice, the setting sun passes through the portal of this monument.
Baltimore, a pretty coastal town, is a busy town in summer and is the location of the ferry terminal to some of Cork's islands. Enjoy water activities or walk to the Baltimore Beacon. This is also the departure point for the tours that visit the Fastnet Rock and its famous lighthouse. This rock is also known as the Teardrop of Ireland as it was the last sight of Ireland emigrants saw as they set off on their journey to North America.
Mizen Head, the most southwesterly tip of Ireland, is located on the peninsula of the same name and is worth visiting as one of the Signature Discovery Points along the Wild Atlantic Way. There is a visitor centre and bridge that leads across a chasm to the lighthouse.
Cape Clear Island, one of Cork's islands, is a Gaeltacht area of Cork and is home to a world-famous Bird Observatory. There are lovely walks on the island and a great place for glamping in Cork, Chleire Haven, is located on the island.
Barleycove Beach is another of the beautiful beaches in Cork that lies on the Mizen peninsula. This sheltered beach is popular with holidaymakers and is one of Ireland's best beaches.
Bantry Bay is the bay on which the Sheep's Head Peninsula lies and this is a perfect place for hikers and cyclists as it is usually a quiet place. There are lots of signposted walks, pretty villages, and a lighthouse. Bantry town is a bustling town with a great 18th-century mansion which is now a B&B. Its formal gardens are worth visiting and you will find many other activities to enjoy in this town.
Peninsula Highlights – Cork and Kerry
If you are interested in mixing rugged and beautiful landscapes with some history and possibly adventure too, then the peninsulas stretch of the Wild Atlantic Way between West Cork and Tralee is where you need to head.
This part of the Wild Atlantic Way is home to the Beara, Iveragh, and Dingle Peninsulas and has some great driving routes to enjoy including the famous Ring of Kerry. This is also one of the most popular places along the Wild Atlantic Way, so be warned.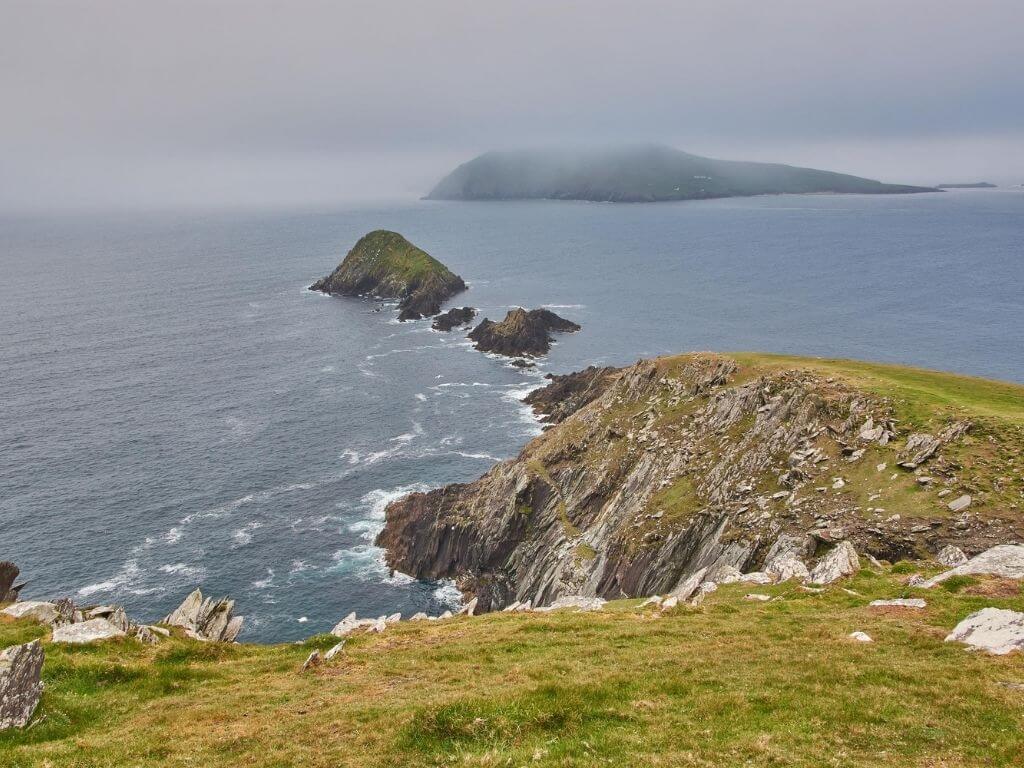 Killarney is one of the most popular towns to base yourself for exploring this area. Kenmare is another town to consider, especially as it will be slightly quieter than Killarney.
Highlights along this section of the Wild Atlantic Way include
Beara Peninsula, with its wild and rocky landscape, is home to villages, Bere, Garnish, and Dursey Islands, and a beautiful nature reserve, the Glengarriff Nature Reserve. The driving loop around the peninsula is just as good as the Ring of Kerry, and you should try to include the Healy Pass which links the towns of Adrigole and Lauragh and that has breathtaking views overlooking both Kerry and West Cork.
Garnish Island is also known as Ilnacullin and is a popular tourist attraction in County Cork thanks to the amazing gardens located on it. There is also a restored Martello Tower to visit.
Bere Island has pretty walking trails to enjoy, a lighthouse to marvel at, and you can even stay on the island.
Dursey Island is home to Ireland's only cable car. There are no facilities on this island so bring food and warm clothes. The Beara Way Walking route does a loop around Dursey Island but make sure not to get stranded on the island!
Gleninchiquin is the perfect place to take the family if you are visiting the Wild Atlantic Way with kids. This family-run farm and parkland have an amazing waterfall which alone is worth the entrance fee. You'll also find restored famine cottages, woodland walks, and there are plenty of places to enjoy a picnic.
The Ring of Kerry is Ireland's famous circular driving route around the Iveragh Peninsula. It is what makes this part of the country and the Wild Atlantic Way so popular with visitors. This 180km driving route starts and ends typically in Killarney and follows most of the Wild Atlantic Way route, apart from the inland section. The Killarney National Park is located within it and points of interest along the way include the Torc Waterfall, Muckross House, Farm and Abbey, and the Gap of Dunloe (not along the Wild Atlantic Way route). The Skellig Islands and Valentia Island lie off the Wild Atlantic Way. The Skellig Islands are a UNESCO World Heritage Site and are best visited on a tour, as numbers are limited, due to their growing popularity thanks to the Star Wars films.
The Dingle Peninsula is home to the pretty fishing village of Dingle. Enjoy the best fish and chips and Murphy's Ice Cream here. Outside of Dingle, Inch Strand and Coumeenoole beach are both amazing beaches for a stroll. You can also enjoy the Slea Head Drive with views across to the Blasket Islands, which are worth visiting themselves for their sheer unspoiled beauty. You can day trip there, camp overnight, or take a boat tour around the islands to spot seals, dolphins, and whales.
Tralee is one of the largest towns in County Kerry and has a wetlands centre to visit as well as a cool windmill, the Blennerville Windmill, used during the 19th century to grind corn.
Clare Cliff Coastal Highlights – Limerick and Clare
The part of the Wild Atlantic Way that lies between Tralee and Galway is home to some of Kerry's nicest beach strands, coastal cliffs, caves, and of course, another national park.
This route along the Wild Atlantic Way is another popular section, mainly due to the famous Cliffs of Moher. But these world-famous sea cliffs are not the only thing to see and do along this part of the coast of Ireland.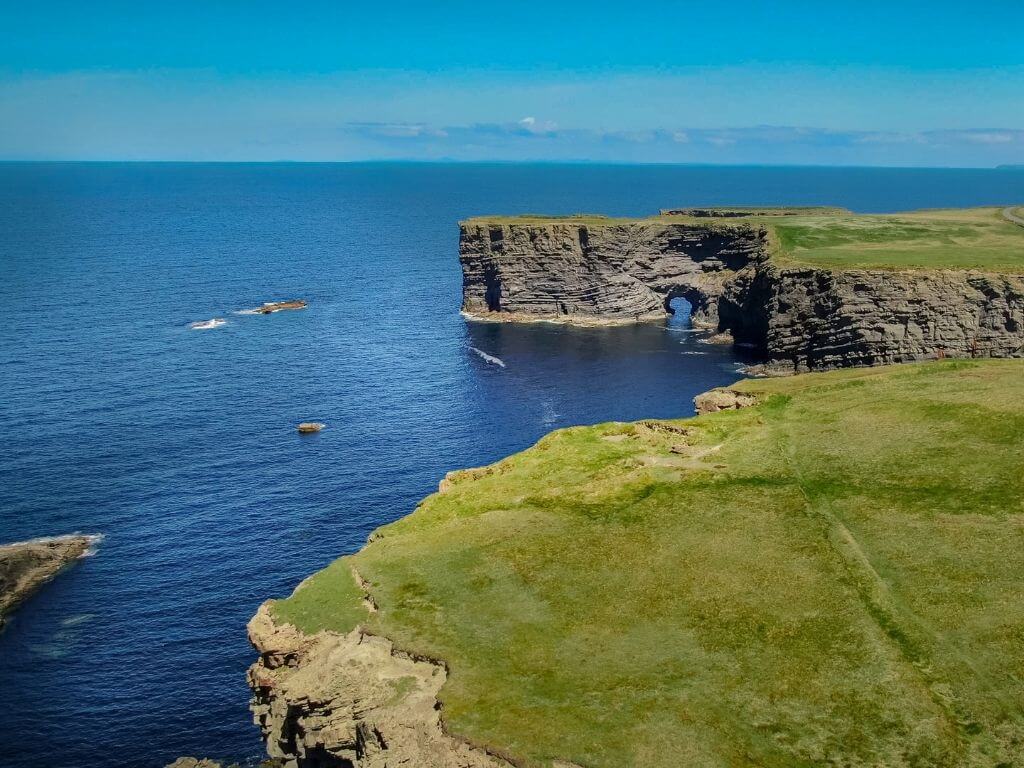 Highlights along the Clare coastline to enjoy along the Wild Atlantic Way include
Loop Head is often an overlooked part of County Clare, but shouldn't be, particularly if you enjoy wildlife, rugged coastlines, and quieter places. On the peninsula, make sure to visit the headland itself to see the lighthouse and enjoy walks. There are sea stacks to wonder at as well.
Not far from the Loop Head point you will find the Bridges of Ross, natural sea arches, of which only one remains. There are caves that you can see at low tide and nature lovers can enjoy seeing flocks of sea birds, particularly in August.
Further along the coast, heading north from Loop Head, the area around Kilkee is a must. As well as being a popular seaside town, the cliffs at Kilkee are a quieter affair than their northern cousins but are just as beautiful to visit. There are two cliff walks to be enjoyed, and the beaches around Kilkee are the among best in Clare.
Spanish Point is a popular Blue Flag beach along the northern stretch between Doonbeg and Lahinch. This stretch is not only renowned for its beaches that are popular with surfers, but also for traditional Irish music. Enjoy surfing during the day before retiring to a cozy pub for a traditional Irish dish with live music.
The Cliffs of Moher are one of Ireland's biggest tourist attractions and it isn't hard to see why. Rising from the Atlantic Ocean below to a maximum height of 214m, these are astounding sea cliffs that have captured the interest of visitors to the Emerald Isle for decades. There is a visitor centre with interactive displays on the flora and fauna of the cliffs, as well as the walk along the cliffs from Hag's Head to O'Brien's Tower. The Cliffs are a Signature Discovery Point, so make sure to get your passport stamped.
Off the Wild Atlantic Way, and inland, is the Burren National Park, the Poulnabrone Dolmen, and Aillwee Caves, all of which are worth the detour off the Wild Atlantic Way for.
Doolin is an excellent base for exploring the Cliffs of Moher and the Burren, and you can also take trips out to the Aran Islands from this lovely little town.
Kinvara, on the Clare/Galway border, is an attractive seaside town, beside which you can visit the 16th-century Dunguaire Castle. During the months of April to October, enjoy a medieval banquet in the evening at the castle.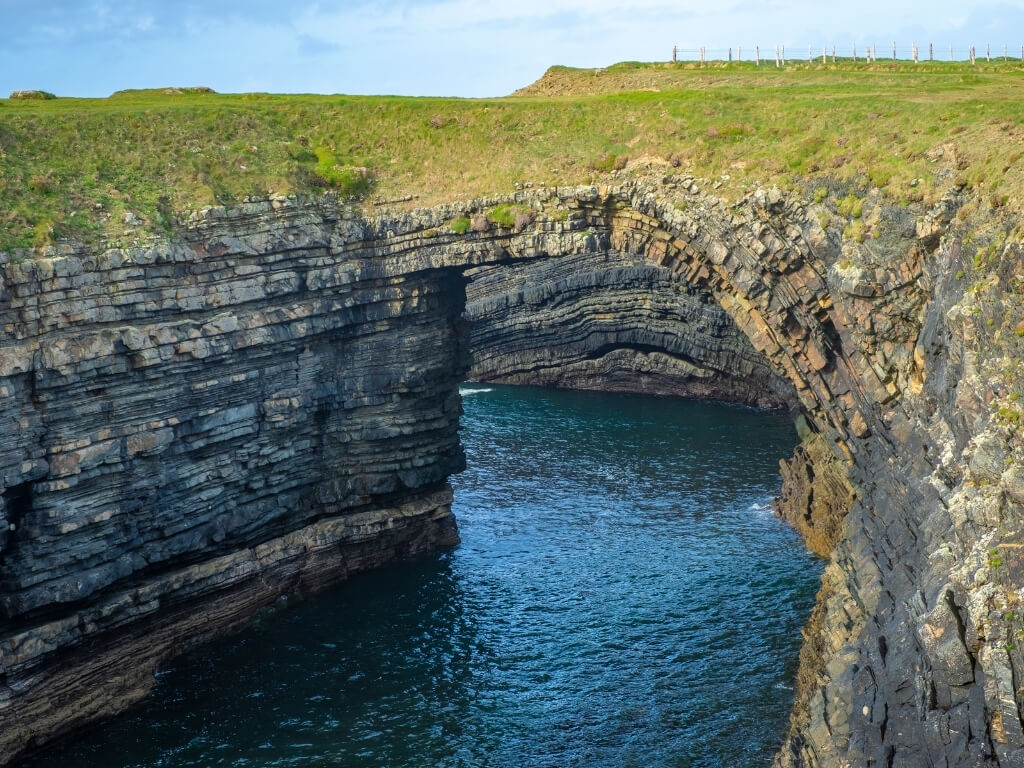 Galway Bay and Mayo Highlights – Galway and Mayo
If a lively city, wild national park, and equally rugged coastline are on your agenda, then the Galway to Ballina part of the Wild Atlantic Way will fit your requirements. Pretty coastal villages, beautiful sandy beaches, enchanting islands including Achill Island, and more await you between Galway and Ballina.
The highlights not to miss along this section of the Wild Atlantic Way include
Galway City, the capital of the West of Ireland, is a lively city with plenty to keep you occupied for a few days. And if the weather is terrible, pop into a cosy pub and you might just catch some traditional music in session.
The Aran Islands are one of the best things to do in County Galway and there are three main ones to explore. As well as walking, hiking and cycling, visitors to the Aran Islands can enjoy views of stunning lighthouses, enjoy strolls along beaches, visit a spectacular clifftop Iron Age fort, Dún Aonghasa, see the Plassey shipwreck and O'Brien's castle.
Seaside towns are plentiful along this part of the Wild Atlantic Way and two to mention include Spiddal and Clifden, the unofficial capital of Connemara.
There are plenty of beaches to visit including Salthill with its long promenade, and Dog's Bay and Gurteen which are unmissable.
Connemara, the section of County Galway along which the Wild Atlantic Way follows the border, is an area of outstanding natural beauty and the National Park, located inland, is worth detouring to see. If you are visiting Galway with kids, let them try to spot the Connemara ponies that roam freely.
Derrigimlagh is an interesting little town to visit. It was the site of the end of the first transatlantic flight and also where the first transatlantic wireless message was sent from.
Another island to visit off the Wild Atlantic Way along the Galway coastline is Inishbofin. A ferry from Cleggan will take you to the island where you can enjoy walking trails, beaches, and view the ruined St Colman's monastery.
Kylemore Abbey, just off the Wild Atlantic Way near Letterfrack, is one of the most popular tourist attractions on the edge of the Connemara National Park. This castle and its impressive gardens are a must-visit in this part of Galway.
Killary Harbour, at the Galway/Mayo border, is Ireland's only fjord and is an area of outstanding beauty. Kayaking is a popular activity here, and visitors can also take several walking trails in the area.
Not too far from Killary Harbour are one of the best waterfalls in Ireland, Aasleagh Falls. Not a very tall waterfall, these falls lie along the Erriff River which is one of the best salmon fishing rivers in Ireland.
Croagh Patrick is considered Ireland's holiest mountain and lies off the Wild Atlantic Way. If you enjoy hiking and the outdoors, you might enjoy the hike up to the summit which lies at 764m. The views alone are worth it, but ensure you have the right footwear, clothing and layers, just in case.
Westport is a bustling town in County Mayo along the Wild Atlantic Way and can act as a great base for exploring this part of the Wild Atlantic Way, and the wider County Mayo.
The Great Western Greenway is one of the longest off-road walking and cycling trails in Ireland. This 42km trail follows the route of the now-closed Westport to Achill Railway line and is a great thing to do along the Wild Atlantic Way for lovers of the outdoors.
Achill Island, one of my favourite places in Ireland, is Ireland's largest island and is a must-visit if you are travelling along the Mayo section of the Wild Atlantic Way. Achill is a beautiful island with pubs, cafes and restaurants, and a great mixture of mountains and beaches to enjoy, as well as plenty of walking opportunities. Keem Strand is a Signature Discovery Point and is a very popular place in summer, so arrive early if you plan to spend time there. In spring and early summer, you may be able to spot basking sharks in the bay from the elevated observation point on the hill on the approaching road.
Another place to visit off the Wild Atlantic Way in northern Mayo is the Ballycroy National Park. Dominated by the Nephin Beg Range and Owenduff Bog, this is one of Europe's last intact active blanket bog systems and has several walking routes to enjoy the landscape and scenery.
The Belmullet Peninsula has a saltwater tidal pool to enjoy on a hot summer's day, a cycle hub for cycling enthusiasts, incredible beaches, two lighthouses and more.
The Céide Fields are a network of ancient stone walls and field systems dating back to the Stone Age. There is a visitor centre where you can learn more about them and the flora and fauna of the region.
Another Signature Discovery Point along this section of the Wild Atlantic Way is Downpatrick Head. Located a few minutes from Ballycastle village, Downpatrick Head is an impressive sea stack along a spectacular section of sea cliffs. There are two blowholes close to the Head.
The Mayo Sculpture Trails lie along the Wild Atlantic Way in north Mayo and as well as two outdoor sculpture trails, visitors to the area can view more than twenty other sculptures scattered along the coast. These can be considered a gem of the Wild Atlantic Way.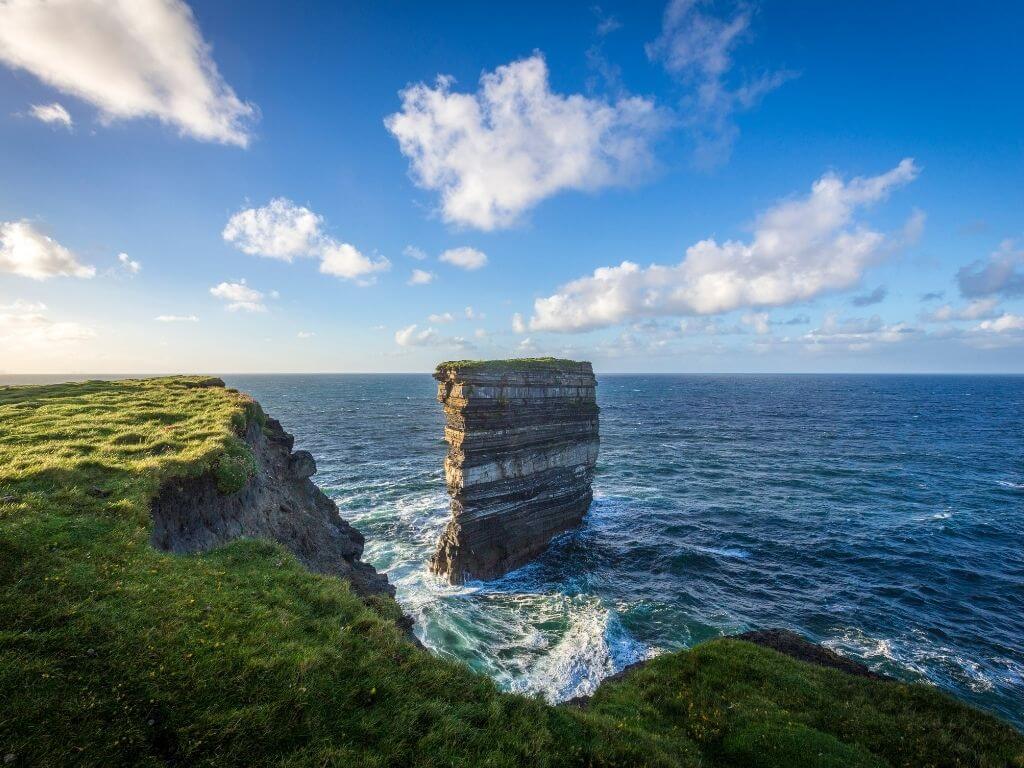 Northwest Coast Highlights – Sligo, Leitrim and Donegal
The Sligo to Donegal coast, along which the Wild Atlantic Way follows, is still rugged but can also be gentler at times than some of the other sections of this driving route. Green fields slope down from unique mountains to meet the shoreline, high sea cliffs will astound you, and inland you will find enchanting waterfalls, lakes, and more.
Along this section of the route, the highlights include
Strandhill is a small seaside village that is a surfer's paradise with cafes and coffee shops and is considered one of the best beaches to surf from for advanced surfers. The currents are dangerous, so no swimming is allowed and only the most experienced surfers should attempt to surf off this beach.
Rosses Point, the peninsula that juts out from Sligo Town, is popular with holidaymakers and has a Blue Flag beach, walking opportunities, and caves to seek out.
Slightly inland in this area of County Sligo, you can visit Benbulbin, the flat summit mountain that is instantly recognisable, and the Glencar waterfall, best viewed after heavy rain.
Moving into County Donegal, one of the must-visit places in County Donegal are the Slieve League sea cliffs. Standing higher than the Cliffs of Moher, these are often less visited and are more impressive than their southern counterparts. You can view the cliffs from land, or by boat.
A short drive from Slieve League is Glencolmcille, a pretty village which has a folk park in which you can learn about village life in times gone by. There is also a 20km walk from Glencolmcille to Maghera that walking and hiking enthusiasts will enjoy.
Maghera Beach is a beach of white, pristine sands that also has sea caves that can be explored at low tide. Swimming is not advised due to the strong currents, but it is a great place for a peaceful walk.
Crohy Head is an area of the Donegal coast that regularly features in photographs of this part of the Atlantic coast, thanks to the sea arches that are located here. While there are three arches located at Crohy Head, often called the Breeches, only the most prominent is visible from the clifftop viewpoint.
Arranmore is just one island off this section of the Irish coast to visit. It is the largest inhabited island here and is part of a Gaeltacht area. Enjoy walking, high cliffs, sea stacks, caves, and beaches. There is a lighthouse on the island and it can be reached by ferry from the mainland, a journey of just 15 minutes.
North Atlantic Coastal Highlights – Donegal
The North Donegal Coast towards the start/endpoint of Malin Head is where you will find northern peninsulas dotted with sandy coves and beaches, forts, shipwrecks, and lighthouses. The coastline is wild and rugged while inland the landscape is mostly flat and barren.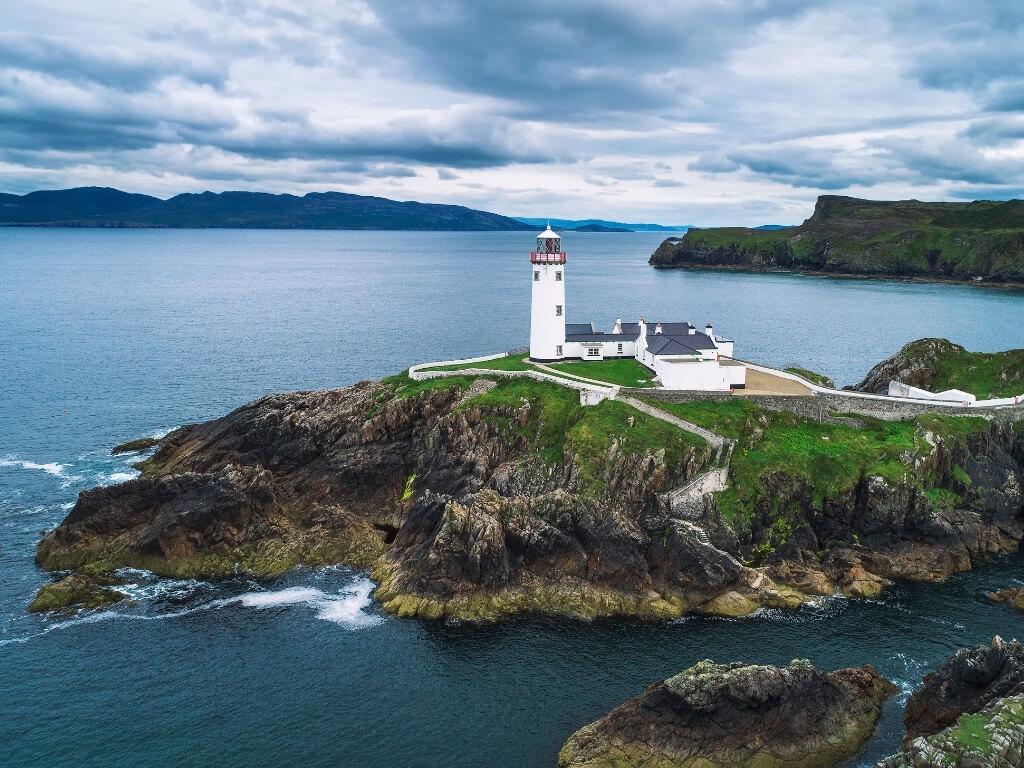 Highlights along this section of the Wild Atlantic Way to add to your itinerary include
Horn Head, located just north of the town of Dunfanaghy, has huge cliffs that rise 180m out of the sea. This is an important area for breeding seabirds. Walking is popular on this quiet headland where you can enjoy views across to Tory Island and inland to the Derryveagh mountains.
Rosguill Peninsula has beautiful beaches, and a drive called the Atlantic Drive which goes clockwise around the peninsula, that is quiet enough to be walked or cycled. Don't forget to take in the views if you visit.
No visit to this part of the Wild Atlantic Way would be complete without visiting the Fanad Peninsula and its amazing lighthouse. As well as the Fanad Lighthouse and Ballymastocker Beach (one of the most beautiful beaches in Ireland), there is also a sea arch on this peninsula which is one of the most impressive along the Atlantic coast, the Pollet Great Arch.
At the entrance to the Inishowen Peninsula is where you can visit the Grianan of Aileach Ring Fort, a circular stone ringfort dating from the 6th century.
On the Inishowen Peninsula, you can see another of the beautiful waterfalls of Ireland, the Glenevin Waterfall, as well as visit the Doagh Famine Village and Five Fingers Strand, a great spot for a stroll after a long drive.
And finally, Malin Head, a Signature Discovery Point that acts as the start/endpoint for this amazing coastal driving route in Ireland. This is also the most northerly point in Ireland.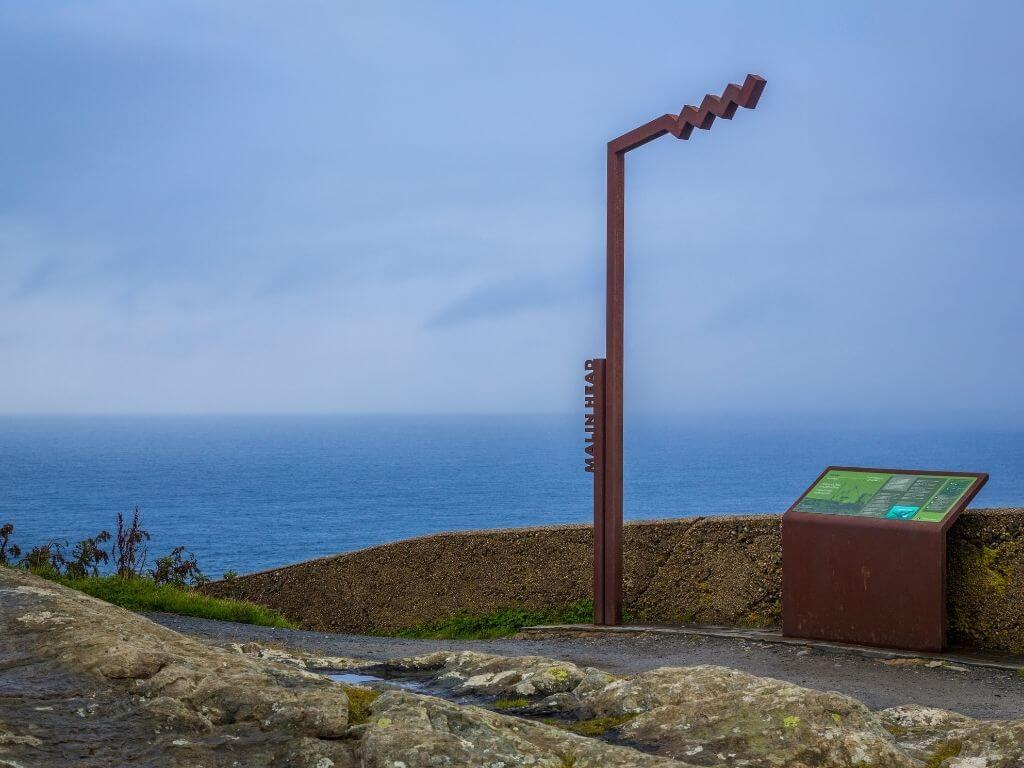 Tips for planning your trip along the Wild Atlantic Way
If you are going to do a Wild Atlantic Way road trip, be it part of it, or all of it, here are a few tips that might help with you planning your route and stops.
If you want an easier time of pulling in for pictures and views, drive south to north. In Ireland, driving is on the left so this will mean you do not have to cross traffic and will always be following the coast. Your passenger will be grateful!
When it comes to planning your Wild Atlantic Way road trip itinerary, don't try to squeeze everything into a short amount of time. Remember, this is over 2500km of driving roads and even in two weeks, you will be hard pushed to see everything on your list.
Ideally, spend 2 or 3 nights at each stopping point to allow for exploration of the surrounding area and for taking a break from long driving days.
Use a notebook as your Wild Atlantic Way route planner and take note of distances between your destinations. Most of the speed limits along the route are 100kph, so 100km will take you one hour to drive, not including stops or coming up against a slow-moving tractor or truck. Add more time than you think to allow for these sorts of events.
If you know where you will be stopping, prebook your accommodation as soon as you have your route set. This will avoid disappointment, especially during the high summer season when accommodation availability is at a premium.
If you are planning to visit popular places along the way such as the Cliffs of Moher, arrive early in the morning, or go later in the afternoon to avoid all the tour groups, unless you are part of one yourself.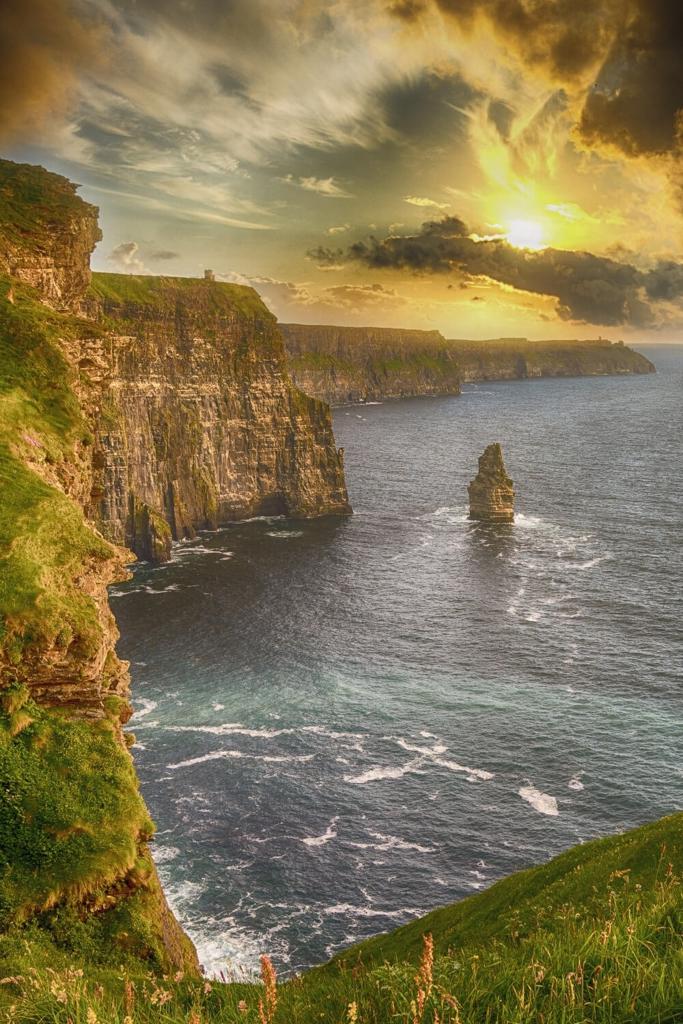 I have two itineraries that include the Wild Atlantic Way.
My first one tells you how to see the most of the Wild Atlantic Way in 5 days. It's pretty full-on, with lots of driving but you could amend it to suit your trip.
My second itinerary combines a visit to the Causeway Coast in Northern Ireland with a trip along the Wild Atlantic Way as far as Limerick in the Republic of Ireland. This 7-day Wild Atlantic Way and Causeway Coast Itinerary can also be amended to suit your own trip needs.
And I also highly recommend getting a Wild Atlantic Way book to help you organise your trip and help you decide what other gems you want to visit along the way.
Final thoughts about the Wild Atlantic Way
I hope this guide has covered everything you need to know about visiting and travelling the Wild Atlantic Way. If there is anything I did not cover that you wish I had, pop it into the comments and I can add it to this post to help future readers.
Read more about visiting Ireland and travelling the Wild Atlantic Way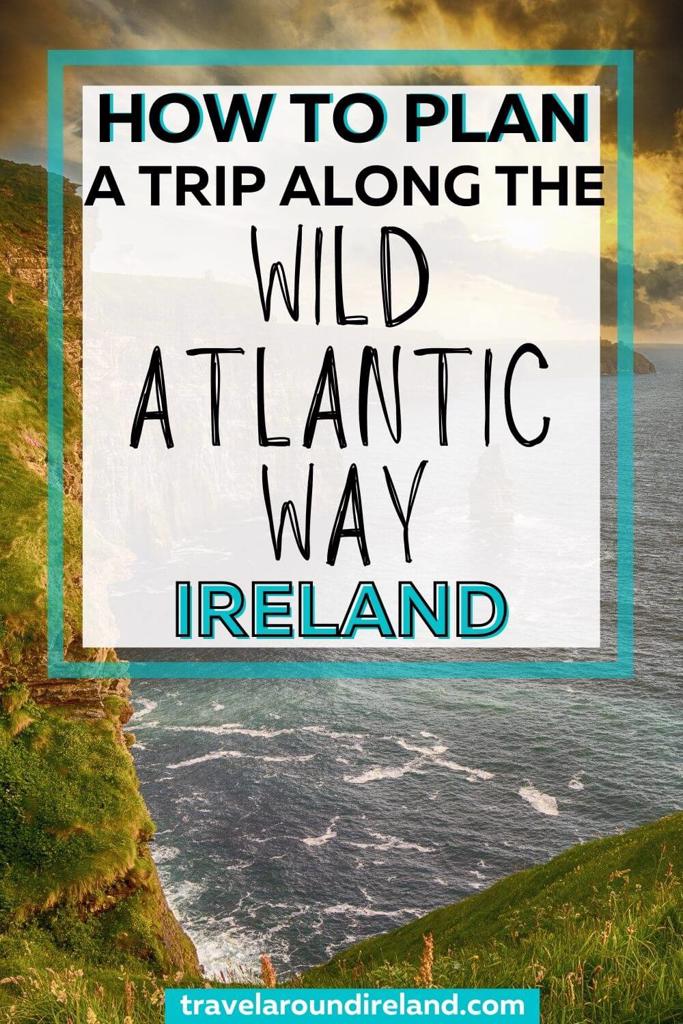 Travel Around Ireland is a participant in the Amazon Services LLC Associates Program, an affiliate advertising program designed to provide a means for sites to earn advertising fees by advertising and linking to amazon.com, amazon.co.uk, amazon.ca. Amazon and the Amazon logo are trademarks of Amazon.com, Inc. or its affiliates. To learn more about affiliate links, read my Disclosure Policy here.