Looking for the best glamping in Wexford spots for a unique stay in Ireland? Then you are going to love this list. I have researched the best places to go glamping in Wexford, Ireland so you can choose your perfect Irish getaway without hassle!
An increasingly popular activity for staycations and holidays at home is glamping. This type of holiday is on the increase with people looking to enjoy a break away from home without compromising on home comforts.
And glamping in Ireland is no exception. Whether you are looking for glamping breaks in the north, south, east or west of the country, you'll find plenty of spots across the country. If you are looking for the best glamping in Wexford, Ireland, then you'll find plenty of ideas right here.
*This post contains affiliate links, which may include Amazon affiliate links. To read more about affiliate links, please visit my Disclosure Policy page.
Best Glamping in Wexford, Ireland
Wexford is a popular destination in Ireland, particularly those from the Big Smoke (Dublin) who flock to the county during the summer for a break that is less than 2 hours from home. Glamping in Wexford is increasing, and this post shares the best Wexford glamping spots.
Duncannon Glamping Cabins
Address: Duncannon Beach Holiday Park, Shanacloon, New Ross, Co. Wexford
Duncannon Holiday Park is a family-run mobile home park for nearly 50 years. Located on the Hook Peninsula and close to Duncannon fishing village, it is a great place to get away from it all.
The glamping accommodation at Duncannon is in the form of two glamping cabins, conveniently located near the playground, which is ideal for those visiting with kids. Each sleep 5 people and each has a kitchenette, separate toilet and hand basin, and they come with an outside decking area with seating and a gas BBQ. The cabins have access to the communal shower block. Duvets are provided, but guests must bring their own bed linen and towels.
Locally, you can enjoy visiting the star-shaped fort at Duncannon, where you will also find plenty of restaurants. Activities such as canoeing, windsurfing, snorkelling, scuba diving, and fishing can be enjoyed in the area around Duncannon.
Morriscastle Strand Holiday Park
Address: Tinnacree, Morriscastle, Kilmuckridge, Co. Wexford
If you are wondering where to find the best glamping pods Wexford has to offer, then why not head to Morriscastle Strand Holiday Park. Stradling a Blue Flag Beach, this site is just 2 minutes from the beach and offers holidaymakers a chance to enjoy glamping in Co. Wexford.
There are a number of glamping pods available sleeping 2 adults and up to 3 children. Each has a double bed, single bunk and double sofa bed, and comes with a bathroom, microwave, kettle, mini-fridge, delph and cutlery. Guests need to bring their own bedding and towels. Each pod also has an outside deck with a table and chairs and stands for BBQs.
On-site there is an ice cream parlour, coffee dock and bookshelf. There are also 2 communal service blocks with toilets, showers, laundry, and kitchen facilities. Morriscastle is also pet-friendly. Activities on-site include claymazing, sports, kids crafts, kids movies and fishing, and with the beach so close, it is the perfect place to go glamping in Ireland with kids.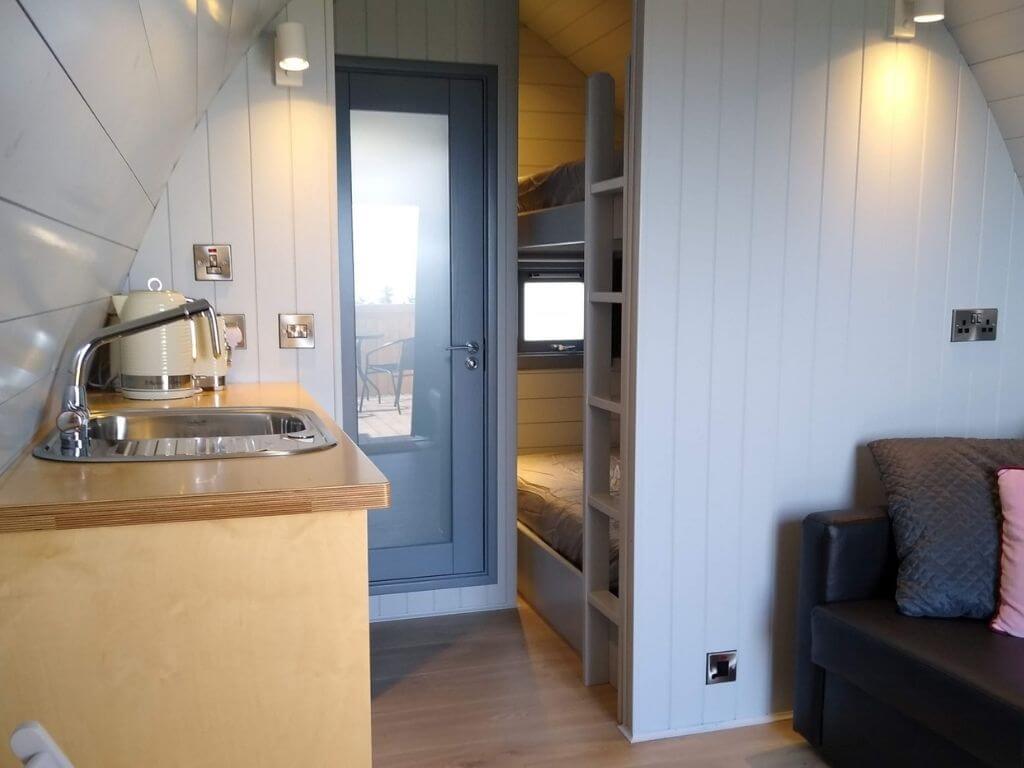 IOAC – Camping and Outdoor Adventure Centre
Address: IOAC, Sixacre, Tagoat, Co. Wexford, Y35 RH76
IOAC is a multi-activity and outdoor centre where you can combine outdoor activities with some glamping in Wexford. Located close to Rosslare Harbour, it is easily accessible from Dublin or the southern counties of Ireland.
There are a limited number of glamping cabins at IOAC. Each sleeps up to 4 people in 2 double beds and come with electricity, an electric heating stove and tea/coffee making facilities. The cabins have access to the communal toilets/showers and kitchen facilities and guests can eat at the on-site Long Haul café. There is also WiFi at the shop/café area.
On-site there is a huge number of activities available including a high ropes park, kayaking, archery, raft building and more. Note that these are paid activities not included in the price of your accommodation.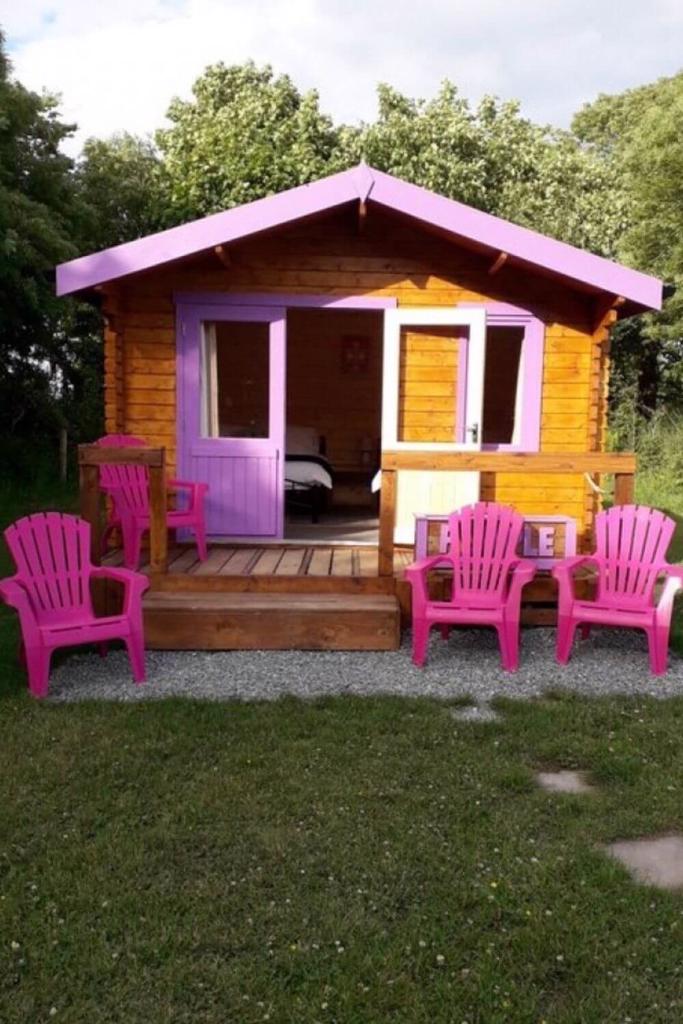 There are also a number of smaller, independent glamping options in Wexford available through AirBnB not listed here.
Final thoughts about glamping in Wexford
Hopefully, this list gives you some idea of the best glamping Wexford, Ireland has to offer should you be looking to spend some time in the county and are looking for unique places to stay in the area.
Read more about visiting Wexford and the surrounding areas: