Looking for something unique to do in County Wexford? Then visiting the Dunbrody Famine Ship could be just the ticket (if you'll pardon the pun). Discover all there is to know about this historical Wexford Famine ship and discover what we thought of it during our visit.
The Dunbrody Famine Ship, New Ross is a fascinating place to visit, especially if you have an interest in Irish history and want to know more about Irish famine ships. This replica 1840s emigrant ship provides an immersive and interactive experience for all visitors, including families.
In this article, you will learn everything you need to know about the Dunbrody Famine Ship, read about our visit, and discover why you should include it in your itinerary if you are visiting County Wexford.
About the Dunbrody Famine Ship – Facts and history
The Original Dunbrody Famine Ship
The Dunbrody Famine Ship was built in a Quebec shipyard in 1845 by an Irish emigrant shipbuilder. Graves & Son, a New Ross shipping firm ordered the ship from Thomas Hamilton Oliver. It was built in less than 6 months and was launched from Quebec in the summer of 1845.
She was originally built as a cargo ship to carry timber and fertilizer to Ireland but with the arrival of the Great Famine, she was refitted with bunks to accommodate passengers as well. Between late 1845 and 1851, she carried passengers on the outward leg to North America, returning with cargo, something that meant the owners, Graves & Sons, were capitalising on both legs of the journey.
Passenger numbers ranged between 160 to 300 passengers. Most were tenant farmers from Wicklow and Portlaoise. There were two classes of passengers on the ship, Cabin and Steerage.
Although many of the boats leaving from Ireland for America were classed as Irish coffin ships due to the high number of passengers that died during the trip, the Dunbrody was one of only a handful of ships that maintained a low mortality rate of its passengers, thanks mainly to its captains.
After the Famine, the Dunbrody was sold in 1869, and in 1875, she, unfortunately, ran aground for the second time on the shores of Labrador in Canada and was left to rot and break up over time.
The Replica Dunbrody Ship
What visitors see today is a replica of the original Dunbrody.
In 1966 the John F Kennedy Trust began construction of a 176-foot replica based on the original designs. Over the course of 5 years, 150 local tradesmen constructed the ship was officially floated in February 2001.
The ship has sailed a number of times and is now permanently moored in New Ross on the banks of the River Barrow.
What to expect from your Dunbrody Famine Ship Experience
Our visit to the Dunbrody Famine Ship
We visited the Dunbrody Famine Ship one Tuesday morning at the end of August. We booked onto the 10 am tour and were the only people on it, giving us a very personalised experience.
We were met by Jason our tour guide, and after giving us about 10-15 minutes to read the initial informational displays at the entrance to the experience, we were led into the William Graves ticket office to get our 'boarding passes'. Jason was quite fascinated by our own emigration story when he asked us where we were from.
There are informational displays and background sounds in the ticket office to make it an immersive experience. We also got to have our pictures taken in some very fashionable 19th-century hats before it was time to board the ship.
We were guided around the upper decks while Jason gave us information about the ship, when she was built, and what her original uses were. We also learned that the bell on the New Ross famine ship is the original bell (pictured)!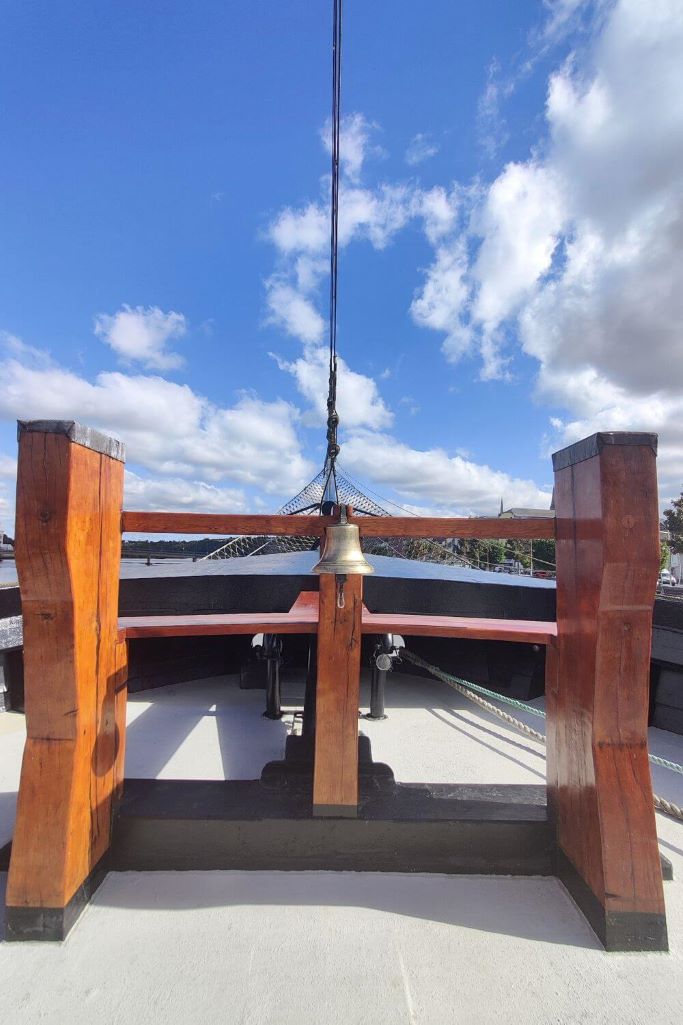 We were then brought below deck to see what the cabin and steerage sections were like. Each 6-foot steerage bunk accommodated 4 people, whether they were related or not. And I found MY name on one of the name labels!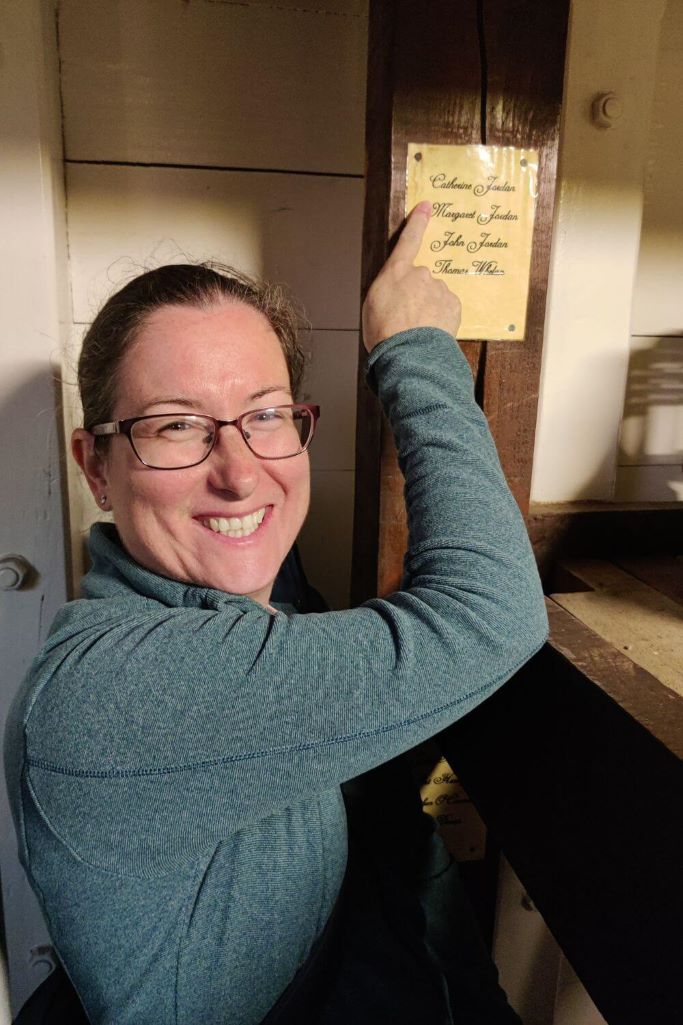 We also learned what the passengers ate, both the steerage and cabin passengers, and saw where ill passengers were quarantined away from others. The fact the Dunbrody had such a low mortality rate is in part due to the ship's captain putting in place a quarantine area.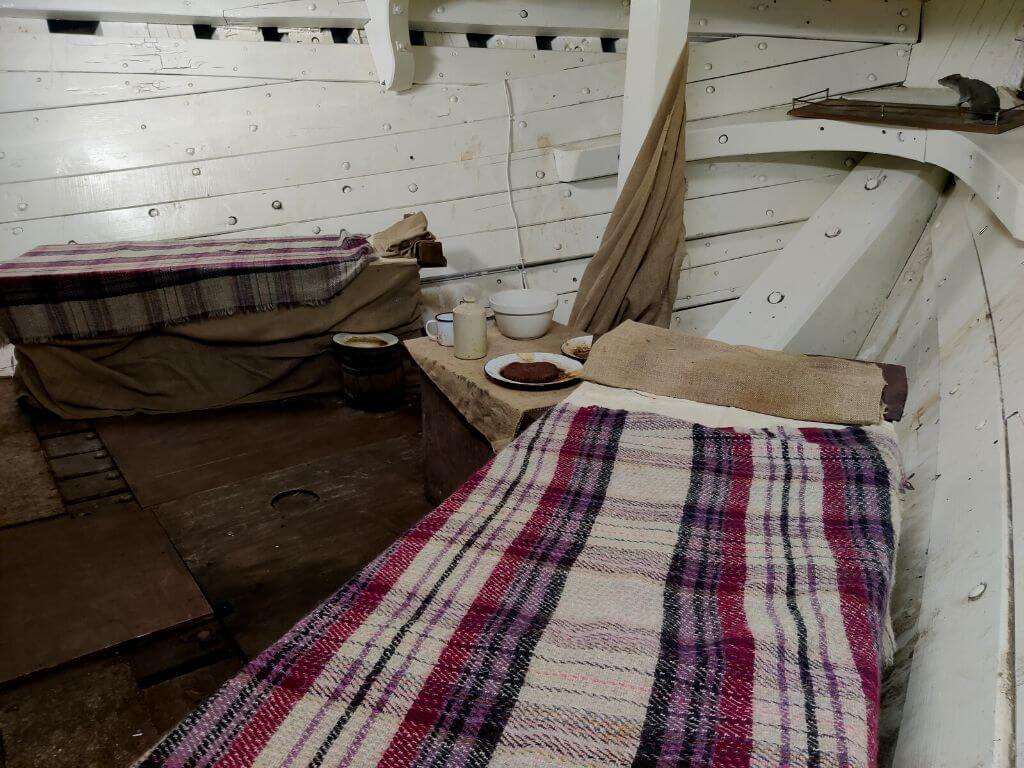 Below decks, we also met Anne and Mary, two passengers, with two very different stories which I won't ruin for you. Mary was a farmer's wife and a steerage passenger, while Anne was the wife of a businessman who was already in America and awaiting the arrival of his wife and children. She and their children were travelling in cabins. Anne and Mary were obviously portrayed by costume actresses but were very funny. And apparently, I owe Anne money!
Once our tour was finished with Jason we were allowed to explore the ship some more on our own, which we did before passing through another set of exhibition displays and information boards, which is where you can see a list of ships that departed for North America from New Ross, the number of passengers they were carrying and how many died on the journey.
Before we exited, we saw a wall of fame, of American people with Irish heritage that included Presidents Joe Biden and John F Kennedy. Beside this is a display of other famous Americans with Irish heritage including a certain Walt Disney!
After we left we took some pictures of the Emigrant Flame that is located in front of the ship on the quayside where we saw this poignant poem
As slow our ship her foamy track

Against the wind was cleaving,

Her trembling pennant still look'd back

To that dear Isle 'twas leaving.

So loath we part from all we love,

From all the links that bind us;

So turn our hearts as on we rove,

To those we've left behind us.

Thomas Moore 1779-1852
Overall, we loved our visit to the Dunbrody Famine Ship. Our guide Jason was funny, engaging, and conscious of including our son. And since we were the only ones on the tour, it was a really personal experience.
I am a lover of historical ships, so Dunbrody Famine Ship was right up my street and it also gave us an opportunity to learn more about emigration during the Irish famine and what life was like on board one of the 'coffin ships' during the famine.
This is something we have always been aware of, having learned about it in school, but this visit brought us up close and personal with it. It was quite a relief, though, to learn of the good record of the Dunbrody where deaths on board were concerned.
If you are looking for an interesting thing to do in County Wexford, I highly recommend a visit to the Dunbrody Famine Ship and Irish Emigrant experience. You won't regret it.
Highlights of the Dunbrody Famine Ship and Irish Emigrant Experience
Here are some highlights that you can expect on your own visit to the Dunbrody Famine Ship:
Enjoy a fully immersive, interactive, guided tour of the ticket office and ship
Get an insight into what drove people to leave Ireland during the Great Famine
Learn about the history of the Dunbrody Ship
Get an insight into life on board the ship and how vastly different the lives of its passengers were
Enjoy interactions with some of the ship's passengers
Learn more about Irish emigration during the Famine and what faced them when they reached North America
Discover famous Americans with Irish heritage
Enjoy some free time to explore the ship
Visiting Dunbrody Famine Ship – Things you need to know
Where is the Dunbrody Ship located?
The Dunbrody Famine Ship is located in New Ross, County Wexford, in the River Barrow, along the R723. The Eircode for the Dunbrody Famine ship is Y34A786.
How to get to the Dunbrody Famine Ship
The Dunbrody is located just over 2 hours south of Dublin. To reach it from Dublin you would first take the N/M7 and turn off onto the M9 at junction 11 on the M7. At junction 6 on the M9, you then take the R448, the R705, and finally the R700 into New Ross.
From Wexford Town, the Dunbrody Ship is just over a 30-minute drive along the N25.
Dunbrody Famine Ship opening times
The Dunbrody Famine Ship is open 7 days a week between 9 am and 5 pm (Oct-Mar)/6 pm (Apr-Sept). The length of the tour depends on the season and the number of visitors on each tour but they typically run hourly. Note that the Dunbrody Famine Ship closes on Christmas Day and St Stephen's Day (Dec 25 and 26) and also on New Year's Day (Jan 1).
Dunbrody Famine Ship Admission
The Dunbrody Famine Ship prices ( at the time of writing in 2023) were as follows:
Adult €14
Senior €13
Student/Child €9
Children under 4 FREE
Family Ticket (2Ad+1Ch under 12) €32
Family Ticket (2Ad+2Ch under 12) €40
Family Ticket (2Ad+3Ch under 12) €48
You can buy your ticket at the entrance of the gift shop or online. During busy summer months, it is advisable to book your tickets ahead of your visit to avoid disappointment.
Click here to book your tickets today.
Dunbrody Famine Ship tour information
The Dunbrody Famine Ship tour takes place throughout the day, on an almost hourly basis. During off-peak times, tours begin at 10 am and the last tour starts at 4 or 5 pm, depending on the time of year. During peak times and the summer holidays, the first begins at 9.30 am and there may be additional tours during the day.
You can book your tickets and tour time here.
Dunbrody Captain's Table Restaurant
If you wish, you can dine in the Dunbrody Captain's Table Restaurant which overlooks the New Ross Quays. Open 362 days a year, the restaurant offers a breakfast menu, main meals, and light snacks throughout the day. Click here to find out more.
Things to do near the Dunbrody Famine Ship
The Dunbrody Famine Ship is in a great location for combining it with some of the other great things to do in County Wexford.
JFK Homestead
The JFK Homestead is a short 10-minute drive from the Dunbrody Ship and you can also get a combined ticket for both. This interesting place to visit is the birthplace of JFK's great-grandfather Patrick Kennedy who left Ireland in 1849 for Boston.
JFK returned to the homestead in 1963 to be greeted by his cousin as the President of the United States of America, just a few short months before his assassination. Read this article to find out more about visiting the JFK Homestead.
Dunbrody Abbey
Another great place to visit near the New Ross famine ship is Dunbrody Abbey. Located about 15 minutes from the ship, this ruined Abbey is a former 13th-century Cistercian Abbey that is a wonderful place to explore.
Across the road from the abbey itself, you'll find tearooms, and a fabulous hedge maze to find your way out of. There is also the chance to play some pitch and putt around the edge of the maze. If you are visiting with kids they'll love this!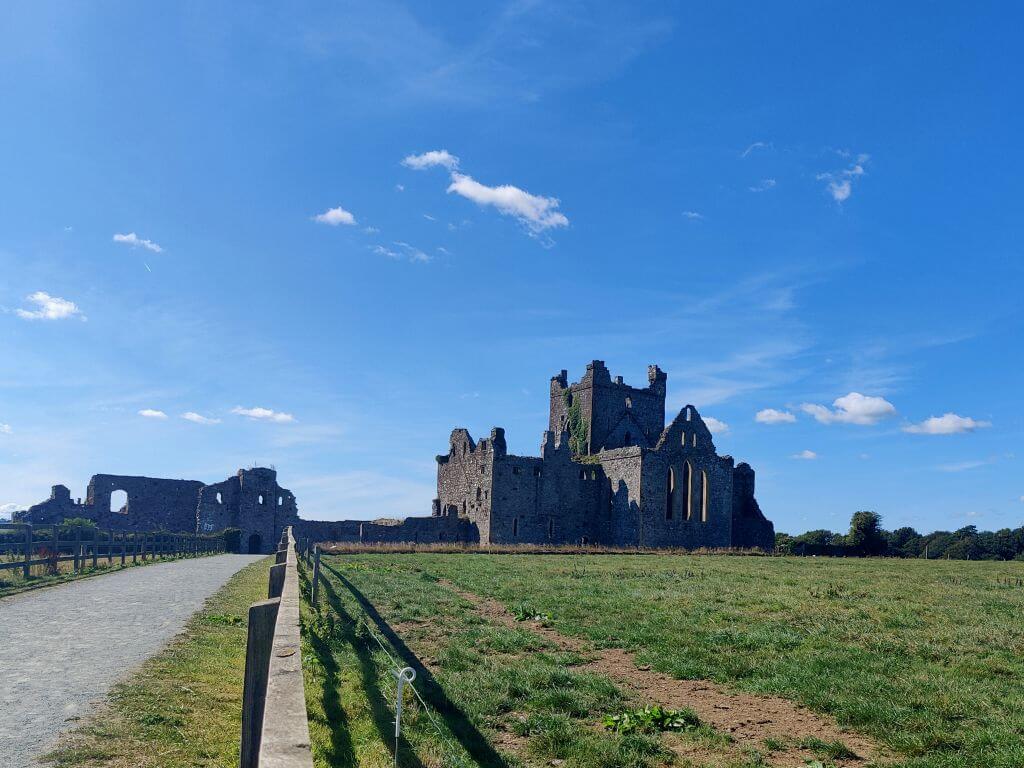 JFK Arboretum
15 minutes from the Dunbrody Famine Ship is the JFK Arboretum, a 252-hectare arboretum with over 4500 species of trees, hedges, and shrubs from around the world.
There are several walks to enjoy around the arboretum, a lake where you will find waterfowl, and a great playground for those visiting with kids. Parents can enjoy a cuppa and a slice of cake while the kids play. We did!
If you want an enjoyable walk on a sunny day in Wexford, head to the JFK Arboretum after your visit to the Dunbrody Famine Ship. You won't regret it.
Hook Head Lighthouse
And finally, another great place to visit in County Wexford that is only 40 minutes from the ship is the Hook Lighthouse. As the world's oldest operating lighthouse, this is a fascinating place to visit.
Join one of the guided tours to discover more about the site and the lighthouse. You'll also learn about an important man where County Wexford is concerned, William Marshal. And afterward, grab a coffee and a slice of cake and enjoy marvelling at the lighthouse while the kids (if you are travelling with any) enjoy the pirate playground.
Or take them rock-pooling in the rocky outcrops in front of the lighthouse. Just make sure you are all wearing suitable footwear!
So, there you have it, everything you need to know about visiting the Dunbrody Famine Ship in New Ross, County Wexford including a summary of our visit there.
Frequently Asked Questions About Dunbrody Famine Ship
You might also be interested to read: