Embarking on a journey to explore the best lighthouses in Ireland?
With over 6,000km of coastline, the Emerald Isle offers numerous striking lighthouses, but pinpointing which ones to visit can be a real challenge.
As a seasoned local, I understand this dilemma and that's where I come in. I've sifted through Ireland's coastal gems to curate a list of the most captivating lighthouses, some hidden in plain sight, others tucked away on secluded islands.
Trust me, each one is a beacon of beauty that deserves a spot on your Irish adventure bucket list. Let's navigate these nautical wonders together!
Best lighthouses in Ireland to visit
Irish lighthouses are operated mostly by the Commissioners of Irish Light or other maritime authorities. They provide a guiding light to mariners, boats and ships, keeping boats as safe as possible as they navigate the waters around Ireland.
There are almost 100 lighthouses in operation around the coast of Ireland, and there are around 21 inactive lighthouses. You are about to discover some of the most beautiful lighthouses around Ireland that you should add to your itinerary if you are visiting the county in which it lies.
Map of lighthouses in Ireland
Fastnet Lighthouse, Mizen Head, Cork
Address: offshore from Mizen Head
Operator: Commissioners of Irish Light
The tallest lighthouse in Ireland is located 4.5 miles southwest offshore between Mizen Head and Cape Clear, County Cork. It has been a guiding light to ships in the area since the 19th century, with the first lighthouse built in 1883. A replacement lighthouse was brought into service in 1904 and it was automated in 1989.
Also referred to in Irish as "Carraig Aonair" which means lonely rock, the Fastnet Lighthouse is also off Ireland's most south-westerly point. Information about the lighthouse and its construction can be found on Mizen Head, a signature discovery point along the Wild Atlantic Way.
As well as being Ireland's tallest lighthouse, standing at an impressive 54m, it is also on Ireland's widest rock. It can be reached by ferry in the months between April and October (weather permitting) via the Fastnet Tours Company. The tour, departing from Baltimore or Schull, takes you around the rock before heading to Cape Clear Island. Watch for dolphins along the way if you take this tour.
Fastnet Rock Lighthouse is often called the Teardrop of Ireland as it was the last sight for those immigrating to the USA by sea. Titanic sailed past her on its fateful voyage in 1912.
Fanad Head Lighthouse, Donegal
Address: Cionn Fhánada, Eara Thíre na Binne, Baile Láir, Letterkenny, Co. Donegal, F92YC03
Operator: Commissioners of Irish Light
Often voted one of the best lighthouses in the world is the one located on Fanad Head, Donegal. The Fanad Lighthouse is located at the mouth of Lough Swilly in one of Donegal's Gaeltacht areas and is one of the best things to do in County Donegal.
The Fanad Lighthouse, Donegal was built in 1817 after more than 250 souls lost their lives onboard HMS Saldanha which struck rocks near Fanad Head in 1811 and then ran aground at Ballymastocker Bay. It stands at 22m high, was automated in 1983 and has been a tourist attraction since 2016.
Fully guided tours of the lighthouse are offered and there is accommodation available at the Fanad lighthouse. During the 45-minute tour, you can learn about the lighthouse, its history and construction and climb the tower to enjoy views across to North Donegal, Lough Swilly and the Atlantic Ocean.
The lighthouse is one of 11 found in County Donegal and contains a helipad which is occasionally used by the Coastguard and Army.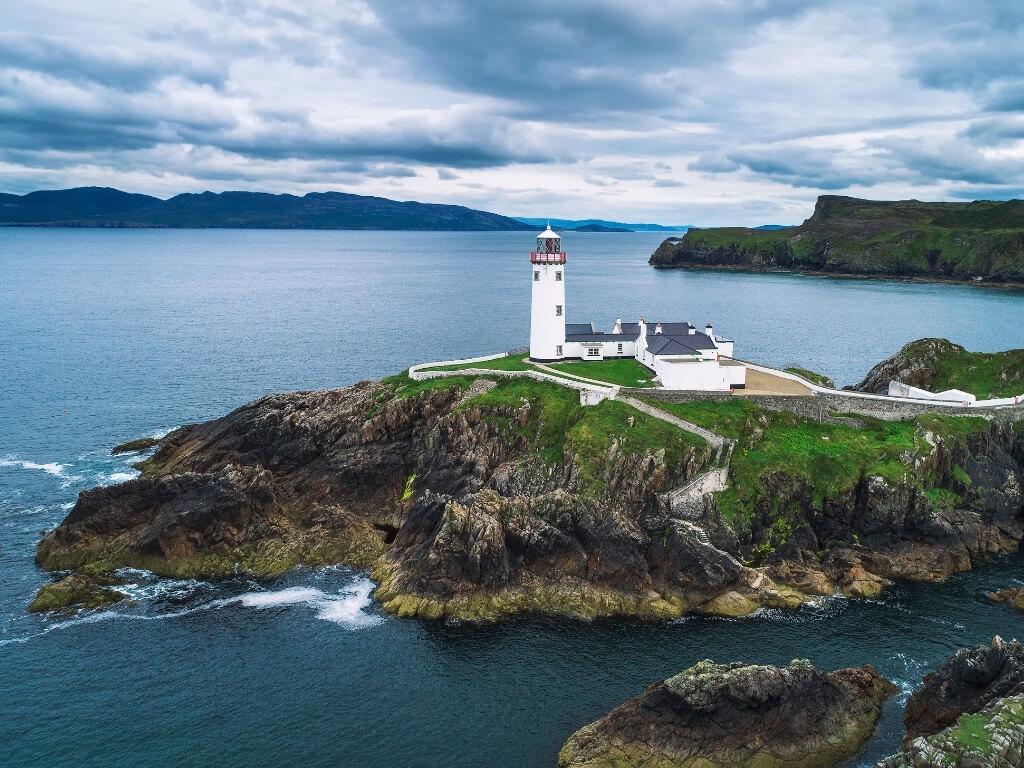 Loop Head Lighthouse, Clare
Address: Kilbaha South, Kilbaha, Co. Clare
Operator: Commissioners of Irish Light
Loop Head Lighthouse, Ireland is perched at the end of the Loop Head Peninsula on the north side of the mouth of the River Shannon. It is a Clare lighthouse that has origins dating back to 1670.
The first lighthouse tower was built at the site in 1802, which was replaced with the current structure in 1854. It stands 23m tall and was automated in 1991. Part of the original cottage walls can still be seen today.
There are guided tours of the lighthouse in which visitors can learn about the lighthouse through interactive exhibits in one of the lightkeeper's cottages. From the top of the tower, you can see as far as the Blasket Islands and north to the Twelve Bens in Connemara on a clear day. And, if you are looking for lighthouses in Ireland to stay in you can do so at Loop Head lighthouse. One of the lightkeeper's cottages has been fully restored and is now self-catering accommodation for tourists.
From the lighthouse tower, you may be able to spot dolphins, whales and seals as well as some of the many birds that have made the rock face their home and breeding grounds.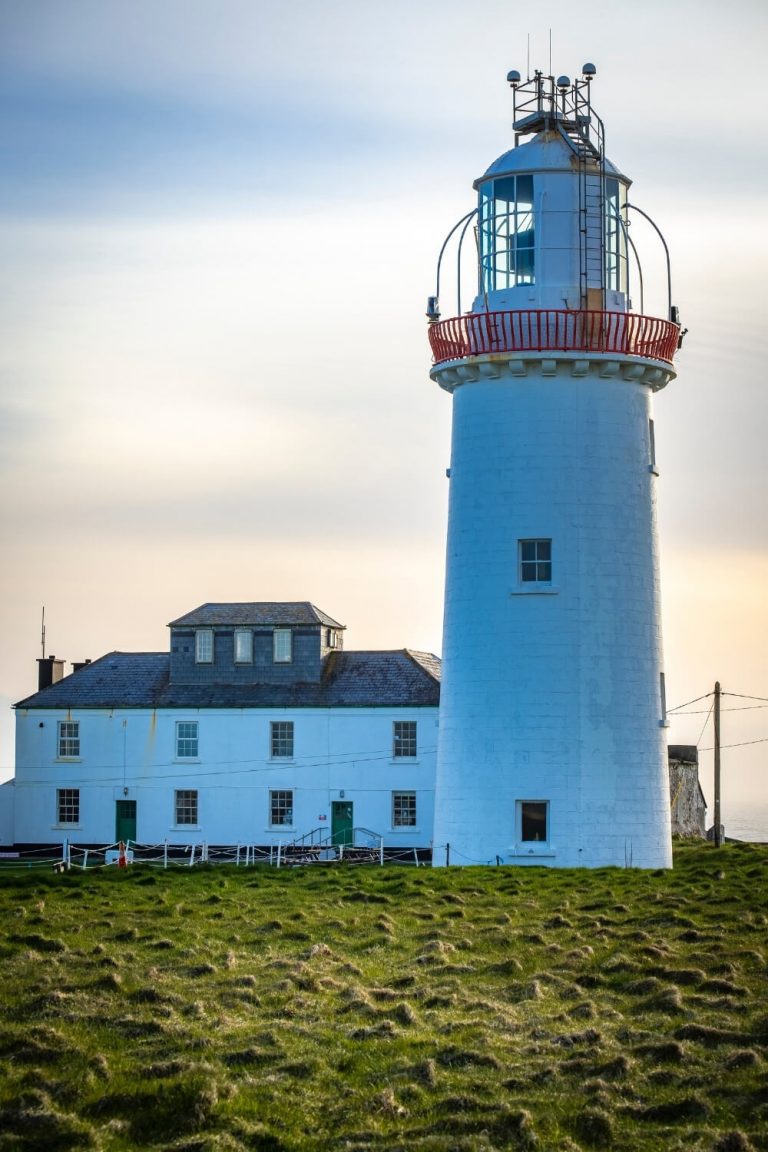 Hook Head Lighthouse, Wexford
Address: Hook Head, Churchtown, Co. Wexford
Operator: Commissioners of Irish Light
On the peninsula of Hook Head, Wexford you'll find one of the best lighthouses in Ireland to visit. As one of the most famous lighthouses in Ireland, Hook Head Lighthouse also holds another accolade as the oldest intact operational lighthouse in the world.
This popular Wexford tourist attraction stands 35m tall and is one of Ireland's favourite attractions, especially with families.
Built over 800 years ago between 1210 and 1230, there is believed to have been some form of sea beacon at Hook Head since the 5th century at the side of a Dubhán early monastery. The current structure is one of the oldest lighthouses in the world and was automated in 1996. In 2001 the lighthouse opened as a tourist attraction.
Visitors to Hook Head Lighthouse, Ireland can enjoy guided tours that take you on a journey through its 800-year history. Afterwards, enjoy views from the top of the tower.
The old keepers' houses are now the visitor centre and Hook marks the entrance to Waterford Harbour where the rivers Barrow, Suir and Nore meet.
Fun fact: the saying "by hook or by crook" is to have originated at Hook Lighthouse, Ireland. We learned this during our visit to Hook Lighthouse.
Sheep's Head Lighthouse, Cork
Address: Tooreen, Co. Cork
Operator: Commissioners of Irish Light
Jutting into the Atlantic between Mizen Head and the Beara Peninsula is Sheep's Head Peninsula on which you will find the lighthouse bearing the same name. It stands 7m tall and marks the southern tip of Bantry Bay.
It was built in 1968 to aid ships visiting the nearby oil terminal at Whiddy Island and was designed around the lighthouse on Achillbeg (built in 1965). There is a part-time attendant looking after the lighthouse who lives nearby. Sheep's Head lighthouse is best visited as part of the great coastal walks on the peninsula that go to the lighthouse.
For those hiking the trails to reach the lighthouse, stop by the Cupán Tae for refreshments.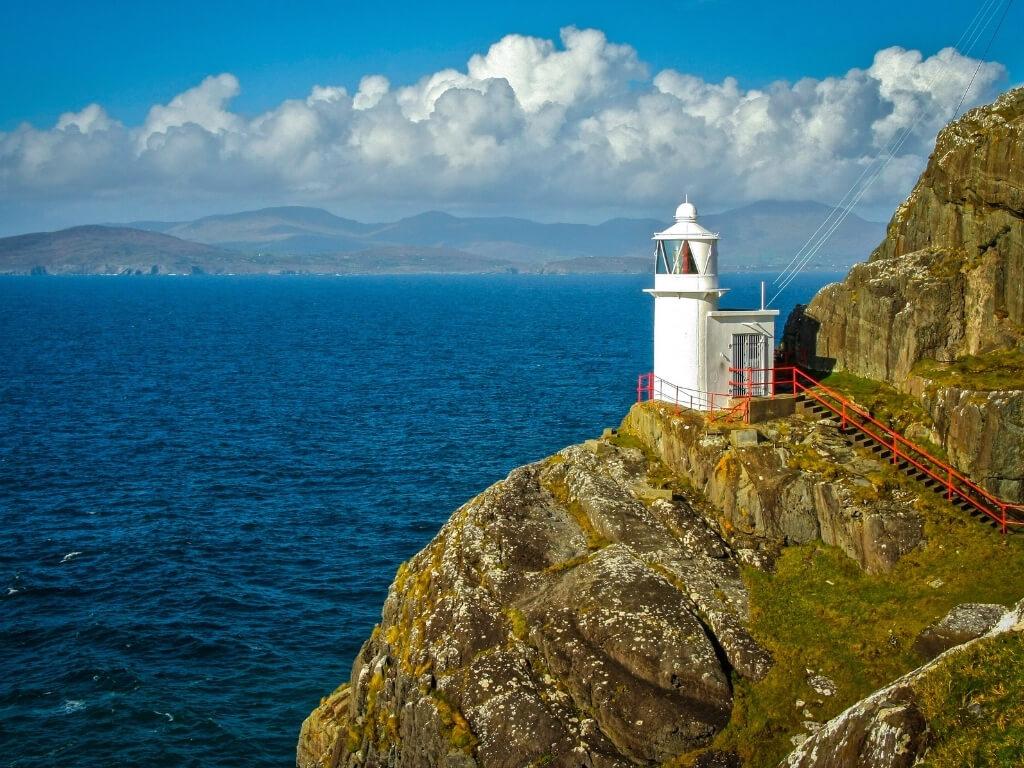 St John's Point Lighthouse, Down
Address: The Lighthouse, Point road, Killough, Downpatrick, BT30 7QY (UK)
Operator: Commissioners of Irish Light
St John's Point Lighthouse in County Down is not to be confused with St John's Lighthouse in Donegal. Sitting on a remote peninsula in the Irish Sea, this lighthouse is an unforgettable one with its yellow and black stripes.
This lighthouse was originally 14m tall and white in colour when it was built in 1844, but was extended to 40m in height in the 1880s, making it Ireland's tallest onshore lighthouse and second tallest after the Fastnet Lighthouse, already mentioned. The black bands were added to the lighthouse in 1902 and the yellow markings added in 1954 to give it its distinctive appearance. In 1981, St John's Point Lighthouse in Down was automated.
This is another one of the lighthouses in Ireland to stay in, with self-catering accommodation available in the two lightkeeper's cottages, named Ketch and Sloop, managed by the Irish Landmark Trust. These make it the perfect base for exploring County Down, Strangford Lough and even the Titanic Museum in Belfast (one hours' drive).
Fun fact: This lighthouse is mentioned in Van Morrison's song "Coney Island".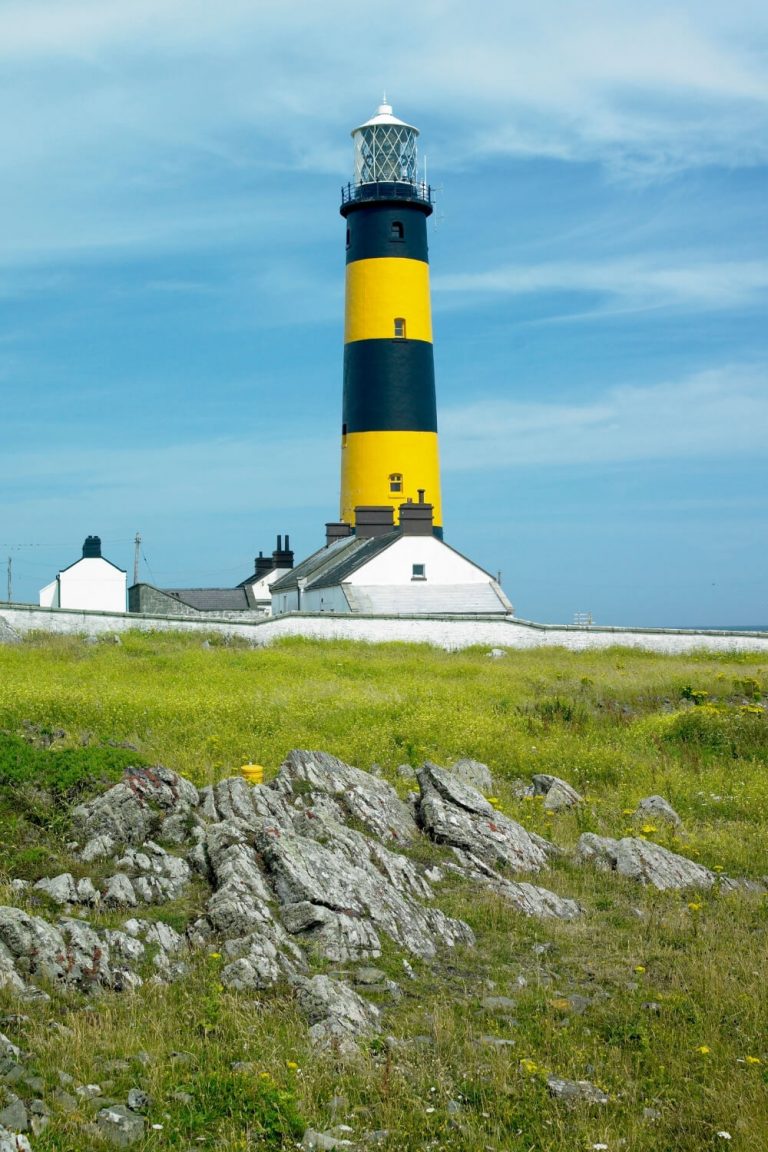 Poolbeg Lighthouse, Dublin
Address: South Wall, Poolbeg, Co. Dublin
Operator: Dublin Port Authority
Located in Dublin Bay at the mouth of the River Liffey is one of three lighthouses welcoming mariners and ships to Dublin Bay, Poolbeg Lighthouse. Standing at 20m tall, this red lighthouse stands equidistant from Dublin, Dun Laoghaire and Howth.
A lighthouse was first established at Poolbeg in 1767 which was originally lit by candlepower. In 1820, it was redesigned and rebuilt. The lighthouse stands on a sea wall that extends nearly 4 miles out from Ringsend's Poolbeg Peninsula into Dublin Bay. At the time of its construction, it was the world's longest wall and remains one of the longest sea walls in Europe today.
Visitors to Poolbeg Lighthouse can reach it by walking along the sea-wall, a round trip of 8km which will take approximately an hour, depending on your walking pace. If you are looking for something different to do in Dublin, take a walkout to Poolbeg (but watch the weather).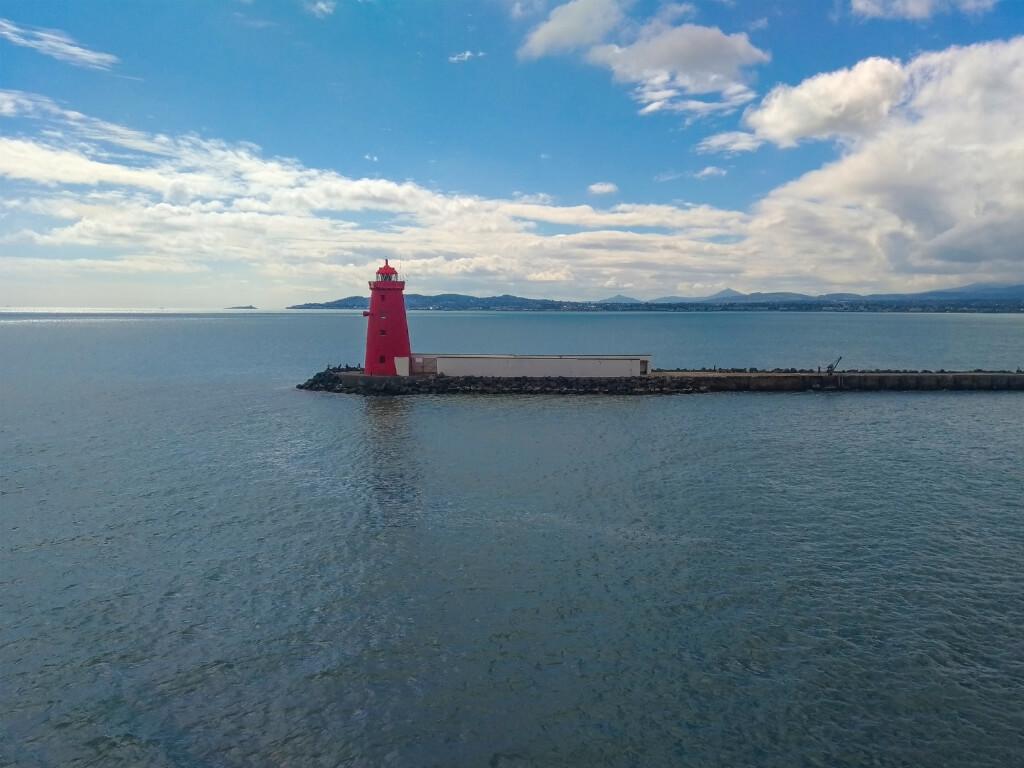 Cromwell Point Lighthouse, Kerry
Address: Cromwell Point, Glanleam, Valentia Island, Co. Kerry, V23 P680
Operator: Commissioners of Irish Light
A Valentia Island lighthouse worth visiting is the one at Cromwell Point. Located on Valentia Island, this is the most westerly harbour light in Ireland. Just off the edge of the scenic Ring of Kerry on the Skellig coast, there has been a lighthouse at Cromwell Point (a 17th-century artillery fort) since the 19th century.
The fort was built to defend the entrance to Valentia harbour and was manned by 40 soldiers and 8 cannons. The fort is a star-shaped fort with Blockhouse. The lighthouse was built inside the Blockhouse in 1837 and first emitted light in 1841. Standing 15m tall, it was automated in 1947.
Visitors to Cromwell Point can take a tour (guided or self-guided) in which you will learn about its history and enjoy views from the balcony. The Lightkeepers Dwelling House built in 1910 has been restored and is the museum, with the kitchen hosting the tearooms.
If you are visiting Cromwell Point Lighthouse make sure to see the Glanleam Standing Stones, dating from the Bronze Age (around 2000BC) and also the fossilised footprints of a tetrapod, created 300 million years ago.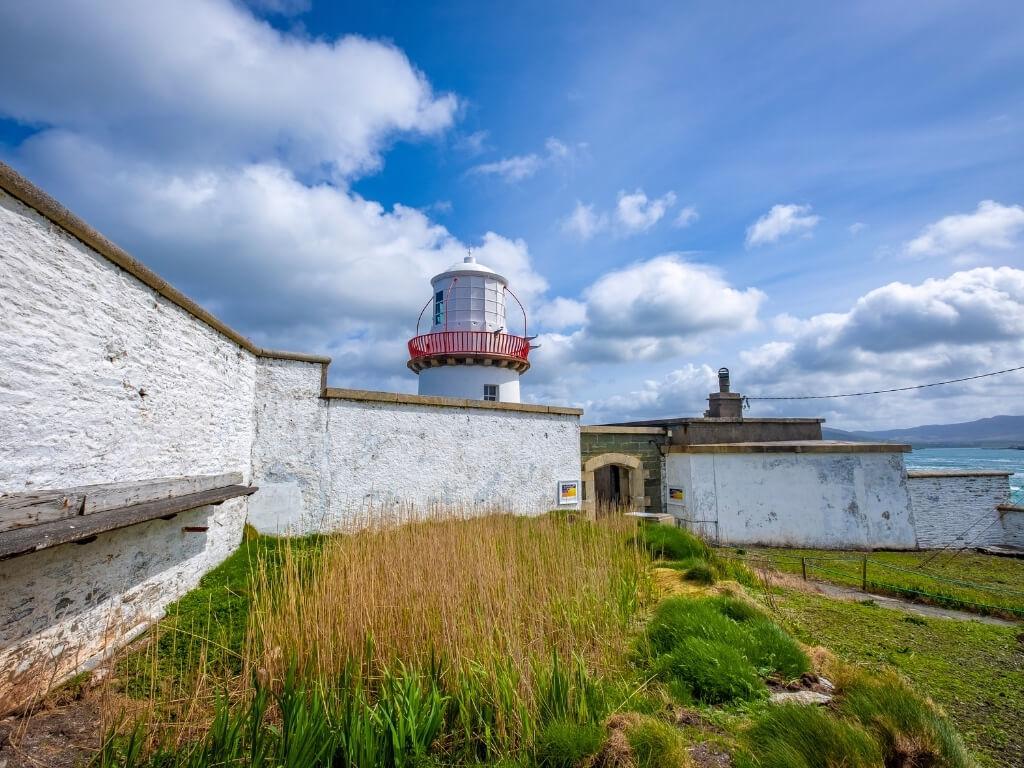 Rathlin Island Lighthouse, Antrim
Address: Rathlin Island, Ballycastle, BT54 6SB (UK)
Operator: Commissioners of Irish Light
One of the best lighthouses in Northern Ireland to visit is Rathlin Lighthouse. Reachable by boat from Ballycastle, Rathlin West Lighthouse is one of two on Rathlin Island.
Standing 18m tall and built between 1912 and 1917, this lighthouse is unique in that it is Ireland's only "upside down" lighthouse, with the light positioned at the bottom of the lighthouse and not the bottom. It was automated in 1983.
Rathlin West Lighthouse can be visited during the months between April and September (it is closed during the winter months). There is a visitor centre and you can take both a tour or stay at the lighthouse, and enjoy views from the vantage point.
Rathlin is home to one of the largest sea birds colonies in the United Kingdom with guillemots, razorbills, kittiwakes and puffins choosing it as their breeding grounds.
Rotten Islands Lighthouse, Donegal
Address: Carntullagh, Killybegs Harbour, Co. Donegal.
Operator: Commissioners of Irish Light
This 15m high lighthouse is located on an off-shore island in Killybegs Harbour on a site surrounded by high rubble stone boundary walls. It is a silver of an island and is a dramatic feature at the entrance to the harbour.
It was built in 1838 and has worked in tandem with a second lighthouse, lighting the passage from St John's Point, Donegal to guide seafarers safely into Killybegs Harbour. In 1959 it was automated.
Eeragh Lighthouse, Aran Islands, Galway
Address: Rock Island, Aran Island, Co. Galway
Operator: Commissioners of Irish Light
At the northernmost point of the Aran Islands is Eeragh Lighthouse. Standing 31m in height and built in 1857, it was built when the original lighthouse on Inishmore could not be seen at the hazardous ends of the Aran Islands. It was automated in 1978.
Eeragh Lighthouse is located on Rock Island and is also referred to as the Aran North Lighthouse. It is one of four principal lighthouses on the Aran Islands which are some of the best places to visit in County Galway and is cared for by an attendant.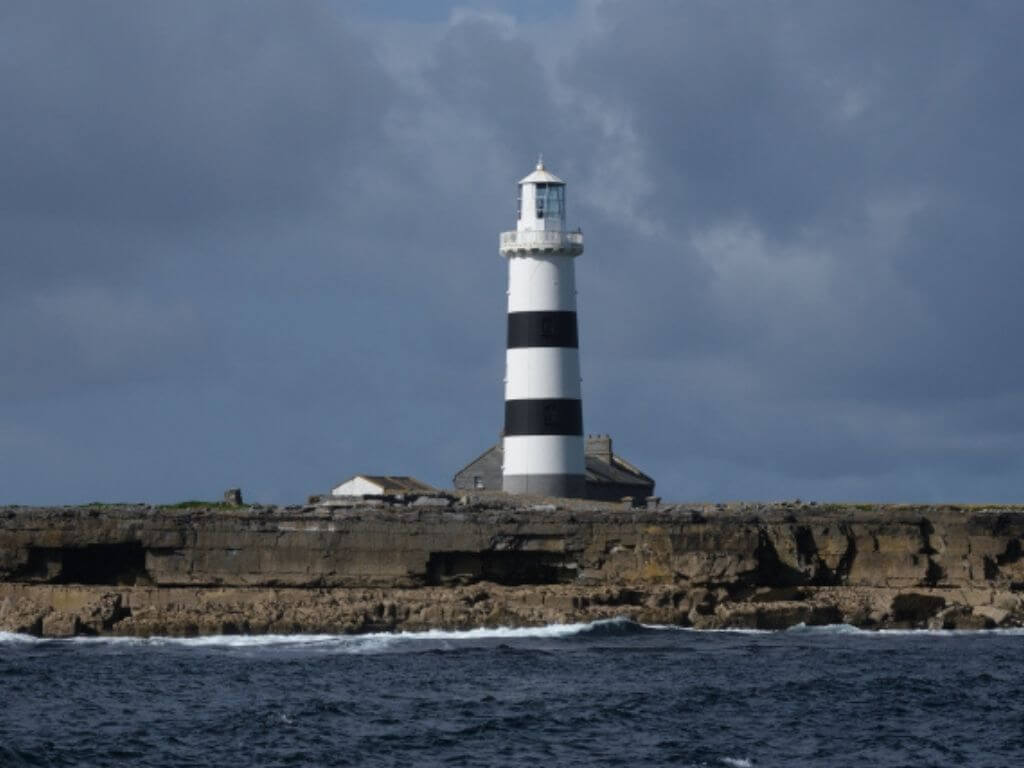 Donaghadee Lighthouse, Down
Address: 19 Parade, Donaghadee, BT21 0HF
Operator: Commissioners of Irish Light
One of the most impressive Northern Ireland lighthouses is the one located in Donaghadee. Situated on the Ards Peninsula 7 miles north east of Newtownards (and 18 miles from Belfast), the lighthouse stands at the end of the harbour wall and is 16m high.
Built in 1836 and automated in 1934, it was one of the first Irish lighthouses to be converted to electric power. While the lighthouse has only been there since the 1800s, there has been a harbour at Donaghadee since the 17th century. Enjoy a walk along the harbour wall to admire the lighthouse.
These are just a few of some of the great lighthouses of Ireland. From lighthouses in Southern Ireland to some in the north, these are among the most beautiful lighthouses in Ireland that you can visit or admire. Are you a fan of lighthouses?
Watch the Google Web Story HERE.
Frequently Asked Questions about irish lighthouses
Find more ideas for coastal days out in Ireland: