If you're looking to spot beautiful daffodils in Ireland during the spring, then you've come to the right place. While they may be somewhat hard to find in nature, there are plenty of places throughout Ireland where you can see gorgeous displays of these sunny yellow flowers. From lush gardens and parks to fantastic castles and more.
Daffodils are spring flowers with bright yellow petals, making them a spectacular sight when in full bloom. In Ireland, you can find them growing wild near roadsides and in meadows from March through May.
So, whether you are based in Ireland and have been wondering "where can I see daffodils near me?", or will be visiting in the spring and would like to capture their beauty, then this article is for you.
Where to see Daffodils in Ireland (Republic)
If you are in the Republic of Ireland and would like to see daffodils, then these are the best places to see these beautiful spring flowers within the 26 counties.
Daffodils in Leinster
Elmgrove Farm, Co. Meath
Address: Elmgrove Farm, Sarsfieldstown, Co. Meath
Elmgrove Farm in County Meath is a fantastic place to spot daffodils in the spring. The farm is home to lush meadows and rolling hills, perfect for taking in the stunning sight of these bright yellow flowers when they are in full bloom. This picturesque location has become a popular destination for those looking to admire daffodils from afar. Note, that currently, you cannot enter the farm to view the daffodils.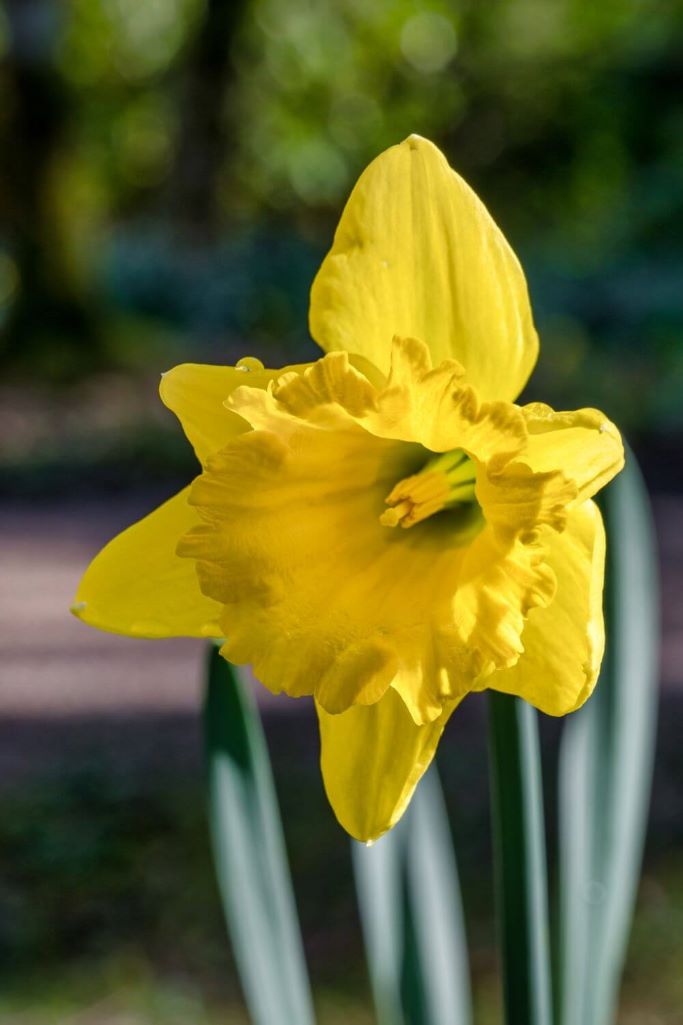 Botanic Gardens, Co. Dublin and Co. Wicklow
Address: Glasnevin, Dublin 9, D09 VY63 and Kilmacurragh West, Kilmacurra East, Kilbride, Co. Wicklow
The National Botanic Gardens of Ireland is an attraction worth visiting all year round. Located in Glasnevin, Dublin and Kilmacurragh, Co. Wicklow, these gardens are home to a wealth of flora and fauna from around the world. During springtime, visitors can admire the vibrant beauty of daffodils in full bloom.
Burton House, Co. Kildare
Address: Burtown Little, Athy, Co. Kildare
Burton House in County Kildare is a beautiful and unique place to visit, especially in springtime when the daffodils are blooming. Located in Burtown Little, this 18th-century manor house features extensive grounds comprising over 12 acres of gardens, park and woodlands. From March onwards, you can enjoy the sight of the beautiful yellow heads of golden daffodils.
Shankill Castle, Co. Kilkenny
Address: Paulstown, Co. Kilkenny
Shankill Castle, located in the picturesque village of Paulstown in County Kilkenny is a beautiful castle surrounded by lush green fields and rolling hills. From April to May, the grounds around Shankill Castle come alive with bright yellow daffodils.
Ballyfin Demesne, Co. Laois
Address: Ballyfin, Co. Laois
Ballyfin Demesne is an 18th-century estate in County Laois that is now a 5-star hotel. It is surrounded by gardens and lush woodlands. In the springtime, the grounds of Ballyfin are transformed into a breathtaking display of daffodils dotted here and there. Visitors to Ballyfin during this time can enjoy picture-perfect backdrops of daffodils.
Bective Abbey, Co. Meath
Address: R161, Ballina, Co. Meath
Bective Abbey is a historical site located in County Meath, Ireland. This abbey was built in 1162 by Hugh de Lacy, an Anglo-Norman knight, and it served as a Cistercian monastery until its dissolution in the late 16th century. The ruins of Bective Abbey are still visible today and visitors during spring can see blooms of daffodils lining the walls on either side of the road towards the Abbey.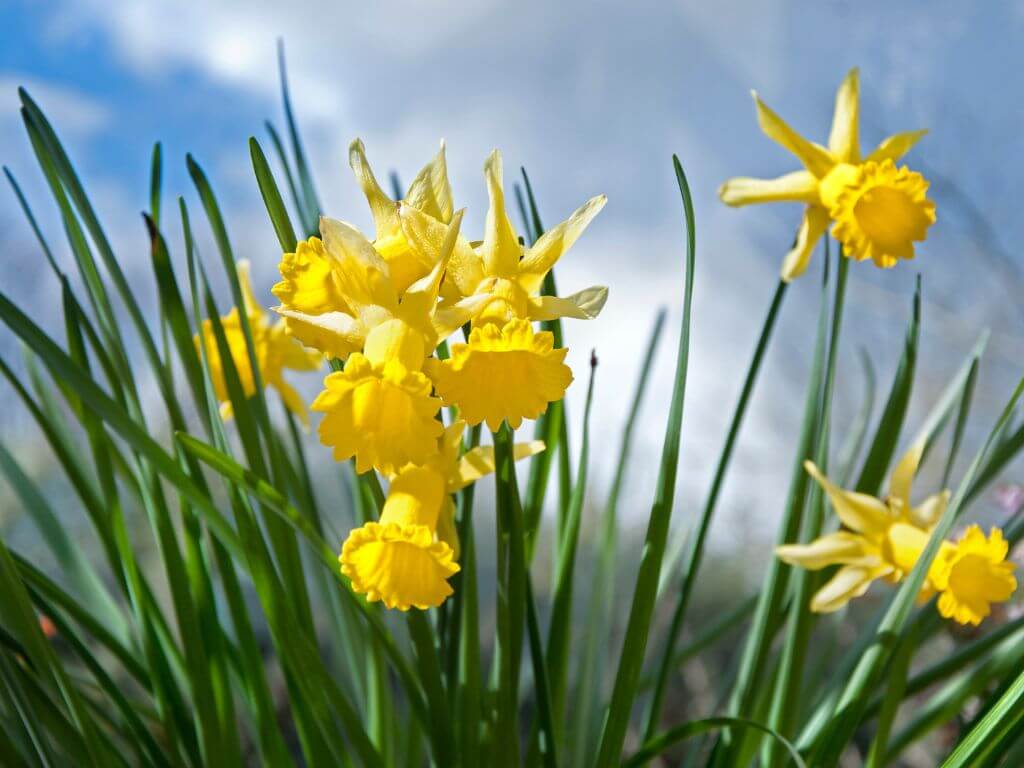 Daffodils in Connaught
Eyre Square, Galway City
Address: Galway City Centre, Co. Galway
Galway City is home to the beautiful Eyre Square, a public park located in the city centre. In springtime, this park comes alive with colourful blooms of daffodils, bringing a splash of colour to the city centre. The square is also home to various events throughout the year, from outdoor concerts and festivals to art exhibitions and the Christmas market. It's definitely worth a visit when you're in Galway!
Coole Park, Co. Galway
Address: Gort, Co. Galway, H91 HF5X
Coole Park is a beautiful nature reserve located in County Galway, Ireland. The park encompasses 1,000 acres of woodlands, wetlands, and grasslands which are home to an abundance of wildlife. It contains the remains of several historic buildings that were once part of Lady Augusta Gregory's ancestral estate. Visitors can enjoy seeing daffodils along walls and dotted throughout the woodlands of the estate during spring.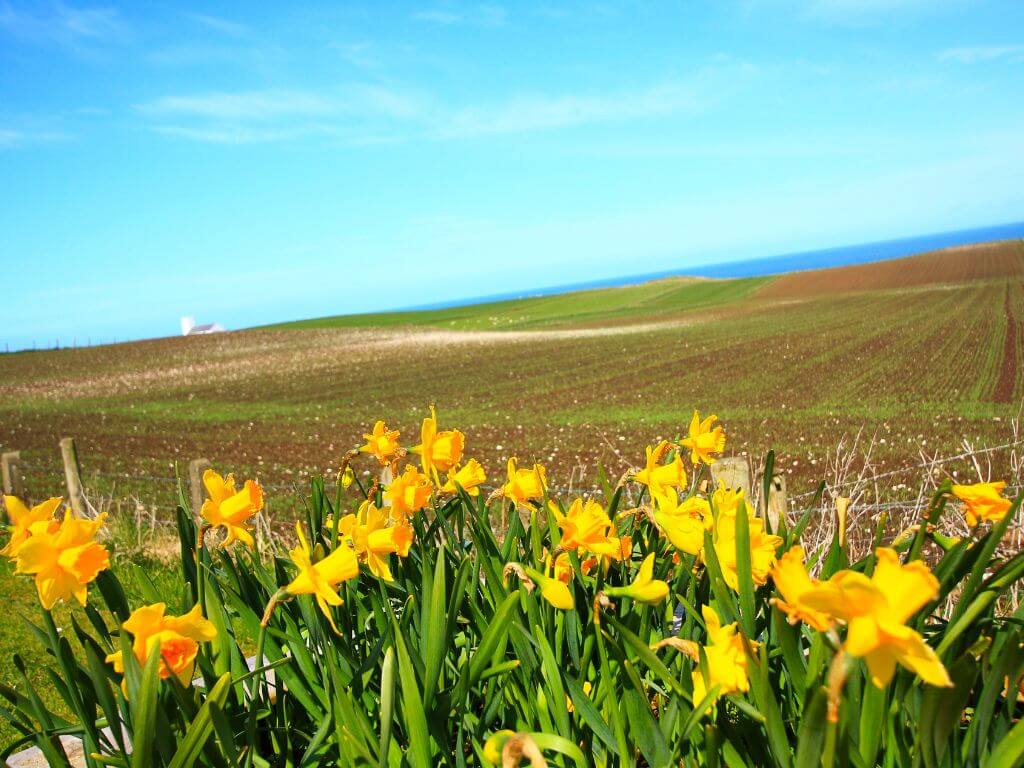 Daffodils in Munster
Caher Bridge Garden, Co. Clare
Address: Formoyle West, Fanore, Co. Clare
Caher Bridge Garden is a charming and tranquil garden located in County Clare, Ireland. Close to the Burren, the garden was created in what was once a dense hazel and blackthorn scrub. Among the many plants that visitors can see are daffodils, especially in spring. The gardens are open from mid-March, perfect timing to view the yellow daffodils, but entry is by appointment only.
Blarney Castle, Co. Cork
Address: Monacnapa, Blarney, Co. Cork
Blarney Castle is an iconic Irish castle located in County Cork. This historic landmark, constructed over 600 years ago, is renowned for its illustrious gardens and grounds. In particular, Blarney Castle's gorgeous daffodil avenue stands out as a highlight during springtime. While you can see daffodils across all the gardens of Blarney Castle, the daffodil avenue contains a large proportion of the 40,000 daffodils that bloom every year at Blarney Castle. If you are looking for the best place to see daffodils in Ireland in spring, then you must visit Blarney Castle.
Nenagh Castle, Co. Tipperary
Address: O'Rahilly, O'Rahilly St, Nenagh, Co. Tipperary
Nenagh Castle is a beautiful 13th-century castle located in County Tipperary, Ireland. While it is a ruined castle, with just one main tower still standing beside some additional ruins, in front of the castle during springtime, you can see a host of beautiful daffodils. Capture a picture of them with the castle in the background for a perfect springtime memory.
Croom Town Park, Co. Limerick
Address: Skagh, Co. Limerick
Croom Town Park in County Limerick is a beautiful and tranquil park located near the River Maigue. The park has plenty to offer visitors, including walking trails, playgrounds, an outdoor gym, picnic areas and even a community orchard. During spring, visitors to the park will be able to see daffodils in bloom.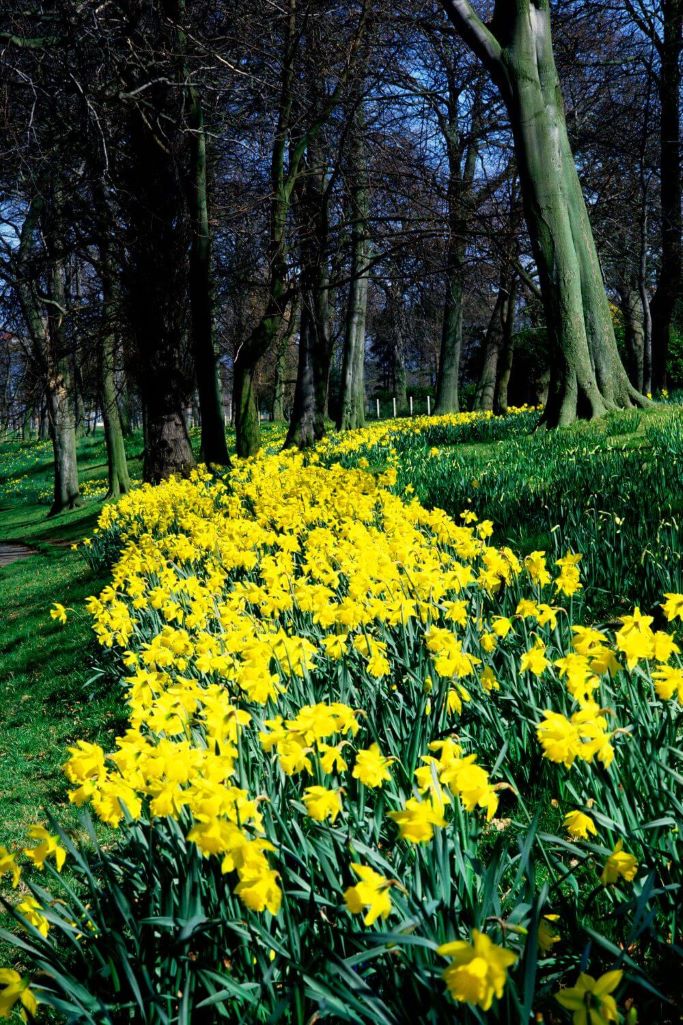 Daffodils in Ulster (Republic of Ireland)
Kilmacrennan Old Church and Abbey, Co. Donegal
Address: Kilmacrenan, Co. Donegal
Kilmacrennan Old Church and Abbey are a ruined Church of Ireland site located in County Donegal, Republic of Ireland. Dating back to the 16th century, there is not much left of the abbey and church, just some walls and the graveyard, where you can see daffodils in spring.
Other towns in Ireland noted for their daffodil displays
Moville, Co. Donegal
Charleville, Co. Cork
Where to see Daffodils in Northern Ireland (Ulster)
Castle Ward, Co. Down
Address: Strangford, Downpatrick, Co. Down, BT30 7BA (UK)
Castle Ward in County Down is a stunning spot for admiring the beauty of daffodils. Located on the picturesque Strangford Lough, this National Trust property sees clusters of yellow daffodils pop their heads up during spring throughout the estate. Combine seeing daffodils with primroses along Lime Tree Avenue.
Mount Stewart, Co. Down
Address: Portaferry Rd, Newtownards, Co. Down, BT22 2AD (UK)
Mount Stewart is a magnificent National Trust property located in County Down. Situated close to Strangford Lough, the grounds of Mount Stewart are among the most beautiful in Northern Ireland. The house itself was built between 1820 and 1839 by the Marquis of Londonderry and with over 950 acres, you won't be short of the sight of daffodils in spring.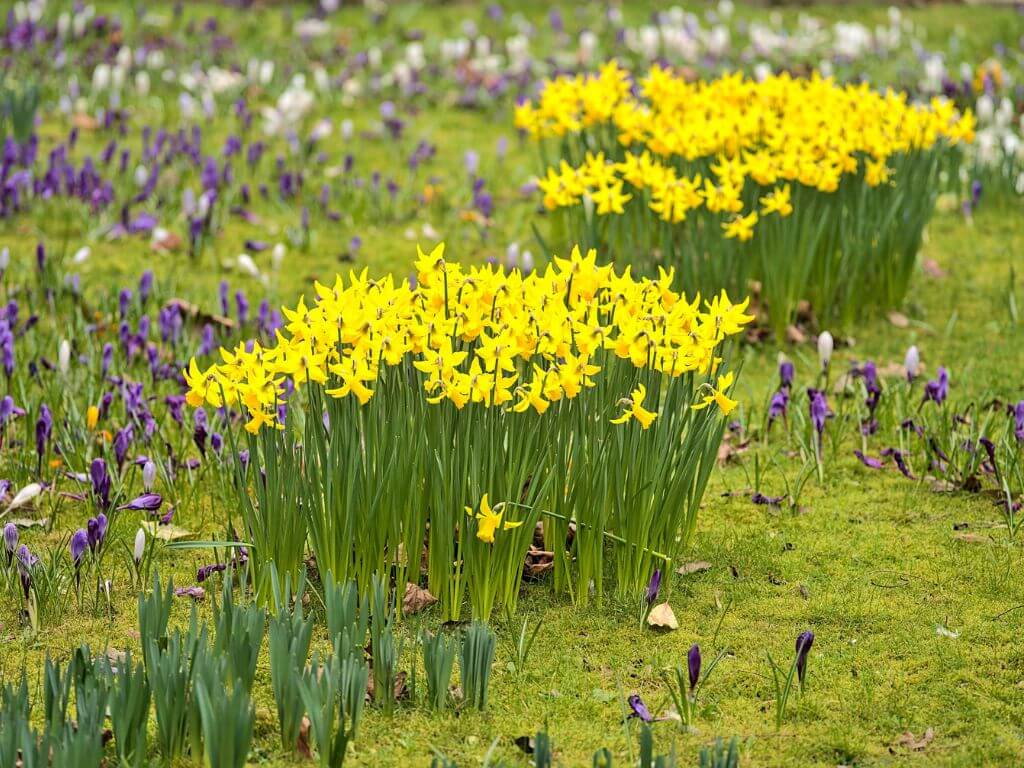 Rowallane Gardens, Co. Down
Address: Crossgar Rd, Saintfield, Ballynahinch, Co. Down, BT24 7LH (UK)
Rowallane Gardens is a botanical gem nestled in the picturesque countryside of County Down. Its fifty acres are filled with a variety of gardens, meadows and woodlands, making it an ideal destination for a peaceful outing. Visitors can explore the tranquil Formal Garden, wander through woodland, or stroll through the Walled garden. And in spring you will be delighted by the sight of daffodils throughout the gardens, especially in the Spring Garden.
Springhill, Co. Derry
Address: 20 Springhill Rd, Moneymore, Magherafelt, Co. Derry, BT45 7NQ (UK)
If you are looking for spring flowers in Northern Ireland, then head to Springhill National Trust. As well as bluebells in later spring, Springhill is awash with golden, yellow and even white daffodils. Each year, 600 more bulbs are planted to ensure the collection of different varieties of daffodils continues to grow and bloom each year.
Florence Court, Co. Fermanagh
Address: Enniskillen, Co. Fermanagh (UK)
Florence Court is a stunning 18th-century estate nestled in the hills of County Fermanagh, Northern Ireland. This elegant house with its surrounding gardens and parkland has been beautifully conserved since it was originally built in 1727. The grounds feature an idyllic walled garden, as well as several walking trails, a children's playground, and picnic areas. During spring, the Walled Garden comes alive with beautiful daffodils.
Bangor Castle Walled Gardens, Co. Down
Address: Castle Walled Garden, Valentine Rd, Bangor, Co. Down, BT20 4BT (UK)
Bangor Castle Walled Gardens is a stunning destination situated in the heart of County Down. This historic garden has been lovingly restored to its former glory and now provides visitors with a tranquil, picturesque experience. It offers an ideal spot for some leisurely walks or relaxation. There are four distinct areas and in spring, the flower garden comes to life with daffodils.
Other places in Northern Ireland to see daffodils in spring include:
Cushendun, Co. Antrim
Groomsport, Co. Down
So, if you're looking for a place to see beautiful daffodils in Ireland during the spring season, there are plenty to choose from including Blarney Castle and Springhill National Trust. Both locations have stunning gardens with pockets full of blooming daffodils that will make any visitor feel like they've stepped into a verse of Wordsworth's poem.
"I wandered lonely as a cloud,

That floats on high o'er vales and hills,

When all at once I saw a crowd,

A host of golden daffodils;

Beside the lake, beneath the trees,

Fluttering and dancing in the breeze."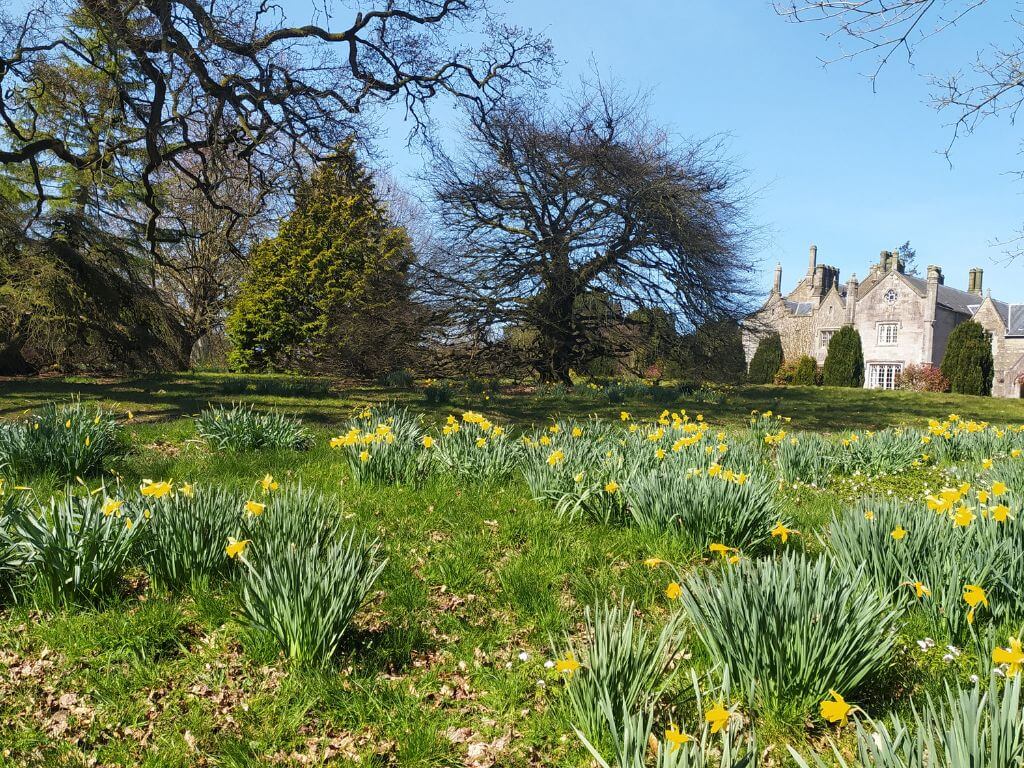 Frequently Asked Questions about Daffodils in Ireland
Other ideas for Spring in Ireland: