Going to the Emerald Isle and want to see snowdrops? Wondering where to find the best snowdrops Ireland has to offer? Then check out this list of over 15 places to see these beautiful flowers across the country during early Spring.
Snowdrops are often thought of as the first signs of Spring. Whether there is still snow on the ground or not, they often herald brighter, warmer weather coming, and many people venture out to see them.
I've found some great places to find the best snowdrops Ireland has to offer so you too can head and out and find the first signs of Spring.
Snowdrops are delicate white flowers that begin appearing between January and April. In January you might find snowdrops in snow, but as the colder weather recedes, you'll find them starting to bloom in gardens, parks, and woodland areas.
If you are based in Ireland (North or South) and are wondering "where can I find snowdrops near me?", then this post will help you discover the nearest place to see these lovely little flowers near you.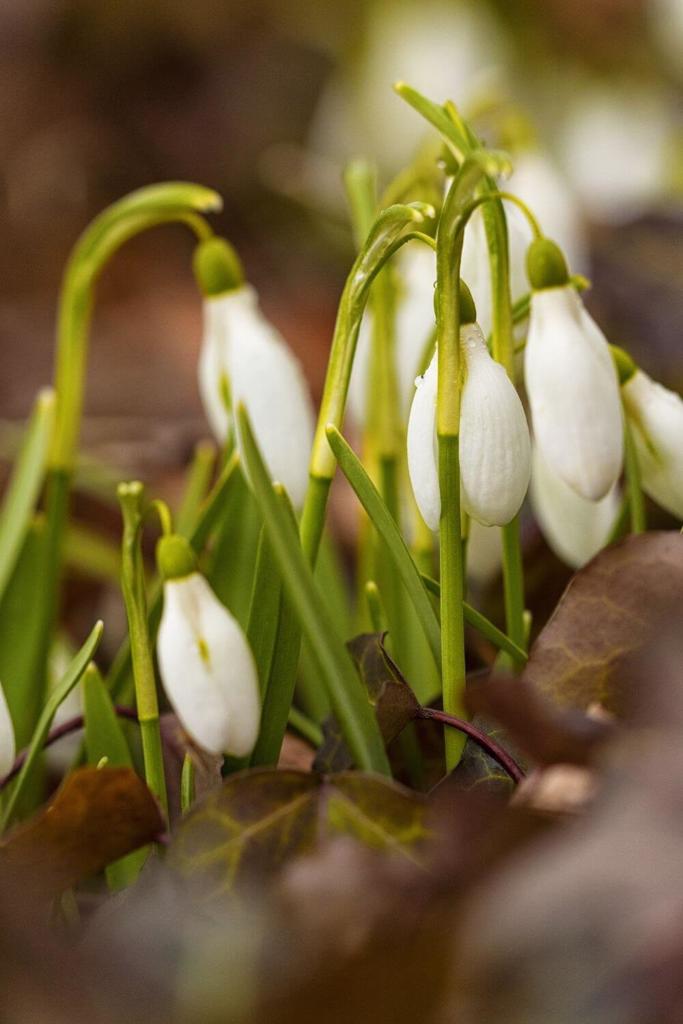 Where to find snowdrops in Ireland
Snowdrops in Ireland (Republic of Ireland)
Whether you are searching for snowdrops in winter or the start of spring, below you will find places to see snowdrops in southern Ireland.
Altamont Gardens, Carlow
Address: Altamont, Tullow, Co. Carlow, R93 N882
Considered Ireland's gardening crown, Altamont Gardens in County Carlow are one of the best places to see Irish snowdrops. A 16-hectare estate with both formal and informal gardens, if you want to see snowdrops in Ireland, this is one of the best places to visit. It is also worth paying a visit at any other time of year to view flowers, trees, and plants of other varieties.
A Snowdrop Festival is usually held at Altamont every year where visitors can view over 100 named varieties of snowdrops. Keep an eye on the Office of Public Works website for news about forthcoming festivals.
Primrose Hill House, Dublin
Address: Primrose Lane, Lucan, Co. Dublin
Primrose Hill House is a regency villa attributed to the architect James Gandon. It has a political history and a frequent visitor to the house was Eamon de Valera. The house and gardens are part of the larger Lucan House Demesne.
The gardens are 2.5 hectares with a large variety of plants. The Spring Garden, which is open in February, is home to one of the finest collections of plants in Ireland and is where you will be able to spot the beautiful snowdrops. Members of the public can also visit during the months of June and July. The gardens are flanked by the arboretum and a pretty driveway with mature trees.
Woodville Walled Garden, Galway
Address: Woodville House, Woodville, Kilchreest, Co. Galway, H91 VEY2
Woodville House is home to a restored walled kitchen garden with a museum outlining the connections with Lady Augusta Gregory. It is also where visitors can see snowdrops during the snowdrop season. During the year, it is also worth visiting for its bluebell woods, Easter events, and more.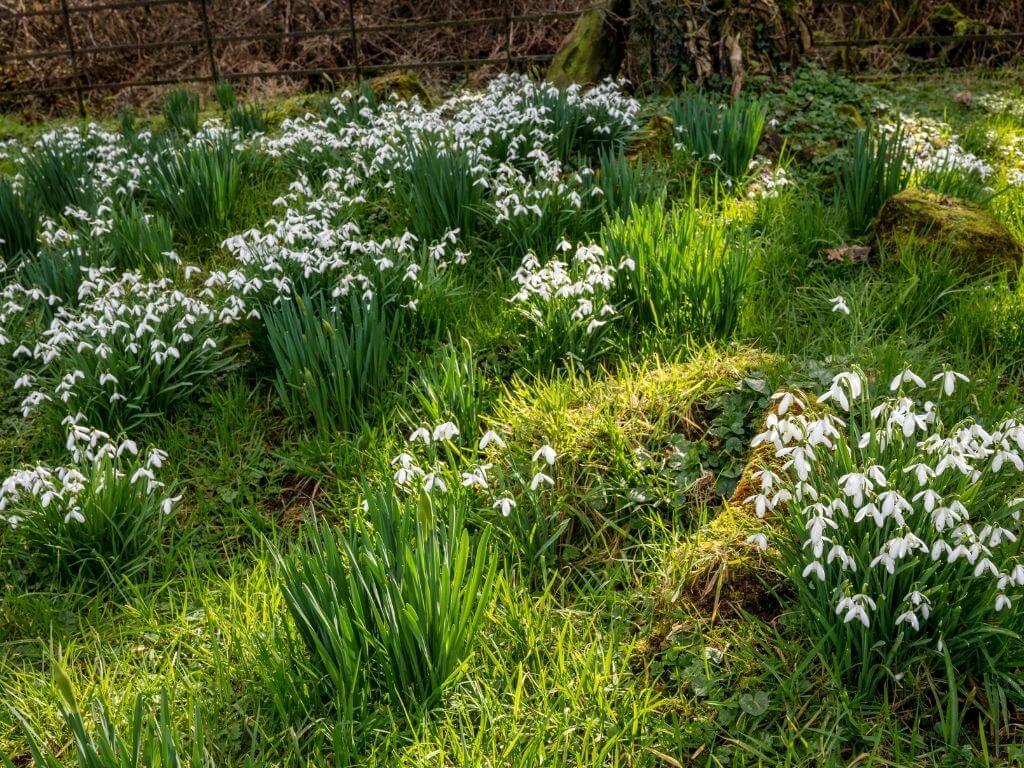 Bellefield House & Gardens, Offaly
Address: Shinrone, Birr, Co. Offaly
Listed as one of Ireland's ten Best Gardens, Bellefield House is a Georgian farmhouse with stunning walled gardens and woodland areas. Alongside the splendid collections of plants, trees, and shrubs, visitors can find one of the largest snowdrop collections in Ireland. You can even stay at Bellefield House in the holiday cottages.
Hester Forde Garden, Cork
Address: 15 Johnstown Park, Johnstown, Co. Cork, T45 CC42
A private garden owned by Hester Forde, Cosheen Garden is owned and tended by Hester Forde who opens her garden to the public during snowdrop season. Visitors can view the flowers as well as purchase snowdrops and other spring bulbs. The gardens are also open to members of the public between May and September.
Blarney Castle & Gardens, Cork
Address: Monacnapa, Blarney, Co. Cork
Another great place to see snowdrops in Ireland is the famous Blarney Castle in County Cork. One of the best places to visit in Cork, Blarney Castle is home to some stunning displays of snowdrops in late winter and early spring. The castle's front avenue has a large display, and some of the borders are being developed with a collection of heritage Irish snowdrops combined with other plants. Blarney Castle and its extensive gardens can be enjoyed at other times of the year as well.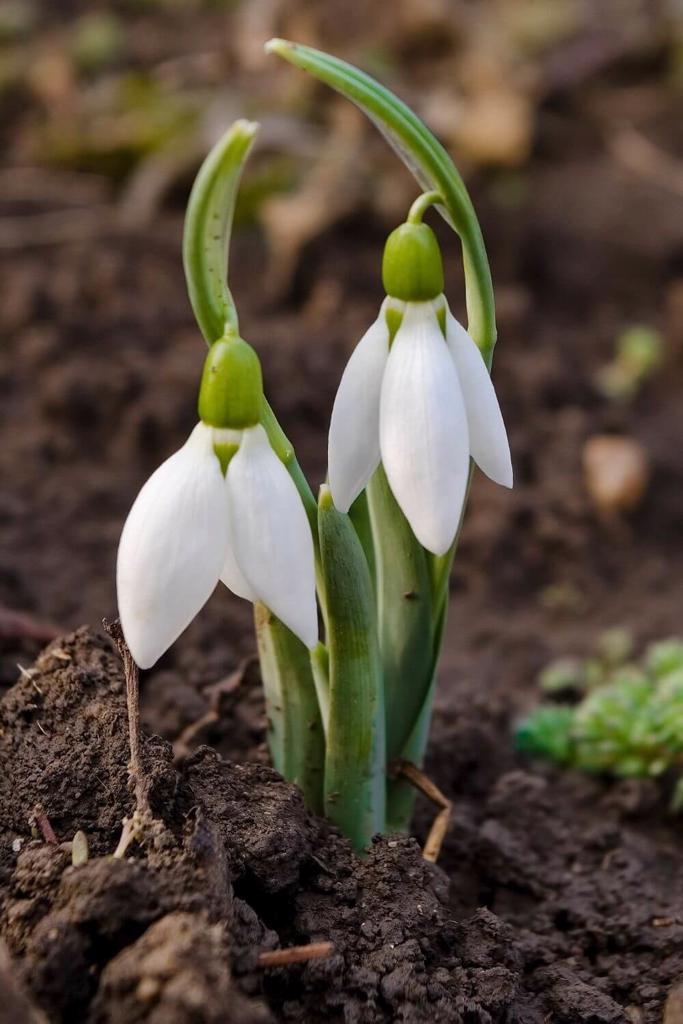 Burtown House & Gardens, Kildare
Address: Burtown Little, Athy, Co. Kildare
Burtown House is an early Georgian house located near Athy in County Kildare and is surrounded by lush flower, vegetable, and woodland gardens and walks. In February the gardens come to life with 60 named varieties of snowdrops, and later in the year with daffodils, roses, peonies, and more.
Shankill Castle, Kilkenny
Address: Shankill, Paulstown, Co. Kilkenny, R95 T8X7
Another place to see Irish snowdrops is in the gardens of Shankill Castle in County Kilkenny. Located just off the M9, this 18th-century tower house was rebuilt by Peter Aylward, replacing the original medieval castle built by the powerful Butler family. The gardens open for snowdrop season during February on Saturday and Sundays until April when the grounds then open 7 days a week. During spring you can view spectacular carpets of snowdrops and other early spring bulbs.
National Botanic Gardens of Ireland, Wicklow
Address: Kilmacurragh West, Kilmacurra East, Kilbride, Co. Wicklow
There is a beautiful blanket of snowdrops to be found at the Kilmacurragh site of the National Botanic Gardens of Ireland in County Wicklow. Located around the ruins of a fine Queen Anne house, this is a great place close to Dublin to see snowdrops in early spring. It is worth revisiting in late spring to see the daffodils in bloom.
Coolcarrigan House & Gardens, Kildare
Address: Coill Dubh, Naas, Co. Kildare
If you are looking for some of the best snowdrops Ireland has to offer, then head to Coolcarrigan House and Gardens near Naas. A hidden oasis on the edge of Bog Allen, there are 15 acres of gardens and arboretums to explore. In early spring, the main avenue comes alive with snowdrops, followed by other spring bulbs later in the season. Make sure to return for seeing some of the best bluebells Ireland has to offer as well.
Huntington Castle & Gardens, Carlow
Address: Huntington, Clonegall, Co. Carlow, Y21 K237
At weekends during February, visitors in and around Carlow can visit Huntington Castle and Gardens to see Irish snowdrops in bloom. Normally closed from October to April, the owners open the gardens when the snowdrops appear for visitors to enjoy, but you should definitely make a return trip when the gardens are usually open as they are stunning. Make sure to join a castle tour as well during your summer visit.
Snowdrops in Northern Ireland
If you are looking for snowdrops in Northern Ireland, these are among the best places to visit to see these beautiful, delicate early spring flowers.
Mussenden Temple at Downhill Demesne, Derry
Address: Mussenden Rd, Castlerock, Coleraine, Co. Derry, BT51 4RP (UK)
As well as being one of the top places to visit in Northern Ireland, Mussenden Temple at Downhill Demesne is also one of the best places in Northern Ireland for snowdrops in spring. Venture through Bishop's Gate and into the Black Glen where you will find these early spring bulbs in bloom in moist, shady areas. Make sure to pay return visits throughout the year to watch the changing seasons in the gardens.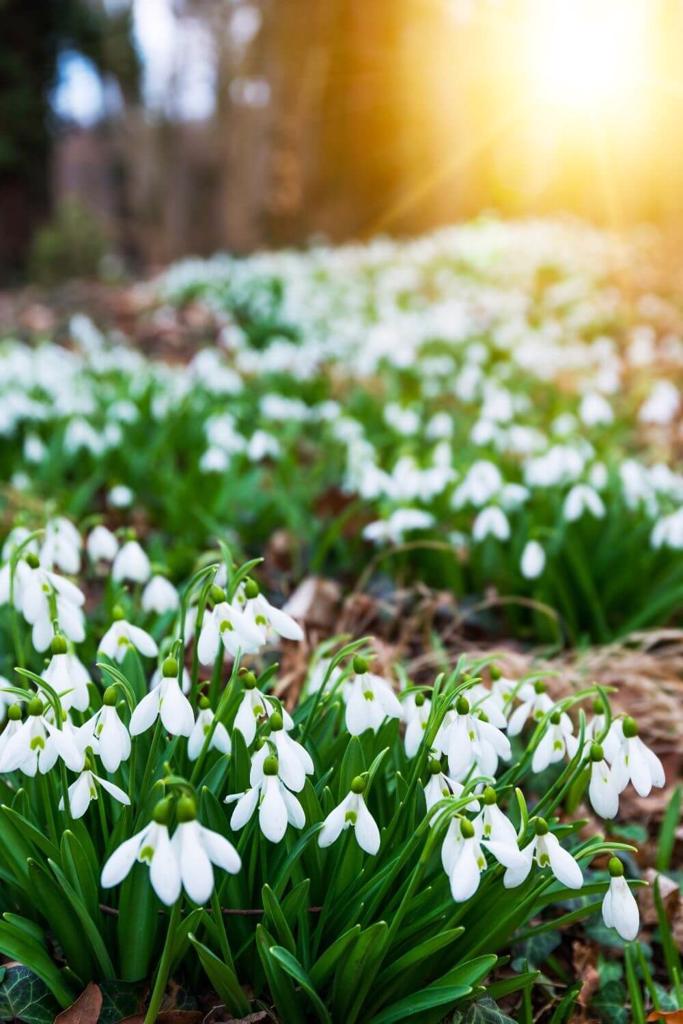 The Argory, Armagh
Address: 144 Derrycaw Rd, Dungannon, Co. Armagh, BT71 6NA (UK)
Built in the 1820s, the Argory is a Neo-classical mansion under the care of the National Trust where you can go to see snowdrops in Northern Ireland. This wooded riverside estate is somewhere to see the snowdrops and enjoy the house at weekends during the season. There is also a playground and café for visitors and families.
Ballyrobert Gardens & Nursery, Antrim
Address: 154 Ballyrobert Rd, Ballyclare, Co. Antrim, BT39 9RT (UK)
A great place to see snowdrops in Northern Ireland is Ballyrobert Gardens and Nursery. The Cottage Garden area is where their rare snowdrops bloom in early spring, while you can also find snowdrops in the Glenlinchy Borders and other woodland areas of the gardens. These same areas also have bluebells in bloom during late spring. Generally, the Cottage Garden and Nursery are closed from 1 October to 28 February, but you may be able to arrange to visit these areas by contacting Ballyrobert ahead of your visit.
Castle Ward, Down
Address: Strangford, Downpatrick, Co. Down, BT30 7BA (UK)
Another great place to go spotting snowdrops in early spring is Castle Ward, located near the village of Strangford in County Down. This 18th-century National Trust property features 332 hectares of landscaped gardens, a fortified tower house, and more, and it is along its Laurel Walk that visitors can enjoy carpets of white snowdrops in early spring. There is plenty to see and do at other times of the year as well at Castle Ward.
Rowallane Gardens, Down
Address: Crossgar Rd, Saintfield, Ballynahinch, Co. Down, BT24 7LH (UK)
Rowallane Gardens are a National Trust property in County Down where you can view snowdrops in spring. Started in the 1860s by Reverend John Moore, there is a total of 50 acres to enjoy with walled gardens, wildflower meadows, tea rooms, and more. At Rowallane Gardens, there are many varieties of snowdrops to see during the season and you can warm up with a cuppa from the tearoom after.
Springhill National Trust, Derry
Address: 20 Springhill Rd, Moneymore, Magherafelt, Co. Derry, BT45 7NQ (UK)
Among the best places to see snowdrops in Northern Ireland is Springhill, another National Trust property. A 17th-century plantation house, the snowdrops at Springhill are in bloom typically during February. Although the house and visitor facilities are not open until March, the gardens and car park are open during this time to allow people to enjoy the carpets of white.
Castle Coole, Fermanagh
Address: Castle Coole, Enniskillen, Co. Fermanagh, BT74 6JY (UK)
Castle Coole is a late 18th-century Neo-classical mansion located in Enniskillen in County Fermanagh where you can see snowdrops in spring. Set in a 1200-acre wooded estate, there are plenty of opportunities to see snowdrops, especially along the Beech Walk and in sheltered areas under the oaks along the main drive.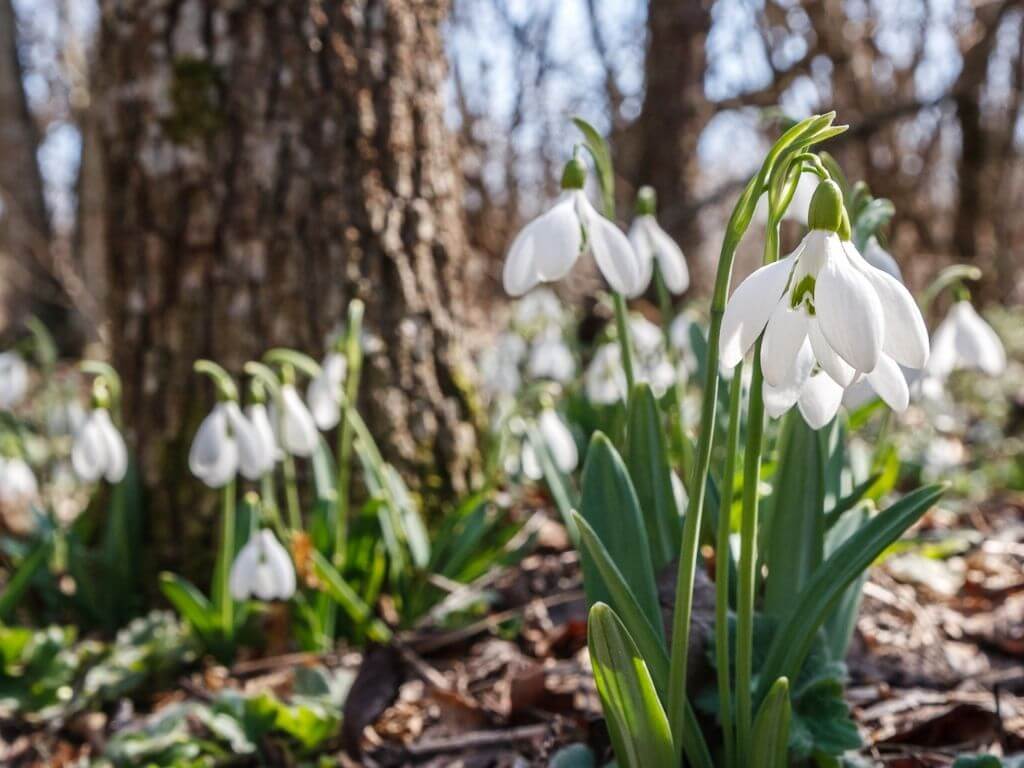 Final thoughts about where to see snowdrops in Ireland
These are among the best places in Ireland to see snowdrops during early spring. Many are also some of the best places to see bluebells in Ireland and are worth visiting at other times of the year as well. If you know of any other places to see some of the best snowdrops Ireland has to offer, please let me know and I'll add them to the list.
FAQ about snowdrops
Read more about visiting Ireland in Spring and things to do: