For those of you starting to plan your trip to the Emerald Isle, you need to understand a few things about getting around Ireland. There are several ways to traverse the island and with that comes differing opinions. In this post, I'll discuss the pros and cons of getting around Ireland by car. And for those who'd rather not drive and are wondering how to get around Ireland without a car, you'll discover other modes of transport options.
*This post contains affiliate links, which may include Amazon affiliate links. To read more about affiliate links, please visit my Disclosure Policy page.
Ireland in itself is not a very big country. It covers 84,421 square kilometres (32,595 square miles) and is just larger than the state of West Virginia and just smaller than Indiana. From north to south, the distance is 486 kilometres (302 miles) and east to west the distance is 275 kilometres (171 miles). You can drive from the most northerly point at Malin Head to the most southerly point of Mizen Head in under 8 hours.
So, relatively speaking, you can cover a lot of the country in a short space of time without having to drive humongous distances. But, how you do it is probably the question you are asking yourself. This post aims to show your options so you can decide which mode of transport is better for getting around Ireland for you.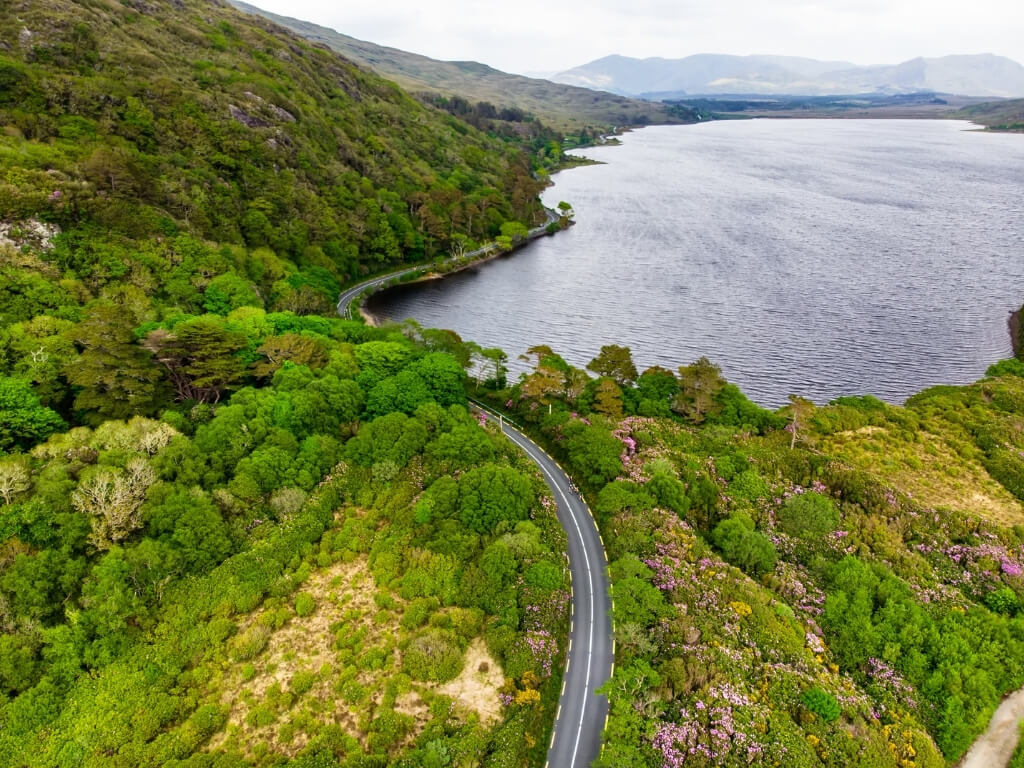 How to get around Ireland
There are a few ways to travel around Ireland and different modes of transport you can use. As well as renting a car, there are options if you don't want to dive yourself and below you'll find options for the best way to travel around Ireland without a car. Can you get around Ireland without a car? Yes is the answer, and I'll show you how.
Modes of Transport
There are a few modes of transport you can use to get around the Emerald Isle and each will be discussed in the sections below. They are:
Car, motorbike or motorhome.
Public transport including bus and train.
Flying to regional airports.
Cycling Ireland.
Getting around Ireland by car
Getting around Ireland by car is by far the easiest way. For anyone arriving by ferry via Rosslare or Dublin in the Republic, or Larne in Northern Ireland, you are all set. You just need to ensure your insurance covers you for driving your car in Ireland. But for those arriving in Ireland by plane, hiring a car will be necessary if you plan on driving yourself around Ireland.
Car rental is easy when it comes to Ireland. There are lots of rental companies, including the usual ones and I always start my search for car rental in Ireland with rentalcars.com. I find them to be useful for comparing the size and prices of car hire across multiple companies. Car hire can start from as little as €20 per day for a small car.
Click this link to start your search for car rental in Ireland with rentalcars.com.
Be advised that most rental cars in Ireland have a manual transmission. And although automatic transmission is available it can cost significantly more to hire. So do bear this in mind when considering car hire in Ireland.
If you are planning on visiting both Northern Ireland and the Republic of Ireland and will be using your hire car for this, make sure to advise your hire car company ahead of time. This is to ensure that your insurance covers you crossing the border.
When hiring a car in Ireland, you must ensure you have adequate insurance. I do not pre-purchase the full-excess via Rentalcars. Instead, I purchase it at the car hire desk as oftentimes, the car hire company will not accept the policy from Rentalcars and you are still required to pay a large deposit and claim back anything via the company with which you took out the full excess. Even though this sometimes costs more, it means I do not need to worry about anything after returning the car.
One thing you do not need to hire a car for is if you are simply staying in a city such as Dublin or Belfast. Within cities, traffic can be horrendous and getting around by public transport is not only preferable thanks to dedicated bus lanes and trams, but it can also work out cheaper taking into account fuel and parking charges.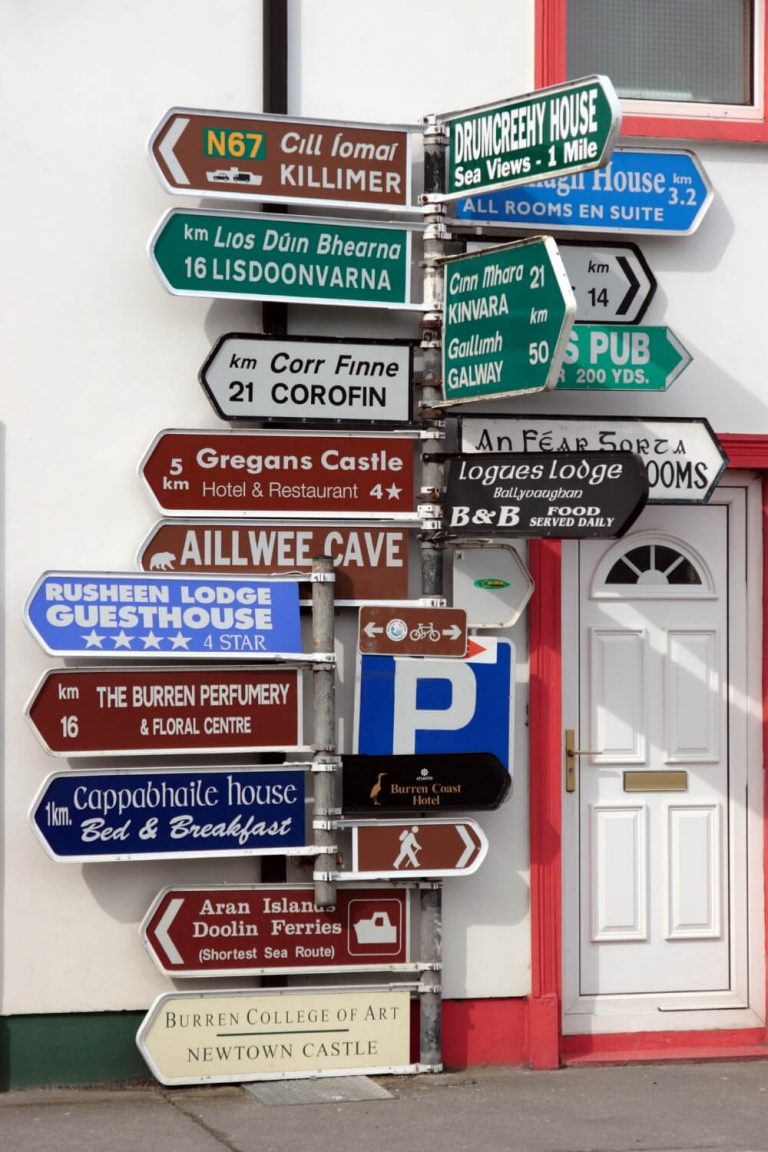 Tips for travelling by car around Ireland
Here are a few quick tips to remember if you are driving in Ireland.
Cars in Ireland are right-hand-drive meaning you drive on the left.
Motorways are marked with an M and signs are blue and white. Primary National roads are marked with an N in the Republic and an A in Northern Ireland. And R denoted roads in Ireland are Regional roads, while these are B roads in Northern Ireland.
In the Republic, speed signs and distance are in kilometres while in Northern Ireland they are in miles.
Many motorways have tolls, so ensure you have cash in the car in order to pay for these and some booths do not take cards. Make sure you enter the correct payment lane. And note that the M50 around Dublin has electronic tolls. Your hire car company may have an electronic responder in the car to cover these, the cost of which will be added to your final bill when you return the car. If not, you will need to pay these via the website www.eflow.ie.
GPS navigation may not always be included in the car so download your routes onto your smartphone before leaving, especially if travelling off-the-beaten-track where phone signal may be patchy at best.
Take extra care on smaller National and Regional roads. Many are single two-way traffic roads and you can often come across a tractor moving from farm to farm and over-taking places may be few and far between on these roads. This goes for both cars and motorbikes.
You must have a valid driving licence to drive in Ireland. EU licence holders do not require any additional paperwork. However, non-EU licence holders will require an International Driving Licence which you should get from a motoring organisation in your own home country before travelling to Ireland.
Seat belts are required by drivers and passengers and child safety car seats are mandatory for children under the age of 12 years of age and under 150cm in height. Find out more about seat belts and the law in Ireland here.
Ireland has many roundabouts and you must give way to traffic coming from the right.
In the Republic of Ireland, the speed limits are 50km/h in towns and signposted local roads, 80km/h on regional roads, 100km/h on national roads and 120km/h on motorways. In Northern Ireland, the speed limit is 30mph in built-up areas, 60mph on main roads and 70mph on motorways.
Many towns and cities operate pay-and-display parking, whether it is in a car park, shopping centre/mall or on the street. Make sure to check and pay for your parking before walking away from your car and ensure you have change in case the ticket machine does not take cards. And if you are parking on the street, single yellow lines indicate restrictions while double yellow lines indicate no parking at any time. Look for street signs nearby that indicate parking times and restrictions. If in doubt, ask a passer-by or find somewhere else to park.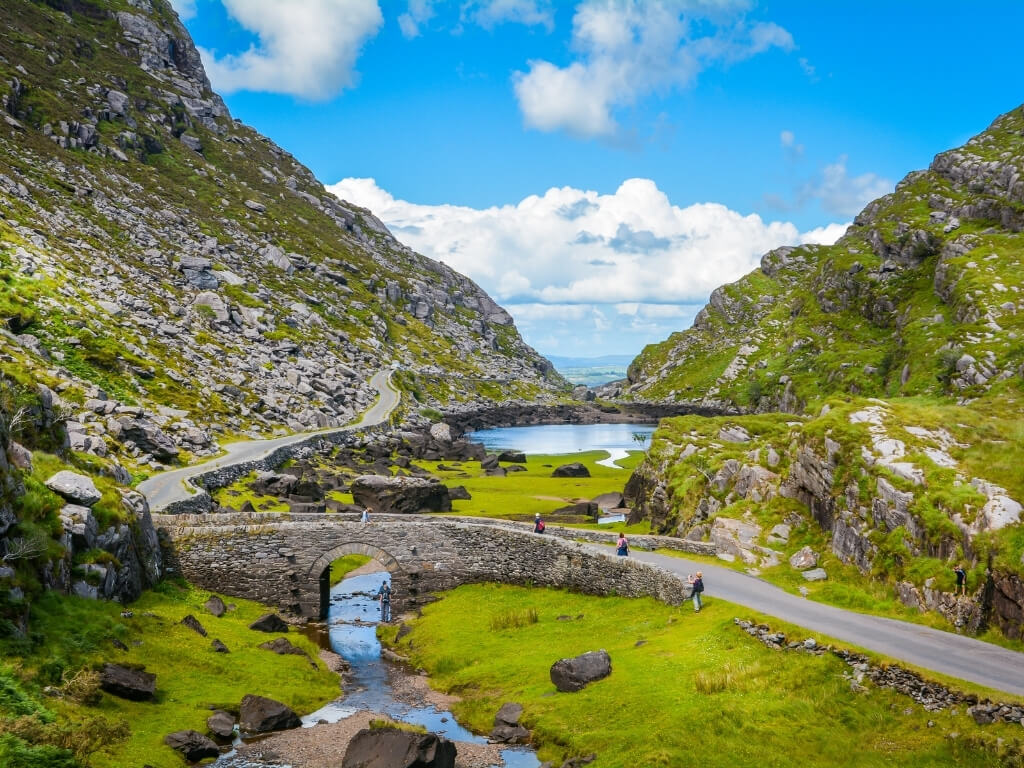 The benefits of hiring a car to travel around Ireland include the fact that it gives you flexibility. You have the freedom to travel where and when you want, stop where you want and also stay where you want, including unique places that might be out of the way. Hiring a car is quicker than using public transport and can often work out cheaper than using tour group coaches or packages.
All of these points also apply to travelling around Ireland by motorbike, although parking may be easier for bikes and tolls are also cheaper, in some cases, there is no charge for motorbikes through tolls. Just be aware that helmets are mandatory for both the rider and pillion and you must have the correct licence and insurance in place.
You can also travel around Ireland using a campervan or motorhome but you will need to find legal places to pull up for the night. Plan this ahead of time. This article has some good information about wild camping in Ireland.
Getting around Ireland without a car
But what about getting around Ireland without driving, if driving on the wrong side of the road is not for you? For the best way to get around Ireland without a car, you have three main options. You can use public transport to get from place to place by either bus or train, you could fly to regional airports and use local public transport from there, or you could opt for cycling around Ireland.
If you are trying to visit Ireland on a budget, public transport may work out the most cost-effective way to travel around the Emerald Isle if car hire is out of your price range.
Getting around Ireland on public transport
Ireland has a good public transport system between the major towns and cities, but beyond that and to smaller towns or points of interest outside towns, the service becomes very limited.
Getting around Ireland on public transport between the main towns and cities is easy. The bus network is a mixture of public and private companies and the rail network serves many of the major towns and cities and is often quicker than taking a bus. At times, public transport can work out slightly cheaper than hiring a car and is definitely the way to travel around within cities such as Dublin, Belfast, Galway and Cork.
Let's take a look at how to get around Ireland without renting a car and using public transport instead.
Getting around Ireland by train
Getting around Ireland by train is easy between the major cities. Iarnród Éireann (Irish Rail) is the rail network company in the Republic of Ireland while getting around Northern Ireland is easy by train using Translink NI, the operator in Northern Ireland. Train travel in Ireland is quick and easy and booking in advance will give you the most competitive prices on tickets. That said, tickets are relatively cheap most of the time.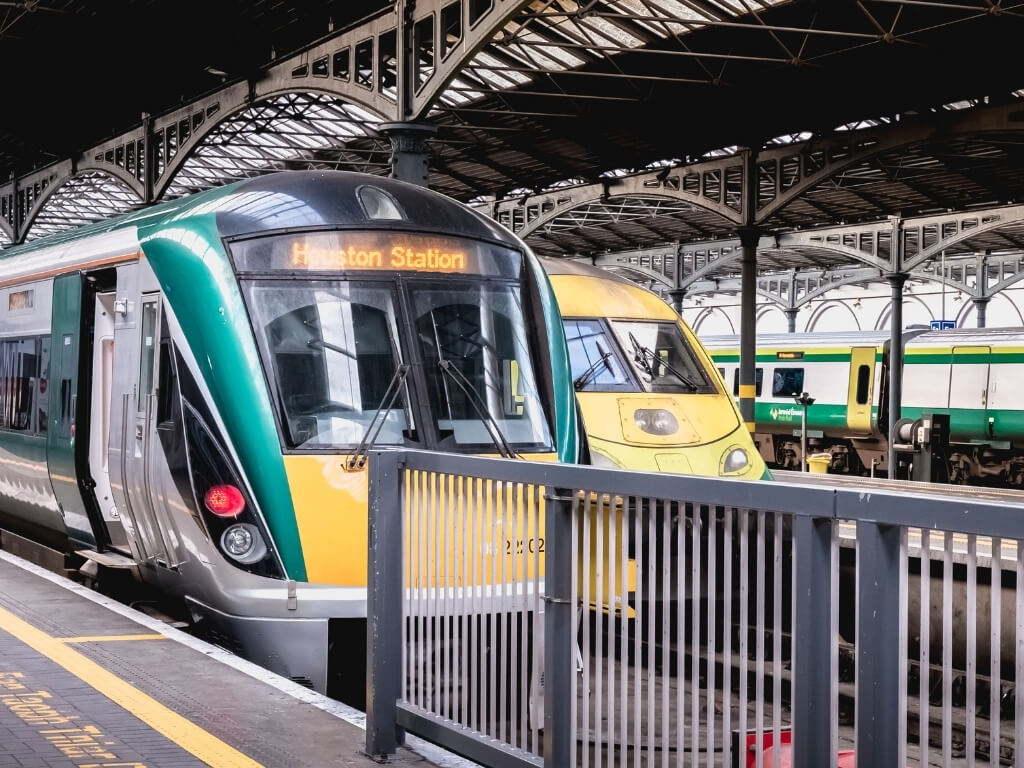 Most lines within the Republic stem out from Dublin and there are some connecting points for other routes in certain towns and cities. But as already mentioned, while the larger cities and towns are served by trains, places such as the majority of the Wild Atlantic Way in Ireland are not served by rail. Similarly, places such as the Dark Hedges in Antrim are not served by rail.
If you are wondering how to get around Ireland by train and see all the must-see places, then you really need to consider your route and must-visit tourist destinations carefully. It will take careful planning and may be more costly than hiring a car.
While getting around by train in Ireland is relatively easy and not complicated, your itinerary will be severely limited to certain places.
Top Tip for travelling Ireland by train – Book your tickets in advance to get the best prices. Look into rail passes which will give you discounted travel over a certain time period. You can explore the Republic of Ireland with Iarnród Éireann using their Trekkers or Explorer Travel Tickets or you can use Eurail Passes to explore both the Republic of Ireland and Northern Ireland.
Getting around Ireland by bus
If you are wondering how to get around Ireland by bus, then wonder no more. As mentioned there are both public and private bus companies and the bus is a better option if you are looking to visit smaller, more out-of-the-way towns. It can also work out cheaper than trains.
In the Republic of Ireland, the main operator is Bus Éireann, while Translink is the main operators in Northern Ireland. Other operators in the Republic include JJ Kavanagh, Citylink and Aircoach (connecting some cities to airports).
Bus Éireann tickets can be booked online but you cannot reserve seats. Most bus journeys last no more than five hours but they can take longer than trains or driving due to the number of stops that may be made along the way. While some smaller towns and village are connected to bigger towns by local buses, these services can be very infrequent, making journeys seem longer. To find out more about public transport by bus in Ireland, check Transport for Ireland.
Be warned, bus services are slowly contracting in Ireland, which means getting to smaller villages and out-of-the-way destinations will become increasingly harder via public transport.
However, connections between larger towns and cities remain unchanged. Dublin has an extensive city bus network, reaching all corners of the county and beyond. With dedicated bus lanes in the city, travelling by bus is easy, cheap and often quicker than driving. If you are only visiting and staying within Dublin, public transport is the best way to traverse the city.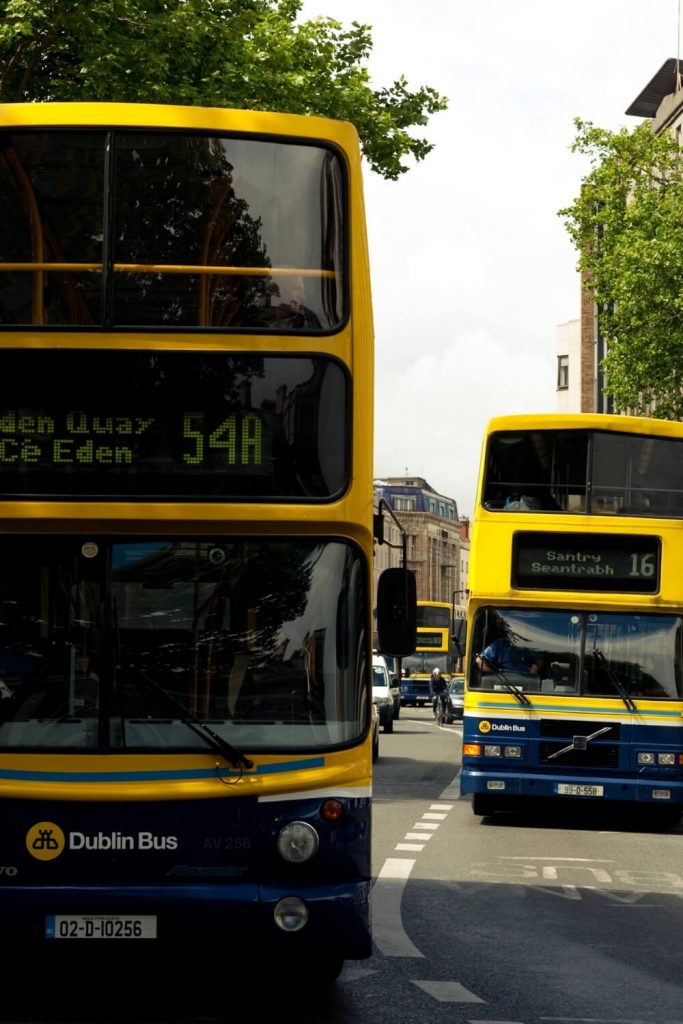 Getting around Ireland by flying
You could use flights to get around Ireland but with its small size, internal flights aren't really necessary. There are four main, large airports in Ireland. They are
Dublin
Cork
Shannon
Belfast
There are generally no connecting flights between these airports as they are used to receive international travellers. It always used to puzzle me why there was no flight between Dublin and Belfast but with the M1 being a good motorway between the two cities, it is not necessary. And there are good bus links to Belfast from Dublin Airport.
Regional airports are usually served from these airports. The regional airports in the Republic of Ireland are (those denoted with a * have more regular flights than the others).
Knock*
Kerry*
Donegal*
Galway
Sligo
Aran Islands*
Waterford
These are typically served by Aer Lingus.
Flying in Ireland is usually unnecessary due to the small size of the island, the fairly short distances between places and the fact that the cities served by internal flights can also be reached by the cheaper option of public transport.
Getting around Ireland by cycling
If you prefer the outdoors and are wondering how to get around Ireland without driving, but avoiding public transport, then cycling is an option. Ireland's compact size, beautiful landscapes and many accommodation options mean cycling is a real option for exploring the country.
However, a word of warning. Roads, particularly in the countryside can be rough and uneven, with little maintenance carried out from one end of the year to the next. Narrow roads can mean cars may overtake very close to you and at speed. And tractors on country roads are a common sight. However, that said, there are many roads that are hospitable to cyclists, particularly the Great Western Greenway in Mayo and parts of the Wild Atlantic Way.
Some buses will carry bikes if there is room, as will trains (but at a cost, and you must book ahead to ensure there is room on the service for your bike), meaning you could travel via public transport to your furthest destination and cycle back to your endpoint. It is advised that cyclists travelling along the west coast of Ireland travel from south to north to be carried with the prevailing winds rather than struggle against them. And that is good advice as the west coast of Ireland can be a particularly windy place.
Bikes also travel free on passenger ferries such as those going to the Aran Islands, making these ideal destinations for a cycling holiday in Ireland. So, if you are fit, and fancy discovering Ireland by bike, it is an option.
There are companies that arrange cycling tours of Ireland such as Irish Cycling Safaris or Green Marble Tours who do self-guided or guided cycling tours. Or you hire some yourself. Contact the local tourist board at your starting/return destination for recommended companies to hire from if not bringing your own to Ireland.
Getting around by taxi
Cost-wise, getting around by taxi in Ireland is not a cost-effective way to travel. While there are taxis available in most towns and cities, they can work out expensive, even for short distances compared to getting public transport.
Taxis in Ireland are regulated and metered and while Uber is in Ireland it is limited to Dublin and Belfast. And within the Republic, if you use Uber you will be calling a taxi or limousine, not a private car as the company is not allowed to operate private cars in the Republic.
A taxi can prove useful if you are in a city late at night and need to return to your accommodation but otherwise, it is more cost-effective to use public transport in the main cities to get around.
Getting around by coach tours
There are lots of coach tours and operators in Ireland who can take the hassle out of driving or using public transport for you and ferry you around to the best places in Ireland to visit. There are two websites in which you will find both short bus tours and day trips and longer tours of Ireland as well.
Get Your Guide is a great site for finding day trips and tours of Ireland. Everything from whiskey distillery tours, to day trips to Glendalough or 9-day tours of Ireland, this is a great starting point for booking a guided tour in Ireland.
Viator is another great site for seeking out tours and day trips in Ireland. Similar to Get Your Guide, they have a host of tour options in Ireland from short tours to popular attractions, to day tours and longer guided trips around Ireland.
However, for a truly unforgettable tour of Ireland, we highly recommend you check out the tours from Rabbies.
Read my comprehensive guide to how to get around Ireland without a car to know more and help you plan accordingly.
Now you have all the information about how to travel around Ireland without a car, why hiring a car might be your best option and information about getting around Ireland by bus or train. The decision very much comes down to whether you want to drive yourself, explore Ireland by public transport or even if you'd rather leave everything to someone else.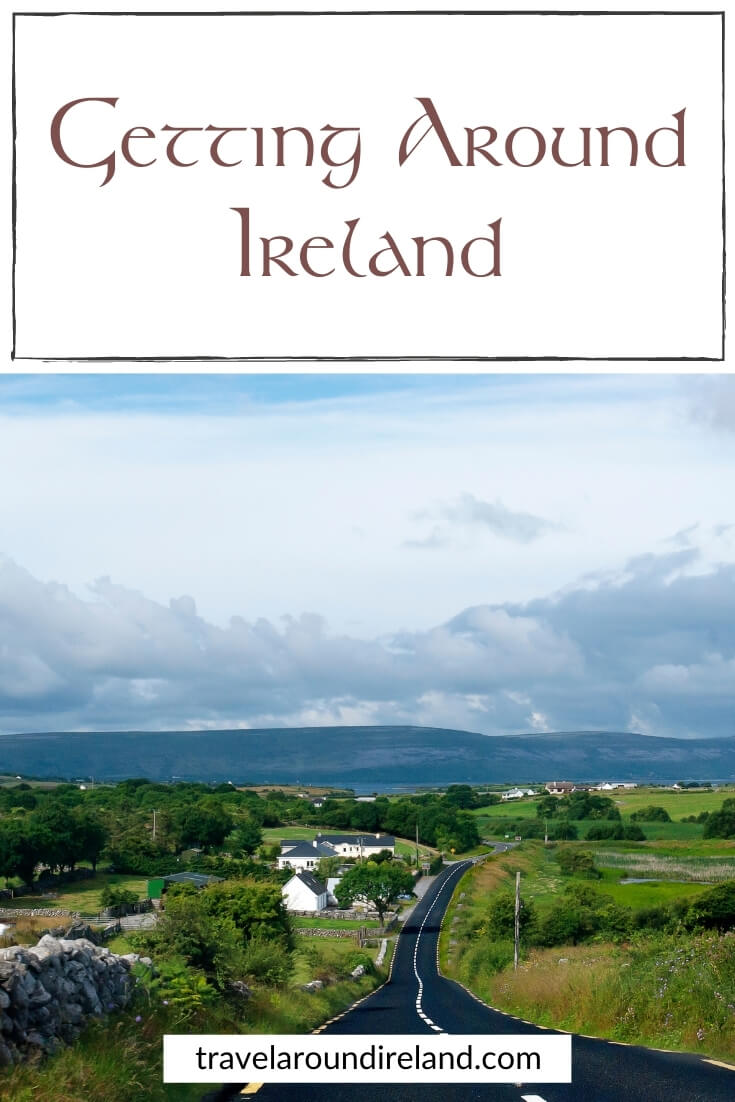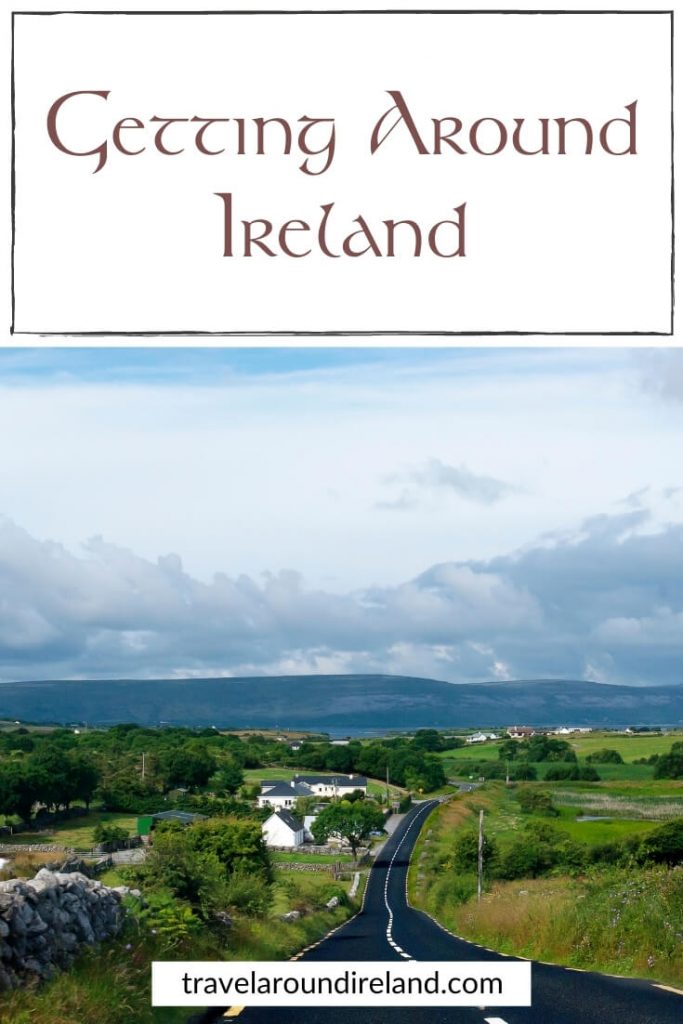 Related Posts