Navigating the lush landscapes of Ireland without a car might sound daunting to many. "Is it even possible to experience the vast beauty of the Emerald Isle on public transport or without hiring a car?" you wonder.
Drawing from my local knowledge, I'll confidently guide you through the ins and outs of touring Ireland without the need for your own set of wheels.
Whether you're an eco-conscious traveller or someone looking to sidestep the stress of driving on unfamiliar roads and on the wrong side of the road, this comprehensive guide is tailored just for you.
Discover just how to get around Ireland without a rental car and all the different options for transportation in Ireland for tourists available to you right here. You'll learn that it is possible to see the magic of the Emerald Isle stress-free and travel around Ireland without a car.
Published June 2022, Updated September 2023
*This post contains affiliate links, which may include Amazon affiliate links. To read more about affiliate links, please visit my Disclosure Policy page.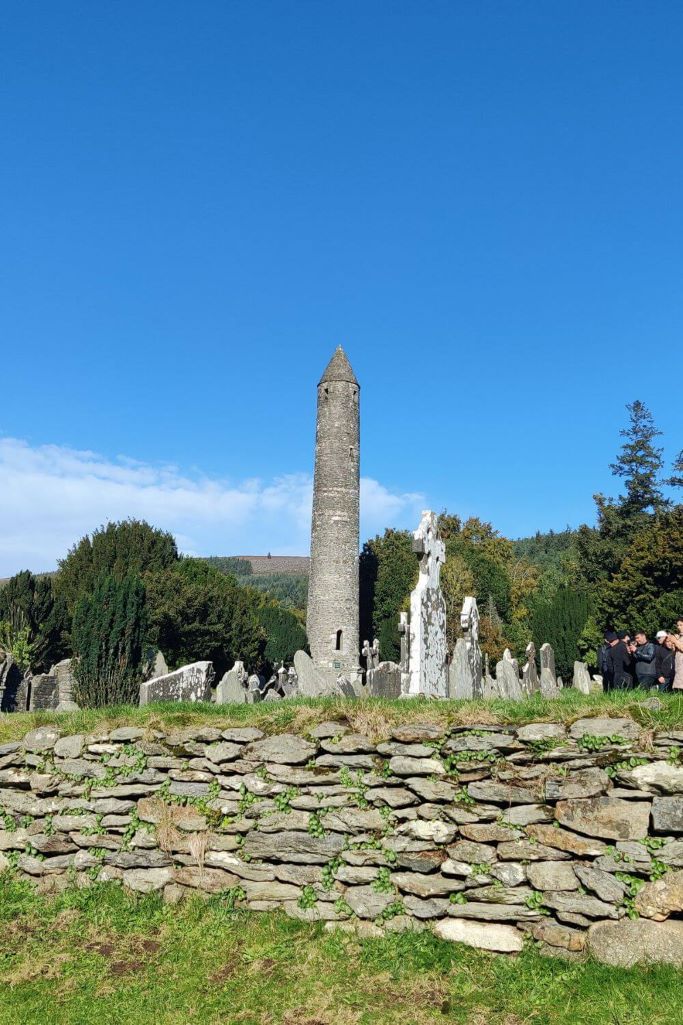 For various reasons, there are lots of visitors to Ireland who decide hiring a car is not for them. Whether it is a fear of driving on "the wrong side of the road", or they are wary of the narrow, winding country roads they might have to take in order to reach places they want to visit.
Perhaps the cost is a factor in the reason some decide not to hire a car for getting around in Ireland, and they are trying to travel to Ireland on a budget.
But with that decision comes a question: Is it easy to get around Ireland without a car?
Whatever the reason, know this; it is possible to explore Ireland without a car. Is it easy? No, not in my opinion, but it is doable.
You may have to adjust your expectations, trip length or your itinerary and the different places in Ireland you want to visit, but I will show you exactly how to get around Ireland without a car.
5 Things you need to know about getting around Ireland without a car
Before we look at whether you need a car to get around Ireland and look in-depth at your options for exploring Ireland without driving, here are some things you need to know first.
1 Strategic planning is essential
When relying on public transport in Ireland, planning is essential to ensure your journey goes as smoothly and seemlessly as possible. You cannot be spontaneous with public transport as you might be with a rental car.
Being aware of what towns on your itinerary have good links between them, and consider the timetables carefully will mean a hassle-free trip.
You also need to be aware that certain towns and village have no public transport links at all, and that timetables are reduced on Sundays and bank holidays. Public transport between cities can vary greatly, so pre-planning is essential.
A well plotted journey is essential when using public transport in Ireland.
2 Rural Ireland may be off the cards
As mentioned above, not every town and village in Ireland has public transport links. While public transport can get you to larger villages, remote beauty spots may pose a challenge.
Investigate local bus services, or even consider joining group tours to delve deeper into the countryside.
3 Explore the possilbities of day tours
Don't fret about missing out on the Cliffs of Moher or Blarney Castle just because you don't drive.
Numerous operators provide daily excursions from major cities to iconic sites. These guided trips not only offer transport but also enrich your experience with local insights and stories.
There are some great Dublin day trips you can take if basing yourself in the Irish capital, and Galway is also another city from which day trips are a possiblity.
4 Travel cards could save you money
Ireland offers several travel cards like the 'Leap Card' for city transport around Dublin, and the 'Trekker Four Day' rail pass.
Depending on your itinerary, these can offer significant savings over individual tickets, granting flexibility and value.
However, ensure you compare them against your plans before investing in them.
5 Walking cities is often enough
Ireland's charm lies in its compact towns and villages. However, even cities like Cork and Galway, while bustling, are manageable on foot.
The twisty lanes, historic landmarks, and local pubs are best discovered while walking. Simply lace up some comfortable shoes and let the Emerald Isle's streets lead you on an adventure.
Even the capital's streets are walkable and the city centre compact enough for exploring on foot and negate the need for four wheels.
Do you need a car in Ireland to get around?
No, not all. But you should be aware that there are instances where a car is necessary.
If you are choosing to go hiking in Ireland without a car, while this is a great way to explore and visit Ireland without a car, hiking trailheads and starting points may be located in small, rural towns with no public transport.
Likewise, taxis may be in short supply in these areas for reaching your starting point or for picking you up at your ending point.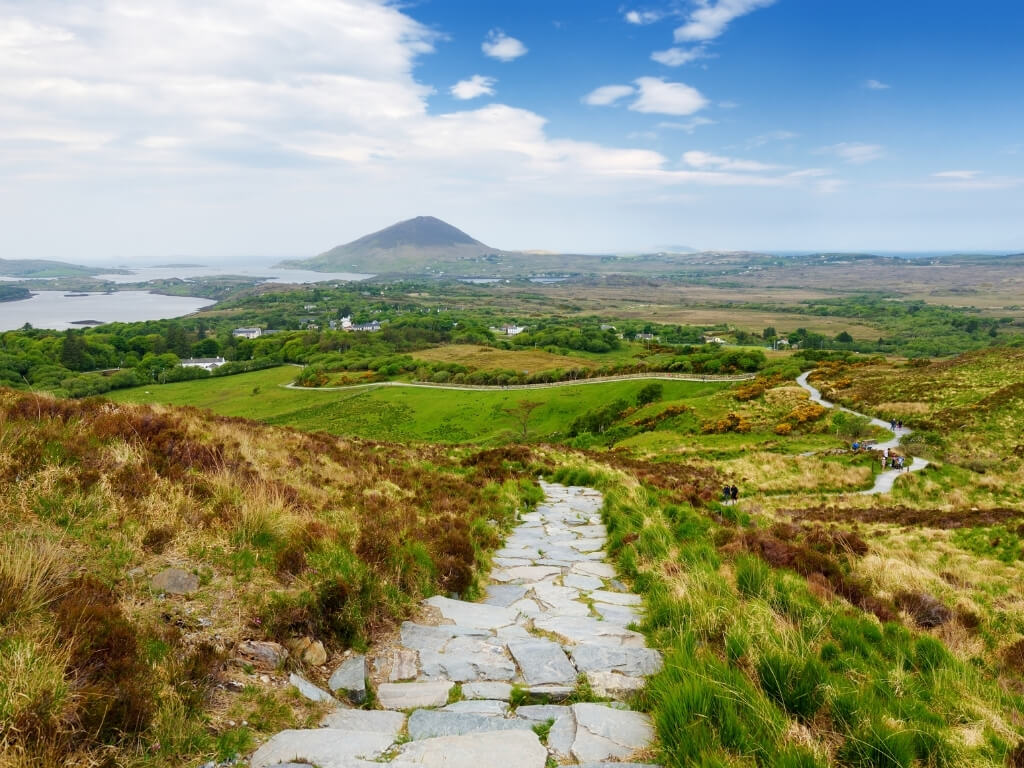 Similarly, if there is a specific small town or village you want to visit while on the Emerald Isle, you might find yourself stuck with no option but to hire a car to reach it because public transport simply does not serve that town. Many rural towns and villages have limited or no public transport connections and cars are a must.
So, while a car in certain instances will be required, if you are not looking to go hiking or to a specific small village, then you have many more options while still enjoying everything the Emerald Isle has to offer.
How to travel around Ireland without a car
Pros and cons to travelling Ireland without a car
Pros of navigating Ireland without car
1 Avoiding expensive car rental fees
Renting a car in Ireland can drain your wallet, especially during peak travel months like July and August. Manual vehicles dominate the market, with automatics often costing a premium. Factor in petrol and parking expenses, and you're looking at a sizable chunk of your vacation budget.
2 Efficient train network between major destiantions
Ireland's rail system, branching out from Dublin, is commendable, reaching primary cities and towns. Cities such as Belfast, Sligo, and Cork are directly connected, offering a swifter mode of transport than buses, emphasizing convenience and affordability.
3 Combine public transport with guided day trips
While public transportation efficiently serves many areas, it might falter when you're eyeing up remote attractions. A smart strategy would be to combine public transport for easy-to-reach destinations and reserving day tours for iconic yet distant spots, like the Cliffs of Moher.
4 Reduce your carbon footprint
By opting for public transportation over personal vehicles, you'll be contributing to a lower carbon footprint, making your journey more eco-friendly.
5 Get immersed in the local expeirence
Traveling without a car lets you engage more with the locals. Whether it's a chat on a bus or understanding local folklore from a train co-passenger, it makes for a richer travel experience. Don't be afraid to strike up a conversation, you never know what you might discover.
Cons of Venturing Through Ireland Car-Free
1 Restricted access to hidden gems
While Ireland's major cities have a lot to offer, the allure of its scenic mountain trails and quaint fishing hamlets is undeniable. These off-the-beaten-path treasures, however, are often unreachable without personal transport.
2 Limited organised tours during off-peak months
Relying on organized tours can be tricky, especially during the quieter months of January and February. Their unavailability could hamper your plans to visit hard-to-reach attractions.
3 A lack of public transport in some regions
While Ireland's rural charm is enchanting, it poses challenges for the car-free traveler. Regions like West Cork lack train services, and counties such as Donegal and Cavan have minimal and often unreliable public transport options.
4 Loss of flexibility and spontaneity
Without a car, you're at the mercy of public transport schedules and that of organised tours if that is the option you choose. The spontaneous detour or unscheduled stop becomes challenging, if not impossible.
5 Could prove more costly in certain situations
While car rentals can be expensive, relying entirely on public transport and day tours might sometimes add up, especially if you're aiming to cover extensive ground or visit several remote areas. This is also true if you choose to get taxis when out and about or even hire a private driver.
Main starting points for travelling Ireland without a car
Most visitors to Ireland will enter the country in Dublin and either start there, Shannon, or in Belfast. The island of Ireland consists of two separate countries and you can read more about the difference between Ireland and Northern Ireland.
Dublin is the capital of the Republic of Ireland and is located along the east coast, about halfway between the north and south of the country. It is a great entry point as it has good connections to other places, allowing visitors to discover Ireland by public transport.
Belfast is the capital of Northern Ireland and is also located along the east coast but in the north. It is the ideal base for exploring the best places to visit in Northern Ireland.
Both cities are connected by direct bus and rail connections, meaning those who want to visit both places can do so with ease.
Just be aware that there are few connections between Belfast and other cities in the Republic of Ireland and often you will need to travel back to Dublin in order to move elsewhere in Ireland.
Another possible point of entry for those travelling from the United States is Shannon. This airport is located approximately 30 minutes from Limerick City Centre and also has direct bus links to other places such as Cork, Ennis, and Galway, via the Number 51 bus.
Modes of transportation in Ireland
In Ireland, public transportation is by way of train, tram or bus. Travelling in Ireland without a car will usually involve one of these modes of transport and below you'll find a breakdown of each option, the advantages and disadvantages of each, and why they may be the best way to travel around Ireland without a car.
Travelling around Ireland without a car by train
If you have been wondering how to get around in Ireland without a car and are planning to stay in the main cities (and perhaps take day trips from there), then one of the best modes of transport is the train.
Most people visiting Ireland will land in Dublin and that gives you plenty of options for touring Ireland by train.
While Dublin Airport does not have a train station, there are bus links to the two main train stations in Dublin, Connolly and Heuston. These are the main routes out of Dublin by train and serve many corners of the country.
From Connolly Station, visitors to the Emerald Isle can travel
north to Belfast,
west to Sligo,
south to Wexford and Rosslare via places such as Wicklow and Dun Laoghaire.
This is the main north/south line station for Ireland.
Heuston Station is the location for trains departing for the West of Ireland and for those travelling southwest. Towns and cities served by trains from Heuston include
Ballina (County Mayo) via Kildare, Athlone, Manulla Junction,
Westport (County Mayo) via the same towns and Ballina,
Galway via Kildare and Athlone,
Limerick via various routes,
Killarney and Tralee via Mallow (County Cork),
Cork via Mallow,
Waterford via Kildare and Kilkenny.
For those wanting to add the best things to do in Northern Ireland to their itinerary, then heading to Belfast and travelling from there is necessary. Belfast has direct train links with Dublin's Connolly Station and also has links to the following towns and cities in Northern Ireland
Bangor,
Larne,
Portrush via Coleraine,
Derry via Coleraine.
There are also some cross-country routes in the Republic of Ireland that include
Limerick to Ballybrophy (County Laois) via Nenagh,
Cork to Cobh,
Tipperary via Waterford.
Train tickets in Ireland
Iarnród Éireann, also known as Irish Rail, is the rail company in Ireland from which you can purchase tickets online ahead of time.
Intercity tickets can be purchased online to avail of the lowest prices.
You can also buy tickets from the ticket office at any rail station on the day but be advised these may cost more than if you pre-book tickets.
There may be certain terms and conditions attached with low fares online such as limited time intervals for travel, so make sure you read them before purchasing.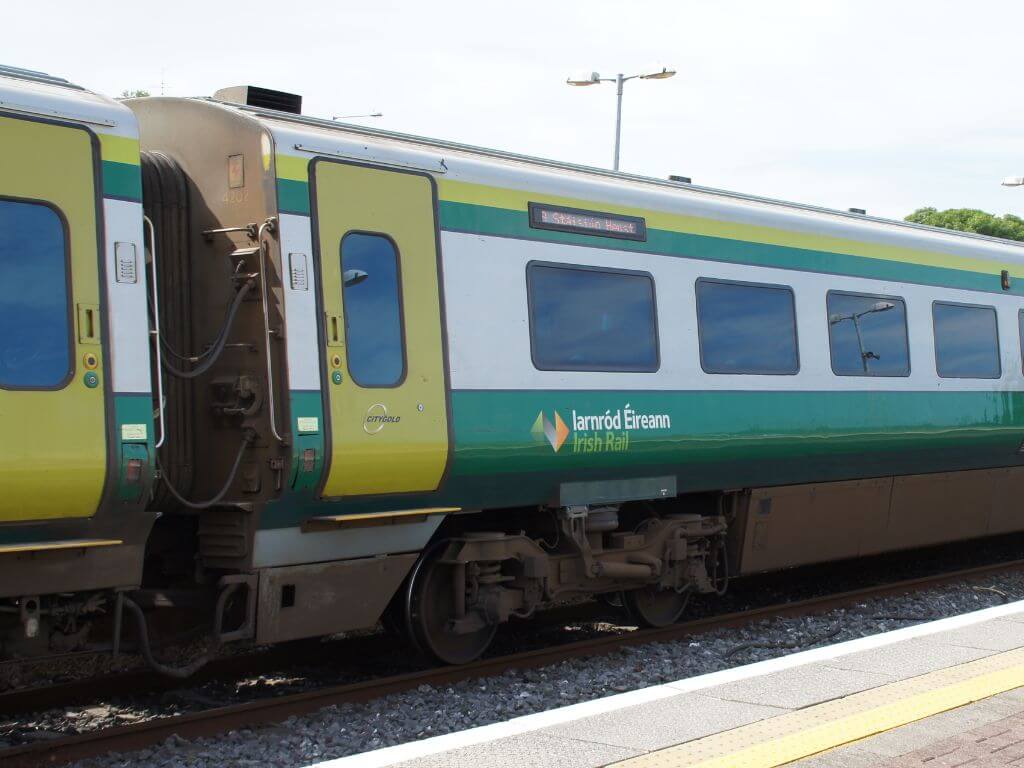 Examples of tickets for major destinations in Ireland.
Dublin to Belfast from €44 open return/€32 day return
Dublin to Cork from €71.20 open return/€66.40 day return
Dublin to Limerick €57.90 day return/€51.60 day return
Dublin to Galway €41.70 open return/€32 day return
Dublin to Sligo €43.50 open return/€33.60 day return
Dublin to Rosslare €31.50 open return/€27.50 day return
Top tip: round trip tickets work out significantly cheaper than buying two single tickets. For example, two single tickets between Dublin and Belfast would cost €60.80 but an open return ticket costs from €44.
Note that rail travel in Ireland is more expensive than in the rest of the European continent.
If you are wondering how long train journeys take in Ireland, most are less than three hours. The following are example journey times:
Dublin to Galway – 2.5 hours
Dublin to Belfast – 2 hours 15 minutes
Dublin to Cork – 2 hours 45 minutes
Dublin to Limerick – 2 hours 20 minutes
Dublin to Rosslare – 3 hours 20 minutes
There are also tourist tickets for rail travel in Ireland and these can be a more flexible option.
Trekker Four Day Tourist Rail Ticket – These are adult tickets which are valid for four consecutive days of travel in the Republic of Ireland from the date of issue of the ticket. This costs €110 and can be purchased online or in limited ticket offices.
Explorer Tourist Rail Ticket – Both adults and children can use this ticket, an advantage over the Trekker Ticket. This ticket offers 5 days of unlimited travel over 15 consecutive days on all Iarnród Éireann services in the Republic of Ireland. These tickets can ONLY be bought at ticket offices and cost €160 per adult and €80 per child for standard class carriages. These tickets cannot be purchased online.
Leap Visitor Card – Eligible for both adults and children, the Leap Visitor Card is the best ticket option for getting around Dublin without a car. It offers visitors 1, 3 or 7 days unlimited travel on all Iarnród Éireann Dart and Commuter Rail services in the Short Hop Zone, unlimited Dublin Bus services including the Airlink to/from Dublin Airport, Luas services (see below), and Go-Ahead bus services in Dublin. This can be bought from the Spar shops, Discover Ireland desks and Information desks in the arrivals halls in Terminals 1 and 2. They can also be bought at the Dublin Bus and Discover Ireland offices on O'Connell Street and also Visit Dublin centre in Suffolk Street in the city centre.
More information about all Tourist Rail tickets in Ireland can be found by clicking here.
Eurail also operates in Ireland, with the best option being their one-country pass, unless you plan on travelling to other parts of Europe by rail during the same trip. The Eurail Ireland Pass offers visitors 3, 4, 5, 6 or 8 travel days in 1 month. You can take as many trains in one day as you like and their ticket is valid across both the Republic and Northern Ireland (discover the difference between the two parts of Ireland). Eurail tickets cost as little as €121 per adult for a 3-day unlimited pass in 1 month. Find more information here. NOTE, these are valid only for non-EU citizens/residents.
EU citizens and residents can use the Interrail Pass which has the same conditions of carriage and prices as the Eurail Pass for non-EU citizens/residents. Click here for more information.
Top tip: If you are going for a country rail ticket ensure you purchase the correct one for the country you are visiting and your own citizenship status.
For those travelling in Northern Ireland, Translink is the operator of visitor ticket passes. They have a 3-day Flexi Ticket which offers unlimited travel on any 3 days out of 7 consecutive days between two chosen rail stations within Northern Ireland.
Note that you need to be an mLink customer (see here for more information). There are also one-day and seven-day tickets similar to the 3-day Flexi. Tickets can be bought online, at stations or at ticket vending machines.
There is also an iLink travel card which offers unlimited travel within specific zones across Northern Ireland, ideal for those not wanting to be limited to two stations. These come as daily, weekly or even monthly travel cards that can be bought and topped up online. See here for more information.
This is the ideal option for those wanting to explore Northern Ireland without a car as it offers both rail and bus services across much of Northern Ireland, giving you more flexibility.
Rail tours from Dublin
There are also several rail tours from Dublin that visit the main attractions across the country.
Railtours Ireland, the Iarnród Éireann partner, has a number of rail tour options for those wanting to enjoy an Ireland by train itinerary. Their most popular tour is a 6-day Ireland itinerary that takes in Blarney Castle (pictured below), the Ring of Kerry, Cliffs of Moher, Giant's Causeway and more, some of the best places to visit in Ireland.
Note that these tours use a mix of rail and bus services. For more information, click here.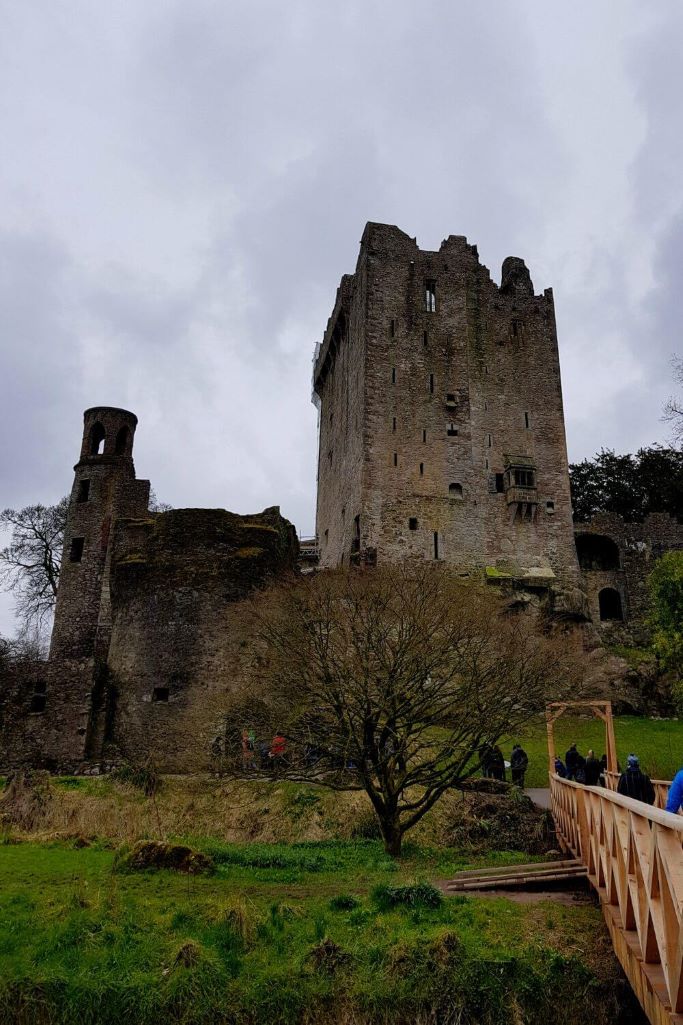 Another option is Great Rail Journeys. Click here for information about their Ireland tours.
There are also several rail tours on Viator that you can take to visit various locations across Ireland. With everything from day tours by rail to 2, 3 and 6-day tours of Ireland, you might find one of these is the ideal rail tour for you. Click here to start your search.
Best Ireland Train Routes
There are two routes which are among the best train routes in Ireland.
The link between Dublin and Rosslare travels through Ireland's Ancient East.
It follows the coast from Dublin City Centre to Kilcoole in County Wicklow, before turning slightly inland and travelling south to Wexford Town where it then partly follows the coast until it reaches Rosslare.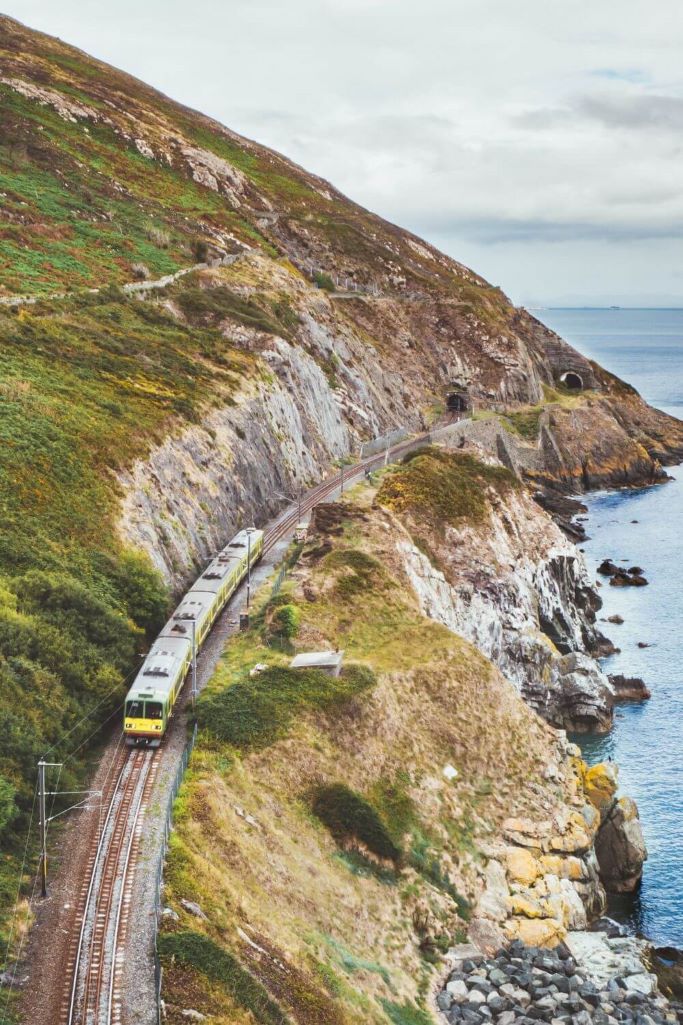 Another great route is one in Northern Ireland between Derry and Coleraine. This route runs along the Causeway Coastal Route, which means you'll pass by beautiful, unspoiled beaches, and the backdrop of the Binevenagh Mountains.
Advantages to travelling Ireland by train
If you are wondering how to tour Ireland without a car, trains are a great option. You can relax while enjoying the beautiful scenery along the way.
Trains can pass through some beautiful landscapes or follow the coast giving passengers uninterrupted views across the sea.
Other advantages to taking rail tours of Ireland include toilets on board, a chance to stretch your legs, and you can get seats with tables to enjoy a picnic along the way. Some routes often have a refreshments trolley service.
Travelling with kids by train is fun, especially if you have little train fans along the way. And trains can often be faster than getting a bus, with many train routes having little or no stops along the way.
Disadvantages to travelling Ireland by train
There are two main disadvantages to getting around Ireland by train.
Firstly, you are quite limited by the number of places to visit in Ireland by train (see below). Only the major cities and towns are serviced by trains, and you may find you need to change trains at certain stations depending on where you are travelling to.
Travelling to other destinations outside of these central locations will require additional transport such as a bus or even a taxi.
Secondly, train travel in Ireland can work out more expensive than taking the bus. If you are trying to travel Ireland on a budget, train travel is often not the cheapest way to travel around Ireland.
Top tips for travelling by train in Ireland
If you are choosing to use trains for getting around in Ireland without a car, then try to book your tickets ahead of time. This may save you some money over tickets bought on the day or a few days before.
If you are wondering how often trains run in Ireland, it depends on the day and destination.
During weekdays and Saturdays, most major towns and cities are served between four and fifteen times a day. You can find detailed timetables for Iarnród Éireann here.
On Sundays and bank holidays (find a list of Irish bank holidays in this post), timetables are reduced so service will be less frequent on these days.
Travel around Ireland by bus
Travelling by bus in Ireland is often the best way of seeing Ireland without a car. Buses are budget-friendly, are in abundance in Dublin and other major cities such as Cork and Galway, and serve lots more nationwide destinations than trains.
There are also more direct inter-city connections by bus compared to trains. For example, there are no direct train services between Killarney and Limerick, but Bus Éireann, Ireland's nationwide bus operator has a direct bus route between the two cities.
All cities and big towns will have a centralised bus station from where you can hop on buses to all corners of Ireland. Certain routes may require you to change buses halfway, but as mentioned, many cities and large towns have direct bus links.
Certain destinations are easier to reach via bus than by train. For example, there is a direct bus from Dublin Airport to Belfast which negates the need to travel to Dublin City Centre. It takes 2 hours direct and is a great option for those who want to start exploring Ireland in Belfast.
Within Northern Ireland, places such as the Giant's Causeway are also much easier to reach by bus than by train. Similarly, the Cliffs of Moher are best reached by bus from Galway than trying to reach it by train.
Dublin has one main bus station, Busáras Bus Station (pictured below), from where buses to other parts of Ireland depart.
It is conveniently located close to Connolly Train Station, and it has links to Heuston Train Station via the Luas Red Line (see further down). The buses departing from here are Bus Éireann buses.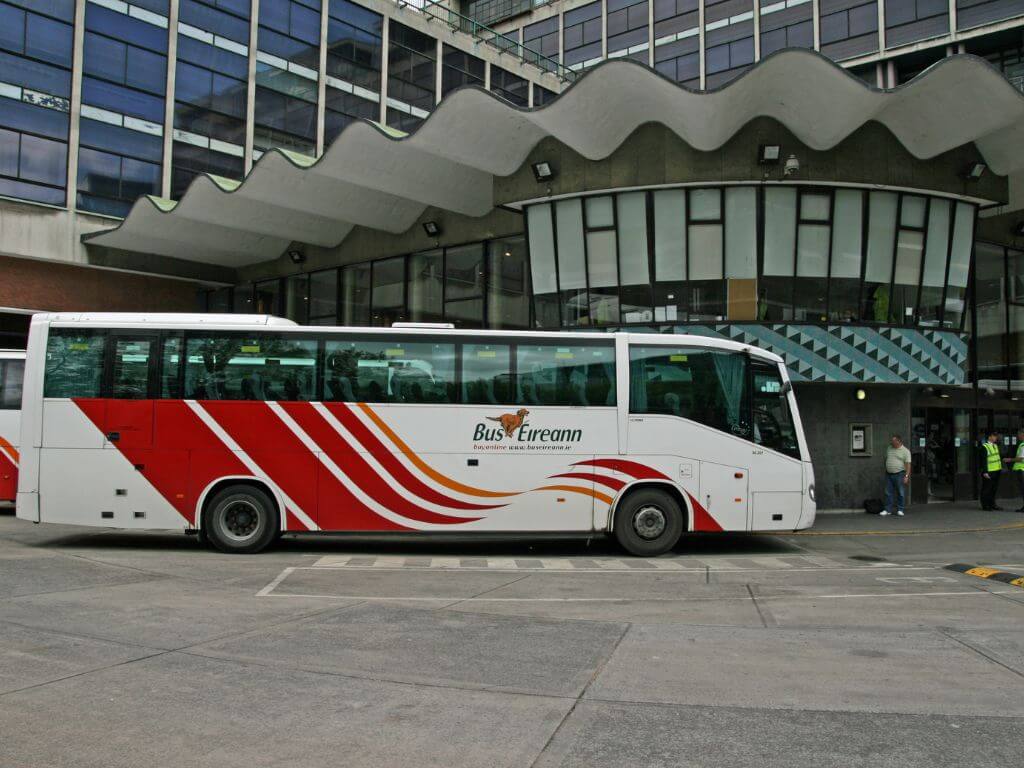 Many buses will depart from Busáras/Connolly and travel along the quays in Dublin towards Heuston where passengers can board those buses. Other private bus operators will depart from the city centre at various locations including O'Connell Street and Eden Quay.
Bus Éireann, as mentioned, is Ireland's national bus company. They cover both national services, city bus services, town bus services, local bus services and commuter services for the main cities such as Galway, Dublin, Cork, Limerick and Waterford. They are also the operators of Expressway, the fast inter-city service.
Bus Eireann has 242 bus routes in Ireland with over 5000 stops along those routes. This means they cover more than 3000 destinations in Ireland.
There used to be an Open Road Travel Pass that could be used for unlimited travel on Bus Eireann routes within a certain time frame but I am unable to find more information at this time.
Other operators of buses in the Republic of Ireland include
City Link – operating between Dublin/Dublin Airport and cities such as Galway, Limerick and Cork/Cork Airport (more information).
Local services – more rural, out-of-the-way towns will have local services connecting with bigger towns that have nationwide links. Just be aware that these services can be patchier and will require a bit more planning on your part. This is where the website Rome2Rio can come in handy, as well as good old Google maps.
Within Dublin, you will find Dublin Bus serving the far corners of the city and its suburbs. I have spent more time than I can tell you on Dublin Bus buses.
Some routes in Dublin are also operated by Go Ahead Ireland.
For more information about public transport in Dublin read below or visit this link.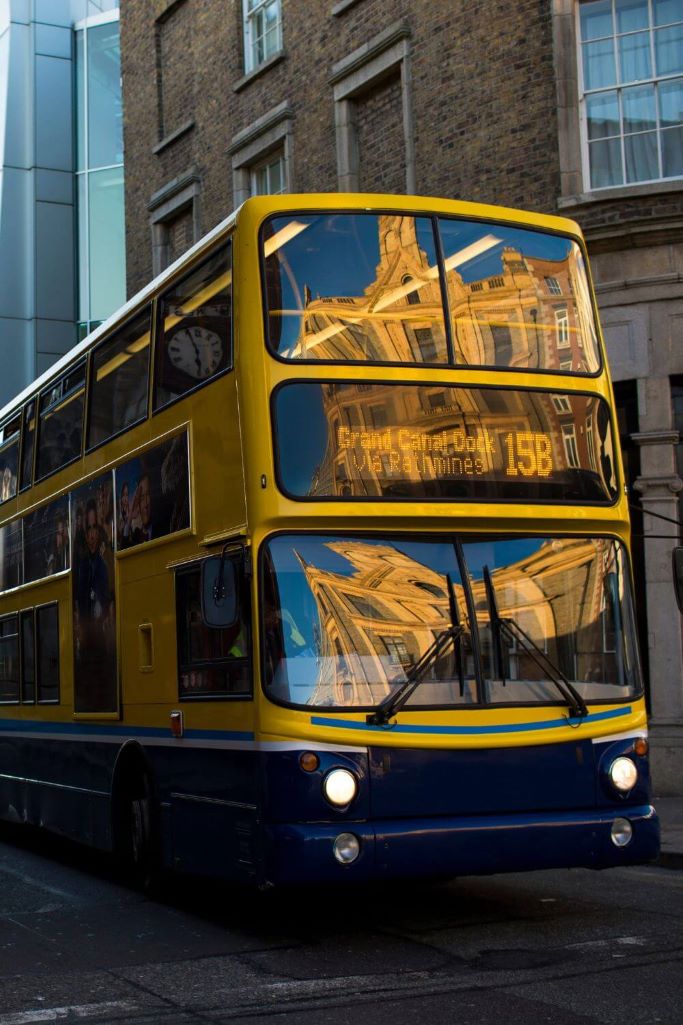 In Northern Ireland, Translink is a great resource for finding routes in the country. Not only will it tell you the best and quickest route to your destination, but you can also find out the price of tickets.
Within Northern Ireland, there are two main bus operators, Ulsterbus and Goldline.
Ulsterbus operate services across all of Northern Ireland, including in smaller towns and village.
Goldline operates express coach services across Northern Ireland between the main towns and cities. Services on both of these operators can be found by consulting Translink.
Within Belfast, you will also find both Metro and Glider services, and again, details of these services can be found on Translink.
Bus tickets in Ireland
Bus tickets in Ireland can be purchased online via Bus Éireann for the Republic of Ireland or Translink for Northern Ireland ahead of time.
Tickets can also be purchased from main bus stations, or from the driver on the day of travel and you should have exact change with you to speed up the process.
Be aware that Dublin Bus services only accept exact change and do not accept notes. Nor will you receive any change if you do not have the exact fare.
Examples of tickets for major destinations in Ireland
These fares are taken from CityLink and are examples of the cost of bus tickets for intercity travel by bus in Ireland.
Dublin to Galway €23 return pre-booked/€27 return bought onboard
Dublin to Limerick €37 return pre-booked/€42 bought onboard
Galway to Cork €34 return pre-booked/€38 bought onboard
If you are wondering how long bus journeys take in Ireland, it varies depending on your route. The following are example journey times:
Dublin to Galway – 3 hours
Dublin to Cork – 3 to 3.5 hours
Dublin to Limerick – 2 hours 45 minutes
Dublin City Centre to Belfast – 2 hours 45 minutes
Bus tours from Dublin
There are lots of operators doing bus and coach tours of Ireland. See more information below regarding joining a coach tour.
Best Ireland Bus Routes
One of the most scenic bus routes in Ireland is the Ennis (County Clare) to Galway City (County Galway) route. Route 350 departs Ennis and meanders through quaint villages, and epic landscapes and even skirts alongside the Cliffs of Moher. You can read more about this route here.
Advantages to travelling Ireland by bus
Bus travel in Ireland is budget-friendly and is often the cheapest way to travel in Ireland without a car. If you are looking to do a lot of travel by public transport in Ireland, bus tickets can work out cheaper.
There are more destinations across Ireland served by bus links and inter-city connections are fast and frequent making them a more widespread public transport option in Ireland.
There are also more direct inter-city routes not covered by trains such as Cork and Waterford, and Killarney and Limerick. These cities have direct bus links but not direct train links.
Tourist attractions that are not along major roads or train routes are often served too, albeit with infrequent service. But they are often served, nonetheless.
Buses can also give travellers an opportunity to see more of rural, small-town Ireland.
Disadvantages to travelling Ireland by bus
Bus journeys in Ireland can take longer than trains to reach the same destinations.
They are often required to make more stops at smaller towns along the way which can increase the journey time. So, if you are choosing this option, allow plenty of travel time.
While more of Ireland is covered by the bus network, be it the nationwide or local ones, they will not get you everywhere. Local services can be patchy at best in very rural destinations.
And remember I said you might still need to hire a car if there is a very particular small town you wish to visit that is not covered by public transport.
Top tips for travelling by bus in Ireland
Plan your journey ahead of time so you are aware of any changes and connections.
Pre-book your tickets ahead of time to avail of the best prices.
Joining a group tour to travel Ireland without a car
One of the best options for touring Ireland without a car is to join a tour group. There are a number of operators who run tours around the main tourist attractions and towns in Ireland.
Operators of guided coach tours of Ireland include
CIE Tours
Adventure Tours
Wolfhound Tours
Vagabond Tours of Ireland
Viator bus tours (start your search by clicking here)
Paddywagon Tours (although I have seen an increase in complaints about their services this summer).
Since these tours are designed with tourists in mind, you will visit all the must-see places in Ireland including the Giant's Causeway, Cliffs of Moher, Rock of Cashel, Blarney Castle, and more.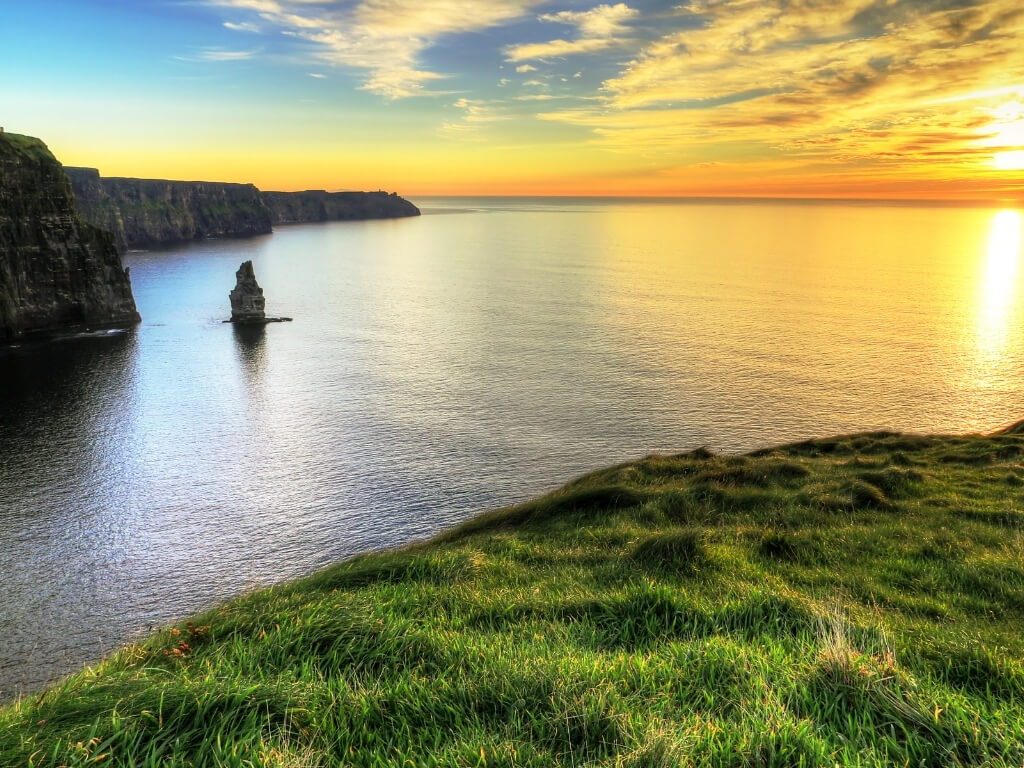 Advantages of joining a guided tour of Ireland
The biggest advantage to a guided tour of Ireland by bus/coach is that someone else does the driving. This is ideal for those who don't want to drive "on the wrong side of the road". It also leaves you free to fully enjoy the beautiful scenery as you move between locations on a door-to-door service.
Guides are often full of fun and interesting facts about Ireland, not only about your destinations but of the Emerald Isle as a whole.
You get to see all the major attractions and can join a tour that covers the ones on your bucket list.
Many tours include accommodation, so you'll stay in the best places, eat great food and get to meet plenty of people along the way, local and tourists alike.
If you are wondering where to stay in Ireland without a car, joining a tour answers this question for you.
The only research you need to do is choose which tour to take. Someone else does the rest of the planning and research for you.
Disadvantages to joining a guided tour of Ireland
The main disadvantage to joining a tour group is that you are on someone else's schedule. They have a timetable they must stick to so that they reach destinations in a timely manner, so be prepared for shorter visits to places you might ordinarily stay longer.
You may find yourself arriving at certain popular attractions at the same time as other tour groups and face lengthy queues.
Guided tours can be expensive and can work out more costly than if you had planned the same trip yourself.
Non-motorised ways of visiting Ireland without a car
Cycling in Ireland
Although there are some people who choose to explore Ireland by bicycle, it has seen a reduction in popularity over the years.
While it was a popular method for getting around Ireland without a car, there are a number of reasons why fewer people choose this option.
Road traffic can make this mode of transport dangerous and therefore less attractive. Main roads are shared with other vehicles such as cars, buses, tractors and even trucks.
Heading off the main roads can be a better choice as there should be less traffic but be prepared to come across a tractor or two along these more rural roads.
If you are considering cycling in Ireland, go prepared. Ensure you know the route you are taking and if using your phone for navigation, have your maps downloaded onto your phone.
Prepare for all kinds of weather and be prepared to get wet. Frequent rain is common in Ireland even during summer (read my post to find out when is the best time to visit Ireland). Winds, especially along coastal roads, can often be strong, so bear this in mind.
And if you are travelling off the main roads you may also come across steep hills and inclines that are long so a good level of fitness will be needed for these.
Tips for cycling in Ireland
Always wear bright, highly visible clothing, preferably with a hi-vis jacket.
Always use reflectors and ensure you have working lights front and back to use between dusk and dawn.
Always ride one in front of the other, never side-by-side. On tight roads and bends, oncoming traffic could be on your side of the road.
Always keep a dry change of clothes and valuables in a waterproof bag in case of downpours which are likely, even in summer.
Hiking in Ireland
As mentioned, one way to get around Ireland without a car is on foot. However, you need to plan routes and starting/end points very carefully.
Hiking in Ireland will also require stamina and time, so if you are unfit or only have a short allowance of time in Ireland, this mode isn't for you.
That said, if you have plenty of time, weeks rather than days, walking or hiking around Ireland can be very enjoyable.
Be prepared for changeable weather and have a good pair of waterproof hiking shoes or boots. Bring waterproof trousers and a jacket, and you'll still be able to enjoy it, even when the weather turns bad.
Ireland has lots of way-marked trails and long-distance footpaths. You can get more information here that might help you plan your routes better.
Hitch-hiking in Ireland
While hitch-hiking is still used as a form of exploring in some countries, it is extremely rare in Ireland.
It is not advised and can be dangerous. Not only could you be in danger from someone who picks you up, but you could be in danger from traffic along the roads you are walking until you hitch a ride.
Also, be aware that drivers in Ireland are very reluctant to stop and offer a total strange a lift part or all of the way they are looking to go.
Therefore, this is not a great way of getting around Ireland without a car that you should consider, nor that we recommend.
How to get around Dublin without a car
If you are wondering how to travel around Dublin without a car, then this section is just for you!
With it being the capital city, Dublin is very easy to navigate without a car, no matter where you base yourself in the city.
Whether you are staying 3 days in Dublin, or less, you have a number of ways for how to get around in Dublin. The city centre is small and mostly walkable, while the suburbs are well serviced with public transport.
If you stay in a central location and don't plan to venture outside of the city centre, then you can get away with not needing public transport at all. Even the best day trips from Dublin start and end in the city centre.
But here are the best ways to get around Dublin without a car should you need to traverse the city.
Bus
In Dublin, one of the best options for getting around without a car is to hop on a bus.
Whether it is a Dublin Bus from a suburb into the city centre, or one of the Hop on Hop off sightseeing buses, travelling by bus is super easy. Dublin Bus serves all corners of Dublin and even the outer suburbs have regular services.
Be aware that to travel on regular buses within Dublin you will either need a Leap Card (see further up) or the exact change in coins.
Drivers do not handle money and do not accept bills/paper money, nor do they give change.
So ensure you have plenty of coins on you if you are paying cash rather than using a Leap Card.
The Hop on Hop off buses are a bit easier in that you can purchase your ticket from the central office, normally on O'Connell Street, or from representatives at bus stops or from the driver himself.
While they can work more expensive than using regular buses, they do visit all the best attractions in Dublin, bringing you exactly where you need to go.
With some Hop on Hop off tickets, you also get discounted entry into some of the Dublin attractions. Check out the Dublin Pass for combined bus and attraction entry.
The advantage of using buses is many roads, especially in the centre of Dublin, have dedicated bus lanes to make travelling by bus easier and quicker, particularly during rush hour traffic.
Luas
The Luas is Dublin's tram system and currently has two lines, the Red and Green Line.
The Red line runs from Connolly Station or The Point to either Saggart or Tallaght Park & Ride.
The Green Line runs from Broombridge on the north side of the city to Bride's Glen on the south side.
Things to be aware of while travelling on the Luas is they get very crowded during rush hour, and keep your valuables hidden and secure as pickpockets can operate on them.
Tickets can be bought at each stop from the ticket machines, using either cash or cards, and you can also use a Leap Card on the Luas. Just remember to tap on/off like you would a London Underground train.
But, when it comes to ease and speed, the Luas can be a great option for getting around Dublin without a car, especially if you are staying somewhere close to one of the lines. For more information about the Luas system in Dublin, click here.
DART/Train
If you are staying along one of the coastal suburbs of Dublin, or want to visit Howth, Malahide, Dun Laoghaire or Bray, then hopping onto the DART (Dublin Area Rapid Transport) is easy.
Running from Howth all the way to Bray (sometimes Greystones), you can catch one from the centre of Dublin, at Connolly Station or Tara Street Station and head either north or south along the coast.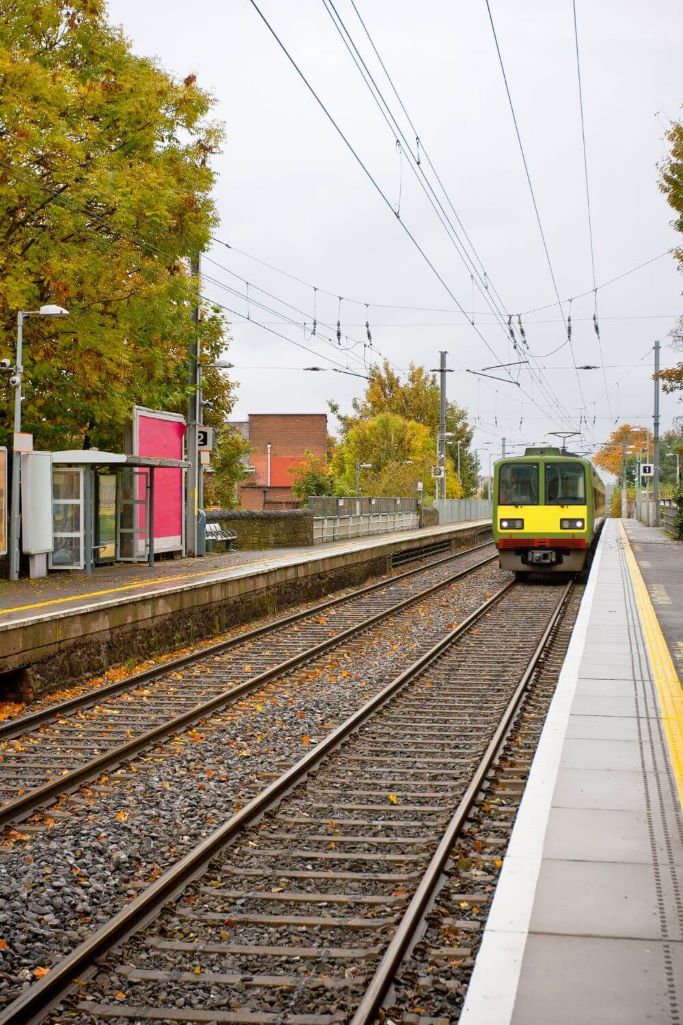 You can buy tickets for the DART at the station or use the Leap Card which can work out slightly cheaper than buying tickets from the station.
There are also trains on the Commuter Rail Network that you can use to get in and out of Dublin City Centre. These trains reach commuter towns and have more regular services around typical rush hours to bring workers to and from the city.
These commuter services include:
Dublin Northern Commuter serving towns to Dundalk from Connolly or Pearse Street Stations,
Dublin Portlaoise Commuter from Heuston Station,
Dublin Longford Commuter from Pearse Street and Connolly Station,
Dublin/Dunboyne M3 Parkway from Dublin's Dockland/Connolly via Clonsilla,
Dublin Southern Commuter from Connolly to Gorey Station in County Wexford,
Phoenix Park Commuter from Portlaoise through the Phoenix Park Tunnel to Grand Canal Dock.
For more information about the Dublin Commuter Rail Network, click here.
Cycling
Cycling is another option for getting around Dublin without a car. It is affordable and eco-friendly, and there are 74 miles of cycle tracks or lanes across the entire city.
However, cycling during rush hour can be dangerous. Like all major capital cities, traffic increases significantly during rush hour in and around Dublin, increasing hazards for those on two wheels.
Make sure to have a helmet and working lights if you are cycling during rush hour, especially during the winter months when it gets dark from around 4.30pm.
You can hire a bike around the city from Dublin Bikes, similar to the bike rental schemes in other major cities. You can hire them for 1 day, 3 days or longer. The first 30 minutes are free and you can find more information about this scheme by clicking here.
Taxi
If you are in a rush or unsure of bus timetables, then hailing a taxi is easy, especially in Dublin City Centre.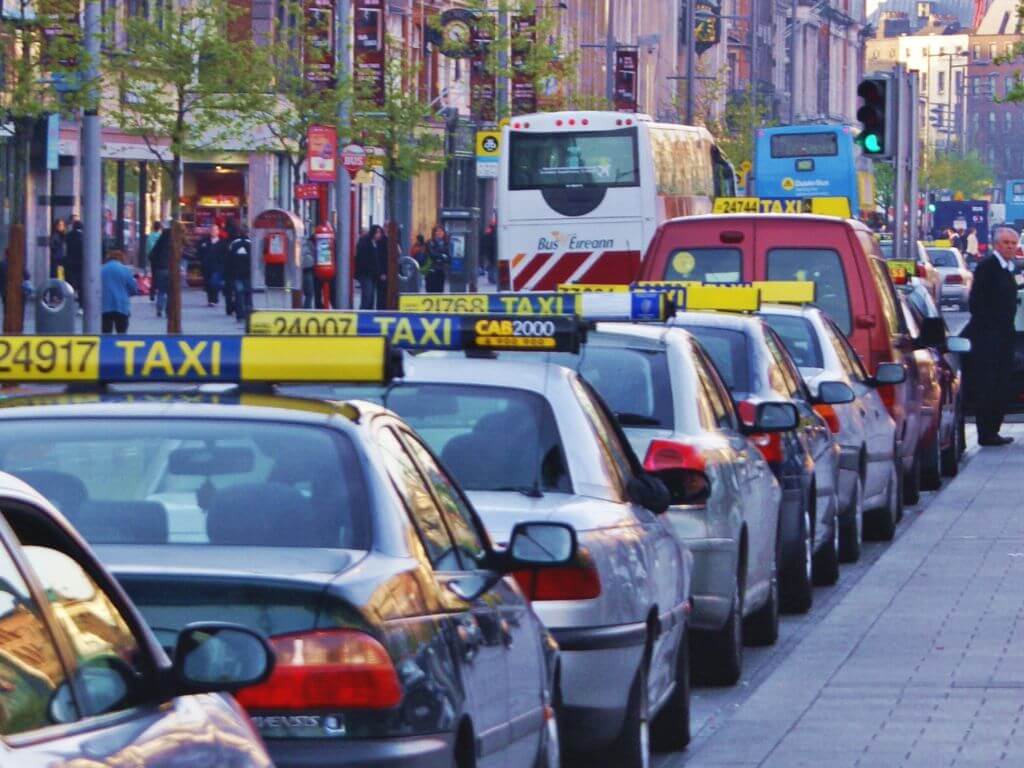 You can hail a taxi from the side of the road or hop into one at a taxi rank.
Uber does operate in Dublin, but you will be met by an ordinary taxi cab, not a private vehicle. All taxi services are regulated in Dublin so private Uber drivers cannot and do not operate in Dublin.
The best way to get a taxi in Dublin is to download the FreeNow app. It operates like the Uber app but is more widely used by taxi drivers in the city.
There are also taxi offices dotted around the city from where you can get a taxi. If you are staying in the centre of Dublin and need a taxi, ask reception at your accommodation to organise one for you, they will have details for several nearby firms.
Just be aware that taxis are not the most budget-friendly way to travel around Dublin.
They are a convenience and great if you want to get back to your accommodation after a night enjoying live music and a few drinks, but during the day I recommend you stick to other forms of transport if you are looking to keep your costs down.
Ireland Itinerary – No car example
If you are wondering how to get around Ireland as a tourist and are looking for an itinerary to show you the best way to travel Ireland without a car, I've put one together using Dublin as the starting/end point as most travellers will arrive at Dublin Airport.
You can use this as an example or modify and change it to suit your own needs.
I am including a trip north to Belfast for those looking to explore some of Northern Ireland as well as the Republic of Ireland.
However, if you plan to stay south, you can exclude this section from your itinerary.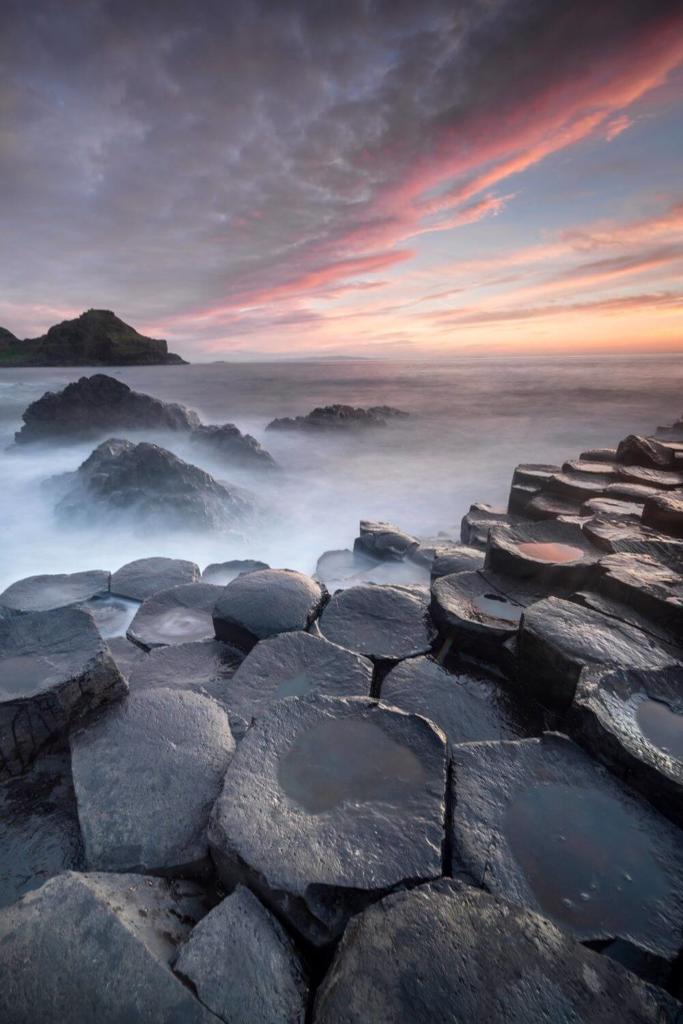 Before you head off, pick up a map of Ireland and download your trip details ahead of time.
Transport for Ireland has resources for planning your routes, timetables and more. They also have network maps for the bus services in each major city, which you can find by clicking here.
You can also use Google Maps and Rome2Rio to plan your journeys.
Make sure to do a little planning ahead of time and if you can, prebook your tickets to avail of the best fares.
You should also book your accommodation at each destination and choose somewhere that is close to the bus or train station to avoid having a long walk or taxi journey.
This itinerary will see you base yourself in main cities and towns from where you can explore the wider city or take day trips to other tourist attractions.
It is better to spend a few days in each location to avoid spending all your time on buses or trains and to give you a chance to explore.
At least two nights in each location is advisable so you break up the travelling and have at least one full day for exploring.
That said, you could spend 1 week in Ireland without a car using this example itinerary as a starting point for planning.
7 days in Ireland without a car is doable but don't try to pack too much in or you will be exhausted from all the travelling.
Dublin Airport to Belfast
Upon arrival at Dublin Airport, get tickets and hop onto one of the direct bus services to Belfast. Stay in a central location for 3 nights, giving you one day to explore Belfast as a city, and one day to take a guided bus tour to visit the Giant's Causeway.
One tour passes Carrickfergus Castle, stops in the quaint village of Carnlough and visits the Giant's Causeway before ending the tour with stops at Dunluce Castle and the Dark Hedges for great photo opportunities. Click here for more information and to book this tour.
Belfast to Dublin
Return to Dublin by bus or train and stay near the city centre for 3 days to explore the city. If you get an early morning bus/train from Belfast you can be in Dublin by lunchtime and follow most of my 3-days in Dublin itinerary.
Dublin to Galway
Head west on the train and arrive at Eyre Square where you can stay for 2 or 3 nights.
It takes around 2.5 hours to travel east to west and while in Galway you can explore the city or take one of the many day trips from Galway without a car to visit the likes of the Aran Islands or the Cliffs of Moher.
Staying centrally will leave you closer to where the day trips depart but even Salthill, which is worth visiting, is walkable meaning you don't need to use any public transport within the city.
Getting around Galway without a car is super easy, either on foot or by bus.
Galway to Limerick
From Galway take a train to Limerick City, a journey which should take around 2 hours.
Stay 1-2 nights and visit King John's Castle, the museums and galleries, and the Milk Market.
Find a few more ideas in the Limerick City section of my guide to things to do in County Limerick.
Limerick to Killarney
From Limerick you can take the train to Killarney, changing trains at Limerick Junction and Mallow. This journey will take around two and a half hours.
There is lots to see and do around Killarney and you should plan to spend 2-3 nights there. You can wander the town, venture into the Killarney National Park or take a day trip out to the Ring of Kerry or the Dingle Peninsula.
Check out this tour from Killarney that visits the Ring of Kerry. Killarney also has a Hop on Hop off bus for exploring the city. Check the latest prices and availability here.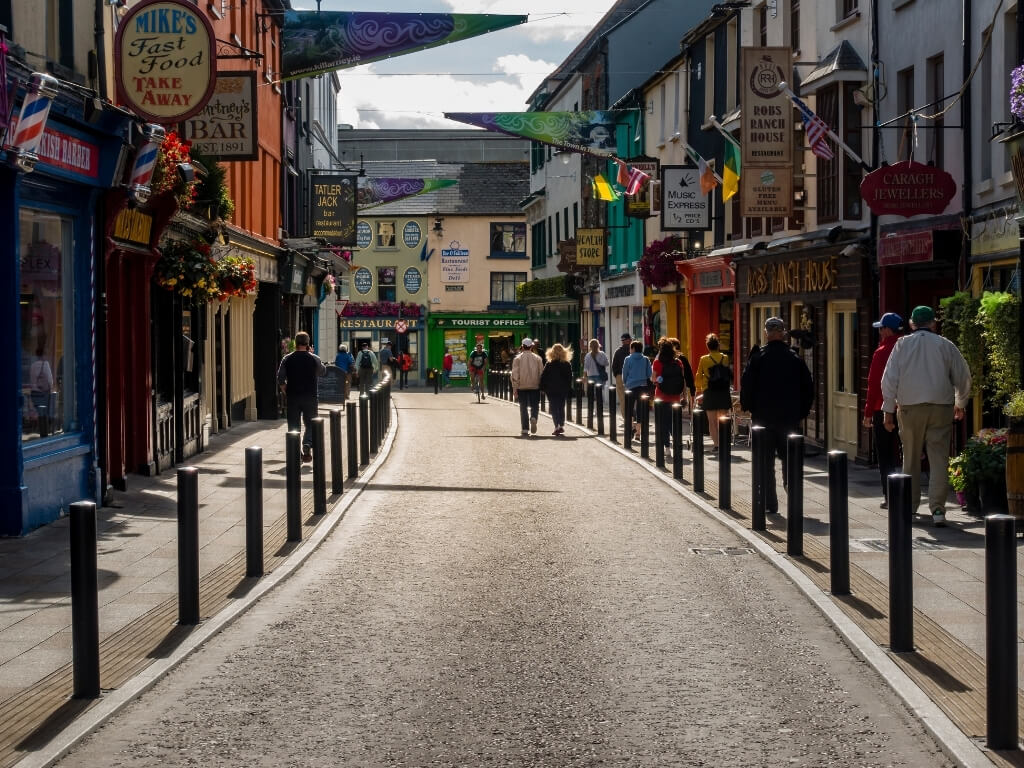 Killarney to Cork
The quickest way to get from Killarney to Cork is by bus. This journey takes around 1 hour and 40 minutes while the train can take 2 hours and 20 minutes with a change of trains at Mallow.
Spend 2-3 nights in the city and visit the likes of the Cork City Gaol, museums, churches and cathedrals and lots more. There is plenty of things to see and do in Cork.
You could also visit Blarney Castle and Cobh by guided tour from Cork. Find more details and book your tickets for this tour here.
Cork to Kilkenny
To visit Kilkenny from Cork, take a bus from the station to Kilkenny, a journey of around 2 hours and 45 minutes by Dublin Coach direct.
There are also other options that change in Cahir and other places along the way.
In Kilkenny, stay 1-2 nights and visit the castle and soak up the city on a walking tour. Click here for information and latest prices. If you stay in a central hotel or guesthouse, you will be within walking distance of the sights and attractions of the city.
Kilkenny is one of the best places to visit in ireland without a car thanks to its links with the Irish capital. It is hugely popular with visitors to Ireland whether they are travelling Ireland by car or not.
Kilkenny to Dublin
Your return journey to Dublin will be by bus which will take around 2 hours.
You can take a direct service to Dublin Airport, but you must research the timetable for this direct service and book your tickets ahead of your journey to ensure you are on the right service and will arrive at Dublin Airport in time for your flight home.
Use the trip planner from Transport for Ireland to plan your journey.
Alternatively, you could decide to spend your few days in Dublin at the end of this journey. Or do 1 to 2 nights in Dublin at either end of this itinerary.
This Ireland itinerary without a car is simply an example to show you that you can visit many of the main cities and attractions in Ireland by public transport.
A combination of bus and train journeys will get you to the main cities and towns from where you can base yourself and take short trips out to visit the harder to reach attractions.
For tours of Ireland from day trips to longer tours, you can also check out the tours on offer with the following places:
Frequently Asked Questions about how to travel Ireland without a car
Final thoughts on how to travel in Ireland without a car
Navigating Ireland without a car is not only feasible but also a unique adventure in itself.
This guide offers insights on how to get around Ireland without driving, emphasizing the convenience of public transport and city-based day trips.
No car? No worries!
With some savvy planning or by joining a tour, you can sidestep driving challenges and still dive deep into Ireland's authentic charm. Some hidden gems may remain elusive, but the essence of the Emerald Isle awaits your discovery.
Read more about visiting Ireland: