Ireland can be an expensive destination to visit. After the Euro was introduced, prices for both locals and visitors soared and they have remained high in many aspects for both daily life and tourism. However, it doesn't mean you have to put off visiting the Emerald Isle. In this post, I'm sharing some tips on how to travel Ireland on a budget.
*This post contains affiliate links, which may include Amazon affiliate links. To read more about affiliate links, please visit my Disclosure Policy page.
Visiting Ireland is something many people would like to do but they can often be put off by comments that it is an expensive country. Yes, it can be but there are ways to make it more affordable.
Whether you want to go to Ireland on a shoestring budget or you just want to be savvy when it comes to your expenses so you can splash out on that Aran jumper souvenir while you are there, this post is packed with lots of hints and tips to help you.
I'm going to show you how to plan a trip to Ireland on a budget, give you tips on where you can save money before you arrive, and also give you ideas on how you can watch the cents and euros while you are there.
From booking flights to car hire, accommodation and then excursions, these tips are aimed at helping you enjoy the Emerald Isle to the full without breaking the bank completely.
Getting to Ireland
One of the biggest parts of your Ireland travel budget will be getting to Ireland, particularly if you are travelling long haul, for instance from the United States. Unless you are coming from the UK or France, you will be arriving in Ireland by plane. And that means a flight.
However, there are a few ways to try and bag yourself the best possible airfare when it comes to flying to Ireland. The first thing you can do is sign up for airline newsletters. Most major airlines fly to Ireland, landing in Dublin, and you can get advanced warning of price drops and sales if you are on their mailing list.
I am signed up to Aer Lingus and get newsletters announcing forthcoming flight sales. It can be a great way to get ahead of the curve. Aer Lingus is the national airline of Ireland and can often be the most affordable way to reach Ireland, whether from the United States or within Europe.
If you are visiting Ireland from Europe, Ryanair is the budget airline of Ireland and sometimes you can get a great deal with them. Sign up for their newsletter to get advanced notice of their sales. Just be aware that you will pay for all your hold luggage and will need to avail of pre-check-in and will need to print your own boarding passes (or have them on the Ryanair app), or otherwise you will face hefty fees at the airport. If you can travel hand luggage only, then you could get a great deal and this could turn out to be the cheapest way to visit Ireland. They also fly from a wide range of airports within Europe and can be a great way to combine a visit to Ireland with another European destination.
If you are a regular flyer, then you could get a discounted airfare by cashing in some of your air miles. Book your ticket in advance and avail of those air miles and discounted fares to get the best deal.
Some credit cards can offer air miles and if you reach a certain threshold with your air miles, you can qualify for reduced or free companion airline tickets on the airline with which your credit card is associated. Just be aware that these often come with an annual fee and the available tickets may be limited.
You can also use Skyscanner to find the best price. Not only can you compare prices, you can also find the best route to suit your family's needs, particularly if your nearest airport does not fly directly to Ireland. Should you need to make connections, you can decide how many to make depending on your budget and itinerary. Just be careful booking the cheapest airfares through third-party websites as sometimes you could have a long wait for your connecting flight to Ireland. So, if it seems too good to be true, investigate further.
Another thing you can do is check out both Travelocity and Expedia. These are among the most popular sites for checking out not only flights and accommodation (separately or together) but also car hire, packages and tickets for experiences/things to do. You can search by destination, dates and cost, great if you are trying to keep the cost to travel to Ireland as low as possible.
A great site for trying to bag a real bargain is Priceline. Not only do Priceline offer great deals, you can also become a VIP member which gives you access to even more discounts and deals, with more available as you move up the VIP tier system. They also have an app for both Android and iOS in which there are app-exclusive deals, often time-limited, allowing you to get a great deal on the go.
You used to be able to name-your-price on the website but this has been replaced by "Price Breakers". With this, you see 3 hotels under one price bracket which has up to 50% off. You choose the set of three and you are guaranteed your booking in one of these hotels, the name of which you find out after you book. You can replace some hotel choices within the set of 3, but you cannot name your hotel.
With all of these third-party websites, it is hugely important that you read the fine print of the terms and conditions before booking. The discounted deals and prices may often be non-refundable, so read them first before making your final booking. The same goes for the cheapest prices direct with airlines. And double-check the connection times if you have a one- or two-stop flight to Ireland as sometimes you could have a long connection wait as mentioned already.
One way of reducing your costs is to make your trip during the cheapest times to visit Ireland. March and the summer months of June to September are the most expensive times to visit Ireland. The number of tourists visiting Ireland during these months increases significantly and with that comes an increase in prices for flights and accommodation. It is all down to supply and demand.
But, if your dates are flexible, you could visit during the shoulder seasons or even off-peak during winter, which is one of the best times to visit Ireland on a budget. Flight prices can be significantly less during the winter months and hotel prices often reduce (except around Christmas and New Year) with a reduction in demand from tourists. The days are shorter and colder but dressed appropriately, you can still have an amazing trip to the Emerald Isle.
Read my post about the best time to visit Ireland to decide when is right for you.
Getting around Ireland
The next thing to consider if travelling Ireland on a budget is transport once you are there. While it is possible to travel around Ireland cheap by using public transport, you will be limited to certain places, with out-of-the-way attractions and sights becoming much more difficult to visit via this method.
By Public Transport
If you are only visiting Dublin or combining it with a visit to another city, then travelling by public transport is certainly doable. Dublin has both rail and bus connections with many of the major cities in both Ireland and Northern Ireland, and within Dublin, there is a very good and far-reaching public transport system. In fact, it is much better to travel around Dublin by public transport by car because of the traffic, particularly during rush hours and on Saturdays.
In Dublin, it is possible to see all the sights via the sightseeing buses. The Dublin Pass gives you 24-hour transport on a sightseeing bus and also gives you free entry into many Dublin tourist attractions. It is available for 1, 2, 3 or 5 consecutive days.
You can also travel around Dublin by using the Visitor Leap Card. Similar to the Oyster card in London, this gives you unlimited travel over a selected period with all modes of public transport across the city including the DART, Luas, all bus routes and even the Airlink from the airport. It comes available for 24, 72 or 168 hours (1, 3 and 7 days). You can order it before your arrival to Dublin and have it posted to your home address so you can start using it as soon as you arrive. You can also buy it at the WHSmith and the bus and travel information desk in T1 arrivals, and Spar in T2 arrivals. The card can be topped up for an additional 1, 3 or 7 days up to a maximum of 5 times at various Leap Card Payzone's across the city. It is a very budget-friendly way of getting around Dublin.
Outside of Dublin, you can easily get between the main cities via train or bus. Iarnród Éireann (Irish Rail) have two passes which are ideal for visitors. These are the Trekker Four Day Ticket and the Explorer Ticket.
The Trekker Four Day ticket is valid for adult for unlimited travel of Iarnród Éireann services across four consecutive days. The Explorer Ticket is valid for both adults and children and gives 5 days unlimited travel out of 15 consecutive days on all Iarnród Éireann services in the Republic of Ireland. You cannot purchase these tickets online, they can only be bought at ticket offices in train stations. But they offer a budget-friendly way to get around Ireland by train.
Northern Ireland has similar passes available for travel on public transport. The Belfast Visitor Pass gives unlimited bus and rail travel for 1, 2 or 3 consecutive days within Belfast. Click here to find out more. This can be purchased online or at various retailers across the city. This pass, similar to the Dublin Pass, offers you many discounts and special offers at restaurants, attractions, activities and tours around Belfast.
Outside of Belfast, the best way to get around on public transport is to use the iLink smartcard which provides unlimited day, weekly and monthly bus and rail travel within specified zones across Northern Ireland. Find out more about the iLink travel smartcard here.
As mentioned public transport with get you between the main cities and towns but links to the more out-of-the-way tourist destinations will prove more difficult. For example, Galway city centre to Connemara National Park will involve a bus journey of almost 2 hours followed by a walk of 1 hour. To visit destinations such as this you either need to book a tour or hire a car.
Bus Éireann does offer some day tours from Dublin to places including Glendalough and Newgrange, saving you money and the hassle of driving. Learn more through this link. Just be aware that these day trips generally only run throughout the summer and stop in September.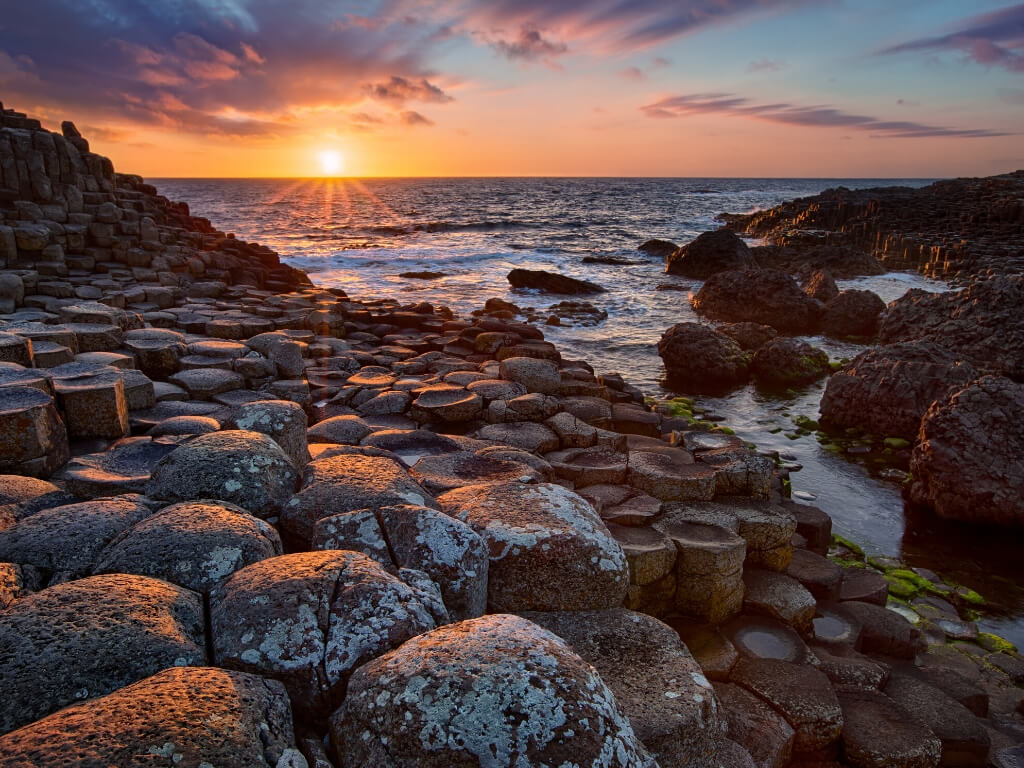 By Rental Car
Outside of Dublin, the best way to travel around Ireland once you are there is by renting a car. This will free you up to travel on your own timetable and enable you to reach all the places on your bucket list. Hiring a car also gives you much more choice when it comes to accommodation in Ireland.
You can even enjoy all that the Wild Atlantic Way has to offer, something which is not possible via public transport. Yes, you can visit parts of it, but many public transport routes do not travel the length and breadth of it.
Make sure to book your hire car before you arrive in Ireland to get the best possible price and as far in advance as possible. Rentalcars is one of the best websites for comparing hire car prices from a number of companies. Hiring a car can start from as little as €18/$22 per day for a small car (shoulder season, summer prices generally start from around €22/$26 per day). However, this is for a manual gearbox. Automatic gearbox cars cost significantly more to hire, starting from approximately €26/$32 per day (shoulder season, summer prices start from approximately €36/$44 per day).
The smaller the car, the lower the price but do bear in mind that if you are travelling with a lot of luggage, it won't fit in a small car such as a Peugeot 108, Fiat 500 or Ford Ka. When the retailers say 1 large bag, they mean only 1 large bag!
Another thing I never do is take the full accident damage waiver out with Rentalcars. The main reason being that many of the hire car companies do not recognise the insurance. So, if you have an accident you will need to pay the excess included in your original booking and claim back the difference from the Rentalcars insurance afterwards.
Instead, I allow extra and take out the full waiver insurance with the car hire company at the desk instead. This means I am covered immediately and do not need to worry about paying anything extra in the event of an accident. Yes, this can cost extra but gives me peace of mind. However, you don't HAVE to follow my advice here.
Top tip: be extra careful on narrow country roads when driving in Ireland. You may often come across a slow-moving tractor, so bear this in mind when travelling off the main roads and motorways.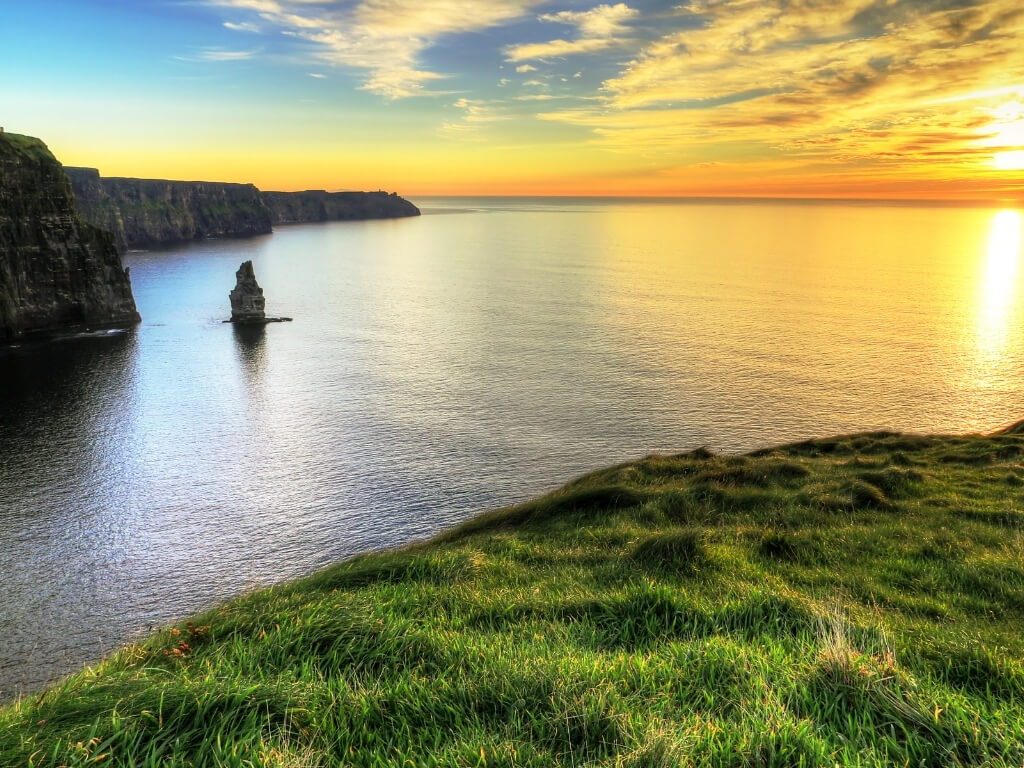 Accommodation in Ireland
Here you will find some handy hints and tips to decide on the best budget-friendly accommodation for your trip to Ireland.
Hostels, Guest-houses, B&B and Hotels
If you are going to travel to Ireland on a budget, the next part of your costs you need to consider are your accommodation costs. You can keep costs to a minimum by really planning and thinking about where you want to stay and for how long.
The best places to stay in Ireland on a budget are hostels. Beds in dorms (mixed or single-sex) can start from as little as €14/$17 per night, and many have private rooms available at a higher cost. Some hostels offer bed and breakfast, have cooking facilities for lunch and dinner, and some in Dublin offer free walking tours to their guests.
Staying in guest houses can also be quite affordable. B&B's can be quite pricey in the main cities with prices reducing if you are staying in more rural locations. You can find a range of guest-houses, B&B's and hostels on booking.com.
There are a few hotel chains in Ireland that can offer reasonable rates for hotel rooms if you prefer staying in hotels. The chains which you may find budget accommodation within Ireland include Jury's Inn, Ibis, Radisson, Maldron, Clayton and Holiday Inn Express, all of which you will find on booking.com. Prices will vary depending on the location and time of year you are visiting but some of these hotels can start at price from as little as €65/$79 per night.
AirBnB
Personally, if we are travelling Ireland and not staying with family, we choose to book accommodation with AirBnB. Given we have our son with us, we like our privacy and the opportunity to keep costs down by cooking for ourselves. Staying in an AirBnB also allows us to bring a packed lunch which can help keep costs down even more where food is concerned.
Most of the places we've booked have been two-bedroomed houses or apartments for as little as €70/$85 per night. If there are four people staying in the accommodation that becomes €17.50/$21.50 per night per person, which is on par with hostel prices but with total privacy, cooking facilities and usually a lovely rural location often with beautiful views. However, a caveat. You will need a hire car to bag the best possible accommodation. Prices within cities can rise steeply, so it pays to shop around and consider staying outside of the city to get the best price.
Tips for keeping accommodation costs down in Ireland
Try not to travel solo in Ireland as single occupancy room rates in B&B's and hotels can push the price up. If you are travelling Ireland alone, then see if you can get a private room via AirBnB in a house or book into a hostel.
If you are travelling as a group, you could check into hotels such as the budget-friendly ones already mentioned. Some rooms come with two double beds and are sold on a room basis with a maximum occupancy of 2-4 people, so it could be possible to get a hotel room and split the costs.
AirBnB is also ideal for groups as are dorms in hostels so the whole group are sharing one room. This can be a very cost-effective way of visiting Ireland on a budget.
Staying 2-3 nights in one place can also reduce your accommodation bill, particularly if you are staying mid-week. Mid-week rates are often lower than weekend ones and staying more than 2 nights can sometimes come with a small discount. So, do check if there is a difference in cost whether you are staying one, two or three nights and go for the best option.
Food and Drink in Ireland
If you are planning a trip to Ireland, on a budget, there ways to keep your costs down where food and drink are concerned.
Food
Firstly, if you are staying in an AirBnB or hostel which has cooking facilities, then you can reduce your food costs by cooking breakfast and dinner at your accommodation, and can even prepare a picnic or packed lunch to bring with you on a day of sightseeing or for your Ireland road trip along the Wild Atlantic Way. This is my preferred way of eating in Ireland on a budget.
Some of the best supermarkets to shop in are Aldi and Lidl. These supermarkets are budget-friendly without compromising on quality. Stock up on juice, cereal, bread, meats, cheese and croissants for continental breakfasts and make sandwiches or filled rolls to enjoy on the go. They also have all the ingredients you need for an easy spaghetti bolognese, steak and chips or even a homemade pizza.
Another tip for keeping your food and drinks cost down while visiting Ireland is to skip the Starbucks or Costa. A coffee in one of these cafes can set you back, on average, €4 depending on the type and size. A jar of coffee costs less than €4, so you can fill everyone's mug up and still have plenty for the rest of your vacation. Instead, bring your reusable insulated coffee mug and bring a coffee with you in the mornings.
If you are staying in a hostel or hotel and half board is available, then consider booking that alongside your accommodation. If breakfast and dinner are already included, then you just need to worry about lunch.
If you are not self-catering, then eating in Ireland on a budget is still doable, you just need to be a bit savvy. Instead of going out for dinner every night as your main meal, why not have your main meal at lunchtime. The lunch-time menu in restaurants and pubs serves substantial meals including traditional Irish dishes, which are often substantially lower than the price of the same or similar meal on the dinner menu. That's not to say you cannot eat your main meal at dinner, just be careful. If you have your main meal at lunchtime, grab a baguette and some meat and cheese and have a sandwich later back at your accommodation.
Drink
Another way to watch the cents while in Ireland is to be careful with your cash/cards in pubs. A few nights in a pub, enjoying the craic, can quickly eat into your food and drink budget for Ireland. Or blow it altogether.
Pubs can be expensive and even more so in tourist areas such as Temple Bar in Dublin or around Eyre Square in Galway. Even as a local, I haven't drunk in the Temple Bar pubs for years, simply because come 9pm, the prices go up. This is down to the fact that many are filled with tourists who have had a few already and might not notice the cost of their drink rising by a euro or two.
But it adds up after a few rounds of drinks. And the barmen and owners are banking on this. In a non-Temple Bar pub, a pint of beer can set you back €5.50 while a glass of wine ranges from between €6 and €7.50. Now imagine those prices going up by 1or 2 euros per drink!
You can still allow a budget for one night out on the town to soak up the atmosphere and perhaps limit yourself to one or two drinks for other nights that you plan to frequent a pub.
Things to do and see in Ireland
If you are wondering how to see Ireland on a budget, and still make the most of your trip, here are a few tips and tricks for you.
If you are looking for things to do in Dublin on a budget, there are lots of ways you can enjoy the city without spending a fortune. There are some free tourist attractions in Dublin, Ireland and some great free museums and galleries too. As mentioned previously, some hostels in Dublin off free walking tours of Dublin to their guests, so enquire about this if you are opting for a hostel stay.
Read my post about the best free things to do in Dublin which includes a self-guided walking tour of the city. And if you want to discover the history, culture and art of Ireland, then visit these free museums and galleries in Dublin.
Outside of Dublin, the National Parks of Ireland are free to visit, ideal if you have a car. Discovering beautiful places in the Killarney National Park or Connemara can be enjoyed without having to pay an entry fee.
The cliffs at Slieve League are free to visit and parking is also free. There is a parking charge to visit the Cliffs of Moher which also gives you entry to the Visitor's Centre. But, this is per person with adults costing €8 during peak season. The Cliffs themselves are free to visit but if you are travelling by car, the best option is to park at either Guerin's Path where the cost reduces to €5 per person. Or if you travel to Hag's Head on the most southerly tip of the cliffs, there is a farmer's house that has a small car park in which you can park for a donation (suggested at €3 for the day). Both this car park and the one at Guerin's Path will leave you with a short walk to the Cliffs themselves. However, get there very early to avoid disappointment or a dent in your wallet.
Glendalough is free to visit and if you are arriving by car there are two options. Parking at the Upper Lakes and Visitor Centre car parks costs €4 per car. However, 1 mile from the monastic site is a free car parking facility in Laragh Village. There is also a payable parking area in the village for €5 per car.
Wandering the Medieval towns of Trim, Derry and Kilkenny is free and can be very enjoyable. Soak up the atmosphere and architecture.
In some towns, there may be free walking tours operated by locals, after which a donation is accepted. You could join one and give what you think is appropriate. Take advantage of these and any other free museums you come across.
If you are travelling to Ireland on a budget but still want to enjoy some of the payable tourist attractions, then check out Get Your Guide for combination tickets. They do a combination ticket for visiting the Book of Kells in Trinity College and Dublin Castle in Dublin. And you can also take day tours from Dublin for great value prices such as a full-day tour from the city to visit Kilkenny, Glendalough and the Wicklow Mountains for as little as €35 per person.
Another great website for finding tour and attraction deals is Viator. Click this link to start your search.
Another money-saving tip for Ireland is for those who love castles and other historical sites. Heritage Ireland has a Heritage Card which is similar to the US National Parks card or the UK's National Trust membership.
The card is valid for 1 year from the date of first use and gives free admission to all sites operated by the OPW (Office of Public Works). It costs €40 per adult and €10 per child (family of 2 adults and up to 5 children aged 12-18 years costs just €90, under 12's are free). If you are planning on visiting 6 or 7 sites, it will pay for itself in one trip. You can buy the card at the first site you visit, just remember to bring cash as the sites generally do not accept cards.
Tips for saving money while you are in Ireland
If you are going to Ireland on a budget, here are some extra money-saving tips to help you out.
Check out any tourism magazines you see in the airport or at your accommodation. Many of them will include discounts for attractions when you show the leaflet or brochure when purchasing your tickets. You might even find a buy-one-get-one-free offer for adult tickets. Ones to watch out for include any Tourism Ireland or Discover Ireland holiday Breaks catalogues and magazines.
If you are travelling to Ireland as a student, bring your student ID card and International Student Identity Card. You can avail of up to 50% off train tickets and 15% off buses outside Dublin with reduced weekly passes for Dublin buses available to students. Also, ask retailers and shops whether there is a student discount. You never know!
And students aren't the only ones who can avail of discounts. Some attractions offer discounts for seniors and families, so if it isn't obvious, ask at the desk or ticket office. Also, make sure to compare the cost of a family ticket versus individual adult and children tickets combined and choose the most cost-effective combination.
Bring cash from home and your credit card. Never use a Bureau de Change (currency exchange) at the airport, in hotels or at tourism places as their rate of exchange is never the best. There are Bureau de Change desks in most main banks and large Post Offices (called An Post in Ireland), and you will get the best rate of exchanges there.
Carry cash to OPW (Office of Public Works) historical sites as they do not accept payment by card and carry coin cash with you in case you need to pay for parking anywhere.
Something else to help keep costs down when you are in Ireland is to purchase a pre-paid Irish SIM card for short international calls while you are travelling. Pay-as-you-go SIM cards can be topped up at many, many shops throughout the country.
And lastly, if you are a non-EU citizen, remember to claim your VAT back at the airport before your departure. Retain all your receipts for purchases made and get $17 back per $100 spent.
Daily Ireland Budget
When it comes to how to visit Ireland on a budget and your daily budget, it very much depends on what you want to do and whether it includes your flight, transport and accommodation.
Depending on when you book your flight and the route you choose to take, it can cost as little as €410/$500 per person from the US to Dublin. Accommodation could be as little as €14/$17 per person (staying in a hostel) or €70/$85 per night (staying in a hotel or AirBnB). Car hire will start from as little as €18/$22 for a small car, rising with an increase in the size of the car or if you prefer an automatic to a manual car.
Taking those factors out, you could get away with as little as €40-50 per day ($49-62) for food, drink and entry fees to attractions. You could get away with less by seeking out free things to do and eating at your accommodation and you may need more if you want to visit as many payable tourist sites as you can. It is very much up to you.
The best way to see Ireland on a budget is to utilise all the tips I've given you and also to take it slow. Don't try to do it all, especially if you have limited time on the Emerald Isle. Plan your trip well in advance, book your flights, accommodation and transport well ahead of your arrival to avail of the best prices. And once you are there, mix free attractions with payable ones and eat out some days but eat in others.
If you have wondered how to travel to Ireland on a budget but still enjoy it to the full, I hope these tips have shown you that it is possible to visit the Emerald Isle without needing to break the bank. By being savvy and smart, you can have a great vacation while enjoying all the country has to offer.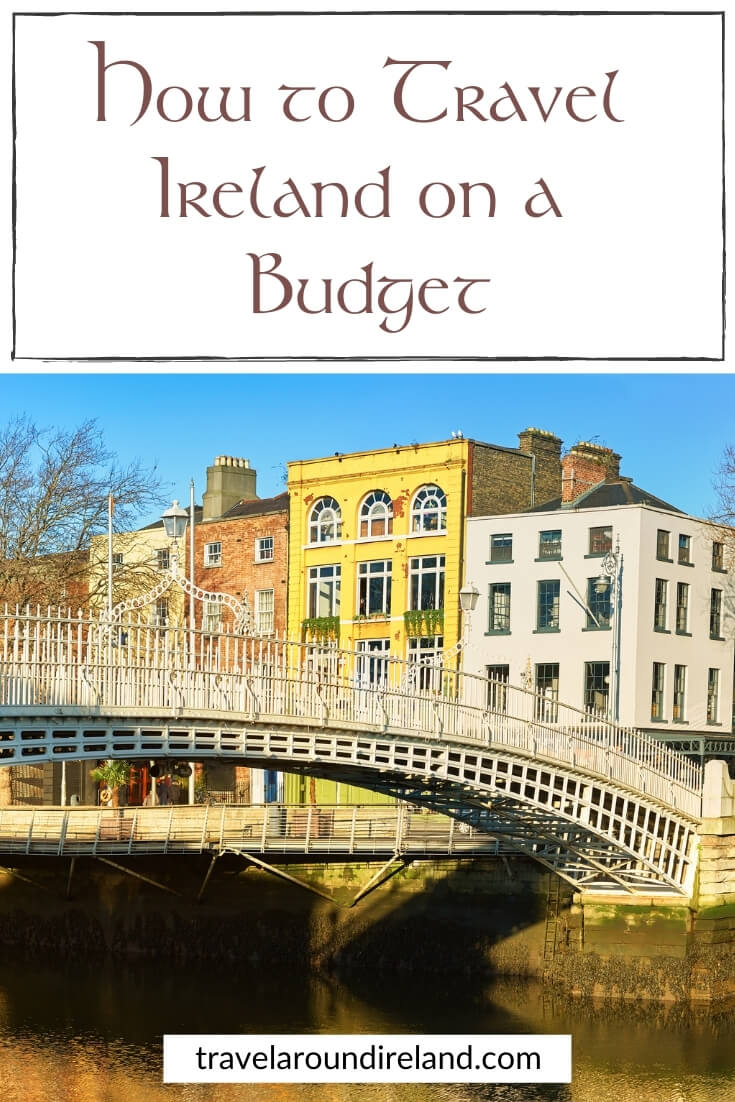 Related Posts