"Is Donegal in Northern Ireland or Ireland?"
It's a common question asked by many planning a trip to the beautiful Emerald Isle. And it's no surprise.
Given the complex and layered history of this region, it can be quite a task to understand the geographical and political boundaries. I'm shedding some light on this query with some local insight.
As a native of Ireland, I understand the intricate details of our geography and the historical context that often causes such confusion.
Whether you're a seasoned traveller, a history buff, or just someone intrigued by the idyllic landscapes of Ireland, this guide will clear your doubts and enhance your understanding of the fascinating region that is County Donegal.
Let's embark on this journey together, to answer the burning question: "Is County Donegal in Northern or Southern Ireland?"
Don't worry, it's not as complicated as it seems. By the end of this post, you'll not only know the answer but also feel like you've taken a virtual tour of this rugged yet charming county on the Emerald Isle.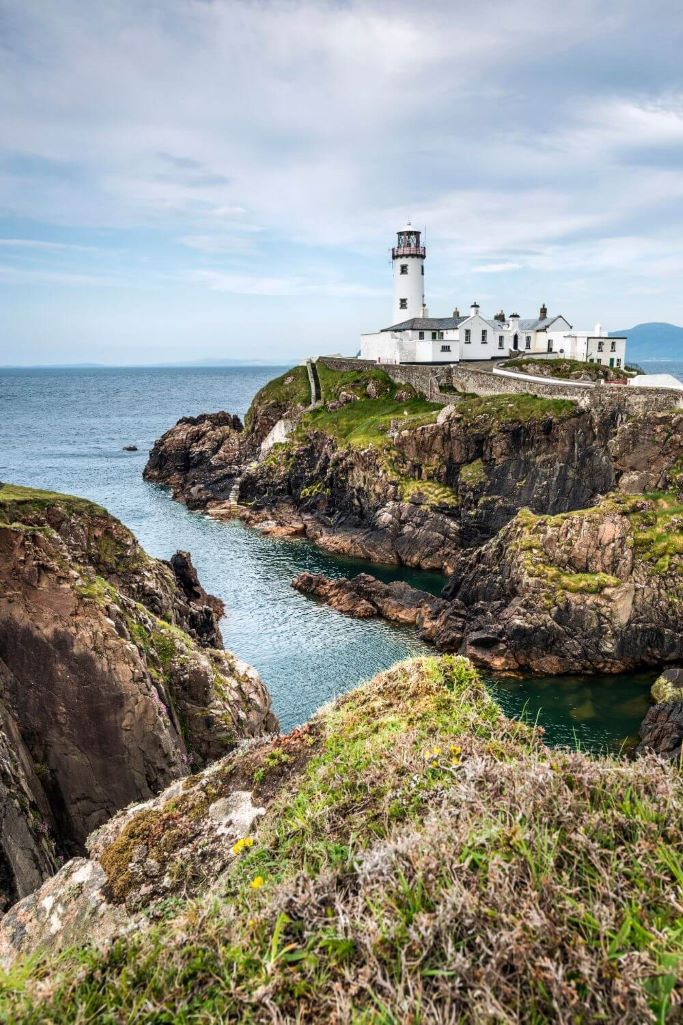 Is Donegal in Northern Ireland or Ireland?
The question of is Donegal Northern Ireland or Southern Ireland often crops up for travellers visiting the Emerald Isle.
The simple answer is no, Donegal is not in Northern Ireland. Donegal is one of the twenty-six counties of the Republic of Ireland or what is sometimes referred to as Southern Ireland by non-Irish people, or Éire.
Me as a native, I refer to the Republic of Ireland as Ireland, so when I am asked is Donegal in Ireland or Northern Ireland, I say Ireland, referring to the Republic of Ireland.
If you have been wondering is Donegal part of Northern Ireland, again, the answer is no.
Let's look at some other common questions and misconceptions about County Donegal.
Where in Ireland is Donegal?
The next question I am often asked is "is Donegal in the north of Ireland?". The answer to that one is yes. Donegal is located in Northwest Ireland in the far upper left-hand corner of the island.
Is Donegal in Ulster?
When people discover that County Donegal is not part of Northern Ireland, they then ask if it is in the province of Ulster. This is because the province of Ulster is mostly associated with Northern Ireland.
In fact, Donegal is a part of Ulster as Ulster comprises of nine counties of the island of Ireland; six counties make up Northern Ireland, a separate country, and three counties are part of the Republic of Ireland.
The Northern Ireland counties of Ulster are:
Armagh
Antrim
Down
Derry
Tyrone
Fermanagh
And the Republic of Ireland counties of Ulster are:
Is Donegal in the UK?
No, County Donegal is not in the UK as it is one of the twenty-six counties of the Republic of Ireland.
I have an in-depth post explaining what is the difference between Ireland and Northern Ireland, in case you weren't aware they are separate countries.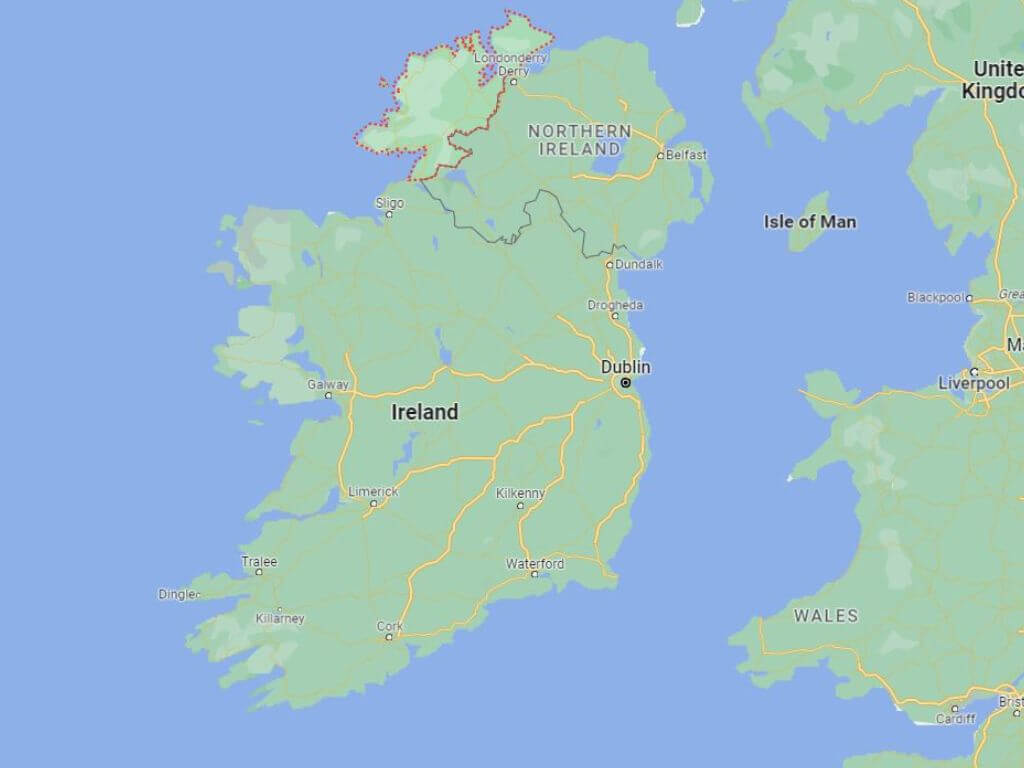 And you can also read my article answering the question "does Ireland have two capitals?" to learn more about Dublin and Belfast.
Why is Donegal not in Northern Ireland?
To answer why is Donegal not part of Northern Ireland, you need to understand some of the history of the island of Ireland.
In May 1921, Northern Ireland was created, effectively splitting Ireland into two parts. One of the main reasons for the split was religion.
Northern Ireland was created to establish a Protestant and Unionist majority in the northeast of the country, centred around Belfast. This would remain a part of Great Britain.
The remainder was Catholic and had an Irish Nationalist majority who sought an independent Ireland.
Donegal had a majority Catholic population (between 70 and 80% according to a 1911 census), along with Cavan and Monaghan. By separating them from the other six counties which were majority Protestant, the proportion of Protestants to Catholics changed and swung in favour of Protestants, which was more manageable and agreeable for the Unionist government to deal with.
The British government effectively gerrymandered the area of Northern Ireland they were to retain after the split to include the maximum number of Protestants in the maximum amount of territory it could have.
Is Donegal Protestant to Catholic?
Donegal has a large majority of Catholics among the population, around 85%, while Protestants make up about 10% of the population (ref 1). So, Donegal is mostly Catholic.
At the time of the divide of Ireland in 1921, Protestants made up around 20% of the population and they effectively became stranded "on the wrong side of the border". In fact, the Donegal Protestants had been among the most militant in Ireland during Ireland's struggle for independence (ref 2) and felt betrayed when Donegal was not included in Northern Ireland at the time of the split.
That said, many of the Protestants have good relations with their Catholic Donegal neighbours despite the different religions.
Is Donegal British or Irish?
Since Donegal is part of the twenty-six counties of the Republic of Ireland, it is Irish. It is not part of the country of Northern Ireland which is part of Great Britain and therefore, Donegal is not British.
Why is Donegal called the "Forgotten County"?
County Donegal is often referred to as the "Forgotten County" due to its remote location, low population, and difficulty to access if going from the Republic.
Donegal shares most of its border with Northern Ireland and only has a small border of a few kilometres with the rest of the Republic of Ireland.
It is for these two reasons that Donegal is said to be "forgotten" by the more densely populated eastern and southern regions of Ireland.
It could be said that Donegal is also 'forgotten' from lists of places to visit in Ireland where tourism is concerned, but that is starting to change. And as a result, those who venture to the far northwest of Ireland will discover hidden gems, stunning nature, and that famous warm Irish welcome with not many other tourists around.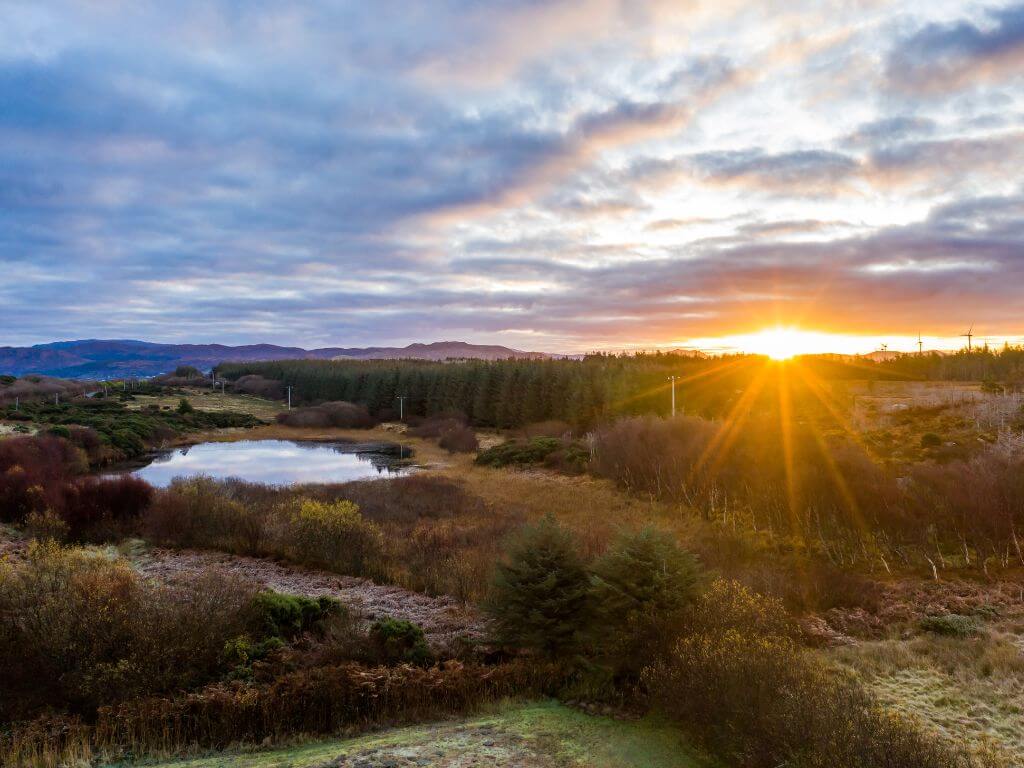 How far is Donegal from Belfast?
Donegal lies 176km (or 110 miles) west of Belfast. There are two main routes to reach Belfast from Donegal (or vice versa) and both travel through Northern Ireland, so ensure your car hire company is aware of that:
N15, A6, M2.
R232, A32, A5, A4, M1.
The journey will take just over 2 hours without stops.
How far is Dublin from Donegal?
Donegal is located 223km (or 139 miles) northwest of Dublin. There are two main routes to reach Dublin from Donegal depending on whether you want to travel for a short time through Northern Ireland or not:
Via Northern Ireland: R232, A47, A32, A509, N3, M3.
Via Republic of Ireland only: N15, R280, N16, N4, M4.
The journey via Northern Ireland will take around 3 hours and 10 minutes without stops, while the journey through the Republic of Ireland (via Sligo) will take around 3 hours and 45 minutes.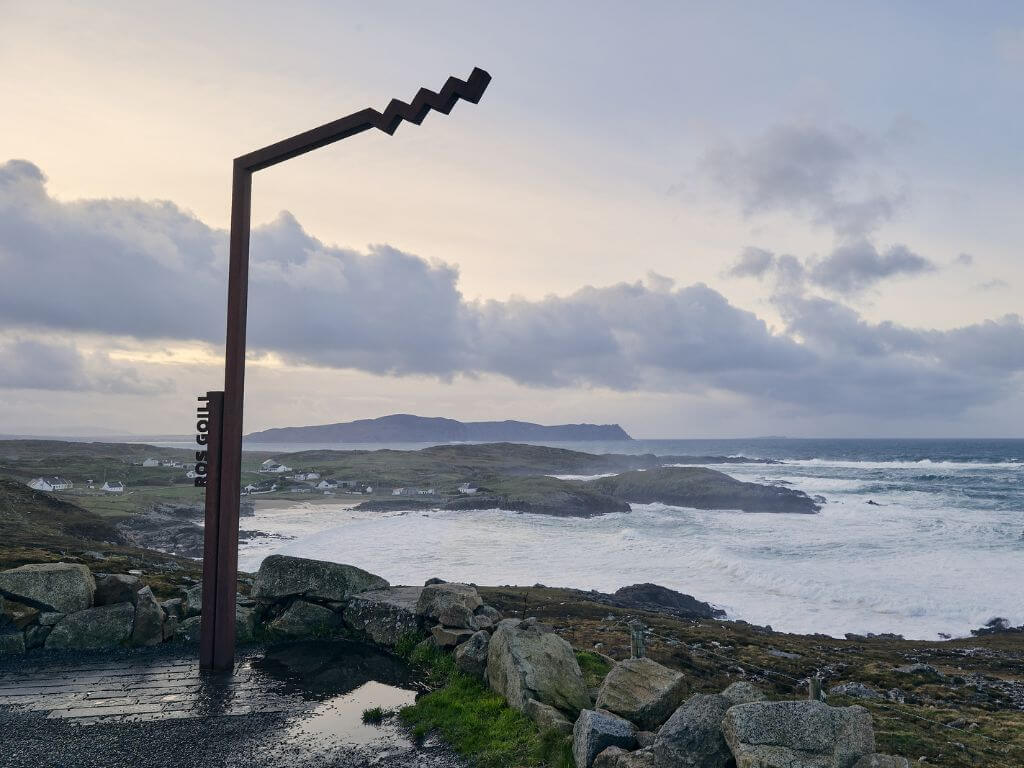 Things to know and facts about Donegal
Towns
County Donegal has several towns including the county town of Donegal. Letterkenny is the largest town in the county. Other towns include Bundoran, Buncrana, Ballyshannon, and Moville.
Size and population
The population of Donegal in 2022 was just over 166,000.
County Donegal covers an area of 4860 km2 (1880 square miles) and is ranked as the fourth largest county in Ireland.
Famous people from Donegal
There are a few famous Irish faces who have come from Donegal.
Packie Bonner (Celtic and Ireland football goalkeeper)
Shay Given (Stock City and Ireland football goalkeeper)
Columba (Saint Colmcille, one of three patron saints of Ireland)
Clannad (Folk band)
Enya (Singer)
Daniel O'Donnell (Singer)
Frank McGuinness (playwright, poet, and translator)
10 facts about Donegal
Here are some other interesting facts about County Donegal:
County Donegal has the second-largest Irish-speaking area in Ireland.
The Slieve League cliffs in County Donegal are the second-highest sea cliffs in Europe and the highest in Ireland.
County Donegal is the most northern in Ireland.
Some of the close-up scenes between Rey and Luke Skywalker in the Star Wars films were filmed at Malin Head.
Donegal is home to an actual king! Tory Island off the Donegal coast is ruled by a king, King Patsy. He was chosen by his fellow islanders and greets visitors as they step off the boat.
One of the patron saints of Ireland, Saint Colmcille came from County Donegal.
Bundoran is one of the surfing hotspots in Ireland thanks to its Atlantic coastline.
Donegal is famous for its hand-weaving and Donegal Tweed is much sought-after. Traditional hand-weaving still takes place in the likes of Ardara but is starting to die out.
20% of the coastline of Ireland can be found in County Donegal (1235km/772 miles).
Glenveagh Castle was the first property in Donegal to have central heating!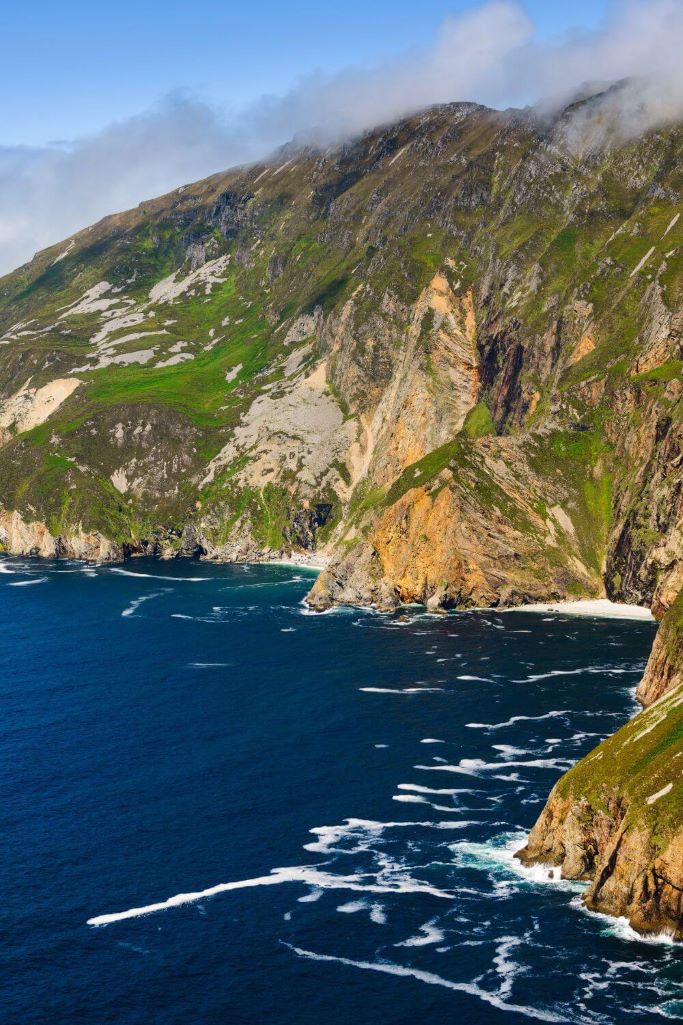 9 Best things to do in Donegal, Ireland
In this section, I give you a few ideas of what to see in Donegal should you include it on your Ireland itinerary.
1 Slieve League cliffs in Donegal
One of the best things to do in Donegal is to pay a visit to the Slieve League cliffs pictured above). These cliffs stand three times higher than the Cliffs of Moher in County Clare and are among the highest sea cliffs in Europe.

These cliffs in Ireland are also free to visit and are located about an hour west of Donegal Town. Hiking to view them is a popular activity among visitors and one of the best times to see them is at sunset when the rock face undergoes a kaleidoscope of colours.
2 Glenveagh National Park
One of the best places to visit in Donegal, Ireland is the Glenveagh National Park (pictured below). Nestled among the Derryveagh Mountains, this is one of six national parks in Ireland and Glenveagh National Park is the second-largest in Ireland.
The park is dominated by the Derryveagh Mountains, woodlands, rivers, and waterfalls. Visitors can enjoy walking, hiking, visiting Glenveagh Castle, and seeing Astellan Falls.
3 Start your Wild Atlantic Way adventure
Malin Head in Donegal is the starting/end point for Ireland's coastline driving route, the Wild Atlantic Way. This 2500km coastal route follows the Atlantic west coast of Ireland from Malin Head in the north to the Old Head of Kinsale in County Cork in the south.
So, if you want an unforgettable adventure, tackle the Wild Atlantic Way and start or end your journey in Malin Head.
I have an incredible itinerary that journeys along the Causeway Coastal Route and Wild Atlantic Way in 7 days. Use it as is or tailor it to your travel style and length of time in Ireland.
4 Enjoy the beaches
Donegal is home to some incredible beaches, and many are famed for their surfing.
For surfing, one of the best beaches in Ireland is Bundoran in the south of the county. Donegal beaches are loved by surfers, but there are also others where walkers and seasiders can enjoy the sand and waves.
One of the most pretty is Portsalon, and Murder Hole Beach (pictured below) is worth visiting as well, although you need to ask the farmer to cross his land as there is no public access to the beach.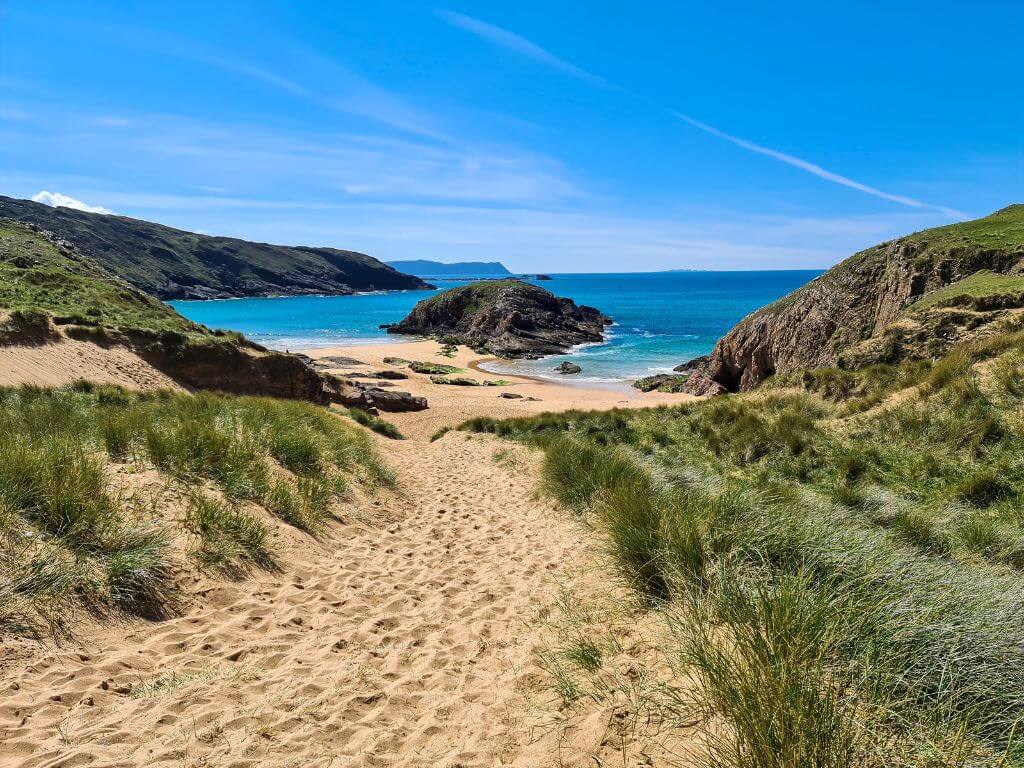 5 Visit the Doagh Famine Village
Located on the Inishowen Peninsula, the Doagh Famine Village is a fascinating place to visit in County Donegal.
This outdoor museum tells the story of an 18th-century family surviving from the days of the Great Famine to present-day Ireland.
Original dwellings can be seen, including a thatched cottage, a Presbyterian Meeting House, and a Republican Safe House, all of which show a diverse range of Ireland's history and culture. For interesting places to visit, head to the Doagh Famine Village.
6 Castles
When it comes to finding a castle in Donegal, Ireland to visit, there are a few for visitors.
There is a castle in Donegal Town, Donegal Castle, which was built in the 15th century and was restored in the 1990s. Guided tours of the castle are offered in which you can visit several rooms and enjoy the decoration, antique furniture, and tapestries.
As mentioned, Glenveagh National Park is home to Glenveagh Castle (pictured), and if you are looking for castles in Donegal to stay in, then you are in luck. One of the top castles to stay in Ireland is Lough Eske Castle. A 5-star hotel, it is located 15 minutes from Donegal Town and is an award-winning hotel resort, spa, and wedding venue.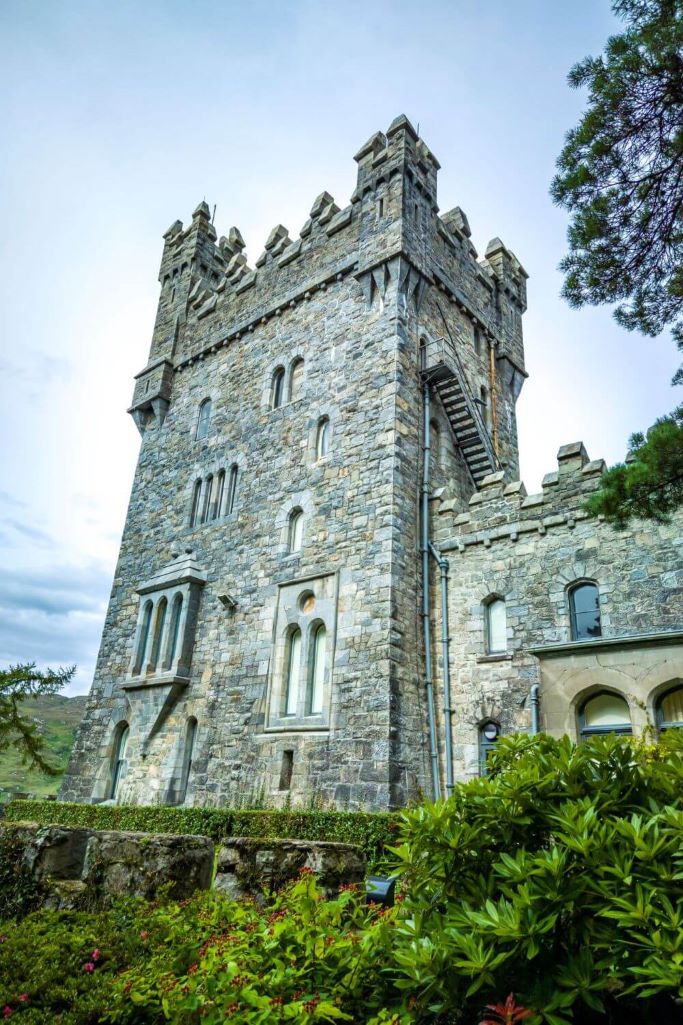 7 Catch the Aurora Borealis
In Donegal, the Northern Lights can often be viewed, and it is one of the best places in Ireland for having a chance at seeing this spectacle in the night sky.
Malin Head on the Inishowen Peninsula is the furthest point north and consequently the best place for trying to see the Aurora Borealis in Ireland. They are a rare thing in Ireland but can be seen on occasion and County Donegal's location is the best place to try and see them.
8 Explore the Grianán Ailigh
Grianán Ailigh, or Grianán Aileach (pictured), is an amphitheater-like stone fort that dates from the 5th century.
It was built as a pagan temple that was later adopted by Christians. It is also believed to have been the seat of the O'Neill clan between the 5th and 12th centuries.
Much of what can be seen today is reconstructed as it was demolished by the armies of the King of Munster in the 12th century.
It is a unique thing to see in Donegal and offers incredible views of the surrounding areas on clear days.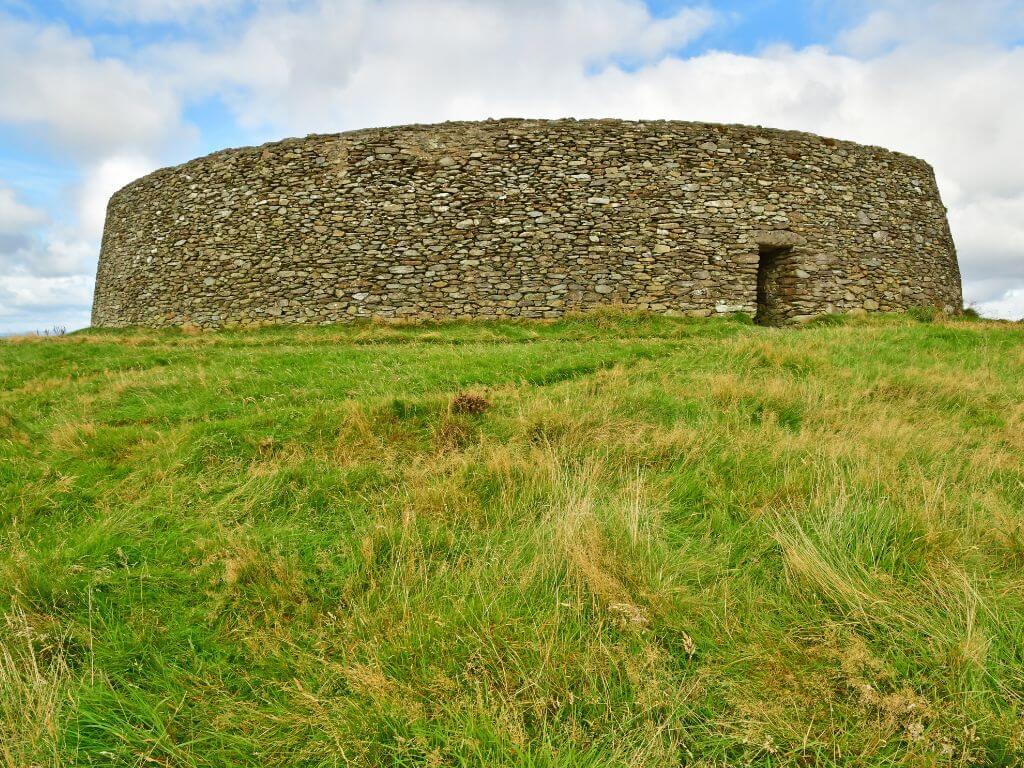 9 See Fanad Lighthouse
Donegal is home to three peninsulas and on one you will find one of the best lighthouses of Ireland, the Fanad Lighthouse (pictured at the start of this post).
Sitting on the mouth of Lough Swilly, Fanad Lighthouse was built in 1817 after more than 250 people lost their lives onboard a ship that struck the rocks at Fanad Head in 1811.
The lighthouse has been a tourist attraction since 2016 and visitors can take guided tours and even stay at the lighthouse as well.
You might be interested in reading my post about more things to do in Donegal for additional ideas of things to see and do in the county.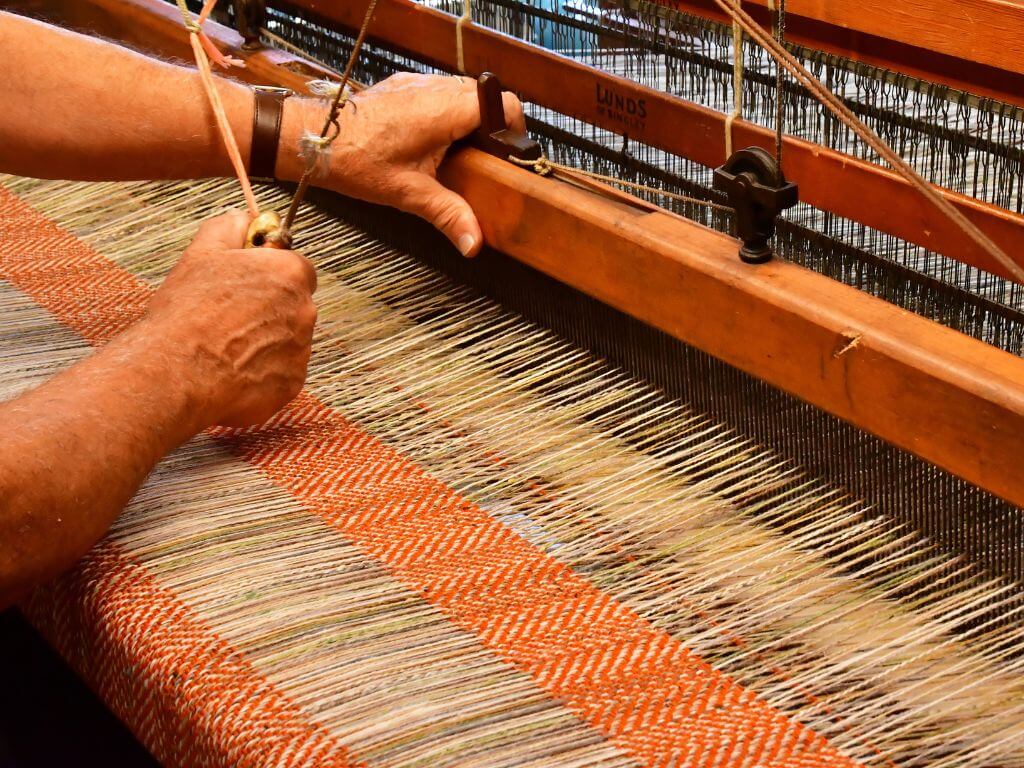 Frequently Asked Questions about is Donegal in Northern Ireland or Southern Ireland
Final thoughts about whether Donegal is in Northern Ireland or Ireland
When it comes to answering the question of is Donegal in Northern Ireland or the Republic of Ireland, the answer is easy. Donegal is in the Republic of Ireland or what is referred to by some as Southern Ireland.
But as I have shown, it is understandable why it causes so much confusion among people due to its geographical location, proximity to Northern Ireland, and the fact it has such a tiny border with the rest of the Republic of Ireland.
Donegal is part of the twenty-six counties of Ireland and is often said to be the 'Forgotten County' where tourism is concerned. But it shouldn't be.
Donegal has so much to offer those who venture as far north in Ireland as you can get and if you do go, you won't be disappointed!