Planning a road trip in the Emerald Isle? Searching for reliable car hire can be a real task. Welcome to my comprehensive 'My Irish Cousin Review' where I guide you through my own experience with this car rental company in Ireland.
As an Irish expat who returns on a regular basis to Ireland, I understand the dilemma of choosing the best car rental service. It's a sea of options out there, and it's tough to know who you can trust with your travel plans.
In this review, I'll reveal my honest opinion and experiences, to help you determine whether My Irish Cousin is the best fit for your Irish adventure. I'll tell you about the company, how hiring a car from them works, my experiences of renting a car in Ireland from them, and everything in between.
Let's dive into it together, and hopefully, make your trip planning that little bit easier.
The question many people have when travelling to the Emerald Isle is "should I rent a car in Ireland?". And it is an understandable one.
Driving on the wrong side of the road (Ireland drives on the left-hand side of the road and all vehicles are right-hand drive), navigating narrow country roads, and dodging sheep on hillsides can cause many visitors some anxiety.
These are not worries for me as a local, but I still do ask myself, do I really need a car when visiting my family in Dublin and County Kildare?
Having a rental car gives me the freedom to go where I want, when I want, without causing inconvenience to my sister by borrowing her car.
I can decide my itinerary without putting my family out. After all, I may be on holiday, but they still have their daily lives to lead.
But, when it comes to Irish car rentals, it can be a minefield. Which company should you rent from, should you take out Super Collision Damage Waiver, what about if you want to explore both Northern Ireland and the Republic?
Now, previously I have hired cars from some of the other hire car companies in Ireland, but I had seen My Irish Cousin mentioned time and time again in the various Ireland Travel Facebook Groups I am a member of. Between what is included with My Irish Cousin and the raving reviews of their customer service, I was curious.
They also have more than 340 5-star reviews on Google (at the time of writing this post in August 2023), which is an incredible record.
So, I decided that on my July 2023 trip to Ireland, I would try My Irish Cousin for car rental in Ireland. Here is my review and honest account of my experience using them.
Who Are My Irish Cousin?
My Irish Cousin car rental in Dublin, Ireland is an independent Irish car rental company with a difference. They offer a
Peace of mind, all-inclusive car rental package.

– My Irish Cousin
So, what exactly does this mean?
With My Irish Cousin car rental company, you not only get a rental car, but you also get full insurance, including tyre and glass cover, for one price, something you pay extra for with other car rental companies in Ireland.
It means no extra hidden charges, and no nasty surprises when you arrive at the car rental desk. The price you pay includes EVERYTHING. And I mean everything.
And they are not just located in Dublin. Visitors can pick up their My Irish Cousin rental car from all 7 airports in Ireland and 30 locations across the island of Ireland.
But more on My Irish Cousin later.
Ireland Car Rental Review of My Irish Cousin
So, you are probably wondering how it all works. Well, in this section I am sharing with you how you can hire a car from My Irish Cousin car rental, what happens when you pick up your hire car, enjoying the open road in Ireland, and then what happens when you return the car.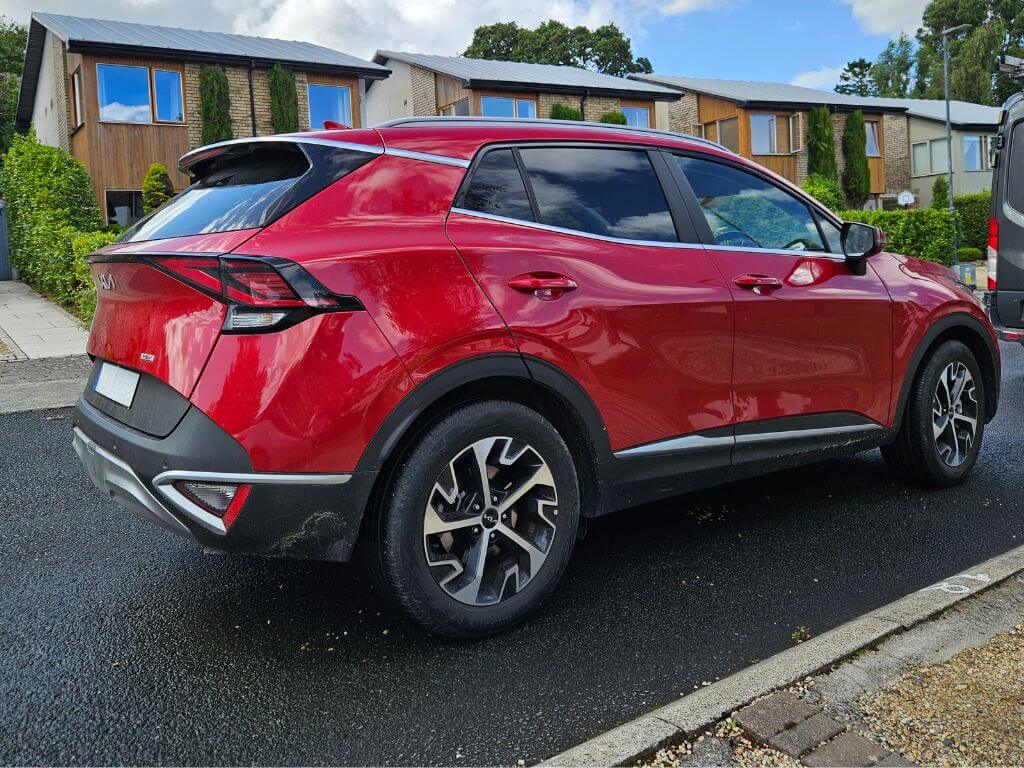 Getting a My Irish Cousin Quote
The best way to rent a car in Ireland with My Irish Cousin is to start by getting a quote from them.
They have an online form on the website in which you input your details, and rental car requirements for Ireland including :
Number of passengers
Number of pieces of luggage
Pick-up and drop-off locations and times
Car type you require such as compact or standard
Child car seat requirements
If you want to take the car to Scotland
Now, if you have been wondering can you rent automatic cars in Ireland, yes you can. You must include your preference in the online quotation request form with My Irish Cousin so they can allocate the correct transmission car to your rental agreement.
Once you have filled in the form, you submit it and wait for a reply which occurs no more than 24 hours after you submit the form but is typically a lot faster than that.
You will receive a quotation with a price for a rental car for the duration of your stay. At this point, if you accept the quote, you pay the price in full to secure your rental car for the dates you require.
Then sit back and relax while you wait for your vacation to Ireland. A few days before you are due to arrive in Ireland, you will receive a further email from My Irish Cousin with details and instructions for your pick-up.
The advantage to completing the online form is that it gives you the opportunity to ask questions, understand exactly what is included, and open a discussion on what would best suit your dates, times, and pick-up points.
Got a question about what driving license requirements they have? Add it to the question/comment box. Want to know about having different pick-up and drop-off locations? You can also ask it in the online form.
With other car rental companies in Ireland, you do not get the opportunity to query certain aspects of the rental agreement or ask questions that you have at the time of getting your quote.
My experience
I completed the online form and swiftly received a quote for my 12-day trip to Ireland which was more reasonable than other car rental companies were quoting me for the same sized vehicle without all the added extras included that My Irish Cousin offered.
I requested an automatic since that is the transmission I drive at home and a car whose size could take additional passengers and luggage back to the airport as some of my family were returning to Portugal with me.
I made the payment and awaited my departure date from Portugal to the Emerald Isle knowing my rental car was one less thing to worry about. A few days before my flight I received an email as promised from My Irish Cousin with the full pick-up details for my rental car with them.
Note, I have not mentioned the cost of my rental as this is dependent on a number of variables including the time of year you are visiting Ireland, transmission choice, size of car, and availability of cars at the time of your quote.
Get Your Quote Today
Get your quote today from My Irish Cousin for your next car rental requirements in Ireland
Picking Up Your My Irish Cousin Rental Car
Picking up your My Irish Cousin rental car couldn't be easier.
Whether you arrive in Dublin, Shannon, or Cork, you can pick your rental car up from the Enterprise desk (My Irish Cousin partner with Enterprise) in the airport with just a small bit of paperwork to complete.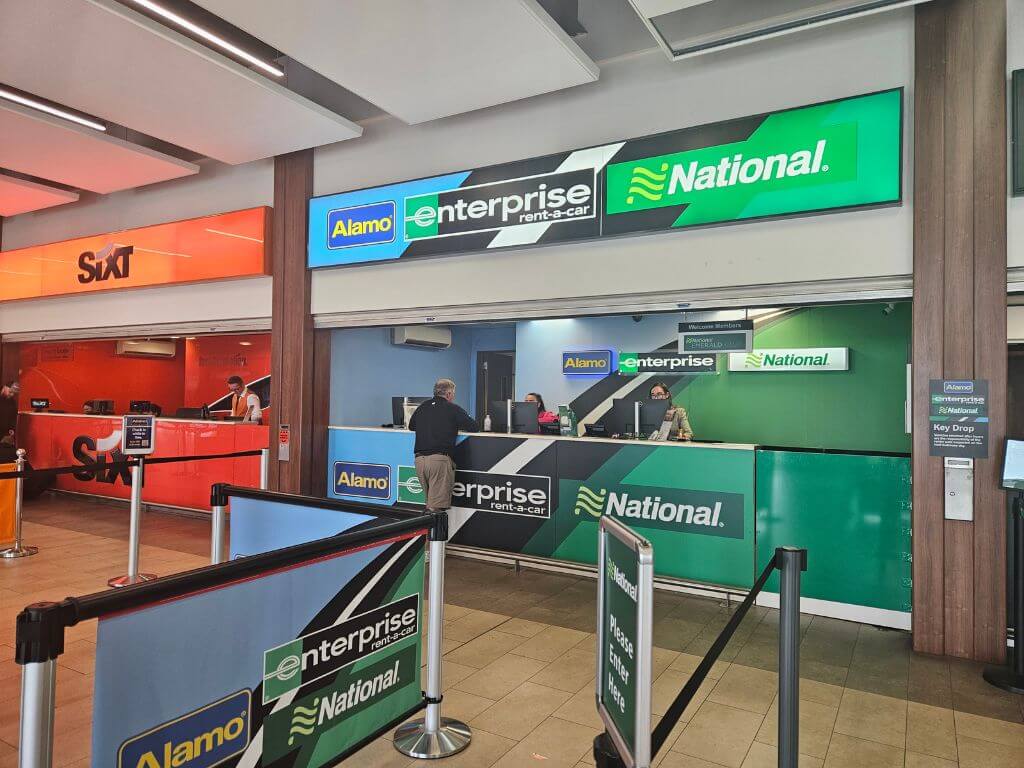 You can also choose to defer your rental car pick-up to Dublin City Centre if you are planning a few days in the city before you hit the roads. There are several offices in Dublin where you can collect your My Irish Cousin hire car after exploring the city.
My Irish Cousin highly recommends that those visiting Dublin first defer their pick-up to save on both rental car costs and the cost of parking in the city centre.
My experience
I chose to collect my rental car from My Irish Cousin at Dublin Airport as we were travelling onwards to my sister's house in the outer suburbs of Dublin and from there to Kilkea Castle in County Kildare, where we would also be visiting family.
Arriving at Terminal 2, I made my way across the glass walkway (as shown in this video by My Irish Cousin on Youtube) and arrived at the Enterprise desk.
I had my customer reference number ready along with my driving licence. At the Enterprise desk, I was asked if
there was a second driver (there was not),
I wanted a toll tag (I did not require one as I am familiar with paying tolls online),
and whether I wanted to add the fuel charge so I did not need to return the car full (I did choose this option as I know where the nearest fuel station to Dublin Airport is, how awkward it is to get to, and how busy it can be which won't help if you are in a hurry).
I paid for the fuel charge and the €1 hold and signed the rental agreement. I was soon making my way to the bottom floor of the multi-storey car park to pick up my car and get going.
At the rental car desk, I was given my key and a bay number where I would find my car and it was easy peasy.
And what awaited me was a very nice standard SUV automatic car which I discuss in more detail below.
On the Road with a My Irish Cousin Rental Car – My Experience
My rental car from My Irish Cousin was a new Kia Sportage automatic. It had less than 6000km on the clock, had a full tank of fuel showing a range of 810km, and was a mild hybrid meaning it recharged on the road and there was no plug-in which was great!
We collected the keys from the Enterprise desk as mentioned, made our way down to the bottom floor of the multi-storey car park at Terminal 2, and were soon on our way to join the M50 in Friday rush-hour traffic.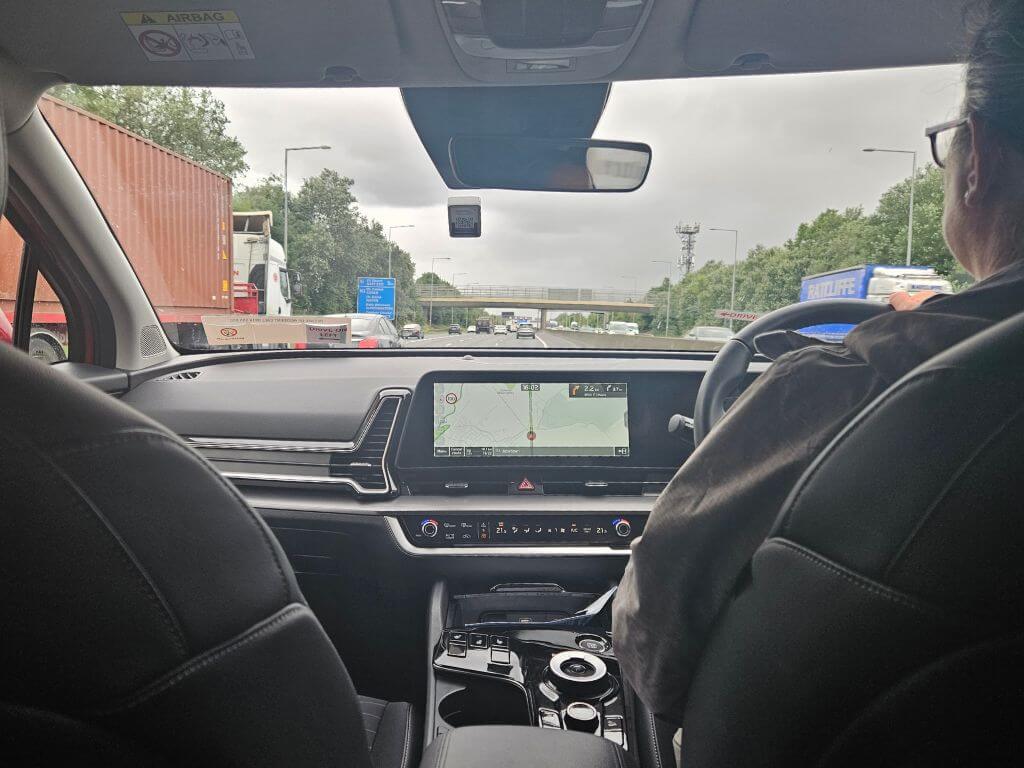 We made our way from the airport to the southern suburbs of Dublin to stay in my sister's house and while the M50 was busy, the car drove smoothly and was easy and quick to get used to.
Over the next 11 days we
explored Dublin City Centre (on foot) leaving the car safely parked at my sister's house,
visited family in other areas of Dublin,
enjoyed a 2-night break in Kilkea Castle in County Kildare as well as seeing family nearby,
visited the Irish National Stud and Japanese Gardens,
explored Lullymore Heritage Park,
fed the deer at Rathwood and found our way out of the Maze of Ireland,
and my son even got a Yes Day with his cousin in Dublin.
The car made getting around super easy and gave us the option to explore outside of Dublin which was great. Getting out of the city and county is always a bonus for me when staying with my sister.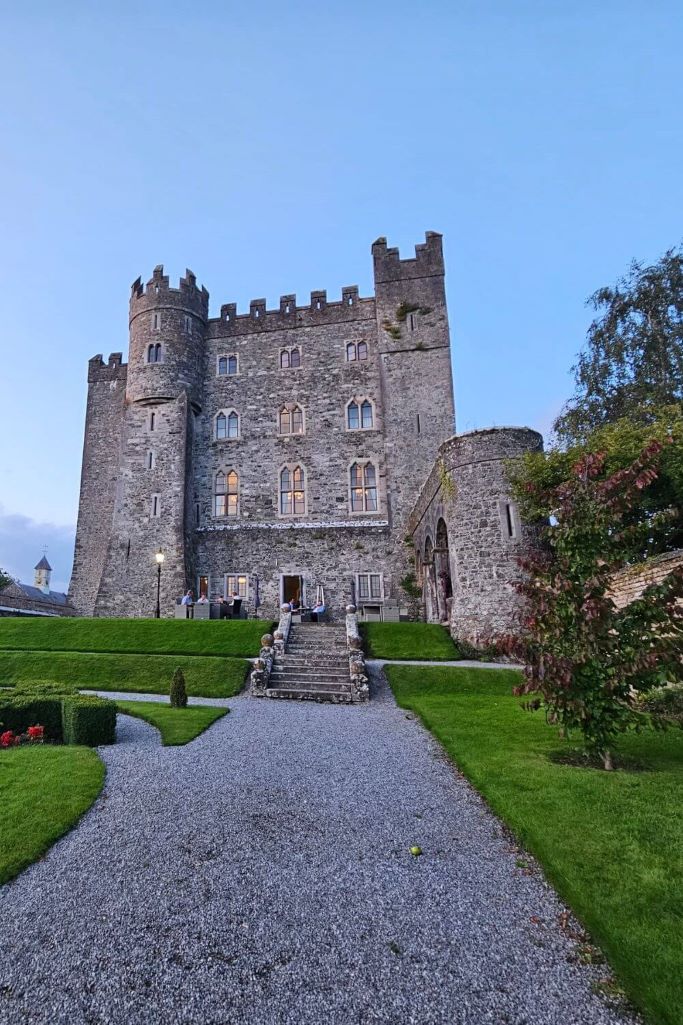 Things to note about the car
The car was equipped with Android Auto and had climate control which could be synced in the front or separated for driver and passenger.
The car also had its own navigation system, which I did not use as I only needed Google Maps for getting to my sister-in-law's new house in Dublin and to one other place in County Kildare.
There was 1 USB port for connecting/charging your phone, and a USB-C port as well.
The back seats folded down in a 35/30/35 configuration to allow our larger suitcase to fit in. We needed this the most when returning to Dublin Airport as my sister and niece were returning to Portugal with us for a holiday, so we had extra suitcases as well as passengers (I mentioned this on the online form at the time of requesting my quote).
The car was equipped with sensors for seat belts, very handy for telling the driver who had fastened their seat belt and who hadn't.
The car also had lane assist and collision warning functionality. There were automatic windshield wipers, automatic lights, and much more on the car.
Choosing Drive, Reverse or Park was easy with the automatic gear control and the parking brake was easy to apply, even being applied automatically if the car was stopped on a hill. The car was also equipped with a reverse camera.
There were lots of other features to the car that I did not use or take note of.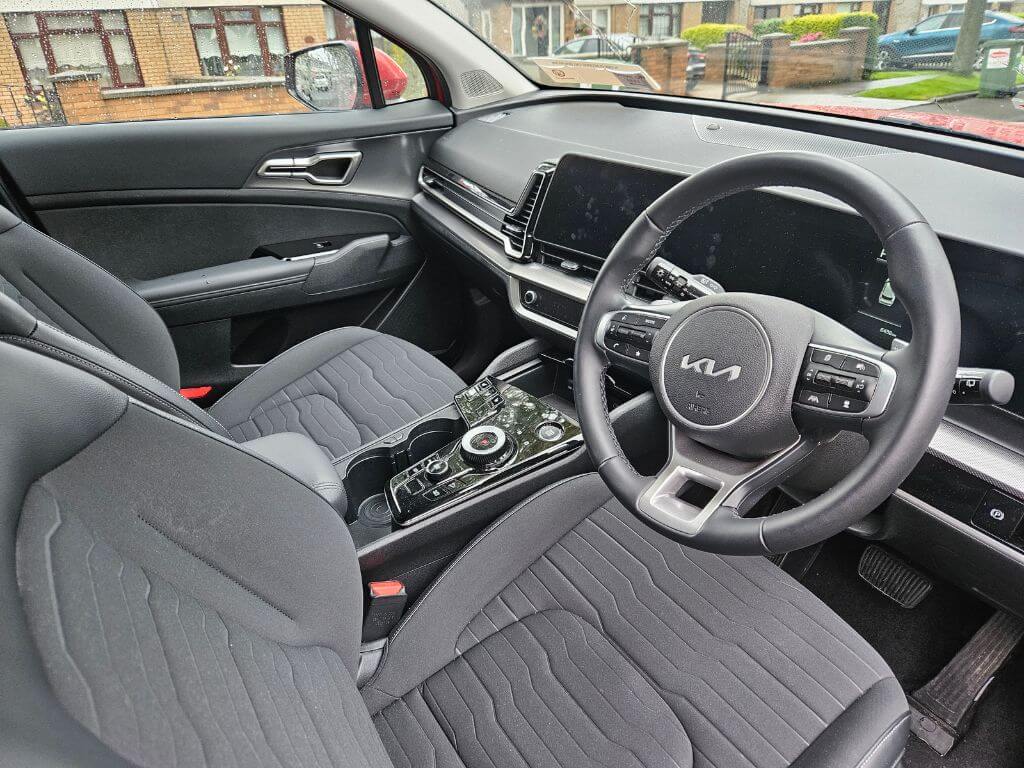 Final thoughts about our rental car from My Irish Cousin
We covered 527km during our 11 days and still had over 250km left in the fuel tank. The car was as economical as the mild hybrid car that I drive in Portugal and was overall a bigger car than my own.
The car was easy to drive, park and reverse, and was very comfortable inside. We had plenty of room for myself and my son, and then enough room to return to the airport with 2 adults, 2 children, 2 full-sized suitcases, 2 cabin-sized suitcases, and 4 backpacks.
The only thing I will say is we needed to drop one section of the back seat to fit the larger suitcases in and this means the middle seat is only suitable for someone of a small size. However, if everyone is travelling light and with cabin-sized luggage only, then there would be sufficient trunk room to not have to drop part of the back seat.
Overall, I was more than happy with the Kia Sportage I received as my rental car from My Irish Cousin.
Dropping Off Your My Irish Cousin Hire Car
Dropping your rental car back with My Irish Cousin couldn't be easier.
A day or two before your return date you will receive an email from My Irish Cousin with details of where and how to return your rental car from them.
You simply find the location, in my case, it was the Terminal 2 multi-storey car park of Dublin Airport, find the Enterprise return office/kiosk and representatives, hand back the keys, and away you go.
Since you get full insurance with My Irish Cousin you don't have to worry about them checking the car for scratches and scrapes, and there is no final paperwork for insurance to complete.
This is a huge bonus of using My Irish Cousin and very handy if you are running late for a flight.
My experience
As mentioned, the day before my return, I received an email from my Irish Cousin with details about returning the rental car. The instructions were super clear and detailed.
I had taken out the fuel option which meant I could drive straight to the Terminal 2 multi-storey car park and drive to the Enterprise kiosk.
A representative met us as we exited the car and he gave the car a quick once over, checked the fuel gauge, and cross-referenced that against my details, noting I had fuel cover, and then took the keys and we were soon making our way to bag-drop for our Aer Lingus flight to Portugal.
The whole process was very easy and simple. Later that day I received a final email from Enterprise to show the details of the rental agreement to prove the agreement had concluded.
I also made sure to pay my M50 toll before I boarded the plane so I wouldn't forget.
If you are looking for details on how to pay the M50 toll using your mobile phone, I can highly recommend following the step-by-step guide that My Irish Cousin has on their website for paying an M50 toll.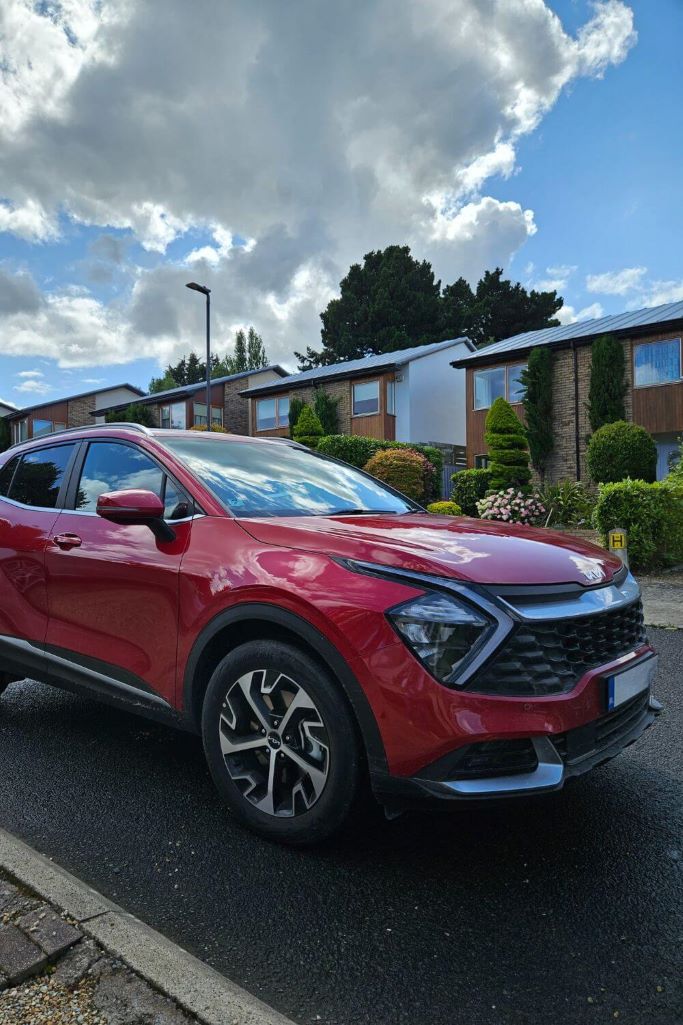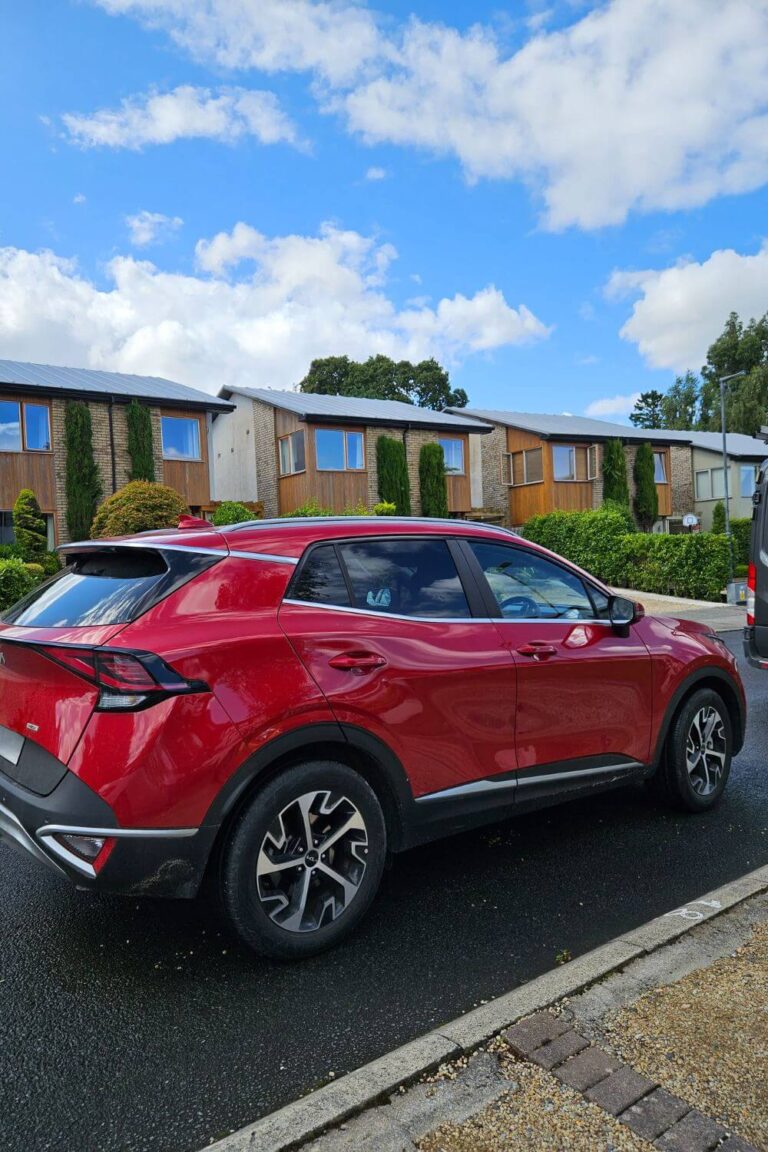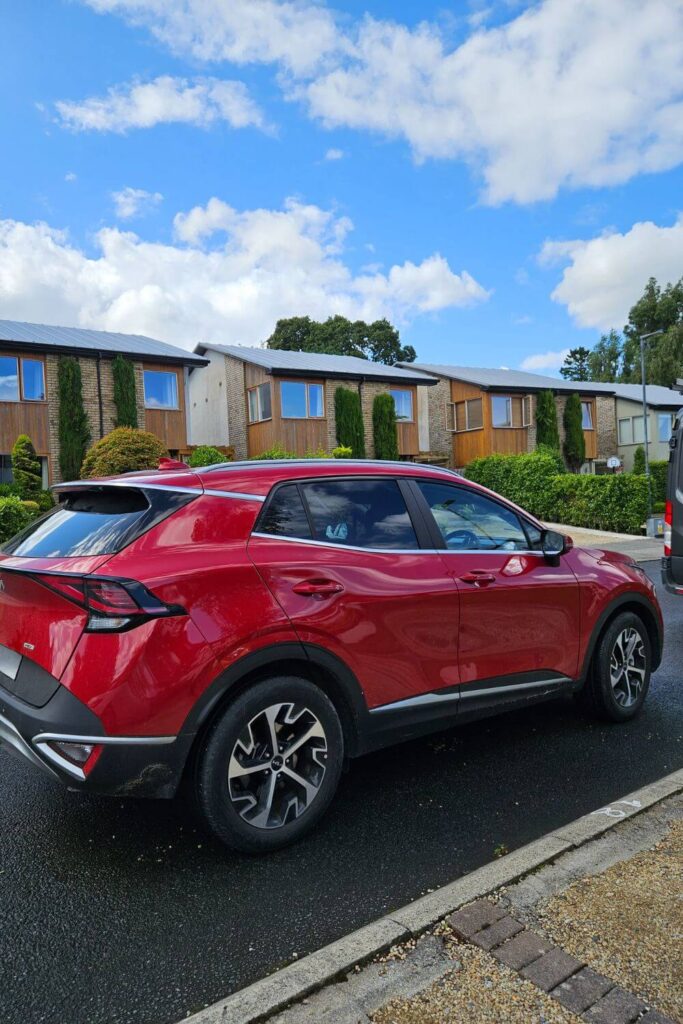 My Irish Cousin Car Hire Perks
One of the things that made me want to try renting a car from My Irish Cousin was all the added perks that come with a rental agreement with them, the mentions of their outstanding customer service in the Facebook groups, and their 5-star Google reviews.
There are some people who try to compare car rental prices in Ireland and think that My Irish Cousin is expensive, but they are trying to compare apples with oranges.
The added perks of a My Irish Cousin rental car are:
The additional second driver is included as standard.
Ability to drive to Northern Ireland without paying an additional fee.
Tyres and glass insurance are included as standard.
Breakdown assistance is included at no extra cost.
Full Super Collision Damage Waiver included as standard.
No large hold on credit cards.
Unlimited mileage.
You can choose different pick-up and drop-off locations with My Irish Cousin at no extra cost.
No upper age limit with My Irish Cousin and no extra documentation required from the over 70s, unlike other companies.
Outstanding customer service
Almost all the car rental companies in Ireland do not include full Super Collision Damage Waiver (SCDW) as standard, something you get automatically with My Irish Cousin.
Some will allow you to add SCDW online but not all of them.
In some cases, you cannot add a second driver to the policy until you reach the rental car desk at pick-up, so this is an added cost.
Very few companies allow you to add going to Northern Ireland to your policy online so, again, you can only add this at the desk.
Few rental car companies allow you to add tyre and glass coverage online, only at the check-in desk at best, and few include breakdown assistance.
With My Irish Cousin, everything (and I meant everything) is included in one price. So, there are no nasty surprises and no additional costs waiting for you when you pick up your rental car.
The price you receive in the quote is the only price you will pay for everything.
It is for this reason that you cannot compare a My Irish Cousin quote for car rental in Ireland with other companies because there will always be something missing from your online rental quote with other companies that come included with My Irish Cousin.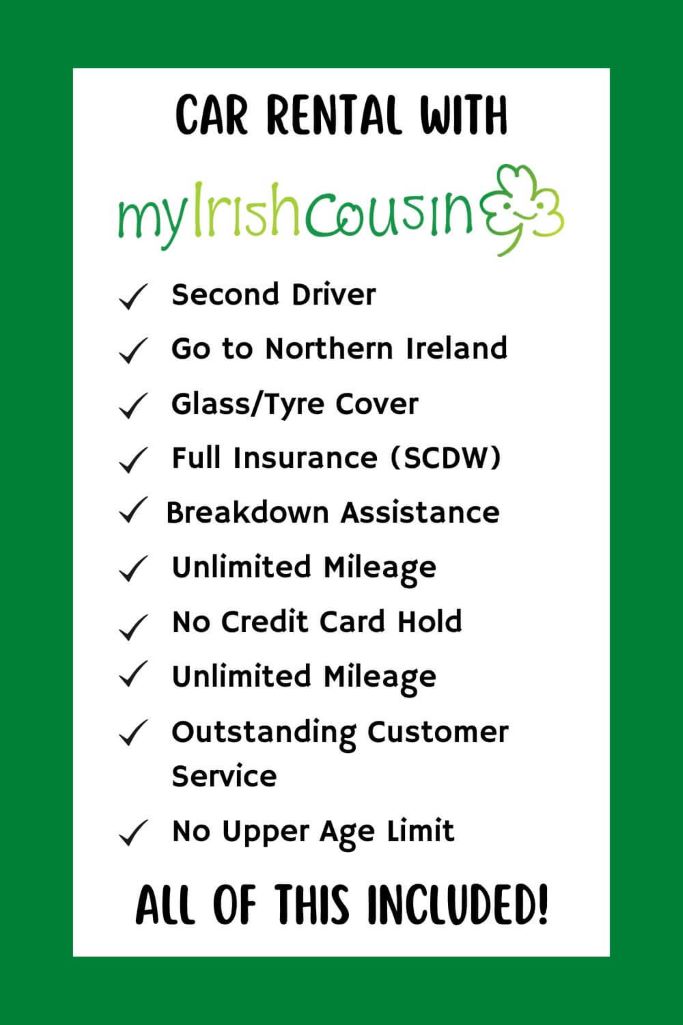 My Irish Cousin Customer Service – A Note
As already mentioned, the references to the customer service My Irish Cousin provides were another factor in making me want to try them for my car rental needs in Ireland on this trip.
My Irish Cousin is on hand to answer any questions, car-related or not, before, during, and after your car rental agreement with them.
They can answer questions about your rental car, provide assistance if you break down with a simple phone call, answer questions you might have regarding getting from point A to point B, and even help you pay a parking fine you incurred after you have returned your rental car.
If you realise you've made a mistake on your quote, changed your mind about where you want to pick up your car or need to make an amendment to your booking, no problem. My Irish Cousin can accommodate most changes at no extra cost, while other rental car companies in Ireland will add an admin fee for any changes made after the original booking has been paid for.
They have even helped non-My Irish Cousin customers when they've been left stranded by other car rental companies. They are a voice at the end of the phone for anyone who needs it, and no question is too small.
It was references to all these things in various Facebook groups that made them stand out to me as a car rental company to try out, especially where customer service is concerned.
I am fortunate to not have had to call them but just knowing they were at the end of a phone call should I have needed them was assurance enough.
Get Your Quote Today
Get your quote today from My Irish Cousin for your next car rental requirements in Ireland
Frequently Asked Questions About Car Rentals in Ireland and My Irish Cousin
Final Thoughts – Is My Irish Cousin the best car rental company in Ireland
When it comes to car rental in Ireland, you simply cannot go wrong with choosing My Irish Cousin. The whole process from start to finish is smooth and seamless and you know upfront exactly what you are paying and that everything is included.
You also get access to their superior customer service and they are always at the end of the phone to answer any questions, car-related or not, no matter how big or small it is.
Trying to compare quotes from other car rental companies in Ireland to that of a My Irish Cousin quote is like trying to compare apples with oranges, the two simply do not compare as there is always going to be something missing from quotes from other companies that come included with My Irish Cousin.
Another huge advantage of choosing my Irish Cousin is that you will not be faced with a large hold being put on your credit card when picking up your rental car. And you do not need third-party rental car insurance as you automatically have full and complete coverage with a My Irish Cousin rental agreement.
So, renting a car from My Irish Cousin in Ireland is a no-brainer if you want one price with everything included and no nasty surprises awaiting you at the pick-up location.
Will I be using My Irish Cousin again? You bet ya!!
You might also like to read: