Have you been asking yourself does it snow in Ireland? Worried about a trip to the Emerald Isle during winter? Find the answer to this question and more right here.
If you are planning a trip to the Emerald Isle outside of summer and are worried about the weather, you have probably been asking yourself does it snow in Ireland? Or you've been wondering does it get cold enough in Ireland for snow, and if so, how often does it snow in Ireland? If you are visiting the Irish capital, you're bound to also be wondering does it snow in Dublin, Ireland?
In short, yes, in Ireland in the winter, snowfall can and does happen, but how much and how often depends on where in the country you are. Despite Ireland being on the same latitude as Hudson Bay in Canada, and southern Alaska, the climate in Ireland is quite different.
Does it snow in Ireland?
Ireland's climate
Ireland's climate is mild, temperate, and humid. It lacks extremes that can be found in countries on the same latitude but is often changeable. Ireland sees an abundance of rainfall and generally experiences warm summers and cool winters.
Ireland's temperate climate is mainly thanks to its location in the path of the North Atlantic Ocean Current and the Gulf Stream, two powerful oceanic currents that bring warmer waters to northern Europe including Ireland.
These provide good conditions for plentiful rainfall, particularly along the west coast where prevailing winds meet northeast Atlantic weather fronts, breaking along mountainous regions on the west coast. They also help to keep Ireland's temperatures above freezing in winter. This is the main reason why Ireland doesn't get much snow.
That said, cold snaps can and do occur, and with them, they can bring snow to Ireland in winter. These cold snaps often occur because of polar air being brought south by Arctic or Siberian winds.
When these winds meet weather fronts over Ireland, the rain that normally falls is cooled and turns to sleet and then snow, particularly over higher grounds.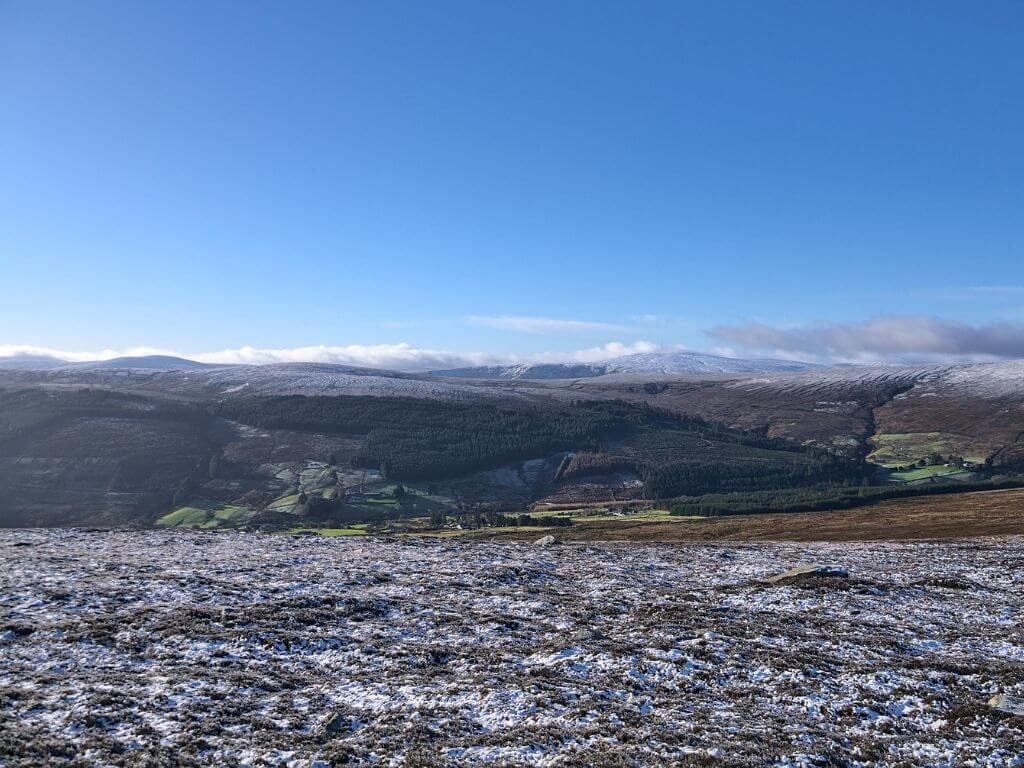 How often does it snow in Ireland?
On average, the country experiences snowfall up to 30 days annually. However, not every part of the country will have snow during these days. Typically, most areas will have no more than 10-15 days of snowfall per year.
Since snow is actually rare in Ireland when it does fall it can cause major disruption to the country. The further south you are, the less snow you may experience with the southwest averaging 5 days per year, and the north midlands averaging up to 24 days per year.
Where does it snow in Ireland?
Most places can experience snowfall during winter in Ireland, with the greater chance being higher ground and the further north you go in the country. However, the amount and frequency depend on the location.
The snowiest place in Ireland is the Wicklow Mountains which can experience up to 50 days of snow per year. During winter, there is quite often snow on the ground in this region which is where the Wicklow Mountains National Park can be found.
The snowiest weather station in Ireland is Clones in County Monaghan, which receives an average of 18 days of sleet/snow per year.
Other areas where you may expect to see now during winter in Ireland are the Mourne Mountains in Northern Ireland, the MacGillycuddy Reeks in County Kerry, and further north such as Donegal.
One of the least snowy areas of Ireland is Valentia Islands in County Kerry which averages only 5 days of now per year.
And the answer to the question of "does it snow in Dublin?" is yes, although it is rare and when it does snow in Dublin, it is generally only 2-3cms and lasts a day or two.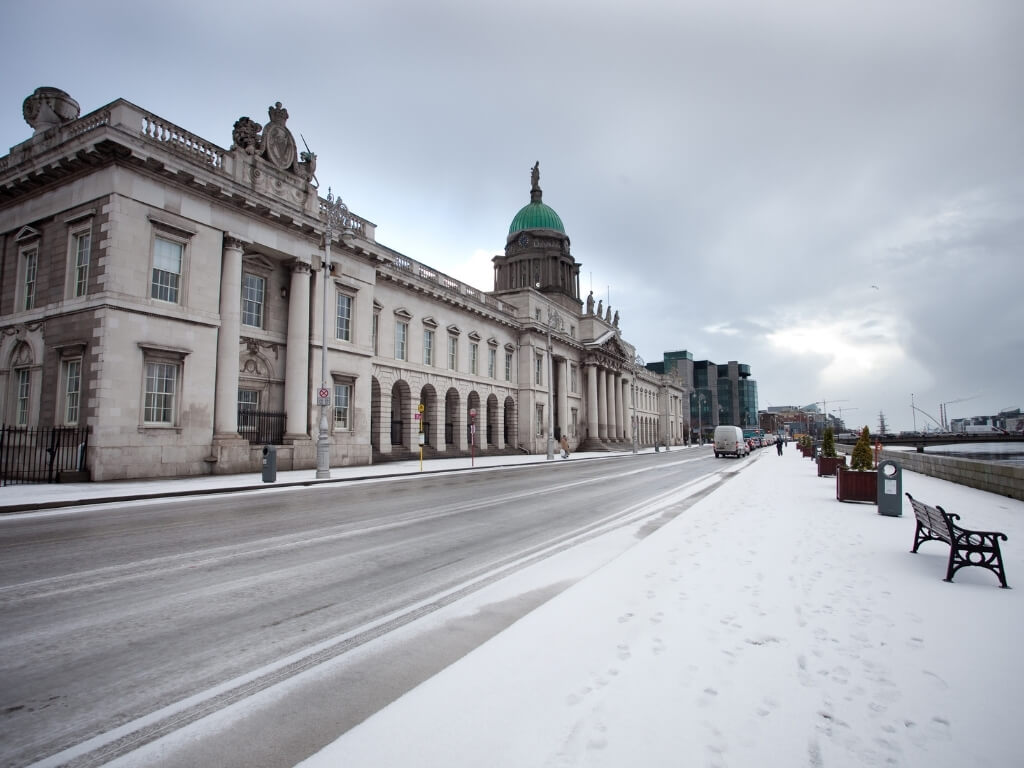 How much snow does Ireland get?
Typically, the snow in Ireland is not like other countries on the same latitude. Most places will get 1-2cms at most on the ground. On higher ground and in mountainous regions, the depth will be more.
In recent years, heavy snowfall was experienced in March 2018 thanks to Storm Emma, known as the Beast from the East, which brought a cold front from Siberia to Ireland. The resulting snowfall brought the country to a standstill and caused major disruption, with people advised not to leave their houses until it was cleared.
This was one of Dublin's heaviest snowfalls since the 1980s, with some areas getting 50cm of snow during the storm.
How long does the snow last for in Ireland?
Normally, the snow in Ireland lasts only for a day or two, particularly on lower ground and in bigger cities. On mountains, the snow lasts longer, sometimes for several weeks if further snow falls.
What months does it snow in Ireland
Snow in Ireland can occur between the months of December and March, with recent years seeing snow falling mostly in February and March. That said, some areas in Ireland may not experience any snow during winter if warmer air is predominant.
What was Ireland's biggest snowfall?
There have been a few years in the last century when snowfall has been extreme in Ireland.
In February 1947, Ireland experienced heavier snowfall than normal with continuing snowfall and extreme winter temperatures from mid-January into March. Snowdrifts as high as 15ft were a common sight during what came to be known as the Big Snow.
In December 1967, a prolonged winter of low temperatures and snow arrived which lasts until early March. Depths of 45cm of snow were common, and although more snow fell during 1947, this was the coldest and longest winter Ireland had experienced.
And more recently, in January 1982, snow fell on much for Ireland during a three-week period when the country was painted white. Even Dublin, the least affected area had 2.5 feet of snow in parts.
All three cold snaps resulted in road closures, school closures, and in some cases, food shortages. Although my own family was not living in Ireland at the time, my aunts sent pictures of them outside their house in Dublin with the snow above their knees. It was certainly a sight to see.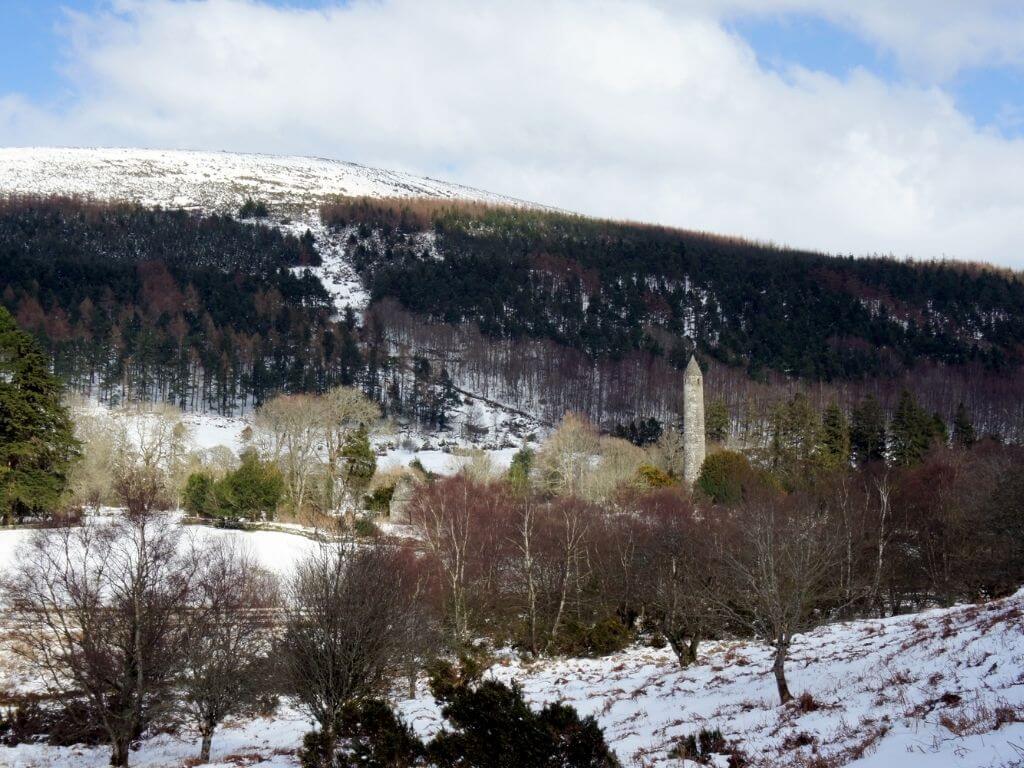 What are normal winters in Ireland like?
Typically, winters in Ireland are cold but mild. Average daily temperatures range between 5 and 15˚C, depending on the month and your location, with the average coldest temperatures lying between 4 and 7˚C.
Rain is a frequent occurrence thanks to the abundance of clouds that bring grey, wet weather to much of the Emerald Isle. Ireland is not called the Emerald Isle for nothing. Thanks to the abundance of rainfall, grass, and other plants thrive in Ireland.
You can learn more about the Ireland weather by month and the best months to visit Ireland here.
When the temperatures are between 4 and 7˚C, a small drop in temperature can quickly turn rain to sleet and then snow, and this can catch the public by surprise.
Is winter a good time to visit Ireland?
If you have been wondering does Ireland get snow, you now know the answer is yes. But does that mean you shouldn't visit Ireland during winter? No, and here's why.
Winter can be a great time to visit Ireland, provided you go prepared for rain and cold temperatures. So long as you remember to layer up and bring your waterproofs, or a waterproof winter coat at the very least, winter can be one of the most enjoyable times to visit Ireland.
Winter is the off-peak season, except for Christmas and New Year, and with off-peak come less visitors and crowds. This makes popular tourist attractions less crowded, so more enjoyable. And with fewer visitors, there is less demand for accommodation meaning you should be able to secure good accommodation at affordable prices.
If you are planning a trip to Ireland at any time of the year, grab my free printable checklist and tips for packing for Ireland. And you might also enjoy my post about what to wear in Ireland for all seasons.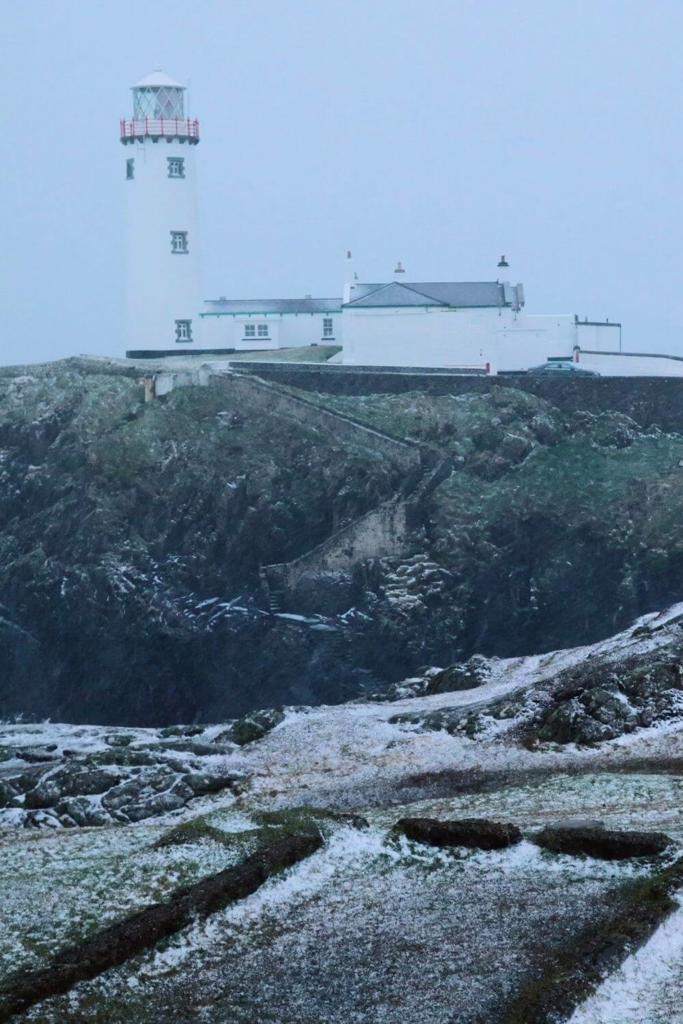 Things to do in Ireland in winter
Visiting Ireland during winter can be an enjoyable time of the year thanks to less visitors and fewer crowds. Most tourist attractions remain open during winter and will have shorter queues if any.
The only thing you need to remember about visiting Ireland during winter is the short winter days. There are only 7.5-9 hours of daylight during the winter months in Ireland, which means you may need to plan your time in Ireland accordingly. That said, you can pack a lot in so long as you plan things well.
Visiting Ireland in winter is about either wrapping up well outside or getting cosy inside. Here are a few things to do in Ireland in winter to help you consider visiting during this time of year.
Getting cosy in a pub
Whether it is Temple Bar, one of the live music venues in Kilkenny, or in a small town/village down the country, an Irish pub can be a great place to spend a winter's afternoon in Ireland, particularly if you have spent the morning sightseeing or shopping for Irish gifts.
Many pubs serve great Irish food, so combined with a pint or two, this can make the perfect setting for a relaxing and warm afternoon.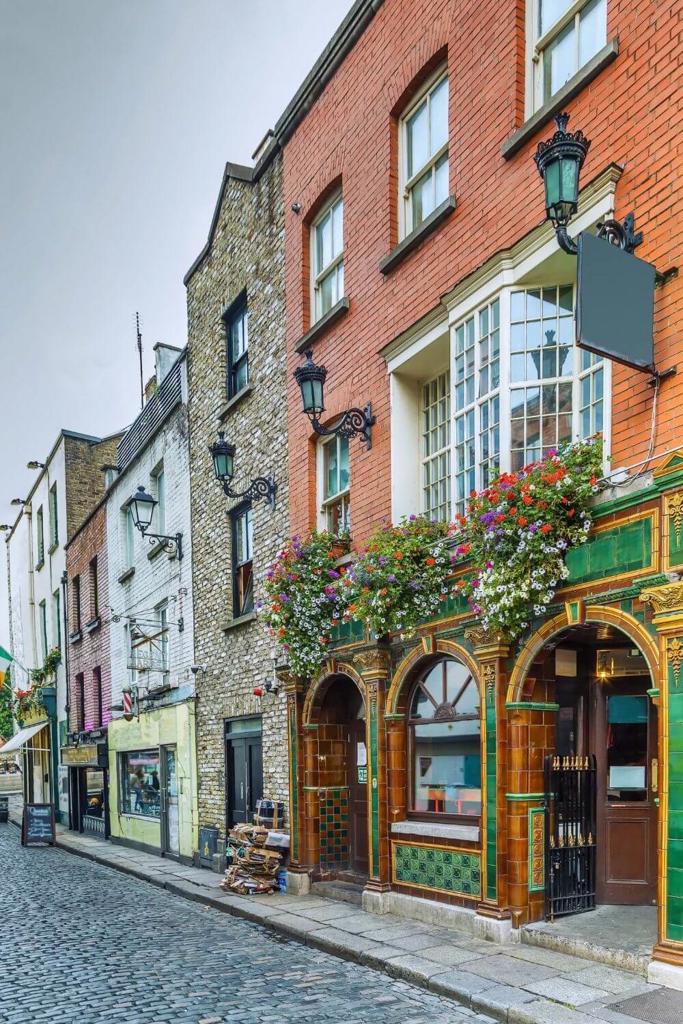 Visit Newgrange for the winter solstice
Newgrange is a Neolithic passage tomb located in the Brú na Boinne Valley and is famous because its passage is aligned with the winter solstice sunrise.
At sunrise during the solstice (and 5 days around it), the passage is illuminated by the rising sun, throwing light down to the burial chamber and revealing the intricate carvings along the passage and in the tomb.
However, if you would like to visit the tomb during the winter solstice, you need to enter a public lottery. Only 60 people are chosen each year, and they and one guest are taken into the tomb at sunrise over 5 days to witness this phenomenon. To find out more details about this, click here.
You can still visit this and the other sites of this UNESCO World Heritage Site during winter after sunrise each day.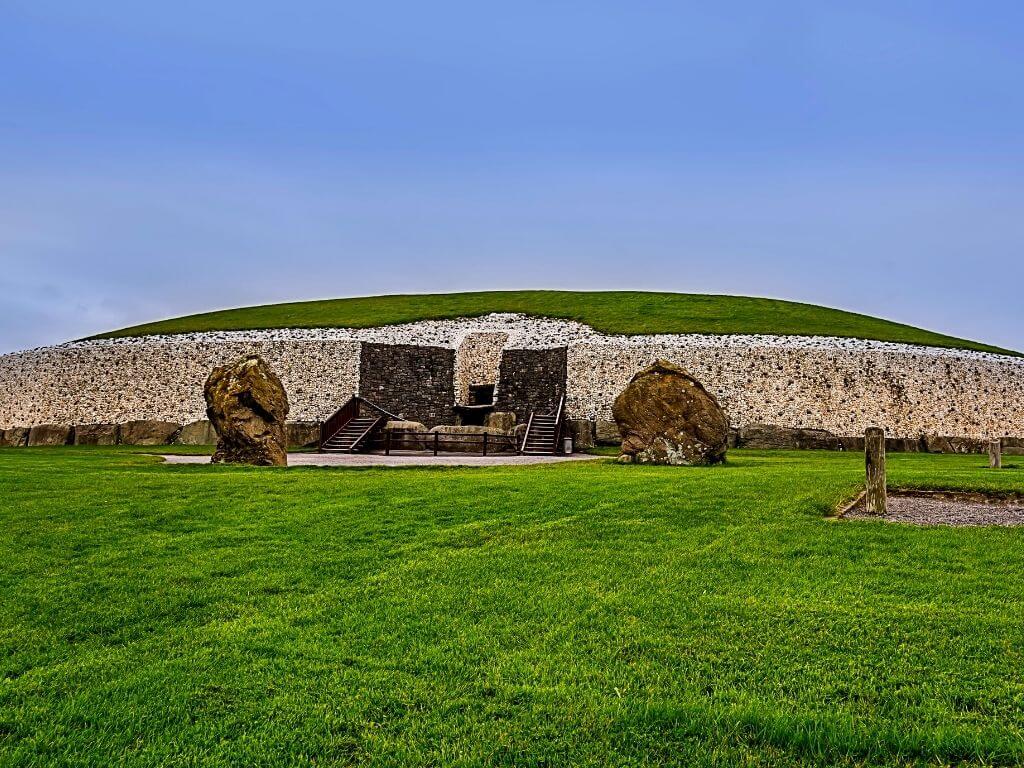 Aurora Borealis
During winter, there is a small chance of seeing the Northern Lights along Ireland's northern coast. Areas of low light pollution are the best places to view the Aurora Borealis, and checking Northern Lights apps and websites may indicate whether you might be one of a lucky few to view these spectacular displays in the sky from Ireland.
Final thoughts on whether or not it snows in Ireland
As already mentioned, the main tourist attractions and sights in Ireland remain open throughout winter and queues will be far fewer than in the peak summer seasons. For more ideas on where to go during winter, check out my pick of the best places to visit in Ireland.
So, now that you know that yes it can snow in Ireland, will it put you off visiting during the winter months?
And before you do visit Ireland in winter, here is the Irish for snow so you are prepared:
Sneachta

Pronounced sh-nok-ta
Read more about visiting Ireland:
Visiting Ireland in December