With a coastline that spans a total of 6,226 kilometres (or 3869 miles), Ireland is awash with coastal towns and villages aplenty. Whether they are pretty fishing villages or seaside towns that the Irish themselves flock to for holidays, or former Viking settlements, you can discover 15 of the best coastal towns in Ireland right here to add to your Ireland bucket list.
*This post contains affiliate links, which may include Amazon affiliate links. To read more about affiliate links, please visit my Disclosure Policy page.
Best Coastal Towns in Ireland
From rugged and sheer sea cliffs to beaches that would make you think you were somewhere tropical, the coast in Ireland is a varied one. And with this unique island coastline, Ireland coastal towns are just as diverse. Sleepy, tiny coastal villages can be found alongside larger fishing towns that have developed and grown over the ages.
You can discover our top 15 prettiest and best coastal towns in Ireland that will make you want to add them to your ever-growing Ireland itinerary!
Map of the best coastal towns in Ireland to visit
Dingle, Kerry
One of the very best towns to visit in Ireland on the coast is the beautiful Dingle in County Kerry. Dingle is also one of the prettiest fishing towns in Ireland with its harbour and beautiful bay. Dingle is located on the peninsula with which it shares its name and is also one of the largest Gaeltacht towns on the Emerald Isle.
The main attraction to Dingle is the town itself. Pretty, colourful shop and pub fronts are interspersed with art and craft galleries. This little town in one of the most beautiful parts of Ireland welcomes thousands of visitors, from home and abroad, every year. Make sure not to miss Murphy's where you can get ice cream, flavours of which change daily!
Besides its beauty, Dingle has plenty to offer visitors. For families, a visit to Dingle Oceanworld is a must, as kids will love seeing fish species from around the world is themed-aquariums. For those without kids, head to the Dingle Distillery where you can take a tour and then sample whiskey, gin and vodka produced there.
Dingle also has a cultural centre and from the harbour, you can take boat tours of Dingle Bay. It is also the perfect base for exploring the Slea Head Drive where you can discover remnants of Dingle's past in ring forts, beehive huts and early Christian sites. You can also venture further afield and explore the Ring of Kerry from Dingle.
Stay at the budget-friendly Dingle Harbour Lodge (see latest prices and availability here) or splash out and book into the Dingle Skellig Hotel (latest prices and availability can be found here).
Kinsale, Cork
One of the most picturesque towns in Ireland to visit in Kinsale in Cork. Located 29km (18 miles) south of Cork City, Kinsale overlooks the Bandon River Estuary and is one of the prettiest towns in Ireland thanks to the many colourful buildings and houses in the town.
This pretty town has winding streets lined with gift shops and galleries, pubs and restaurants and has a natural harbour that is often filled with yachts. Kinsale has many things to do including visiting Charles Fort, a 17th-century fortification shaped in a star. Also worth a visit is Desmond Castle which was once occupied by Spanish troops in 1601 who fought, unsuccessfully, alongside Irish troops against Protestant British forces.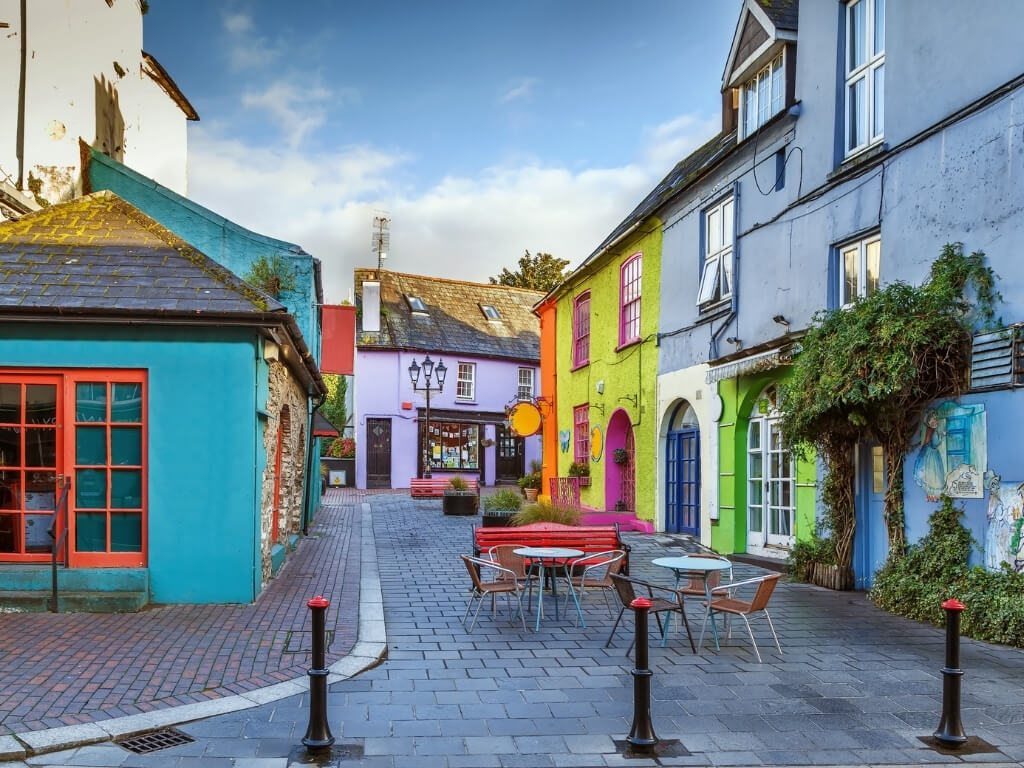 Kinsale is becoming known for its restaurants and their culinary delights, and each year in October there is the Kinsale Gourmet Festival. Visitors can enjoy three days of demonstrations, tasting and more. Book into the Bastion for Michel-star quality food.
This historic port and fishing town is located 20 minutes from the Old Head of Kinsale which is the southern starting point of the Wild Atlantic Way. If you are going to be exploring this coastal route in Ireland, stay in the Trident Hotel in the centre of Kinsale (see latest prices and availability here) or the luxurious Kinsale Hotel & Spa (find the latest prices for this hotel here).
Lahinch, Clare
One of the top small coastal towns in Ireland to visit is Lahinch in County Clare. Located in the protected Liscannor Bay, Lahinch is a small town with a long sandy beach that is becoming more and more popular with surfers.
Lahinch is best known for its golf course which dates from the 19th century and is one of Ireland's finest. As mentioned, surfing is a very popular activity here with surfers coming from near and far to enjoy the waves of the Atlantic Coast. Surf school and equipment hire shops are plentiful and there is also a diving school.
For lovers of history, the ruined castles of Liscannor and Dough are worth visiting, although there is not much else to see besides the ruined structures.
Lahinch is one of the best towns to stay in, or near, for visiting one of the best places to visit in Ireland, the Cliffs of Moher. The drive to the cliffs from the town is less than 15 minutes, making it the ideal base to explore the cliffs and beyond. Stay in the Lahinch Coast Hotel & Suites for a comfortable stay (see latest prices and availability here).
Cobh, Cork
One of the best towns in Ireland to visit along the coast is Cobh. Located less than half an hour from Cork City Centre, Cobh is another pretty and colourful coastal town in Ireland that was known as Queenstown from 1849 until 1920.
Cobh has been a major port for transatlantic crossings and cruise ships. In 1912, Cobh was the last destination Titanic stopped at before heading out to the Atlantic Ocean. Cobh has also acted as a major port for emigrating Irish between 1848 and 1950 and also for those sent on penal ships to Australia.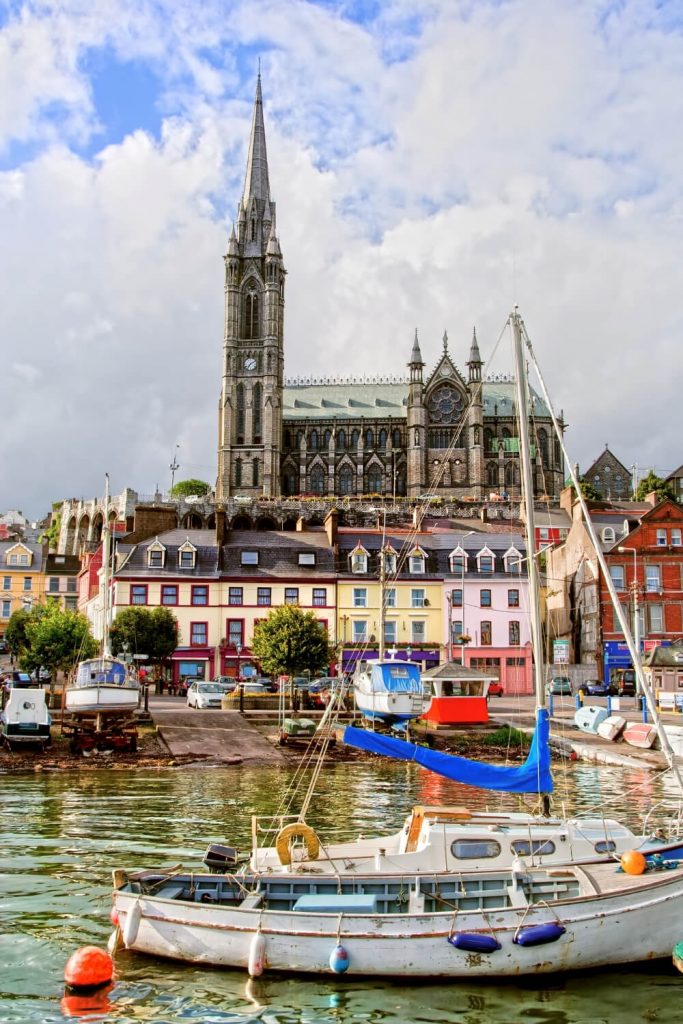 In Cobh, you can visit the Titanic Experience. This partially guided, partially interactive tour gives visitors an insight into the liner and visitors can even stand on the spot from where passengers were ferried to the ship. Cobh Heritage Centre is also worth visiting to discover the history of Cobh, learn about the mass emigration across the Atlantic and the convict ships that left Cobh for Australia.
Cobh is not only known for its colourful buildings but also the prominent Cathedral that is perched on a hill. It is free to enter and those visiting between May and September can hear the 47 bells ringing on Sunday at 4.30pm.
For accommodation in Cobh check into the WatersEdge Hotel (see prices here) or the Commodore Hotel (find the latest prices here).
Portrush, Antrim
One of the best coastal towns in Northern Ireland is Portrush in County Antrim. Home to one of the best beaches in Ireland, Portrush has a pretty marina beside the long sandy beach that makes holidaymakers flock to this seaside town in summer.
Portrush is also one of Ireland's best surfing destinations and also has a prestigious golf course. While the town itself is geared mainly towards the high season visitors, it is also the perfect base for exploring the Coastal Causeway. It is just a 20-minute drive to the Giant's Causeway, a drive which will take you past Dunluce Castle.
If you are staying in Portrush, book into the Inn on the Coast Hotel (find prices and availability here) or the All Seasons B&B (see their availability and latest prices here).
Howth, Dublin
One of the smallest but most beautiful towns in Ireland to visit along the coast is Howth. Howth is a coastal village and suburb of Dublin with a yachting harbour and a busy port. As a fishing port, you will find some of the best seafood in the local restaurants. It is a great place to spend a day out of Dublin City Centre.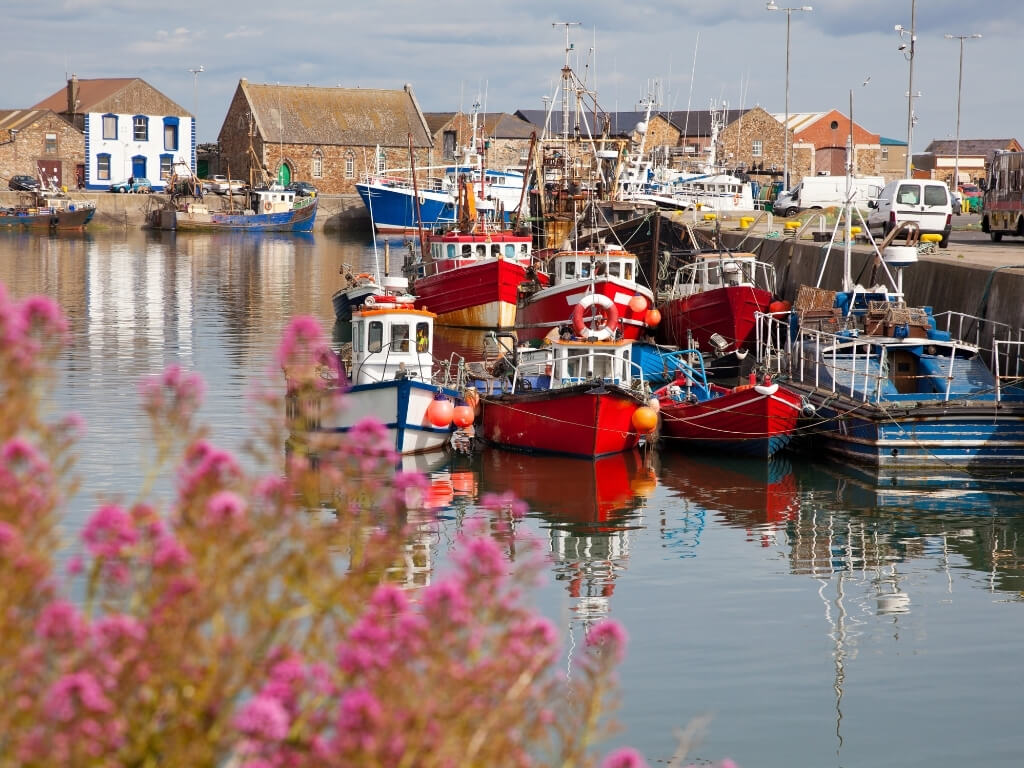 Howth village is located at the foot of the Howth Head headland on which you will find many coastal walks and the golf course. Howth Castle gardens are worth visiting. You cannot enter the castle as it contains private apartments. However, on the castle grounds, you can visit the ruined Corr Castle, see an ancient dolmen, and visit St Mary's Abbey, originally founded in the 11th century by a Viking king.
Howth is a lovely coastal village to visit and if you are visiting in May, you could catch the Dublin Bay Prawn Festival, held annually in Howth, one of the best food festivals in Ireland. Find your Howth accommodation here.
Dunmore East, Waterford
Located 19km (12 miles) southeast of Waterford is one of the best seaside towns in Ireland. Dunmore East is a popular destination for weekend and summer visitors from across the Emerald Isle in County Waterford. Dunmore East is characterised by red sandstone cliffs and concealed coves.
Dunmore East is split into two by the town park. The Upper Village is where you will find the pretty fishing harbour, while the Lower Village clusters behind Lawlors Strand, the largest of the sandy beaches at Dunmore East.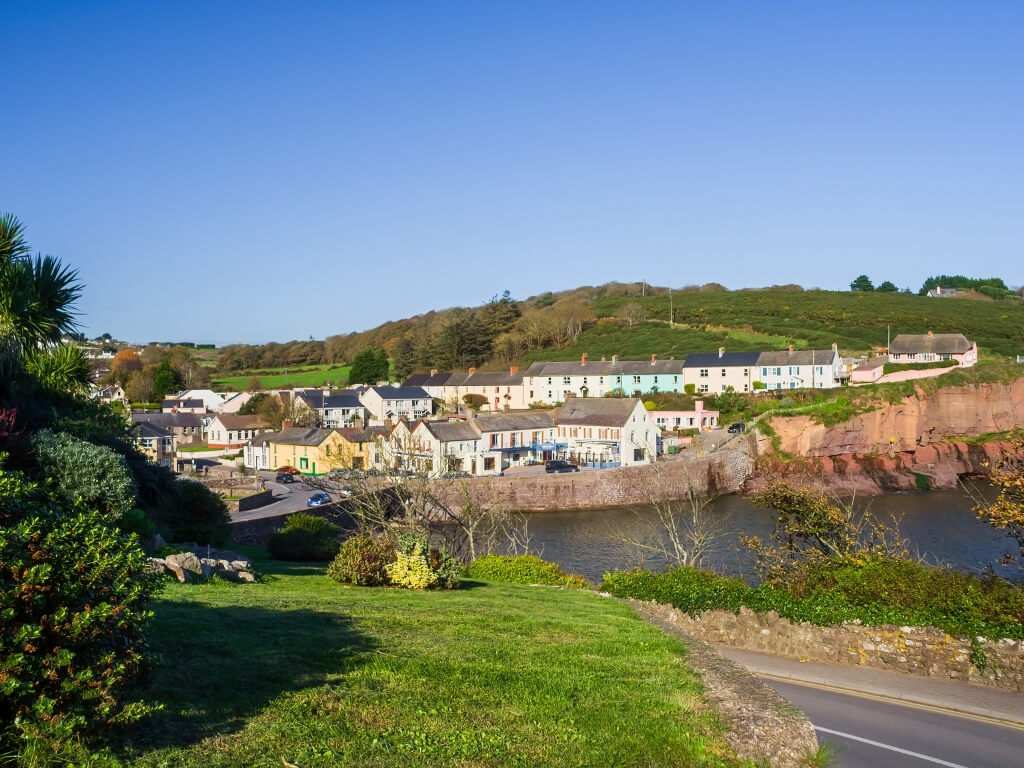 There are several other beaches and coves to visit at Dunmore East that offer safe swimming and diving, and there is a golf club for those who enjoy a round of golf. If you want to venture away from Dunmore East, there are scenic coastal drives to take and the historical city of Waterford is just a short 25-minute drive.
Find your accommodation here in Dunmore East. Or you could stay at the 4-star Waterford Castle Hotel. Find the latest prices and availability here.
Clifden, Galway
One of the top small towns in Ireland on the coast that you should pay a visit to is Clifden in the region of Connemara. This is a must-stop along the Wild Atlantic Way if you are travelling this coastal route in Ireland. Often called the capital of Connemara, it is one of the largest in this part of County Galway and hence, one of the most popular.
This pretty coastal town in Ireland has beaches which attract families in the summer. There is a small museum in a former train shed to visit, and history fans can visit the now ruined Clifden Castle where the founder of the town once lived.
Outdoor adventurers can enjoy hikes and walks among the Twelve Bens Mountains. And since it is located on the edge of the Connemara National Park, Clifden is an ideal location for exploring one of the most rugged parts of Ireland. Book into the Connemara Sands Hotel and enjoy a relaxing stay in between your exploring. Find the latest prices and availability here.
Bangor, Down
Bangor, in County Down, is one of the best seaside towns in Northern Ireland to visit. Located just 25-minutes east of Belfast, when it comes to Northern Ireland coastal towns, Bangor is one not-to-be-missed.
This coastal town has a beautiful marina, an interesting pier and many coastal paths to enjoy including a 10-mile path from Bangor to Holywood that passes lovely scenery and forest parks. Bangor Castle Park is worth visiting and it is home to Bangor Castle, the Town Hall and also the North Down Museum. There is also a pretty walled garden adjacent to the back of Castle Park that you should make time to visit.
Find out more about this pretty coastal town in Northern Ireland on the Bangor, NI website.
Carlingford, Louth
Among the most beautiful coastal towns in Ireland is Carlingford, in County Louth. This picturesque fishing village is located very close to the border with Northern Ireland between the mountains of the Cooley Peninsula and Carlingford Lough.
Whitewashed houses are scattered among medieval ruins in this vibrant little coastal town. Visitors can explore the ruins of King John's Castle, a Norman castle built to protect the entrance to the lough. There is a heritage centre with a short video describing the town's history and the Mint, a 16th-century building, is where you will find some interesting Celtic-inspired carvings.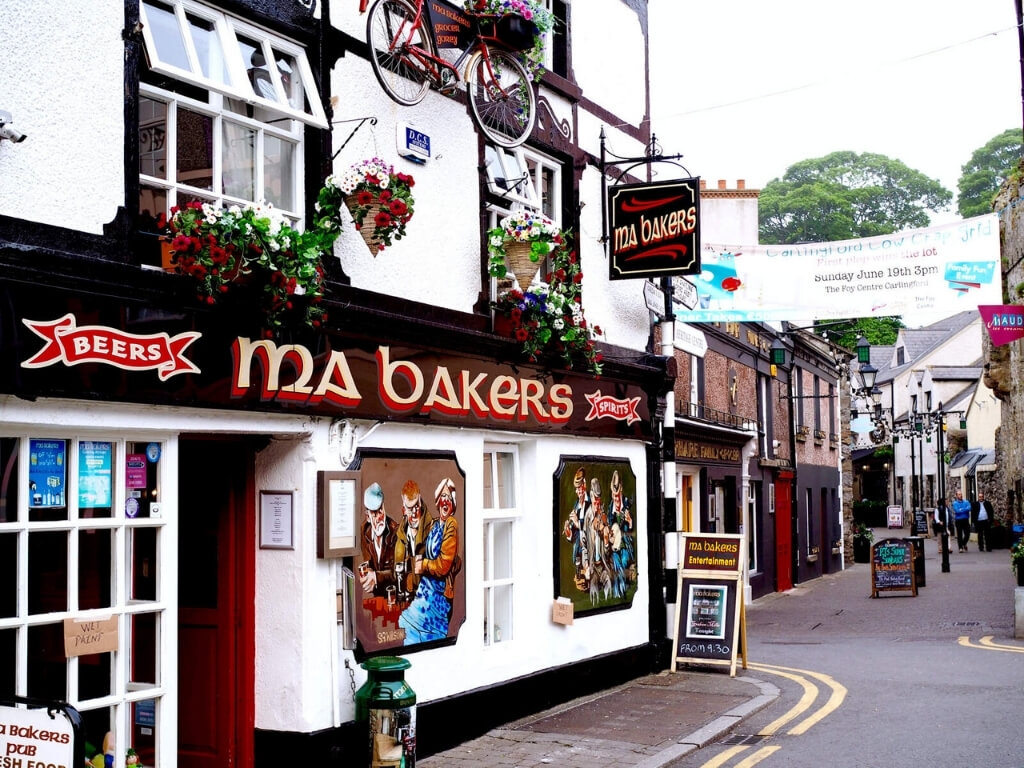 Carlingford is home to several festivals throughout the year including the Leprechaun hunt in late March/early April, the Carlingford Oyster Festival in August and a Heritage Week in August. Time your visit for one of these and you'll be in for a treat. Click here to find accommodation in and near Carlingford.
Baltimore, Cork
Another of the pretty towns in Ireland you should visit along the coast is Baltimore in County Cork. Located not far from Skibbereen, this busy little harbour village has a long history and you'll find pleasure yachts among many fishing boats.
Overlooking Baltimore is a 15th-century castle called the Dun na Sead (Fort of the Jewels) which is worth a visit. Visitors to this busy little Irish coastal town can also take sea safaris from the harbour to try and catch sight of dolphins, whales and other sea life along the coast.
Visitors to Baltimore can enjoy fresh seafood in the many restaurants and pubs of the village. Baltimore is another town that hosts many festivals, mainly in the summer months including the Baltimore Pirate Weekend in June, held in memory of the 1631 event when more than 100 citizens were carried off by Algerian pirates. If you want to visit Baltimore, find your accommodation here.
Westport, Mayo
One of the most photogenic, small towns in Ireland along the coast is Westport. This County Mayo town is a vibrant town with plenty of fine restaurants and pubs for visitors. The town's harbour, Westport Quay, is 2km west of the centre and stands at the entrance to the pretty Clew Bay.
In town, the centre is dominated by the Doric column in the Octagon. Aside from the bustling town with its colourful buildings, there is a heritage centre to visit in which you can trace the history of the town and Clew Bay. Westport House is also worth visiting to view the stunning, period-style rooms and its beautifully landscaped gardens.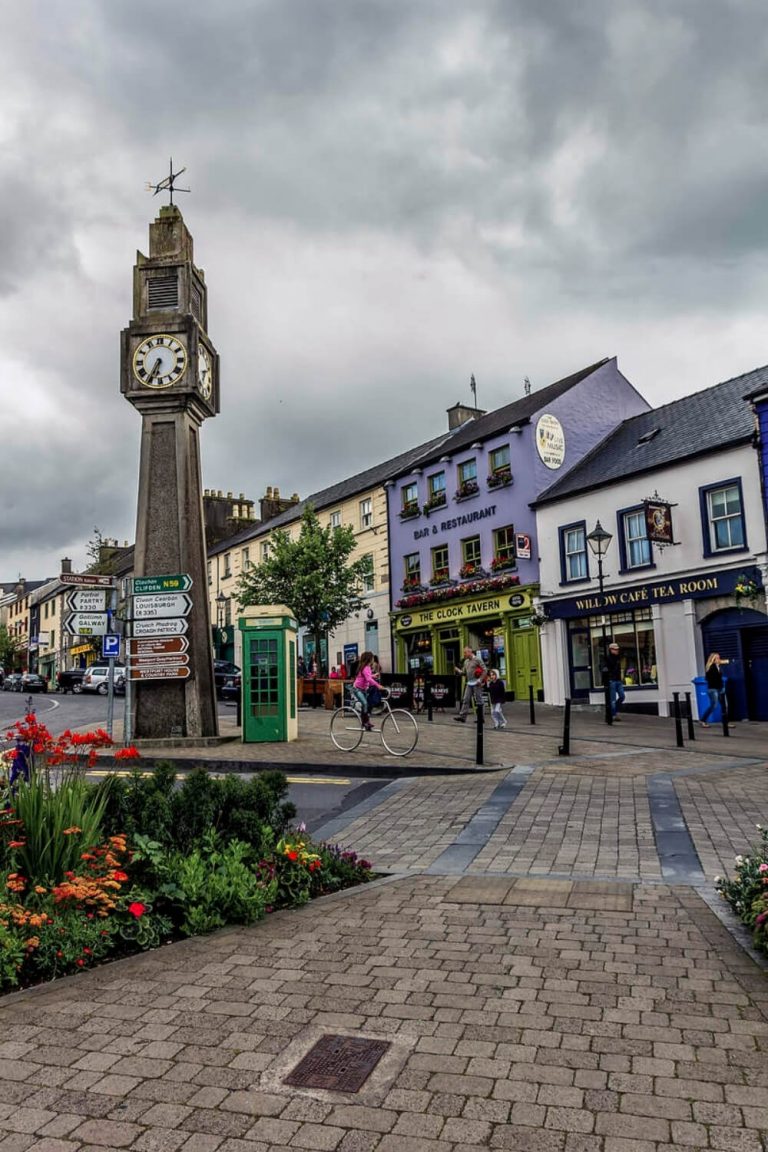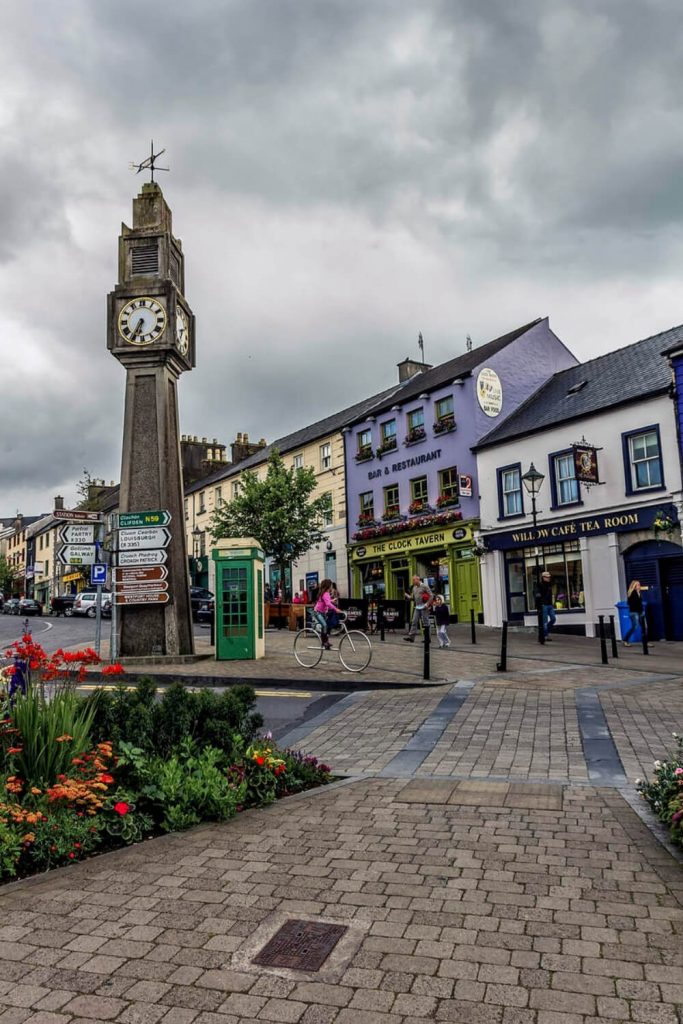 Westport is another popular stop along the Wild Atlantic Way and is an ideal base for exploring the nearby Achill Island, Ireland's largest island, just a 50-minute drive, or slightly further north the Ballycroy National Park.
Book into either the Wyatt Hotel (click here for prices and availability) or the Westport Plaza Hotel & Spa (find their latest prices and availability here).
Greystones, Wicklow
One of the best beach towns in Ireland to visit that is not far from the capital of Dublin is Greystones in County Wicklow. Located 25km south of Dublin and less than an hours' drive, Greystones was originally a fishing village and Victorian seaside town. Many Irish families flock to Greystones from the capital during the summer for day trips and week-long getaways.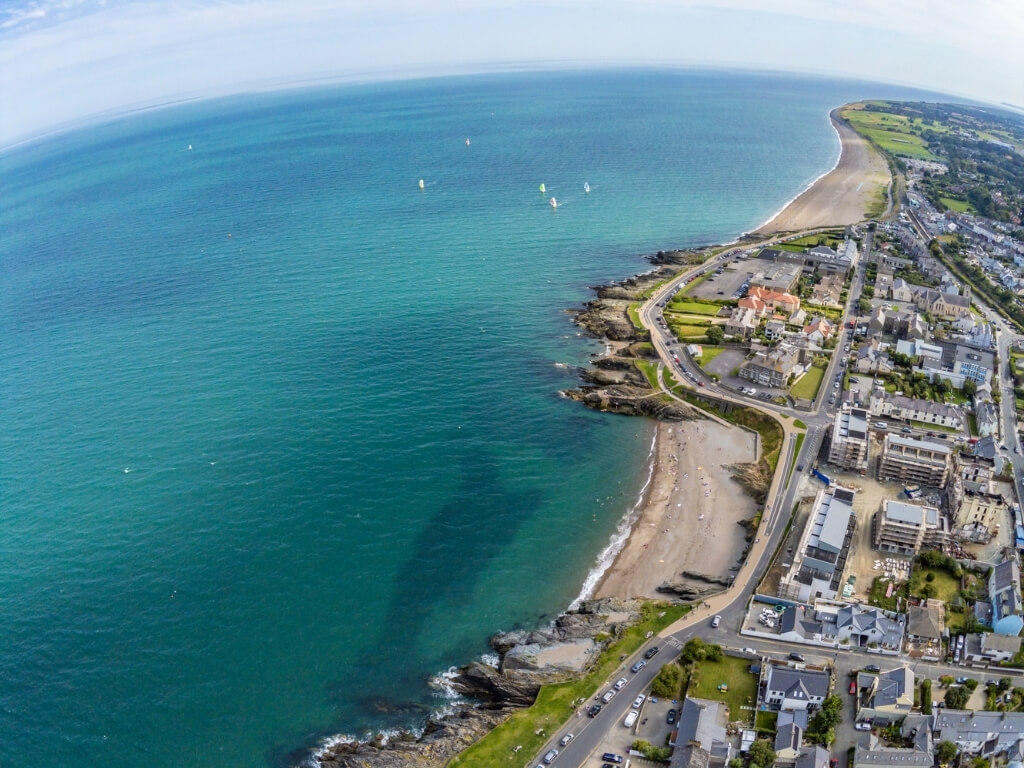 Apart from the sandy Blue Flag beach to the south of the town and the picturesque harbour, Greystones also has a pebble beach to the north from where it gets its name. Close to Greystones is Kilruddery House and Gardens, a must-visit in Wicklow, and Mount Usher Gardens is also worth a visit.
You can search for accommodation near Greystones by clicking here. Or you can splash out on a bit of luxury and stay at the Powerscourt Hotel, a short 20-minute drive from Greystones. Find the latest prices and availability for this hotel here.
Portmagee, Kerry
One of the best coastal places in Ireland to visit is Portmagee, a colourful coastal town located in County Kerry. Famous for the colourful harbour-side houses and buildings, Portmagee comes alive in the summer months with boat tours heading to the Skellig Islands.
This Iveragh Peninsula town is one of the gateways to Valentia Island, as well as a harbour town to access the Skellig Islands as mentioned. As well as day trips from the town, visitors can visit the Portmagee Chocolate Factory, hike the Kerry Cliffs and visit the Illaunloughan monastery.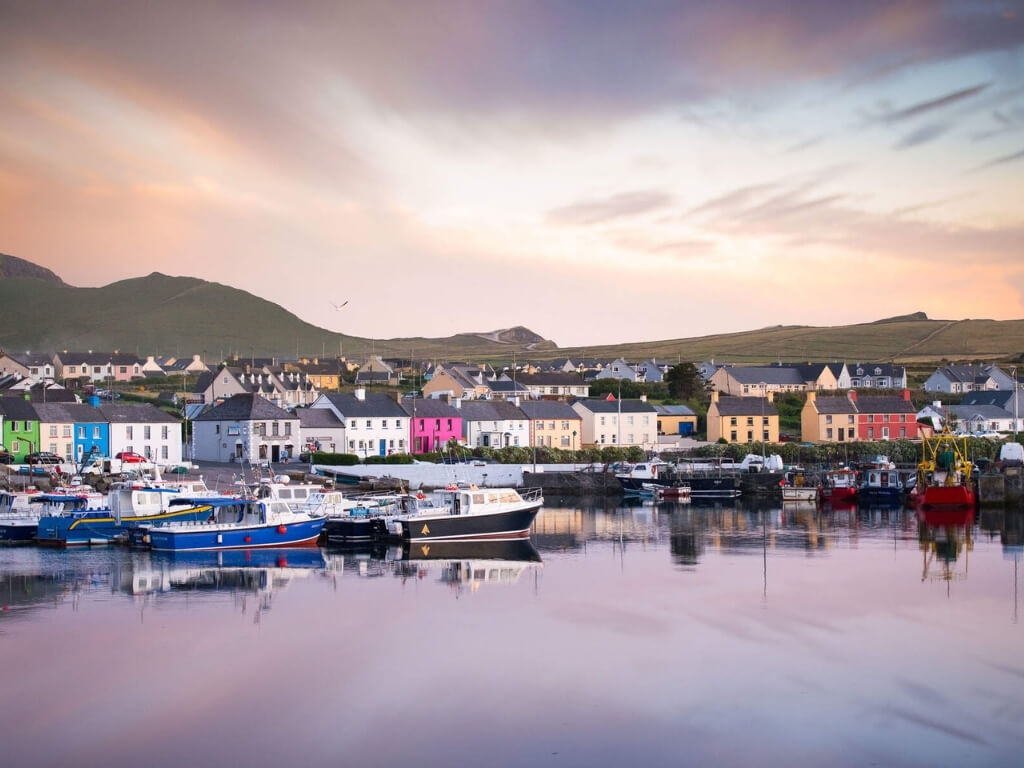 This small little coastal village is just off the Ring of Kerry, another part of Kerry worth exploring. There are a few places to stay in and near Portmagee. Click here to start your search. Alternatively, you could stay in Killarney, one-hour's drive from the coastal town and use it as your base to explore Portmagee and the Ring of Kerry.
Dunfanaghy, Donegal
One of the best seaside towns Ireland has to offer is the small town of Dunfanaghy in County Donegal. Located on the west side of Sheephaven Bay, Dunfanaghy is located in one of the most beautiful counties to visit in Ireland.
Dunfanaghy has a Blue Flag beach, Killahoey Strand that is generally quiet and safe for swimmers. Just north of the town, you can find Horn Head, where huge cliffs rise dramatically from the Atlantic to a height of 180m. There is also a World War II lookout nearby.
Visitors to the town can visit Dunfanaghy Workhouse, a former Famine workhouse which is a heritage centre today. For those who like the outdoors, Ards Forest Park is located just 12 minutes from the town and is a lovely place for a stroll. And just a short 20-minutes' drive from Dunfanaghy is the Glenveagh National Park.
Start your search for accommodation in Dunfanaghy here.
These are just a few of the best coastal towns in Ireland to visit. While most are located along the western Atlantic Coast, there are also a few gems along the eastern Irish Sea Coast. But each is as beautiful and charming as the next.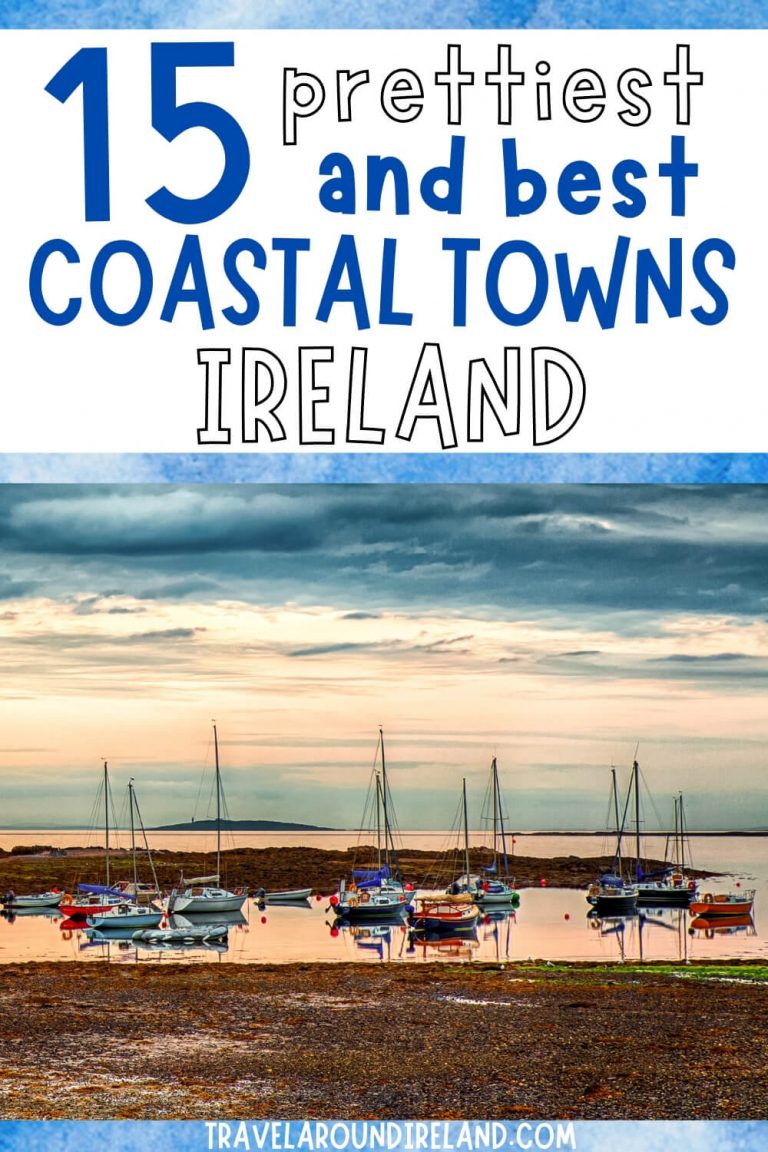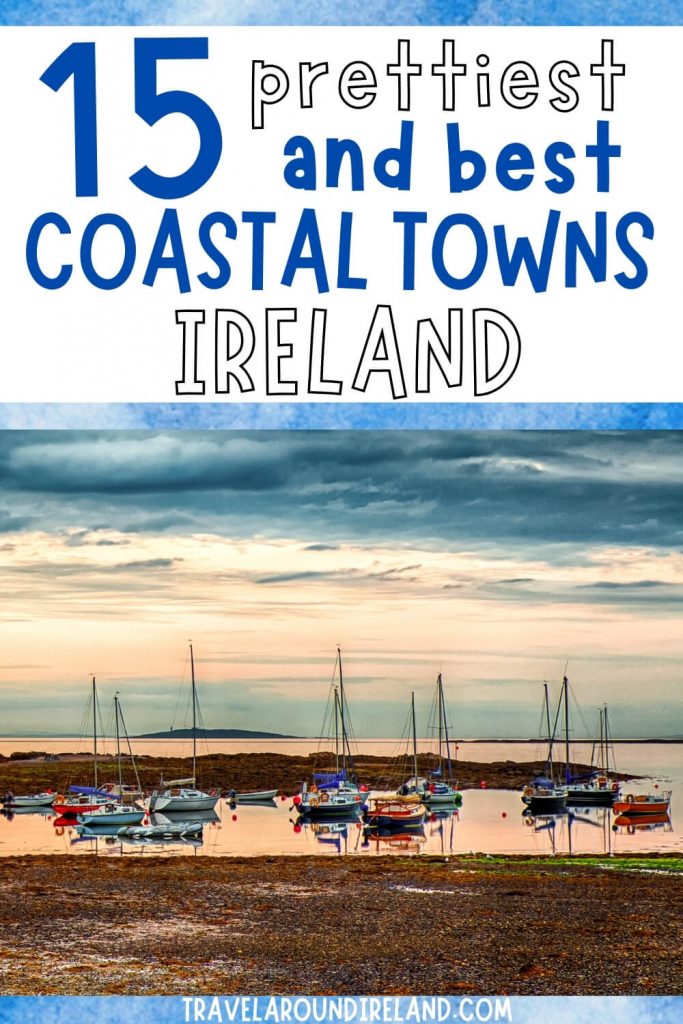 Related Posts