Want to know where to go rockpooling in Ireland? Discover the best places right here.
Rockpooling, or rock pooling, is an activity that people of all ages can enjoy. And whether you have kids or not, you can enjoy rockpooling in Ireland along its vast coastline. If you are interested in this activity, then discover exactly where to go rockpooling in Ireland and start planning your day out by the sea.
Rockpooling is a great activity to get you out and about in nature. Standing over a rock pool can surprise you and you never know what you might find lurking under the water. The Emerald Isle has a vast coastline which lends itself to a wealth of rock pools in Ireland.
Rockpooling is known as tide pooling in the US, so if you are crossing the Atlantic to visit Ireland and enjoy tidepooling, you can easily continue your hobby on the Emerald Isle. So, whether you are wondering where to find rock pools in Northern Ireland or want to know where to find the best rock pool Cork has to offer, this list might be useful to help you plan a fun day out on the coast.
Where to go rockpooling in Ireland (Republic)
Galley Head Lighthouse, Cork
Address: Dundeady, Rathbarry, Co. Cork
The rocky coastline at Galley Head Lighthouse lends itself to rockpooling and you might be lucky to spot different kinds of sponges, sea slugs and also hermit crabs. This and other Irish lighthouses can be great places to go rockpooling in Ireland if they have rocky shores around them that are accessible.
Hook Head Lighthouse, Wexford
Address: Hook Head, Churchtown, Co. Wexford
Just below the towering lighthouse of Hook Head in County Wexford is a flat rocky headland which has a great rockpool at low tide to explore. See if you can spot common prawns, limpets, crab, mussels and more among the rocks.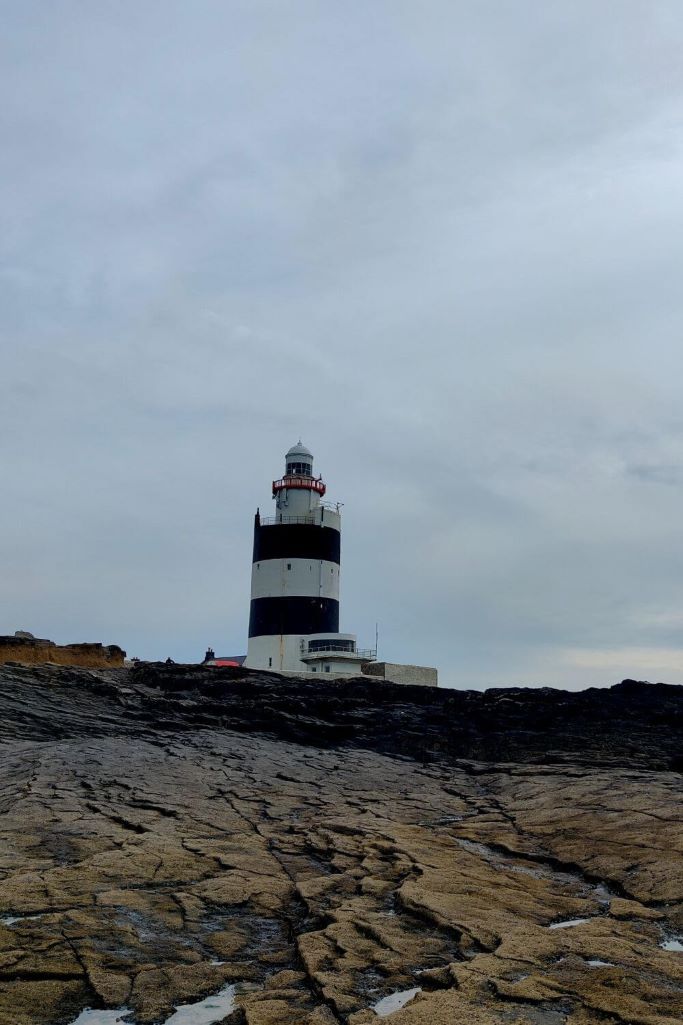 Valentia Island, Kerry
Address: Valentia Island, Co. Kerry
Valentia Island has many places to go rockpooling along its shores. Accessible from Portmageeoff the Ring of Kerry, you can find multi-coloured anemones, sea urchins and sea slugs.
Balcarrick/Donabate Beach, Dublin
Address:
One of the most popular beaches in Dublin is Balcarrick/Donabate Beach with its 3.5km of sand dunes and rock pools. As well as swimming, bathing, kayaking and walking this beach has lots of rock pools for visitors to explore at low tide.
Dunmoran Strand, Sligo
Address: Dunmoran, Co. Sligo
During low tide, you can find a number of rock pools at Dunmoran Strand in County Sligo. You might be lucky to see anemones, limpets, snails and other aquatic creatures.
Pollock Holes, Clare
Address: W End, Kilkee Upper, Co. Clare
The Pollock Holes near Kilkee in County Clare are a great place to go rockpooling. These are actually three natural pools that emerge from the rocks and are a popular place to go coastal swimming in Ireland. But they are also the perfect place to go rockpooling at low tide as they are often teeming with aquatic creatures. Go fishing for crabs and cobblers in these, or see if you can spot mussel, sea hare, and starfish among the seaweed.
Inishowen Peninsula, Donegal
Address: near Buncrana, Co. Donegal
In the northern outskirts of Buncrana in County Donegal, you will find lots of rock pools to explore for aquatic life. You'll also find rockpools to explore along Buncrana Strand and also at Stroove Beach on the peninsula. Buncrana Strand is ideal for those visiting Ireland with kids as there is a children's playground nearby and a seasonal ice cream van.
Skerries, Dublin
Address: RNLI Lifeboat Station, Harbour Rd, Townparks, Skerries, Co. Dublin
If you are looking to find somewhere to go rockpooling in Dublin, then there is a large area of rocky shore and rockpools beside the RNLI at Skerries, just in front of the car park. Ideal for those who have younger kids who don't want to walk too far from the car.
Owenahincha Beach, Cork
Address: Owenahincha, near Rosscarbery, Co. Cork
Located near Rosscarbery in County Cork, Owenahincha Beach is a horseshoe-shaped, Blue Flag beach that is an exposed stretch of beach divided by a rocky outcrop where you will find the rockpools. Beware of the incoming tide that can rise fast and catch you unawares.
Strandhill Beach, Sligo
Address: Shore Rd, Carrowbunnaun, Strandhill, Co. Sligo
Another great place to go rockpooling in Ireland is Strandhill Beach in County Sligo. Usually popular with surfers due to the waves, Strandhill also has rockpools to explore during low tide. Watch out for small fish among the seaweed in the pools.
Renvyle Beach, Galway
Address: Tully Beg, Co. Galway, Ireland
White Strand of Renvyle Beach near Clifden in County Galway is a mostly sandy beach with some rocky outcrops on both sides of the beach where you can find rockpools during low tide. You might be able to spot sea worms, crabs or sea snails.
Tramore Strand, Donegal
Address: Tramore, Co. Donegal
In Loughros Bay in County Donegal, you will find Tramore Strand, a long sandy beach with headlands on either side to enjoy walks on. This beach has lots of rock pools to explore, just be very careful to keep an eye on the tide times as this beach is on the Atlantic Coast with strong currents.
Blacksod Lighthouse, Mayo
Address: R313, Fallmore, Blacksod, Co. Mayo
Around the base at the back of the 150-year-old Blacksod Lighthouse in Belmullet in County Mayo is another place to go rockpooling in the West of Ireland. The rockpools around this lighthouse on the Mullet peninsula are only available at low tide, and if you are visiting this site, you must be aware of the times of the changing tides. You must also cross a short boulder area to reach them. However, those that venture here will be rewarded with creatures such as limpets, anemones, sea hares, crabs and barnacles.
Flaggy Shore, Clare
Address: Newquay, Co. Clare
Located between Newquay and Finavarra Point, Flaggy Shore is a shallow and rocky stretch of coast. As well as being of geological importance due to the rugged limestone surface and fossils, there are rockpools that are great for exploring. Find different types of crab among the seaweed as well as limpets. You can also enjoy wonderful views to the west and north across Galway Bay on a clear day.
Ballybrannigan Beach, Cork
Address: Ballybranagan, Co. Cork
If you are visiting the south coast of Ireland then head to Ballybrannigan beach, not too far from Ballycotton. This beach is a mix of sand and rock pools which are ideal for those wanting to explore what creatures lurk within. The rockpool area is located by turning right at the shore. See if you can spot the different crabs and periwinkles in the pools.
Seapoint Beach, Dublin
Address: Seapoint Beach, Co. Dublin
A popular swimming destination with locals, Seapoint is also somewhere in Dublin to go rockpooling. Located between Blackrock and Monkstown, the beach consists mainly of large rocks and sand, meaning at low tide there are rock pools to explore. These contain creatures such as anemones, barnacles, and limpets.
North Beach, Inishbofin, Galway
Address: Inishbofin, Co. Galway
The North Beach on Inishbofin Island in County Galway is a peaceful and quiet place to go rockpooling. A mixed sandy and shingle beach, it has some rocky outcrops where the rockpools are found during low tide. Discover periwinkles and cushion starfish among the seaweed.
St John's Point Lighthouse, Donegal
Address: St John's Point, Co. Donegal
The beach and rocky outcrops at St John's Lighthouse in County Donegal are a great place to go rockpooling, especially with kids. Let them grab their nets and magnifying glasses and see if they can spot the crab, worms, limpets, and starfish hiding in the water of the pools.
Ballydonegan Beach, Cork
Address: Ballydonegan, Allihies, Co. Cork
Ballydonegan Beach is located on the Beara Peninsula in West Cork and is another great place for rockpooling in Ireland. This relatively unspoiled beach is backed by mountain scenery and has a sandy inlet surrounded by rocky outcrops where you will find the rockpools at low tide. Spot serrated wrack seaweed, coral weed, crab, limpet and anemones.
Sláidín Beach, Kerry
Address: Dingle, Co. Kerry
Also known as Fungie's Place after the dolphin that lived in Dingle Bay, this mixed beach of sand and rocky outcrops has a few rockpools that can be explored at low tide. The pools are located on the right and in them you can see barnacles, periwinkles, seaworms, and different types of seaweed.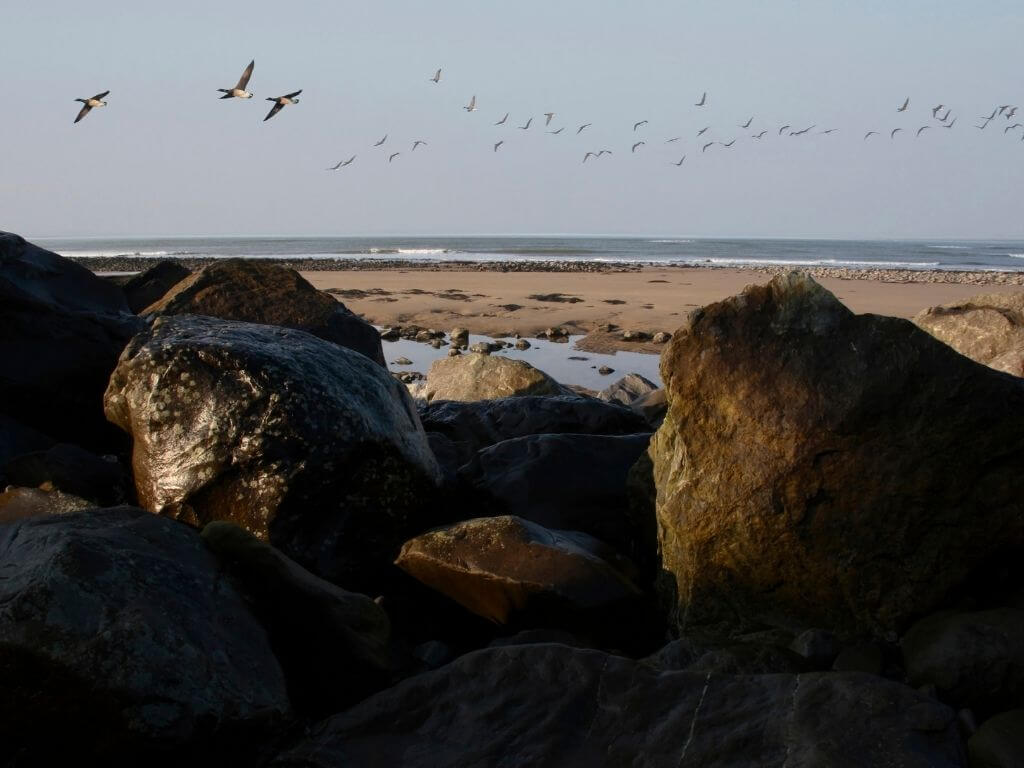 Enniscrone Pier, Sligo
Address: Carrowhubbuck South, Enniscrone, Co. Sligo
Popular with swimmers during high tide, Enniscrone Pier is also popular at low tide with those wanting to do a bit of rockpooling. Extending north from the pier, there is a large area of rock pools which become exposed at low tide. Hunters may find crab, sponge and different types of seaweed.
Where to go rockpooling in Northern Ireland
Dunseverick Harbour, Antrim
Address: near Portrush, Co. Antrim (UK)
If you are looking for some of the best rock pooling Northern Ireland has to offer, then Dunseverick Harbour is the ideal location thanks to it having one of the deepest natural pools in Northern Ireland. You'll find colourful kelp, sponges and crabs among the creatures hiding in the rock pools. Be careful when you visit, opting for when the tide if falling and leave before the turn of the tide.
Portballintrae Beach, Antrim
Address: Coleraine, Portballintrae, Bushmills, BT57 8US, Co. Antrim (UK)
Salmon Rock Beach at Portballintrae is a great place to find rockpools in Ireland that are ideal for wading through to find aquatic creatures and life. A small, shingle and sand beach with a rocky headland at the east entrance to Portballintrae provides 500m of rockpooling areas along the rocky shoreline. There are several pools at low tide to explore of various sizes and many will be filled with crabs so mind your toes! Be on the lookout for other creatures including anemones, sea hares and purple topshell sea snails among the colourful seaweeds.
Portrush Beaches, Antrim
Address: Portrush, BT56 8AF, Co. Antrim (UK)
The beaches at Portrush in County Antrim are ideal places in Northern Ireland to go rockpooling. As the tide goes out, plenty of shallow pools are left behind for adventurers to explore.
Crawfordsburn, Down
Address: Crawfordsburn Country Park, Bangor, BT19 1XJ, Co. Down (UK)
If you are looking to find some quieter rockpools in Northern Ireland, head to Crawfordsburn Beach located in Crawfordsburn Country Park. There are a number of rock pools filled with different creatures that kids will love exploring.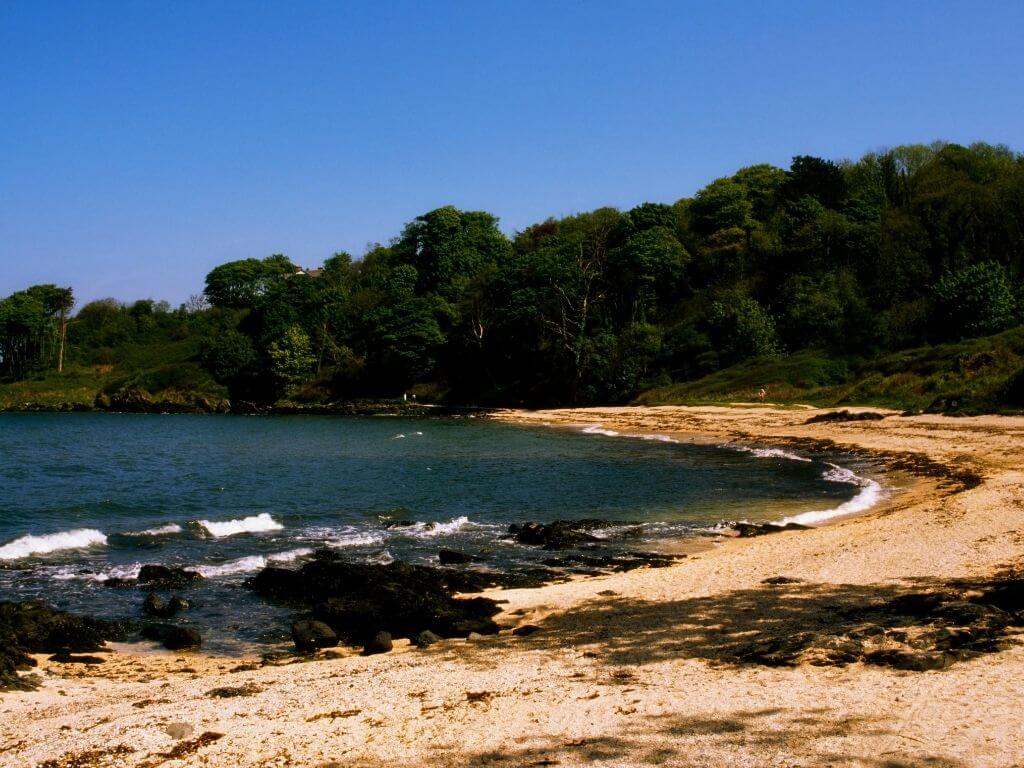 Ballygally, Antrim
Address: Ballygally, Larne, BT40 2QQ, Co. Antrim (UK)
At the southern end of the 300m of beach adjacent to Ballygally Village is where you will find Slipway Shore with cobbles and rocky outcrops which are ideal for rockpooling. Look out for lichens, different types of seaweeds, periwinkles and crabs.
Glenarm, Antrim
Address: Glenarm, Ballymena, Co. Antrim (UK)
On the northern end of the shore, just past the 'Coastguard Cottages' bus stop is an area ideal for rockpooling. Stretching for 250m northwards, you will find a combination of rocky outcrops and sandy areas, where you will find rock pools. Watch out for seaweed, crabs and maybe even squid!
Garron Point, Antrim
Address: Ballymena, BT44 0JU, Co. Antrim (UK)
Close to the town of Carnlough, you will find Garron Point and its classic intertidal rocky shore. This is the perfect habitat for rockpooling creatures to hide out during low tide. Sponge, shrimp and crabs are among the populous creatures here hiding among the colourful seaweed.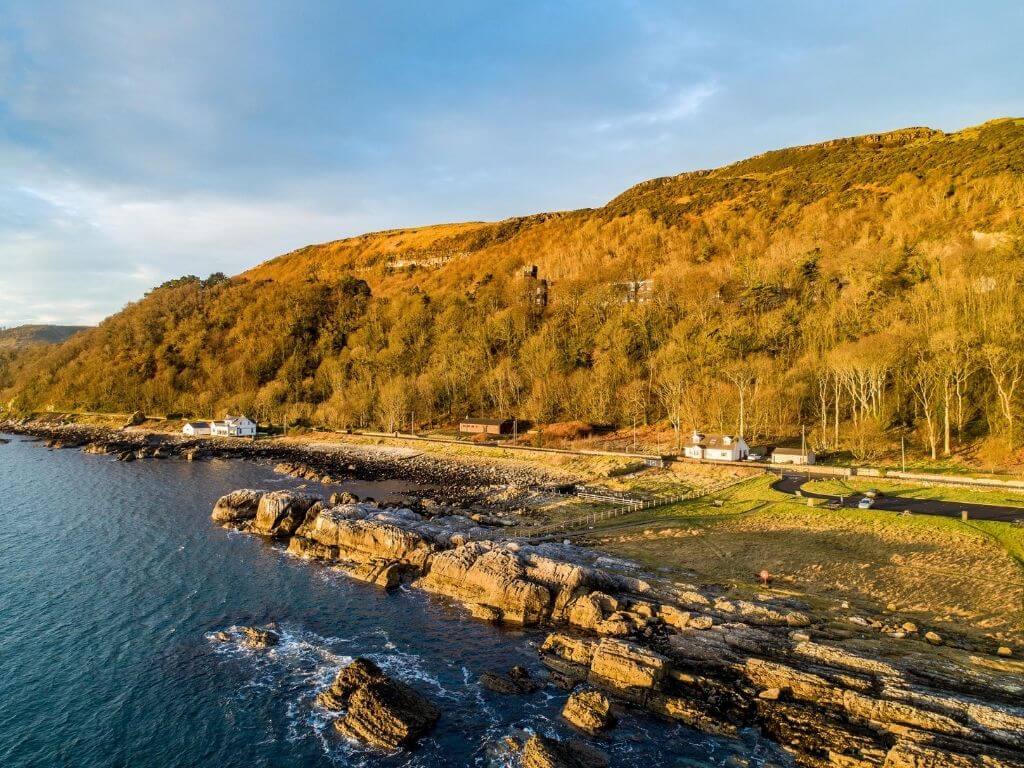 Cushendall Boat Club, Antrim
Address: Coast Rd, Cushendall, Ballymena, BT44 0QW, Co. Antrim (UK)
Rockpoolers can find great areas for rockpooling in the rocky outcrops in front of the Boat Club or 150m northwards along the front of Cushendall Caravan Park. Just be careful of swells and other shoreline users. The rocky intertidal area between the pier and the caravan park is comprised of bedrock with some good-sized rockpools. Search among the seaweed to see what dwellers are hiding among it.
Groomsport, Down
Address: 7 The Point, Groomsport, Bangor, BT19 6JN, Co. Down (UK)
Accessible from either Groomsport Harbour or Ballyholme Bay, Ballymacormick Pointis another spot for rockpooling in Northern Ireland. A popular place for walking, the rocky outcrop has rock pools at low tide that are home to crab, mussels, anemones and cushion stars.
Cushenden Caves, Antrim
Address: Ballymena, Co. Antrim (UK)
If you are looking for a sheltered place to go rockpooling in Northern Ireland, then head to Cushenden Caves. 70m of rocky shore and shingle provide plenty of opportunities to enjoy this past-time. Plus you can also explore the caves while you are there. As well as the usual rockpool dwellers, you may also come across fish such as shannies and pipefish. And starfish are also to be found in this location.
Pans Rock, Antrim
Address: Beach Pier Road, Ballycastle, BT54 6QS, Co. Antrim (UK)
Located at the far end of Ballycastle Beach and Marina is Pans Rock, where you can find rocky outcrops ideal for exploring at low tide. Be careful not to get caught out though as strong currents can run off the northern point here, especially on spring tides. The intertidal pools play host to plenty of creatures including anemones, crabs, shrimp, and more.
Rossglass Beach, Down
Address: Rossglass Rd S, Killough, Downpatrick, BT30 7RA, Co. Down (UK)
This large sandy beach stretches for over a mile, with the Mourne Mountains in the background. Its rocky outcrops lend themselves well to rockpools during low tide in which you might spot crabs, starfish and anemones among other creatures.
Ballintoy Harbour, Antrim
Address: Ballycastle, BT54 6NB, Co. Antrim (UK)
Ballintoy Harbour, located one mile north of the village, is a pretty harbour featured in Game of Thrones and is one of the best places to visit in Northern Ireland. Just offshore at the western beach are some rocky outcrops which expose rockpools during low tide. You can expect to see crabs of various types, periwinkles, and more.
Ramore Head, Antrim
Address: Portrush, BT56 8BD, Co. Antrim (UK)
One of the most convenient rockpooling locations along the Causeway Coastal Route in Northern Ireland can be found at Ramore Head in County Antrim. There is easy access to the shoreline where you will find expose rocky outcrops during low tide. Anemones and crabs are among the creatures to be found in the rockpools here.
Port Na Happle, Derry
Address: near Portstewart Strand, Co. Derry (UK)
The rocky shore that separates Portstewart Strand from the Promenade provides great rockpooling opportunities. Different types of crabs and sea squirts are among the creatures to be found in rock pools here.
Strangford Lough, Down
Address: around Strangford Lough, Co. Down
Along the coastal areas of Strangford Lough in County Down, there are plenty of rocky outcrops that are exposed at low tide that are perfect for rockpooling. Two of the best areas for exploring rockpools are Ballyhenry Island and Kearney Village. See what creatures you can find lurking under the surface.
The essential guide to rockpooling in Ireland
Where to find rockpools?
Ireland has a vast and varied coastline, and any rocky shore can lend itself to rock pools. Intertidal zones on rocky shores are the best. This is the space between the highest point the tide comes into and the furthest it goes out.
When the high tide is in, these areas get covered with water. When the tide turns and goes out, shallow pools of water are trapped between all the rocky outcrops and features, creating rock pools. Within these pools, you will find a host of creatures that can survive the constant ebb and flow of the tides.
Avoid pools where you need to scale cliffs or dangerous rocks to reach them and avoid any that might be cut off by the rapidly rising tide.
The best times to visit rock pools
You need to be very careful when visiting rock pools and rocky shores. You need to keep an eye on the tide times to ensure you visit only when the tide is mostly out. Be careful not to visit too close to the changing of the tide or get caught out by a rising tide. There is a useful website called Tide Forecast which can help you choose the best time to visit rockpools in Ireland. Just insert the town or nearest one to the location search box and click search.
You should also try to visit on a clear and still day. Little wind will mean the water remains calm and clear, making it easier to spot the creatures in the rock pools.
What do you need to bring to go rockpooling in Ireland?
You don't need any fancy or complicated equipment to enjoy this past-time in Ireland. Ideally, you will want waterproof shoes (wellies are ideal), and waterproof trousers or overtrousers if you don't want to get wet or cold. Ensure your footwear are also grippy on wet and slippery surfaces.
A bucket and magnifying glass might be useful if you want to take a close look at creatures to study them. Just remember to place any creature you fish out with your bucket back where you found them.
Try not to bring nets, as these can be damaging to delicate creatures.
What can you expect to see in rockpools in Ireland?
Rockpools in Ireland have a plethora of creatures, and you can expect to find at least one of the following:
Crabs
Starfish
Anemones
Sea urchins
Shark eggs (also known as mermaid's purse)
Jellyfish
Shrimp
Sea Snails
Limpets
Seaweed (lots of this)
You may need to carefully move seaweed aside to spot creatures which take cover under or among the seaweed but be careful not to disturb them too much. While you will probably find creatures in most pools, those closest to the water's edge are where you might find more creatures hiding under rocks. Be careful to replace any rocks you move.
Final thoughts on rockpooling in Ireland
So, if you want to enjoy some rockpooling in Ireland, these are just some of the great places to enjoy this outdoor activity, whether as a family, couple or group of friends. And if you know of any other areas that should be added to the list, let us know so we can include them.
Find more ideas for days out in Ireland: