Wondering what are the best seaside towns in Ireland to visit? Then look no further. With my local's knowledge of Ireland, I've put together my top picks of seaside towns to visit in Ireland so you don't need to go look anywhere else.
With over 3500 miles of coastline (over 6000km), the Emerald Isle and its inhabitants are never far from the sea. And with a long coastline comes lots of places to enjoy the sea and all that comes with it. The coastline also provides plenty of holiday opportunities for the Irish.
When it comes to seaside towns, Ireland has plenty. This post details my top picks for great seaside towns on the Emerald Isle to enjoy, whether you are based in Ireland and looking for an Ireland staycation by the seaside, or if you are looking to include some time by the sea in your Ireland itinerary.
Best Seaside Towns in Ireland
What springs to mind when you hear the word "seaside"? Sand, sea, kids playing on the shore, ice-creams, amusements? For me, it is all those things during summertime. Let's face it, Ireland is cold and dreary in winter but can be an amazing place to be in summer.
Map of the best seaside towns in Ireland to visit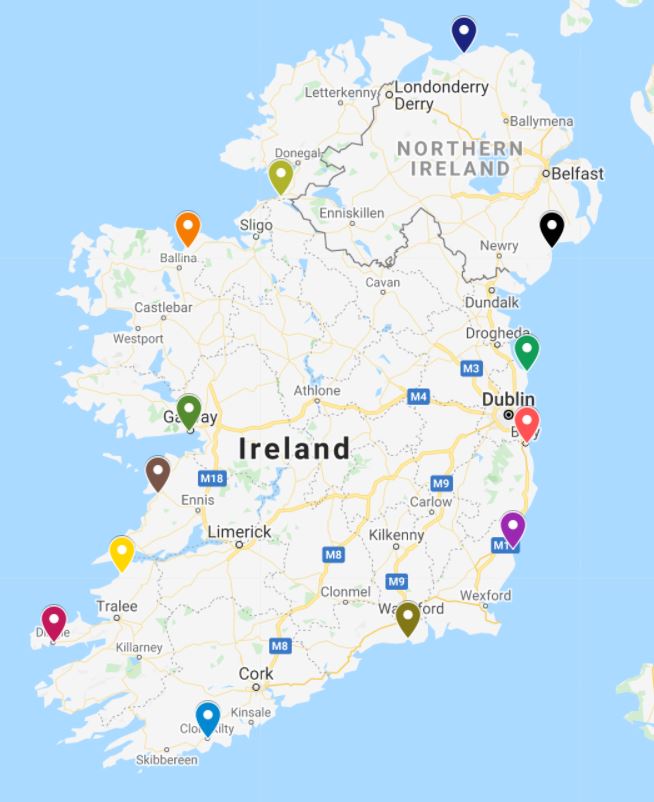 If you have been wondering "what are the best seaside towns near me" in Ireland, then the following options are for you, no matter whether you are based in the north, south, east or west of Ireland.
As mentioned already, no matter where you are in Ireland, you are never more than 100 miles (160km) from the sea. Even County Laois, the most inland, land-locked county of Ireland is still no more than 100 miles from the seaside. This means that in approximately 1-1.5 hours you can get your fill of sea air along Ireland's coast. Let's look at which are the best seaside towns in Ireland.
Tramore, Waterford
Many Irish families will tell you that the best seaside town Ireland has to offer is Tramore in County Waterford. Located south of Waterford City, this Irish seaside town is hugely popular with Irish families to flock to it during the summer.
One of the biggest draws is the 3 miles (or 5km) of long sandy beach that dominates the shoreline of the town. This lends itself to surfing, swimming and the all-important building of sandcastles.
Tramore has an amusement park with all the traditional amusements you would associate with a seaside town. Think trampolines, dodgems, bumper cars, and my favourite as a child, the waltzers. If the weather isn't great you can enjoy some indoor fun at Splashworld, an indoor aquatic adventure playground.
Tramore also has a racecourse, golf course and lies along Ireland's Ancient East. You can travel the 15km north to explore Waterford City or hop onto the Waterford & Suir Valley Railway for a train ride. Tramore is also ideally located for visiting the Copper Coast Geopark.
There is lots to see and do in and around Tramore, plenty of restaurants, cafes and pubs and also lots of accommodation options.
Ballybunion, Kerry
One of the best seaside villages in Ireland is located off the Wild Atlantic Way in County Kerry. Ballybunion is another popular Irish seaside town and is one where I holidayed with my family as a child. I vividly remember the long stretches of soft sand when the tide went out and the freezing cold water of the Atlantic Ocean.
There are two beaches at Ballybunion, Ladies and Men's which is where the different sexes swam on the separate beaches, and another called Long Strand with 3.2km of sand. As well as swimming, paddling and sandcastle building opportunities, surfing is another popular activity on the beaches.
Ballybunion has a great golf course overlooking the Long Strand, an outdoor children's playground, a medieval castle and a cliff path walk along which is said to be steeped in history and folklore.
Ballybunion also has all the seaside amenities you come to expect including cafes and restaurants, amusement arcades, and plenty of places to get ice cream. There is also an indoor leisure centre with a heated pool if the weather isn't great outside.
Aside from the many things to see and do in this seaside town, there are plenty of accommodation options including caravan parks, hotels and B&B's.
Skerries, Dublin
If you are looking for seaside towns near Dublin, Ireland then Skerries is one to head to. Located 33km north of Dublin City Centre, Skerries was a quiet fishing harbour town that has become popular for seaside days out for the inhabitants of the capital city of Ireland.
The main attraction for visitors to Skerries is the 2.5km South Strand where visitors enjoy kitesurfing, paddleboarding, surfing and swimming.
Visitors to Skerries can also enjoy seafront trails and woodland walks, and Ardgillan Castle, a large 18th-century country house that has rolling gardens with sea views. There is also a great golf club and Skerries Mill, a windmill, is also worth visiting.
In the harbour area of this town, you will find excellent restaurants serving great seafood, traditional fish and chips shops, and lots of places for ice cream. Children can also enjoy a spot of crabbing and if you are lucky you might spot some grey seals too.
Skerries is an ideal place to visit if you are in Dublin and looking for a day out at the seaside.
Bray, Wicklow
One of the best seaside towns to visit near Dublin is Bray. Bray is one of the best seaside towns in Wicklow and is another popular destination for Dublin residents who are looking to enjoy a day at the seaside with family and friends.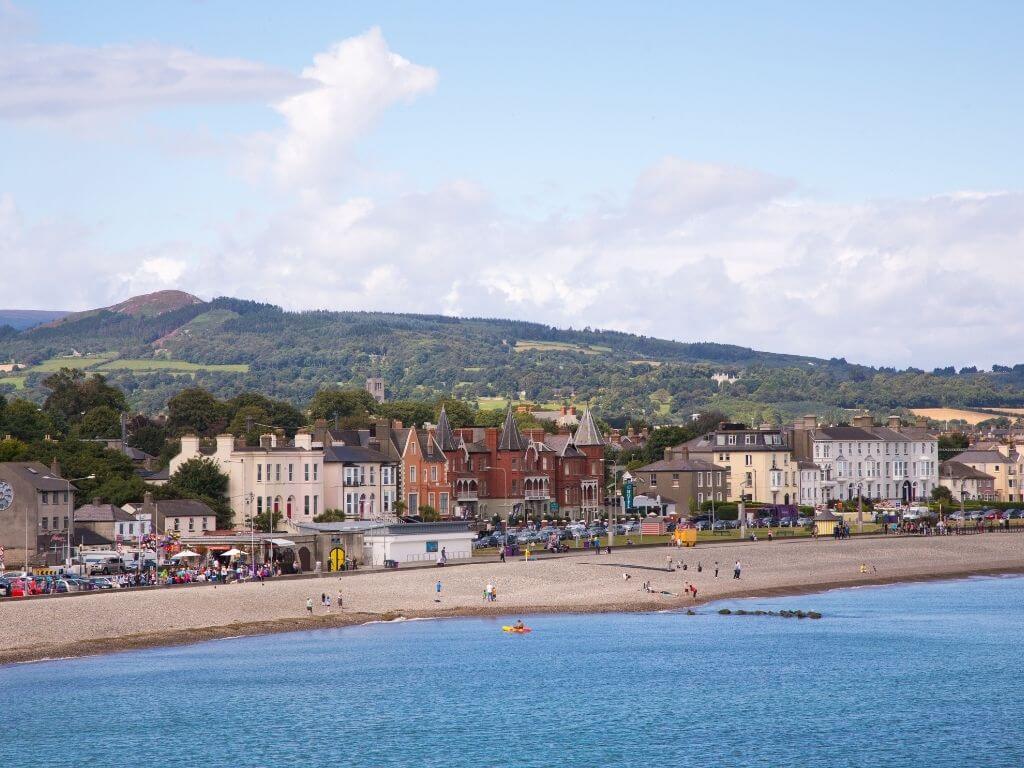 Located less than an hour south of the centre of Dublin City, either by car or DART (train), Bray has plenty to keep those who visit entertained and happy.
The beach at Bray is a mixed sand and shingle beach but still offers families plenty of chances to dip their toes in the cold Irish Sea waters. The long beach is backed by a promenade which is lovely to walk along.
The south end of the promenade has all the usual seaside amusements, and there are plenty of cafes and restaurants for meals, including the obligatory fish and chip and ice-cream shops.
Families visiting Bray can discover the wildlife of the Irish waters at the Sealife Aquarium, which artists may enjoy a visit to the Mermaid Arts Centre. And for those who love the outdoors and hiking, why not take a trip up to the top of Bray Head, something I did in my teens when I was much fitter. The views across Dublin Bay and south along the Wicklow coast are worth it.
Bray has plenty of accommodation options, with many guesthouses along the seafront, or you could stay in Dublin and take the DART out for a day trip.
Portrush, Antrim
If you are in the north or heading that way and looking for great seaside towns, Northern Ireland has a few that are not to be missed. And one of them is Portrush in County Antrim.
This seaside town in Northern Ireland is popular with holidaymakers during the summer thanks to it having not one, not two, but three sandy beaches. These are among the best beaches in Ireland and are great for summer fun, swimming, surfing and one even hosts an air show annually.
As well as the beaches you'll find a championship golf course, and cliff top walks.
Portrush also has plenty of places for eating and drinking, and you'll find plenty of restaurants serving great seafood. The obligatory fish and chip shops are aplenty too.
Portrush is also ideal for exploring the Causeway Coastal Route along which you'll find the Giant's Causeway and Dunluce Castle. You can also enjoy sea tours along the coast from Portrush.
There are plenty of places to stay in and around Portrush, so if you are looking for one of Northern Ireland's best seaside towns, head to Portrush in County Antrim.
Bundoran, Donegal
One of the best seaside towns in Donegal is Bundoran. This seaside town is a quiet place in the off-season but come summer it is alive with families enjoy their holidays and days out.
Bundoran also hosts one of the best beaches in Ireland and is a great stopping point in County Donegal along the Wild Atlantic Way. There are two beaches in Bundoran, with Tullan Strand being 3km of golden sand backed by cliffs and rocks with interesting places to visit along the clifftop walks including the Fairy Bridges and Wishing Chair. Note that Tullan Strand is not recommended for swimming due to strong currents, although it is popular with experienced surfers. That said, it is a great place for a stroll.
You'll find amusements and rides galore at Bundoran Adventure Park and a great Ferris wheel to enjoy. If the weather isn't great, then Bundoran has a great indoor aqua adventure centre, Waterworld.
Bundoran also has a golf course and angling opportunities for any fishing enthusiasts. There are plenty of places to eat, drink, stay, and the Visit Bundoran website is a great resource for anything looking to visit this great seaside town in Ireland.
Courtown, Wexford
One of the best seaside towns Ireland has is Courtown in County Wexford. The scene of quite a few of my childhood family summer holidays, this is another popular town for Dublin families during summer.
Courtown is located close to Gorey and is arguably the best seaside town in Wexford. The town itself has a small harbour and the beach is long and sandy but narrow in parts, widening to the north end. This beach was where my family spent many a day on our summer holidays in Wexford.
Courtown also has an amusement park, a great adventure centre called Pirates Cove that kids will love, an indoor leisure centre for when the weather is a bit rubbish outside, and a forest park. Other activities to enjoy include golf, and boating.
For the adventurous, try the Gravity Extreme Adventure high ropes. There is also a Seal Rescue Centre close to Courtown, and the Glenavon Japanese Gardens are located just a short 6-minute drive from Courtown.
As Irish seaside towns go, Courtown will always be one of my personal favourites.
Lahinch, Clare
One of the most pretty seaside towns in Ireland is found in County Clare. Lahinch, located less than 15 minutes from the Cliffs of Moher, is a small town located on Liscannor Bay.
This lively little Irish seaside town has a 2km long beach with golden sands which is popular with walkers, surfers, swimmers and even canoeists. Other activities on offer include freshwater fishing, sailing and kite-surfing.
There are a few children's playgrounds to be found in Lahinch for those visiting Clare with kids.
Golfers will love Lahinch thanks to its not one, but two championship golf courses. There is also an indoor entertainment centre at the end of the promenade with a swimming pool for days when the weather is rubbish.
There are plenty of cafes, restaurants and pubs for visitors to the town, and also lots of accommodation options in the town and surrounding areas.
Newcastle, Down
One of the best seaside towns in Northern Ireland is Newcastle in County Down. Located one hour from both Belfast and Dundalk (in the Republic), this is a popular beach and seaside destination in Northern Ireland.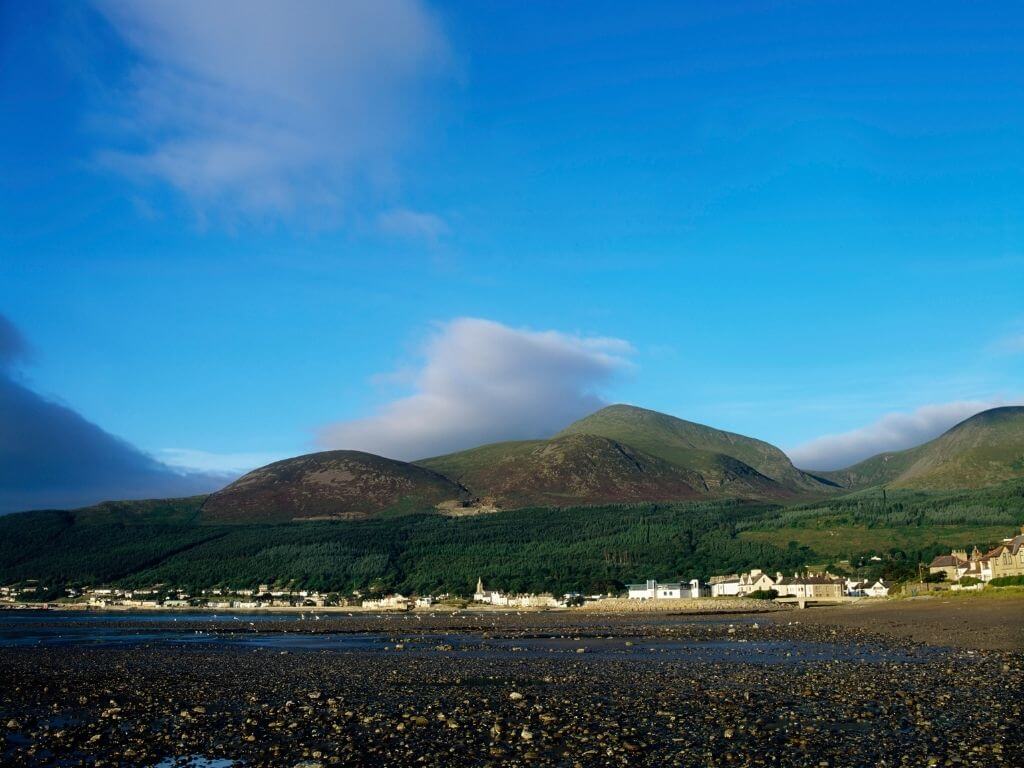 The beach at Newcastle is a mixed sand and pebble beach, 2.5km in length. It is backed for the most part by a promenade and the town where you will find amusements, shops, restaurants and other attractions.
What makes Newcastle amazing is the backdrop to this Northern Ireland seaside town. The town is backed by the Mourne Mountains.
Nearby you will find the Tollymore Forest Park, and the Murlough National Trust Nature Reserve, ideal for those that love the outdoors but not the beach. There is also a golf course at Newcastle for fans of the sport.
As with all seaside towns, you'll find lots of accommodation options as well as pubs, cafes and restaurants.
Enniscrone, Sligo
One of the best Irish seaside towns along the west coast is Enniscrone in County Sligo. Also called Inishcrone, this seaside town boasts a 5km long sandy beach backed by dunes. This seaside town is one of Ireland's most popular family holiday seaside resorts.
As well as swimming and sand-castle building, the beach is popular with surfers and paddleboarders, as well as horse riders.
The town also has a golf course, castle, pier and sits on one side of Killala Bay. There are also seaweed baths, for those who want to come away relaxed and refreshed. And when the weather is typically Irish outside, visitors can head to the Waterpoint Aqua Park where you'll find heated indoor pools, jacuzzis and water slides.
As you will expect, the town has lots of cafes, restaurants, pubs and accommodation options including a campsite.
Salthill, Galway
When it comes to Irish seaside towns, one of the best has to be Salthill in County Galway. Located just 3km from Eyre Square, Salthill is one of the best places to visit with kids in County Galway.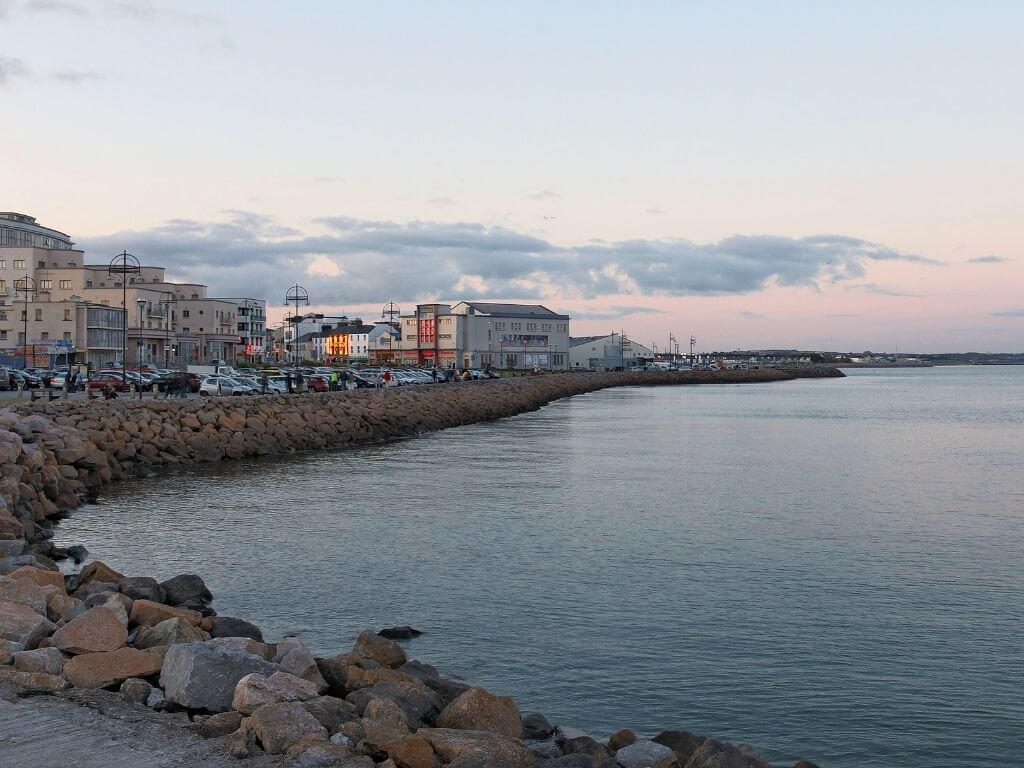 Salthill has numerous sandy beaches backed by a 3km long promenade overlooking Galway Bay. The beaches are ideal for walking and swimming, with each separated by rocky outcrops, ideal for rock pooling activities.
Salthill also has a great indoor leisure centre called Leisureland with indoor swimming pools, mini-golf and an amusement park open during the summer months. There is also the Atlantaquaria, the National Aquarium where you can learn about the seas surrounding the Emerald Isle and the wildlife you can find in the waters.
Salthill also has a fun park, indoor family leisure and entertainment centre and you can take boat tours of Galway Bay from Salthill.
Salthill is awash with accommodation options and has plenty of pubs, cafes, and restaurants as well as plenty of places to get your obligatory fish and chips and ice cream after a day spent on the beach.
Dingle, Kerry
If you are going to be visiting Kerry and are wondering "are there any nice seaside towns near me?", then you are in luck! Dingle, a small port town in County Kerry on the Dingle Peninsula is a great seaside town if you are not really looking for the beach. That said, one of the best beaches in Ireland, Inch Beach is located just 25 minutes east of the harbour town.
Dingle is located along the Wild Atlantic Way and is not far from the Ring of Kerry. Walking and hiking are popular activities as are boat tours from the harbour. The Slea Head Scenic Drive is easily accessed from Dingle too.
Activities in and closer to the town include visiting Dingle Crystal, the Dingle Distillery and Oceanworld Aquarium. Dingle has a food festival in October but if you cannot wait until then you can enjoy lots of amazing food in the restaurants, pubs and cafes. There are plenty of places for fish and chips and the best ice cream in Ireland can be found at Murphy's Ice Cream in the town.
Clonakilty, Cork
If you are looking for great seaside towns, Cork has a few on offer and one of the best is Clonakilty. Located 55km south of Cork City, Clonakilty is a multi-award-winning, cosmopolitan seaside town in southern Ireland in the heart of West Cork.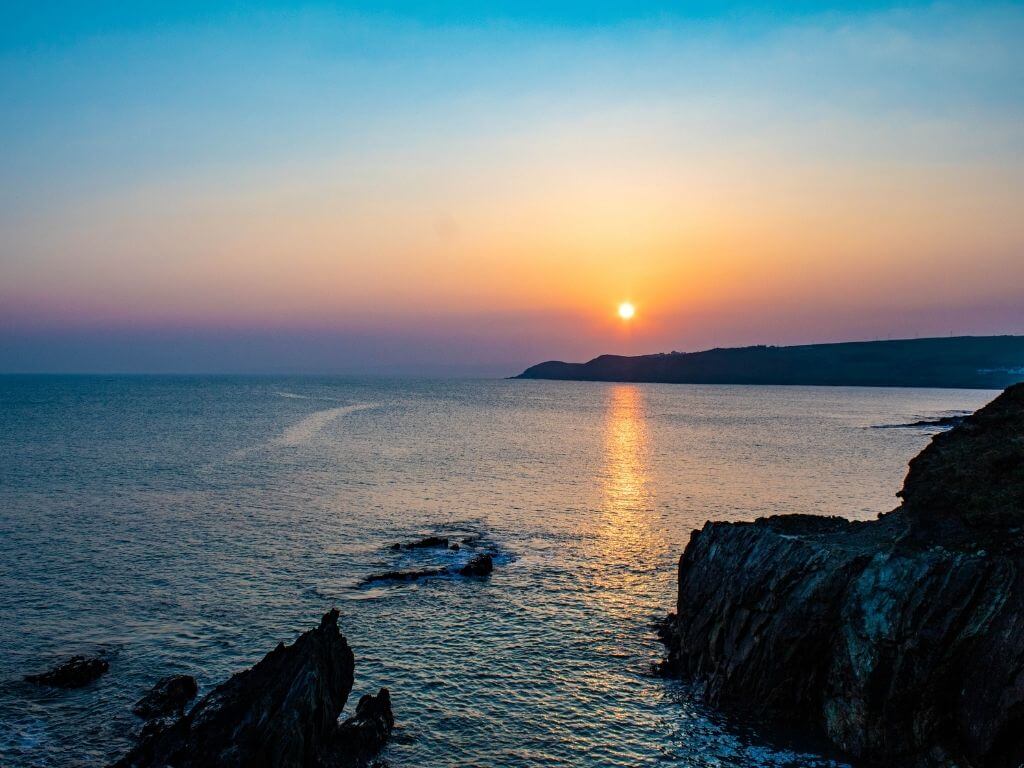 Close to the town you will find many sandy beaches including Inchydoney, an amazing Blue Flag beach hugely popular with families during summer.
Another thing to enjoy in Clonakilty is to discover the life and times of Michael Collins who hailed from the town. There is also the West Cork Model Railway, Lisselan House and Gardens, and the Clonakilty Distillery. There is also some beautiful clifftop walks near Clonakilty with breathtaking views out to the Celtic Sea.
Clonakilty also has a park adventure centre, you can take wildlife and boat tours of the coast from the town, and there is a visitor centre at the pudding factory where the famous Clonakilty black and white pudding (my personal favourites) are made.
Visitors to Clonakilty will have plenty of eating options among the many restaurants, cafes and pubs and there is no shortage of places to stay in and around the town.
Final thoughts on seaside towns in Ireland to visit
When it comes to towns and the seaside, Ireland has plenty of options. Whether you are looking to swim, build sandcastles, visit amusements, or wander in and out of quaint pubs and cafes, these are among Ireland's best seaside towns. While this is not an exhaustive list, these are some of the must-visit seaside towns in Ireland.
Read more about visiting Ireland and its coast: