If you are considering a trip to the Emerald Isle and are wondering if April is a good month to visit, then you've come to the right place. With my insider knowledge of April in Ireland, you will discover why this month can be the perfect time to discover and explore the Emerald Isle.
April in Ireland is an ideal time to take a trip and explore the beautiful Emerald Isle. From lush green pastures to rolling hills, quaint villages and stunning coastal views, there's something for everyone to enjoy.
Along with its incredible scenery, April brings milder temperatures and a bit more sunshine – perfect for outdoor adventures!
If you're looking for a bit of culture, Ireland has plenty to offer. From ancient historical sites to local festivals and traditional music sessions, you can easily find something that appeals. Plus, with plenty of accommodation options available, you won't have any trouble finding the perfect spot for your stay.
So if you're considering visiting Ireland in April, here are just a few of the great things you can look forward to enjoying along with some hints and tips for this month in Ireland.
*This post contains affiliate links, which may include Amazon affiliate links. To read more about affiliate links, please visit my Disclosure Policy page.
All you need to know about April in Ireland
Weather in Ireland in April
First on many people's minds when it comes to spending any time during April in Ireland is the weather. Will it be raining? Will it be cold? How much daylight will there be?
March in Ireland is typically a transition month as the country moves away from winter and further into spring.
And as a result, April can be quite a pleasant month for visiting Ireland. However, it can still be a bit hit-and-miss when it comes to April showers.
April in Ireland weather-wise is milder and drier than the preceding months. Visitors can enjoy more sunshine and more daylight hours ranging between 12 and 15 hours. Much better for exploring outdoors.
April, despite its showers, is a month with some of the least rainfall, although you should still go prepared. April has been known to have up to 22 days of rain.
Temperature-wise, April in Ireland is starting to warm up with average daytime temperatures of 11-13˚C/52-55F, and night temperatures around 5˚C/41F. It can still feel cool so don't forget something for keeping warm.
You can read my article about the best time to visit Ireland if you want to know when the best weather is.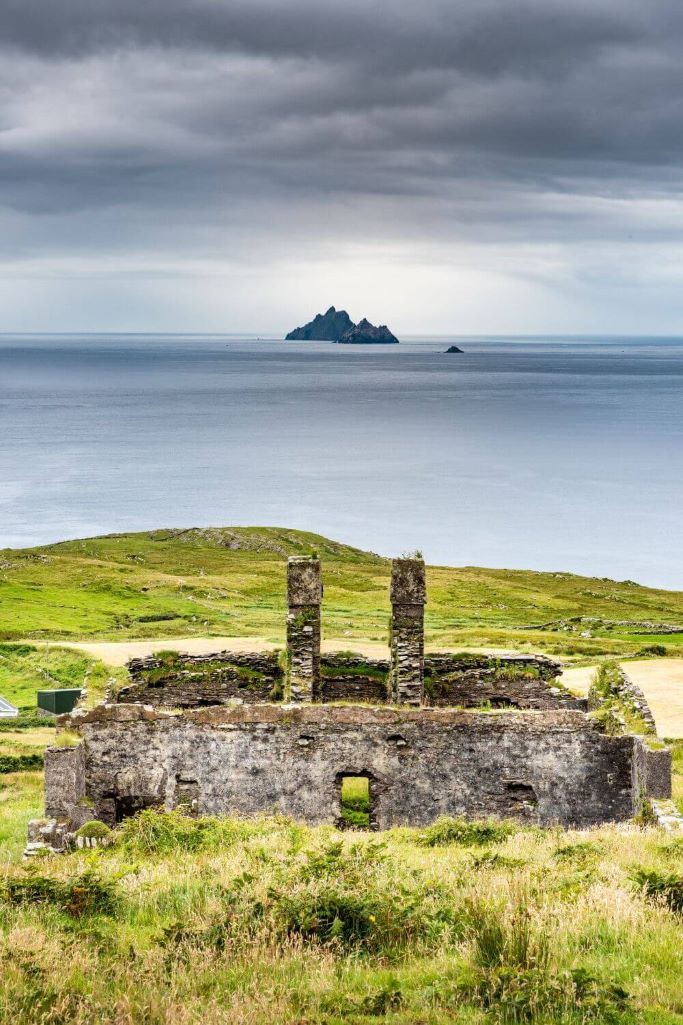 Costs and crowds during April in Ireland
April is a pleasant month to visit Ireland when it comes to crowds and costs. Because it is considered the start of the tourist season, crowds are fewer than during summer, and prices of accommodation and flights reflect this.
Although Easter typically falls at the beginning of April, this doesn't mean there is a sudden and huge influx of visitors to the island.
Accommodation options are plentiful, all the tourist attractions are open, and with sunnier, warmer, longer days, sightseeing and exploring can be an extremely enjoyable experience during this month in Ireland.
Places to visit in Ireland in April
If you are going to visit the Emerald Isle in spring, you are probably wondering what are the best places to visit in Ireland in April. while you can generally visit everywhere in Ireland at any time of the year, some places become more inviting to visit during this warmer spring month.
Here are some of the best places in Ireland to visit in April.
West Coast of Ireland
Visiting the West Coast of Ireland during winter can be a bit of a challenge.
The region is known for its harsh weather, with storms and gales battering the landscape, heavy rains and powerful waves crashing along the coastline. Temperatures can also drop significantly compared to the East, and if you're not prepared with appropriate clothing, it can be an unpleasant experience, to say the least.
However, this part of Ireland becomes more hospitable during April thanks to warmer, drier days.
And along the West Coast of Ireland, you will find an amazing driving route that you can road trip along; the Wild Atlantic Way.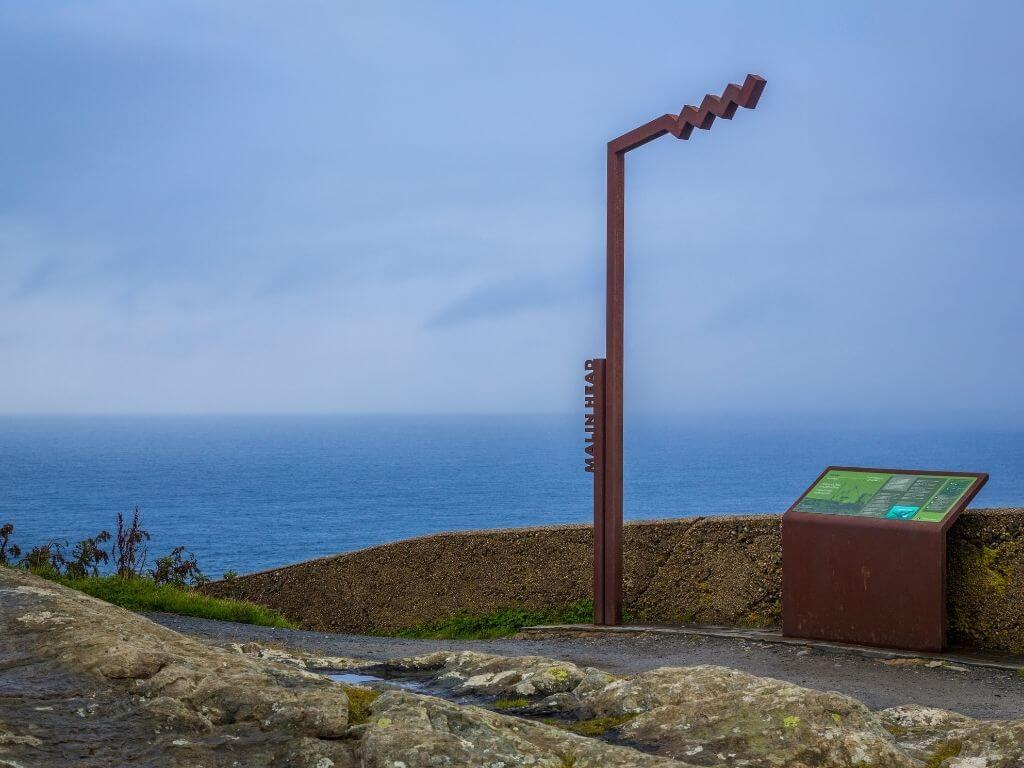 The Wild Atlantic Way is a 2,500km coastal drive winding its way along Ireland's western seaboard. It's the longest-defined coastal driving route in the world and it takes you on an unforgettable journey of discovery, showcasing all that Ireland has to offer.
Along its route, you will find spectacular scenery, rugged coastlines, unique experiences, wonderful wildlife, and fascinating history. The Wild Atlantic Way travels through nine counties and three provinces, where you can explore quaint villages, ancient sites, rolling hills, and stunning beaches.
Along the way, you'll discover amazing attractions such as the Cliffs of Moher in County Clare and the Slieve League in Donegal. And April is a great time of year to start exploring it while there aren't as many crowds as in summer.
Learn more about this driving route in my complete guide to the Wild Atlantic Way.
The Islands of Ireland
As mentioned above, the coast of Ireland can be battered by rough seas and waves during winter, making some of the islands off the coast harder to reach.
But, if you want to explore some of the islands of Ireland, then calmer weather and therefore, calmer seas, make April the perfect time to start.
While you can visit the Aran Islands off the coast of Galway throughout the year, April is the month to start visiting them. Summer crowds have not descended on the islands and the ferries to them are more likely to be running smoothly.
If you are a Star Wars fan you can take a boat tour around the Skellig Islands off the coast of Kerry. Note that you will not be able to land on Skellig Michael.
The Saltee Islands in the Republic of Ireland and Rathlin Island in Northern Ireland welcome back many sea birds who make it their nesting grounds. The puffins return to the Saltees in late April, as well as Rathlin.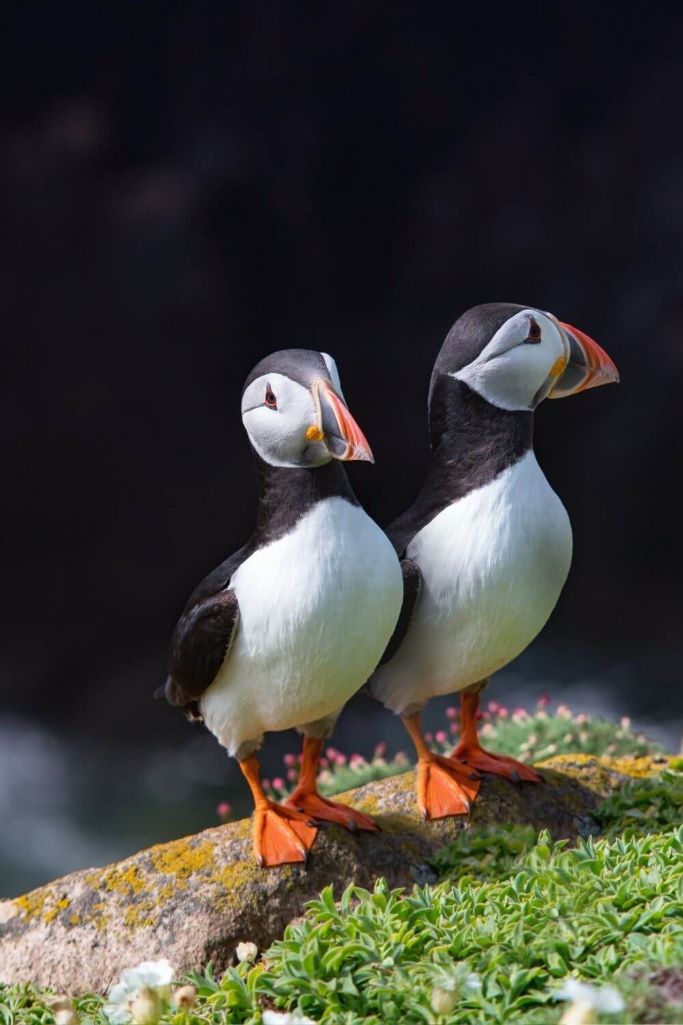 Causeway Coastal Route
Another great place to visit in April in Ireland is the Causeway Coastal Route in Northern Ireland.
The Causeway Coastal Route is a stunning stretch of coastline in Northern Ireland, with some of the most spectacular scenery found anywhere in the world.
The route winds its way from Belfast to Derry/Londonderry and along the way, visitors can experience breathtaking views, rugged coastlines, interesting wildlife, charming villages, and historical sites.
There are numerous stops along the way, such as the Carrick-a-Rede rope bridge and the Giant's Causeway, two popular landmarks in Ireland.
April is a great time of year to visit this region and experience these attractions in all their glory thanks to longer days that have milder temperatures and clearer skies. This also makes April the perfect time for outdoor activities like hiking and biking along this part of the Irish coastline.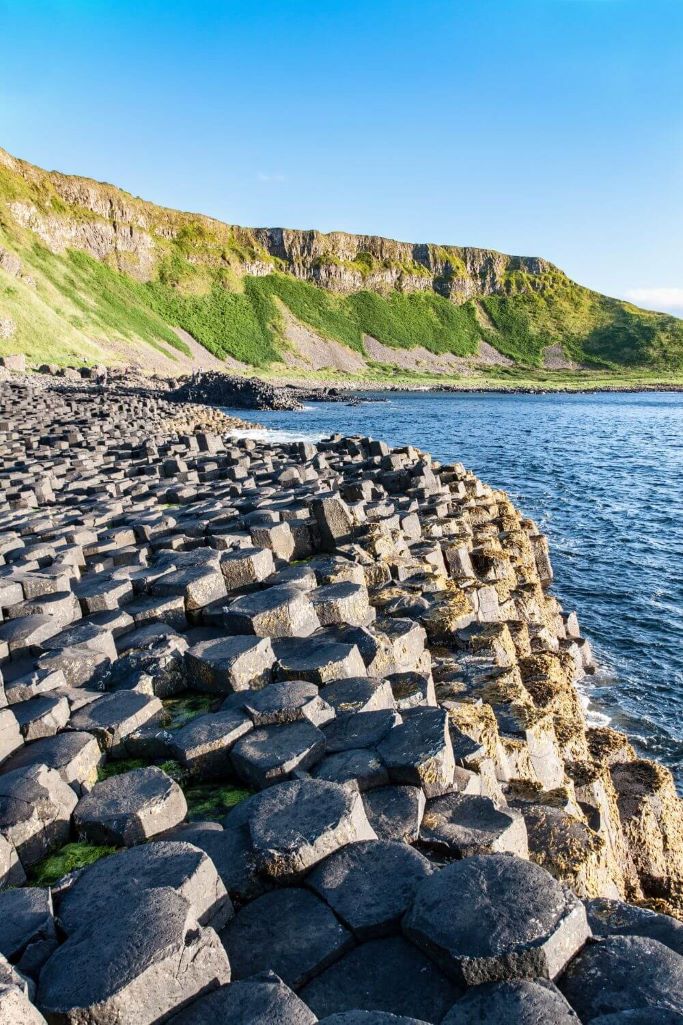 Things to do in Ireland in April
With where to go covered, let's turn our attention to things to do in Ireland in April.
As well as road-tripping and exploring there is plenty more on offer for visitors to the Emerald Isle at this pleasant time of year. Let's take a look at the top things to do in Ireland in April.
Take a road trip
As already mentioned in the previous section, April is a great time of the year to hit the road and explore the Emerald Isle.
Whether you choose to tackle the Wild Atlantic Way or do smaller road trips, it is a great way to get out and see the country.
Where you go will depend on the length of time you are in Ireland, your interests, and just how much driving you want to do. Wherever you choose to go, you will pass through unrivaled scenery as you do.
Now a word of warning. Ireland appears small, but once you are off the motorways, your journey can take longer than you anticipate due to tractors, animals and slow drivers on windy, narrow roads. So, consider this before planning long days in the car. but don't let it put you off.
Seek out bluebells in the woods
April is one of the best times of year to get out into the woods and find the bluebells.
There are many places in Ireland to find bluebells. Most woods and forest floors will be carpeted in these beautiful spring flowers during April and it is a great way to combine a leisurely walk with some bluebell hunting.
Many of the great houses, castles and gardens of Ireland have bluebells during April including Castle Ward in County Down, Glendalough in County Wicklow, and Westport House in County Mayo.
And of course, you will find bluebells in some of the national parks including Killarney National Park.
Bluebells make the perfect backdrop for pictures in April, so if you are visiting during this month, make sure to add time to your itinerary to seek them out. And remember, bluebells often go hand-in-hand with wild garlic, so if your taste buds spring into action, that'll be why.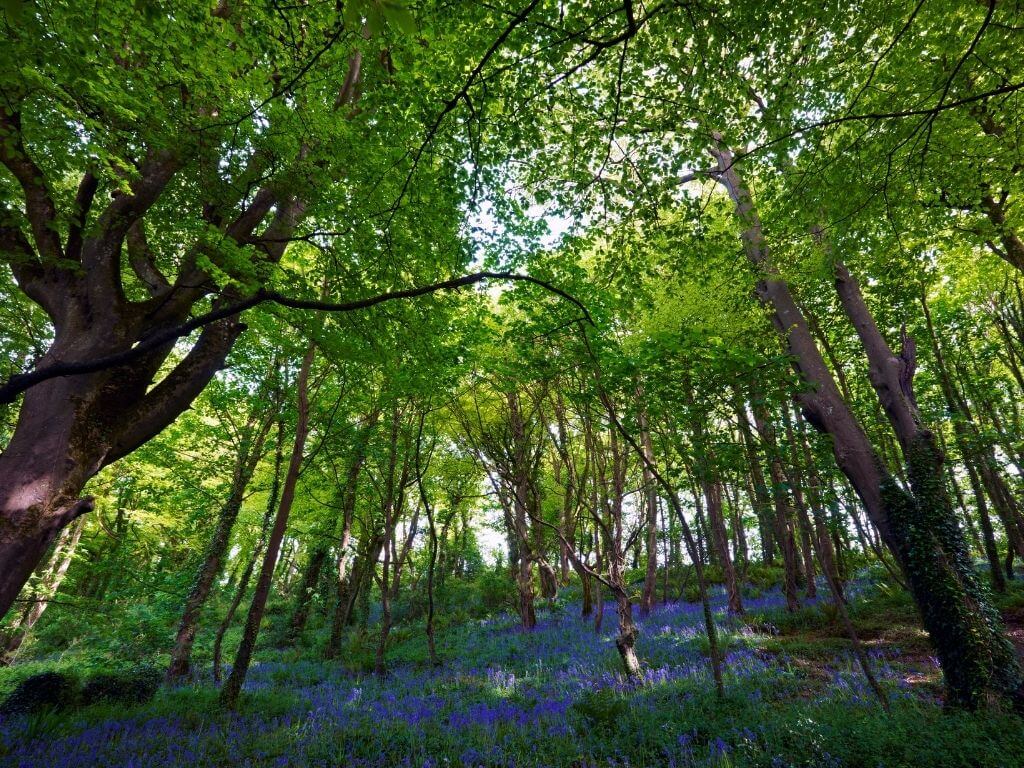 Explore all the cities have to offer
With more frequent dry, sunny spells throughout the days, April is a great month to explore the cities in Ireland.
Whether you are visiting Dublin, Belfast or Cork, each of the cities on the Emerald Isle has something to offer those who spend time in them.
Belfast has lots to offer visitors including the Titanic Quarter, the renovated Harland and Wolff dockland area where the ill-fated liner was built.
Cork, meanwhile, is a great city in the southern half of Ireland where visitors can visit Cork Gaol, the Butter Museum and Blackrock Castle.
And not forgetting the capital, Dublin. There is so much to do in Dublin including visiting the Book of Kells, Kilmainham Gaol or even joining one of the whiskey tours in Dublin.
No matter which city in Ireland you decide to spend time in, you will find plenty of things to enjoy during April. And if those April showers arrive, there's always a cosy pub somewhere to shelter in.
Combine indoor and outdoor activities
Although April is warmer and drier, April showers do come and go, to ensure you have a mixture of indoor and outdoor activities planned.
Outdoor activities can include visiting natural landmarks, and historical sites or simply enjoying a stroll through one of the many woods and forests around the country.
Indoor activities can include visiting the museums and galleries of Dublin, many of which are free, peeking inside the great hall of a castle, or even enjoying afternoon tea in Galway, Cork, or Dublin.
Visit historical sites and castles
Spending time during April in Ireland can be a relaxed affair with every major castle, historical and tourist attraction open. And because it is the start of the tourist season, places such as Blarney, Glendalough, and the Cliffs of Moher are not as crowded as later in the season.
Blarney Castle is a great place to visit during April as the gardens are coming alive. Just make sure to get there at opening time and go straight to the top of the castle if you intend to kiss the Blarney Stone. This will leave you plenty of time to explore and enjoy the extensive grounds and gardens. I visited Blarney Castle at the start of April and it was beautiful. The Camelia section of the grounds was in flower and looked stunning, and there were beautiful beds of tulips as well.
Glendalough is another great historical place in Ireland to visit in April. Having visited during October and felt the cold, April will be a more enjoyable time to see the Round Tower, walk to the Upper Lake or visit the Poulanass Waterfall.
The Cliffs of Moher are also another great place to visit in Ireland in April thanks to fewer crowds. It gets busy during the peak summer months, so if you don't like crowds, April is the perfect time to see one of Ireland's most famous natural landmarks.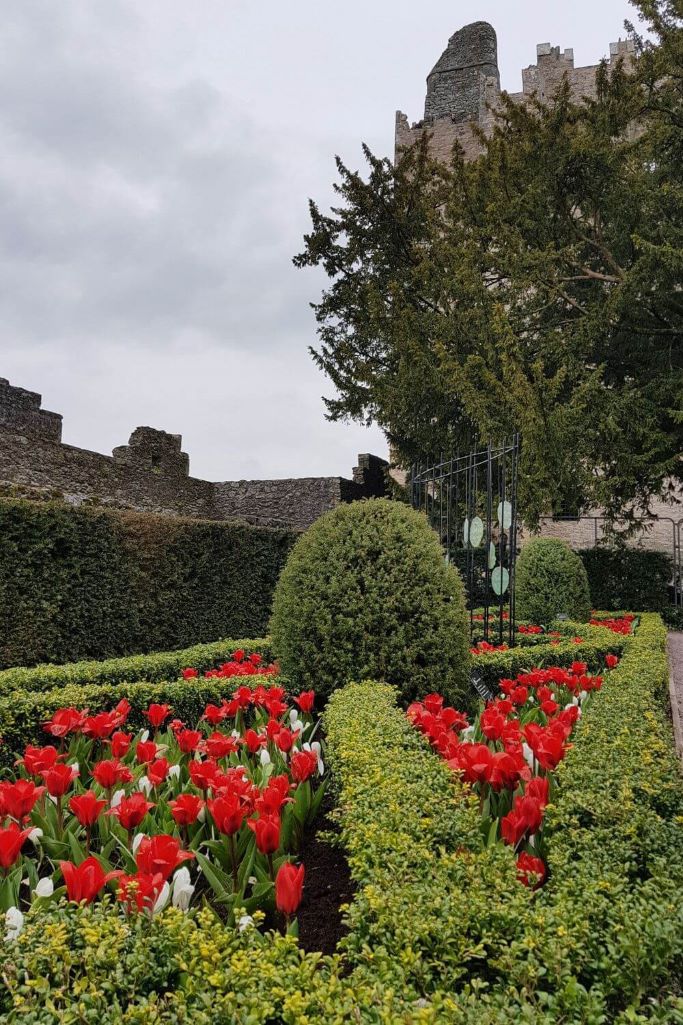 Events during April in Ireland
Easter
As already mentioned, Easter often falls at the beginning of April and you can find plenty of events taking place such as the Easter Egg Hunt at Birr Castle and Johnstown Castle.
Over Easter weekend, there are also horse racing events taking place such as the one at Fairyhouse Racecourse where the Irish Grand National takes place on Easter Monday.
And many hotels will offer Easter weekend deals which may include dinner or even afternoon tea.
1916 Easter Rising Commemorations
Over Easter weekend, there are usually commemoration events taking place to mark the anniversary of the 1916 Easter Rising.
The 1916 Easter Rising was a significant event in Irish history. It began on April 24th, 1916 when a small group of Irish rebels seized key locations around Dublin and declared the establishment of an independent Irish Republic.
The rebels set up posts at the General Post Office, Four Courts and other areas of the city as part of their efforts to gain independence from Great Britain and emerge from centuries of British rule.
The Rising was ultimately unsuccessful, but it sparked a movement that would eventually lead to Irish independence in 1922.
To this day, the events of the 1916 Easter Rising are commemorated each year and serve as an important reminder of Ireland's struggle for freedom.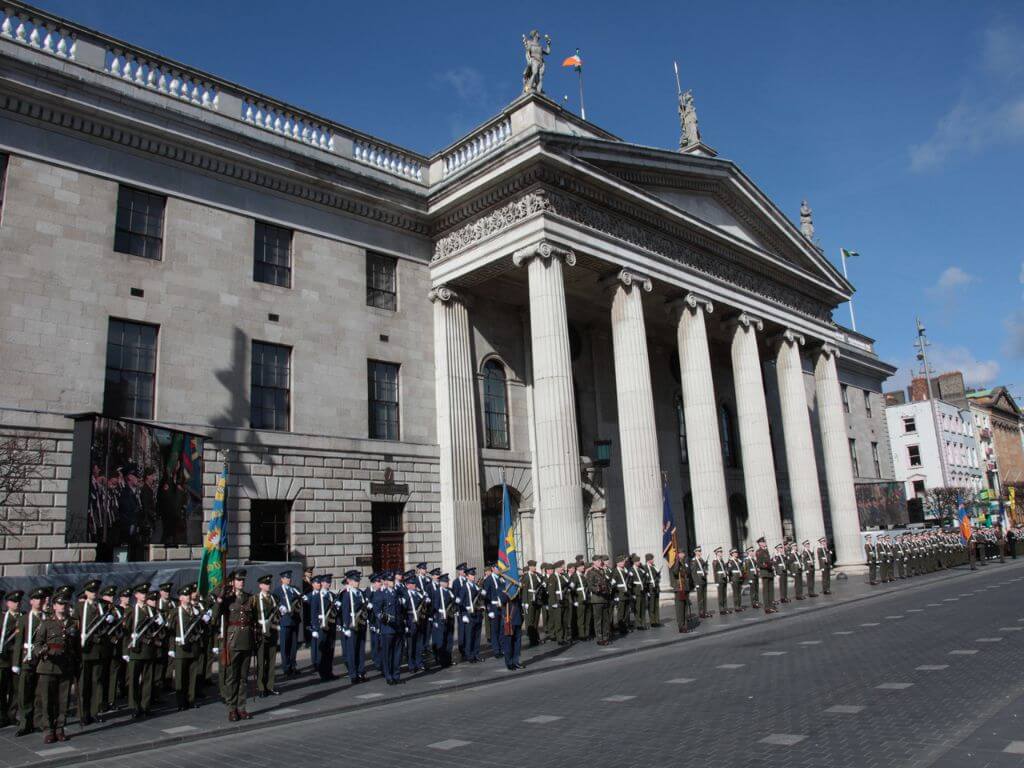 Galway Food Festival
This premier food festival in the capital of the west of Ireland has been running for a decade and it
"celebrates the city and counties culinary landscape."


Galway Food Festival
Showcasing local chefs, produce and more, visitors can enjoy food trails, open-air markets, workshops, and more. If you enjoy food and want to discover the culinary delights of Galway, then make sure to be in Galway over Easter weekend when the festival typically takes place.
Clifden Music Festival
Galway is a great county to spend time in during April. Not only does the food festival take place, but also the Clifden Music Festival.
Celebrating Irish music, song and dance, this festival offers visitors the chance to enjoy concerts, workshops and outdoor entertainment.
If you want to hear traditional Irish music at its best, then visit the Clifden Music Festival in Connemara.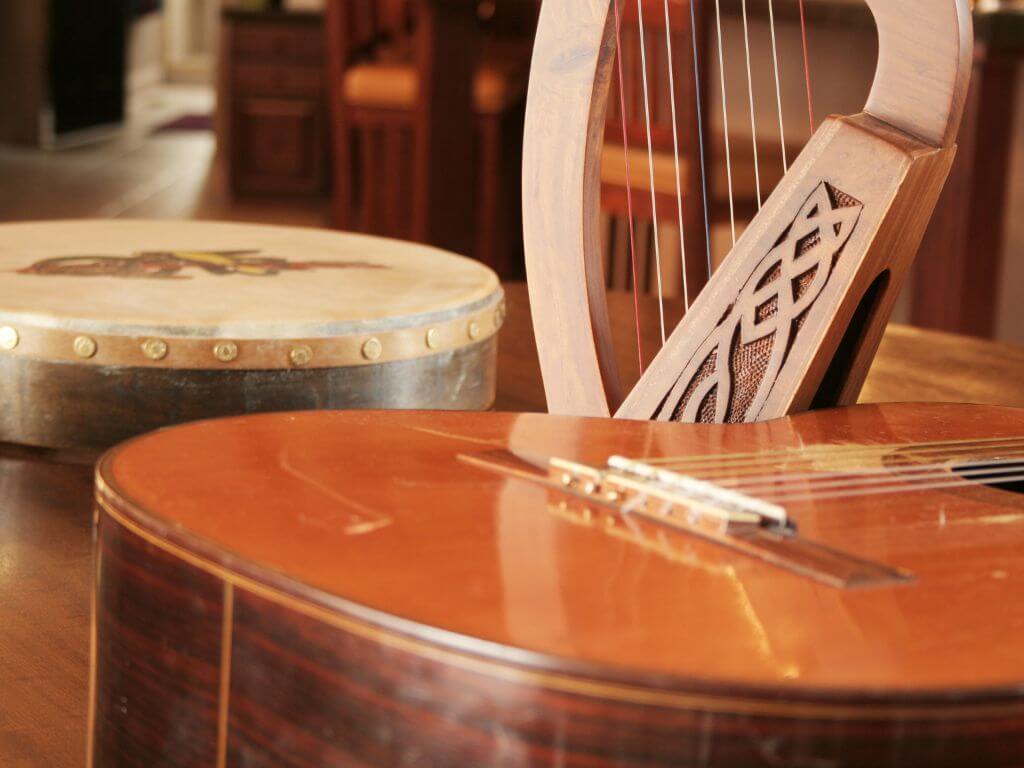 West Waterford Festival of Food
Another food festival that takes place in April is the West Waterford Festival of Food in Dungarvan.
Running for over a decade, this festival delights visitors with culinary workshops, food stalls and more.
With lots going on including family-friendly events and entertainment, if you are going to be in Waterford or nearby in April, make sure to add this festival to your itinerary.
Travel tips for Ireland in April
What to pack to wear in Ireland in April
While the temperatures are certainly starting to rise this month, packing for Ireland in April does not mean you can forget your waterproofs. Why? April showers of course!
There is nothing worse than getting caught out so go prepared.
Raincoat – While you probably won't need a heavy winter coat in April if you pack layers, a good waterproof raincoat or rain jacket is a must for exploring Ireland in April. If you don't have a trusty rain jacket, start your search here on Amazon.
Layers – While the temperatures are starting to rise, you should still layer up. Mornings can feel chilly starting off and if the rain comes during the day, it can cool things down. Remember layers in the form of fleece tops and you'll be grand (as they say in Ireland).
Walking/hiking shoes – April is a great month for getting out and about in Ireland, so make sure you pack a comfortable pair of walking or hiking shoes. Ensure they are also waterproof to protect you from sudden showers. But, if you are buying new ones, make sure you break them in before you go to Ireland. No one likes blisters on their feet!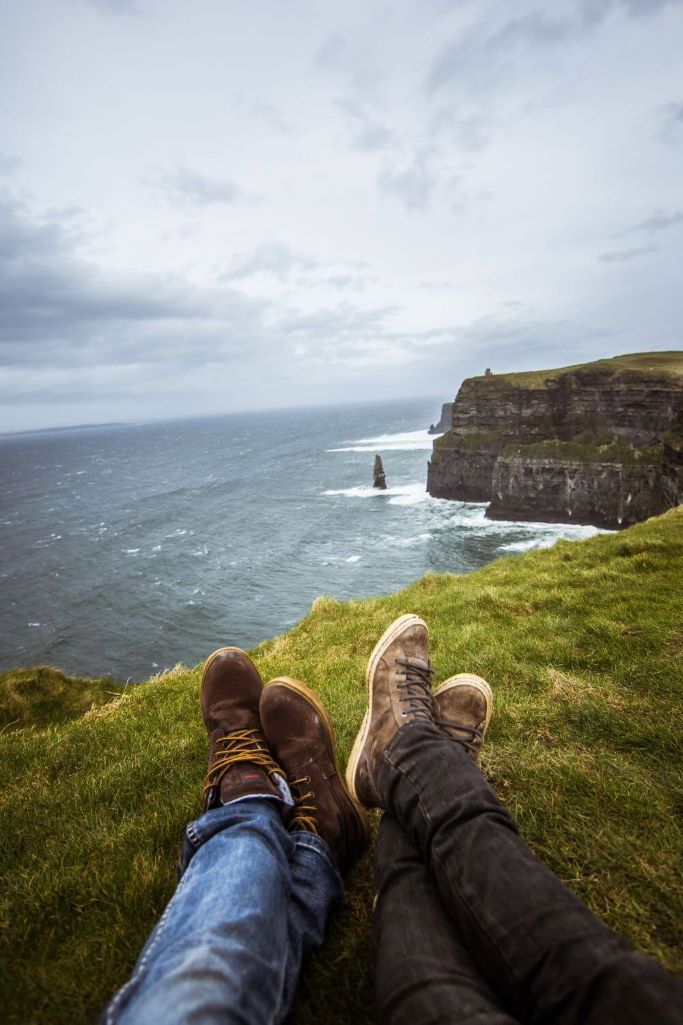 Practical tips for Ireland in April
In this section, you will find some practical tips for Ireland in April.
1 – Remember to pack accordingly for any visit to Ireland this month. Use a layering system to ensure you are warm and dry throughout your trip. Layers are great because you can add or remove them as needed.
2 – Don't travel to Ireland in April without waterproof shoes and a rain jacket as mentioned. Warm socks may also come in handy.
3 – Make sure to seek out spring flowers such as bluebells and daffodils in Ireland if you are visiting in April.
4 – There are a few food festivals taking place during April in Ireland as mentioned above. But if you are not going to be visiting Galway or Waterford, then consider adding a food tour in Dublin to your itinerary.
5 – Check this list for more travel tips for Ireland which is especially helpful for first-time visitors to the Emerald Isle.
April is a great month to visit Ireland whether it is a return trip or for the first time. With rising temperatures and fewer crowds than in summer, it's the perfect time to explore this beautiful country.
The lush landscape, quieter tourist sites, and the towns and cities all offer something different to a visitor keen on discovering Ireland. Plus accommodation options are plentiful and reasonably priced. For a first-time visitor, a trip to Ireland in April is sure to be an unforgettable adventure.
Frequently asked questions about visiting Ireland in April
Read more about visiting Ireland: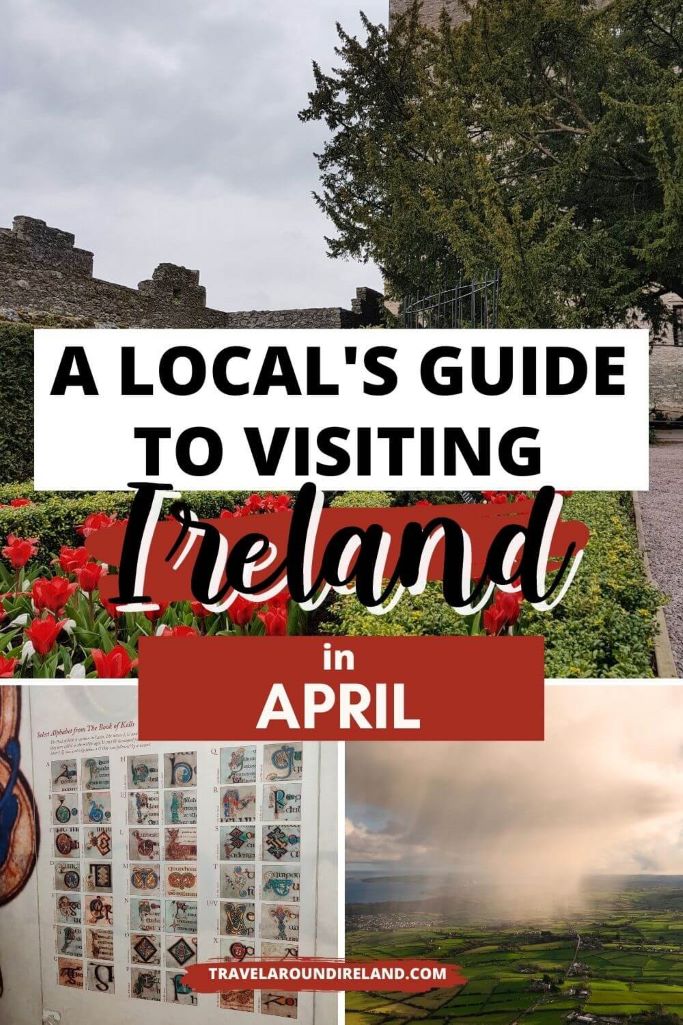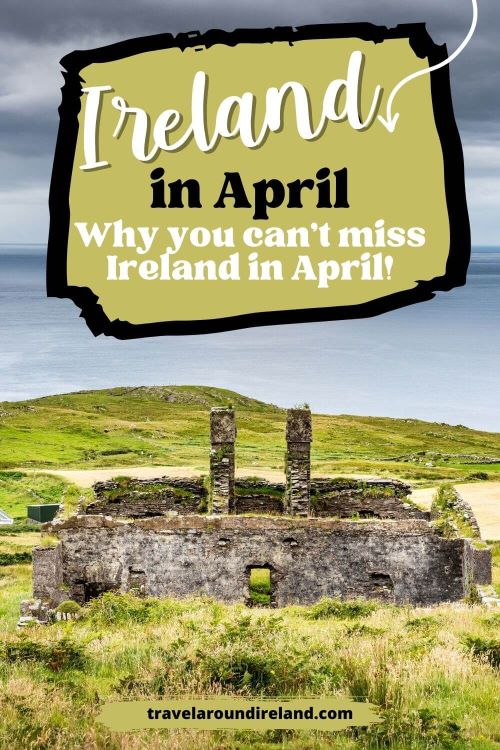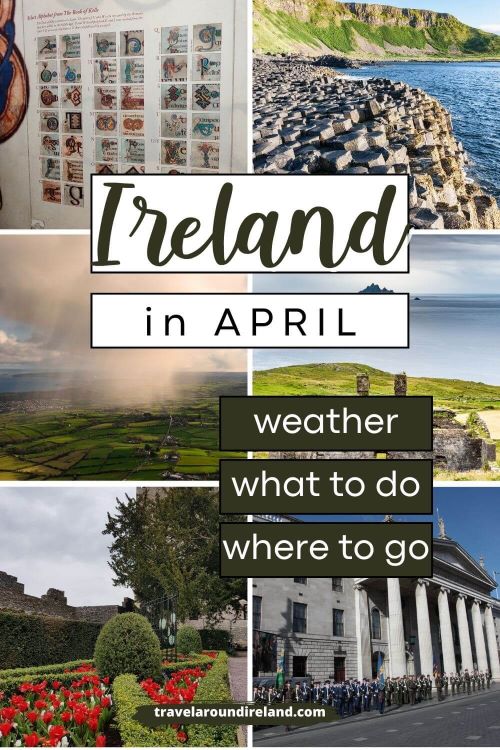 Travel Around Ireland is a participant in the Amazon Services LLC Associates Program, an affiliate advertising program designed to provide a means for sites to earn advertising fees by advertising and linking to amazon.com, amazon.co.uk, amazon.ca. Amazon and the Amazon logo are trademarks of Amazon.com, Inc. or its affiliates. To learn more about affiliate links, read my Disclosure Policy here.