Looking for a local's guide on what to pack for Ireland? Need the ultimate packing list for Ireland so you know exactly what to bring for your trip to the Emerald Isle? Then you are in luck!
Discover exactly what you will need for a trip to Ireland with my ultimate packing list for Ireland that comes complete with a printable Ireland packing list checklist.
No more trying to decide what to put in your suitcase. No more guessing games because now you have my local's knowledge to lean on. This post has got details on everything you could possibly need and more to make your trip to the beautiful island of Ireland smooth and totally memorable.
*This post contains affiliate links, which may include Amazon affiliate links. To read more about affiliate links, please visit my Disclosure Policy page.
Whether you will be hiking, road tripping, or sightseeing your way around Ireland, there are a few staples you need to pack and a few things that I would suggest are nice to have. You also need to consider your toiletries, electronics and gadgets, and, most importantly, the documents you will need for your trip.
I have compiled a list of suggested clothing, and this is included here, but if you want more information about the clothing you might need, I've written a post about what to wear in Ireland which can help you prepare your clothing further.
I have also put together a handy, printable Ireland packing list so you can tick everything off as you put them into your suitcase or backpack.
So, let's take a look at my packing list for a trip to Ireland.
The Ultimate Ireland Packing List
Unless you have done zero research, you should know by now that Irish weather is extremely changeable. One minute it will be sunny, then dark clouds roll over and the heavens open. Drizzly rain can be a nightmare and very common in Ireland, no matter the season.
So, deciding what clothes to pack for Ireland can be tricky. You need to pack for all eventualities, but when packing for a trip to Ireland, the time of year will dictate exactly what you need to bring.
There are staples you will need in your luggage and then, depending on the time of year you are visiting Ireland, you will either need bulky, warm clothes, or lighter clothing for slightly warmer weather. I have put together a short synopsis for each season of the year to help you further and you can find them below.
You can also read my post about the best time of year to visit Ireland if you are still deciding exactly when to go and what to pack as a result.
When it comes to packing for Ireland, there are a few things to remember.
The saying that there is no such thing as bad weather, only bad clothing is very true of Ireland.
The perfect Ireland wardrobe has layers, raincoats, and waterproof shoes.
You should be able to layer your wardrobe easily, but they should also be easy to remove if the weather improves suddenly.
Always bring a daypack or small backpack when you are out and about to put layers you remove into.
Always remember your umbrella. You never know when you might need it.
Even if you are visiting in summer, it is worth packing a sweater.
Other things to remember (and included below) are your water bottle, sunscreen and hat, and scarf.
Ireland packing list for women
In this section, you will find an Ireland packing list for women. These should form the staples for every season and can be adjusted accordingly.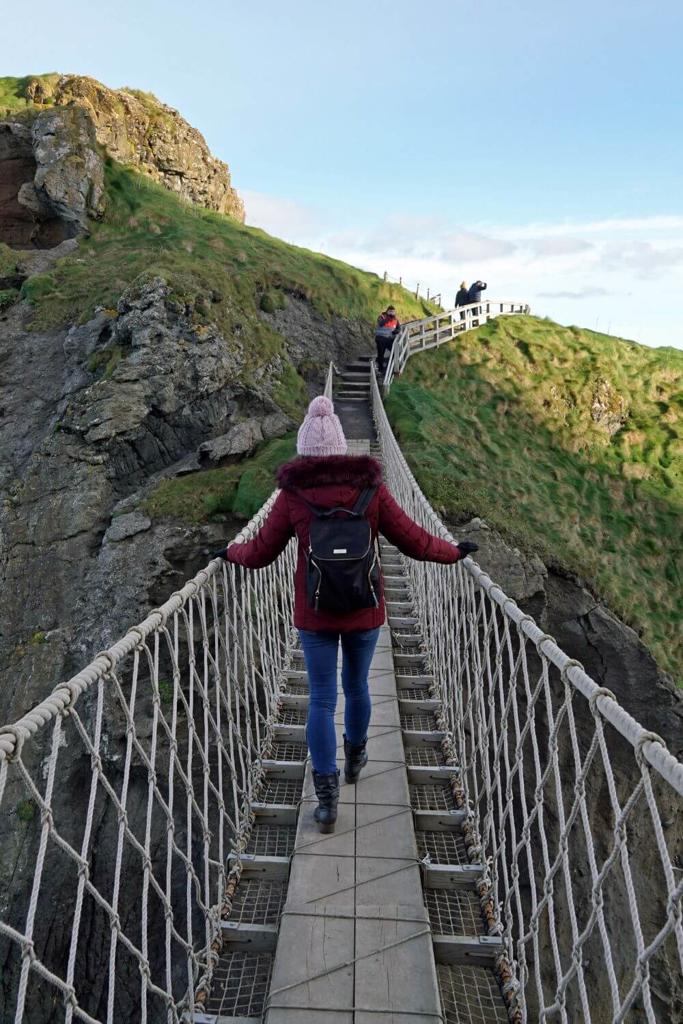 Coat – You will need either a lightweight or heavy coat, depending on whether you are visiting in Summer or Winter. Winter coats should be warm and preferably padded.
Rain gear for Ireland – This can be as simple as a waterproof raincoat, but I also bring a set of waterproof legs outside of summer to keep my legs dry, especially at outdoor venues such as castles and historic houses and gardens.
Trainers – Pack comfortable trainers for walking and sightseeing. Just remember they are likely to get wet, be prepared.
Waterproof hiking boots/shoes – If you are likely to be walking or hiking, or spending most of your time outdoors exploring, then a set of waterproof boots or shoes is a must. Proper hiking boots/shoes will also support you on slippery surfaces outdoors.
Socks – Bring warm socks and preferably thermal for winter, and hiking socks if you plan some hiking during your trip.
T-shirts – You will need 4-5 T-shirts per week, assuming you will be doing laundry when you need to. It is worth packing 1-2 long-sleeved ones, even in summer, as you never know when you might get a cooler-than-average day.
Sweaters – 2 to 3 sweaters per week, bringing warm woollen or fleece for winter, and lightweight sweaters for summer. You could opt for a cardigan for summer instead.
Jeans – 1-2 pairs per week is enough, especially if you plan to bring the next item.
Cargo pants – Cargo pants that are lined are ideal for outdoor activities and sightseeing, while convertible cargo pants are perfect for warmer, summer months to save you packing shorts.
Long skirt – A long skirt, heavy for winter and lightweight for summer that is versatile enough for day and evening wear is a good idea.
Tops – You may need 1-2 smart tops for evening weather to team with your skirt or jeans.
Dress/Jumpsuit – A long dress or jumpsuit makes an ideal item of clothing for evening wear or for an event.
Men's Ireland packing list
For the male members of your party, the packing list is quite similar. Again, the list can be adjusted accordingly to your trip and the time of year you visit.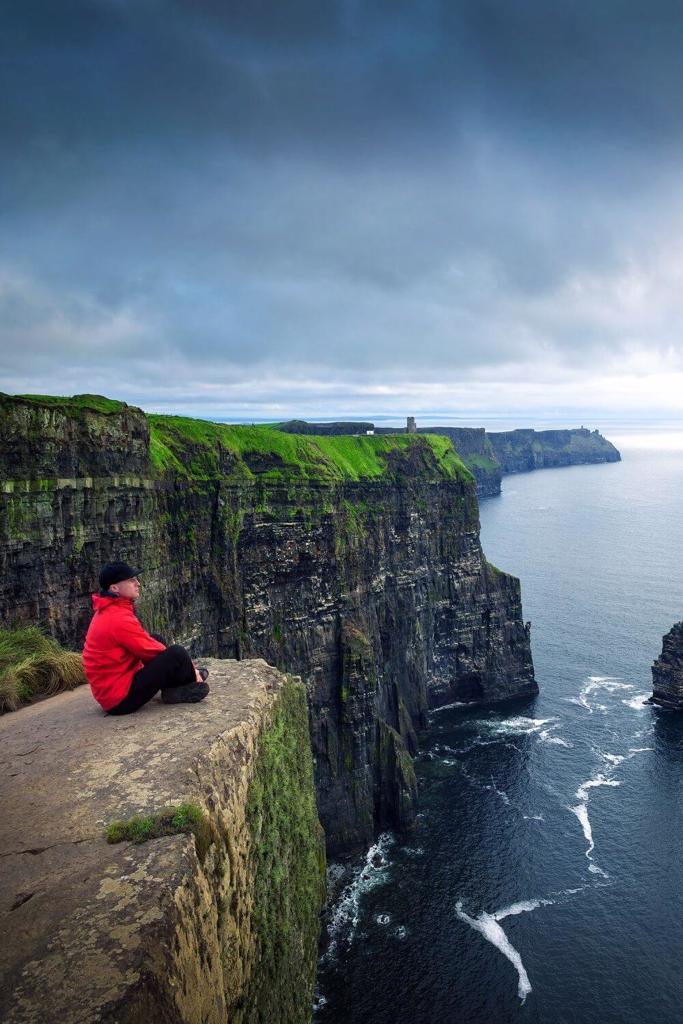 Coat – Heavy winter coat for October to March visits, a lightweight coat for other months.
Rain jacket – You cannot visit Ireland without packing a waterproof raincoat.
Trainers – For comfortable walking and exploring.
Waterproof boots/shoes – Be they hiking boots or simply good-quality waterproof shoes, pack these to keep your feet dry at all times.
Socks – Bring an adequate number with the right amount of warmth for the time of year of your visit.
T-shirts/Tops – 5 T-shirts or tops and remember to ensure they are a mixture of short and long-sleeved ones, even for summer.
Cargo pants – Again, opt for lined for winter and convertible cargo pants for summer.
Jeans – 2 pairs should suffice per week, assuming you will be washing when possible.
Evening trousers – Bring 2 per week.
Evening shirts/polos – Bring 1-2 unless you are planning to have fancy restaurant meals every night of your trip.
Sweaters/hoody – Bring at least one hoody for your trip and 2 additional sweaters or jumpers. Hoodies can keep you warm in your accommodation while you relax after dinner before bed.
Kid's Ireland packing list
The kid's packing list for Ireland should be almost the same for Mum and Dad with the exception that you should pack at least one or two additional trousers and tops for them. Kids tend to get dirty and mucky quicker than adults and they can find puddles hard to ignore. Here is an idea of what I pack for my son for our trips to Ireland.
Coat – This is a heavy, padded coat for winter and a lighter, windproof coat for summer.
Raincoat – We never, ever travel to Ireland without a waterproof raincoat for our son.
Waterproof all-in-one suit – If we are planning on going sightseeing in Ireland, I always bring my son's all-in-one waterproof over suit. This means we can be exploring castles, gardens, or beaches without fear of him getting soaked should the heavens open.
Jeans – I bring 3-4 pairs per week, mainly because there is always the risk of him getting wet and mucky. I do laundry where and when I can.
Sweaters/jumpers – Again, I bring 3-4 per week, with a mixture of warm woollen jumpers and lightweight, fleece sweaters that can be layered.
Socks – I always bring 2 pairs per day just in case he gets one pair wet (jumping in puddles).
Waterproof walking boots – We always travel with a pair of waterproof walking boots or shoes for our son as rain is such a common occurrence. I also get one of my sisters to buy me a pair of wellington boots for our son before our arrival if we are going on a road trip so he can use them for those all-important puddles.
Trainers – I bring a pair of dark trainers for sightseeing in towns.
T-shirts – 3-4 T-shirts per week is standard for us.
Long-sleeved tops – I substitute some of the short-sleeved T-shirts for long-sleeved for winter and combine them with base layers if we are visiting between October and March as we are coming from a warmer country.
Seasonal clothes to pack for Ireland
As well as the staples, you may want to tailor your wardrobe for the season in which you will be visiting. Whether you are wondering what to pack for Ireland in summer or winter, here are a few more ideas for you.
Things to pack for Ireland in winter
Ireland is generally cold and wet throughout the winter months. Average high temperatures range from 3˚C to 8˚C (37˚F to 46˚F) and this season is the wettest season of the year. Packing for Ireland in winter will involve lots of warm layers.
Here are specific things you will need to pack for Ireland in winter.
Lined trousers – To keep your legs warm.
Warm jacket – A down-filled winter coat won't go astray. Make sure it is warm, windproof, and preferably waterproof too.
Sweaters/Fleeces – You are going to need a mixture of sweaters and fleeces for keeping warm.
Hat/Gloves/Scarf – If you are going to be out and about, do not forget your winter woollies.
Base layers – If you are coming from a warm country (like us) or cannot stand the cold, a set of base layers for under your clothes while outdoors and exploring will come in handy. Trust me, I'm speaking from experience of exploring ruined castles during a bitterly cold set of days in March.
Thermal socks – If you are anything like me, thermal socks are a must for winter to keep your feet warm and dry.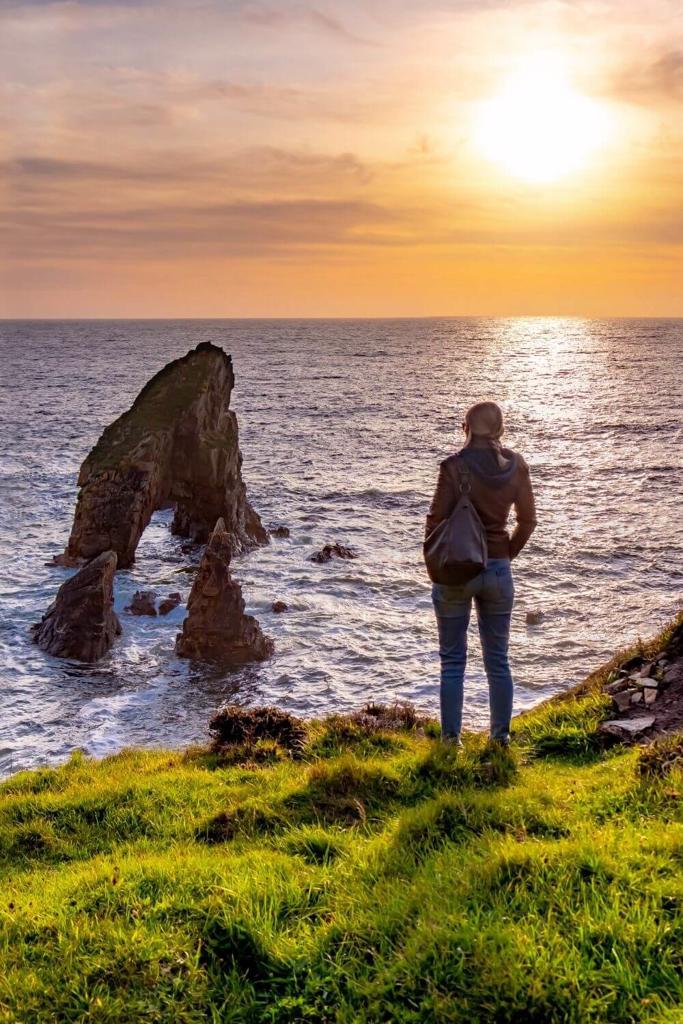 Ireland summer packing list
When it comes to your packing list for Ireland in summer, you can leave the heavy, bulky clothes at home and opt for more lightweight versions. That said, you will still need a sweater or two and your raincoat.
Average high temperatures in Ireland during summer range between 16˚C and 20˚C (60˚F to 68˚F). It tends to be the driest season, although you will most likely experience isolated showers. But it should be warm at least from June to August.
Here are a few more ideas of what you can pack for summer in Ireland, assuming you will see a few nice days.
Shorts – You can opt for convertible cargo pants that can act as both trousers and shorts, saving you some precious packing space.
Maxi dresses – For the ladies, these can double up as both day and evening wear.
Skirts – Team them with simple T-shirts or tops on warm, sunny days.
Sundress – Ladies, pack one or two to wear on nice, warm days.
Light sweaters – Bring one or two lightweight sweaters for early mornings, days when the weather is changeable, or for cool evenings.
Walking sandals – Depending on the activities you plan on doing, walking sandals can be a better option than shoes or boots. I love the Teva range of sandals.
Lightweight raincoat – Because showers…
Sunscreen – Even through the clouds you can still get burnt in Ireland. So, if you don't fancy looking like a beetroot, pack the factor 30.
Sunglasses – To protect your eyes.
Swimwear – Swim shorts for men and swimsuit or bikini for ladies. Remember the kids' swim costumes as well if you are visiting Ireland as a family. You may also need these if your hotel or accommodation has a pool or spa.
Flip flops – For beach days.
Ireland packing list spring
While winter is starting to recede, spring is still a chilly time of the year to visit Ireland. Average high temperatures range between 8˚C and 15˚C (46˚F to 59˚F). Early spring experiences cold days, while in later spring things start warming up. Days are also brighter and sunnier.
Here are a few ideas for things you'll need for Ireland in spring.
Long-sleeved tops – To help keep you warm.
Hat/Gloves/Scarf – You are going to need these for exploring outdoors as spring days can still be cold.
Lightweight Jacket – Make sure it is both windproof and waterproof.
Warm socks – As I have already said, no one enjoys exploring and sightseeing with cold feet.
Fleeces – While you could leave the heavy sweaters at home, fleece jumpers are ideal for keeping warm and layering. Plus, they are generally less bulky and will easily fit into your daypack.
What to pack for Ireland in fall/autumn
When autumn arrives in Ireland, temperatures start to drop quickly. For this season, you are going to need to pack warm clothes. Average high temperatures range from 5˚C to 17˚C (41˚F to 63˚F), depending on when in fall you visit Ireland.
Here is what you are going to need to pack for Ireland in fall/autumn.
Waterproof and windproof jacket – For those returning chilly days.
Warm sweaters – These are needed, especially in late fall.
Long-sleeved tops – For keeping warm and layering.
Warm socks – To keep your toes toasty.
Waterproof boots – Leave the summer sandals at home and bring waterproof boots/shoes for this season in Ireland.
Hat/Gloves/Scarf – For comfort on cold days.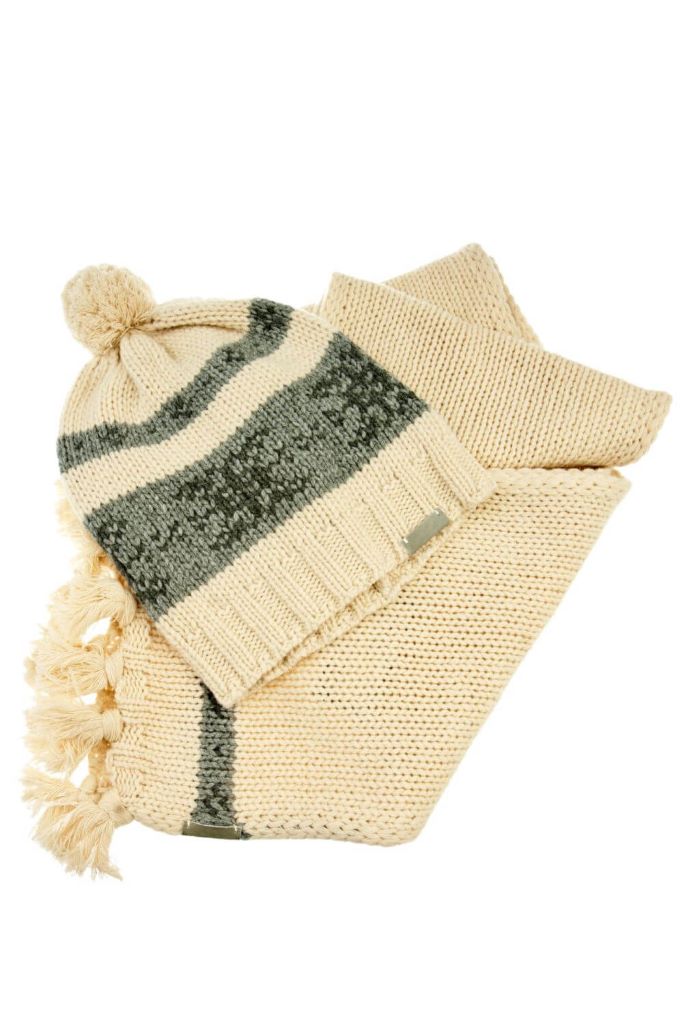 Ireland packing list – The Essentials
Your Ireland travel packing list needs to include some essentials for Ireland. This section is dedicated to all the other things you will need to pack.
First Aid Kit
You can either purchase a pre-packed first aid kit from the likes of Amazon, or you can prepare one yourself. You never know when you might need it, and if you have one that you can pop in your daypack, you'll be glad you brought one should anyone trip, fall, and cut themselves. If you are opting for your own, ensure you include the following items:
Plasters
Pain-relief medication such as paracetamol and ibuprofen
Bandages and tape
Antiseptic cream
Scissors
Tweezers
Alcohol wipes
Toiletries
Next up are your basic toiletries. Now, you can either choose to use your weight allowance to bring your favourite brands and full-sized bottles. Or, you can go my route, which is to bring travel-sized bottles and stock up on the necessities once you've arrived in Ireland.
Supermarkets and stores such as Tesco, Dunnes Stores, Aldi, Lidl, and Supervalu all stock toiletries, so if you want to save on your luggage weight, go small and buy once you are in Ireland. Pack them all in a toiletries bag that rolls up for handy storage and opening.
But here is an idea of what you'll need for your first few days until you hit the shops.
Toothbrush
Toothpaste
Deodorant
Shampoo and conditioner, preferably a 2-in-1
Shower gel (in case your accommodation does not provide it)
Shaving foam
Razers
Perfume/aftershave
Face care such as fash wash and moisturiser.
Documents
There are a few essential documents you will need to remember. Some are self-explanatory and others you might not have thought about.
Passport and a copy of it – with at least 6-months validity left, depending on the requirements for your country of origin.
European Health Insurance Card (EHIC) – All citizens of EU countries should carry this when travelling to avail of the health system in member states.
Travel insurance – Never travel without it as you never know when you might need it.
Driving Licence – Super important if you are hiring a car.
International Driving Licence – Issued in your home country, you might need this alongside your normal driving licence. Check with the hire car company before you travel.
Hotel and excursion confirmations – It is best to have a printout of your hotel confirmations and excursions to be on the safe side. You never know when your phone might let you down.
Document wallet – To keep everything together and safe.
Electronic & Gadgets
You are not going to travel to Ireland and not take hundreds, if not thousands of pictures. So, you'll need to consider your electronics and gadgets to bring.
Electric shaver
DSLR and Lenses – My DSLR of choice is my trusty Canon 5D Mark II. Lenses I tend to bring include my 24-105mm lens, 50mm prime lens, and my 17-40mm landscape lens.
Handheld camera – I never travel anywhere without my Canon G7X Mark II. It is such a great, all-round camera.
Action camera – Such as the GoPro Hero 8 Black (our GoPro of choice).
Drone – If you want stunning aerial shots, go for the DJI Mavic Pro II. My husband has this drone, and it is excellent. You can find out about drone laws in Ireland here.
Unlocked smartphone – Ensuring your smartphone is unlocked or SIM-free means you can buy a local pre-paid SIM for calls/texts/data. Our smartphones are dual-SIM.
Laptop – If you want to process pictures on-the-go.
External hard drive – Handy if you don't have access to WiFi and want to store your pictures.
Memory Cards – Lots of them. Or ensure they have lots of space.
Camera Tripod – For windy days or selfie-type shots.
Portable phone charger – You'll need this if you are opting to take your pictures on your phone or are using it as a GPS replacement.
Noise-cancelling headphones – A must for the plane and for evening relaxation. We love the Bose QC 35 headphones.
Waterproof Phone Case – Rain, need I say more.
Other things to bring to Ireland
As if all that was not enough, here are a few more items that you might want to bring to Ireland. They are not necessarily must-haves.
Travel guidebooks – Lonely Planet and DK Eyewitness are my favourites.
Travel coffee mug
Universal travel adapter – A must when travelling to Ireland for plugging in your electronics safely.
Earplugs – Great for sleeping on the plane and in noisy hotels or hostels.
Packing cubes – These make luggage much easier (see below).
Multi-socket plug – Handy for hotels or accommodations that do not have lots of sockets in your room.
Sunscreen/Lip balm – For warm and windy days, respectively.
Quick-dry towel – Just in case your accommodation does not provide any or you need one while out and about. Can double up as a picnic blanket.
Daypack – A must for exploring Ireland and outdoor activities.
Ireland packing tips
Now that we've covered what to pack for a trip to Ireland, let's talk about how to pack for Ireland. Here are a few packing tips to ensure this part of your preparations isn't a chore.
Keep your valuables in your hand luggage. This will avoid potential damage by baggage handlers. Also, try to keep valuables locked in a hotel safe, or with you in your daypack.
Check airline baggage allowances before you travel. Low-cost airline Ryanair has very strict luggage policies and hefty fees if you don't comply with them. Normal hand luggage is only available at a certain ticket price and hold luggage can bump up the costs.
Lay everything out before you pack and ask yourself "Do I really need it?". Don't bring unnecessary things.
Wear bulky items on the plane. Wear your waterproof boots/shoes and your coat on the plane to save luggage space.
Use packing cubes. These revolutionised how we pack as a family and means we can easily identify who owns what by colour coding. They also act as drawer inserts for easy unpacking.
Roll, roll, roll. Rolling your clothes instead of packing flat saves on space and can reduce the number of wrinkles your clothed will have.
Spread your clothes across your luggage. What do I mean by this? Instead of everyone having one piece of luggage dedicated to them, split your luggage across all the suitcases. That way, if one gets lost, you all still have some clothing to wear until the lost suitcase is located and returned to you.
Don't fill your suitcase before you go. Leave some space for souvenirs and be mindful of the weight. Pack a travel scales to double-check weights before you get to the airport.
For an idea of the type of souvenirs, you might pick up in Ireland, read my post about the best Irish souvenirs.
Ireland packing checklist
And, to make your life even easier, I have put together a printable Ireland packing checklist that you can get free by clicking the download button. I find having a checklist for packing for Ireland means I am unlikely to forget anything as I pack my suitcase. You can simply cross out anything that does not apply.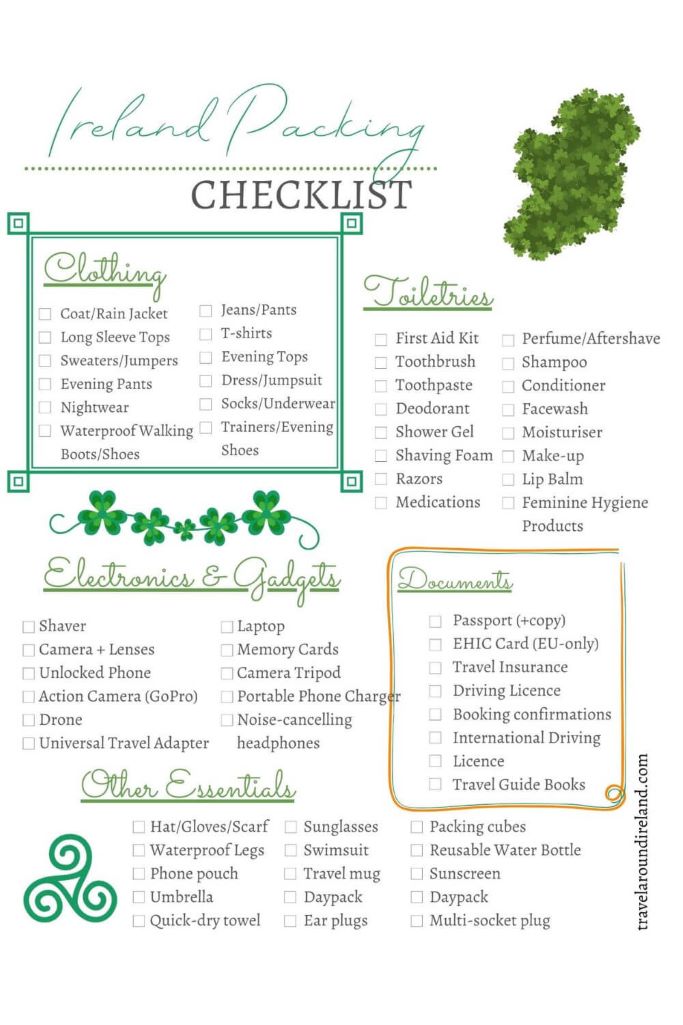 The checklist is a printable and downloadable pdf file. Download and print it before your next trip to Ireland to help you get organised.
Final thoughts on packing for Ireland
I hope this packing list for Ireland has been helpful and has reminded you that when it comes to what to wear in Ireland, the most important things to remember are waterproof boots or shoes, a good quality raincoat or jacket, and layers.
I've also included some packing tips for Ireland that I've found useful over the years. If there are any you would add to the list, let me know in the comments below.
Read more hints and tips for visiting Ireland:
Travel Around Ireland is a participant in the Amazon Services LLC Associates Program, an affiliate advertising program designed to provide a means for sites to earn advertising fees by advertising and linking to amazon.com, amazon.co.uk, amazon.ca. Amazon and the Amazon logo are trademarks of Amazon.com, Inc. or its affiliates. To learn more about affiliate links, read my Disclosure Policy here.